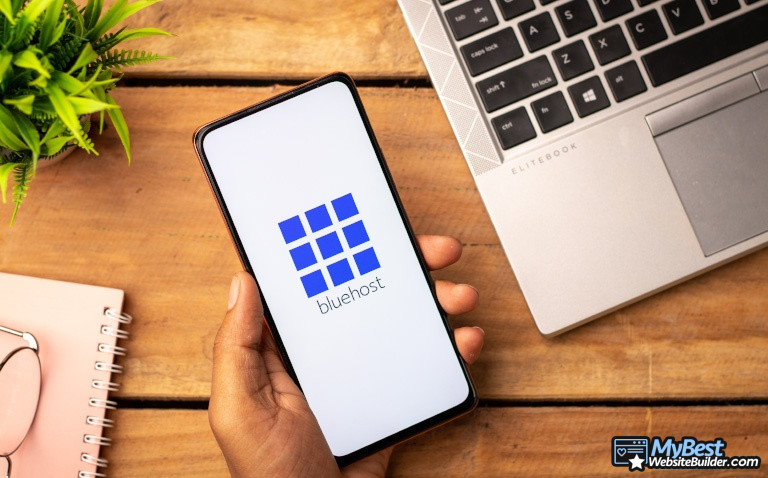 Choosing a web hosting service for your website can appear a bit overwhelming at first. It seems like the options are endless.
So, how did you end up searching specifically for the Bluehost alternatives?
Let's see… You've managed to narrow down features and aspects most important to you. However, as you're delving deeper and deeper into the ins and outs of Bluehost, you're starting to see that there may be some disadvantages your business may face if you end up using this web hosting service.
You really liked Bluehost and now you're kind of bummed out. Cheer up! We have compiled this list of the best Bluehost alternatives for lost souls just like you.
But first, let's figure out what are the main benefits of using Bluehost. As well as what makes users end up searching for options better than Bluehost.
Bluehost - Solid Uptime, Endorsed by WordPress
Bluehost is a big name when it comes to web hosting service providers. Even the giant website building platform WordPress itself has put in the good word for Bluehost. It's really no wonder you've started looking into it before even considering Bluehost competitors.
Let's begin with what Bluehost is really good at.
When it comes to choosing a web hosting service, one of the basics that you must look into is uptime. Essentially, uptime percentage means how long your website is up and functioning as usual throughout a designated period of time. After all, if your website is not available to the public, then it's as good as not being there at all.
Our research shows that Bluehost maintains an uptime of 99,4% which is very good. Of course, a score of 100% is what everyone prefers, however, there are hardly any website hosting providers that can actually keep that promise all of the time.
Bluehost includes plenty of extra features as part of all of their subscription plans. Many website hosting providers keep such things behind a paywall.
Table: Bluehost's main features
One of these features is unlimited bandwidth. While this may not be relevant to every website owner out there, if you're expecting huge growth and massive traffic surges - unlimited bandwidth is essential. Unlimited bandwidth makes your website scalable and makes sure none of your website visitors suffer long loading times or errors.
Great news for those looking to save a penny or two - Bluehost provides its users with free SSL certificates for extra security and a free domain registration service (for one year).
Additionally, Bluehost has great customer support. If you encounter some issues with your hosting service, customer support is probably the first lifeline you'll reach for.
While FAQ and other knowledge resources might be available, often it's just so much more simple to contact support and receive a quick and concise response. Bluehost provides 24/7 customer service including both phone calls and live chat.
If you've decided that WordPress is the right website builder for you, then choosing Bluehost for hosting services might be just the perfect combination since Bluehost is supported and endorsed by WordPress.
So why would anyone want another website hosting service? Turns out there can be many reasons why Bluehost is just not right for some businesses. Let's have a look.
Why are People Looking for Bluehost Alternatives?
There are some cons to using Bluehost as well. If they seem like deal-breakers to you, then you're better off looking into some Bluehost alternatives.
One of the main issues Bluehost's users come across is that the website's speed is just not that great. Internet users are not known for their patience, so long loading times can end up being disastrous to your website.
Also, if you're not based in the US, your website speed might be even slower than expected. This is happening because Bluehost's servers are only located in the US. This aspect definitely gives some Bluehost competitors an upper hand.
Unhappy with the service? Too bad. Changing to another web hosting provider can prove to be quite a pricey venture.
Bluehost's lack of automated website backup features in low-end plans is alarming. Meaning, if you didn't splurge when choosing your plan, you will remain vulnerable to losing all the hard work you've put into editing and updating your website. Some users consider this to be a big red flag regarding the service.

Pricing is another tricky subject. At first glance, Bluehost appears to be a rather cheap web hosting provider. However, if you don't read the fine print, you're in for a surprise after your first year expires. This happens because for first-time purchases they, like many other Bluehost competitors, offer a discounted price for one year.
It's important to keep in mind that Bluehost promotes long-term plans while refunds are applicable for only 30 days after the purchase.
While Bluehost offers many great features and services, your website may not need them at all. And the last thing you need is to pay for something that won't add any value to your business. On that account, we've put together our top choices for Bluehost alternatives in the current market.
Now that we've covered the basics of why you might be better off using a different web hosting service, we can dive into the important stuff.
Our Top 5 Bluehost Alternatives
Before we dive into our list, take a look at these important factors to consider before choosing your website hosting alternative:
Uptime,
Site speed,
Bandwidth,
Storage,
Security (SSL certificates, automated backups, regular updates),
Website transfers (to and from your hosting provider),
Additional features like email account hosting and domain name registration,
24/7 technical customer support.
It's worth noting that depending on the web hosting service, some or even all of these factors may be behind a paywall. We went through many web hosting service providers and have compiled a list of the best Bluehost alternatives.
GoDaddy - Top-Tier Stats, and a Mountain of Apps
I'm sure you've bumped into this bad boy while doing your research. After all, GoDaddy is one of the veterans of website hosting. We'll discuss the main features that set it apart from its competitors and make it one of the best Bluehost alternatives.
If you're in the process of looking for a web hosting service provider, that means you've done at least some of your homework, and understand the fundamental features you should be looking out for.
Uptime is not a detail you'd like to miss. After all, if your website is down, it translates to no traffic, and no traffic means no customers which then turns into no profit. Doesn't sound like a good time now does it?
GoDaddy guarantees an uptime of 99.99% each month. According to the user reviews, the company is able to hold that promise most of the time. However, it's only natural that some days your website has no issues, and others it seems to be down for longer than usual.
Plus, if GoDaddy fails to meet the standard they set for themselves, you can contact them for a compensation of sorts.

What is the next important aspect to consider, you ask? You've guessed it, website speed is just as important as uptime. Your website may be up and running, but if it takes forever to load the content within, then you will lose all that valuable traffic you've worked so hard to attain.
And keep in mind, for an average internet user, forever could mean just a couple of seconds.
With GoDaddy, site speed is not something you'll have to worry about much. Our research shows that it takes about 1.3 seconds for a website hosted by GoDaddy to become fully interactive. Those are some great statistics.
GoDaddy is also supported by WordPress. They've made it incredibly easy to integrate and create your own website.
Table: A feature comparison of GoDaddy and Bluehost
Plus, data centers are located all over the world. So unlike Bluehost, they're not exclusive only to the US.
Some other great features include a free Microsoft 365 email (for one year) and a domain, over 150 apps (WordPress, Joomla), unlimited storage (if you purchase at least the Deluxe plan), and unmetered bandwidth.
If you're not familiar with this last term, let me put it into simple English. Metered bandwidth means that you get charged based on the amount of traffic you receive per month. On the other hand, unmetered bandwidth means that there's a set rate that stays the same every month. So it's a pretty sweet deal.
Many GoDaddy users may not be proficient in the website hosting and building field, so customer support becomes an integral part of making sure everything runs smoothly. GoDaddy offers expert customer support 24/7/365. User reviews show that support agents they've come in contact with have been professional, reliable, and knowledgeable.
However, there have also been some user reports about long waiting times. If an emergency happens during a rush hour at support, you might be left hanging.

GoDaddy also has some cons. One of the main issues seems to be paywalls.
Many would argue that an SSL certificate is a basic part of a well-rounded website. GoDaddy ripped it out of some of their base plans and put a tag on it - and are bold enough to tell you it's a great deal.
Other security features not included are automatic backups. They can cost you from $2.99 per month. Migrations are also not free.
If you have to buy integral parts for an effective and functioning website individually, your pockets will empty very quickly.
How Much Does GoDaddy Web Hosting Cost?
Don't worry, we didn't forget the most important part to consider. Let's see if the payment options make GoDaddy stand out among Bluehost alternatives. Today we'll be looking at GoDaddy's web hosting plans (with a 36-month term):
GoDaddy appears to be in the middle-ground. Not the most expensive option, but definitely not the cheapest.
Keep in mind that, just like with almost every other web hosting service, renewal rates are considerably higher.
GoDaddy Deal Active Right Now:
GoDaddy Black Friday
30% OFF New Products
Let GoDaddy build your dream website for you on this Black Friday. For limited-time, you can get a 30% discount on new GoDaddy products, so act now!
Expiration date : 12/12/2023
4,991 People Used
Only 52 Left
Hostinger - Budget-Friendly Option + All the Benefits
At first glance, Hostinger is a web hosting platform that accentuates ease of use, industry-standard uptime, and affordability. It makes Hostinger one of the best Bluehost alternatives, particularly for newbies.
We've looked deeper into websites hosted by Hostinger and weren't surprised at all. A less optimized website loads and becomes fully interactive in about 1.2 seconds. Now that is impressive. And the numbers are better than Bluehost's.
When it comes to web hosting, the expected uptime is 99.99%. Hostinger keeps up with the industry standard quite closely as their average uptime is around 99.9%. While it's not perfect, it's definitely up there with the best-ranking web hosting providers.
Hostinger also spoils its users a free domain name registration for one year (Premium and Business plans). Plus, Hostinger is compatible with WordPress. One-click and everything's ready to go - it's that easy with the auto-installer provided.

Plus, Hostinger has an integrated website builder. You may have heard of it, we talk about it a great deal just because of how amazing it is - Zyro! It's just as beginner-friendly as Hostinger, so you don't have to worry about knowing any technicalities.
At this point, we all understand the importance of knowledgeable customer support when it comes to web hosting. Hostinger understands this as well, so they offer 24/7/365 live chat customer support to their users. Although you'll be disappointed if you want to contact them by phone - it's not available.
Keep in mind that some users have reported long waiting times, so it could prove to be an issue if you need urgent support.
Table: A feature comparison of Hostinger and Bluehost
Knowing that there are plenty of web hosting providers that keep important features behind a paywall, it's reassuring to see that Hostinger offers automated backups with all of their plans. Weekly backups are provided for Single and Premium plan users and daily backups are provided for Business plan users.
There's also a free web hosting plan to get an understanding of Hostinger. Do keep in mind that it's very limited. Still, if you're a complete beginner and just want a look, then this is a great option.
How Much Does Hostinger Web Hosting Cost?
Everything's nice and dandy, but let's find out if the subscription plans allow Hostinger to be one of the Bluehost alternatives that doesn't empty your pockets. These are the shared web hosting plans:
Granted, with these offers you are in for long-term commitments. Also, after the promotional time ends, your subscription renewal price will grow, but it's still considered one of the cheapest options for web hosting.
[featured-coupon review_id="16"]

Did you know?
Hostgator - Well-Established yet Affordable
With around 20 years of experience under its belt, HostGator stands out as a web hosting veteran amidst other Bluehost alternatives.
Starting off with the basics, HostGator guarantees an uptime of at least 99.9%. And they seem to be doing just that - in the year 2020, their yearly uptime settled around 99.95%. That's an amazing statistic!
Additionally, you're allowed to request compensation if the numbers were not met.
Hostgator provides unmetered bandwidth and disk space (or storage) on all of their subscription deals. You won't have to worry about paying extra for a surge in traffic.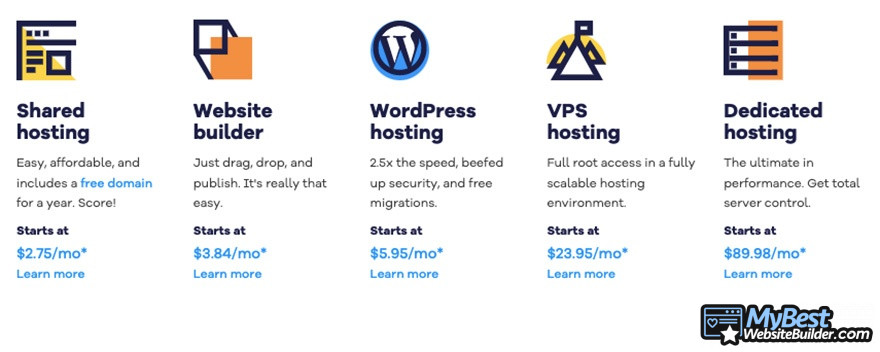 Regarding security, HostGator makes sure that SSL certificates are included in all of their plans. There's even a free positive SSL certificate upgrade, although it's only available to business plan subscribers.
Their intuitive website builder comes for free for all shared web hosting plan users. So if you were dreading to figure out how you'll build your website, don't worry - HostGator has got your back.
Plus, HostGator offers a limited number of free site migrations. Though, keep in mind that you need to pass the eligibility requirements.
When signing up to HostGator for the first time, you'll also receive Google Ads credit of $150. You'll be able to advertise your website and get some traffic right away!
Speaking of free stuff, HostGator hands out free domain registration (for 1 year), free email, and free dedicated IP, among other things.
Table: A feature comparison of HostGator and Bluehost
Just like every web hosting service out there, HostGator provides 24/7/365 customer support. It's amazing that this has become the industry standard. You can contact them via live chat and phone. User reviews show that the operators are knowledgeable and seem to go the extra mile to resolve your problem.
45 is an unusual number of days for refunds, but it certainly has its benefits. It may not seem like much, however, it's 2 weeks more than a lot of other Bluehost competitors. Besides, you'll be able to play around with HostGator a little bit longer before deciding whether you're ready to commit to the service.
Even so, not everything is perfect. The main issue remaining among HostGator and many other web hosting providers are paywalls.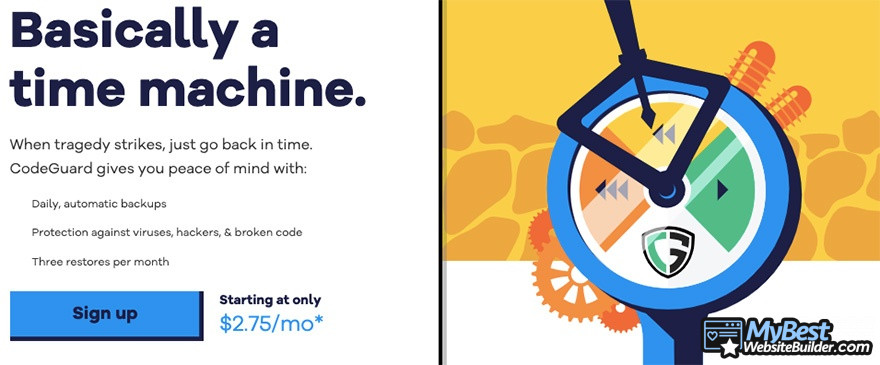 We feel that features surrounding the security of your website should always be included in all of the subscription plans. For example, automated backups which make sure that you don't lose all of your important data. Or malware scans, detection, and removal.
In comparison to other Bluehost alternatives, HostGator doesn't offer additional security features. Unfortunately, such vital aspects are secondary and you can purchase them as an add-on starting from $2.75 per month.
How Much Does HostGator Web Hosting Cost?
Could you see yourself using HostGator? Before you make a decision, have a look at how much it will cost you. Below are the main HostGator's shared web hosting plans during an introductory promotion:
Please note that these prices are dependent on a promotion, and are available only to those users who are willing to commit long-term. Renewal prices are also significantly higher, as is usual in the industry.
[featured-coupon review_id="15"]
Hostwinds - Superb Customer Service, Great for Small Businesses
Hostwinds is a web hosting provider that puts an emphasis on affordability, quality hosting, and technical customer service that actually solves problems.
Hostwinds uptime guarantee is 99.999% - that's one of the highest numbers we've seen so far. We've investigated and found an estimated uptime of 99.97%. It's a solid number that shows that Hostwinds is one of the best Bluehost alternatives when it comes to service availability.
Unfortunately, users report inconsistency when it comes to speed. Our research shows that, in some cases, it can take up to even 6 seconds for a site to fully load - that is not so great. This will surely cost you valuable traffic and customers. Hostwinds could definitely work on their website speed.
The possible culprit is the servers. They are only in 3 locations - Seattle, Dallas, and Amsterdam. 2 out of 3 of them are in the US and only 1 in Europe. So if you're not from these regions, you may encounter slower speeds and worse uptime.

Enjoy yourself with unlimited bandwidth AND unlimited storage. Daily backups are included in all of the shared hosting plans. We're sure it will be nice not to spend extra on basic features for once.
Plus, Hostwinds makes sure their hosted websites are using an encrypted connection by providing all of its users with SSL certificates.
Unhappy with your current web hosting provider, but don't want to spend hundreds on transferring your website? Hostwinds has got your back and will transfer your website to Hostwinds entirely for free.
Table: A feature comparison of Hostwinds and Bluehost
What sets Hostwinds apart from its competitors is that they offer an unlimited number of email accounts. It's important to remember that some competitors don't offer free email accounts at all. Or if they do, it's only for a single email account.
Hostwinds offer additional value to their plans by providing the Weebly website builder for free. Weebly is an extremely popular, user-friendly website building platform that will cover all of your base requirements while providing you with extra features like SEO and marketing tools.

Since Hostwinds highlights the importance of knowledgeable customer support, it's really no wonder they also offer 24/7/365 customer service specialists via live chat, support tickets, and emails. User reviews praise how professional, competent, and quick to respond they are.
Hostwinds offers a 60-day money-back guarantee, but there's a catch. If you exceed the initial 30 days, you won't receive a full refund. That's because Hostwinds charge you for the time spent on the service. So essentially, you'll have to pay for the number of days you used Hostwinds.
Also, you won't be able to register your domain for free. It's a small drawback, but important to note since many Bluehost alternatives give at least one year of free domain registration.
How Much Does Hostwinds Web Hosting Cost?
We know how pricey building and hosting a website can turn out to be. Before you decide whether Hostwinds is a solution that's better than Bluehost, check out the pricing. Here are the shared web hosting payment plans:
Considering the key features provided with these plans, Hostwinds can be considered one of the more affordable web hosting providers out there.
[featured-coupon review_id="2"]
WP Engine - Powerful, Fast, and Secure WordPress Hosting
WP Engine is a web hosting service that only hosts WordPress websites. The company claims to "take the complexity out of website maintenance" while focusing on the key aspects of web hosting - speed and security.
Soundcloud, National Geographic, Dropbox - these, among many others, are some of the big names of WP Engine clients.
The company goes above and beyond in regards to providing its users with powerful features and tools.
The first thing that makes WP Engine shine among other Bluehost alternatives is that it takes care of just about everything automatically without you having to lift a finger or spend an extra penny. This includes daily and on-demand backups, automatic updates, threat scanning, detection, and blocking malicious traffic.

It also monitors your site performance and provides you with analytics - valuable insights on how to improve.
Naturally, WP Engine values security so it provides free SSH and SSL certificates.
The company guarantees that your services will be available on the internet 99.95% of the time. Our research shows an uptime of 99.96% - that's a solid percentage. And quite higher than many other web hosting competitors on the market.
Don't forget, there are also some fun optional add-ons for your website like Genesis Pro and GeoTarget that allows you to control what type of content users see based on their location.
We all need some peace and quiet once in a while. You won't find constant, aggressive and, quite frankly, annoying upsells which have unfortunately become the standard practice in both web hosting and website building industries.
WP Engine allows you to turn back time with their 60-day money-back guarantee. It includes a full refund, but only Startup, Professional, Growth, and Scale plans are eligible.
Table: A feature comparison of WP Engine and Bluehost
Unsurprisingly, WP Engine offers 24/7/365 customer support via live chat and phone. At this point, if a web hosting service does not provide proper support, you shouldn't even bother. Fortunately, WP Engine cares about their customers and it shows through their knowledgeable and swift customer service.
One of the disadvantages that may push you to look for Bluehost alternatives is the costs. WP Engine can be considered quite pricey when compared to its competitors. However, it's important to keep in mind that you get more features, less paywalls, and a WordPress-specific service.
Plus, it's targeted at WordPress users who already are using a platform that's not entirely beginner-friendly. While WP Engine offers powerful and extensive tools that other Bluehost competitors don't have, they can take some time to master.
How Much Does WP Engine Web Hosting Cost?
Unfortunately, we can't consider WP Engine a web hosting solution that's better than Bluehost when it comes to pricing.
If you're on a tight budget then you're in for a letdown. WP Engine is one of the more expensive web hosting providers on the market in 2023. Currently, there are 3 packages: Managed WordPress, eCommerce Solutions, and Advanced Solutions. Let's have a look at Managed WordPress payment plans:
WP Engine can also create a custom plan just for your business - just get in touch with them directly.
After seeing these prices, you might be wondering if WP Engine is worth it. The answer is - it really depends on your available resources and individual needs.
Conclusion
That concludes our best Bluehost alternatives. The time has come for you to make your final decision.
I'm just kidding, you can think about it as much as you like, but if you feel like you need more in-depth information, feel free to check out our top web hosting provider reviews.
Choose Hostinger, HostGator, or Hostwinds if you require a fast, inexpensive, and easy-to-use hosting service.
GoDaddy is a good pick for users looking for simplicity, impressive uptime, and speed.
And if you're looking for a secure and powerful hosting service specifically for WordPress, we recommend WP Engine.
Bluehost will always remain a veteran in web hosting. It's great in many different aspects such as great service availability, unlimited bandwidth, and WordPress compatibility, but why constraint yourself when there are so many amazing alternatives that can be considered better than Bluehost. (the market is competitive after all).
At the same time, if you require security tools that are not behind paywalls, have budget constraints, or just need the essentials, these top 5 Bluehost alternatives will surely help you make an educated decision.
Thank you for reading, and see you next time! Toodles!
Leave your honest feedback
Leave your genuine opinion & help thousands of people to choose the best website builder. All feedback, either positive or negative, are accepted as long as they're honest. We do not publish biased feedback or spam. So if you want to share your experience, opinion or give advice - the scene is yours!