Finding the best website builder can be a tricky task, especially if you're completely new to the industry of website creation, in general. Don't worry, though - within studying this list, you will learn about the best website builders of 2020.
We'll start the article off by talking about website builders in general - what they are, how are they used, the benefits of using the best website builder software, and so on. After that, we'll move straight to the list in question.
The best website builder of 2020 list will look something like this:
What Should the Best Website Builder Look Like?
First things first - we should probably figure out what the best website builders look like, right?
At the very top of priorities is ease of use. A good website builder has to be easy to use and navigate around in. Most of the time, this means that it's going to be a drag-and-drop builder where all you have to do to change the appearance of your website is drag certain items from the builder UI onto the site itself.
Furthermore, the best website builders are going to have an abundance of themes and widgets for the user to choose from. Not only that, but all of those theme templates should represent modern, trendy designs - no one wants to create a website that looks like it was made back in 2001.
Features are also very important. Different website constructors are going to have different features - however, the best website builders will supply their users with the tools to build everything from an eCommerce platform all the way to a file sharing service or blog.
Now, there is one final thing to note before we jump into the "Best Website Builder of 2020" list. Online, you will often see debates like this:
"Squarespace best website builder!"
"No, wix.com best website builder!"
While people can have their opinions about which specific website builder is best for them, keep in mind that the majority of the builders mentioned on this list are going to be suitable for the title of the "best website builder". All of them are different, yet they are also all good.
Keep in mind that the prices of the different website builders we'll be talking about are subject to change, and that the given price in the given currency is a representation of the pricing options as of writing this list. Also, in this article, €1 EUR = $1,13 USD.
Ranks #1 out of 7 Website Builders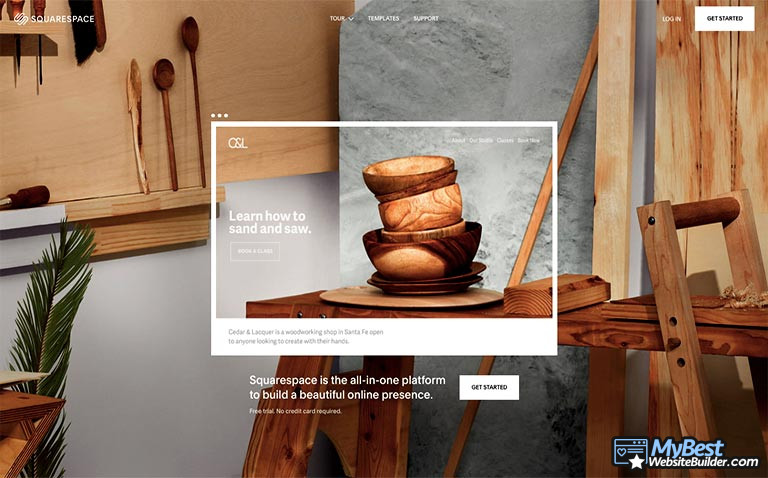 Things we liked:
+ Beautiful theme templates
+ Good uptime
+ Plenty of features
Things we didn't like:
- Below-Average Site Speed
If you have ever heard anything about Squarespace, chances are that it's related to their theme templates.
And goddamn, are they amazing.
While it's definitely not the only card that Squarespace has up their sleeve, it sure is noteworthy. The company prides itself on being the lead industry providers of amazing and beautifully-designed themes that reflect the wants and needs of a modern website manager.
That said, just as I've mentioned earlier, beautiful templates really aren't the only thing that makes Squarespace one of the best website builders in the market.
Using the company's website creation tool, you'll notice that you have an amazing array of features that you can integrate into your website. Logo creation kits, eCommerce integration tools - you name it, Squarespace's got it!
What is the Price of the Squarespace Website Builder?
While website builders such as Wix have quite a few pricing plans to offer to the average customer, Squarespace tends to keep things simple - if you want to use this best website builder software, you'll have 4 different pricing options and plans available to you.
The four plans are divided into two groups - 2 of the plans are in the "WEBSITES" category, and the other 2 lie in the "ONLINE STORES" one.
Websites
Online Stores
Fair pricing options for one of the best website builders out there!
Huge Squarespace Deal
Up To 30% Off Yearly & 10% Off All Plans
Purchase one of Squarespace annual plans to save up to 30%. What's more, you can get 10% off ALL selected plans. Enjoy all the benefits while creating your beautiful site!
Expiration date: 13/08/2020
3987 People Used
Only 13 Left
Ranks #2 out of 7 Website Builders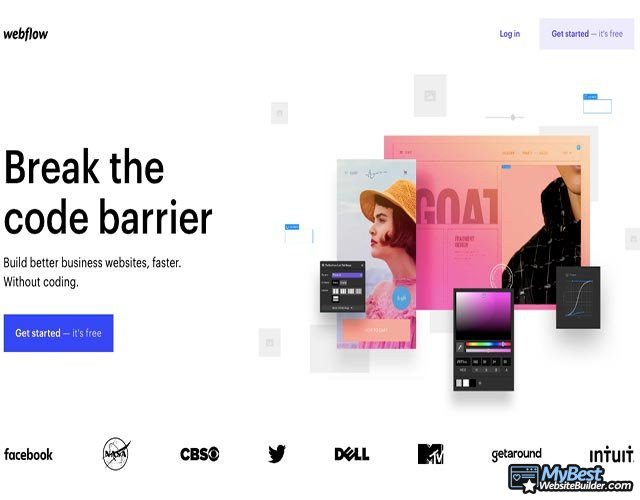 Things we liked:
+ Free version available
+ eCommerce features
+ Plenty modern templates
Things we didn't like:
- Pricey plans
- No refunds
I bet that you've heard about Webflow website builder before. It's an amazing and unique website building tool that might be difficult to crack at first, however, once you learn how to use it, you can create the most captivating websites.
The fact is that Webflow is not only a website builder but also a CMS (Content Management System). While it's more difficult to figure out, there's also much more customization and management options that will allow you to create a one-of-a-kind website for your needs.
Talking about UI (user interface), it might be confusing at first, but it's all because you have such an amazing functionality and features that you can apply to your website, so it's definitely not a bad thing.
You also get a variety of attractive-looking templates, great SEO tools and eCommerce features that the majority of website builders lack.
What is the Webflow Website Builder Price?
Webflow is not the cheapest website builder, however, quality usually comes with a price. Webflow provides you with three different plan options - Site, Account, and eCommerce.
If you choose the Site plan, you can import your own website, however, if you want to get additional features, you'll need to pick the Account. Here are the prices for Webflow website builder:
Site
eCommerce
Account
As you can see, the eCommerce plan is the most pricey. However, you should know that all business plans tend to charge more.
Ranks #3 out of 7 Website Builders
Things we liked:
+ 99,98% Uptime
+ Amazing Usability
+ More than 350 Apps
+ Modern and Sleek Designs
Things we didn't like:
- Not the Fastest
- Some Users Lacked Customisation
Weebly is an amazing website builder if what you're looking for is to create a website that wouldn't necessarily be flashy, but would be functional.
Don't get me wrong - Weebly does come equipped with some modern and high-tier theme templates. However, where the company lacks in style in front of a competitor like Squarespace, they make up with great features and tools.
Using Weebly as the best website builder, you'll be able to optimize your website with SEO (perhaps more extensively than you'd be able to with other website creators), shape all your menu layouts precisely and simply create a great website overall.
The only major downfall that customers seem to have with Weebly is the fact that it isn't a purely "drag-and-drop" website builder. A lot of the features on the website have to be coded in, and this can be a major turn off for anyone who doesn't quite know how to code.
What is the Weebly Website Builder Price?
In total, Weely has 7 different pricing plans that you could choose from - 4 for Website, and 3 for Online Stores.
Website
Online Stores
Considering the reputation of the website builder, Weebly's prices are quite adequate!
Ranks #4 out of 7 Website Builders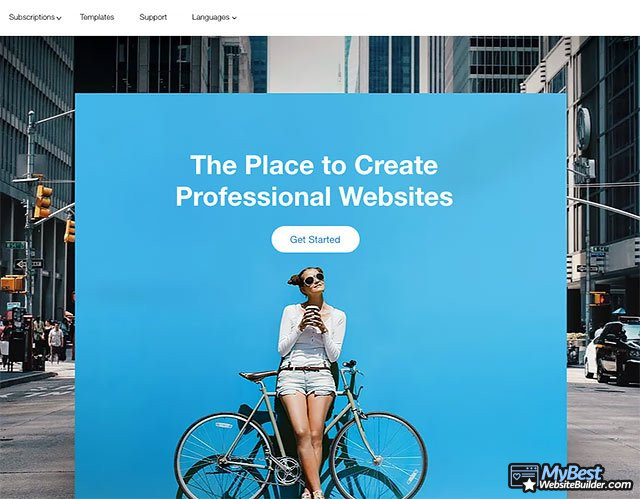 Things we liked:
+ Wix ADI - Artificial Intelligence
+ Easy Drag and Drop
+ Variety of Free Widgets and Apps
+ More than 500 Templates
+ Modern & Sleek
Things we didn't like:
Wix frequents the top of most of the "best website builder software" lists that you are likely to come across on the internet. Is the platform really that good, or is there some marketing gimmick going on?
Nope - Wix really is good.
The brand focuses on the term "stunning" - according to the company, if you choose their website builder to create your own website, it's going to come out "stunning". And Wix delivers - inside of the website builder, you'll find countless amounts of modern and fun-to-navigate-around-in themes and great visual enhancements.
In addition to that, Wix doesn't falter in the feature apartment, either. They have all of the main features and widgets available at your disposal, and then some - the platform allows you to create any type of a website that you'd want.
Some user reviews that are based on the topic of "wix.com best website builder" do state that sometimes, Wix can even get rather confusing. This is mostly because of just how many customization options there are - whether it's a good or a bad thing, I'll leave it for you to decide.
What is the Price of the Wix Website Builder?
Wix has two different pricing options - one of them is designed for a website and has 4 different pricing plans, while the other one represents "business and eCommerce", and has 3 plans to choose from. Here are the pricing options for wix.com best website builder:
Website
Business and eCommerce
Wix maintains average pricing for their website builder.
Ranks #5 out of 7 Website Builders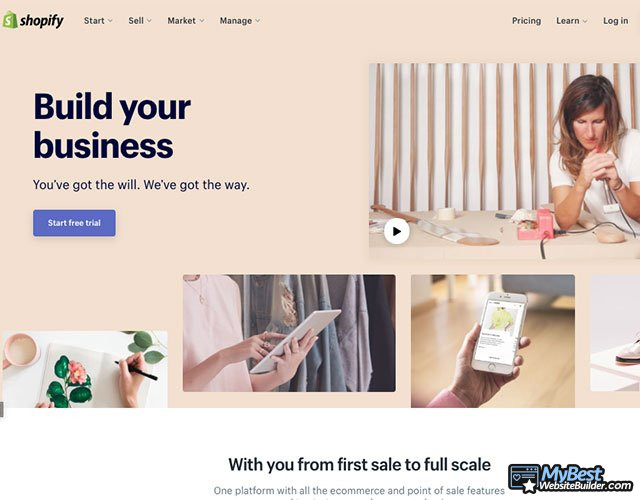 Things we liked:
+ Great UX
+ Modern and Stylish Templates
+ Every Needed Tool for e-Shop
+ Variety of Payment Methods
Things we didn't like:
As the name probably suggests, Shopify is an eCommerce-based platform. It actually powers a whole lot of the top online shopping websites from individual creators and brands!
People love Shopify because of a few different reasons. It's very easy to use, has a free trial period (14 days, to be exact. No credit card registration required.), allows you to market and sell your products on some of the most popular websites out there (Facebook, Amazon, etc.), and is an eCommerce dedicated site, in general.
User reviews point to the fact that Shopify might be a bit confusing at first - I can second that from my own, personal experience with the site.
After registering, I wanted to integrate my Printful (a print-on-demand company) account with Shopify. While I did do it eventually, it was somewhat confusing at the very beginning, having to jump between windows and navigate different panels.
What is the Price of the Shopify Website Builder?
Shopify has 3 different plans for you to choose from, and also the above-mentioned options to try the platform for free for 14 days.
The plans are:
While the pricing options are, well… Rather expensive, you should not forget that this is a strictly eCommerce-dedicated website. The thought here is that you are going to make money, and can thus spend it on an eCommerce-based platform.
So, if you don't think "Squarespace best website builder", and are instead looking for an eCommerce website builder, then definitely check Shopify out.
Ranks #6 out of 7 Website Builders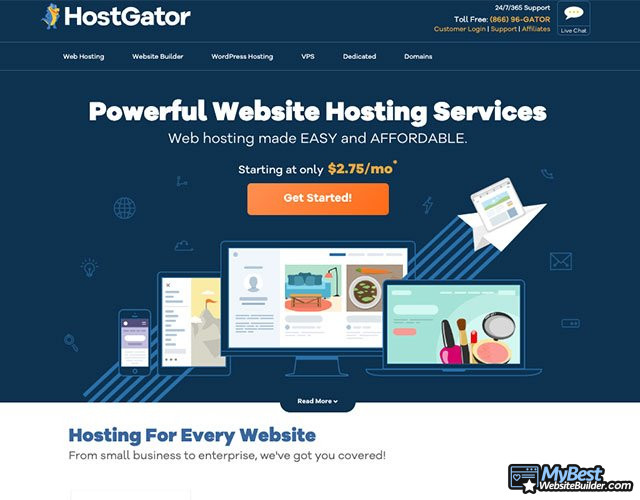 Things we liked:
+ Great Usability and Customer Support
+ Variety of Layouts
+ Every Primary Feature On the Spot
Things we didn't like:
- No Built-in Email Marketing
- Plain Themes
HostGator is a website builder that comes with all fundamental features, including unlimited storage and bandwidth, SSL, analytics, domain, and more. While there are mixed reviews regarding HostGator, the majority of customers agree that its UI is super clear and requires minimal skills for management.
No matter what kind of website you want to create - blog, business, design, etc., you'll easily find a template based on your personal wants and needs. The only concern is that templates are not as modern as, for example, Webflow or Squarespace can offer. Some even say that they're "plain".
What is HostGator Pricing?
If you decide to choose the HostGator website builder, you won't be spending much. Three different plans are available - Starter, Premium and eCommerce, each with individual features.
Take a look at plans and prices that HostGator offers:
Just like I told you, HostGator keeps their prices low.
Ranks #7 out of 7 Website Builders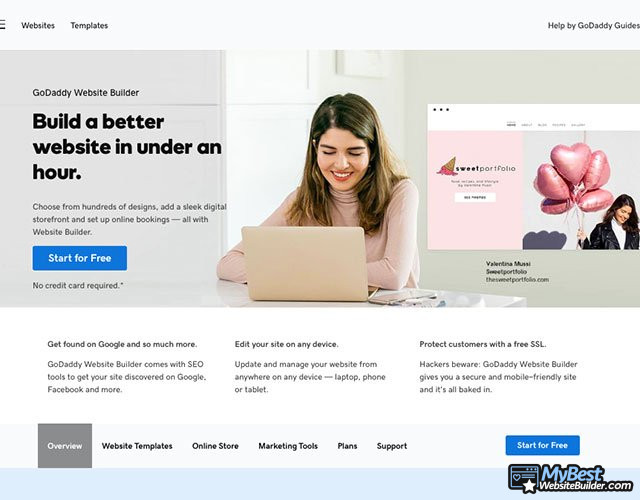 Things we liked:
+ Very simple and straightforward
+ Integrated eCommerce features
+ Allows you to get a website up and running very quick
Things we didn't like:
- No drop-down menu
- Lacks some essential features
GoDaddy is a very simple website builder that you can use to create an attractive-looking personal or eCommerce website without much effort. The majority of users are very pleased with UI that comes with all the fundamental functions.
Moving to themes, there are enough options for beginners. The customization is quite limited, though, that's why experienced users might find GoDaddy too basic for their needs.
If you want to create an eCommerce website using GoDaddy, you can easily do that. It will be great for beginners, small business owners, and maybe even bigger stores.
What is the Price of the GoDaddy Website Builder?
GoDaddy is one of the least expensive website builders. You can choose from four plans, including Personal, Business, Business PLUS, and Online Store. Needless to say, each plan offers different features.
Here's a list of the plans and pricing options for GoDaddy website builder:
As I said, prices are very low, even eCommerce website is not that expensive.
Conclusions
That concludes our "Best Website Builder of 2020" list. Hope you've found the perfect website builder for all of your wants and needs!
Huge Squarespace Deal
Up To 30% Off Yearly & 10% Off All Plans
Purchase one of Squarespace annual plans to save up to 30%. What's more, you can get 10% off ALL selected plans. Enjoy all the benefits while creating your beautiful site!
Expiration date: 13/08/2020
3987 People Used
Only 13 Left
---
Other Website Builders In This Category
Here are other website builder related to the category but not as favoured by MyBestWebsiteBuilder readers yet. In my personal opinion, today there are much more optimal website builder in the list with the higher rating that I'd recommend for the same price range or less.
WordPress - Great Functionality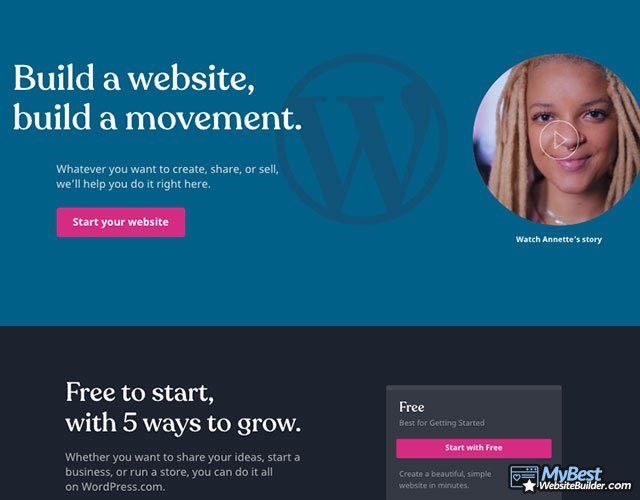 Things we liked:
+ Universally adored by the majority of the internet
+ Super-flexible
+ Plugins to solve every possible issue you might face
Things we didn't like:
- Difficult to get a hold of
- Clunky interface
- No drag-and-drop (unless you install a plugin in the .org version)
WordPress is a bit different as far as the best website builder software go.
How so? Well, mostly because it's not a website builder at all. It's a CMS - a content management system.
However, that being said, WordPress still frequents most of the high-rated best website builder reviews. Why is that the case? Simple - while not really technically being a "website builder" per se, WP still performs all of the same functions that you'd expect from a website constructor.
If you were to take a look at the users WordPress reviews, you'd notice that there is one thing that most people dislike, and one thing that everybody loves.
Dislike? Compared to other website builders, WordPress is quite difficult to use and get a hold of.
Love? If you manage to learn how to use WordPress, there is absolutely no limit to what websites you'll be able to create.
What is the Price of WordPress?
There are two versions of WordPress that you can use - WordPress.com and WordPress.org. The .org version is completely free to download and use, but you'll have to find a hosting provider and purchase website hosting and a domain name. Because this is a preference-based decision, let's focus on the .com version.
In total, WordPress.com has 6 different plans available:
Free!
Blogger - $3 per month, billed annually
Personal - $5 per month, billed annually
Premium - $8 per month, billed annually
Business - $25 per month, billed annually
eCommerce - $45 per month, billed annually
Leave your honest Best Website Builder review
Leave your genuine opinion & help thousands of people to choose the best website builder. All reviews, either positive or negative, are accepted as long as they're honest. We do not publish biased reviews or spam. So if you want to share your experience, opinion or give advice - the scene is yours!