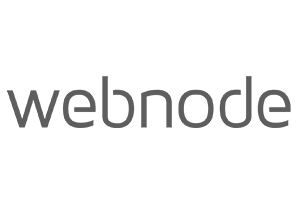 Looking for a decent website builder? Those aren't easy to come by! That said, today we'll look at and analyze some Webnode reviews - in doing so, you'll have the chance to learn about this website maker tool. Hopefully, after reading this review, you'll have a better idea of whether or not Webnode suits your wants and needs.
We'll start off by talking a little bit about what is a website builder, and why are they as popular as they are. I assume you know the very basics, so I'll just give you a quick rundown that'll help get into the actual Webnode website builder review better.
After that, we'll talk about the pros and cons that user Webnode reviews tend to emphasize, the builder's pricing model, is Webnode safe, and so on.
TL;DR: Webnode is an interesting website builder. It has all of the basic features in check, and is relatively easy to use. That said, it lacks some style and functionality (especially as far as eCommerce is concerned). Webnode does, however, have pretty good SEO customizations - that's important!
Here is The Best Squarespace Offer I Found:
SAVE 20%
Squarespace Limited-Time Deal
Grab this Squarespace offer code & enjoy a lovely 20% off on any selected Squarespace subscription plan. Create your dream website NOW!
Expiration date : 30/09/2023
4,512 People Used
Only 88 Left
Webnode Reviews: What is a Website Builder?
So, let's start this analysis of the Webnode reviews with the basics - what is a website builder?
Website builders are basically tools that are used to create the various websites that you encounter online.
Is using a website builder the only way to build an online site? No, but it's definitely one of the more popular ways.
You see, website builders are usually very easy to use and don't require much time - no matter who or where you are, you could have your website up and live in a matter of hours. Naturally, I can imagine your next question probably sounds something like this - where's the catch?
As many Webnode reviews will tell you, each different website builder has their own "catches". Most of the time, however (especially when we're talking about the best website builders in the market), these "catches" are nothing when compared to the service that you get - the ability to build your own, unique website.
All of that being said, with the rise in website builder popularity, there are a lot of cheap knock-offs entering the market. These builders are basically cash-grab scams designed to drain your wallet and not give you a decent service in return.
How to avoid them? That's right - read trustworthy website builder reviews. And if you want to know about the Webnode website builder, you've come to the right place.
Pros
Optimised for SEO
A solid selection of features
OK TTFB / uptime / site speed
Cons
Outdated theme templates
Worse-than-desirable functionality
eCommerce doesn't work properly
Webnode: PROS
Jumping into it, you'll immediately notice that most Webnode reviews are rather positive. Let's check out some of the main things that the builder has done right.
Easy to Use
Website builders should be easy to use - that's a no-brainer. However, the unfortunate fact here is that not all builders can proudly represent the "simple" tag - some of them are difficult with no specific reason other than being difficult.
Note, though, that this does not apply to CMSs - Content Management Systems. These systems are similar to website builders in that they allow you to build a website, but they are usually quite difficult to get a hold of, especially if you have no prior background in programming. WordPress.org is the best example here.

As the majority of Webnode reviews will tell you, however, this website builder isn't like that.
Users claim that, while Webnode's user interface does have its own quirks, it's relatively easy to use, navigate around in and understand. I concur! After creating an account on the platform, I was immediately thrown into the website creation page. And, truth be told, not once did I find myself being confused with the UI.
Latest Squarespace Coupon Found:
SAVE 20%
Squarespace Limited-Time Deal
Grab this Squarespace offer code & enjoy a lovely 20% off on any selected Squarespace subscription plan. Create your dream website NOW!
Expiration date : 30/09/2023
4,512 People Used
Only 88 Left
Great for SEO
Some of the more tech-savvy users write positive Webnode reviews claiming that this is one of the best website builders for anyone who cares about SEO on their site.
That's wonderful news! However, I bet that, if you've never heard about SEO before, you're justing sitting there with your shoulders shrugged. Allow me to explain.
SEO abbreviates as Search Engine Optimization. In layman's terms, it's basically a way to tell Google (or any other search engine) what exactly your post (page, site, etc.) is about. You do this by using keywords in your texts - specific terminology that allows a search engine to understand everything mentioned above.
Without SEO, your page is likely to get lost in the ocean of other, similar Google search results. This means that no one will come to your page, and it will perform very badly, overall.

Every good website needs SEO - that goes without saying. However, with some sites, SEO integration can be easier than with others. The reason? You've guessed it - website builders.
Some website builders are simply not optimized with SEO-specific features. They either brush it of offering you just the option to customize your URL, or don't have SEO features at all (which is, simply put, a tragedy).
As you've probably guessed from the tone of the Webnode reviews, this builder is different.
While Webnode might not be the best website builder as far as SEO is concerned, it's certainly up there. Again, I know I risk seeming repetitive, but I cannot stress this enough - it's great! If you want your website to grow, no amount of beautiful themes or fancy menu interfaces are going to help you - SEO is the only feasible way.
Good Feature Selection
No matter what type of a website you're creating, it's always nice to have a big list of features to choose from. Perhaps you want to integrate your blog into another, bigger site? Or maybe your portfolio page could use a "Contact Me" form and a print-purchasing option?
Whatever the case might be, it's pretty obvious - the more features are available to you, the better you can make your website to be at the end of the day.
As many Webnode reviews state, the builder has got your back here, too.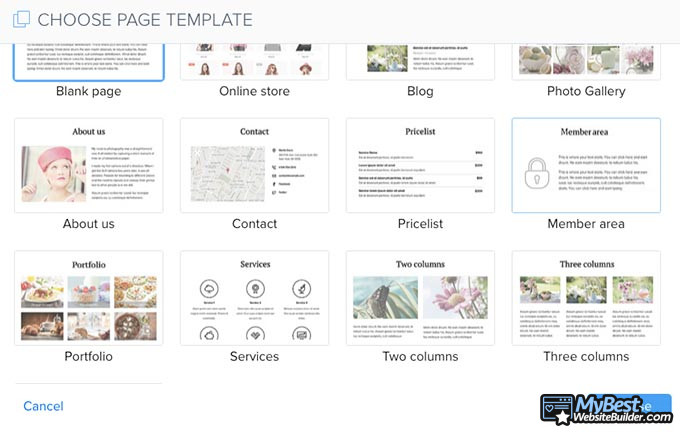 Let's be frank - Webnode certainly doesn't possess all of the top-tier widgets and features in the entire game. It doesn't, however, lack any essential features, either.
The cool thing with this website builder is that you get access to eCommerce features even purchasing the most basic of plans (there are certain problems here, but we'll talk about that later). Some people have gone to question "is Webnode safe?" because of this - and, at least judging from other user Webnode reviews, it is.
All in all, Webnode certainly has all of the main features you'd need for a simple site - good to know!

Did you know?
Decent TTFB / Site Speed / Uptime
Now, before we jump into the cons of Webnode reviews, let's get a little bit technical.
Sites created with Webnode have some pretty good parameters as far as TTFB, uptime and site speeds are concerned. For anyone who doesn't quite know what these are, here are the one-sentence explanations:
TTFB - the time period from when a request is made till the very first byte on your page loads.
Site speed - the time period from when a request is made till the whole page loads.
Uptime - how long is your website live, and how long is it crashed during specific intervals of time.
Webnode can boast a 99,6% uptime - not the best, but far from being the worst, either! The site speed is, as follows: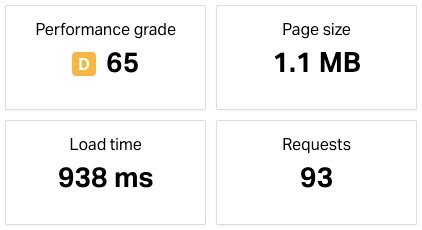 And as for the TTFB, it looked something like this: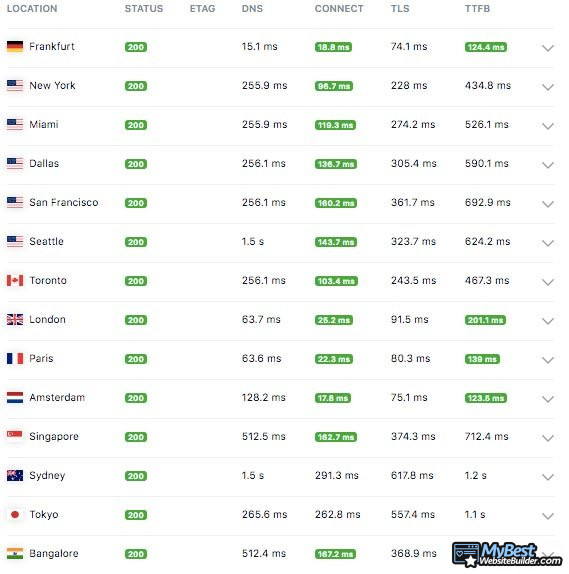 Not at all bad!
Webnode: CONS
Now that we've discussed the pros of Webnode, let's take a look at the more negative reviews that this website builder receives.
eCommerce Isn't Well-Optimized
Webnode has eCommerce features - yes. As I've mentioned earlier, they even offer these features with their most basic plans. However, there's a catch - they aren't at all well-optimized.
This kind of goes together with quite a few of their general features, too. While many Webnode reviews do mention the fact that the UI is simple to use (which is true), some features simply lack in functionality.
I'll give you an example out of my own experience.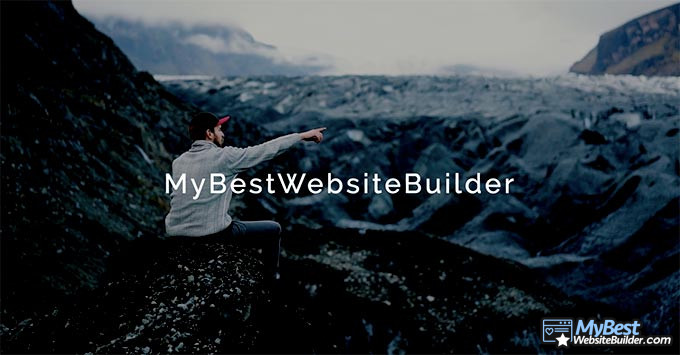 After creating my initial website with the Webnode website builder, I wanted to move the logo and page title around. You know what? I couldn't. The actual process was very easy to do (you drag-and-dropped the blocks you wanted, wherever you wanted), but the function itself was completely unresponsive - it wouldn't stay in place.
Needless to say, I gave up eventually.
eCommerce in the site builder isn't at all better, either. The features and options that you do have are pretty basic, and even they can get somewhat confusing and unresponsive.
Outdated Theme Templates
Theme templates are important.
No, let me rephrase that.
Theme templates are ESSENTIAL to a website's well-being.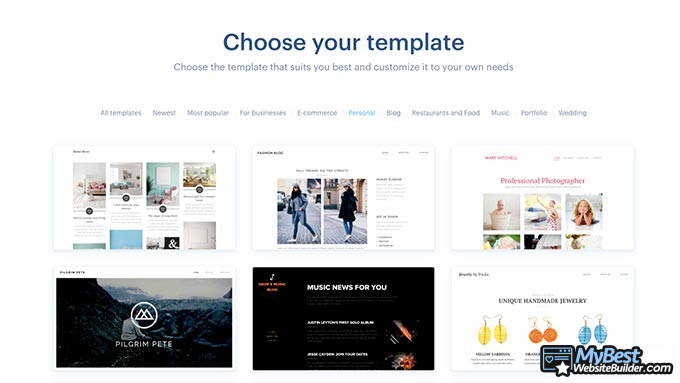 I know that I've been going on about the importance of SEO for your page's livelihood, but themes are a certain runner-up - the majority of the high-tier website builders are doing everything in their power to keep their themes up-to-date and trendy.
Things are a bit different with Webnode, however.
While the builder doesn't have atrocious templates, there are quite a few user Webnode reviews that seem dissatisfied with the quality of the themes. And, in all honesty, when placed near those of Squarespace or Wix, I have to agree - Webnode should really up their game in this department.
Webnode Review 2021 - The Most SIMPLE Website Builder?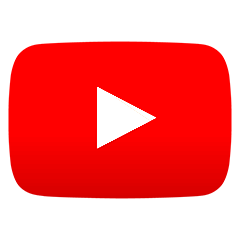 Price
So, we've talked about the pros and cons of Webnode, figured out why people are asking "is Webnode safe?", and by now, you should have managed to craft a pretty good idea about this website builder.
But wait - we're not done yet. There's still the topic of pricing.
Webnode has a free version available - you can create your website completely free of charge, although the features you'll have will be quite limited. If you decide that the builder is suitable for you, and want to grow your site from there, you'll have 4 pricing plans available:
Each of the individual plans grant you their own benefits, such as increases in bandwidth, statistics, analytics, site storage, and so on.
Truth be told, all things considered, I'll have to agree with the majority of Webnode reviews here - the prices really are reasonable! They aren't exactly on the lowest-end of things, but the builder itself certainly seems worth it, at least as far as the smaller-priced plans are concerned.
Here is The Best Squarespace Offer I Found:
SAVE 20%
Squarespace Limited-Time Deal
Grab this Squarespace offer code & enjoy a lovely 20% off on any selected Squarespace subscription plan. Create your dream website NOW!
Expiration date : 30/09/2023
4,512 People Used
Only 88 Left
Conclusions
Now, we've reached the end of our review. We've talked about Webnode from a few different standpoints - we discussed the pros and cons of the builder, talked about its pricing options, and so on.
The last question to answer is this - would I recommend using Webnode?
Yes and no. It depends.
Don't get me wrong - Webnode isn't a bad website builder. The problem here is that it isn't all that good, either. Most people who are going to be looking for a website builder will want a tool that allows them to build any site they'd want.
Webnode is kind of like that. Kind of.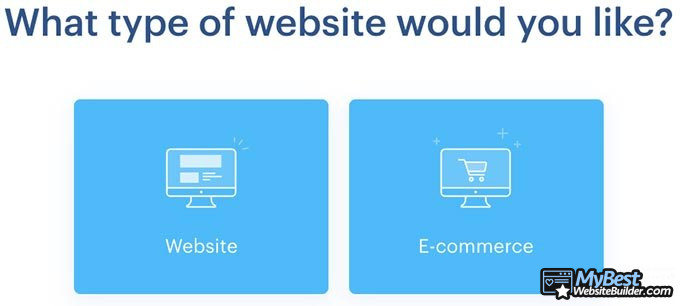 While most of the essential site-building features are in check, the builder does lack in the functionality department. Outdated themes are also a bummer - if you want your site to keep up with the times, it's rather unlikely that you'd use Webnode.
While the pricing of the builder is fair, the fact of the matter is that there are better website makers to choose from, and they go for similar prices. This is actually the main reason why I say that it's preferential.
Let me put it this way - if you're just starting out with website builders, and just want to play around with the idea of having a website without actually investing a lot of money and (or) effort into it, then sure - Webnode might suit you pretty well.
However, if you're already determined to build the next Etsy or Tsuki, then you should probably look for a better alternative.
Leave your honest Webnode review
Leave your genuine opinion & help thousands of people to choose the best website builder. All reviews, either positive or negative, are accepted as long as they're honest. We do not publish biased reviews or spam. So if you want to share your experience, opinion or give advice - the scene is yours!