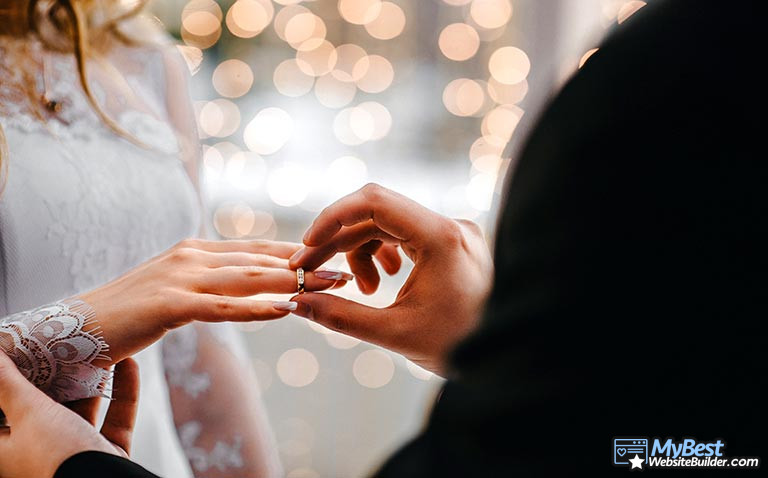 Weddings are among the most important and memorable experiences in many people's lives. Part of the preparation process usually involves creating a dedicated website (whether with a builder, or else) for your guests to visit and get information about the celebratory event. In order to get inspired for a site of your own, it's worth taking a look at other wedding website examples, too.
While you'll be looking through sample wedding websites, you might notice that they're actually quite simplistic in their design. Well, your eyes aren't fooling you - that's actually the case.
It's great news, since even if you aren't tech- or IT-savvy, you'll have no trouble creating your own version of the best possible wedding site. In order to guarantee success even further, we'll quickly go through the essentials of making sites like that first, and then move on to talking about some wedding websites examples.
Wedding Website Examples, and How to Make Your Own Site
So - what do you need in order to create a perfect wedding website?
Well, first of all, you need to decide on a tool to do so with. In other words, you have to choose the right website builder for the job.
While the website builder market is full of tools that will do the job, some of them are better at it than others. If you were to look at the wedding website examples, you'd notice that most of such websites are made with Squarespace, Wix, and other, similar builders.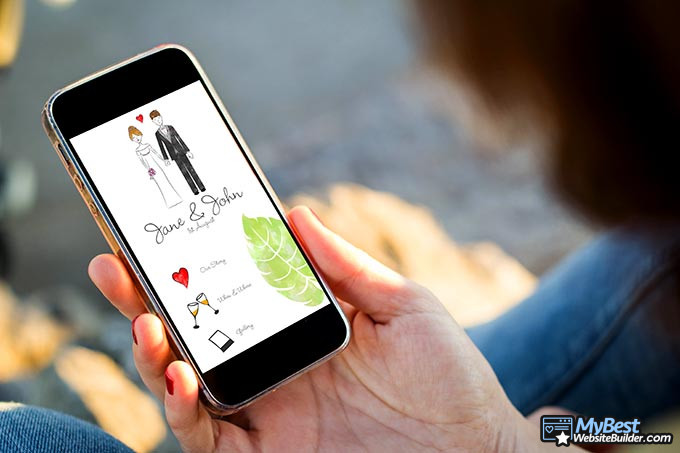 The reasons behind this are pretty simple, too, and they tie into the actual wedding site creation process quite nicely. You see, with some of the top website builders in the industry, you'll be able to both create fully-functional wedding websites, and also utilize some of the prettiest templates on the market.
While creating something like one of the wedding websites examples mentioned below, these two things are frankly essential. That said, while pretty and functional templates are a must, most wedding sites don't really need "heavy-duty features" - in other words, you probably won't need to purchase an eCommerce plan, or hire a web developer to create a wedding site for you.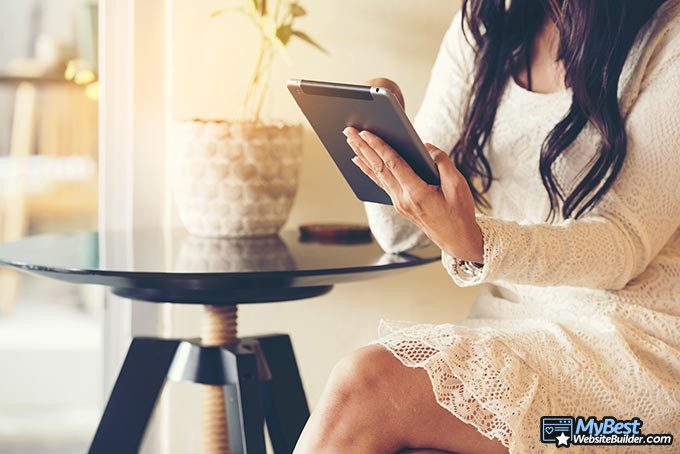 RSVPs, contact forms, "About" and "Information" sections, galleries - most features that you'd require are pretty simple and straightforward. Well, "most" being the keyword here - you might struggle a bit to find a builder that has a fully-functional RSVP feature, for example.
Having said all of that, let's move on to talking about and taking a look at some of the best wedding website examples.
1. Julia & Sam (julia-demo.squarespace.com)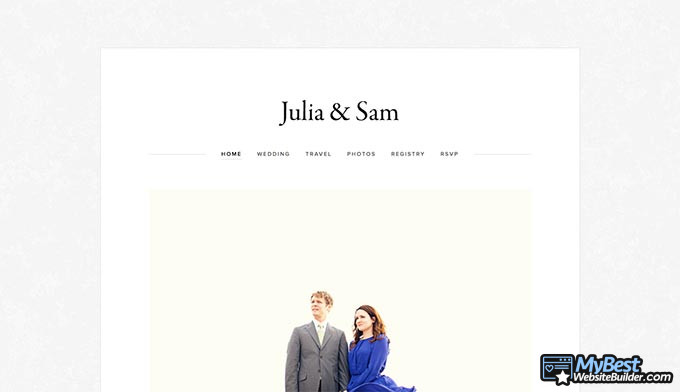 Julia & Sam's wedding website is an example of how to keep things to a minimum, yet still boast a beautiful site design. The site offers very little information - only the essentials - but that's more than enough!
Made with: Squarespace
Latest Squarespace Coupon Found:
GET 10% OFF ANY PLAN
Squarespace Black Friday Sale
Squarespace Black Friday has begun: use this Squarespace coupon code to activate a huge 20% discount on ALL plans & create the most beautiful website!
Expiration date : 01/12/2021
5,827 People Used
Only 24 Left
2. Luke & Charlotte (charlotte-demo.squarespace.com)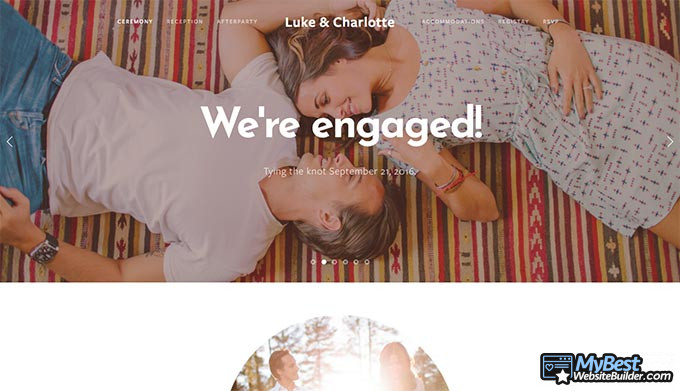 When it comes to visually-driven wedding website examples, L&C has one of the best platforms in this regard. The website is based out of photos, and they are clearly the driving force behind the entire design of the website.
Made with: Squarespace
3. Duran & Kirsten (vieiraventures.com)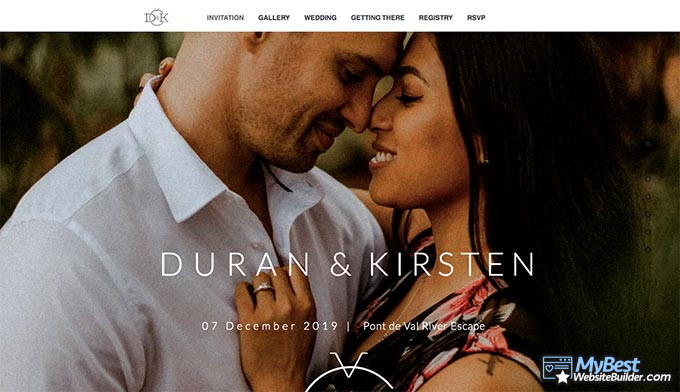 Duran & Kirsten has one of the more interactive websites on this list. It's fun to navigate, since it possesses various slider features and an interactive menu, in general. Surely one of the better wedding website examples!
Made with: Wix
4. Grayden & Jenny (jennyandgrayden.com)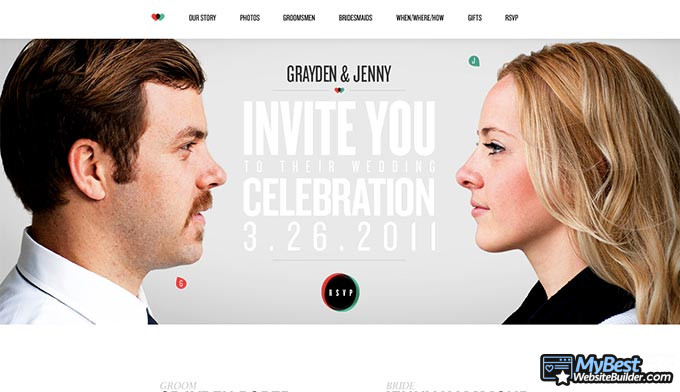 G&J is full of wedding website ideas - the site is very cleverly-designed, has a pretty good sense of humor surrounding it, and is fully functional. Bound to be at the top of wedding website examples!
5. Judie & Z (judieandz.com)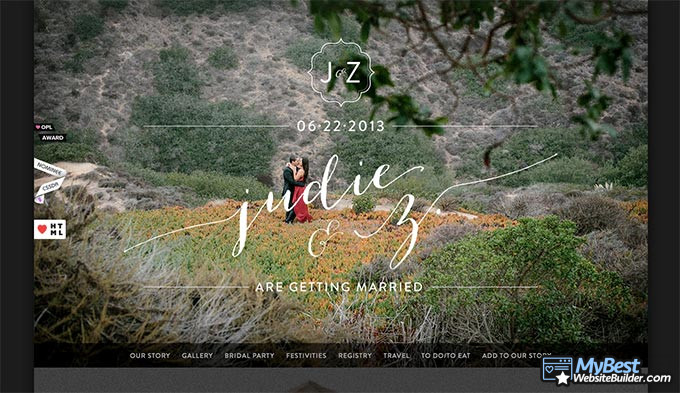 One of the more-formal websites on this list, judieandz.com has an aura of professionalism wrapped all around it. It would appear that the site is made by actual website creation professionals - that said, it's one of the better wedding website examples even for those who are looking to make their own site, too.
6. Aubrey & Paul (aubrey-demo.squarespace.com)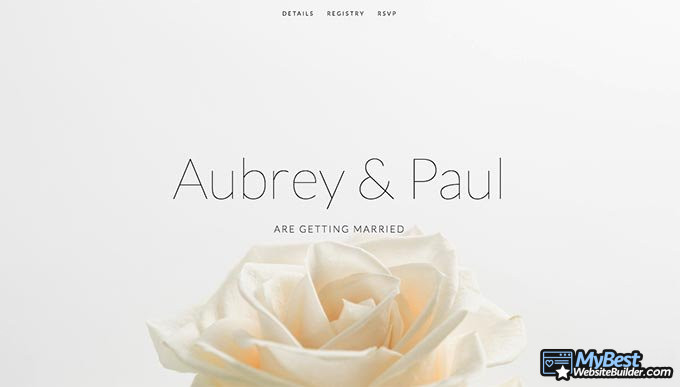 If you're interested in something that's super-simple and to-the-point, you won't find a more-straightforward wedding website than that made by Aubrey & Paul. The site offers but a few essential features, and no photos, whatsoever. Not one of the more creating wedding website ideas, but still an interesting option!
Made with: Squarespace
7. Luc & Casey (lucandcasey.com)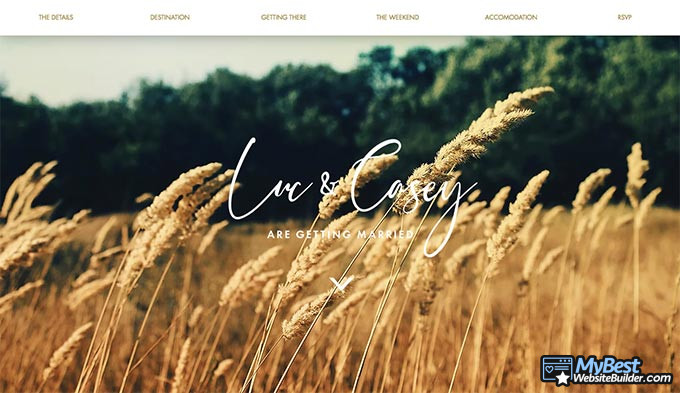 lucandcasey.com is a 1-pager, but definitely a noteworthy one! The website is very modern and sleek (that makes sense, since the wedding is happening in 2021), and should present itself to be one of the better wedding website examples, for sure!
Made with: Squarespace
8. Naomi & Aaron (naomi-demo.squarespace.com)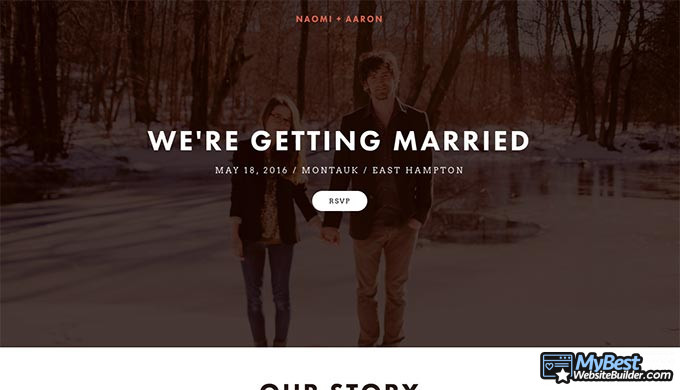 Naomi & Aaron rock a pretty, Autumn vibe-inspiring website design. Simplistic in nature, the website still conveys the message well, and even has a gallery of the couple for you to go through.
Made with: Squarespace
9. Sonya & David (sonyalovesdavid.com)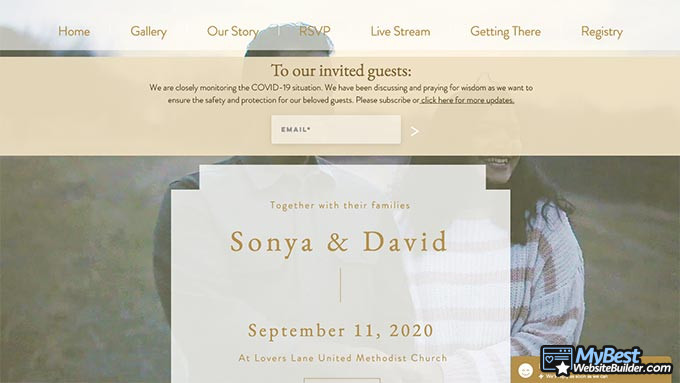 sonyalovesdavid.com is one of the prime wedding website examples out there. The site features an introductory video that goes all throughout the page - definitely an original design! The site itself is clear, and all of the menus are interactive, as well. Surely a great source of wedding website ideas!
Made with: Wix
10. Brooke & Stephen (lovejones08-08-20.com)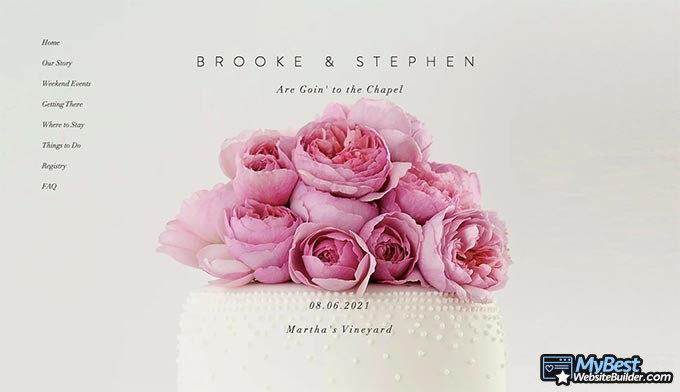 When it comes to wedding websites examples, Brooke & Stephen are at the top of the game. Their website features an even color scheme, and a fun-to-scroll-through interface, as well.
11. Zoe & Amelia (wix.com/demone2/wedding-site)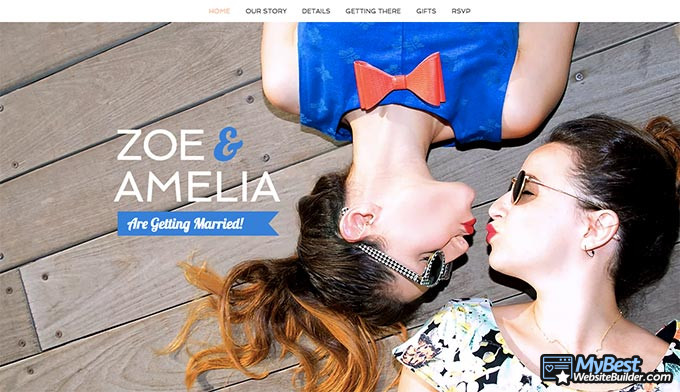 Zoe & Amelia boasts a fun wedding website. The platform isn't at all fancy, and doesn't have any interactive details, but is still one of the better sample wedding websites, mostly for its simplicity.
Made with: Wix
12. Helen & Josh (helenandjoshsittinginatree.com)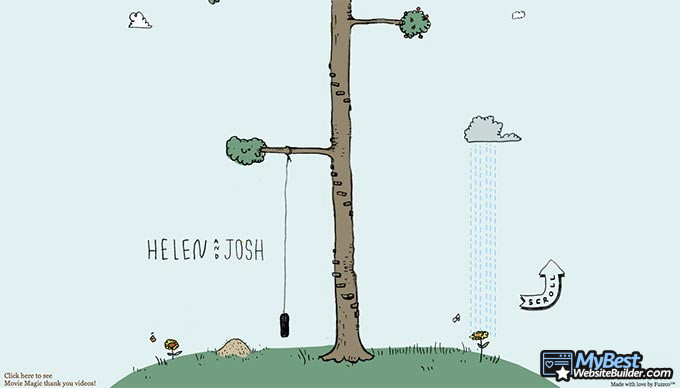 Without a doubt, this is one of the most interesting and fun wedding website examples out there. The site features no separate sections, but instead is an interactive scrollable experience - as you "climb up the tree", more and more information is revealed. Superb!
13. Anya & Deven (anya-demo.squarespace.com)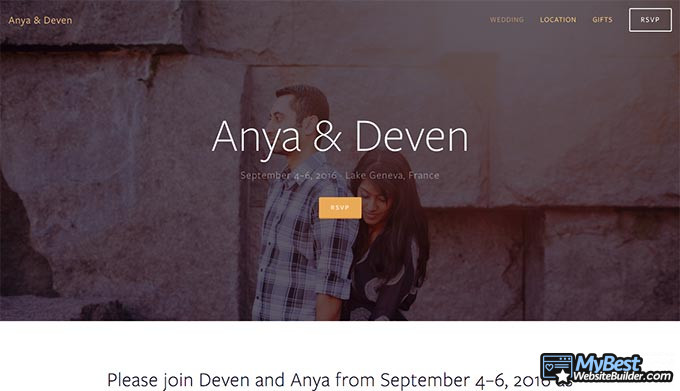 A&D have made a rather straightforward wedding website. Having said that, the site is very sterile and orderly - while some people might find this to not be their cup of tea, in general, it's surely one of the nicer sample wedding websites, at least as far as some variety is concerned.
Made with: Squarespace
14. Philip & Nicole (phicole.com)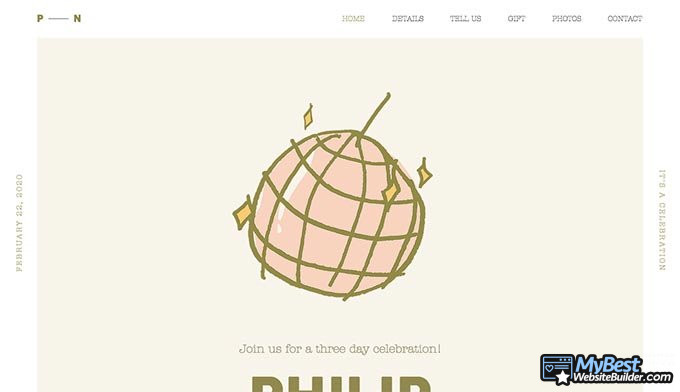 phicole.com features a pretty old-school design. It's one of the rarer wedding website examples of this kind, since most couples these days try to go with some more modern, sliding image-based website designs. It's actually quite refreshing and aesthetically-pleasing - a win for Philip and Nicole!
Made with: Squarespace
15. Kylla & Mike (sonny-demo.Squarespace.com)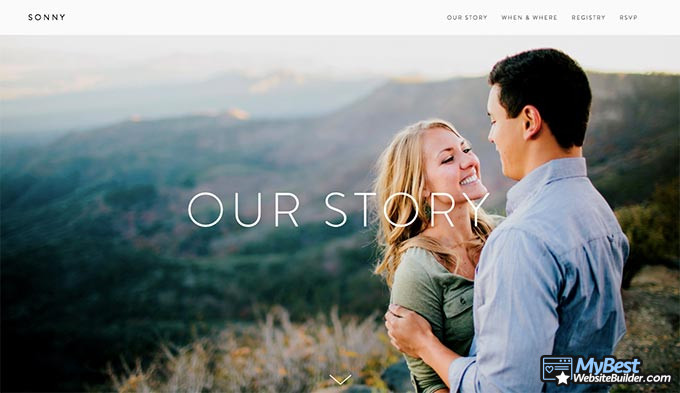 Kylla & Mike have created an interactive and fun wedding website. It's based out in photos, and the textual information mostly serves to aid the visual one. Definitely a simple-to-make, yet nice-looking site!
Made with: Squarespace
16. Nick & Sara (the-wedding-day.vamtam.com)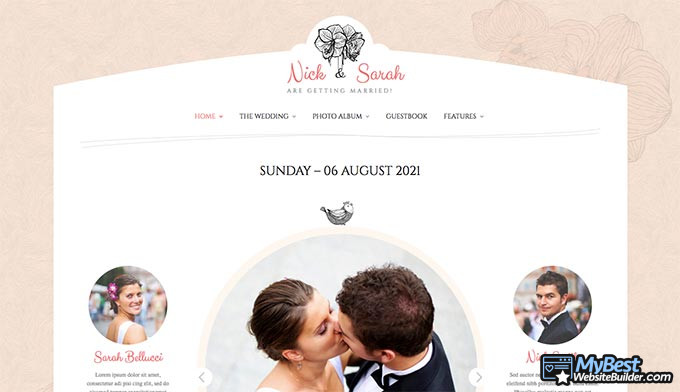 N&S have crafted a very unique site, as far as the best wedding website examples are concerned. The site has a pretty different layout when compared to most others on this list, and while the textual information is still missing in many parts of the site, the overall look is quite awesome.
Made with: VamTam
17. Hayden & Mellisa (wix.com/demone2/upcoming-wedding)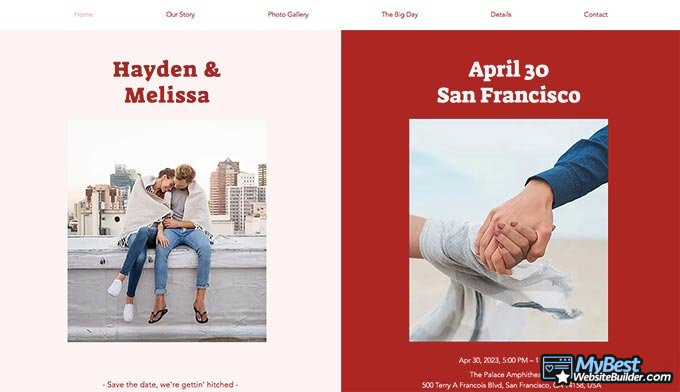 H&M's wedding website resonates some old-school-like design. The site is very clear and simple, and is sure to not confuse anyone who might visit it. While it's far from being one of the more intricate wedding website examples, it's still worth looking into, for inspirational purposes.
Made with: Wix
18. Anna & Ryan (wix.com/demone2/wedding-invite)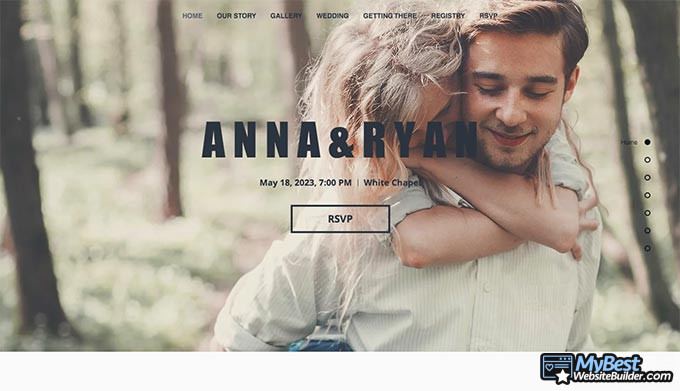 A pretty wedding website, A&R's platform is made with some sliding transitional panels and short, to-the-point text information. It's part of the now-popular design options, but it sure does look good!
Made with: Wix
19. Suntina & Famico (irs-soft.com/wp/bibaho)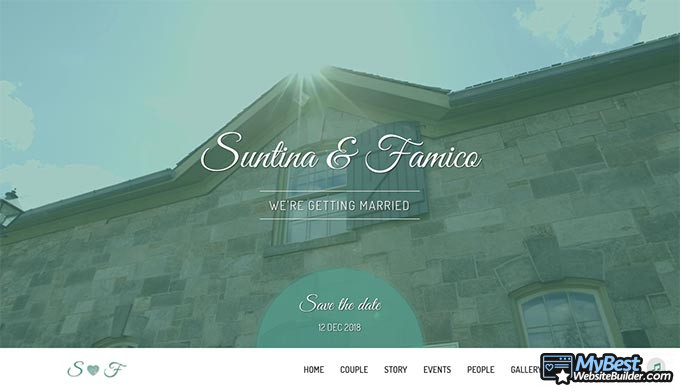 While this specific wedding website does house a lot of written information on this front page, the visuals are simply stunning. It's bound to be one of the best wedding website examples out there.
20. Modern Wedding Invit (wix.com/demone2/modern-wedding-invit)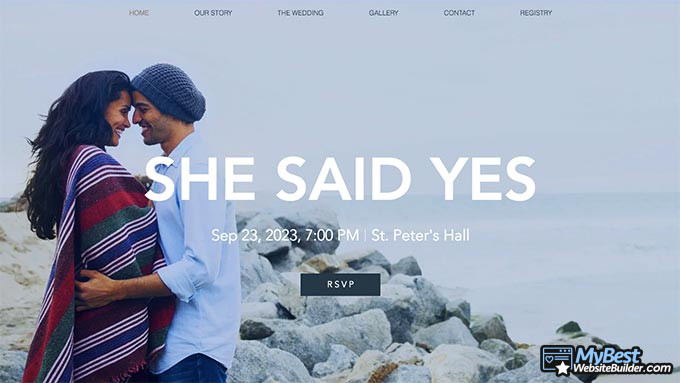 This is one of those wedding website examples that are all about photos. If you'd like to showcase your photography, and also utilize some sleek design options offered by Wix, then this site should definitely prove to be inspiring.
Made with: Wix
21. Lee & Tom (wix.com/demone2/floral-wedding-invit)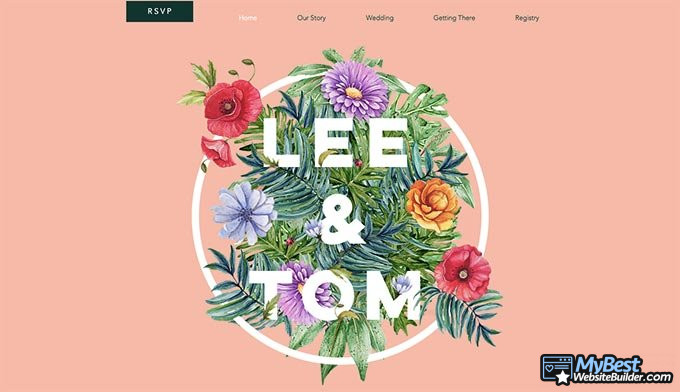 L&T's example site showcases some floral ornaments, accompanied with photos of the couple. It's a great example of how you can create a pretty simple wedding website that still looks modern and interactive!
Made with: Wix
22. Nikki & David (nikkianddavid2016.com)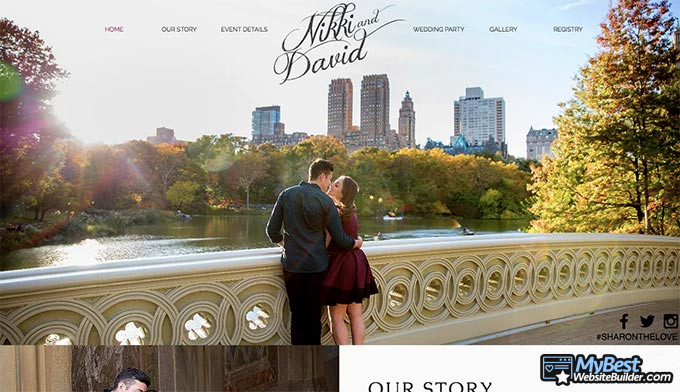 Yet another one of those wedding website examples that are perfect for showcasing photos, nikkianddavid2016.com is a prime example of a site that's literally dominated with pics. If that's something you're looking for, then this is sure to be a good source of inspiration!
Made with: Wix
23. Ally & Conor (mcgrathwedstock.com)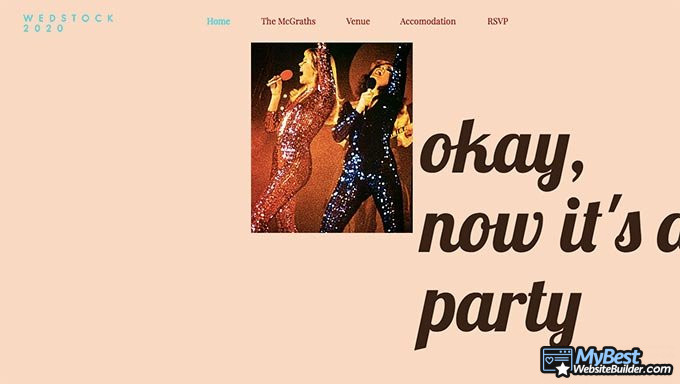 mcgrathwedstock.com is a site that, upon visiting, quickly inspires some great emotions, and puts you into a good mood. That's thanks to everything from the eccentric design of the site, all the way up to its wording.
Made with: Wix
24. Luiza & Alexandre (luizaealexandre.com.br)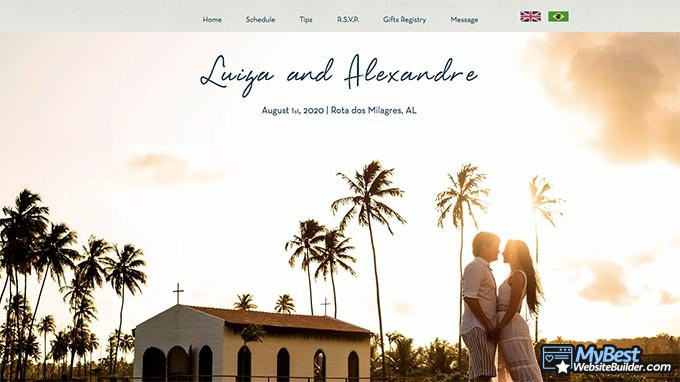 A website with some unique design and visual features, luizaealexandre.com.br shows that you do not need any fancy interfaces and a load of different features to get yourself a spectacular wedding platform. One of the better wedding website examples here, for sure!
Made with: Wix
25. Sam & George (samandgeorgewedding.co.uk)
Finishing off with a colorful website, S&G know how to keep things simple and straightforward. Their wedding website features a colorful upper part, and then transitions to a gallery of the wedding itself. The site has been modified post-wedding - a very nice way to go about it!
Made with: Wix
Conclusions
Those were 25 of the best wedding website examples on the web. I do hope that they've inspired you to create the most unique wedding site for yourself!
All of that, however, starts with picking the right builder for the job. Whether you like Zyro or Squarespace, check out our list of the top-tier builders on the current market, and pick away!
Leave your honest feedback
Leave your genuine opinion & help thousands of people to choose the best website builder. All feedback, either positive or negative, are accepted as long as they're honest. We do not publish biased feedback or spam. So if you want to share your experience, opinion or give advice - the scene is yours!
TOP3 Most Popular Coupon Codes