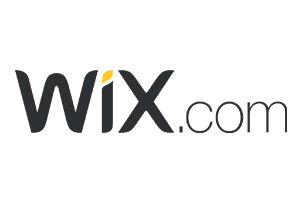 Welcome to the thorough Wix review. If you're looking for an easy and fast way to create a professionally-looking website, Wix should be one of your top options. It's great for people who have no digital knowledge and want to build a personal site without paying a fortune.
Wix is simple, great for beginners, suitable for almost every business, and you don't even need to have coding knowledge. Even though before the age of website builders only people with the necessary expertise were able to design a website, everyone can do it now.
In this Wix review, you'll find all the vital information regarding Wix, its pros and cons, pricing and additional details. So, let's get into it.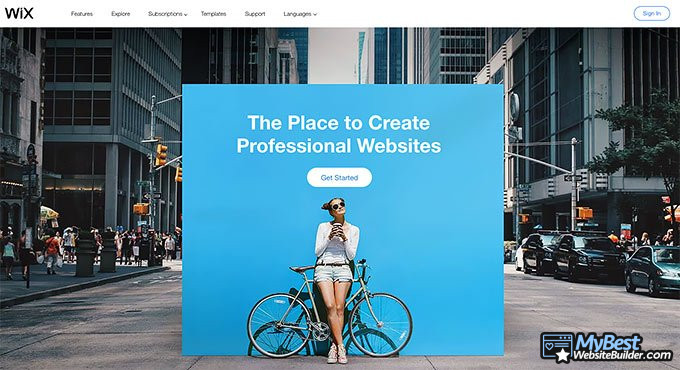 Wix Review: What Awaits
Wix is quite an easy-to-use website builder that offers a variety of modern and fashionable website designs. It has more than 500 templates and a variety of widgets. You can edit your site using Wix ADI or Wix editor.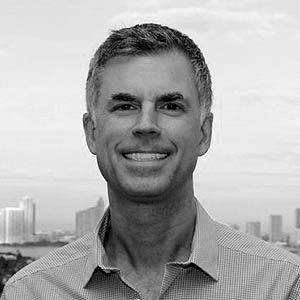 Mike Lingle
CEO at Rocket Pro Forma
What is one important thing to take into account when choosing a website builder?
I think features are important. As soon as I need to do something besides just display pages (collect email addresses, set up an eCommerce site, allow people to schedule a time to speak with me, etc.), can my website builder handle it? If not, it very quickly becomes frustrating. For me, Wix has 95% of what I need right out of the box. Plus, I find their page editor to be a good combination of easy and powerful to use.
Pros
Wix ADI - Artificial Intelligence
Easy Drag and Drop
Variety of Free Widgets and Apps
More than 500 Templates
Modern & Sleek
Wix Review: Introduction
Let's begin this Wix review with the introduction. Wix website builder was launched in 2006, by 2009, they had 1 million users, and now, in 2023, over 150 million users in 190 countries. So, they grow rapidly, constantly improving their user experience, adding new designs, widgets, and other enhanced capabilities.
Before customizing your page with Wix, you must choose a custom design, which is the closest option you want to your website. Then, you simply move and drop various elements that are needed to build your page.
Also, you can pick between two different tools: Wix Editor and Wix ADI. Those who want to make the process simple should choose the Wix ADI, which is a very simple and quick tool that does everything for you. Well, almost everything.
Wix Editor is more comprehensive, you can choose from over 500 templates that fit the best to your website and only then customize it based on your personal needs. While it's still quite simple, Wix ADI is better for those who need a fundamental page, have zero knowledge and very minimal time.
Now that we're done with the very basic information in this Wix review, let's move further into its pros.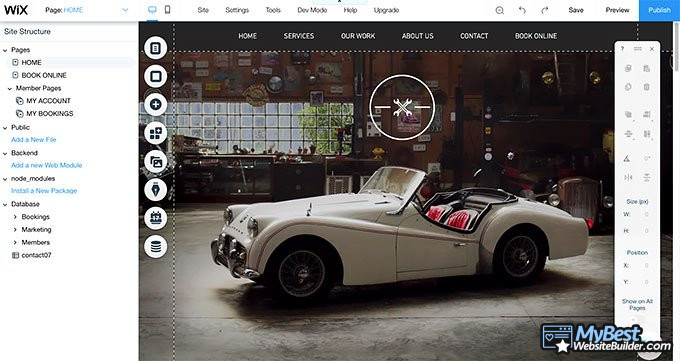 Wix Review: Pros
As always, we will begin from the positive aspects, as they are the most important to everyone reading this Wix review and considering this website building tool.
Variety of Plan Options
While Wix offers a free plan for the very basic websites, there are also a variety of plan options to choose from, take a look:
COMBO - best for small websites, you can connect your domain, get 2GB bandwidth, 3GB storage, and zero ads.
UNLIMITED - for those who need more than regular users, you get unlimited bandwidth and 10GB storage, together with a site booster app and visitor analytics app. Wix says that it's the best option for entrepreneurs and freelancers.
PRO - best for online branding, you get unlimited bandwidth, 20GB storage, professional logo, social media logo files and other benefits.
VIP - you get first priority support together with unlimited bandwidth and 20GB storage, also an extra professional logo, social media logo files, priority response, and VIP support.
There are also a few plan alternatives for Business and eCommerce, which you can find here. And, if you want to take a look into the pricing, you can find it either in the very end of this Wix review or Wix website builder official page.
Latest Wix Coupon Found:
GET 10% OFF
Wix Limited-Time Discount
Get a great deal for your site with this Wix promo code. Receive 10% off any Yearly Premium Plan (apart from Combo and Connect Domain). Promotion valid for first-time upgrades.
Expiration date : 30/09/2023
5,013 People Used
Only 79 Left
More than 500 Templates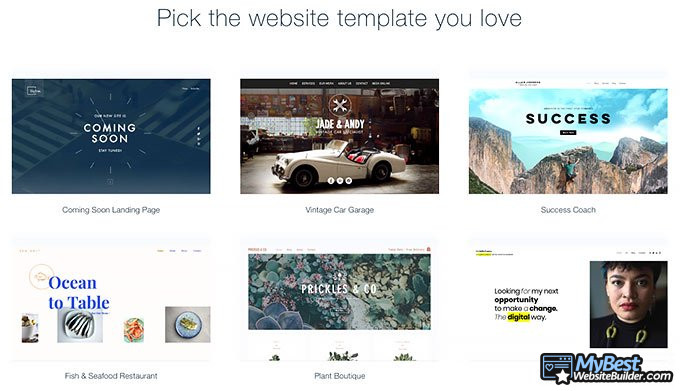 One of the major advantages to discuss in this Wix review is the designs. Wix offers more than 500 designer-made templates. Each of them is artistic, modern and unique and for everyone's needs. Choose from a variety of templates, which best represent your field, such as:
Business
Online store
Photography
Video
Music
Design
...and so much more
After you choose a specific template, you can continue to Wix website builder, move and place bars, text, menu where you want to.
Needless to say, these designs look professional and customizable, which means you can adapt them for your personal preferences. There's also a possibility to embed videos and upload your personal fonts and use them in Wix editor.
Whenever you choose Wix ADI, it creates a template based on your personal needs, you just need to mark what kind of website you want and that's it, your page is done using Wix artificial intelligence. Then all you need to do is to customize it based on your personal preferences.
I also must highlight in this Wix website review, that Wix offers an option for clients with coding knowledge, who want to create a design on their own. Such people can simply take the blank template and customize it by editing HTML and CSS. Therefore, it's obvious that Wix provides an opportunity to create a personal page for everyone, starting from beginners to pros, who can code it.
It's important to know that Wix is optimized for mobile devices, so your page will not only look good on a computer but also using a mobile, no need to add extra work to it.
Easy to Use
In the very beginning of the Wix review, I told you that it's user-friendly. But what features make it so simple?
First of all, the editor itself doesn't have that many functions, which makes it easier to understand than, for example, WordPress. And, if you're stuck at some point, you can go to the FAQ section and find the answer there.
Also, Wix made special short videos on how various functions work. So, when you want to add something additional to your page and don't know how, Wix can help.
Plus, for those of you who need super simple navigation and usability, Wix ADI will be just the perfect option. While it provides less functionality and flexibility, it's super convenient. And, if you decide that you need something more, switch to regular Wix website builder at any time, no-questions-asked.

Did you know?
Fast
Speed is one of the most important aspects for anyone who wants to create a user-friendly page. After all, people don't like to wait, and if your page takes forever to load up, they will simply go back.
It's important to note that your website speed highly depends on the location of the servers. The longer the data has to travel, the longer it takes to load a website. Good news is that Wix has servers all over the world, including the US and Europe, together with the backup servers. It means that your website speed should be fast enough.
But in order to make sure that it's really fast, we created our own page and tested its speed. Wix site speed came out pretty good - 568ms.
If you have problems with your Wix site, there are a few things you can do, such as:
Optimize your images (minimize the image quality, it takes too much space).
Fewer animations.
Do not use rare fonts, rather choose the most popular ones, such as Arial and San Serif.
Do not add too many frames (pages) into one.
Use a minimalistic header and logo.
While these tips seem to be very simple, they will improve your site speed.
My Wix Review - Is It Really Worth It? (2021)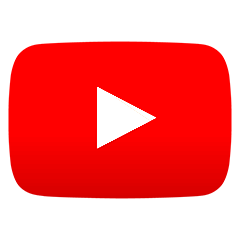 99.98% Uptime
Uptime is an important factor to evaluate. Actually, it should actually be considered as the most important one. Every time your website goes down, no one can access it and you might miss out on your potential clients. I know you don't want that.
If you're unaware, uptime shows the time, during which your website is available. It's often measured in terms of percentile. If the website's uptime is 99.9%, it means that it's down for about 52 minutes per year.
Wix's results show the 99.98% uptime, which means your website might be down for about 1 hour 45 minutes per year and almost 9 minutes per month. These are pretty good results.
Variety of Widgets and Apps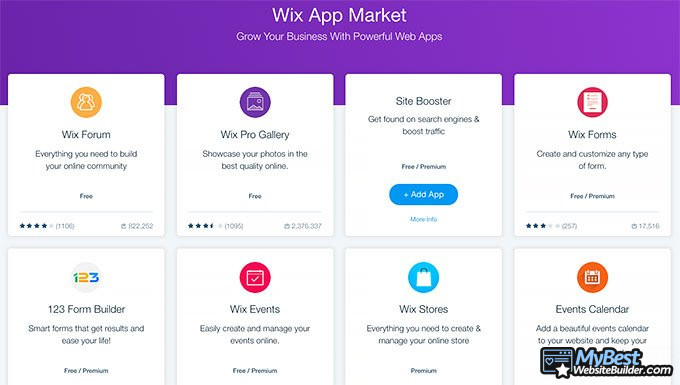 When you're creating a website and feel like something is missing, you can always go check Wix App Market. There you can find a variety of widgets, such as forums, events, stores, galleries, calendars, and so much more. You can even add live chat and communicate with your customers directly.
Majority of widgets can be used by both premium and free accounts, some of them, such as ChatBot or Sell Download has a free trial and later of should be purchased for additional pricing.
Therefore, it seems that Wix offers everything small business owners and freelancers need but is it really all good? Go further into the Wix website reviews cons and find out.
Wix ADI
In the very beginning of this Wix website review, I told you that Wix ADI is used by those who have very minimal knowledge and want to create a simple webpage, however, it seems that it's way more comprehensive.
It turns out that Wix utilizes artificial intelligence to build websites automatically. All you need to do is to type the basic information about your business, and Wix will create a design for you. Then you can easily switch to Wix editor and make more changes there - drag and drop designs where you want.
Wix Review: Cons
Up till now, Wix review may have sound perfect, but it would be unfair to keep it that way, especially since there are some real problems we face using Wix. Even though Wix growth and improvement is indisputable, there are plenty of negative comments on the internet. So, let's take a look into the Wix cons to see what are the most crucial flaws that come with it.
Some Bad User Reviews
As you probably already could have guessed, the first aspect that we're going to discuss is negative Wix reviews. While my general experience with Wix was really good, there are some people who believe otherwise.
I went through various Wix reviews just to see what users say about. I've already told you that Wix seems quite simple to me, but I wonder if others had a similar experience.
I found a few Wix reviews, which had payment-related problems. Customers said Wix charged them before the service was supposed to renew. Other Wix reviews (a few were found) claimed that even if they canceled a subscription, Wix charged them anyway. But knowing that millions of users are satisfied with the experience, and only some negative reviews appear, it seems insignificant.
While sometimes it gets difficult to know, which comments should be trusted, there are many people who gave Wix solid evaluations. So, I guess it's too early to judge before trying it out ourselves.
SEO Limitations

You may have heard before, that Wix has some really bad SEO reputation. However, it seems that today things changed, or at least that's how Wix states.
You can now download the Wix SEO add-on, it should help you get your SEO right. However, you cannot rely only on it to create your strategies. It's only for the very basic SEO.
The thing is, there are many people who say that Wix's SEO doesn't work, but what they do not understand is that there might be some problems with their SEO strategies. If you're serious about your business, you should use such tools as Ahrefs or SEMRush.
Also, you might be making such mistakes as poor content, content based only on images, lack of keyword research, and so many other things. So, before blaming it all on Wix, make sure to get other aspects right.
Lots of Ads
Even though Wix alerts that they include ads in the free version as well as to the very basic one, it's still really annoying. And that's not only my opinion, but many Wix reviews also claim it too.
So, if you want a better user experience, I would recommend choosing at least the Combo plan, which removes all the irritating ads.
No Site Transfer
I believe that one of the major problems with Wix is that there is no site transfer. So, if you create a platform with Wix and decide to transfer your platform to another website builder or CMS, as, for example, WordPress, you cannot do that.
The only option that Wix gives you, is the ability to transfer your Premium Site to another Account. So, that means, you either stay with Wix or create a new website on another platform from scratch.
Therefore, even if not every website builder has an option to transfer your site, I still believe that it might be a major drawback to some users.
What is Wix Pricing?
Now that every detail is clear, it's finally time to discuss Wix pricing.
First of all, you should know that Wix offers separate Website, and Business & eCommerce plans. Take a look into the Website plans: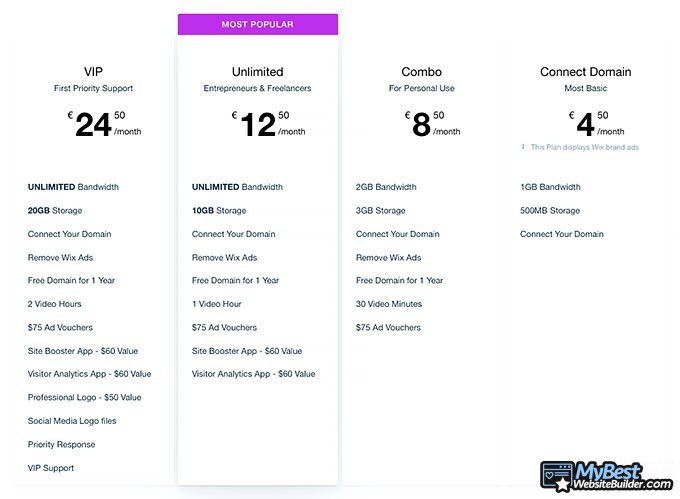 Note that prices may differ depending on your location. The price options and plans provided above are based on the US.
Here is The Best Wix Offer I Found:
GET 10% OFF
Wix Limited-Time Discount
Get a great deal for your site with this Wix promo code. Receive 10% off any Yearly Premium Plan (apart from Combo and Connect Domain). Promotion valid for first-time upgrades.
Expiration date : 30/09/2023
5,013 People Used
Only 79 Left
Conclusion
Therefore, Wix is a modern, easy to use website builder. It offers more than 500 layouts, a variety of widgets and apps, even SEO extension.
However, similar to other website builders, due to its simplicity, it's not very customizable, you can only drag and drop, but cannot change the primary layout completely.
With Wix, you can either choose Wix AID for more simplicity, or Wix Editor, which is also simple to use, but more comprehensive than the first option. And, if you're more advanced, you can choose an empty layout and code it based on your needs.
If you decided that Wix is the right pick for you, you can start creating your website here.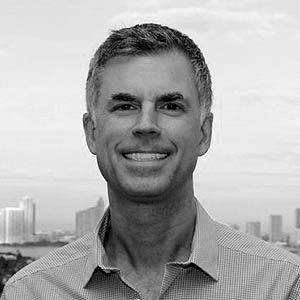 Mike Lingle
CEO at Rocket Pro Forma
Contributed by: Mike Lingle , CEO at Rocket Pro Forma
Mike Lingle is the founder and CEO at Rocket Pro Forma, a financial projections template for startups to quickly become comfortable with their numbers and impress investors. According to Mike, the ...
Read Full Bio...
Leave your honest Wix review
Leave your genuine opinion & help thousands of people to choose the best website builder. All reviews, either positive or negative, are accepted as long as they're honest. We do not publish biased reviews or spam. So if you want to share your experience, opinion or give advice - the scene is yours!