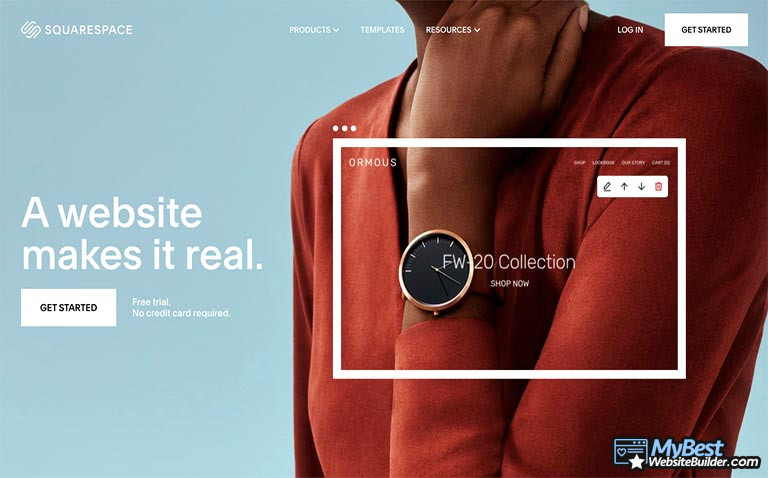 If you've spent any time on the internet looking for website builders, Squarespace is probably among the names that have popped up the most number of times. I know that this was the case for me, at least - when I was looking for a Squarespace tutorial back in the day, the brand's ads and other marketing popups would literally follow me to the depth of the Deep Web.
Yes, that's a joke - at least the Deep Web part. Squarespace ad-wise, I probably don't need to tell you - I wasn't even mad. The website builder truly is an amazing tool, worthy of all the praise that it gets - that's why I was looking for how to use Squarespace, in the first place.
If you're currently in the same boat I was back then - have just purchased a Squarespace subscription and don't know where to start -, or you're thinking about trying the builder out, allow me to help you out. In this Squarespace tutorial, I'll tell you all you need to know to get started with the site creation tool in question.
Squarespace Tutorial: Why Squarespace?
So, the obvious question before we begin would probably be simple - why Squarespace?
Let's be honest here - if you're reading this Squarespace tutorial, you've probably already gotten your sights set on the builder in question, or perhaps even started using it, and are now just looking for some extra tips.
However, for any industry newcomer who's still not sure about the right builder for themselves, let me answer the above question - because Squarespace is amazing.
This particular website builder is constantly placed at the top of the lists of the best builders on the planet. Squarespace has a very good sense of modernity and superb design choices - its templates are pristine and sleek, and the biggest issue that you'll face with them is trying to pick just one for your website.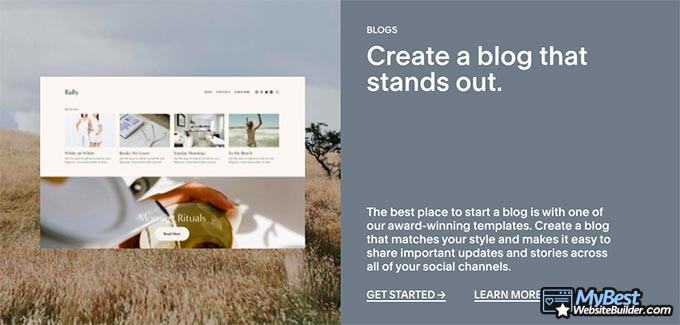 If you're wondering how does Squarespace work, it's actually another point in which the builder exceeds - it's extremely simple to use, and makes the process of creating your own website a truly joyous occasion, instead of giving you some headaches concerning intricate feature additions or third-party widget installations.
Squarespace also has all of the essential features that you'd expect from an elite website builder. No matter the type of a website it is that you're trying to make, you can be sure that if you learn how to use Squarespace, you'll be able to do it, no problem.
So, then - obviously, Squarespace does have a lot to bring to the table. It's a truly amazing builder that I myself have been using for quite some time now. In doing so, I've also noticed the main things that newcomers struggle with - this Squarespace tutorial is here to help you deal with just that. Let's take it from the top and start with the essentials.
Getting Started With Squarespace
While Squarespace is surely one of the easier and more straightforward website builder options on the current market, anyone who doesn't know how does Squarespace work might still be a bit confused about the optimal way to start creating their website with this platform.
I can tell you in advance, though - you should first go for the free trial.
Table: Squarespace pricing information
That's right - among its pricing options, Squarespace does also have a free trial period during which you can test the builder out, albeit not to its full extent. This is actually great for those who are still not sure if Squarespace is right for them, and want to test the builder out before committing to a purchase.
In any case, do make sure that you utilize the perks offered by the 14-day free trial period - no need to spend your money on something that you're still unsure about!
How to Build a Website with Squarespace: Explained in 7 Simple Steps
The one thing that you should surely keep in mind when trying to learn how to build a Squarespace website is the fact that we're talking about a website builder here, and not just any builder, either - a top-tier one!
While this might sound like arbitrary information at first, it's actually important in order to help you understand one, simple thing - Squarespace is going to be very easy to use and figure out.
That's why there's aren't any notable extensive, 500-page long guides about how does quarespace work, either - the processes that happen from you picking out a template to you publishing the final version of your site can be described and talked about in just a few simple-to-follow steps.
That's exactly what we'll be doing next in this Squarespace tutorial, too.
Step 1. Deciding and Choosing the Type of Your Website, Your Goals and Aspirations
One of the most important things when you're just starting out with website creation is actually something that's not even directly related to this Squarespace tutorial. In short, before you start pressing buttons and making payments, you should figure out and decide on the type of a website that you're going to create.
Think of it as choosing the appropriate clothes for some week-long camping trip. If you pack only t-shirts and shorts, you might come to regret it when a storm comes in - this could have been avoided if only you checked the weather forecast!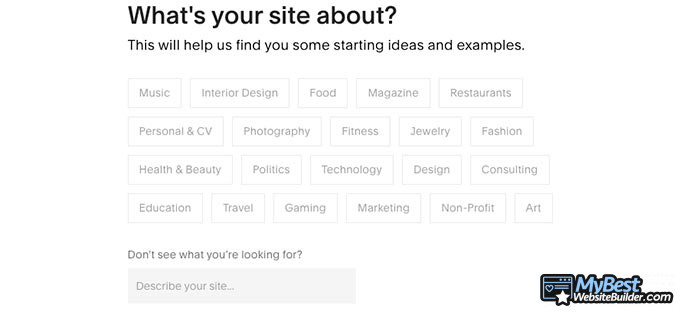 The same can be said about website creation, too. You should decide what you'll want your website to be - a blog, a shop, some sort of a portfolio, gallery, or anything else in between.
If you have your preferences set in advance, it will be much easier for you to concentrate on both the specific designs of a site that you'd like, and also on the features that would suit your site.
Upon first registering with Squarespace, once you've got all of the bureaucratic aspects out of the way (meaning - your name, email, etc.), you'll be prompted with a few windows asking you to pick some specific options from a few sets of lists. This way, Squarespace will be able to present only the most relevant information and features to you once you actually get into the creation process.

This will be very relevant when learning how to publish a Squarespace website, too - when you get to that point, you'll need to pick a pricing plan, and depending on the type of a site that you're trying to create, they are going to differ, too.
Latest Squarespace Coupon Found:
SAVE 20%
Squarespace Limited-Time Deal
Grab this Squarespace offer code & enjoy a lovely 20% off on any selected Squarespace subscription plan. Create your dream website NOW!
Expiration date : 12/12/2023
4,512 People Used
Only 88 Left
Step 2. Select the Best Template for Your Website
Once you've gotten all of the textual information out of the way, and have informed Squarespace about the preliminary goal of your website (eCommerce platform, blog, or something else), next comes the template selection phase.
Frankly, you'll be redirected into a page that houses all of the stunning templates that Squarespace has to offer. Not many Squarespace tutorials mention this, but I have to reiterate it once again - no matter the type of template that you'd pick, you can always expect it to be of the highest quality and modernity.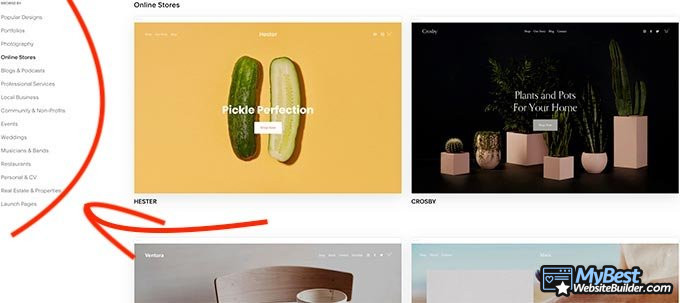 Your 'suggested' templates are going to be displayed in accordance to the information that you had provided earlier, but that does not mean that you need to pick one of them - instead, you can browse the entirety of Squarespace's template catalog and pick the one that seems the most appropriate to you.
You'll be able to both preview and enable the selected template, and will also have the ability to pick a different one at any given time afterward. In order to successfully learn how to build a Squarespace website, you should truly pay close attention to the template part of the matter - they can truly make it or break it for the user!
Step 3. Get Acquainted With the Builder
The next step in this Squarespace tutorial is to get properly acquainted with the actual builder and its general interfaces.
What this means is pretty simple - upon choosing the right template for yourself, you will then be redirected into the actual builder interface where the bigger part of the magic happens. Frankly, this is where you're going to actually build your website.
I cannot stress this enough - take your time and get to know the interface! Scroll through all of the features, press all of the buttons and see what they do, read through all of the helpful tips and advice offered by the brand, and so on. This is your best chance to take all of that information in - do not rush it!

Generally, though, you probably don't even need a Squarespace tutorial here - it's al pretty self-explanatory. On the left side of the screen, you have the feature list with all of the essential features ready to be utilized. On the right side, there should be some helpful tips, in the form of a pop-up screen.
Finally, if you want to learn how to use Squarespace, you'll need to understand that the editing processes of the actual page happen by double-clicking on the block that you'd like to edit. For example, if you want to work with the title, just double-click it - the screen will enlarge, and you'll be able to format the text, alter the button functionality, and so on.

Did you know?
Step 4. Page Creation, Editing, Adding / Removing Blocks
Without a doubt, one of the most important aspects of how to build a Squarespace website is going to have to do with the editing and general alteration processes of the actual page on your site.
As noted earlier on in this Squarespace tutorial, if you want to edit the page that you are currently in, all you need to do is double-click on the section that you wish to alter. Upon the screen enlarging, you'll be presented with all of the options that you can perform - deleting the block, altering its textual information, adding some widgets, and so on.
If you'd like to work on a different page, or even create a separate page, altogether, you can do so by accessing the main interface related to page setups on the left side panel. Here, you can also work on some of the more back-end features of your pages, such as SEO and technical information.
Step 5. eCommerce, SEO, CSS integrations, etc.
Squarespace has a lot - and I do mean, A LOT - of different features for you to utilize and use on your website. Many of the more advanced features aren't really going to be available for you if you haven't purchased one of the paid plans that the builder has to offer.
Still, even with the paid version, you can get a general idea of what to expect. On the left side, you can click "COMMERCE" - this will open up a separate tab where all of the eCommerce-related features reside in.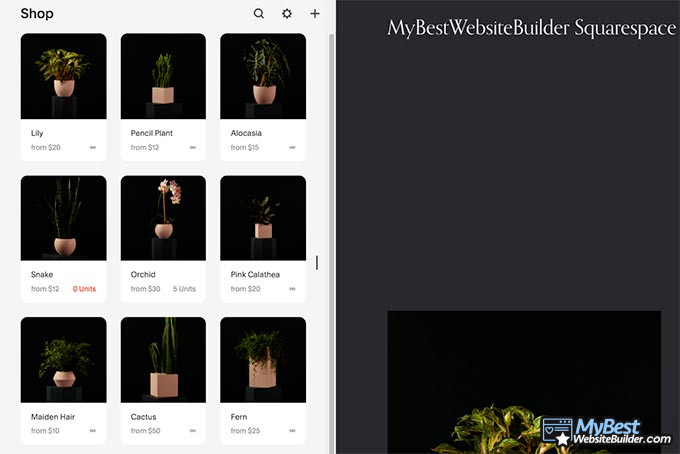 For the sake of this Squarespace tutorial, do note that, if you were to run an online shop that's made with Squarespace, you'd be able to access everything from your orders and inventory, all the way to some helpful selling tools, notifications, and so on. Setting up your products is also super-simple, and can be done from the same window in question.
SEO and other, related technicalities can be managed via accessing some specific interfaces from the "PAGE" section of the builder, as mentioned earlier in the Squarespace tutorial. The same can be said about some CSS integrations, too - if you're somewhat coding-savvy, and know some CSS, you could, in fact, integrate it into your website, too.
Step 6. Domain Name
Once you've gotten all of the features and technicalities of your site set, you can consider yourself almost finished with the Squarespace tutorial - at least as far as the basics of the actual website are concerned.
There are, however, still a few things left to do, with one of them being picking out an appropriate domain name.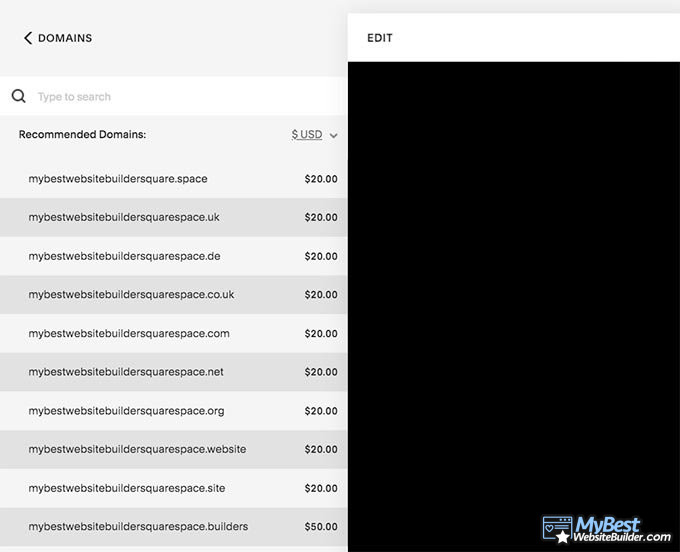 Domain names can be selected from the comfort of your builder's interface. Once you've figured out how to publish a Squarespace website, and have chosen a pricing plan, you could also do it from the brand's official website, too - this is a much better alternative if you want to create a custom domain name, without the ".squarespace.xyz" suffix.
While domain names can get a bit pricey, they are practically essential if you want your website to be taken seriously - keep that in mind!
Step 7. Accessing Your Analytics
While this isn't really something that you should be worried about when learning how does Squarespace work, it will surely be important in the long run, once your site is live and running at full capacity.
On the left side of the dashboard, you should see an "ANALYTICS" tab. Upon clicking on it, you'll be transferred to a new page - here, you can see anything and everything related to your website's performance.
The analytics tools are visual and very simple to use, without possessing any complicated, data analysis-specific jargon to confuse you. Definitely an important tool to keep in mind for the future, when you no longer need Squarespace tutorials to help you out!
Price
Finally, now that you know how to publish Squarespace website, as a final note, let's take a look at the pricing options of the builder in question.
Squarespace's prices are:
Each of the individual plans are going to provide you with some different perks and benefits. The best plan for you is going to depend solemnly on the type of a website that you want to create, your own, personal budget, and just how far you want to take that particular site (as in, is it a one-off thing to try Squarespace out, or are you serious about it).
Either way, the prices are truly some of the lowest in the industry! Surely some great news to finish this Squasrepace tutorial off.
Conclusions
So - that's it! You should now be able to create a full-fledged website with Squarespace, from start to finish. While each person is going to have their own, specific objectives with their site, the general processes are still going to remain the same.
With that, I thank you for reading this Squarespace tutorial, and hope that it was useful to you! Best of luck, and do make sure to check Squarespace out!
Leave your honest feedback
Leave your genuine opinion & help thousands of people to choose the best website builder. All feedback, either positive or negative, are accepted as long as they're honest. We do not publish biased feedback or spam. So if you want to share your experience, opinion or give advice - the scene is yours!