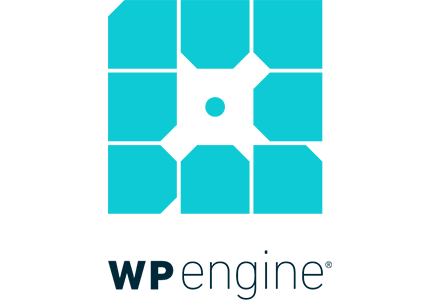 Do you want to add more security, stability and speed to your WordPress website, however, struggle to find a suitable web hosting provider? If so, it's great that you started looking for WP Engine reviews as this provider might be exactly what you need.
There are multiple web hosting services that focus on providing web hosting specifically for WordPress websites. WP Engine is one of them. This provider offers managed WordPress hosting for the best experience and is already being used in 150 countries.
In this WP Engine review, we'll take a look at this provider up close and find out more about its services, major benefits, prices, customer support, and multiple other aspects that will allow us to evaluate how good WP Engine hosting really is.
Now, instead of moving straight to the WP Engine review, I would like to also answer the question "what is WP Engine?", so keep going to find out more.
Here is The Best Squarespace Offer I Found:
SAVE 20%
Squarespace Limited-Time Deal
Grab this Squarespace offer code & enjoy a lovely 20% off on any selected Squarespace subscription plan. Create your dream website NOW!
Expiration date : 12/12/2023
4,512 People Used
Only 88 Left
WP Engine Reviews: What is WP Engine?
WP Engine is a managed WordPress hosting platform that claims to:
Boost your website performance by 40%.
Protect your website from cyber attacks.
Build a website faster using various dev and design tools.
24/7 customer support that will help you when in need.
As mentioned at the beginning of this WP Engine review, the platform is created specifically for WordPress hosting. It offers various site-building and management tools that provide you with more flexibility. To enable enterprise performance, WP Engine provider cloud hosting and multiple security solutions.
The company's goal is to provide you with the ultimate digital WordPress experience and all the necessary tools that will help you to grow your business. The platform leverages more than 30 open-source technologies that help to increase the pace and provide innovation.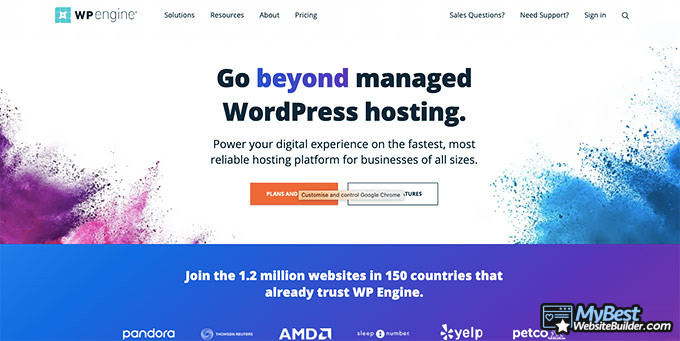 WP Engine partners with multiple companies, such as AWS, Google, HubSpot, Cloudflare, New Relic, and helps them with WordPress optimization.
Now, the reasons why WP Engine and other similar web hosting providers focus specifically on hosting WordPress sites are the ones provided below:
35% of all websites are built using WordPress.
60% of people who choose content management systems go for WordPress.
27% of the top 10k sites by traffic are based on WordPress.
That sounds like good enough reasons, don't you think?
Now, let's find out more about the company itself.
WP Engine was founded back in 2010, it's based in Austin, Texas. The company's main goal is to empower people to take advantage of innovations and get the best digital experience. The provider aims to do the right thing, they're inspired by customers, are committed to giving back, and continue improving and learning as a team.
Throughout the years, WP Engine has received multiple awards such as 'Best Workplaces for Women', Digital Technology Awards, Gold 2019 Stevie Winner for Sales & Customer Service, and others.

Even though we haven't even started yet with our WP Engine reviews, it already seems like a truly reliable company and a platform, of course. So, let's move further to find out the truth.
Pros
99,96% uptime
Extensive features
Strong security measures
Reliable customer support
Cons
On the more expensive side
Can be difficult to use for beginners
WP Engine Reviews: PROS
There are multiple factors that come into play when it comes to choosing a reliable web hosting platform, that's why you'll see so many different aspects included in WP Engine reviews.
Since I want to provide you with the most in-depth understanding of this platform, we'll take a look at multiple factors when analyzing WP Engine hosting, including features, usability, uptime and speed, security features, WP Engine hosting plans, and so much more.
Now, let's begin this WP Engine review from the positive aspects and find out is WP Engine worth it.
Great Features
The very first thing that I would like to take a look at is the WP Engine features. Even though this web hosting platform was created specifically for hosting WordPress sites, it comes with exceptional functionality.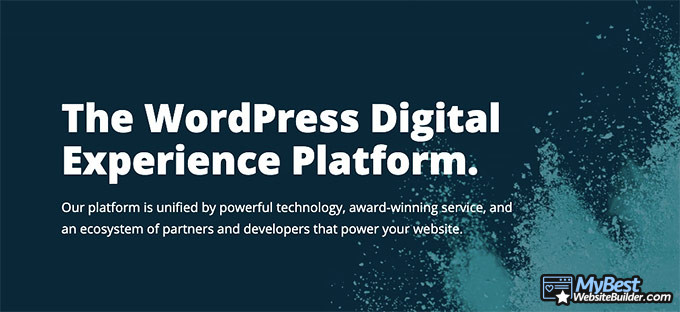 Without further ado, let's take a look at some of the features that are available for WP Engine customers:
StudioPress Themes. WP Engine provides you with more than 30 premium themes that are powered by Genesis Framework. The themes are mobile-responsive, come together with built-in SEO features and strong security.
Local. Local development environment for WordPress allows you to build, test and start using websites faster by taking advantage of helpful developer tools and seamless WP integration.
Auto Migration. WP Engine ensures that your migration to various WordPress sites is as seamless as possible by providing you with an automated WordPress migration plugin that was created partnering with BlogVault. So, you can work on multiple projects and the plugin will take care of the rest.
Service Onboarding. When choosing premium solutions, you will be guided through an entire process of using WP Engine by a dedicated technical and account management team.
Git and SFTP Connections. Increase productivity and collaboration using various development tools.
One-Click Staging. WP Engine allows you to test all the changes you make providing you with easier development. Based on customer WP Engine reviews, this one is an extremely helpful feature.
Dev, Stage, Prod Environments. WP Engine provides you with three different environments, including Development, Staging and Production. Distinguishing those environments will help you to work more efficiently.
Automated Backups. There's no need to worry about any website issues as WP Engine provides daily backups.
WordPress Core Updates. To make sure that you're up-to-date, WP Engine provides automatic WordPress core updates. That said, you will no longer need to worry about these things.
Free CDN and SSL Certificates. Every WP Engine plan comes together with free CDN and SSL certificates. CDN allows you to easily scale your website, while SSL ensures secure transactions.
Multi-Site Conversion. You can easily create multiple subsites that tend to share database and file systems. In most cases, these subsites are a variation of a single domain.
User Permissions. Easily add and delete users as well as change permissions to make sure that every user has proper access.
Activity Log. Easily monitor the activity of your account, see who and when made changes.
WordPress Plugin. Choose from a variety of WordPress plugins for additional functionality and customize your website.
GeoTarget. This feature is amazing for increasing engagement and transactions by providing location-specific content for your audiences.
There's so much more than the platform can offer, however, we'll take a look at the additional aspects further in this WP Engine review.
Latest Squarespace Coupon Found:
SAVE 20%
Squarespace Limited-Time Deal
Grab this Squarespace offer code & enjoy a lovely 20% off on any selected Squarespace subscription plan. Create your dream website NOW!
Expiration date : 12/12/2023
4,512 People Used
Only 88 Left
99,96% Uptime
If you were to look for the most important features that matter when choosing a web hosting provider, you will often come across these two terms: uptime and downtime. Truth be told, you shouldn't make a decision about which website hosting service to use without first taking a look at both of them.
These two terms are super easy to understand. Uptime refers to the time that your website is going to be accessible to visitors and, at the same time, your potential clients. Whereas downtime has an opposite meaning, it refers to the time that people won't be able to access your website. Uptime rating mostly depends on the web hosting platform you choose, so you should make sure to choose wisely.
It means nothing if you get a variety of extensive features, attractive prices, functionality, helpful customer support, and all the other perks if your website is not accessible. Depending on your traffic, bad uptime rates could lead to losing thousands of potential customers. Needless to say, no one wants that to happen.
When it comes to WP Engine, you shouldn't have any issues with uptime, at least I didn't. I analyzed the last 10 days and the uptime rate came out to be 99,96%. While you always hope for uptime of 99,99% that multiple services promise, this is rarely a reality. That said, 99,96% is definitely a good result.
Let's take a look at what this number actually means by using our uptime calculator. The 99,96% uptime means that your website will be down for:
34s daily;
4m 1s weekly;
17min 31s monthly;
3h 30m 23s yearly.

As you can see, your website won't be accessible for only about 34 seconds per daily. While you can always expect better results, 99,96% uptime is a truly great outcome.
Numerous Plans Available
It's clear that not every person needs the same functionality when it comes to web hosting. While small businesses might need only basic tools and features, huge eCommerce sites will require more extensive tools to help with management and other processes.
WP Engine allows you to choose from a variety of different plans based on your personal needs. All you need to do is research the available options and choose a plan that suits your needs best. Currently, you can choose from Managed Hosting, Managed Hosting Plus and Secure Hosting. Each of them offers multiple plans and different functionality.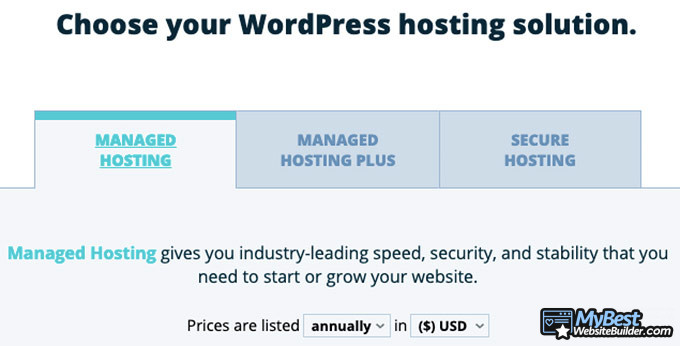 Managed Hosting provides ultimate speed, strong security, stability and other attractive features that are needed to grow your website. Managed Hosting Plus provides you with the same features and additionally offers the ability to automatically update all of your plugins. You can easily choose which plugins you want to update automatically.
Moreover, you can choose from Secure Hosting plans. They provide you with speed, scalability as well as robust security with an added layer of protection that's needed for eCommerce websites.
The final option is Dedicated Hosting. The pricing is not provided as it completely depends on individual needs. You will be provided with amazing performance, security and scalability. Moreover, you will get guidance from a strategic team that will be there for you when needed.
If you're interested in WP Engine pricing, you can jump straight to the end of this review and find all the needed information there. I also included the features that you get with each of these plans!

Did you know?
Extensive Security Measures
You can get all the most amazing features and exceptional functionality, however, all WP Engine reviews should tell you that it means nothing if you're using an unprotected web hosting provider.
As you already guessed, one of the main benefits associated with WP Engine hosting is security. The company enables ultimate website protection by providing you with robust security features. Let me explain what exactly I'm talking about:
Disk Write Protection. By limiting the processes that can write to disk, WP Engine ensures to protect you even if you're using a theme or template that's injected with malicious code.
Disk Write Limitations. WP Engine identifies malicious and non-malicious codes by logging all the attempts of writing to the disk.
Disallowed Plugins. WP Engine has a system scanner that searches all the plugins and disables the ones that have vulnerabilities. It also ensures that you're not using plugins with certain performance issues.
Proprietary Firewall. This security measure is capable of identifying malicious traffic that could threaten your security. Moreover, it prevents certain suspicious files automatically by using a number of checks.
User Enumeration. WP Engine automatically blocks bots that are scraping posts for author ID information. You'll be able to see all the requests that were blocked.
As you can see WP Engine provides not only extensive features but also ensures that you and your customers are protected. That said, when using this web hosting platform, security won't be an issue.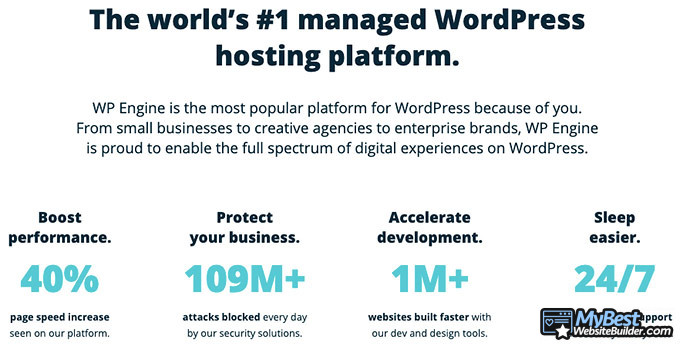 Now that we're covered WP Engine security measures, it's fair to say that this web hosting service is definitely a recommended one. That said, you shouldn't have any concerns as far as security goes.
Helpful Customer Support
Even though WP Engine offers hosting services only for WordPress users, it comes with exceptional features and functionality that might bring out some usability issues when using the platform for the very first time. While it's impossible to completely avoid those issues, WP Engine has very helpful customer service that will be there for you 24/7 and solve all the issues that you're having.
There are 3 different options when it comes to WP Engine customer support: support center, billing help, and a live chat. If you need instant help, it's recommended to try a live chat. Simply ask a question and you will be answered. For the sake of this WP Engine review, I've tested this live chat myself. What do you know, it took only a few seconds to receive the answer that I was looking for.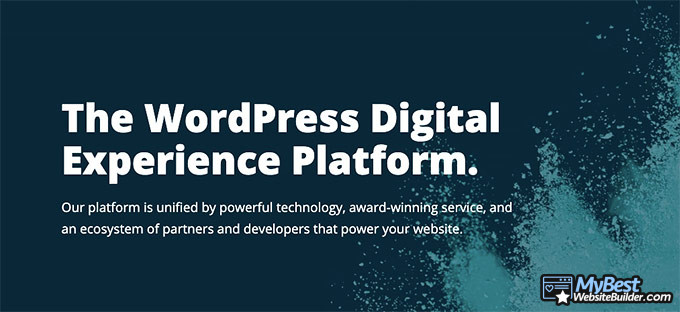 Moving further, you can also take advantage of the WP Engine support center. You can use it by including keywords into the search box or search for an answer based on your issue. The support center includes multiple articles on how to set up a site, questions related to account and features, platform information, WordPress issues and help. Or you can find the needed information by browsing all articles.
Now, if you're having certain issues with billing, you can go to billing help. It includes the most common questions related to billing, including information related to payments and contact details, how to add and remove extra users, upgrading your plan, adding and deleting WordPress installs, and so much more.
All things considered, reliable customer support is crucial when choosing a web hosting provider. When it comes to that, WP Engine shouldn't disappoint you. Before moving further I should mention the fact that the majority of customer WP Engine reviews are very positive when it comes to their customer service, so you should expect to have a very pleasant experience as well.
Positive Reviews
One of the ways to find out how good the website hosting provider is is by checking out multiple customer reviews and see what their real experience looked like.
When it comes to that, WP Engine is definitely one of the highest-rated providers you can find. On G2, the majority of customers evaluated this platform 5 out of 5. This definitely says a lot.
Based on customer WP Engine reviews, the majority of people were truly pleased with their customer support. Their issues were solved instantly and they would get all the answers they needed at that time.
What is more, other customers were really happy about the fact that they were able to monitor their security preferences, get to use a variety of WP plug-ins, customize their workspace, were reminded of backups, and so on.
That being said, the fact that there are so many positive customer WP Engine reviews says a lot about this platform.
By now, we've already discussed the major perks of the service, so let's move on to the less pleasant part.
WP Engine Reviews: CONS
As you can see, this WordPress hosting service has so much to offer and the majority of customer WP Engine reviews agree that it's completely worth it and is one of the best options for WordPress sites. However, there are also negative aspects that you should keep in mind when deciding about this provider.
Could be Difficult to Use for Beginners
One of the issues associated with the services that have extensive features is usability.
WP Engine is a well-structured platform with powerful tools. While it works wonders for professionals, this also means a steep learning curve for beginners. You will need to understand complicated terms and how to use certain functions in order to get the maximum of your experience.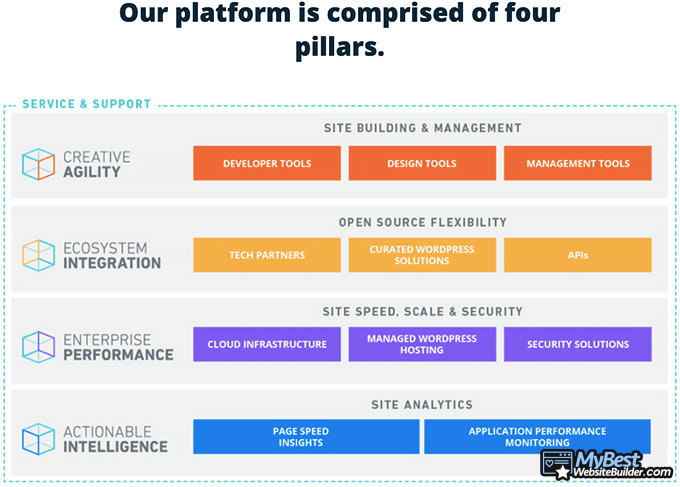 That being the case, some customer WP Engine reviews claim that they choose easier-to-use platforms instead and enjoy an effortless experience. It also means lower prices that we're about to discuss in the further section.
Truly High Prices
One of the negative things that many customer WP Engine reviews talk about is pricing. The basic plan starts from $25 per month when there are other great services that allow you to pay as low as $2-3 per month, Bluehost and HostGator are only a few of them.
Of course, even though WP Engine is on the more expensive side, it doesn't change the fact that it provides amazing features, extensive security, helpful customer support, and multiple other great aspects that are completely worth it. What I'm saying is that this is for you to decide whether or not you're willing to pay that much for a web hosting service.
On the same note, let's take a look at WP Engine hosting plans and find out even more about its prices.
WP Engine Pricing and Plans
Since the majority of aspects regarding WP Engine are clear, it's time to take a look at WP Engine pricing and plans. It can get a bit confusing, so I'll take a look at the different options you get to choose from.
Basically, there are 3 different options: Managed Hosting, Managed Hosting Plus and Secure Hosting. Each of them provides multiple plans that differ in prices and included features, so let's give it a quick look.
Managed Hosting plans:
The Startup plan is recommended for smaller websites, it includes 1 site, 10 GB local storage, 50 GB bandwidth per month, and is suitable for websites that have up to 25,000 visits per month.
Now, the Professional plan includes 3 sites, 15 GB local storage, 125 GB bandwidth per month. It's recommended for websites that have 75,000 visitors per month. The Growth plan offers even more: 10 sites, 20 GB local storage, 200 GB bandwidth per month and 100,000 visits.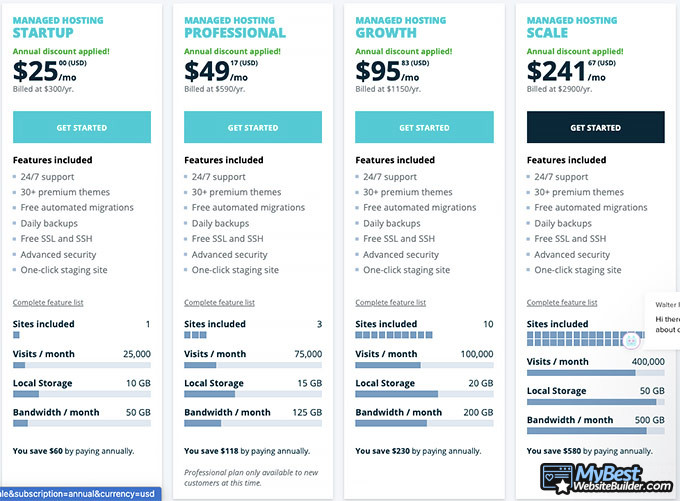 Finally, if you go for the Scale plan, you will get 30 sites, 50 GB local storage, 500GB bandwidth per month. It's recommended if your websites have 400,000 visitors per month.
Whichever plan you decide to choose, all of them will provide you with customer support that's available 24/7, more than 30 premium themes, daily backups and free automated migrations, robust security, a one-click staging site, and free SSL and SSH.
There are two more options left to discuss, so let's take a look at the WP Engine pricing for Managed Hosting Plus plans:
Unlike Managed Hosting plans, Managed Hosting Plus also provides you with automatic plugin updates, the ability to choose which one of them should be automatically updated, test those plugin updates with AI, and custom plugin support.
Now, here are the most expensive WP Engine hosting plans also called 'Secure Hosting':
You're probably wondering, how are these plans different from the previous ones? Well, you get all the previously-mentioned features and even more: protection from malicious traffic spikes (DDoS), a Security firewall for your traffic (WAF), and Auto-rollbacks if issues are detected.
Multiple customer WP Engine reviews will tell you that this plan is the very best one in terms of functionality, however, you should also make sure that it's not above your budget.
In general, WP Engine is one of the most expensive hosting providers that I've ever seen. Let's compare it with some of the more recommended services:
Even though I would still answer the question 'is WP Engine worth it?' positively, everything depends on how much you're willing to pay for a web hosting service. Just keep in mind that if WP Engine pricing is too high for you, there are other amazing providers in the market that you should also take into account.
Here is The Best Squarespace Offer I Found:
SAVE 20%
Squarespace Limited-Time Deal
Grab this Squarespace offer code & enjoy a lovely 20% off on any selected Squarespace subscription plan. Create your dream website NOW!
Expiration date : 12/12/2023
4,512 People Used
Only 88 Left
Conclusions
WP Engine is a managed WordPress hosting platform that was founded back in 2010. The platform comes with a variety of amazing features such as StudioPress Themes, Auto Migration, One-Click Staging, Dev, Stage, Prod Environments, and so much more.
The platform is also very secure and does everything that's in its power to protect you from malicious attacks. What is more, WP Engine customer support is very reliable and will always guide you through the process when needed.
The results showed 99,96% uptime. While the number could be higher, that's quite a good result compared to multiple other web hosting platforms. That being said, you shouldn't experience such issues as your website not being accessible for a long period of time. If it happens that's only for a few seconds.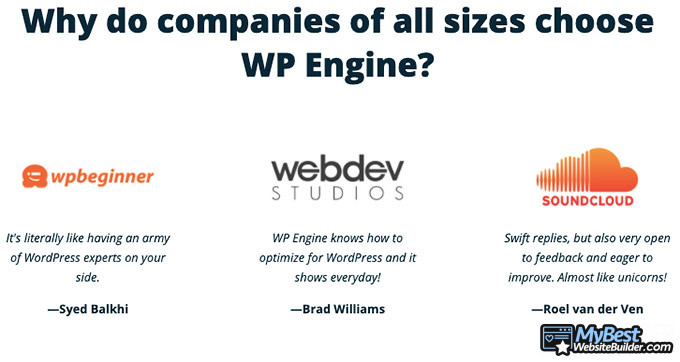 A few drawbacks associated with this web hosting provider are definitely prices and usability. WP Engine is one of the most expensive hosting providers that I've ever encountered. And it can be pretty difficult to use for those without any experience.
It's fair to say that WP Engine hosting is mostly recommended for businesses, agencies and other WordPress websites that have rapidly-growing traffic and are expanding significantly.
If you have a personal website or you're just starting and have barely a few visitors or customers, then it's definitely recommended to take a look at other top-rated web hosting services that are more affordable. A few of the most reliable options include Bluehost, HostGator and GoDaddy.
I hope that this review answered all of your questions and you've already managed to make up your mind about this managed WordPress hosting platform!
Leave your honest WP Engine review
Leave your genuine opinion & help thousands of people to choose the best hosting provider. All reviews, either positive or negative, are accepted as long as they're honest. We do not publish biased reviews or spam. So if you want to share your experience, opinion or give advice - the scene is yours!