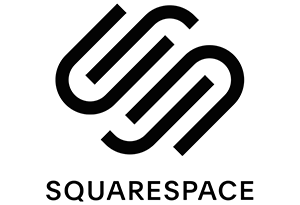 If you frequent YouTube, you are bound to have heard about Squarespace reviews - whether it be creator sponsorships or ad rolls, the company has really been putting their name out there. Naturally, this generated quite a bit of hype - after all, they're offering people to create a beautiful and fully functional site in a very short period of time!
Whether that's true or not, it remains to be seen. Don't worry, though - in this Squarespace review, we'll cover everything from questions such as what is Squarespace and how does it work, all the way to looking at an actual Squarespace website and analyzing its benefits and shortcomings.
I'll keep things really simple - after introducing the company, we'll take a look at the pros and cons of using Squarespace, talk about the price, all of the main features, and in the end, I'll give you conclusion on whether or not the company's worth it.
TL;DR: Squarespace is a great website builder with many integrative features. It's good for both individual users and business - there are tools and beautiful themes to support almost any idea you could have in mind.
Here is The Best Squarespace Offer I Found:
SAVE 20%
Squarespace Limited-Time Deal
Grab this Squarespace offer code & enjoy a lovely 20% off on any selected Squarespace subscription plan. Create your dream website NOW!
Expiration date : 30/09/2023
4,512 People Used
Only 88 Left
Squarespace Review: What is Squarespace?
Many people, once they come across the company's advert on the internet, wonder - what is Squarespace? Given that you're reading a website builder review on a website that's dedicated to website builders (that was one of the strangest things I've written this month), you probably know quite well what Squarespace is.
For the sake of staying consistent in this Squarespace review, I'm going to assume that you don't have profound and intricate knowledge about Squarespace, and website builders in general.
So, to put it short and simple, Squarespace is a New York-based company that specializes in providing customers with a website builder - a piece of online software that allows you to create and manage your own, customer website.
See? I told you I'd keep it short.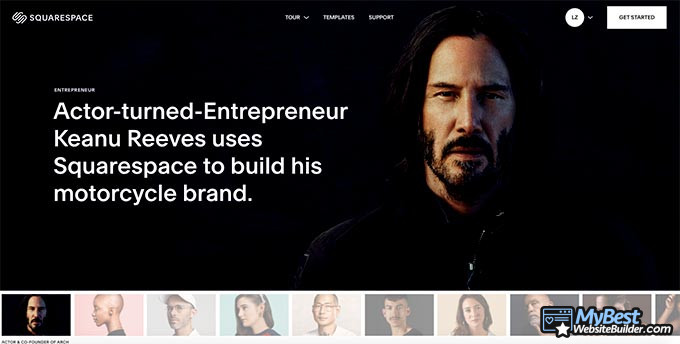 In all seriousness, though, you've probably noticed that Squarespace reviews are actually quite a common thing - the website (company) is incredibly popular in the field of website builders. In this Squarespace review, we'll try and figure out whether that popularity is well-deserved or not.
Before we get into the meat and potatoes, let me just quickly mention something - while I'm not going to go in-depth about what is a website builder, I'll give a very brief rundown for anyone who might not actually know.
Basically, website builders are special tools that, well… Allow you to craft your own, personal website. You can do whatever you want with it, design it in any way, etc. The builder is just a platform for you to design that website on.
Pros
Beautiful theme templates
Good uptime
Plenty of features
Squarespace PROS
First of all, let's talk about the positive aspects of the Squarespace review. There are actually quite a few of them to cover!
Amazing Templates
Website builders often pride themselves on the fact that anyone can come in and create the perfect website for themselves - whether you're a painter, photographer, musician, salesmen, or lawyer, you should be able to find the perfect template for yourself.
Templates are actually one of the first things that many Squarespace reviews talk about. This isn't without a good reason, either - by popular opinion, the company is probably most famous for having the coolest-looking website templates in the website builder market.
A template is basically a pre-made facade of a website. Before you register on Squarespace and enter the website maker interface, you'll be greeted by a whole lot of templates to pick from. Sorting through them, you'll spot categories such as "Business", "Music & Entertainment", "Personal & CV", and many others.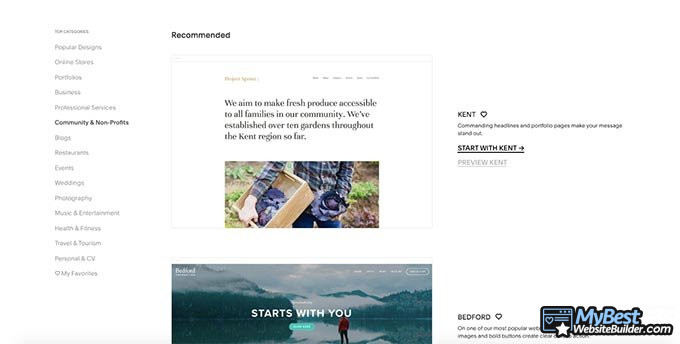 It would seem that no matter what criticism someone might have for the company in their Squarespace reviews, no one dares to touch the templates - honestly, everyone loves 'em!
While I was skeptical at first, I have to admit - they really do live up to the hype. When I initially checked their site out, I was overwhelmed with colors and sterile images. Since I prefer dark and gritty website design (look: Squarespace's HORIZON theme), I wasn't too happy. However, a short query into the search bar revealed that Squarespace can really do that type of a design, too.
And you know what? It looks amazing!
Squarespace has really nailed the modern minimalist style with their website designs. I struggled to find a single template that would be based on the traditional, old-fashioned prototype - there basically aren't any!
Latest Squarespace Coupon Found:
SAVE 20%
Squarespace Limited-Time Deal
Grab this Squarespace offer code & enjoy a lovely 20% off on any selected Squarespace subscription plan. Create your dream website NOW!
Expiration date : 30/09/2023
4,512 People Used
Only 88 Left
Easy to Use
Now, beautiful templates aren't everything - they are actually useless if the platform is super-difficult, requires in-depth PHP and HTML knowledge, and is overall clunky.
I'm glad to be able to state in this Squarespace review that Squarespace is none of that.
Users create their Squarespace websites through a specific drag-and-drop interface. Most high-end traditional website builders advertise the living hell out of this feature - users love the fact that they can simply drag a specific box from the menu to their website's preview, drop and customize it, and that's it!
Truth be told, this is definitely convenient. The opposite option for this would be WordPress - while it's definitely not a "website maker" per se, it's still often thrown into the equation, since it serves the same purpose. In WordPress, though, you have to have some technical knowledge, and some changes don't even manifest themselves onto the live version of your site.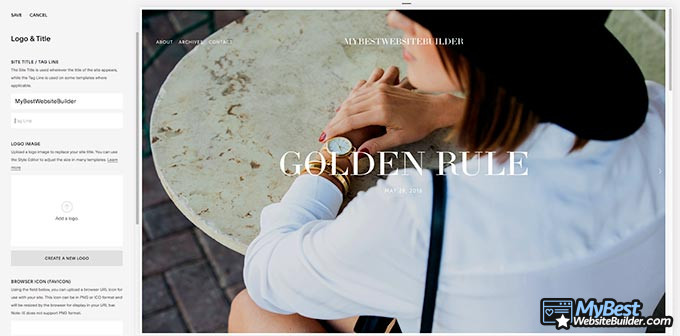 Now, all of that said, some customer Squarespace reviews point out a possible point of confusion - when people hear the term "drag-and-drop", a lot of the time it's automatically associated with being able to place what you want, wherever you want.
While it is, indeed, the case with website builders such as Wix, Squarespace is different in this respect. You cant really drag items (boxes) anywhere on your website - there are specifically designated fields for that. While it may sound counterintuitive at first, it's actually really comfortable and smooth.
Good Uptime
Not that many user Squarespace reviews mention this when they talk about what is Squarespace, but the company actually offers its users website hosting, in addition to the service of being able to create the site itself.
While hosting is a really difficult topic to get across thoroughly, let's just say that your website is a car, while hosting is fuel. No matter how fancy your car, if it doesn't have fuel in it, it's not going to run. The same applies to beautiful websites - if you want Google and other search engines to find it, you'll have to host the site.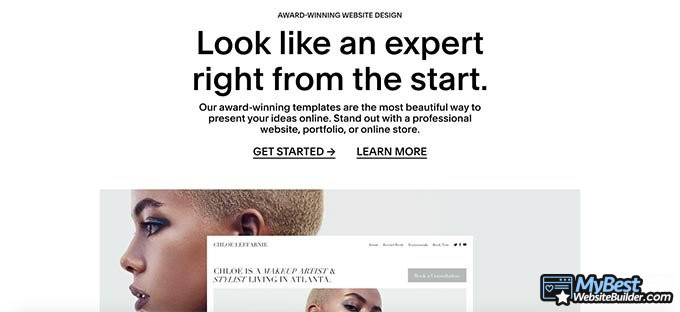 Uptime is a term used to specify just how long your website is online (and not down for some reason) during the day, month, year, etc. It's one of the most important features when choosing a hosting provider - it's crucial that they have good uptime.
Our research showed that Squarespace website's uptime came out to be 99,97%. That's not too bad! While you'll never find a hosting service that would offer 100% uptime, 99,97% is still really good!

Did you know?
A Whole Lot of Features
Ah, yes. The moment that probably half of the people reading this Squarespace review have been waiting for.
The features.
Let's get something out of the way straight of the bat - Squarespace has got a ton of awesome features.
All of the widgets, options and features offered by the platform come in the form of different pricing plans. I'm not going to talk about pricing just yet (that will come later on), but it's worth mentioning that the more you pay, the more features you'll unlock (duh).
As for the features themselves…
Squarespace offers its users all-platform-friendly website designs, the state-of-the-art templates we talked about earlier, audio and visual interface options, eCommerce and business management tools (metrics, gift cards, payment options, etc.), SSL certifications, label printing, and so, so much more.
Some of the features are random, some are very specific, but all of them can be great for anyone and everyone. Most user reviews that talk about their custom Squarespace websites agree - the choices are seemingly endless.
Squarespace Review 2021 - Is It Actually THAT GOOD?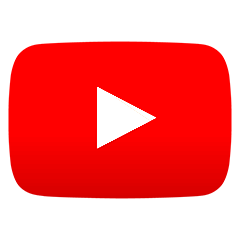 Squarespace CONS
With all of that praise out of the way, let's turn this Squarespace review around and look at some Squarespace website cons.
Below-Average Site Speed
The speed of your website is also important. Site speed is measured according to how long it takes for a page on your website to fully load from it being entered. If the page is slow and laggy, it's highly likely that you're going to lose your audience fast.
Our research shows that the load time for a Squarespace website averaged at 6401ms. That isn't really ideal, and falls in the category of being below-average.
That being said, it's by no means the worst thing in the world, and it surely doesn't ruin the flow of this Squarespace review. Keep in mind that the content (rather, the type and amount of content) on your website is going to play a key part in determining just how fast it loads.

This is further-proven by the site's TTFB. TTFB stands for "Time Till First Byte", and it measures the time it takes for the first byte on the site to load (instead of all of the content on that site).
Poor SEO Support
This might just be the biggest issue that customers have with Squarespace.
A variety of the company's offered templates aren't suitable for SEO (Search Engine Optimization). There are plenty of Squarespace reviews that mention how you can't really edit specific parts of your website to better-optimize it for Google's ranking algorithms - this can get really frustrating.
Now, it's worth mentioning that not all of the templates offered by Squarespace are like that. It varies from design to design. That said, it really does narrow down your pool of choices, and besides - anything that conflicts with SEO should be taken quite seriously.
Price
Squarespace offers customer 4 pricing plans divided into 2 groups - WEBSITES and ONLINE STORES. On the WEBSITE tab, the two plans offered are "Personal" and "Business", and you'll find "Basic" and "Advanced" plans in the ONLINE STORES tab.
The full pricing options are:
All of the above-mentioned amounts are billed per month, annually.
Creating a Squarespace website isn't the cheapest option out there. The prices aren't irrational, but they're definitely on the higher end of things.
The Personal plan grants you a nice and simple site to write a blog or manage some personal project. The Business plan allows you to sell an unlimited amount of products, and has fully integrated eCommerce features.
Both the Basic and Advanced plans improve on the Business one, with Advanced providing you with everything from shopping cart auto-recovery and gift cards, all the way to subscriptions and advanced shipping options.
To put it short, if you want a simple site where you could showcase your work and perhaps sell a few products, then the "WEBSITES" tab is perfect for you. However, if you want to start building an eCommerce empire and take your business to the next level - definitely go with the Basic or Advanced plans.
Here is The Best Squarespace Offer I Found:
SAVE 20%
Squarespace Limited-Time Deal
Grab this Squarespace offer code & enjoy a lovely 20% off on any selected Squarespace subscription plan. Create your dream website NOW!
Expiration date : 30/09/2023
4,512 People Used
Only 88 Left
Conclusions
So, with all of that said, you're probably wondering - is Squarespace worth using?
I'd say - definitely yes.
The obvious reason would have to be a combination of the absolutely astounding amount of features you'll receive coupled with the fact that you a 14-day free trial (they don't even collect your credit card for that period of time!).
However, there's actually more to it.
Customer Squarespace reviews almost universally agree that the platform is really fun to use and play around with. You do not need any technical knowledge to be able to create a beautiful website - that's the other thing, too! With tons of modern templates and drag-and-drop editing options, you can really take it to the next level!
Sure, things like slow site speed and lack of SEO optimization are, well… bad. However, both of these problems can be avoided - it's not going to be easy, and you might have to sacrifice some cool templates and content ideas in the process, but it's definitely possible.
Is it worth it, though?
I do think so, yes.
Now that you know what is Squarespace and what are the advantages and disadvantages of using this platform, I hope that you'll have an easier time deciding whether it fits your wants and needs.
In any case, I wish you all the best of luck with creating the website of your dreams!
Leave your honest Squarespace review
Leave your genuine opinion & help thousands of people to choose the best website builder. All reviews, either positive or negative, are accepted as long as they're honest. We do not publish biased reviews or spam. So if you want to share your experience, opinion or give advice - the scene is yours!