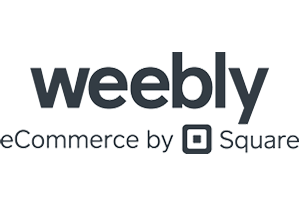 It's not a secret that website builders are known for their simple usability, however, some of them might still be difficult to use for non-technical people. If you tried many website builders before and found them too comprehensive, then you will fall in love with Weebly.
While Weebly is not as customizable as Wix, it's definitely much easier to use. So, it's possible you found the right option for yourself.
In this Weebly review, I will answer the question what is Weebly, review its usability, design, features, and so much more. At the very end, I will provide you Weebly pricing and plans. So, keep reading to find out all the important information about Weebly.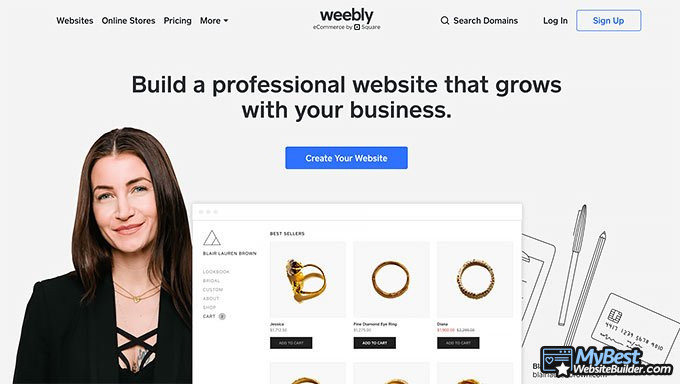 Weebly Review: What Awaits
Weebly is super easy to use website builder, which offers an amazing user experience, 67 modern and minimalistic themes, super comfortable mobile app. With Weebly, you even get a chance to transfer your website to another platform and optimize SEO. The only drawback is that Weebly is quite limited and might be slow at times.
Pros
99,98% Uptime
Amazing Usability
More than 350 Apps
Modern and Sleek Designs
Cons
Not the Fastest
Some Users Lacked Customisation
Weebly Review: Introduction
What is Weebly?
Weebly is a website builder, which was founded 13 years ago, in 2006. It was re-launched in 2007 with an interface that we see today. I mean that they already created an ability to edit webpage with "what you see is what you get" interface, which today is the major feature of every website builder.
We all understand that when the webpage has very little features, it's easy to use. But with Weebly, it's different. It has a variety of features ad still manages to maintain that minimalistic and clear interface. Now, that's not something everyone can do.
You should also know that Weebly mostly focuses on eCommerce, however, you can create both website or online store based on your personal preferences.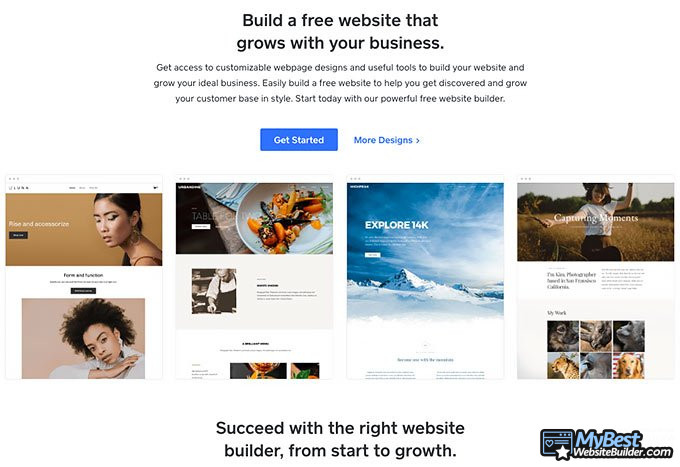 Weebly Review: Pros
Now that you know what is Weebly, let's begin Weebly review. As always, I will begin from the positive aspects, after all, Weebly website builder has much more to offer rather than lacks.
Great User Experience
Weebly is super simple to use. When you go to their official site, you have to choose whether you want to create a website or online store, then you will be redirected to register, or log in with your Google, or Facebook account, whichever you prefer.
After these few steps, you will need to choose a theme and domain name (or use the one you have). And you're ready to customize your page - drag and drop the needed components to the right places, and bit by bit, you will create your personal page! Easier than ever.
Now, it's important to know that even it seems that Weebly is super simple and doesn't have that many features to offer, don't forget about the widgets and apps that you can easily download. Majority of them are for free.
The thing is that Weebly doesn't include many individual elements at first. But that's also for the main purpose of usability - every user should add only those elements that they need, and create their custom toolbars.
Now that it's clear in this Weebly review that it has great usability, let's move further.
Latest Weebly Coupon Found:
100% FREE Plan
Weebly Limited-Time Deal
Start Building Your Weebly Website Completely For FREE. Follow the discount link & access the free plan right away.
Expiration date : 12/12/2023
1,747 People Used
Only 32 Left
Modern Themes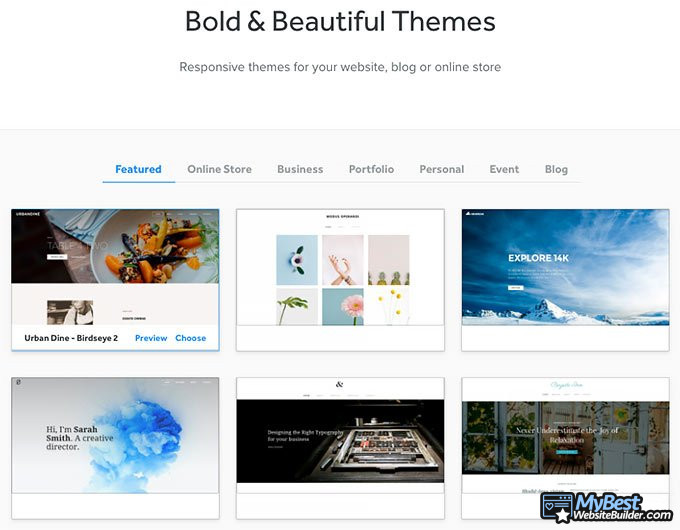 Weebly may not have such a variety of themes and layouts to choose from, as for example Wix and Squarespace, however, the majority of their designs are modern and minimalistic, which are great for any type of page. At the moment of writing this Weebly review, they had 67 themes to choose from.
You can pick out from such themes as:
Featured
Online Store
Business
Portfolio
Personal
Event
Blog
Not that many themes as you would expect, however, the most important aspect is that the majority of them are modern and sleek. Who needs themes that are there just for number?

Did you know?
Mobile App Available
One of the major reasons why I love Weebly is that they have an amazing, easy-to-use mobile app, which is available on iPhone, iPad, Android Android Tablet. So, you can now easily edit and take care of your website even when you don't have your computer around.
But don't get me wrong. Weebly offers a fully-working mobile app, where you can not only check the purchases, acceptance of payments, inventory check, order fulfillments and so on, but you can actually edit your website by dragging and dropping elements. Also, you can work offline, and sync your changes when you're back online. Weebly reviews did approve that it's a comfortable way to manage your page.
Export Your Site
Weebly is mostly used by those who have no previous knowledge and need a basic clean site for personal purposes or online business. However, you may progress quickly, acquire new technical skills and decide that you need a more customizable site. In this case, Weebly won't stop you.
So, for example, if you decide to transfer your website to WordPress, you can easily do that. I found it quite surprising to find out that Weebly offers this feature because there's no such possibility with Wix - either stay or die.
Therefore, if you decide to move further to another website builder or CMS, you can easily do that. There's also a posibility to transfer separate components of your Weebly website, such as contacts, products, store orders and so on. Amazing, right?
Great for Smaller eCommerce Sites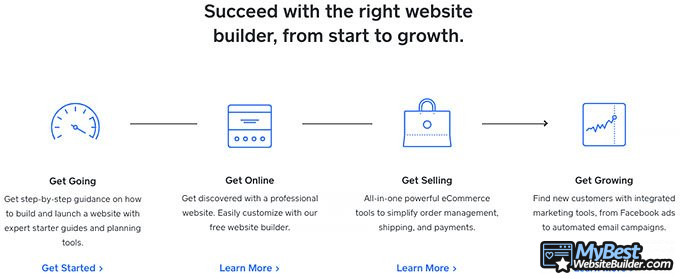 Previously, in this Weebly review, I already told you that it's great for eCommerce, mostly for smaller businesses. Weebly offers three plans for online stores: PRO, Business, Business Plus. You can find their pricing at the very end of this Weebly review.
If you take your business seriously and plan to expand your online shop, I would recommend you to choose the Business Plus plan, which comes with free domain, google ads and email marketing.
You also get every feature necessary for eCommerce, including shopping cart, product options, product reviews, shipping calculator, best shipping discounts, real-time shipping, and so much more. You can find every feature here.
Weebly Review 2021 - Should YOU Use This Website Builder?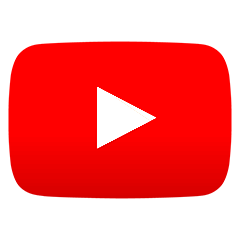 Good Customers' Reviews
While Weebly says that it's quite easy to use, each of us has different skills and abilities, so our opinion may differ. In order to find out what long-term Weebly's users tink, I decided to go through Weebly reviews.
I have to say, that overall, comments were great. Customers said that they were happy with Weebly and its easy customization, which I totally agree with. Of course, there were also some flaws, which is completely normal. People were mostly disappointed with support and that some great and needed features were only possible with more expensive plans.
However, overall it seems that users are satisfied with the Weebly website, and give it about 4/5. I would say that's pretty great.
Weebly's SEO Works
With Weebly you do not need to download any additional SEO widgets, simply use it right away. You can write site description, meta keywords, footer, header codes. And, while it may not be extensive enough for some user, there are the cases of Weebly pages standing in the front line.
Now, you may hear that many users say their page SEO doesn't work, but after checking their pages it's clear that they haven't done everything they can to rank in Google search.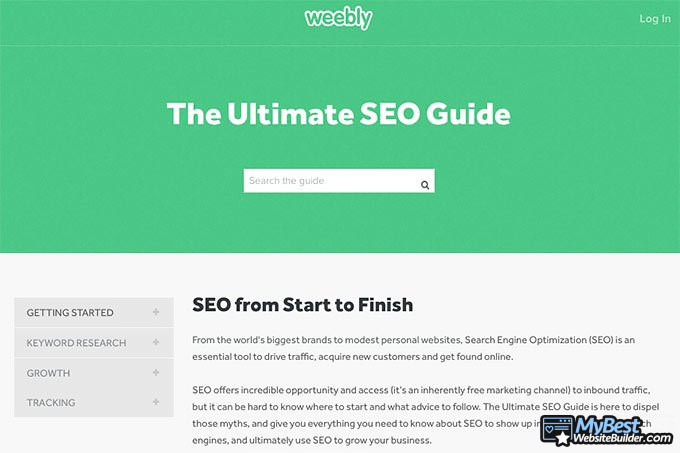 If you want to rank high on Google, there are a few things that you can do, such as:
Use SEO tools to do keyword research to find what particular keywords have high traffic and low competition.
Publish rich-content articles regularly.
Do an on-page optimization - meta descriptions, keywords, and so on.
Try to get backlinks from reputable sources.
Create FAQ's.
These tips should help to lift your page to the next level.
99.98% Uptime
Uptime is a measure that shows how much of the time your website is available to everyone. Needless to say, when your website is down, you can lose your potential clients.
Uptime is usually measured by percentile, the higher the number the better. I would say that a good website should have at least 99.9% uptime, no less. Of course, I'm quite critical but that's how it is.
As you already know, Weebly offers 99.98% uptime, which means that your website will be down for about 17 seconds daily, and about 1 hour 45 minutes yearly. Now you should understand why this measure is so important.
Speed
Speed is one of the most important aspects that should be important to everyone who creates their page having serious intentions. After all, if your page takes forever to load up, you can expect a high bounce rate. Needless to say, people don't like to wait, and they will simply move to the next site.
In order to make sure that Weebly websites can perform normally, I completed a speed test. I have to say that the results were quite good - it takes 1.67 seconds for Weebly page to load up.
We also tested TTFB, which stands for time to first byte, and shows how long it takes to get a response from a server. Here you can see the results.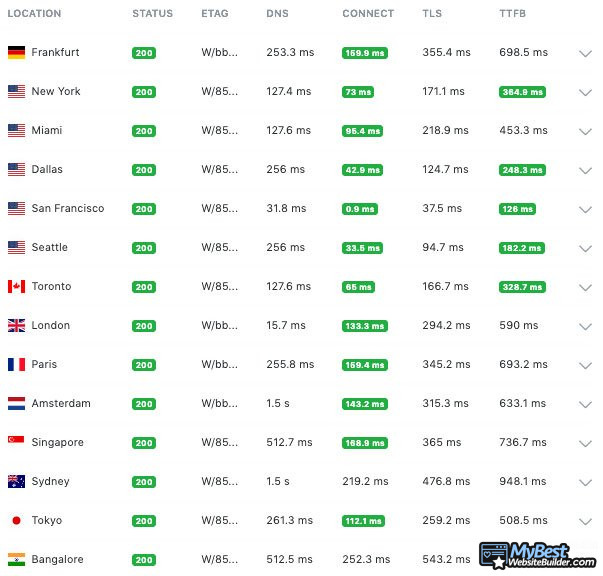 As I'm mostly focused on the US results, I have to say that they came out great. 126ms in San Franciso! Wow!
If you tested your page speed and were upset with the results, there are a few things that you can do to speed it up. You can try to:
Compress your images or minimize their amount - huge images that have a high quality takes a lot of space, and of course, time to load up.
Use CSS for headers, backgrounds, menus. Do not use full-size images.
These are some of the main tips you should try if your webpage takes too long to load up.
So, now that this Weebly review is coming to an end, let's move to the last aspect - plans and pricing. So, that you would know which one to choose based on your wants and needs.
Apps
I believe that every Weebly review should include apps. Since Weebly is created to have only the main features when you start editing, it has a variety of apps to choose from.
I like the idea that Weebly was created with an intention for everyone to decide, which apps are needed for them personally. I believe that's a great idea because this way you can have unique elements based on your personal preferences and needs.
Weebly categorizes apps into:
eCommerce
Communication
Marketing
Social
Site tools & features
And, you can search for apps, which are:
Popular
Highest rated
New
Free
Weebly in total has more than 350 apps, including Content Color Box, Call-Out Box, Text Animation, FAQ, and so many others.
Weebly Review: Cons
Now that we went through each of the Pros in this Weebly review, it's time to take a look into the aspects, which are missing.
Limited
While Weebly is very simple to use, some Weebly reviews claim that it lacks functionality. But what some users do not understand or forget is that website builders are not as flexible as CMS since you do not need to code anything. Their main purpose is to be simply manageable for people without digital knowledge.
So, if you decide you need to take your page to the next level, add more SEO or code something, you can simply transfer your page to other builder or CMS.
Therefore, Weebly website creator can lack functionality, such users should choose more extensive website creating tools, such as content management systems.
Weebly Website Builder: Plans and Pricing
Weebly offers two plan categories: for Websites and Online Stores. Both of them are divided into additional plans, which are repeated a few times. Let's have a look.
FOR WEBSITES: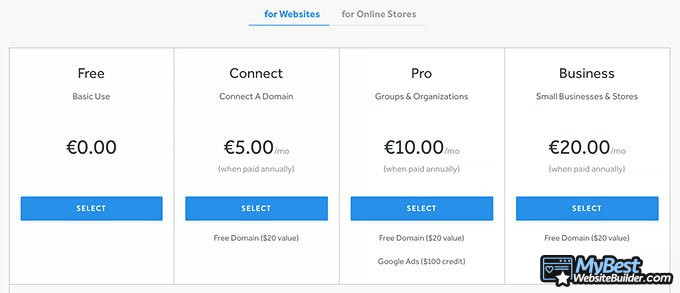 FOR ONLINE STORES: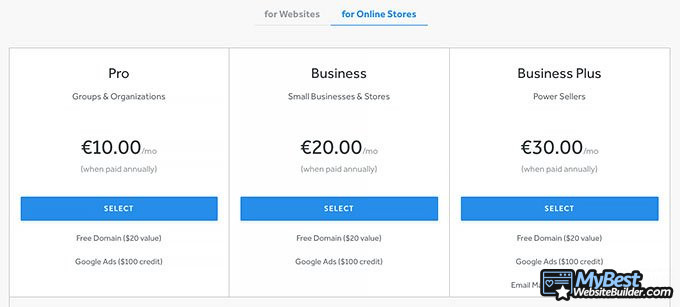 As you can see, Weebly does focus the most on the eCommerce. Three out of five different plan options do offer elements needed for online stores.
Note that pricing and plan options may differ depending on your location.
Here is The Best Weebly Offer I Found:
100% FREE Plan
Weebly Limited-Time Deal
Start Building Your Weebly Website Completely For FREE. Follow the discount link & access the free plan right away.
Expiration date : 12/12/2023
1,747 People Used
Only 32 Left
Conclusions
Therefore, you know every necessary information about Weebly website builder. It's very easy to use and aimed to be great for those who have minimal digital knowledge.
Weebly is not as extensive as Wix but it has a lot to offer, including modern and stylistic themes, amazing user experience, very comfortable mobile app, availability to export your site and great apps for eCommerce. Furthermore, Weebly offers 99.98% uptime, which is really good, and not such a bad speed.
So, Weebly is the best option for those who are creating online shops. If you're one of those people, this is definitely an alternative to try. Thus, if you liked Weebly, you should check it out here.
Leave your honest Weebly review
Leave your genuine opinion & help thousands of people to choose the best website builder. All reviews, either positive or negative, are accepted as long as they're honest. We do not publish biased reviews or spam. So if you want to share your experience, opinion or give advice - the scene is yours!