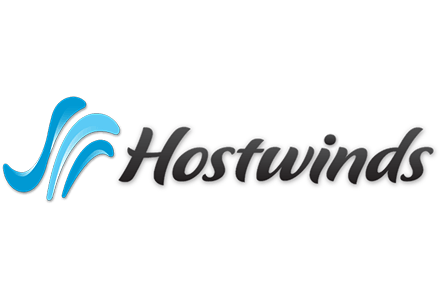 Did you know that the number of websites in the world is getting closer to 2 billion every year? That's about a quarter of the entire human population. Such a huge number of websites means that there's also a need for reliable web hosting services. That's why today we'll take a look at Hostwinds review and find out what this hosting company is all about.
Hostwinds web hosting was founded back in 2010. The company manages to provide high-quality web hosting for affordable prices. They also aim to provide you with the best customer service for an exceptional experience.
Hostwinds has received multiple awards for its services and performance. Moreover, it's often recognized as one of the leading web hosting services. That's why you should take this company into account when choosing a web hosting service that's most suitable for your needs.
In this Hostwinds review, we'll talk about the available services, websites' performance, pricing, customer support, usability, and so much more. This review will help you to decide if Hostwinds web hosting is exactly what you need.
Without further ado, let's jump straight to Hostwinds review and find out what this web hosting service is all about.
Pros
Variety of Services
99,97% uptime
Unlimited bandwidth & disk space
Helpful customer service
Attractive prices
Cons
Limited server locations
Not the best results when it comes to speed
Hostwinds Review: PROS
I would like to begin this Hostwinds review with its best qualities and features. After all, good things tend to outweigh less positive factors.
Now, when it comes to web hosting, there are multiple aspects that come into play. That includes usability, provided services, uptime and site speed, customer support, pricing, and so much more. That said, let's take a look at each of these factors and even more to evaluate how good this web hosting service is.
Variety of Services Available
First of all, I would like to take a look at the services that Hostwinds offers. Hostwinds is very flexible when it comes to providing services for different needs, you can choose from:
Shared Hosting
VPS Hosting
Dedicated Hosting
Cloud Hosting
WordPress Hosting
When choosing a web hosting type, you should take into account such aspects as the amount of traffic you get. For example, websites that have 1,000 monthly visitors have completely different needs than the one that has 100,000 visitors per month.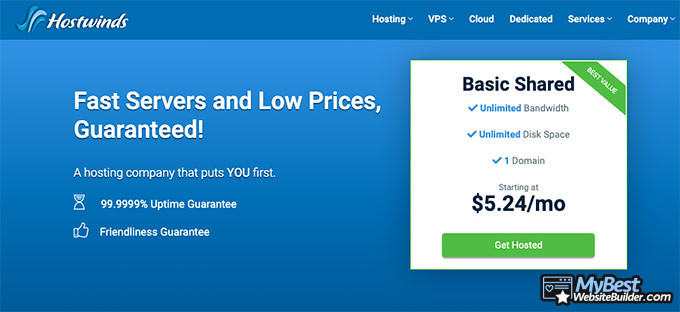 What you should keep in mind, though, is that the price of web hosting varies as well. While shared hosting tends to be super affordable, dedicated hosting gets so much more expensive. That said, before making a decision, you should decide on the amount that you're willing to pay.
Since you might feel a bit lost at this point, let me explain every hosting type quickly in this Hostwinds review.
First of all, shared hosting. It's the most basic, yet affordable option that's highly recommended for small businesses, personal websites or other people who are just starting. The name 'shared' refers to the fact that you'll be sharing one server and its resources with other websites. That's the main reason why the prices for shared web hosting are so affordable.
The problem with shared web hosting is that when you're sharing a server with other websites and their traffic increases significantly, you might experience some problems with performance on your website. Thus, you simply cannot control it.
Now, VPS hosting stands for a virtual private server. Even though you will be also sharing a server with other websites just like when it comes to shared hosting, there are a few major differences between the two. One of them is that you won't be sharing all the resources with other websites and instead have a part of resources assigned specifically for you. This means higher uptime rates, faster loading times, and no unexpected crashes due to other websites. Multiple customer Hostwinds VPS reviews recommend this option.
Talking about dedicated hosting, it's even better than VPS hosting. That's because you get a server all to yourself. This once again means even better uptime rates and faster speeds as well as strong security and amazing performance. The thing is that such web hosting is very expensive compared to the previously-discussed options, and you also need to have the technical knowledge to be in control of everything.
Moving further, it's time to take a look at cloud hosting in this Hostwinds review. Cloud hosting is recommended for high-traffic pages, however, it doesn't mean that it's not a good option for small websites, it provides great scalability and flexibility. Cloud hosting uses multiple servers that each have different responsibilities.

WordPress hosting is the final option that we're going to discuss in this Hostwinds review. You can immediately understand that it's recommended for WordPress users. It's super easy to install on WordPress, you will get enhanced security, fast speed, and multiple other benefits.
So, whichever of these options you decide to choose, Hostwinds will provide you with all of them. That being said, you definitely won't have issues with scalability or the lack of options to pick from.
Latest Squarespace Coupon Found:
SAVE 20%
Squarespace Limited-Time Deal
Grab this Squarespace offer code & enjoy a lovely 20% off on any selected Squarespace subscription plan. Create your dream website NOW!
Expiration date : 05/06/2023
4,512 People Used
Only 88 Left
Easy-to-Use, Clear Interface
When it comes to the web hosting interface, it's not necessarily the most important thing. After all, you won't be spending that much time on this platform. However, you will need that to purchase services, domains, completing payments, monitoring your website, contacting customer support, and so much more. That's the reason why it's important to choose a platform that has a clear and easy-to-use interface.
When it comes to Hostwinds web hosting, you shouldn't be worried about usability. The provider is using all the tools that make your experience pleasant and enjoyable. The platform is managed by cPanel that many of you might know very well, while WHMCS handles the account management. It's a web hosting management and billing software that automates all operations.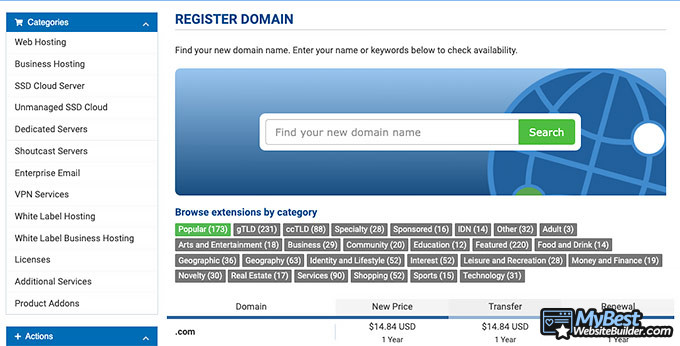 On the platform, you'll be able to easily find already-existing services, add new ones, check the available addons, renew domains as well as register a new one, check your payments, contact support, and everything else you might need when it comes to web hosting.
Also, it's super easy to sign up, all you need to do is choose a plan and click "Order Now". Once it's done, you will need to provide your personal information, such as your name, phone number, country, state, zip code, and enter your domain name. Once it's done, you will need to provide the package information such as billing cycle, location, package, and optional add ons. Then easily check out by providing your payment information.
Even though I've noticed some customer Hostwinds reviews that had some negative experience when it came to the registration process, the majority of people seem to agree that this platform is one of the easiest-to-use ones, even for beginners.
Great Uptime - 99,97%
When choosing which web hosting service to choose, you will often come across the two terms: uptime and downtime. Both of them have to be taken into account if you want to find a truly reliable web hosting service. That's why these aspects must be included in this Hostwinds review as well.
When it comes to uptime, the term refers to the time that your website is going to be available to visitors and your potential clients. Website downtime means the opposite, it's the time that your website is down and cannot be reached by your customers. So the higher the uptime, the better it is.
Your website uptime completely depends on the hosting provider you choose. That's why you should always make sure to check out the average uptime ratings before deciding which provider you choose. Think of it this way, the pricing, available services, customer support, and other factors are not important if your website cannot be available. That said, it's definitely the most crucial aspect that comes into play when making a choice.
Now, since you're here for Hostwinds review, let's focus on that. Hostwinds has an estimated uptime of about 99,97%. While the results won't be the same when it comes to every website, you can expect an amazing website performance. The only thing to add here is that Hostwinds promises a 99,9999% uptime but you may not always get that.
It's time to calculate Hostwinds uptime using our uptime calculator. As you can see in the image below, your website will be down an estimated time of:
25s daily
3m 1s weekly
13m 8s monthly
2h 37m 47s yearly

Even though 99,97% uptime is not the very best result, it's so much better than the majority of web hosting providers can offer. So it's fair to state in this Hostwinds review that it's a very dependable provider.

Did you know?
Free SSL Certificate for Clients
Everyone who takes security seriously should get an SSL certificate, it's essential for all businesses. SSL certificate stands for a Secure Socket Layer certificate. You can instantly see which websites have SSL. Websites that don't have it remain 'http', however, those who add SSL will show 'https', the last letter 's' stands for secure encryption.
What's important to mention is that multiple browsers, such as Google Chrome, Firefox, and others, tend to warn users that websites without an SSL certificate are insecure and unreliable, this could lead to losing quite a lot of customers.
While it's important for people to know that your website can be trusted, every Hostwinds review will tell you that an SSL certificate is crucial not only because of this but also for multiple other reasons, so let's take a look at them.

The certificate adds an additional layer of security by protecting your website from data breaches, phishing attacks, encrypting personal information such as addresses, credit card numbers, passwords, and so much more. It works like your website's digital authentication. Moreover, it's one of Google's ranking signals, so if you want to increase organic traffic, an SSL certificate is a necessity.
Getting back to Hostwinds, the provider offers a free SSL certificate for any of the Shared, Business, Reseller, and White Label Web Hosting plans. What is more, for an additional price, you can get RapidSSL certificates and WildCard SSL through GeoTrust.
Hostwinds allows you to purchase an SSL certificate even if you don't have a plan, however, that's quite expensive considering the fact that you can get it completely free:
1 year for $75
2 years for $140
Just like I told you, it's better to pick a Hostwinds web hosting plan that comes together with an SSL certificate. Otherwise, it might get pretty expensive.
So, if you want your customers to trust you by protecting their personal information, an SSL certificate is a must. While it can get expensive to purchase it separately from your hosting plans, you should look for a provider that offers all-in-one. Multiple customer Hostwinds reviews recommend you to do that.
Get Started With Weebly Website Builder
It's clear that not every person who's looking for a web hosting provider already has a website. That being the case, you will also need to find a reliable website builder if you're planning on designing your website, whether it's a portfolio or an eCommerce site, on your own.
The easiest way to do that at this point is to choose a Weebly website builder. Why, you might ask? Well, the thing is that Weebly's website builder is included in the Hostwinds hosting packages. This makes it an all-in-one service that allows you to not only host your website but also create it.
Now, if you're not aware of it, Weebly website builder is one of the most recommended options in the market. First of all, you can use it to create a professional-looking website or an online store without much effort.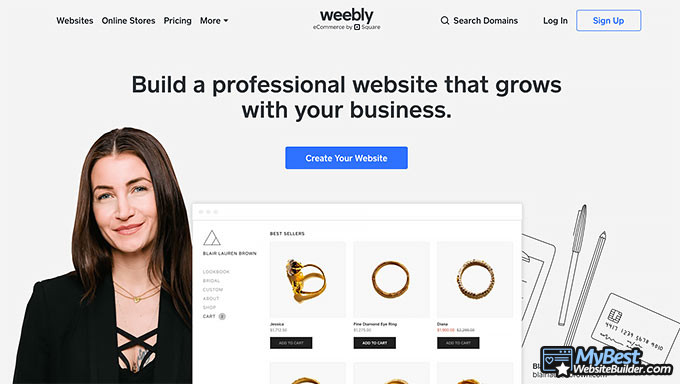 Moreover, you can choose from multiple attractive themes, so it doesn't matter if you're an event planner, artist, realtor or yoga instructor, you will be able to easily find an option that suits your wants and needs.
Also, the main reason why people go for website builders such as Weebly is because they're so easy to use, even for people who haven't done this before. Weebly is a drag-and-drop website builder, so you can simply move objects around to create a website exactly how you want it. Customize your fonts, add animation effects, edit images, design elements, display videos, and so much more, using a single website builder.
So if you don't have a website yet, keep in mind that Hostwinds web hosting also includes a website builder that will help you to create an attractive site.
Unlimited Bandwidth and Disk Space on All Plans
What I really hate when it comes to various products and services are limitations. The same thing goes with web hosting providers, some of them offer very limited disk space and bandwidth, even if you're paying quite a fair amount of money for a plan.
I can tell you instantly that this won't be an issue when it comes to Hostwinds. This web hosting provider offers unlimited bandwidth and disk space to all customers. It means that there's no difference if you choose a Basic, Advanced or Ultimate plan, you'll be able to enjoy an 'unlimited' experience.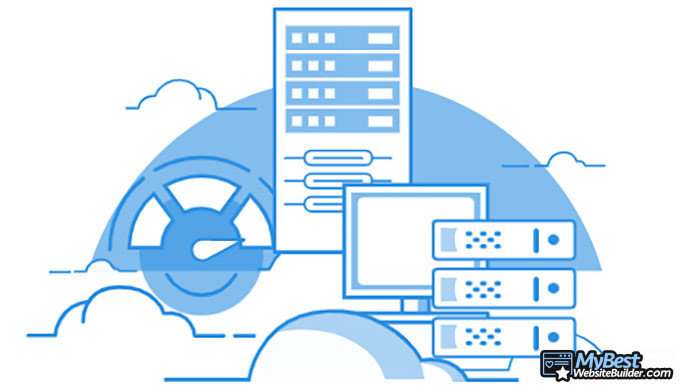 Also, if you go for shared web hosting plans, you will be able to choose nightly cloud backups so that you won't lose your data. Of course, you should always keep in mind that the data you store on your website should be used for your website specifically. It doesn't work as free storage for your personal files.
Helpful Customer Service
When it comes to web hosting, you might encounter some issues during the process. Those issues are completely nothing to worry about when you have amazing customer service that you can contact at any time.
Hostwinds claims that its customer service is one of the best ones in the market. That's for a good reason - the company has received at least a few awards for its amazing customer service. Moreover, the majority of Hostwinds customer service reviews evaluate them positively and are completely satisfied with the experience.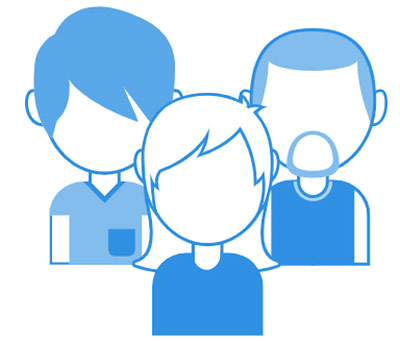 Hostwind offers multiple options when it comes to customer support. First of all, there's a live chat where you can ask questions about the service, any issues you're having, and so on. I tested this chat to see how fast I get a response. I was pretty surprised, to tell you the truth, I received an answer from their customer success agent in a few seconds. And it was actually helpful. So I would also write a positive Hostwinds customer service review.
Moreover, if you're hesitant about using Hostwinds live chat, you can check out their knowledge base. To look for the answers you can use a search box, or choose one of the four categories such as Hostwinds Main, Web Hosting, Hostwinds Cloud, and General Guides. Simply choose a category that you're interested in and find your answers there.
If not a knowledge base, then you can easily contact Hostwinds specialists via email. Simply provide your email address, write your question and press 'send'. That's it. Now, wait to receive the answer from the team and solve the issues that you're having.
Finally, you can open a support ticket. When doing that, you can choose from 3 options: questions related to sales, technical support issues, and the problems related to billing.
As you can see, there are significant reasons why so many Hostwinds customer service reviews claim that they offer amazing customer support. Needless to say, this factor is crucially important to such services as web hosting.
Hostwinds Review: CONS
Even though there are so many positive aspects when it comes to Hostwinds web hosting, you should also be aware of some things that are missing. After all, you can rarely find a perfect service.
Confusion with Prices
One of the issues that I've encountered when writing this Hostwinds review was related to pricing. Not that it's expensive or that the company has suspicious policies, it's just that it was quite complicated to find prices for Hostwinds web hosting services.
The thing is that you won't be able to find prices for all of their services in one place, you will need to go through each service and check individual prices that can be a bit overwhelming.
Not the Fastest One
Website speed is another crucially important factor that you should consider when choosing a web hosting provider. After all, Google has indicated it as one of the ranking factors.
However, you should be concerned about your website speed not only because of Google rankings but also because it's crucial for user experience. It's known that the majority of people expect the website to upload in about 2 seconds, and if it takes more than 3 seconds, about 40% of people leave the website. That said, if your website takes a long time to load, you might lose thousands of your potential customers, depending on your website traffic, of course.
Your website speed highly depends on the hosting provider you choose. That's why it's important to make sure that Hostwinds can provide you with a fast loading speed. To do that, I performed a test using the Google PageSpeed Insights checker. The results came out like this: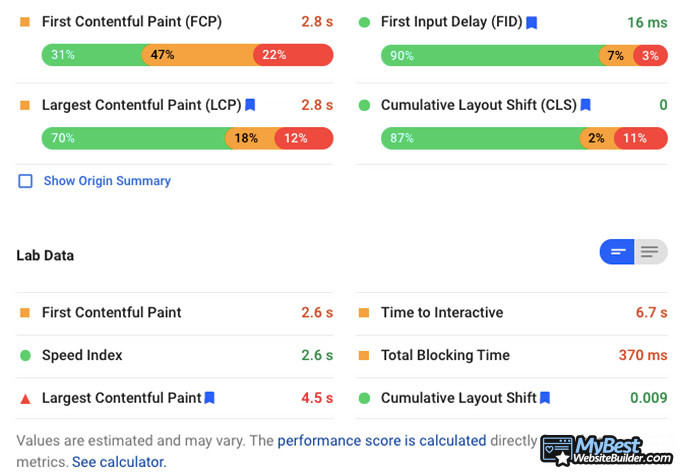 Keep in mind that the speed might vary depending on multiple factors, including your location, so don't be surprised that you get different results when testing your personal website.
All things considered, Hostwins may not be the most recommended web hosting provider when it comes to website loading time, however, the results aren't that bad.
Limited Server Locations
As I mentioned in the previous part of this Hostwinds review, website speed might depend on your location, especially if a provider lacks server locations.
Currently, Hostwinds has 3 data centers. The two of them are located in the United States, including Seattle and Dallas, and the third one is located in Amsterdam. Compared to some other web hosting providers that have more than 10 or 20 global data centers, this sounds a bit limited.
The problem with limited server locations is that you might expect slower website response if you live outside the US and Europe. Needless to say, you should definitely keep this aspect in mind when deciding whether Hostwinds web hosting is suitable for you.
As you can see, there are only a few negative aspects that can be mentioned in Hostwinds review, so it's definitely one of the better providers out there.
Since we're already done with the pros and cons of this Hostwinds review, it's time to check out the additional information that will be helpful when making up your mind about this web hosting provider.
What is Hostwinds Pricing?
It's time to talk about prices.
Hostwinds web hosting provider positions itself as a very affordable web hosting provider. Truth be told, everyone is looking for a provider that would offer amazing features and a low pricing point. Hostwinds is one of those companies.
Take a look at the Hostwinds prices for shared web hosting:
Remember that no matter which shared web hosting plan you go for, you always get unlimited bandwidth and disk space, the only difference is the number of domains. The Basic plan allows only 1, the Advanced - 4, and the Ultimate plan offers an unlimited number of domains. Needless to say, it completely depends on your personal needs.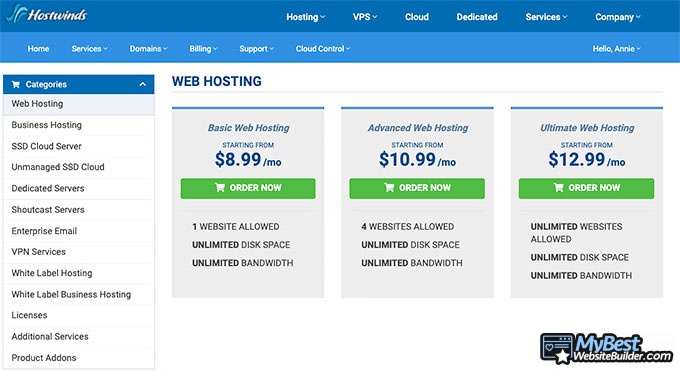 Moreover, even though some of these features were already mentioned in this Hostwinds review, you should know that every shared web hosting plan comes with:
Free website transfers.
Solid state drives.
Latest cPanel.
An unlimited number of email accounts.
Unlimited databases & subdomains.
Free dedicated IP & SSL certificate.
The ability to use Weebly - one of the better-known website builders.
Nightly backups.
Website monitoring.
Considering all the features and benefits that you get together with each of these plans, Hostwinds should be considered as one of the more affordable web hosting services.
Here is The Best Squarespace Offer I Found:
SAVE 20%
Squarespace Limited-Time Deal
Grab this Squarespace offer code & enjoy a lovely 20% off on any selected Squarespace subscription plan. Create your dream website NOW!
Expiration date : 05/06/2023
4,512 People Used
Only 88 Left
Conclusions
All things considered, Hostwinds is one of the more recommended web hosting providers. Not that you won't find better options, however, it can be a great provider depending on your needs.
Hostwinds offer multiple services. You'll be able to choose from Shared hosting, VPS hosting, Dedicated hosting, Cloud hosting and WordPress hosting. What is more, it has a very clear interface and is definitely one of the easier-to-use platforms.
Moreover, one of the reasons why so many people consider this provider is the amazing uptime rating - 99,97%. Also, all plans come with unlimited bandwidth and disk space, and the majority of plans provide you with a free SSL certificate.
Furthermore, Hostwinds customer service is one of the best-evaluated ones out there, so you can always expect to get help when needed.
There are a few drawbacks, though. Hostwinds has only 3 data centers, 2 in the US and 1 in Amsterdam. This means that people outside the US and Europe might experience slower website responses. Also, it's clear that Hostwinds may not be the best option when it comes to speed.
Thus, consider all the aspects and it shouldn't be difficult to decide if Hostwinds web hosting is the right choice for you!
1. Recommended web hosting provider that offers great services and attractive prices.
Leave your honest Hostwinds review
Leave your genuine opinion & help thousands of people to choose the best hosting provider. All reviews, either positive or negative, are accepted as long as they're honest. We do not publish biased reviews or spam. So if you want to share your experience, opinion or give advice - the scene is yours!