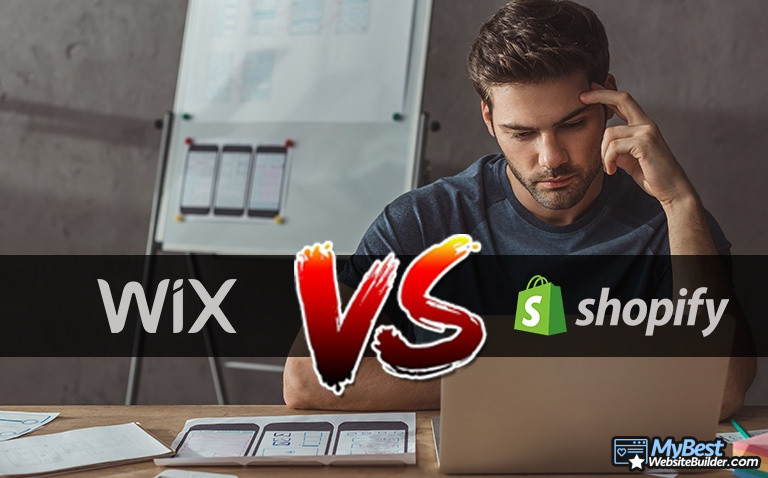 Wix or Shopify? This might be your "to be or not to be?" question if you're searching for a website builder fit for eCommerce website creation. To find an answer to this question you should be looking through some Wix VS Shopify comparisons. Let me tell you that you're in luck because you've just stumbled across one thorough comparison of these website builders!
It makes sense to ask such a question because Shopify is one of the best eCommerce-focused website builders while Wix is one of the most popular website builders overall. That being said, they are a bit different but we'll get into more detail later.
Though before starting our Shopify VS Wix comparison, we should go over the main criteria points that will give us guidelines for a thorough and structured comparison of these website builders.
Note that if you want a shorter and less-detailed Wix VS Shopify comparison – check it out here.
Wix VS Shopify: Comparison Criteria
The criteria established below might not cover every single angle you can take while comparing website builders. Though it will cover the universally established points that have to be considered while comparing website builders.
Table: Some general information about Wix and Shopify
The criteria consist of eCommerce functionality, site speed & uptime, ease of use, the variety of features, templates, and pricing.
eCommerce functionality. Probably it's the most important feature for you right now since you are raising a question – Shopify or Wix? Your main question should actually be – Wix eCommerce VS Shopify eCommerce: which is better? It goes without saying that eCommerce is probably the main reason why people (aka businesses) are searching for the simplest and most convenient ways to create a website. After all, online shopping is the way to go in the contemporary world we live in.
Site speed & uptime. Uptime is definitely one of the most important aspects of a reliable site creation tool because it determines the period of time that your website can be accessed online. Site speed is also really influential because it determines how long it takes for your website to fully load. These two are definitely crucial to consider whether you're comparing Wix and Shopify or any other website builders.
Ease of use. It goes without saying that simplicity is the main reason why people turn to website builders. A huge part of website builder users usually doesn't have any web development and programming skills at first. Though even if you're not a newbie in the website builder industry, a simple user interface (UI) is always a bonus. After all, no one likes to overcomplicate their lives.
The variety of features. Feature variety refers to two things - the flexibility of creating a multi-layered website and the number of features in general. If you're wondering what I mean by multi-layered, imagine that you want to create an online store that has gallery and blogging sections. That's what a multi-layered website is. Overall, feature variety is a crucial factor to consider when choosing a website builder.
Templates. While website templates are not the most essential thing, they will surely save you a lot of time and help you create the image of your brand. Talking about time, you won't have to spend hours coming up with the proper layout and initial outlook of your website. You'll simply choose one! Besides, templates are usually topic-specific, so you'll have no problem choosing the most suitable one.
Pricing. That's an aspect that is always essential to consider when you choose anything that has a price tag. You need to know exactly what you get for the price, whether it's worth it or not, and if the price is a good fit for you in general. Of course, whether something is expensive or not is always debatable, depending on your budget and what the seller has to offer.
Now, of course, reading through other Wix VS Shopify comparisons you might find some additional points to consider. Though one way or another, these six criteria points are what you'll always have to consider, no matter which website builders you'll want to compare.
Wix VS Shopify: The Comparison
Without further ado, let's start. I'll begin the Wix VS Shopify comparison with the eCommerce functionality aspect and then move further through the other aspects as they are listed above.
eCommerce Functionality
It might seem strange to differentiate eCommerce functionally from other features because it is a feature. Though it is a very complex and important feature. Every top-tier website builder has to provide its users with eCommerce because any type of website eventually starts selling something. Well, at least most of them do.
But really, imagine you're a photographer and you simply want to have your portfolio in the form of a website. Or you have a blog because you're a writer. In the perfect scenario, if you're a photographer, you want to be hired for gigs. If you're a writer, you might write a book and want people to buy it. What is a better place for selling your services than your own blog or portfolio?
Now coming back to the point, if you're asking "Wix or Shopify?" you're probably wondering "Wix eCommerce VS Shopify eCommerce: which is better?". I could actually answer this question without any hesitation - Shopify eCommerce. However, I should elaborate more on this answer.
WIX
SHOPIFY

Wix ADI - Artificial Intelligence
Easy Drag and Drop
Variety of Free Widgets and Apps
More than 500 Templates
Modern & Sleek

Great UX
Modern and stylish templates
All necessary tools for online shop
Variety of payment methods

Visit site
Read review
Visit site
Read review
Table: The pros and cons of Wix and Shopify
Why Shopify eCommerce? Because, unlike Wix, Shopify actually is an eCommerce-focused website builder. Besides, in many eCommerce website builder reviews, Shopify gets the title of "the eCommerce King".
Name any possible high-end feature for a successful online business - Shopify has it. Multi-currency support, integration with other platforms, a variety of payment options, unlimited product listings, abandoned cart recovery, I could go on and on. Shopify has over 1,200 apps to choose from. There's no possible way that you won't find what you need.
Now, just because I chose Shopify in the Wix eCommerce VS Shopify eCommerce dilemma, it doesn't mean that Wix is bad for eCommerce. No, it's actually good, not as good as Shopify, but still pretty good.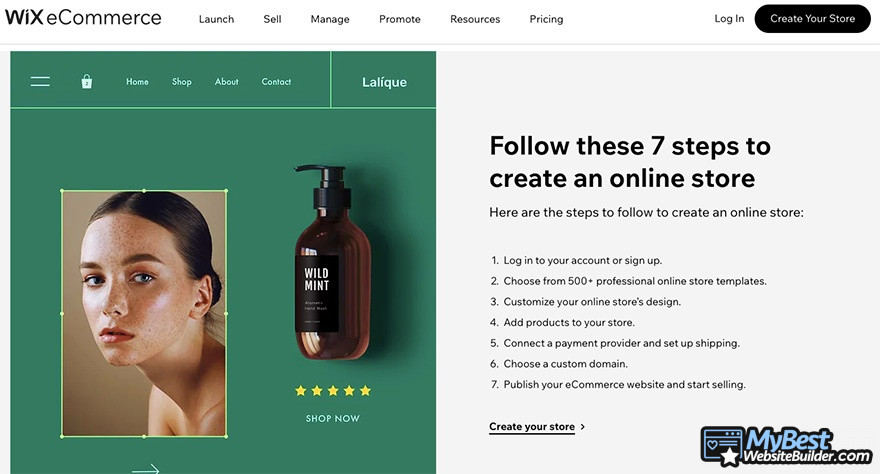 Wix also has all the essential eCommerce features. Integration with other platforms, various payment options, dropshipping, automated sales tax, various shipping options, and so on. There's even a Wix Owner mobile app that will provide you with comfortable store management on the go. Cool, right?
So, you can create a fully-functional online shop with both – Wix and Shopify. However, Shopify is a better option for that, after all, it is an eCommerce-focused website builder.
Latest Zyro Coupon Found:
71% OFF + 3 MONTHS FREE
Zyro Exclusive Offer
Hurry up to save big on Zyro - the most trending website builder in the market! Build your high-quality website fast & get 71% off + a BONUS of 3 FREE months.
Expiration date : 10/10/2022
4,837 People Used
Only 19 Left
Site Speed & Uptime
As I said previously, uptime determines how long your website is accessible online. It is the opposite of downtime, which determines how long your website was off. Site speed can refer to a few things though – TTFB or the amount of time it takes to fully load.
For those of you who don't know, TTFB stands for Time Till First Byte and it measures the time it takes for your website to receive its first byte of data from the server. Though in this Shopify VS Wix comparison I'll only focus on the website loading time.
These two bad boys are really important to consider while choosing a website builder. It goes without saying that there is no use of cool features, beautiful design, and other things if your website is rarely reachable and takes ages to load. Am I right?
That being said, let's get back to the Shopify VS Wix comparison and see how these website builders handle speed and uptime.
Table: The speed stats of Wix and Shopify
Talking about Wix, it provides you with great site speed and uptime statistics. It is expected that websites created with Wix would have 99,98% uptime, on average. That's really good! If you don't fully understand what this means for your website, you could use our uptime calculator. According to it, 99,98% uptime means that your website would only be down for 1h 45m a year. That's not much!
Besides, Wix monitors its uptime, so you can always check how it's going. If we looked at the past three months (Dec 2021 to Feb 2022), we can see that Wix only had one outage in January.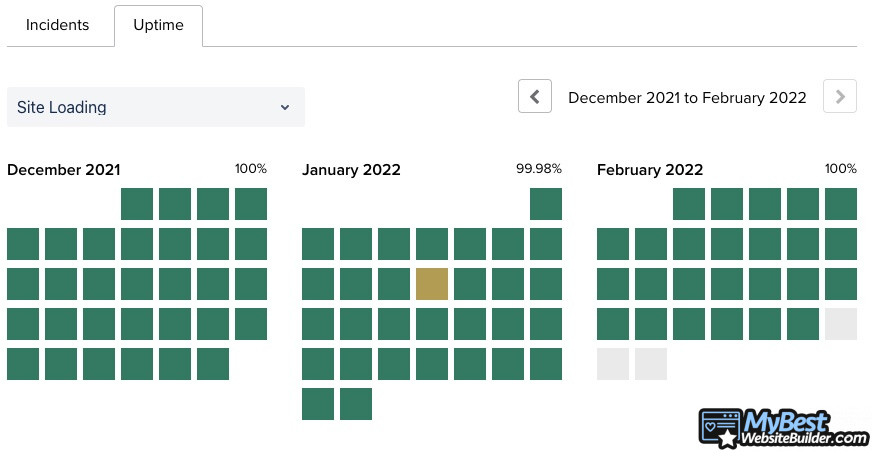 Now, considering Wix site speed statistics, according to user reviews, we can say that websites created with Wix really have pretty good speed. That's because Wix has servers in the US, Europe, and all over the world in general.
Though note that site speed can really vary depending on many factors including hosting, the number of features it has, design, crazy fonts, and so on, and so forth. Thus, website builder only partially adds up to site speed, the other part is mostly in your hands.
Moving further, Shopify also has great uptime and site speed statistics that are definitely not inferior to Wix. Shopify's estimated uptime is also 99,98%. So you won't have to worry about your online shop being down for too long. Talking about site speed, Shopify is also known to have good speed statistics all over the world.
Even though their servers are located only in North America, they provide their users with a content delivery network (CDN) that guarantees great online store speed statistics no matter where you are in the world.
So, Shopify or Wix? In terms of site speed and uptime – BOTH. I doubt that you'll have any problems with either of these.

Did you know?
Ease of Use
As I mentioned before, ease of use is one of the essential features of website builders because they are constantly used by people who might have no web development and programming knowledge.
Simple usability is especially important for those, who are beginning their journey in the website builder world. However, if you're a pro with website builders, it's not like you're going to say "oh no, it's so easy to use, I hate it." That wouldn't make sense, who wants to overcomplicate their life?
Note that ease of use doesn't mean that there are no advanced functions or customization. It simply means that it's easy to use the interface of the website builder.
So, Wix or Shopify? Shopify or Wix? Which one is easier to use? I'd say that they're both very user-friendly.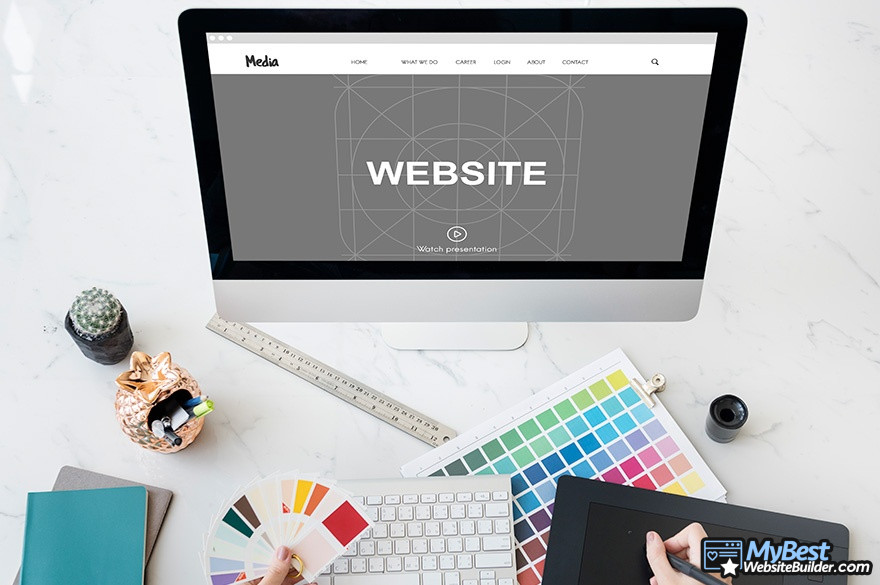 Talking about Wix, it has a great user interface because it's not overpacked with features. Besides that, it offers the famous drag-and-drop feature which makes your website customization process so much easier. If you've never heard about this feature before, you simply take a box of some element, drag it wherever you want it to be on your website, and drop it. Just like the name states.
Though what's really cool about Wix is that it has integrated artificial intelligence. I'm talking about Wix ADI (stands for artificial design intelligence) which is a perfect option for those, who want extremely simple navigation and fast results.
What does it do? It automatically creates a website based on your chosen preferences. Choose what features you want to include, what kind of design you want, press a few more buttons, and *boom* you have a website. That's so cool!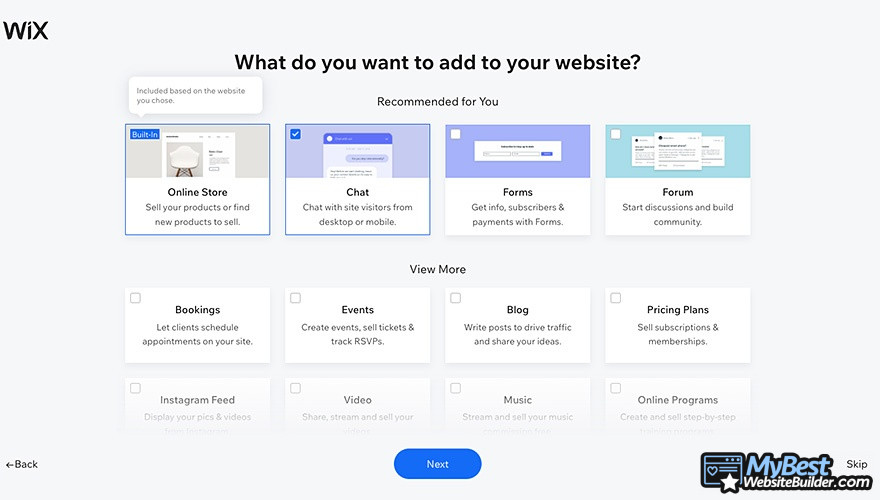 Talking about Shopify, it will also keep your life and website creation easy. Just like Wix, it offers the drag-and-drop feature. There could not be an easier way to create an online store than by simply clicking, dragging, and dropping.
Besides, if you encounter any difficulties, Shopify offers various support options, including 24/7 support, an informative FAQ section, and a huge variety of video tutorials for those, who need a visual answer.
So, who wins in the battle of Wix VS Shopify in terms of usage? I'd say it's a tie. Though Wix is slightly more advantageous with its cool artificial intelligence integration.
The Variety of Features
Feature variety is an important deciding factor whether it's a Wix VS Shopify battle or any other. Why? Because if you choose a builder without knowing what kind of features it offers or doesn't offer, you might choose the wrong one for you, and then you'll waste time and money. What should you know to make the right choice?
For starters, note that there are two types of website builders – general-purpose website builders and topic-specific website builders. What's the difference you might ask. Well, topic-specific website builders are focused on some specific topic, *duh*. In our case, Shopify is a topic-specific website builder because it is focused on eCommerce.
What does it mean? It means that Shopify offers excellent features and tools for eCommerce. However, it might lack in other spheres. For example, if you want to create a blog, Shopify won't be the best blogging website builder because its blogging features are considered to be average.
Though if we're talking about eCommerce, as I mentioned before, Shopify has more than 1,200 various apps to choose from. There's no way you wouldn't find what you need to build and scale a successful online business.
Table: The variety of features available with Wix and Shopify
Wix, on the other hand, is a general-purpose website builder. Meaning that it will allow you to create a multi-layered website. If you intend to build a blog, Wix offers good blogging features. If you manage to grow the popularity of your blog and want to start selling something, you'll easily do it with the great eCommerce features that it has.
General-purpose website builders are great for you if you're not sure yet what type of website you want to build or if you want to build a multi-layered website. Topic-specific website builders, on the other hand, are for those that know exactly what they need.
For instance, Shopify is a winner in the Wix VS Shopify battle if your main aim is to create a bomb eCommerce website. Though if you want to create a more complex website with a builder that, for example, offers good eCommerce AND good blogging tools, Wix is a better option for you.
Templates
You might be surprised but templates are important not only in terms of visual appeal but also for the general health of your website. Why? Because templates determine not only how visitors see your website but also how Google and other search engines see it.
Talking about the visitors, there's not much explaining to do. It's pretty obvious that when a website is outdated, it seems untrustworthy. I know it myself that, when I visit some outdated-looking website, I immediately think that it's sketchy. I don't feel safe filling my information into it, let alone buying something.
Modern and sleek layout, good-looking images, smooth transitions – that is a way to go with website design these days.
Talking about Google and other search engines, a decent template will be one of the reasons why your website looks and feels legit. Plus, templates have a huge impact on SEO because sometimes templates are just not SEO-friendly and, no matter how good your SEO skills are, the wrong template will simply drag you down.
For those of you who don't know what SEO is about, it makes your website appear in people's search results. How high your website will rank up depends on SEO tools and your personal SEO skills.
Now, let's get back to the Wix VS Shopify comparison and see what these website builders offer in terms of templates.
Table: The design elements of Wix and Shopify
Talking about Shopify, even though the amount of templates it offers is a bit small in comparison to Wix (70+ VS 500+), it offers some modern and dazzling templates. Shopify categorizes its templates based on industries, which is very convenient. Here are some of the industry-based options you can choose from:
Electronics
Health and beauty
Sports and recreation
Clothing and accessories
Hardware and automotive
Food and drink
In terms of template pricing, Shopify offers 4 free templates while the other templates are paid. The prices of the paid templates range from around $150 to $350. Besides, the layout of the templates automatically adjusts to other screen sizes, so you won't have to worry about your online store looking bad on a smartphone.
Talking about Wix, it offers more than 500 modern and unique templates that are also divided into categories based on various fields. Here are some of the fields you can choose from:
Business
Design
Music
Online store
Photography
Video
However, when you use Wix ADI, it creates a template based on your needs and preferences (color choice, font, and so on). So, basically, you get your own custom template. That's pretty cool!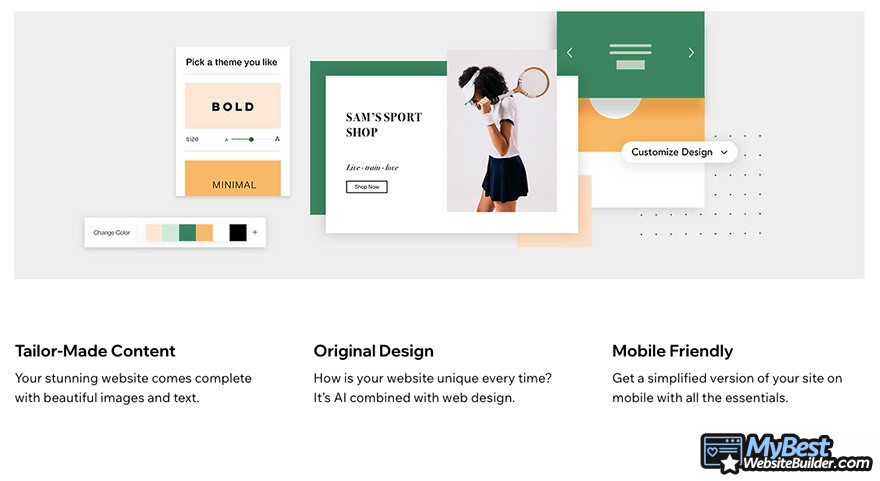 Besides, the templates that Wix offers are all available for free. Now that's a huge plus!
So, in terms of templates, I'd say that Wix would be the winner in the Wix VS Shopify battle. It offers 5 times greater amount of templates than Shopify does. It also offers a custom template and all of the templates are actually free. There are definitely a lot of benefits!
Pricing
The final round in the Wix VS Shopify battle would be the pricing. Let's see what kind of plans both Wix and Shopify offers.
Note! Always check the official website because the prices may change over time.
These are the plans that Shopify offers:
Shopify Deal Active Right Now:
Access Shopify For FREE
Shopify Black Friday
Use Shopify coupon code & try out this platform for FREE. Get an affordable head start & create your dream ecommerce website now!
Expiration date : 10/10/2022
2,937 People Used
Only 59 Left
Now, with Wix, it's a bit more complicated. It offers two types of plan options - for Websites and for Business and eCommerce. These plans are further subdivided into sub-plans.
Note that if you're reading Wix VS Shopify comparisons because you need to decide which website builder is better for eCommerce, look only at the Business and eCommerce plan options that Wix offers.
Website plans include:
Business and eCommerce plans include:
[featured-coupon review_id="1"]
We can immediately note that there is a difference. Shopify is definitely really pricey and doesn't have a lot of options, you either take the basic version or pay a fortune. Though that's usually a given with eCommerce-orientated website builders.
What I noticed is that the Basic Shopify and Wix Business Basic plans cost almost the same. So for starting a small online business, you'll be good with both builders. Though with Shopify, it gets much pricier with its second plan option, and with the third one, I'd say it goes through the roof.
Table: The pricing options of Wix and Shopify
Just want to quickly get back to the "eCommerce website builders are usually expensive" part. You might wonder why it's like that.
Well, it's simple – eCommerce website builders are aimed at businesses. Businesses grow and make a lot of money (in the perfect scenario). For growing, they need more complex features and management options. These come at a bigger price. Though when it's a big business – price is not a problem.
So, Wix or Shopify? Shopify or Wix? Well, Wix is definitely less expensive. So if you want a more on-the-budget option – go with Wix. If money is not a deciding factor for you and your aim is to build an online store and scale it in the future – I'd suggest you choose Shopify.
Though note one thing, with Wix it's kind of a "ride or die" situation because it doesn't offer website export. So keep in mind that if one day you'll suddenly start feeling that Wix is not enough for you, you'll have to build a website from scratch if you turn to other website builders. I'd say that's a bummer.
Wix VS Shopify: Conclusions
So, finally, who is the winner in the Wix VS Shopify battle? I'd say that it depends on your preferences.
If your main goal is to create a successful and extensive eCommerce website and the pricing part is not a deal-breaker for you – you should definitely go with Shopify. Shopify surely wins in the Wix eCommerce VS Shopify eCommerce battle.
Since it's a topic-specific website builder that is focused on eCommerce, it will definitely provide you with anything you can possibly need for an online store. After all, it is referred to as "the eCommerce King".
Table: General information about the companies behind Wix and Shopify
Though if your main goal is to create a multi-layered website and you may not be completely sure what kind of a website you want, Wix would be your perfect choice. Great blogging and eCommerce tools, a huge variety of modern templates, great pricing, you name it, Wix has it all.
Now, if after reading this Shopify VS Wix comparison you see that neither is suitable for you, you can always check out our list of the best website builders on the market. I bet you'll definitely find the perfect option there!
That's all I have to say this time. Have fun with website creation! Signing off.
Leave your honest feedback
Leave your genuine opinion & help thousands of people to choose the best website builder. All feedback, either positive or negative, are accepted as long as they're honest. We do not publish biased feedback or spam. So if you want to share your experience, opinion or give advice - the scene is yours!