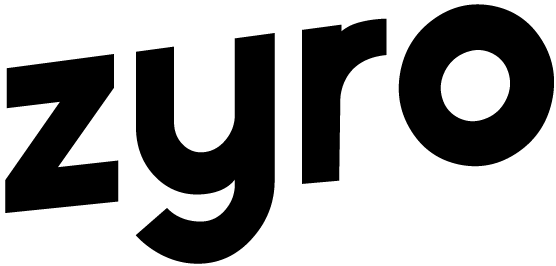 Building a website used to cost a lot of money. On top of that, people would spend a long time figuring out the ins and outs of the process. Today, even a newcomer to the website builder industry (that's exactly what we'll be talking about in this Zyro review) can help you get through the process in no time.
However, with such huge names like Wix and Squarespace dominating the industry, new builders have to bring something really special to the table. Only by offering something unique and interesting can they build a reputation of being a usable and worthwhile investment.
TL;DR: You're not going to find many Zyro reviews while scouting the web. That's because it's a completely new website builder. While it's still only in the BETA stage of development, the team behind Zyro is working hard to improve it, there's a new version coming and the price options for the builder are almost unmatched.
Pros
Fluid user interface
Easy to understand and use
Drag-and-drop functionality
Great pricing options
Cons
Some essential features missing
Not much information about the company
Zyro Review: PROS
The very first thing that you're likely to notice upon entering Zyro's official website is that there's a small little word "BETA" attached to their logo, at the top of the page.
This means that the builder is still in its early stage of development, and is being updated every single day.
While this might sway one's opinion about the below-discussed features of the Zyro builder either way, it's something worth acknowledging. The company hasn't been around for long - that's why the average person looking for a decent website builder isn't likely to have heard about them before.
Clear Site Layout
Without even going further int the Zyro review, I can already tell you - the builder has a very aesthetically-pleasing layout.
And yes, I'm talking about the layout of the site itself (rather, the homepage) - not the builder interface.
Acknowledging the fact that the Zyro builder is going to change with time, and the website will have much more content in it, it's still very refreshing to enter a homepage and not be bombarded by a ton of popups, ads and other "calls to action".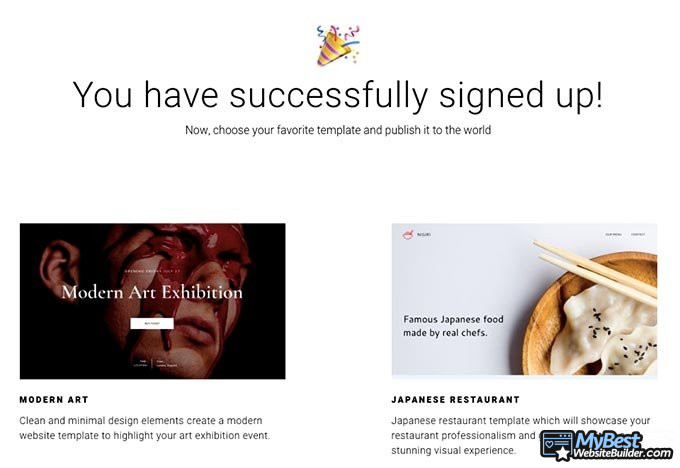 I'll admit it - I'm not too fond of their choice in color scheme. It's a bit tough on the eyes, but after scrolling down past the initial view, everything seems great from there on out.
This is an important factor in the Zyro website builder review, because if you're an industry newbie, and don't have a single clue about website builders, in general, Zyro isn't going to bombard you with needless information straight from the get-go. Instead, you'll see a feature list, some templates, and a comparison of the builder with its competition.
That's it - that's the homepage. It's clear, concise, and focused on the builder itself.
That being said, it's only natural that, with time, the amount of information and on-page available resources are going to increase. However, the team over at Zyro are working around the clock in order to optimize and better the content on the site - it's highly unlikely that you'd encounter any of the above-mentioned problems in the future.
Latest Zyro Coupon Found:
100% Free
Beginner Zyro Site
Start building your website for free with Zyro website builder. Follow this Zyro coupon link to activate your free plan & create a website with ease!
Expiration date: 27/05/2020
2,871 People Used
Only 29 Left
Easy-to-Navigate Interface
Jumping into the builder part of the Zyro review, one of the first things that you're likely to notice is the simplicity of the user interface (UI).
The majority of website builders in today's market aim to provide users with as many different features as possible. While having freedom of choice and a vast array of various options is awesome, it can sometimes feel overwhelming.
Naturally, each and every builder has distinct ways of dealing with the issue. Some are more successful than others, though.
Concerning this Zyro website builder review, though, I was happy to see that the builder doesn't jam-pack everything into a single, scrollable window. While there are quite a few features still missing, the team behind Zyro aims to "launch Zyro 2.0 as soon as possible", so I can only talk about what I currently see.
How do I know about Zyro 2.0? Well, I've actually had a little chat with the team myself - I messaged Zyro to inquire about a few specific points that I wanted to get straight before writing the review, and they were very helpful and responsive.
Besides, when you see the actual price of this builder, you'll understand that complaining is the last thing to do here.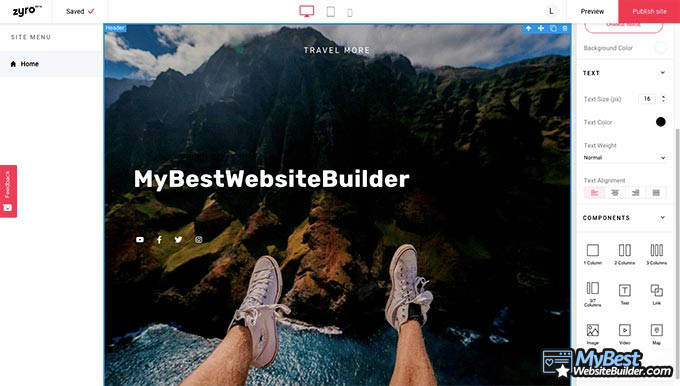 The only thing that does bug me with Zyro's interface is the somewhat-evident lack of functionality. Some features still feel a bit clunky and unpolished, and every once in a while, an occasional glitch occurs. Admittedly, though, it might often be my own fault, given that I've tried to press everything I could out of the builder.
This can, in fact, be a positive thing. When you're just starting out with website builders (given that you have no technical knowledge about them), it's cool to be able to have a tool that's developing at the same time you learn. And again - I would be much more skeptical if it wasn't for the amazing price of the builder.
Even though it might take some time to get used to the occasional unresponsiveness, the interface itself is super-clearly made. There are separate options for your background, texts, files that you'd want to add - it's all simple to navigate and use.
Drag-and-Drop Editor
One of the biggest strengths users constantly mention in website builder reviews (whether it be Zyro reviews, or else) is the drag-and-drop editor.
This is also where website builders are triumphant over content management systems (CMS) such as WordPress.
You see, drag-and-drop editors allow you to, well… Drag and drop any of the many items from your builder's menu onto the site itself. Most of the time, they provide you with a preview of what that item will look on the live version of your website (I'm happy to be able to say that, in this Zyro website builder review, thing's aren't different).

These types of editors have quickly become the industry standard - it's probably easy to see why that's the case. They are extremely easy to use, allow you to see changes in the live version of your site, and don't require any technical knowledge to be used efficiently.
As far as this Zyro review is concerned, I'm happy to state that the builder does, indeed, utilize a drag-and-drop editor. This is great news, especially considering the fact that Zyro is bound to have a complete rework soon, and the drag-and-drop functionality aspect of the builder should get a new life as a result of that.
Domain Name Integration
Another cool feature that I've noticed while writing this Zyro review was that the builder also offers domain name integration.
Zyro allows you to connect a custom domain to your website. The domains are going to cost from $0,99 up to $8,99 per year, depending on what type of a domain it is (.com, .online, etc.). Even if you only use the free version of the builder, you'll receive a free subdomain:
your_website_name.zyrosite.com
Opting to purchase a custom domain for the Zyro review, I've noticed that the purchase is redirected to Hostinger, a web hosting and domain name provider. I was actually pleasantly surprised, since I've been using Hostinger's services (both hosting and domain name registry) for my own, personal website, and have not encountered any issues.
Zyro Review: CONS
Zyro being constantly worked on, and with the promise of a completely new version being launched soon enough, it is bound to have some quirks that are yet to be resolved. It wouldn't be a Zyro review without discussing them, right?
Lack of Functionality
Undoubtedly, this is going to be the main issue that users notice with the builder - you don't even need a Zyro review to help you figure that out.
While I did mention how nice it is to come across a website builder that isn't jampacked with different, seemingly useless features, there are some rather important things missing within the Zyro builder.

First of all, I could not find anything related to eCommerce. Surely, it's something that the team behind Zyro is working on, but as of writing this review, I could not find anything eCommerce-related on their builder (or it was REALLY tucked away).
Furthermore, I missed some freedom when trying to manage my drag-and-drop options. The thing is, there's a rather limited amount of space where you can insert items from your menu - you can't just throw them anywhere you wish. While this is the same with many other builders out there, I wish that I could claim the opposite in this Zyro review.
Now, having said all of that, I have to (yet again) acknowledge the fact that Zyro is still in its BETA stage of development - all of these features are likely to come with time.
The reason why I keep on emphasizing Zyro's BETA stage isn't to justify the state of their content or the builder itself. Instead, I am simply happy that the company is playing with an open hand. Throughout my career, I've come across too many website builders that tend to claim they have everything figured out.

You give them a chance, purchase a website builder plan and poof - immediate regret.
That's not the case with Zyro, though. The company is transparent, and is not trying to come across as something that they are not.
Lack of Content
At the beginning of this Zyro review, I've mentioned that I'm really glad that the brand chose not to overload their homepage with pesky ads, popups and other nuisance-like information.
However, searching through their site, you'll notice that there's a noticeable lack of content, in general. Zyro only has template, pricing and domain pages - that's it (well, at least when it comes to menu options). No extra information, no informative articles, nothing of that nature.

While this might also be a result of them finding their way through the BETA stage of the builder, the website does feel rather empty and even desolate, to a certain extent. If you've never heard of the Zyro builder before, and have not read any Zyro reviews, you might even think that it's not a legitimate site, in the first place.
And that's the other thing, too. Content on the site helps a company improve transparency and look more legitimate. Even though the obvious focus of the people behind Zyro is the builder itself (which is the way it should be), they could still pay some attention to their site's content, and work to gradually expand it.
Price
Pricing is often the most important point for many people - it's the thing that either "makes it or breaks it" with many website builders.
In total, Zyro offers three subscription plans:
With the free plan, you are going to be able to utilize most features of the builder. However, you'll have to purchase a custom domain name for your website (if you want to), deal with Zyro ads on your page and there will be no backups, SSL certificates, no live support and very limited bandwidth.
Both of the remaining plans offer the exact same features - no ads, custom domain connection, 100GB of bandwidth, an SSL certificate, around-the-clock support, unlimited websites and weekly backups.
In all honesty, Zyro seems to have nailed their pricing extremely well. The builder is very inexpensive, and the price tags themselves seem to reflect the current position of the tool.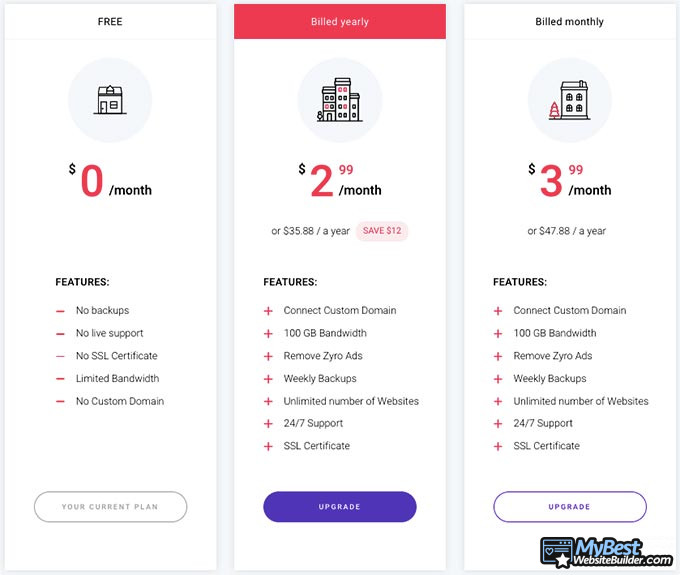 Do note, though, that while Zyro does have a free plan available for anyone and everyone to try out, it's not going to suit everyone. Sure, you might want to save money, but with prices like these, it might be worth the investment.
It all depends on your personal goals - if Zyro is the first real website builder that you're trying out, then the free version might suit you. However, if you're serious about building a site, and know what you want already, then the price shouldn't be too big of a problem.
Here is The Best Zyro Offer I Found:
100% Free
Beginner Zyro Site
Start building your website for free with Zyro website builder. Follow this Zyro coupon link to activate your free plan & create a website with ease!
Expiration date: 27/05/2020
2,871 People Used
Only 29 Left
Conclusions
The website builder industry is a competitive one - with new providers entering the market at an increased rate, the stakes are pretty high.
Zyro, however, seems like a promising project. The company appears to be transparent in that they don't try to hide any issues or problems that their builder might have.
As for the builder itself, while it does lack some smoothness at times, and is missing some features, the general impression is rather positive. It's a work in progress, but the builder features a drag-and-drop editor, various editing tools, free image options, and so on.
And the price! Honestly, given the pricing options for Zyro, it's safe to say that many of its more-noticeable quirks can be easily forgiven.
Final verdict? Well, if Zyro didn't have a free version, and had some insane price tags, I would definitely advise you to look for a good website builder someplace else. However, seeing as this is not the case, you can definitely try the builder out - at least as far as the free version is concerned.
And remember - Zyro is currently in its BETA stage of development. Each day you log into their website, you should be able to see improvements with both the builder and the site itself.
Leave your honest Zyro review
Leave your genuine opinion & help thousands of people to choose the best website builder. All reviews, either positive or negative, are accepted as long as they're honest. We do not publish biased reviews or spam. So if you want to share your experience, opinion or give advice - the scene is yours!