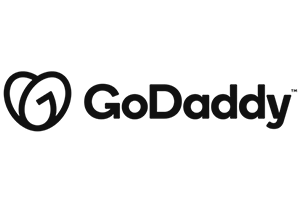 GoDaddy website builder reviews (also known as GoCentral website builder reviews) are becoming increasingly more popular - while searching for the best website builder, people are giving GoDaddy more and more attention. Is it worth using? Are the GoCentral website builder reviews positive, or is the builder one to be avoided?
Don't worry - all of those questions (and many more) shall be answered in this GoDaddy website builder review. I'll tell you a bit about the company in question, and then move on to talking about the pros and cons, features and other interesting facts about the builder.
At the very end, after we've dealt with the GoDaddy website builder costs, I'll give you my personal opinion on whether GoCentral is worth the time and the money, or if you should consider turning to other website builders.
TL;DR: GoDaddy is a really neat website builder for anyone who's just starting out with their very first website. If you're a professional in the field, however, you might find that the online builder still lacks some rather important features for high-end website creation.
Here is The Best GoDaddy Offer I Found:
GoDaddy Black Friday
30% OFF New Products
Let GoDaddy build your dream website for you on this Black Friday. For limited-time, you can get a 30% discount on new GoDaddy products, so act now!
Expiration date : 30/09/2023
4,991 People Used
Only 52 Left
GoDaddy Website Builder Review: What is GoDaddy?
If you're only interested in website builders, then you might not be familiar with the fact that GoDaddy isn't actually primarily a website builder provider. The US-based company actually specializes in website hosting and domain registration.
This is why the GoDaddy website builder reviews that you see online often go by a different name - GoCentral. That's actually the name of the website builder tool itself - since not many people know it, it's more often referred to as the GoDaddy website builder.
For those unfamiliar with the concept, website hosting happens when a company (in this case - GoDaddy) hosts your website on the network. This way, your site becomes "live" - it's reachable by search engines (i.e. Google), is indexed and clearly visible.
Domain name registration is also an important aspect of creating and managing a website. You can't just choose a random website name and go with it - it has to be unique and registered. On the plus side, if you purchase hosting from most hosting providers - GoDaddy included - a free domain is usually included.
The fact that GoDaddy is primarily a website hosting service and not a website builder has some very specific pros and cons - you'll notice that most GoDaddy website builder reviews tend to agree. However, which one of these take the lead?
Well, let's take a closer look and find out.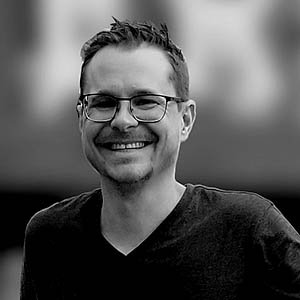 Andrew Mallonee
Founder of Mallonee Media
What should people be aware of when selecting a website builder?
A very important thing to be aware of when selecting a website builder - you need to determine if your selected website builder will allow you to relocate your website data easily. It can be very difficult to move your site to a new website builder after the fact.
Pros
Very simple and straightforward
Integrated eCommerce features
Allows you to get a website up and running very quick
Cons
No drop-down menu
Lacks some essential features
GoDaddy Website Builder: PROS
We'll begin this GoDaddy website builder review by talking about the things that the company has done right with the website maker.
Easy to Use
The very first thing that you'll notice with the GoDaddy website maker (at least according to the GoCentral website builder reviews) is that it's one of the easier builders to use and manage.
Once you enter the actual interface, you are presented with the core options of the builder. You can manage your pages, menu widgets, SEO settings and so on.
Users report that the UI is very intuitive and responsive. And I have to agree - not even once did I encounter a situation where I'd get lost or confused within the website construction process.
More so, you can manage your themes and even slightly customize them. The customization options are somewhat limited, but you can change the layout of the page (which isn't only responsive - it actually looks really cool), the main (general) color palette, etc.
All in all, I was happy and surprised by the whole creation process - GoDaddy website builder reviews prove that I'm not alone! Users are generally satisfied with how simple the creation process is.
Latest GoDaddy Coupon Found:
GoDaddy Black Friday
30% OFF New Products
Let GoDaddy build your dream website for you on this Black Friday. For limited-time, you can get a 30% discount on new GoDaddy products, so act now!
Expiration date : 30/09/2023
4,991 People Used
Only 52 Left
You'll Have a Website in an Afternoon
Usually, people who are looking for the best GoDaddy website builder reviews are ones who value their time - they need a website, and they need it fast.
GoDaddy knows this, and they deliver.
While website builders overall have a reputation of being able to provide you with a website in a matter of hours (depending on how concentrated and simple / difficult you want that site to be), GoCentral takes it to the next level. From the moment you purchase website hosting all the way to your site going live, it's a super-fast process!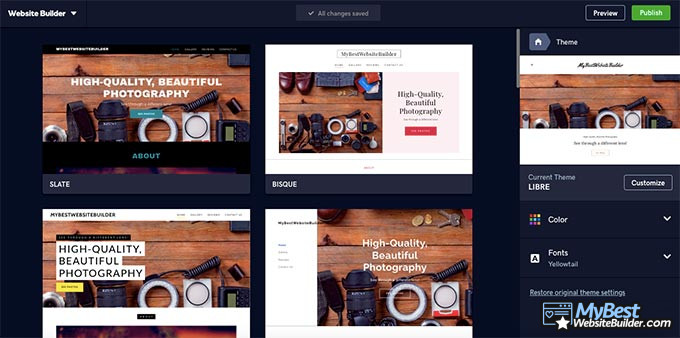 I don't want to start throwing numbers out on a limb, since they might differ from person to person. As I've mentioned earlier, it's going to depend on whether or not you choose to purchase GoDaddy's website hosting services, how much content you'll want there to initially be on the site, how fancy you want it to look and so on.
eCommerce Options Available
While this topic might be more well-suited to be covered over at the Pricing section of the GoDaddy website builder review, it does deserve a separate section in of itself - GoCentral supports eCommerce through and through.
That's big!
Think about it - while there are various different people who want to create a website with a decent website builder, a big portion of those people are going to (in one way or another) want to sell their products on that site.
And no, I'm not talking about huge corporations with multiple different business branches and marketing campaigns.
Imagine you're a photographer - you want a website that would store and showcase all of your work. A small, simple site of a personal level - no problem!
However, after you start getting more traction and become noticed, you decide that it might be a good idea to sell some prints of your photographs on the site.
Can you follow my train of thought here?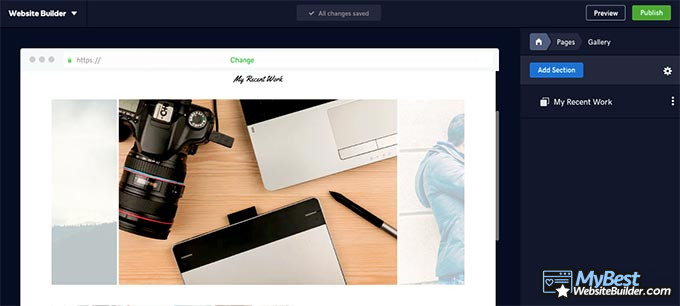 What I'm trying to say is that even people who don't have anything to do with eCommerce at the very beginning might develop a wish to grow a business later on. So, the bottom line is that eCommerce-related features are important.
However, the sad thing is that not all website builders support such features. It's always a topic up for debate whenever you're reding website builder reviews.
Well, that said, I'm glad to be able to state that GoCentral website builder reviews are on the good side of the spectrum - GoDaddy support businesses, both small and large.

Did you know?
Good Load Time and TTFB / Great Uptime
Now, these are the three factors that can easily "make-it-or-break-it" when it comes to website builders - the TTFB, site speed of the created website, and its uptime.
TTFB stands for Time Till First Byte, and measures just how long it takes until the very first byte of your website loads.
Site speed is measured according to how fast a website fully loads after you enter it. The keyword here is "fully" - NOT until you see the actual page, but until it's completely loaded all of the text, images, links, and everything else.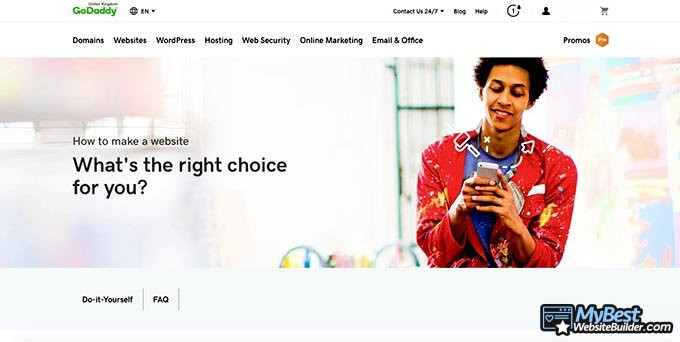 Uptime, on the other hand, reflects the amount of time your website is alive and well during a specific period (day, week, etc.).
With that, you can probably understand why website builders aim to retrieve the best results on both fronts - if you build a website that has integrated hosting and then see that it doesn't ever load, you're probably not likely to extend your subscription with that website builder.
During our research processes, GoCentral came up with these results:
TTFB - 501ms
Site Speed - 2023ms
Uptime - 99,99%
All three of these numbers are actually really good! Naturally, site speed is also going to depend on the size of your website, and the content that you have within it, but the uptime is really impressive!
GoDaddy Website Builder: CONS
Now that we've covered some of the better features of GoCentral, let's talk about what users have to say in the negative GoDaddy website builder reviews.
Not a Lot of Freedom of Choice
There are a bunch of GoCentral website builder reviews that stress the point that GoDaddy doesn't really leave the user a whole lot of space for creativity while making their website.
And, well, I'm sad to say this, but it's true.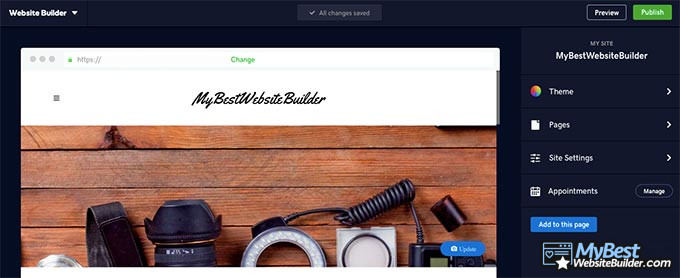 While the average customer will probably be satisfied with the number of themed templates that are available for use, the things that you can do with these templates are quite limited.
This is going to be a major issue for anyone who wants a website that they could fully customize - some features are simply not going to be available.
No Secondary Drop-Down Menu Options
Right… Now, this is a huge con.
I was in disbelief when I saw some GoDaddy website builder reviews mention this, but after doing some research, it turned out to be true. And it is exactly what it sounds like - after you choose your menu options, you cannot create secondary, drop-down menus.
Perhaps it's not a big deal if you're only looking to create a small and super-simple site. However, if you want your website to grow, this is close to being unacceptable.
Think about it - how many websites do you know which wouldn't have drop-down menus? I bet it's going to be just a few, and all of them are going to revolve around small CV-like domains or online portfolios. For any bigger and more complex websites, drop-down menus are an essential feature.
Update (2020-07-19)
As of writing the article, some users have pointed out that GoDaddy has added the ability to create drop-down menus on your website.
Mystery SOLVED: My GoDaddy Website Builder Review (2021)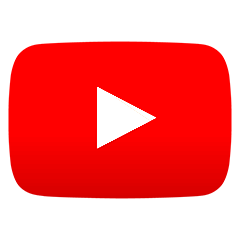 Price
Finally, let's discuss the GoDaddy website builder cost.
GoDaddy has four different pricing plans in place. Each of them cater to a different audience, and they are named according to that.
Here's a list of the plans and pricing options available:
The Personal plan is pretty self-explanatory - it's great for anyone who wants a very small website, perhaps to showcase their artwork or simply learn how to use a website builder.
Business has all of the same features as the Personal plan does, with some added SEO tools and a PayPal button. It's a pretty good option if you're looking to sell a few things, like online services or a couple of items.
With the Business PLUS plan, you'll be able to start building an actual online business for yourself - social media and Google integrations, email marketing tools, and so on. If you're serious about developing the businessman or woman within you, this is the plan for you.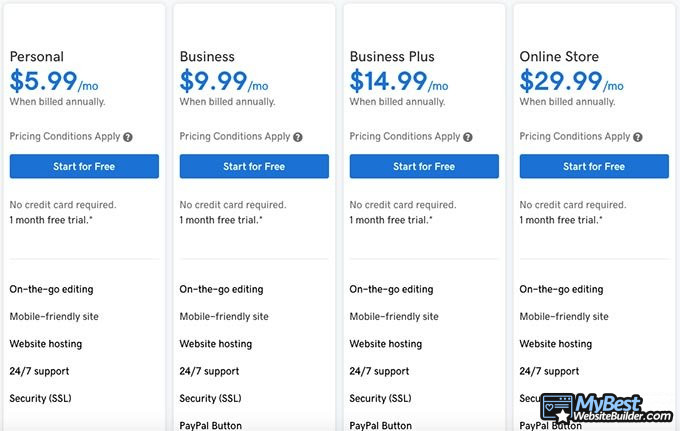 And finally, the Online Store plan. With this, you'll receive everything from the previous plans, plus product reviews, inventory management, shopping carts, and so on - everything that would be required for a bigger business or corporation.
Now, as far as pricing is concerned, most GoDaddy website builder reviews agree - the costs aren't at all bad! Actually, GoDaddy provides some of the better pricing alternatives around - good to know! Also, with any plan that you choose, you'll receive a period of time to test the plan for free - no credit card registration required!
Furthermore, something worth mentioning (rather, reminding) is that GoDaddy can (and, most likely, will) host your website. Don't forget - primarily, the company is a web hosting service provider, not a website builder tool developer! With that, though, there are probably going to be additional costs involved.
Here is The Best GoDaddy Offer I Found:
GoDaddy Black Friday
30% OFF New Products
Let GoDaddy build your dream website for you on this Black Friday. For limited-time, you can get a 30% discount on new GoDaddy products, so act now!
Expiration date : 30/09/2023
4,991 People Used
Only 52 Left
Conclusions
Now, we've reached the end of our GoDaddy website builder review. We've talked about the GoDaddy website builder cost, its pros and cons, features and benefits.
So, would I recommend using GoDaddy as your go-to website construction provider?
It depends.
You see, while GoDaddy does offer some pretty cool features for the average customer, not everyone is going to be satisfied with the builder. Some people might find that the features offered by GoCentral are simply not enough to satisfy their wants and needs.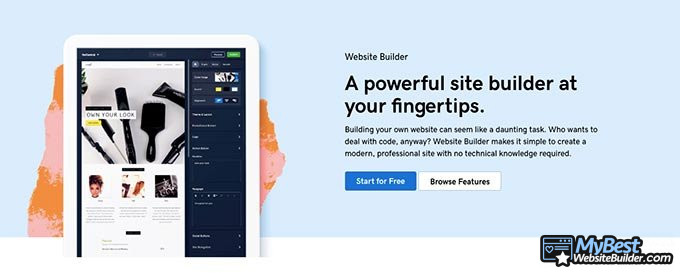 It all kind of depends on whether you're just starting out with a small website, or you already need a fully-custom domain with some intricate features and widgets. Don't get me wrong, even huge corporations can find what they are looking for with GoDaddy - it's just less likely than with other competitors in the field.
All in all, if I was to give a final verdict for GoDaddy, it's definitely not a BAD website building platform. It might not suit everyone, but if you're just starting out, want to create a website for a reasonable price and forget about any manual hosting and management issues - GoCentral might just be the way to go!
I hope that this GoDaddy website builder review was helpful to you, and wish you best of luck with your future website building ventures!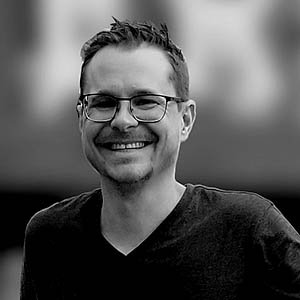 Andrew Mallonee
Founder of Mallonee Media
Contributed by: Andrew Mallonee , Founder of Mallonee Media
Andrew is a senior specialist application engineer and the founder of Mallonee Media - web development and creative agency taking a slightly different approach to helping clients. They cater to peo...
Read Full Bio...
Leave your honest GoDaddy review
Leave your genuine opinion & help thousands of people to choose the best website builder. All reviews, either positive or negative, are accepted as long as they're honest. We do not publish biased reviews or spam. So if you want to share your experience, opinion or give advice - the scene is yours!