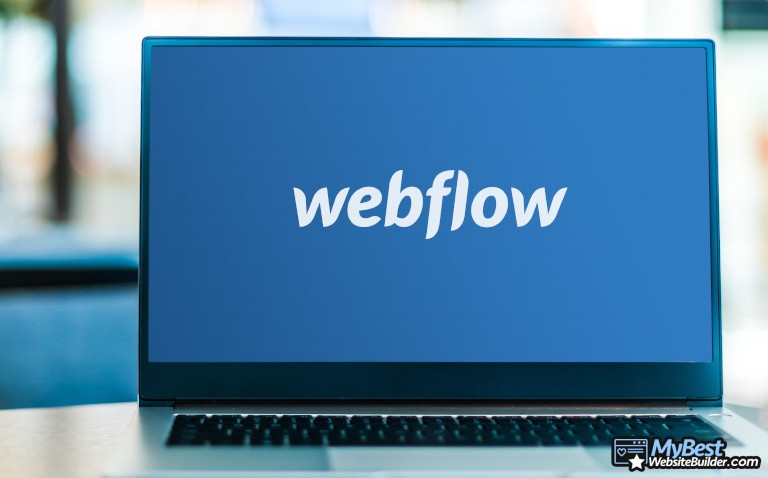 So, you've checked out Webflow and it ticks many of the boxes for what you're looking for in a website builder. Yet here you are, scouring the internet for the best Webflow alternatives to kickstart your business. So, what went wrong?
Webflow appears to be very impressive, but some of its aspects do not align with your vision. Maybe it does not have the capacity to fulfill your needs, or perhaps it's too over-the-top, and you require something more simple.
With so many website builders out there, it can be difficult to narrow down the best options for your individual needs. To make your life easier, we've compiled a list of the most impressive Webflow competitors on the market that have the potential to be quality alternatives to Webflow.
Webflow - from Near Bankruptcy to $2.1 Billion Valuation
Webflow is a website building software with over 3 million users and over 100,000 customers in 190 countries. Those are impressive numbers for a company that nearly filed for bankruptcy 10 years ago. Now, the biggest names such as Dell, Rakuten, and even Michael Kors are using Webflow as their primary website builder.
Webflow aims to make any knowledge of coding a thing of the past when it comes to developing websites. Let's delve in deeper and figure out what else makes it stand out amongst the ever-expanding website builder crowd.
Webflow is an unusual mix of both a website builder and a Content Management System (or CMS for short). This unique feature is the main ingredient in making the website building process accessible to newbies, yet still technical and complex enough for advanced designers and devs.
While it helps Webflow stand out amongst competitors, it also means that there is a steep learning curve for all of its users.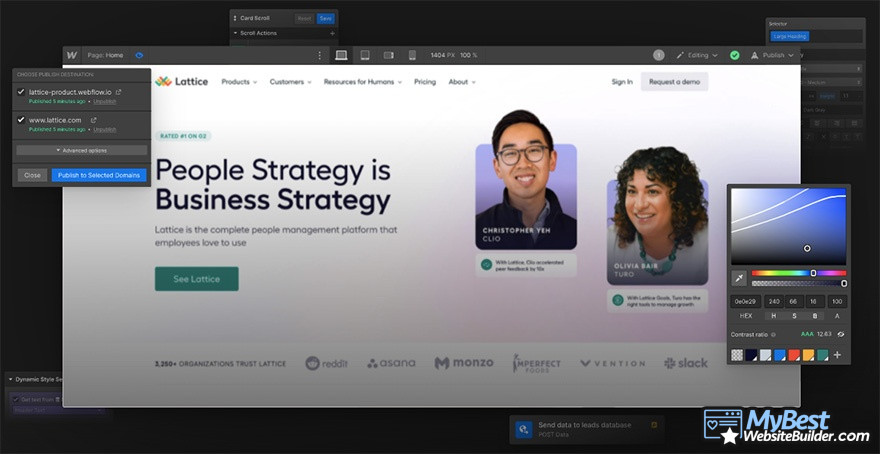 As we all know, first impressions matter. Therefore, appearances are everything. It's exactly the same when it comes to website building. Users are much more likely to stay in a website that's sleek and optimized. Webflow allows you to start off on the right foot by providing its users with over 1000 website templates.
It also promises a completely visual website editor with a wide range of customizable pages that require no coding whatsoever. Most Webflow competitors don't even provide such an option. And even if they do, you'll need to do the heavy lifting when it comes to coding. In this aspect, there are not many website builder sites like Webflow.
Webflow has integrated SEO tools right into the website building software. Here you can micromanage all of the important things to rank high in Google Search and drive traffic to your website (control meta titles and descriptions, link structures, image alt texts, and many more).
Are you thinking something's not adding up? If Webflow is as amazing as they say, why would anyone look the other way? Let's have a look ourselves.
Why do People Search for Webflow Alternatives?
Here we have Webflow in all its glory - a website building software that swears by a no-code policy AND promises in-depth customization. Sounds like a sweet deal, yes?
Yet certain users seem to look around for Webflow alternatives no matter what the company throws their way.
This begs the question, why do people cast aside this incredible software and begin to look for other website building sites like Webflow?
Let's begin by addressing the elephant in the room - complexity. Ease of use is one of the main selling points of many website builders. Indeed, it is what most startups and small business owners want, an easy way to build a website on your own - without the help of a programmer.
While Webflow promises to free its customers from the clutches of coding, it can still appear overwhelming, even to advanced users.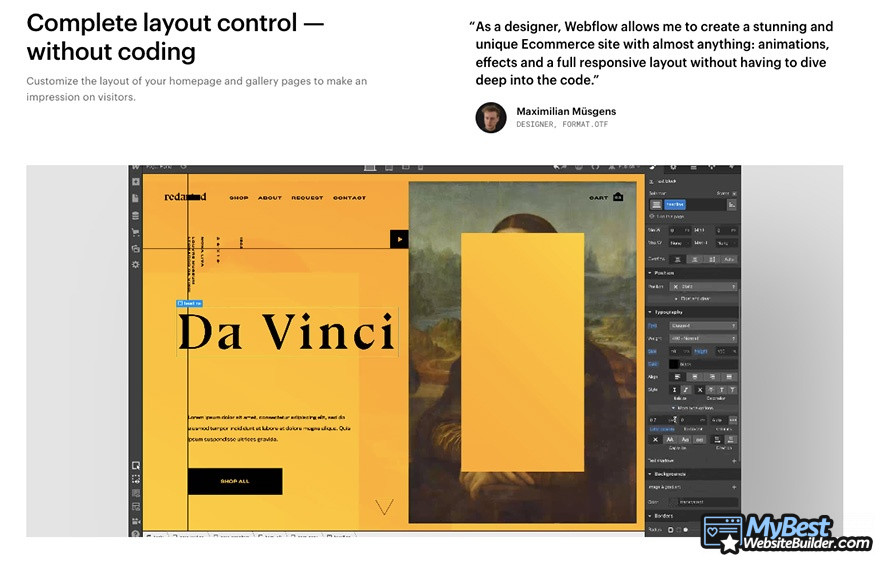 Unfortunately, a lack of ease of use scares away many potential users. The software is not completely beginner-friendly and requires a lot of time and patience to master. While the website builder doesn't make you do any of the work in regards to coding, it still seems overwhelming based on the vast amount of customization tools available.
Sometimes simplicity is key.
Since the website builder software is more complex than other website building platforms out there, Webflow competitors can have the upper hand in certain cases.
Such a steep learning curve, yet there is no live customer support in sight. Ouch.
While Webflow offers many courses on how to use the website builder in its entirety, sometimes all you need is a nudge in the right direction from the experts themselves. 24/7 live customer support can be a lifesaver in situations where you need solutions fast. So it's completely understandable why for some users a lack of live chat is a real deal-breaker.
Also, to use Webflow you will need internet access to edit and update your website in real-time. It doesn't seem that an offline option is in the works at the moment.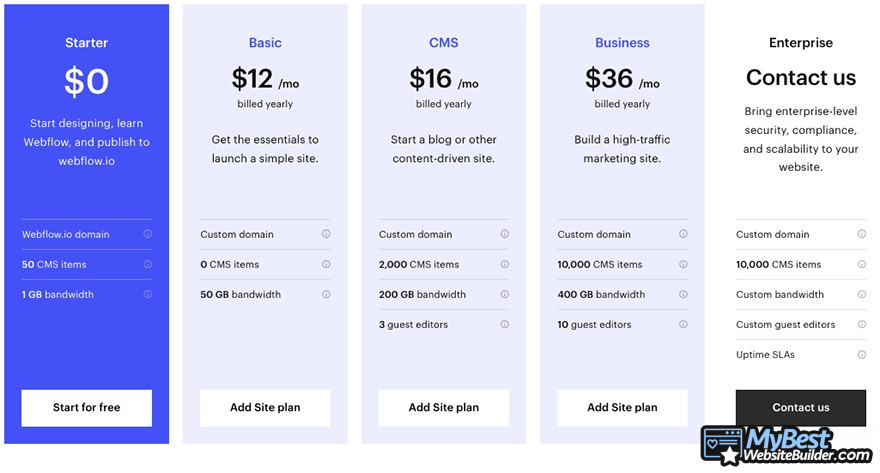 Pricing is another crucial factor when choosing a website building platform. Many startups or small businesses on a tight budget are uncompromising in their estimated expenses for the website building. Unfortunately, Webflow falls short in this department, as its payment plans can be quite pricey.
Essentially, people are searching for such website building software that is most suited for their individual needs. While Webflow is an amazing website builder, it may be lacking in specific features that are crucial for your business.
If you feel like I've just described your situation, fear not - let me acquaint you with our best Webflow alternatives currently available on the market.
Our Top 5 Picks for Webflow Alternatives
The website builder selection below is not displayed in any particular order. These options have similar or even identical features, more reasonable pricing plans, and can be considered great Webflow alternatives. Shall we dive in?
Squarespace - Simplistic yet Highly Customizable
At its core, Squarespace is a template-based website builder with an easy-to-use drag-and-drop page editor, beautiful and simplistic templates. Pretty straightforward for one of Webflow alternatives, eh?
Provided templates, just like the Squarespace platform itself, drive a sleek and minimalistic feeling and are fully customizable. You can add many useful third-party plugins and extensions to make your life just a little bit easier. However, if you'd like more in-depth customization, you'll require someone who knows the ins and outs of coding.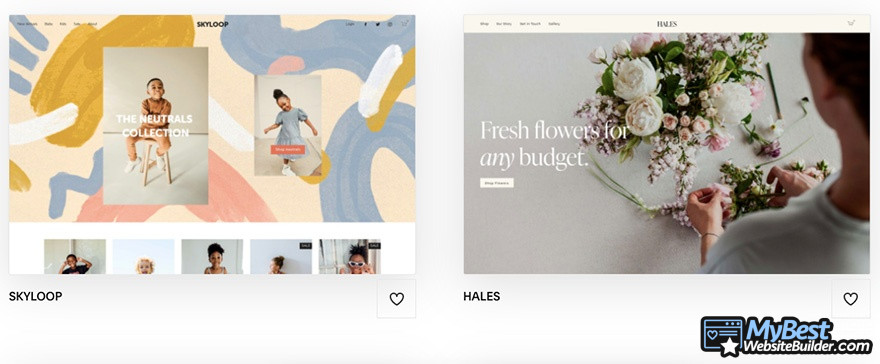 If your social media accounts hold a lot of importance, you can connect them directly to your website. The same goes for video and music sharing platforms like Spotify and Youtube.
Squarespace has its own built-in analytics tools to help you track how your website is doing and provide you with other important KPIs. It includes general traffic information, visitors demographics, user engagement statistics, top pages and products, search terms and keywords… I could go on all day, but I think you get the point.
Squarespace makes sure your website is ready for search engines by providing SSL certificates, sitemaps, search engine-friendly URLs, and even creating meta titles and descriptions for your pages (you can also edit them yourself at any time).
Table: A feature comparison of Squarespace and Webflow
It covers all the basics and then some. So don't fret - even if you don't have any experience in managing a website, Squarespace has got you covered.
You can even control your website on the go - just install Squarespace mobile app on your phone.
One of the main disadvantages I ought to mention is the website's loading speed. Testing revealed that it takes longer than average for a website to fully load. If the loading speed is making you lose visitors, you will have a problem on your hands.
How Much Does the Squarespace Website Builder Cost?
The last question remains… Will you have to empty your pockets to experience one of the best Webflow alternatives? To get a clearer picture, have a look at the pricing options for Squarespace (with a 25% annual discount):
Squarespace also has special offers for students as well as non-profit organizations.
Sounds tempting? Try out Squarespace yourself for free here.
Squarespace Deal Active Right Now:
SAVE 20%
Squarespace Limited-Time Deal
Grab this Squarespace offer code & enjoy a lovely 20% off on any selected Squarespace subscription plan. Create your dream website NOW!
Expiration date : 12/12/2023
4,512 People Used
Only 88 Left
Zyro - Budget-Friendly and Straightforward
There is beauty in simplicity, no? Zyro is a website builder that offers a straightforward, user-friendly, drag-and-drop editor in a grid layout that covers all the basics. These simple but powerful features allow Zyro to stand out among other Webflow alternatives.
While it may lack complex customizable options, it's perfect for beginners as it doesn't overwhelm them with a complicated editor and a million tools (we're looking at you Webflow).
Zyro keeps their promise true - the website builder is accessible to even those who lack the technical knowledge to build one. However, if you have the basics of coding down, you can easily embed your own custom code for even more extensive customization for your website.
Here are some more benefits of using Zyro:
Fast loading time;
SSL security;
Free domain for 1 year;
Free email for 3 months;
Some basic SEO tools and the option to integrate Google Analytics straight into your website.
Don't let the simplicity of this website builder make you think it won't be good enough for more complicated websites. Zyro won't disappoint even if you're looking to build an online store.
There are plenty of eCommerce tools such as inventory management, countless payment options, discount coupons, gift cards, Facebook and Instagram store integrations, and many more.
Table: A feature comparison of Zyro and Webflow
Plus, Zyro has some interesting AI tools to help you make your website that much better. The ones that stand out the most are Zyro's AI Writer, Favicon Generator (which creates a small icon that will be seen on the tab of your website - pretty cool, huh?), and Logo Maker.
It even has a Heatmap where the AI predicts what your website visitors will notice first and which areas they will subconsciously ignore. This type of information can help you optimize your website's pages before it even goes live, and, as a consequence, drive conversions.
There are also some neat little tools that will come in handy even outside of website building (AI Image Background Remover, Image Upscaler, Image Resizer).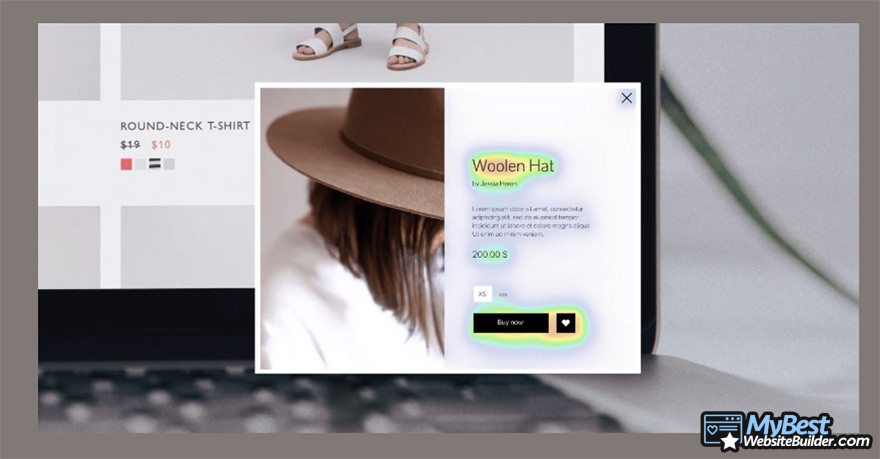 Remember, that out of all Webflow alternatives, Zyro is the only one that offers so many unique tools.
Where Webflow falls short, Webflow competition Zyro stands tall. This website builder provides real-time 24/7 customer support. If you encounter an issue or a pesky bug, you can instantly contact support for an immediate resolution.
No one is perfect, and even Zyro has its own limitations.
Starting with the basics - Zyro is a fairly new website builder in the market. It is constantly learning, improving, and updating. What does it mean for you? Essentially, it means that certain features may be missing. The good news? Since it's always looking to improve, there are new features installed with every update.
So keep an eye out, what is missing today, can be available tomorrow.
Please note that you can't switch templates after launching your website which can prove to be a lot of hassle if you want to revamp your website.
How Much Does the Zyro Website Builder Cost?
I think we can all agree that Zyro is one of the Webflow alternatives without the complexity that Webflow can bring. Let's see if Zyro's pricing options are as undemanding as its builder platform:
No, your eyes are not deceiving you. Zyro can be considered one of the most affordable options for building a website on your own. Grab one of the offers while it's still hot!
[featured-coupon review_id="16"]

Did you know?
Wix - Captivating Templates, AI and Ease of Use
As we all know, these days there's no need for technical knowledge or additional coding to build a functional and aesthetic website. Wix states that their website builder gives everybody the opportunity to create a website and make it their own.
When it comes to fulfilling your aesthetic, Wix has got you covered. This website builder holds over 500 templates filtered by industries. And it gets even better - they're all designer-made. If your website's appearance is a vital factor in choosing a website builder then Wix shines amidst the many Webflow alternatives.
Wix Editor gives complete creative freedom. There are no grids, no constraints - just you and the blank page. It uses everyone's well-known and loved drag-and-drop editor for ease of use.
Since there are no restrictions, you can modify your website's content however you want, but it's worth keeping in mind that having too many options also has its own downsides. If you're easily overwhelmed or not creative enough in this area, you can get lost in the process of creating a website and waste a ton of time.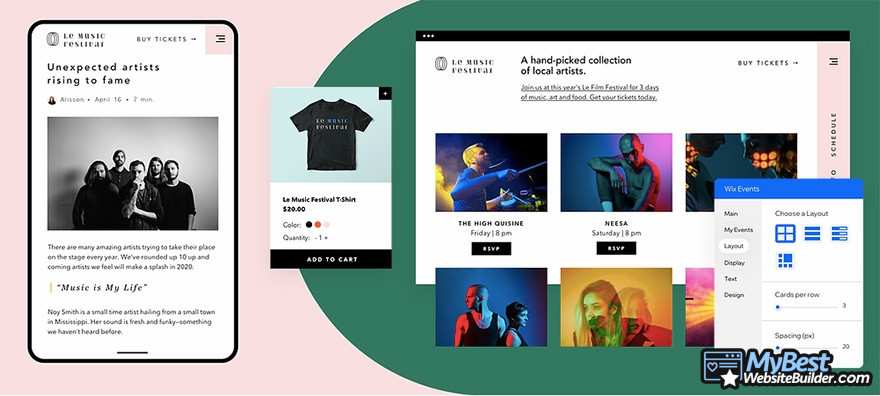 That's why Wix introduced Wix ADI - an Artificial Design Intelligence website builder that develops a website based on the user's individual needs. All you need to do is complete a quick survey and wait for the magic to happen.
There are over 250 apps offered by Wix and third-parties to integrate into your website. It includes eCommerce tools, marketing widgets, calendars, and more. You can freely choose any of them in the Wix Editor (please note that Wix ADI allows only a limited number of selected apps).
If you have a developer on your side, you can also add custom code into the website for more personalized features.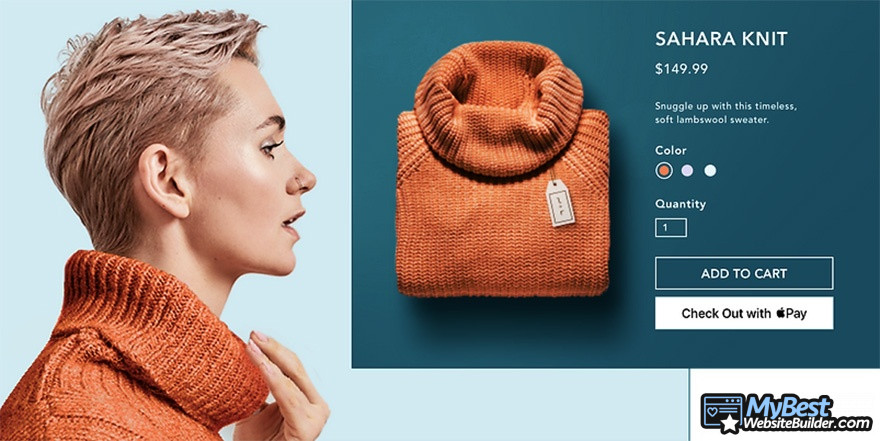 Wix offers some basic SEO tools where you can customize your page titles, URLs, image alt text, and so on. Also, Wix optimizes your website for mobile devices. This is crucial since the majority of internet users browse on their phones.
Plus, Wix allows you to manage your website on the go with their Wix Owner App.
Whether you're a blogger, freelancer, or an online store owner, Wix has got your back. There are loads of eCommerce tools to choose from. Here are a few of them:
Store management;
Email marketing campaigns;
Store analytics.
Table: A feature comparison of Zyro and Webflow
Unfortunately, there are also some downsides to using Wix. One of the most frustrating ones are ads. That's right, if you're using a free or the cheapest plan, your website will be filled with ads. To avoid annoying your site visitors with endless advertisements, we suggest buying a plan above the basic option.
Another disadvantage with Wix is that once your website goes live, you won't be able to change the template. Keep in mind that, in case you want to revamp your website, you'll have to start from scratch.
How Much Does the Wix Website Builder Cost?
If you think Wix ticks all the boxes for you, we must have a look at the pricing options before you commit to it out of all Webflow alternatives. Wix divides their premium plans into Website and Business & eCommerce. Let's have a look at the Website pricing options:
Wix's Business & eCommerce plans range from $23 to $49 per month.
Please note that you can test out Wix completely for free here (the free plan consists of 100 templates to choose from, an unlimited number of pages, and free hosting).
[featured-coupon review_id="1"]
Weebly - Affordable, Neat, and Full of Extra Features
Weebly allows its users to easily create websites with a seamless and easy-to-navigate drag-and-drop editor. You can simply drag wanted elements from the sidebar onto your page and see how your website appears in real-time.
The Webflow alternatives we're discussing all seem to have one thing in common - simplistic nature. And that's exactly what makes Weebly a good alternative to consider.
It's easy to customize website pages and available features. However, if you want to tailor your site from head to toe or incorporate very specific elements, you'll need someone who knows how to code to fulfill all your customization needs.
Table: A feature comparison of Weebly and Webflow
Weebly offers over 60 themes, which is not a huge variety compared to other website builders out there. Even so, the templates are still modern, sleek, and easy to navigate.
It is worth noting that you can switch the theme of the website even after you've launched it. Many other Webflow competitors have a "take it or leave it" mindset when it comes to changing your templates after launch. It's quite a rare feature that makes Weebly stand out among other sites like Webflow.
Plus, you can do all of the creating, editing, and managing anywhere and anytime with the Weebly app - even when you're offline.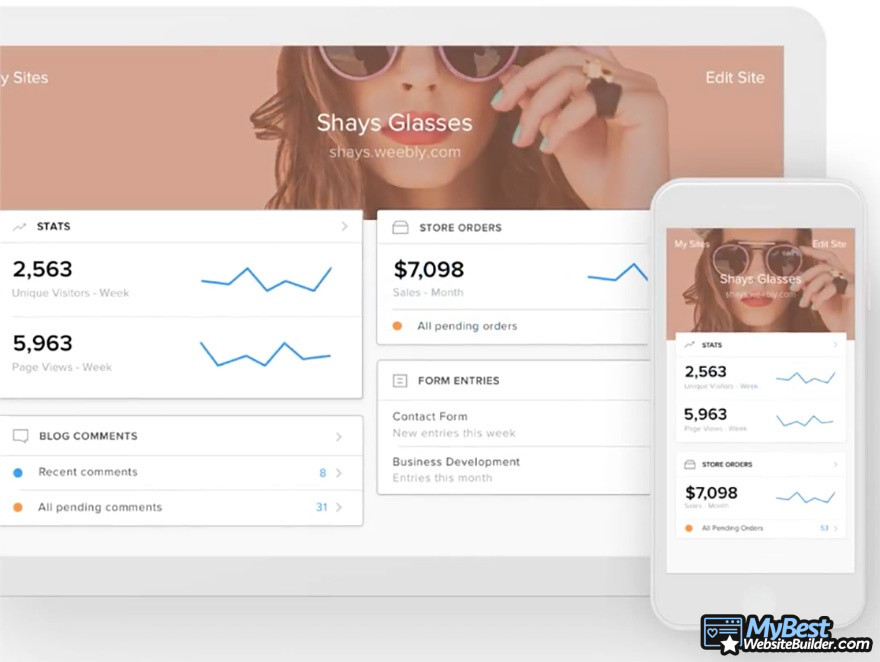 When it comes to SEO, Weebly does not disappoint. Optimizing your website for search engines is easy when you can modify title tags, meta descriptions, image alt text, and URLs. Weebly's websites are SSL secure and automatically optimized for mobile as well.
For in-depth insights about your website, turn to the integrated Weebly Analytics. Here you will find website traffic, unique visitors, search keywords and terms and so many more valuable statistics. This information will allow you to make changes to your website or marketing strategy accordingly.
Marketing tools can help accelerate conversions. You're in luck! Weebly's email marketing option is one of their strongest aspects. With Weebly, you can easily craft automated emails, newsletter subscriptions, abandoned cart reminder emails, and so on. Not to mention you will easily be able to track their performance.
What else does Webflow competition offer? Let's have a look:
99,98% uptime;
Just a few seconds to load up a Weebly page;
Weebly holds no hard feelings. You can easily export your website;
Easily buy a domain from Weebly or transfer your own;
Free hosting.
One of Weebly's most prized features is their app center. Weebly offers a small number of their own apps as well as a huge variety of third-party apps. This way you can customize your website even more and without any technicalities.
Effective live customer support can save the day. Weebly's live chat operates from Monday to Friday from 8 AM to 6 PM. While it doesn't offer 24/7 services, it's still better than the email-only support many other website builders provide.
How Much Does the Weebly Website Builder Cost?
Has Weebly swept you off your feet yet? Before you get your wallet out, let's have a look at the pricing. Like most website builders out there, Weebly separates their plans for Websites, and for Online Stores:
Does Weebly seem like a good option out of the Webflow alternatives covered so far? Try out Weebly for free to find out.
[featured-coupon review_id="2"]
Shopify - an Easy to Use E-Commerce Website Builder
Looking to start selling online? Then Shopify is a name you must have heard while searching for the best option for your business.
Previously, we've talked about sites like Webflow that are not aimed specifically at eCommerce, and may not have unique features targeted at online stores. Shopify can be considered one of the top Webflow alternatives if you're looking to build an online presence for your e-shop.
Just like many other website builders, Shopify aims to simplify the building process and let you worry about the important things, like running your business. It's easy to set up even for newbies. Shopify's theme editor allows you to tailor your website accordingly to your brand's image.

However, if you want to add more specific customization to your website, you'll require some coding knowledge.
Keep in mind that only a small number of the templates are free. Paid templates start at $140, and even though they are pricey, you get the high-quality that you paid for. All templates are optimized for mobile devices.
Since Shopify is aimed explicitly at online stores, it comes with eCommerce-specific features such as unlimited products, staff accounts, and many more aspects that you just won't find in regular website builders.
You'll even be provided with a mobile app so you can run your e-shop wherever you are.
When it comes to SEO, Shopify covers all of the basics. Additionally, you can edit title tags, meta descriptions, URLs, and even the robots.txt file.
Table: A feature comparison of Shopify and Webflow
If you don't have any technical knowledge, but still want to add some unique features to your website - worry not! Shopify has a huge selection of apps to integrate into your online store. Some are offered by Shopify, but the majority are third-party apps. With app integrations, you can easily add extra features to make your online store stand out.
Beginners often run into problems and sometimes all they need is quick and friendly advice to get them back on track. Shopify gives a helping hand to all of their users through 24/7 live customer support.
How Much Does the Shopify Website Builder Cost?
In order to make the cut to our Webflow alternatives list, website builders have to be hassle-free. And that's exactly how Shopify helps business owners - by allowing them to set up their online store without a lot of struggles. Let's have a look at the main 3 subscription plans:
It's one of the more expensive website builders, but worth it if you're strictly an eCommerce business.
Since the plans are quite pricey, Shopify offers a free trial available for 14 days. No payment details are required.
[featured-coupon review_id="5"]
Conclusion
And here we have it, folks. Out of all Webflow competitors, we consider these 5 the best Webflow alternatives.
Want to compare Webflow to other website builders we didn't mention? Try out our website builder comparison tool.
Every website building platform is created with a specific purpose in mind. Whether it's ease of use and fast set-up, eCommerce, extensive marketing and SEO tools, and so on. You need to look out for your individual needs.
If you believe that Webflow is not the right fit for you and your business, but you're still on the lookout for sites like Webflow, have a look at our list:
For more in-depth information about each of these website builders, check out our detailed reviews.
Of course, Webflow remains one of the best website builders that allows implementing extensive features without touching a single line of code. Still, its high price point, lack of live customer support, and steep learning curve, among other things, can force you to search for alternatives.
Thank you for reading! We hope this compilation answers all of your questions and will help you make an informed decision.
So what are you waiting for? Go out there and make your online presence known!
Leave your honest feedback
Leave your genuine opinion & help thousands of people to choose the best website builder. All feedback, either positive or negative, are accepted as long as they're honest. We do not publish biased feedback or spam. So if you want to share your experience, opinion or give advice - the scene is yours!