If you have some spare money and would like to make something yourself, then turning to the field of the cheapest website builders might just be your cup of tea. These are exactly the tools that we'll be talking about today, in this list.
Before we start analyzing the cheapest way to make a website, however, there are a few disclaimers and general things we'll need to get out of the way first. What defines cheap? How to get the balance of "cheap" and "decent"? We'll talk about all of that.
The list will be, as follows:
Cheapest Website Builders: Laying the Foundations of the List
Before we start analyzing the cheapest website builders, we should probably talk a bit about what a website builder is in the first place, and what the word "cheap" means in this article.
So, what are website builders? Since you're looking for cheap website design, I'll assume that you know the definitions and uses by now. To put it short, though, website builders are a special piece of software which allows you to craft and adjust your website.
Most people prefer to use cheap eCommerce website builders (or any other type of builders, really) over hiring designers and programmers to build their website for them. It's like a thousand times cheaper, a lot much faster and much less of a hassle.
Now, the "cheap" part.
You should look at this list as a combination of the cheapest website builders and the most reliable ones. Even though we'll be talking about and focusing on cheap website design, quality is also going to be an important aspect to keep in mind. I mean, why would you want to use a builder that costs ten cents, but can never make your website go live?
To reiterate, I acknowledge the fact that there are going to be cheaper website builders out there. However, price isn't the only criterion on this cheap website builder list - there's also quality and trustworthiness.
With that said, let's move straight to the actual list itself.
Ranks #1 out of 7 Website Builders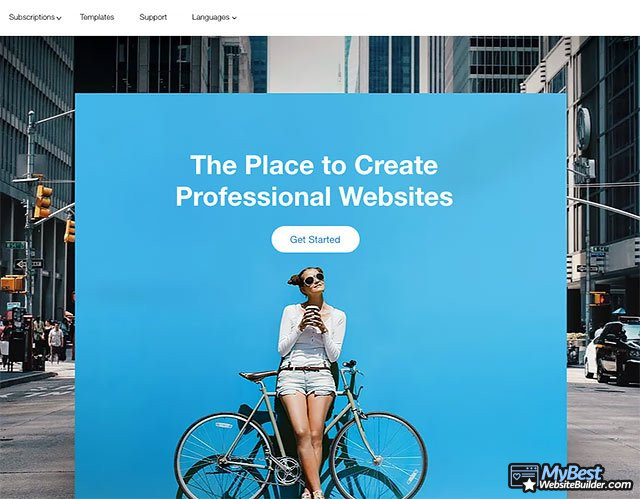 Things we liked:
+ Wix ADI - Artificial Intelligence
+ Easy Drag and Drop
+ Variety of Free Widgets and Apps
+ More than 500 Templates
+ Modern & Sleek
Things we didn't like:
An industry-leader, Wix is one of the most popular and well-known website builders out there. There are a few reasons for why that is.
First of all, Wix makes the website creation process extremely simple. While website builders have got the "ease-of-use" label in general, Wix takes it a step further - you could literally get your website live in a matter of an hour.
While Wix isn't necessarily the cheapest website builder, there are some specific features that the tool offers that make it stand out of the crowd even more. And features is actually the right word to use here - Wix will allow you to create any type of a website that you'd like.
Probably the best part of using Wix is that you'll be able to drag and drop items on any part of your website. Most cheap website builders (or any website builders, for that matter) have certain specific blocks in which you have to fit an image or text. Wix adds a whole lot of flexibility to the process, and allows you to align everything perfectly to your liking.
What is the Price of Wix?
Here are the pricing options for the Wix website builder:
Now, admittedly, $17 bucks per month (if you choose the monthly payment plan) aren't really representant of the cheapest website builder in the industry. However, just as I've mentioned at the beginning of this list, Wix is the perfect combination of quality and price.
Ranks #2 out of 7 Website Builders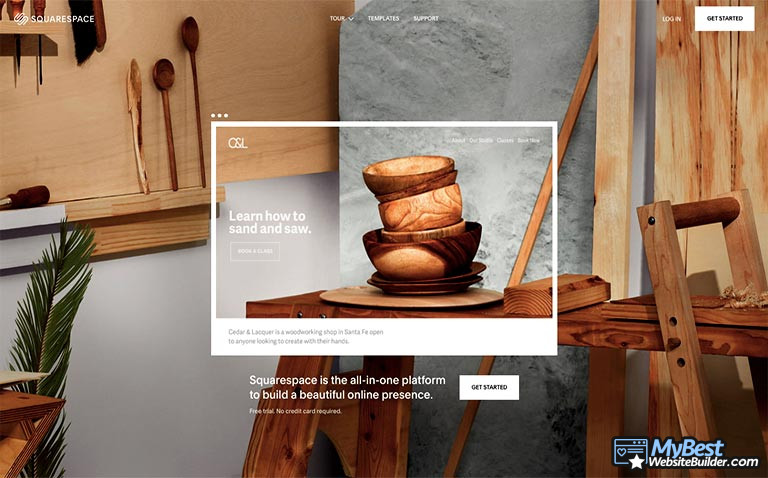 Things we liked:
+ Beautiful theme templates
+ Good uptime
+ Plenty of features
Things we didn't like:
- Below-Average Site Speed
- Not the best for SEO
In the same manner as Wix or WordPress, Squarespace is definitely a household name of the website builder industry. The builder doesn't only frequent the "cheapest website builder" lists - it's at the top of any website maker list, in general.
Despite being really innovative with their marketing tactics, Squarespace is loved by people who enjoy how their website looks. The provider is known to supply the customers with some of the most beautiful website templates in the industry - they're modern, sleek and super-functional.
The last term there is actually very important - you see, pretty theme templates wouldn't be that impressive if they weren't functional. There are many cheap website builders that have cool-looking templates, but as soon as you start playing around with them, you'll notice that things aren't as pretty as they seemed at first.
Squarespace lifts that burden by supplying you with fully-functional website themes that will look and work great on desktop and mobile. With this builder, you don't need to worry about the functionality aspect of your site - everything will be taken care of by the tool itself!
What is the Price of Squarespace?
Squarespace's prices are, as follows:
In the same manner as, say, Wix, Squarespace isn't exactly the cheapest website builder around. However, do keep in mind that, while not being overly expensive, Squarespace still stands at the top of the website builder game - that's a lot!
Ranks #3 out of 7 Website Builders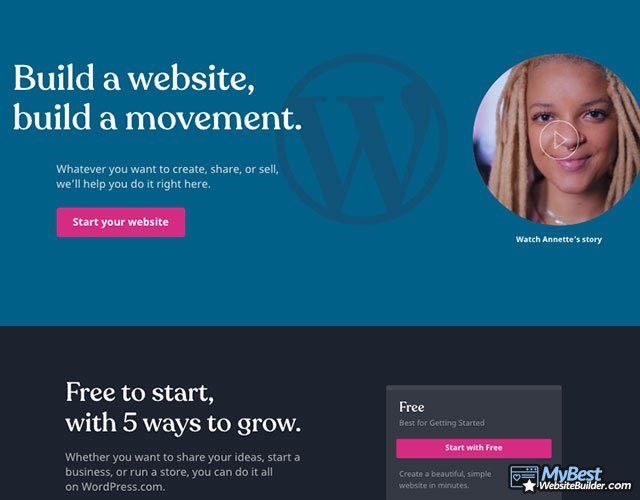 Things we liked:
+ Universally adored by the majority of the internet
+ Super-flexible
+ Plugins to solve every possible issue you might face
Things we didn't like:
- Difficult to get a hold of
- Clunky interface
- No drag-and-drop (unless you install a plugin in the .org version)
There are a lot of things to be said about WordPress, but the very first one should be the obligatory notice - WP is NOT a website builder.
It's a CMS - a Content Management System.
Now, what does that mean? Well, to the average user, it's doesn't mean all that much - WordPress functions as a website builder, and more or less acts like one, too.
And you know what's the best part? It's certainly the right tool for anyone who's looking for the cheapest way to make a website.
Apart from being a bit more difficult to use than most other actual website builders, WordPress is full of cool features and widgets that are going to be useful for any type of a website. Whether you're looking to build a small business, or want to start a blog, WordPress will let you do all of that - no problem.
Now, do keep in mind that there are two versions of WordPress out there - the .com and .org one. WordPress.org is a completely-free-to-use tool, but you'll require website hosting in order to get your site onto the live servers. Since hosting can get rather expensive, we'll stick to WordPress.com.
What is the Price of WordPress?
The pricing plans for WordPress.com are:
While there is a free version of the tool available, it's pretty limited, so you'd probably want to go with the paid plans. Concerning them, however, WordPress is definitely one of the cheapest website builders out there - $3 per month is a great price!
Ranks #4 out of 7 Website Builders
Things we liked:
+ 99,98% Uptime
+ Amazing Usability
+ More than 350 Apps
+ Modern and Sleek Designs
Things we didn't like:
- Not the Fastest
- Some Users Lacked Customisation
Weebly is a pretty common website builder as far as the cheapest way to make a website goes. And you know what's really cool about it? The fact that Weebly is an amazing compromise between price and quality.
While Weebly might not have the most beautiful website templates in the market, and not be the most popular builder ever, it makes up with functionality.
The builder is amazing for anyone who's just starting out and wants everything to be simple and to just work the way it's intended to work.
Weebly is very beginner-friendly - it's easy to use, doesn't require any technical knowledge whatsoever, and has everything displayed in an easy-to-understand manner.
What is the Price of Weebly?
Weebly has a free option if you just want to get a feel for the builder. As far as pricing is concerned, though, these are the options:
With the entry plan priced at $8 per month, Weebly is a great cheap eCommerce website builder, and a superb tool to build any other type of a website, too.
Ranks #5 out of 7 Website Builders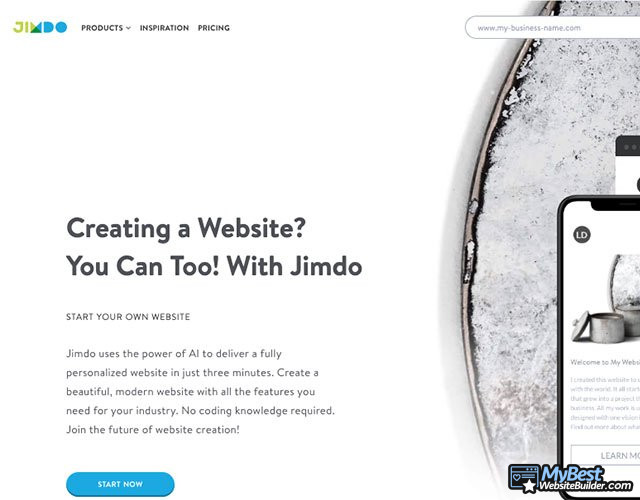 Things we liked:
+ Easy to use
+ Good for SEO
+ Modern templates
Things we didn't like:
- Poor eCommerce options
- Some templates aren't as responsive as others
If there's one thing that Jimdo is known for, it's how easy and fun to use the builder is.
Most users that have tried Jimdo out say that it's a pretty good option as far as the cheapest website builders go. The builder isn't as popular as some of the industry giants, but it still has some pretty cool things to bring to the table.
Jimdo is a pretty good choice if you're looking for a cheap eCommerce website builder, since it has plenty of themes and online marketing-related widgets that can help you grow an online store. As noted above, the builder is easy to use, and makes the process of building a site fun.
What is the Price of Jimdo?
The pricing options for the Jimdo website builder are:
With a free version available and the cheapest plan costing $9 per month, Jimdo is a decent option for anyone looking for the cheapest website builders out there.
Ranks #6 out of 7 Website Builders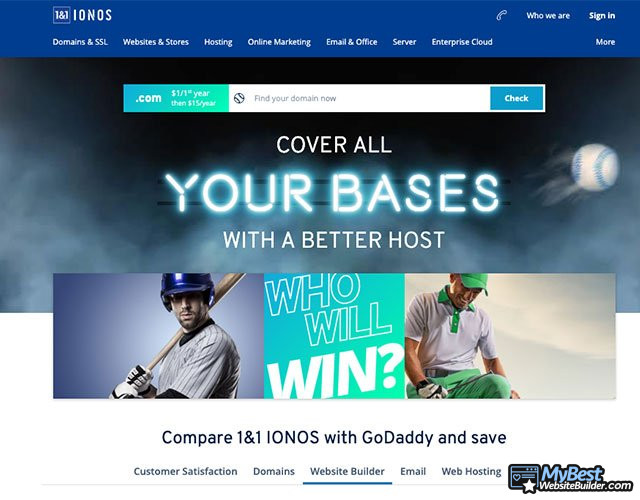 Things we liked:
+ A lot of different features to add to your site
+ eCommerce supported
+ Backups
Things we didn't like:
- Themes are reportedly unresponsive
- No free trial
The 1&1 site maker is probably one of the most unknown tools on this cheapest website builder list. That said, it does have areas in which it exceeds.
1&1 is mostly used by people who like a load of features on their website. The company provides plenty of different menu and widget options, which is really cool for anyone looking to have a pretty loaded site.
The only notable downside of the builder (at least judging from the opinions of people who have used 1&1 for quite some time now) is the fact that some of its themes are somewhat unresponsive, and lack in the style department.
What is the Price of 1&1?
1&1's prices are:
As you might have noticed from the liberal use of the word "store", 1&1's target audience is based on eCommerce-interested individuals. Naturally, their whole business model is aimed at eCommerce, in general. Keeping that in mind, it's definitely safe to say that 1&1 is one of the cheapest website builders.
Ranks #7 out of 7 Website Builders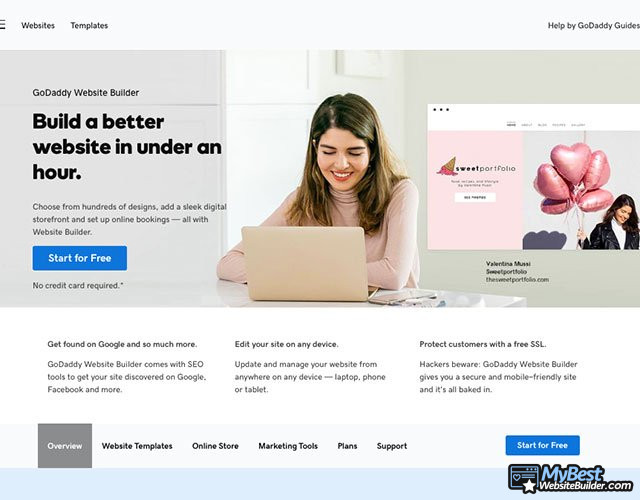 Things we liked:
+ Very simple and straightforward
+ Integrated eCommerce features
+ Allows you to get a website up and running very quick
Things we didn't like:
- No drop-down menu
- Lacks some essential features
GoDaddy's website builder - GoCentral - is known for a couple of things.
First of all, it's very easy to use. The functions and options are easy to navigate around through, the layout of the builder is clear and simple to use.
Furthermore, the builder itself is optimized for multiple different platforms. This means that, no matter the type of a website it is that you decide to create, it's going to be fully functional on desktop, mobile, tablets, and so on.
What is the Price of GoCentral?
GoDaddy's website builder prices are:
While the Personal plan is going to be a little bit limited, $5,99 per month is still a pretty good price! It certainly allows GoCentral to qualify as one of the cheapest website builders out there.
Conclusions
Finding cheap website design can get pretty difficult. It's tough to navigate through the various user reviews online, and to find the diamond in the rough.
Hopefully, though, this list of the cheapest website builders has helped you find at least a few options that might suit your wants and needs.
All in all, if nothing else, do remember that it's always important to find a good compromise between price and quality of a website builder. If you try to go with the cheapest option while ignoring the quality, you might just end up having spent your money on nothing.
I hope that this list was helpful to you, and I wish you the best of luck in finding the perfect builder and creating the website of your dreams! Godspeed!
Leave your honest Cheapest Website Builder review
Leave your genuine opinion & help thousands of people to choose the best website builder. All reviews, either positive or negative, are accepted as long as they're honest. We do not publish biased reviews or spam. So if you want to share your experience, opinion or give advice - the scene is yours!