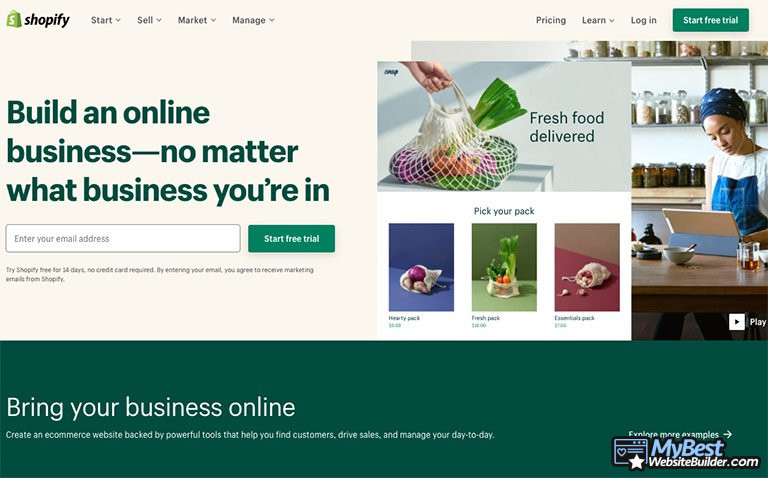 Shopify is an eCommerce website builder that was created back in 2004. It's one of the most recommended platforms for people who want to create an online store or dropshipping business.
According to Digital Commerce 360, there are between 12 and 14 million eCommerce websites. That being said, if you want to distinguish from others and generate more income, it's crucially important to create a unique-looking and functional online store.
In this tutorial, I will provide you with a step-by-step guide and answer the question "how does Shopify work?". What is more, I will introduce you to multiple reasons why so many people choose Shopify, and provide available plan options.
Without further ado, let's take a look at Shopify benefits.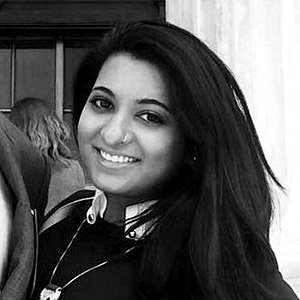 G‍ira Wieczorek
Co-Founder of Aleberry
Do you have any tips for those who are thinking to create a website with a website builder?
Be okay with spending some time learning through the tutorial videos. The tutorial videos take hours & lots of practice, but they are worth it! However, some website builders will have a higher learning curve than others.
How Does Shopify Work: Why Use It?
The majority of people claim that Shopify is one of the best e-commerce platforms, however, what are the main reasons for that? Well, let me provide you with at least a few of them:
Easy to use. Since Shopify is so simple to use, you can create and publish your online store within hours. What is more, you don't need to worry about programming skills, none is required to create a website.
Secure and reliable. When building an online store, you don't have to worry about performance. Websites that are created using Shopify tend to be very fast and have good uptime (99.98%).
24/7 customer support. Shopify has very helpful customer support that will be there for you 24 hours a day and 7 days a week. So, if you have any questions, you shouldn't hesitate to ask.
Mobile-optimized websites. No matter which Shopify theme you choose, each of them is optimized for mobile devices.
Flexible. While the majority of website builders lack customization when it comes to eCommerce features, that's not an issue when it comes to Shopify.
More than 1,500 apps to choose from. Shopify has a very extensive app store that will enhance the functionality of your website. In this Shopify tutorial, I will show you how to take advantage of all the available apps.
Good SEO tools. SEO features are necessary if you want to rank on Google. When explaining how to use Shopify I will also show you where to fill in all the necessary information regarding SEO.
Great eCommerce features. The main reason why so many people choose Shopify is its amazing features, including unlimited products, discount codes, manual order creation, free SSL certificate, gift cards, abandoned cart recovery, and so many more.
As you can see, there are multiple reasons why learning how to use Shopify is a good idea. Now, if you want to find out more about Shopify functionality, let's jump into the guide.
How Does Shopify Work: A Thorough Guide
Figuring out how Shopify works might not be that simple if you haven't used it before, however, I will provide you with a step-by-step guide that will make things a lot simpler.
Signing Up With Shopify
The first thing that you should do is go to Shopify.com and click on "Start Free Trial". Then you'll need to fill in your personal information, including email address and password, as well as provide a store name and click "Create your store".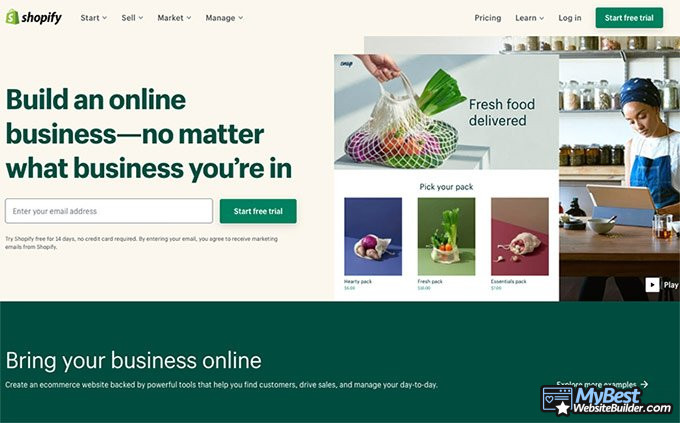 Since Shopify provides a 14-day free trial, you can start creating your website and not worry about payments for two weeks. That much time is more than enough to fully create a website.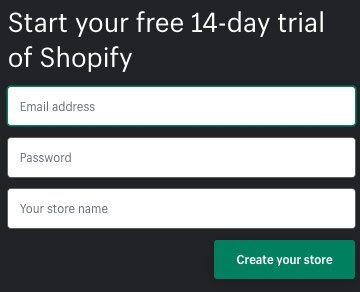 Once you click "Create your store", you will need to answer a few questions about what kind of store you want to create. Make sure to answer each of the questions sincerely.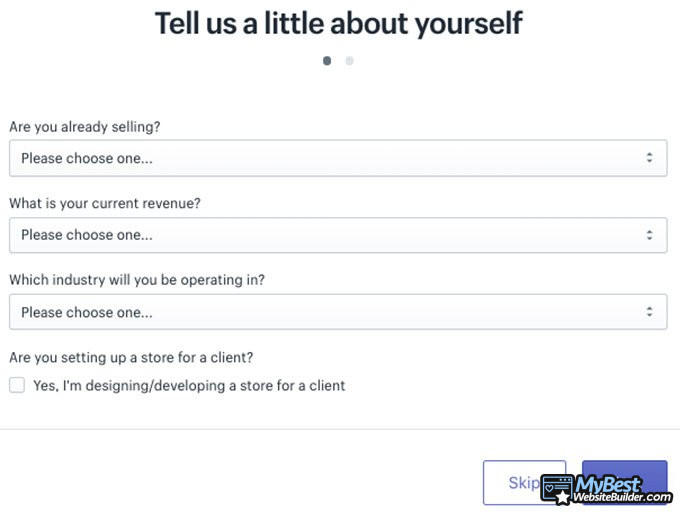 Then, you will need to fill in some personal information, including your name, address, apartment, country, postal code, and so on. Providing this information is a must if you want to register for Shopify successfully.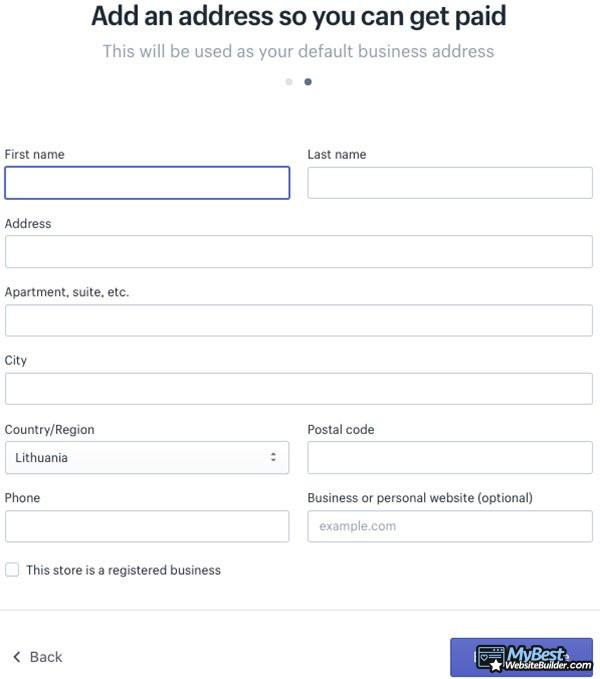 After filling in all the information and clicking "Enter my store" your account is created. Now you can move to website customization.
Latest Zyro Coupon Found:
71% OFF + 3 MONTHS FREE
Zyro Exclusive Offer
Hurry up to save big on Zyro - the most trending website builder in the market! Build your high-quality website fast & get 71% off + a BONUS of 3 FREE months.
Expiration date : 18/08/2022
4,837 People Used
Only 19 Left
Setting Up Online Store
In front of yourself, you can see the Shopify admin page. On the left side, you can find a navigation menu and, in the middle, tips that will help you to get started. There are three main steps that Shopify distinguishes: "Add product", "Customize theme" and "Add domain". Even if you don't know "how does Shopify work?", it's super simple to figure it out.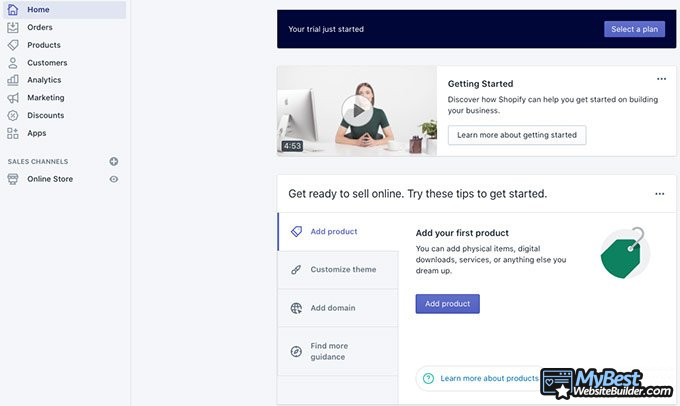 Adding Products
Let's start with the very first one - adding products. The process is really simple.
When uploading a product, you will need to fill in all the general information, such as title, product type, vendor, tags, pricing, and additional details that might be important to every potential customer. You can even take advantage of the search engine listing preview to see how a certain product might appear in a search engine listing.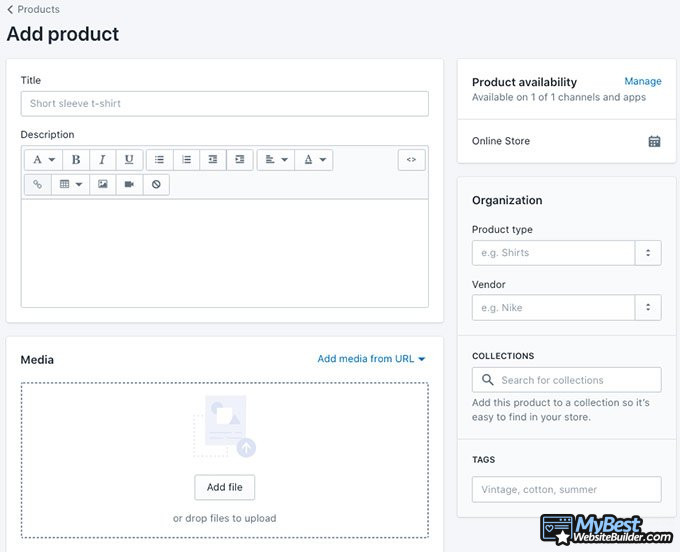 Customizing Theme
When customizing a theme you get three options to choose from:
Stick with the current theme that's called "Debut".
Choose a free theme. There are 9 free themes to choose from in addition to the current one.
Visit the Theme Store and choose a paid theme. The majority of the paid themes will cost you $180. It might seem to be fairly expensive, however, you get some really unique designs to choose from.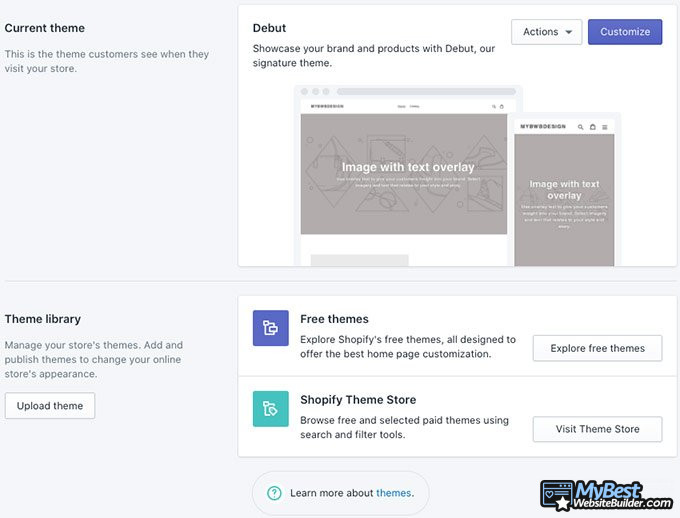 It's for you to decide whether you want to purchase a theme right away or do that later. I will keep the theme as it is for this Shopify tutorial.
After choosing the theme, click "Customize" and you will be sent to the Shopify editor. On the left side, you can see all the customizable sections that you can start editing one by one.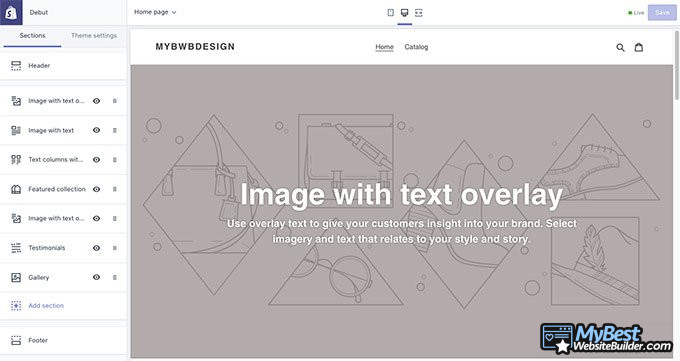 You can easily change heading, text columns with images, features collection, add testimonials, gallery, and so on. Simply go through each section one by one and customize them as you like.
If you want to change the other of the sections, simply click on the section that you want to move and drag it where you want. You can see how to do that in the image below.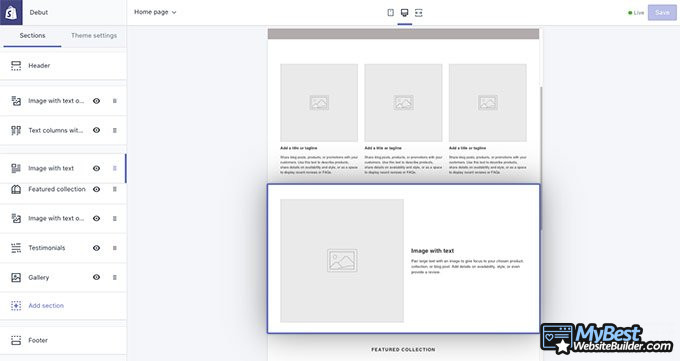 When it comes to the "Theme Settings", you will find them near the "Sections" on the left side of the screen.
Changing the colors is also super simple. You can edit text, buttons, form fields (text, border, background), image overlays and opacity, page borders and lines as well as background.
If you want to change fonts, you can move to the further section that's called "Typography". There you'll be able to change headings and buttons, body texts, heading base size and base size.
You also get social sharing options that include multiple social accounts, including Twitter, Facebook, Pinterest, Instagram, Tumblr, Snapchat, YouTube and Vimeo. Also, add an image that's shown when sharing a link on social media.
Moving on, you can add a Favicon image, select if you want to see notifications when an item is added to the cart. What is more, you can customize the "Checkout" page, select background image, logo, colors, and so on.
Now that you know how to customize a theme, it's time to move to images and figure out how does Shopify work.
Uploading Images
Since Shopify is not a regular drag-and-drop website builder, to upload images, you will need to go through individual sections and either select an image or explore free options that Shopify provides you with. You'll be able to find multiple different choices based on your wants and needs.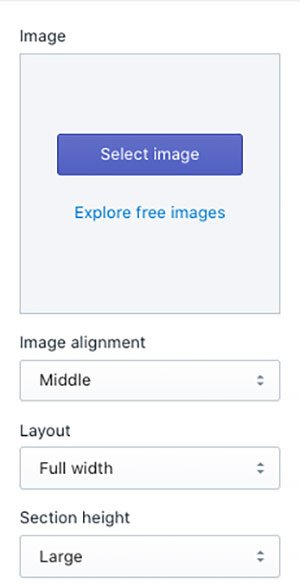 Thus, this part of the Shopify tutorial should be completely clear. Now, let's move further and choose a domain name.

Did you know?
Choosing Domain Name
When it comes to domains, Shopify provides you with three options:
Connect an already existing domain name.
Transfer domain.
Buy a new domain.

I'd personally recommend buying a new domain name that would represent your online store accurately. Unless your old domain name is suitable for that, it's time for changes.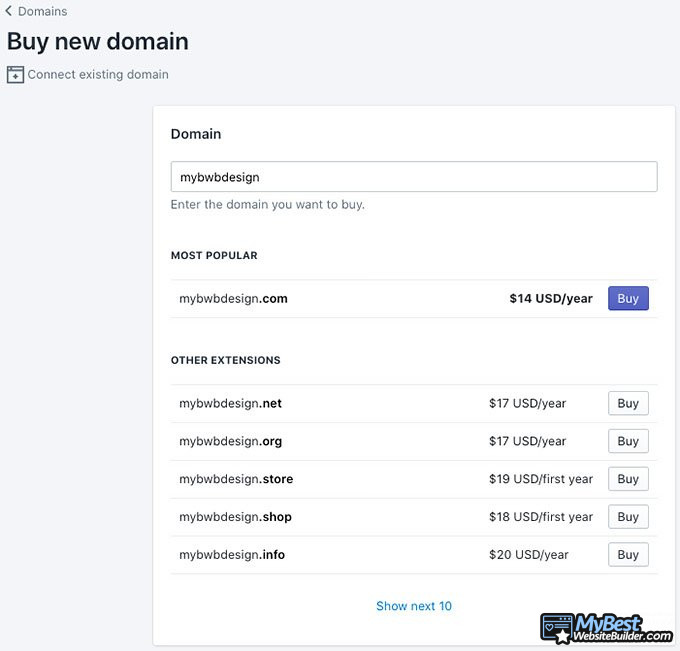 If you want to get a domain, click on "Buy new domain" and enter a name for your future website. You will instantly see the prices and other similar choices that you might want to take into consideration. Once you find a domain name that you like, simply click "Buy" and fulfill the payment.
Figuring Out Payments
Many of you might be wondering how Shopify works when it comes to payments. Well, this is a slightly more complicated task than figuring out all the previous steps, however, it's still pretty simple.
To enable payments, you need to go to "Settings" that you can find on the bottom left corner of the admin page. Simply click on "Payments" and choose what kind of payments you want to accept.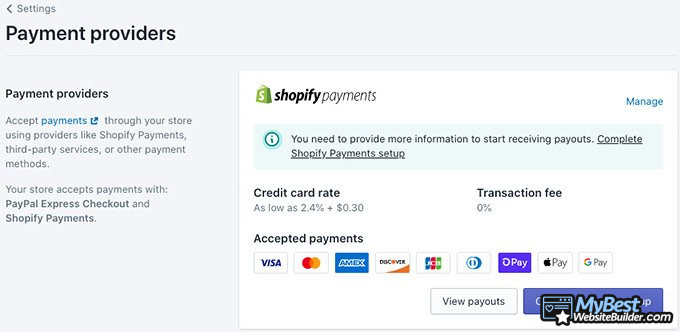 Multiple payment options are available, you can activate Amazon Pay, choose third-party providers, alternative payment methods and even more. Go through each of the sections to put all the payment methods in order.
Shipping
Once you enable payments, it's time to take this article on "how does Shopify work?" to shipping. To do that, go to "Settings" and choose "Shipping and Delivery".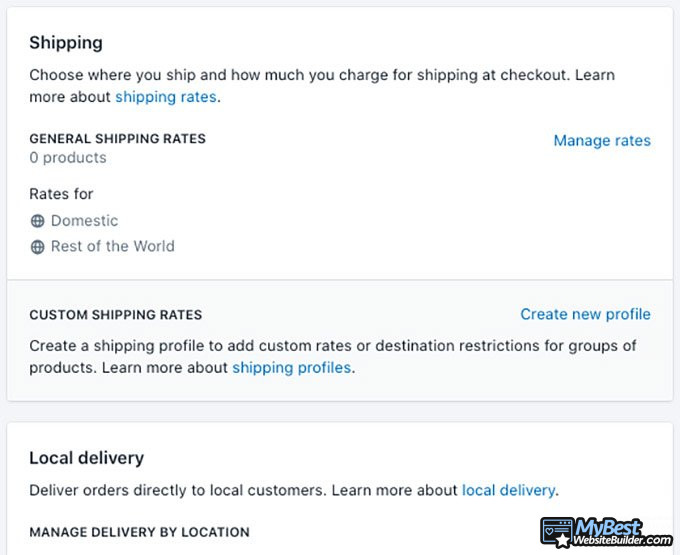 You can manage shipping rates and delivery by location, provide local customers with a possibility to pick up an order on their own, add package sizes and provide additional information.
There are a lot of details that you need to pay attention to when it comes to shipping, however, move to one aspect at a time, and you'll be able to deal with delivery settings without much trouble.
To make the whole process easier for yourself, you can take advantage of the apps that Shopify is offering. At the moment of writing this article on "how does Shopify work?", there are 531 apps related to orders and shipping. You can try Easyship to access the courier network, AfterShip for delivery updates, and many other apps that will make the whole process so much easier.
On the same note, let's move to the further section.
Integrating Apps
Shopify has a huge apps store that offers more than 4000 apps. They're divided into different categories, such as orders and shipping, sales and conversion, inventory management, store design, marketing, and many more. What is more, you can choose from trending apps and staff picks as well as other options.
The majority of Shopify apps are either free or come with a free trial. However, it seems that the most popular options tend to be paid.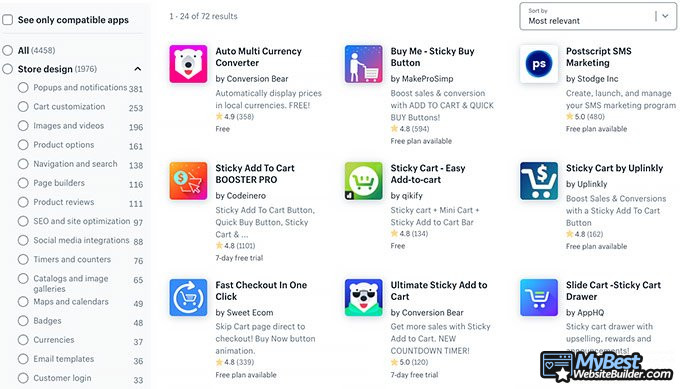 It's super simple to figure out how to use Shopify apps. All you have to do is click on the app that you're interested in and click "Add app". Every app comes with a video guide, full description, examples, prices, reviews, and additional information.

So, even if you're not completely sure how Shopify works, you will figure everything out once building an online store. Since you're just starting out, I would recommend checking out free apps first and then move on to paid versions.
Choosing a Plan
After integrating apps, it's time to choose a plan. Shopify provides you with three different plan options:
BASIC SHOPIFY - $29 USD/month - for starting a new business.
SHOPIFY - $79 USD/month - choose when your business starts expanding.
ADVANCED SHOPIFY - $299 USD/month - extra features to help you grow your business.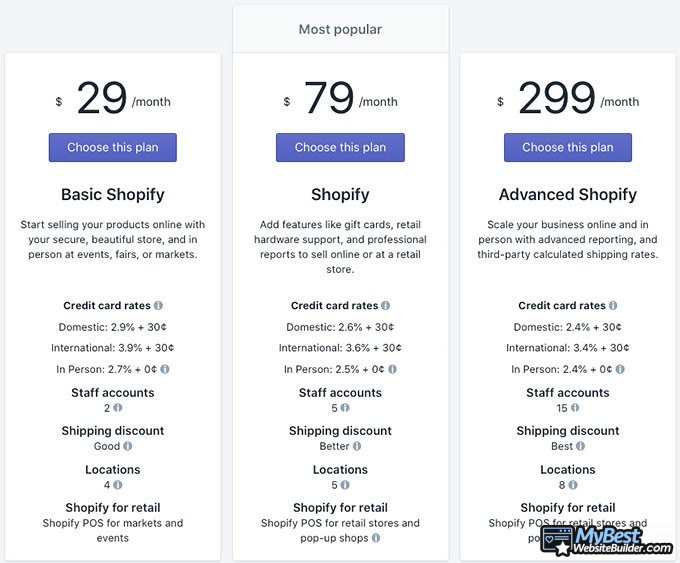 Since you can upgrade the Plan any time, I would recommend choosing the Basic Shopify plan first. It comes with all the features that are needed for a new or small online shop.
Then, when your store will start growing, you will be able to switch to a more extensive plan or even Advanced Shopify.
Publishing Your Store
Now that you know or at least have an idea how does Shopify work, it's time to discuss publishing.
Considering that you're pleased with how your website turned out, it's time to publish it for the whole world to see.
To publish your website, go to the admin page, click on "Online Store" and choose "Preferences". Then go to the "Password protection" section and uncheck "Enable password". Note that before doing this, you should already have a plan.
Congratulations, if you fulfilled each of the steps, you managed to create yourself an online store!
Conclusions
To sum up, figuring out how does Shopify work is not that difficult when you have a thorough guide in front of yourself. Here are the steps that you should follow to create a functional website:
Sign up.
Set up an online store: add products, upload images and customize a theme.
Choose a domain name.
Manage payments.
Enable shipping.
Integrate apps.
Choose a plan.
Publish your store.
Hopefully, this guide will help you through this journey and you will create yourself a successful online store.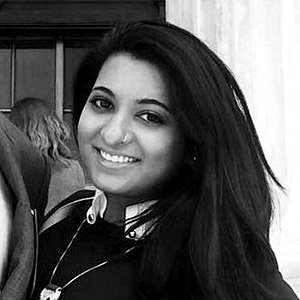 G‍ira Wieczorek
Co-Founder of Aleberry
Contributed by: G‍ira Wieczorek , Co-Founder of Aleberry
Gira is a Co-Founder at Aleberry, where she works alongside funds & founders throughout the fundraising process. She helps with investor relations, funding strategy, and design/marketing, as we...
Read Full Bio...
Leave your honest feedback
Leave your genuine opinion & help thousands of people to choose the best website builder. All feedback, either positive or negative, are accepted as long as they're honest. We do not publish biased feedback or spam. So if you want to share your experience, opinion or give advice - the scene is yours!