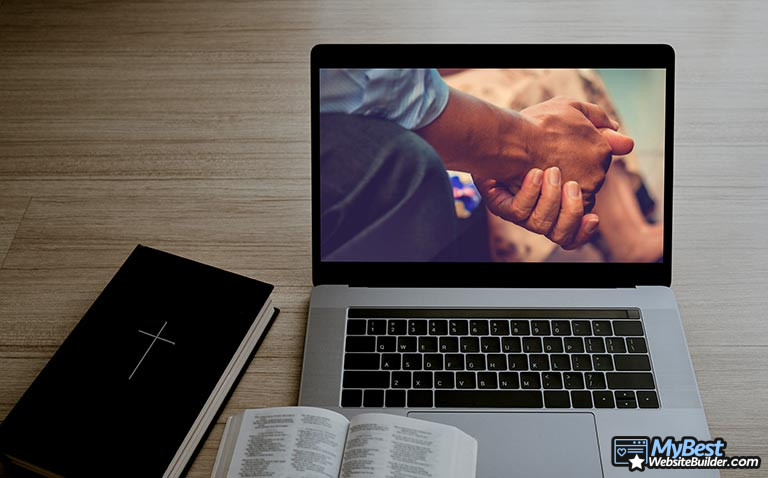 Are you looking to create some church websites? If so, you'll probably need some help - after all, it's not an easy task to complete! A church website design is likely going to differ quite a bit from the designs of other sites on the web, and it's surely something that requires a lot of responsibility and sharp decision-making skills.
While I can't really help you with the latter, what I can do is tell you all about the process of making church websites - what it entails, what you're going to need digital tool-wise, and what are the best ways to go about this process, in general.
Once we figure out all of the above (everything from website builders and which one is best for you, up to front page designs and layouts), I'll also give you 25 amazing church website examples - at least design- and content-placement-wise.
Creating Church Websites - What You'll Need
Admittedly, you're not really going to need a lot of things or skills in order to create even some of the more stunning church websites. That being said, let's tackle the technical part first, and then move on to some of the more-subjective aspects of church website designs.
On the "technical" side of things, in order to create the best church websites that you can, you're going to need to figure out which website builder is going to do the job properly. I mean, I probably don't need to say this, but you SHOULD use a website builder - hiring web developers will cost you an arm and a leg, and you don't need any technical knowledge to use site creation tools yourself.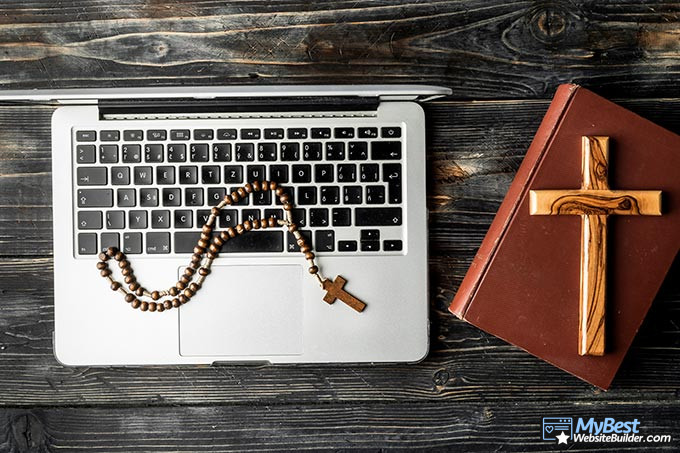 So, the best website builder for the job - what's it going to be like? And if, say, Zyro suits one person, will it necessarily be guaranteed to suit another? Well, naturally, you're probably going to want your website to look appealing and inviting - the bigger the template choice pool that the builder will have, the better your chances of finding one that'll suit you be.
There are also the questions of interface design and feature count & functionality, too. While, admittedly, not many people would think of establishing an eCommerce platform in one of their church websites, there are other features that a site like that should possess - mailing subscriptions, information pages, timetables, contact forms, and so on.
When it comes to the more-subjective aspects of creating some top church websites, these would have to do with the size (popularity) of the church, and also the actual message that you want to convey with that site, too. Church websites don't necessarily have to be elaborate, high-end feature-possessing platforms - you could create some 1-pagers, too.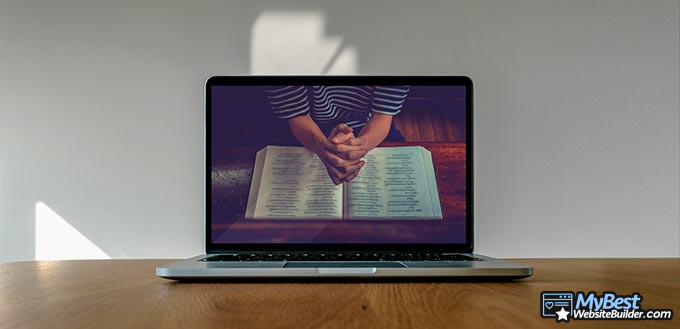 Naturally, the best way to figure out how to go about it is by looking at examples of the best church websites. Let's do just that - below, you'll find 25 great church-oriented sites. Draw inspirations from their designs and feature layouts, and come up with your own, unique way of going about it!
1. East Lake Community Church (eastlakecc.com)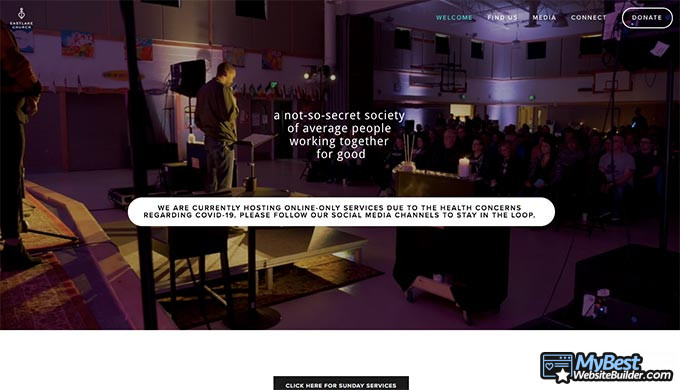 East Lake Community Church utilizes short, introductory-like videos at their homepage. There's not a lot of information about the community right there, but the videos are actually a very clever way of showcasing what the site is all about.
Made with: Squarespace
Latest Squarespace Coupon Found:
GET 10% OFF ANY PLAN
Squarespace Black Friday Sale
Squarespace Black Friday has begun: use this Squarespace coupon code to activate a huge 20% discount on ALL plans & create the most beautiful website!
Expiration date : 30/11/2021
5,827 People Used
Only 24 Left
2. The Commons (thecommons.church)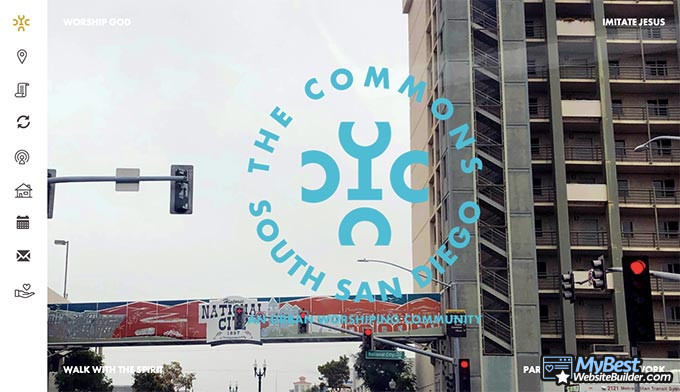 thecommons.church has a very elaborate user interface design. It's focused on the left side of the screen, slides out into a full-fledged menu, and is designed in a fun-to-use manner. Surely one of the better church website examples out there!
3. NewSpring Church (newspring.cc)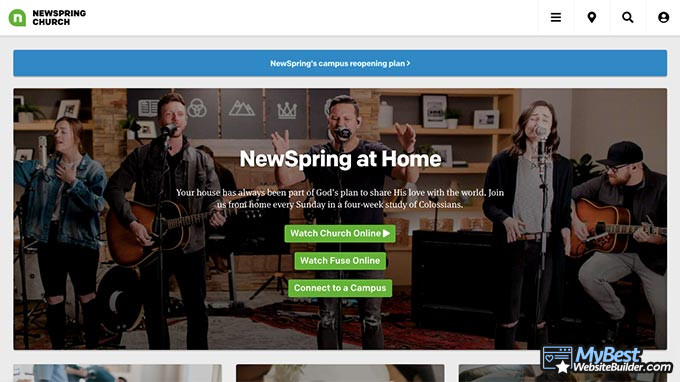 The interesting thing about newspring.cc is that it's one of those church websites that are designed to look like a portfolio at first glance. This is mostly due to the grid of the site's homepage - still, it's easy to navigate through, and has plenty of resources for you to visit.
4. International Church of Las Vegas (iclv.com)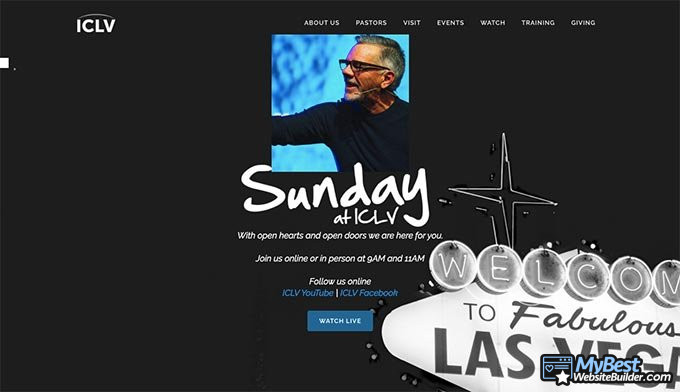 iclv.com boasts a section-based design. What this means is that it's one of those websites that are segmented into different sections on differing pages. This sort of design is very popular among many website builders nowadays, and sure is one of the better church website examples.
5. Seacoast Church (seacoast.org)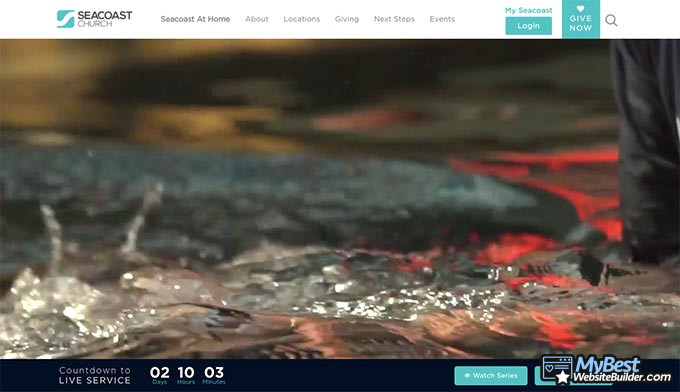 Seacoast Church has a pretty straightforward website design. Having said that, though, the site is pretty and utilizes a very clear layout. It's nice to scroll through, and thus can be considered to be one of the better church websites, at least user friendliness-wise.
6. Celebration Church (celebration.church)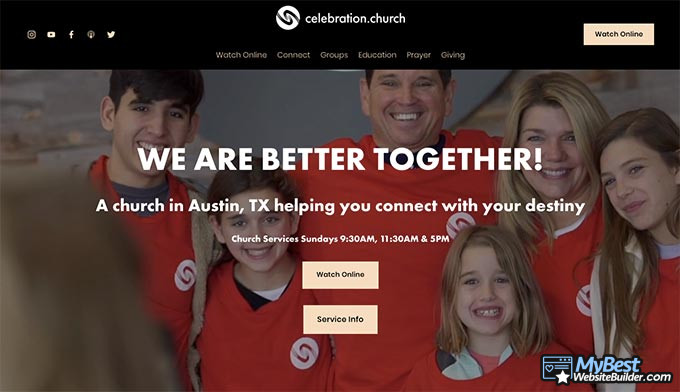 Celebration Church does a great job of making you feel welcomed from the very moment you enter their site. It's full of images and videos of the community, there are tasteful slogans sprinkled all around the site, and the message is quite clear, too - awesome!
Made with: Squarespace
7. River Valley Church (rivervalley.org)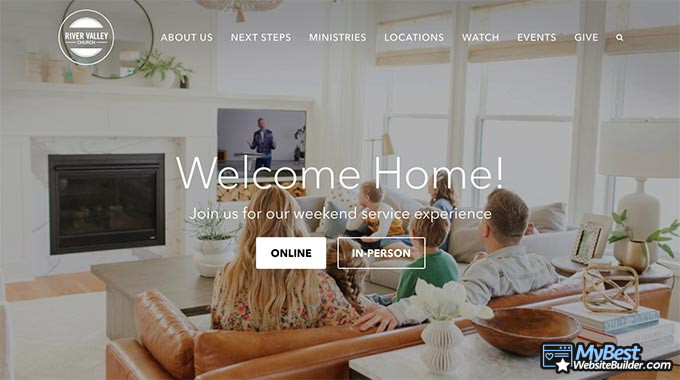 If you're more into the traditional design of church websites, then rivervalley.org could be a great place to check out for some inspiration. The site has no fancy and modern interfaces or transitions, but makes things pretty simple and accessible, too.
8. The Chapel (chapel.org)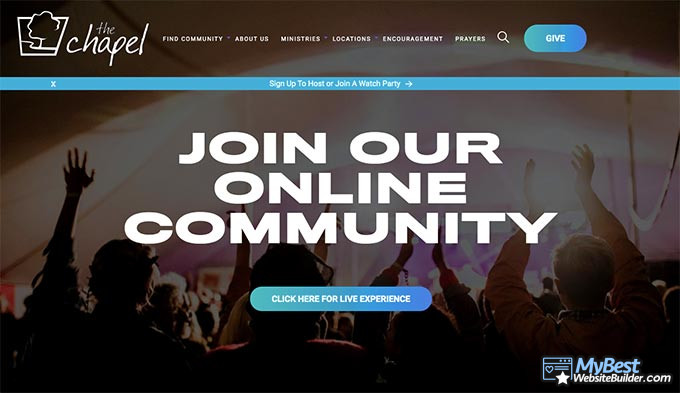 chapel.org is a pretty interesting alternative to the norm when it comes to church websites. You see, upon visiting the website, you're likely going to feel as if you've just entered a concert page, rather than a church site. That's a pretty interesting design - surely, if that's what you're looking for, it's definitely an interesting option!
Made with: Fortress
9. The Oaks Church (oaks.church)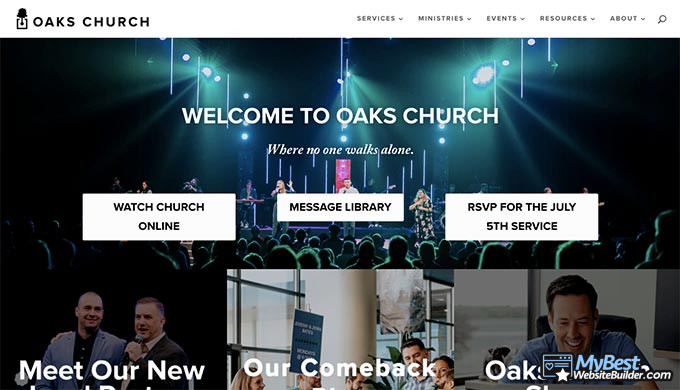 The Oaks Church boasts a very sleek website design - the homepage is segmented into different "cards" that then lead you to some more information, depending on the topic. It's a site that has quite a modern feeling to it - definitely one of the top church websites!
10. Rockville Church of Christ (rockvillechurchofchrist.org)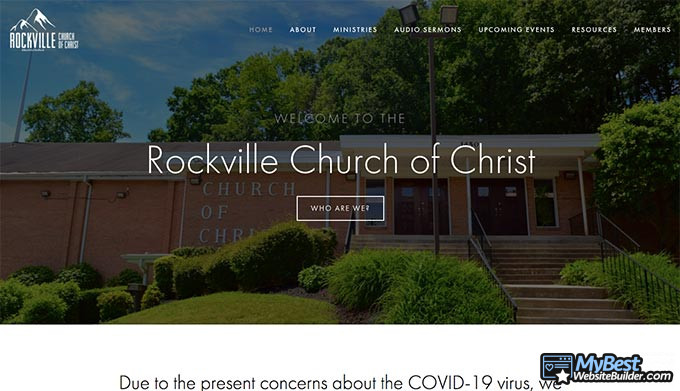 The website in question is quite simplistic in nature, and doesn't overflow the visitor with huge amounts of information - admittedly, the latter is often the case with many websites nowadays, be it church-related, or else. That said, rockvillechurchofchrist.org does have different links and resources that you could utilize, too!
Made with: Squarespace
11. Cross and Anchor Church (crossandanchorchurch.com)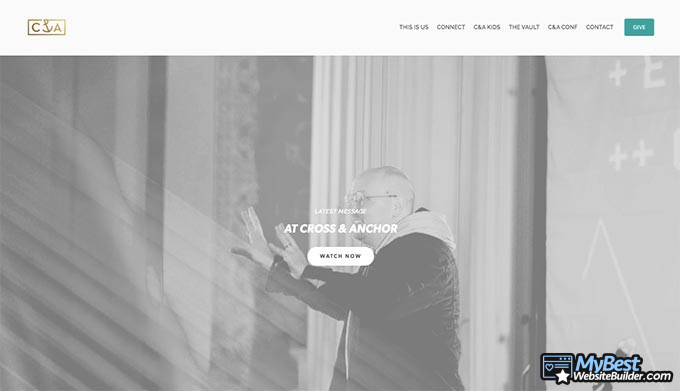 Now, if we're talking about sleek and interactive church websites, Cross and Anchor is impossible not to mention. The website is quite tame design-wise, but the actual scrolling-and-reading experience is great thanks to the interactive sections that the homepage boasts.
Made with: Squarespace
12. Hill City (hillcityrva.com)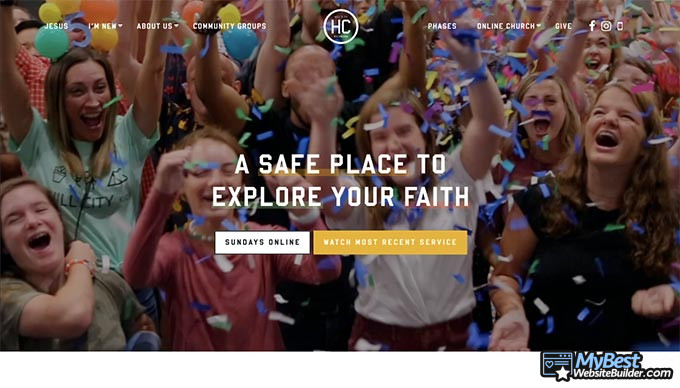 The one thing that you'll surely remember after visiting hillcityrva.com is the video-based introduction of the site on its homepage. It's very nice to look at, and sets a generally-good emotion for the rest of the time that you spend on the site.
13. Biltmore Church (biltmorechurch.com)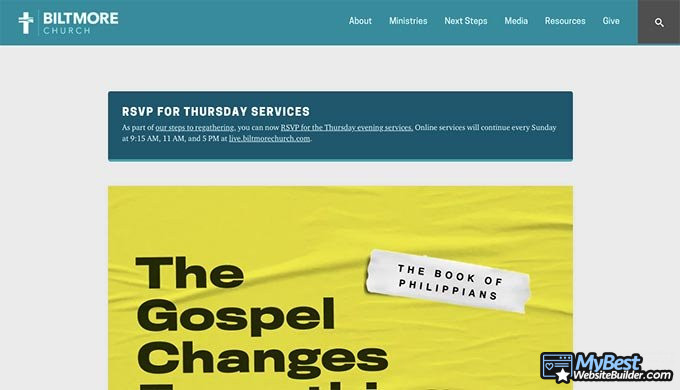 Biltmore Church possesses one of the simplest church websites on this list. It's one of the best examples of how you could create a very straightforward church site, without any fancy pop-ups or other interface tricks.
14. Fellowship Church (fellowshipchurch.com)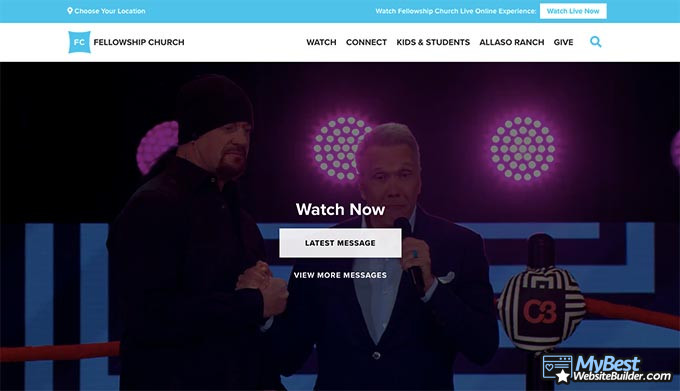 fellowshipchurch.com is a prime example of how the video format can help create a pretty strong image of your community and organization, in general. It's actually a noticeable trend with the best church websites, too - many of them utilize video showreels, and the Fellowship Church is no exception.
15. Wayside Chapel (waysidechapel.org)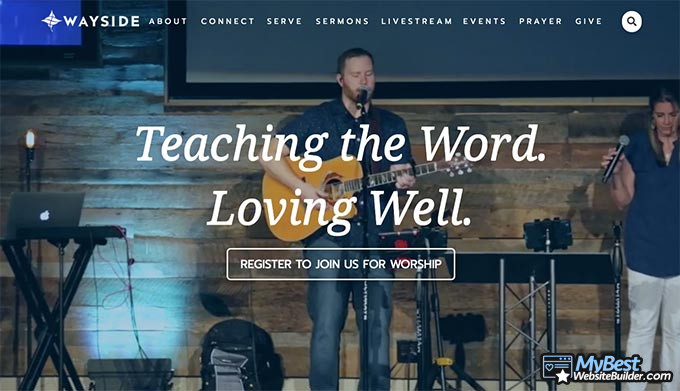 Wayside Chapel is great in that it has all of the relevant information regarding its activity right there, on the front page. Naturally, same as most other church websites on this list, it utilizes a video format at the top of the page, too.
16. 12 Stone Church (12stone.com)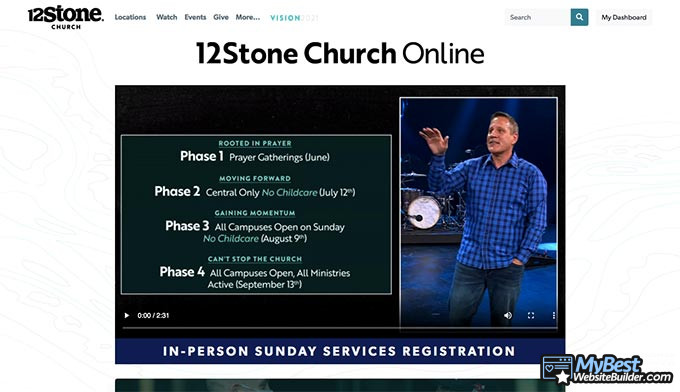 12stone.com is a very simple and straightforward church site. It boasts an old-school design, but that's not actually a bad thing - if you're not looking for "something shiny", and just want to get relevant information, the site will work perfectly well.
17. Cherry Hills Community Church (chcc.org)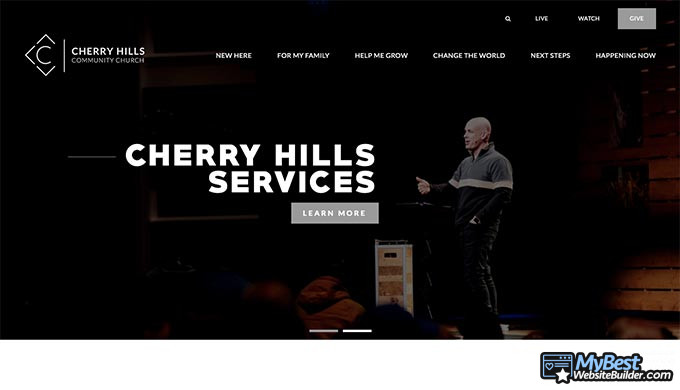 Cherry Hills presents a very modern and eye-catching design. The site is simplistic in nature, but does utilize some cool transitions between different sections. It's a pretty good combination of simplicity and elaborate functionality - one of the better church website examples!
18. Free Chapel (freechapel.org)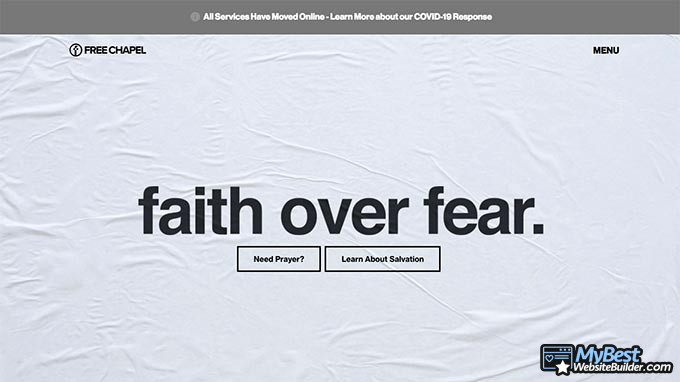 freechapel.org is going to be super-appealing to those who value minimalistic site designs. It's also quite rare when it comes to the best church websites, as you might have gathered already! Surely, because of that, it's much appreciated.
19. Piedmont Chapel (piedmontchapel.com)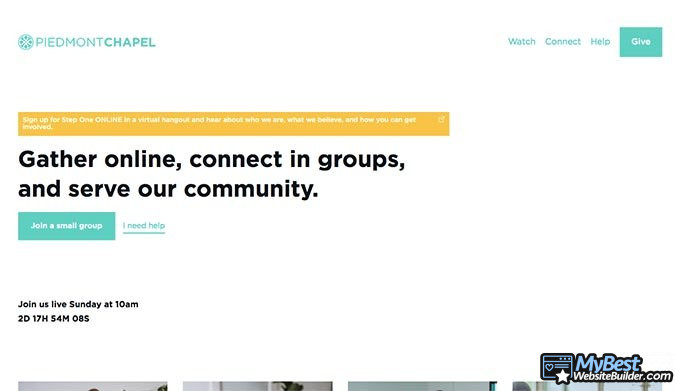 This particular website exercises a more sterile design than most. As interesting as it may seem, that's not that usual with the top church websites! While it does look a bit desolate in some regards, the site does provide all of the necessary information that you'd need.
20. 121 Community Church (121cc.com)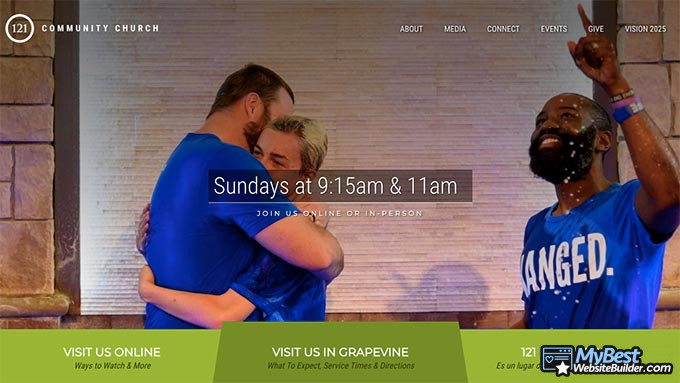 While many church websites utilize videos showreels on their homepages, 121cc.com actually has a photo montage instead. For me personally, that's actually even better - it eliminates a lot of the chaos that can be present with video showcases.
21. The Grove (thegroveaz.org)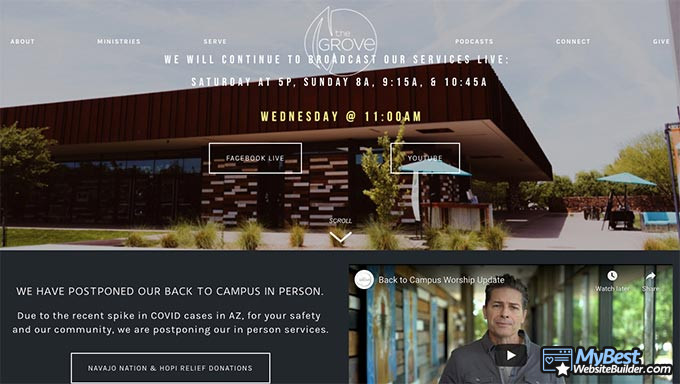 The Grove has a very simple and "short" website. While the design is interesting, it doesn't jam-pack the page with endless amounts of textual information. Surely one of the better design options!
Made with: Squarespace
22. Hope City Church (hopecity.church)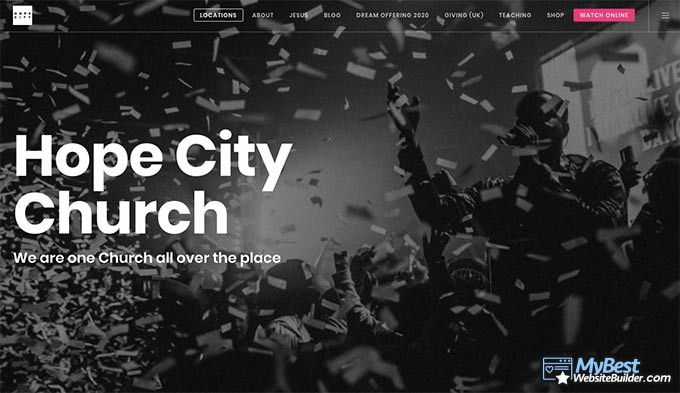 Hope City Church rocks an absolutely stunning design. It's also a special website, since it has been designed with WordPress - that's a very rare thing! It does show, however - the platform is super-fun to explore, and can be called one of the best church websites, for sure.
Made with: WordPress
23. The Simple Church (thesimplechurch.tv)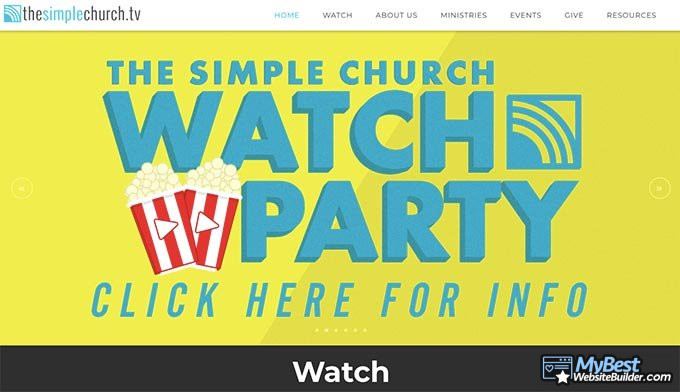 I mean, it's all in the name, really - thesimplechurch.tv is a very simple website. Its simplicity is actually much appreciated, since it's a relatively rare feature. Still, if you're going for a more straightforward design with your own church site, this platform can surely be a good source of inspiration.
24. Gateway Church (gatewaypeople.com)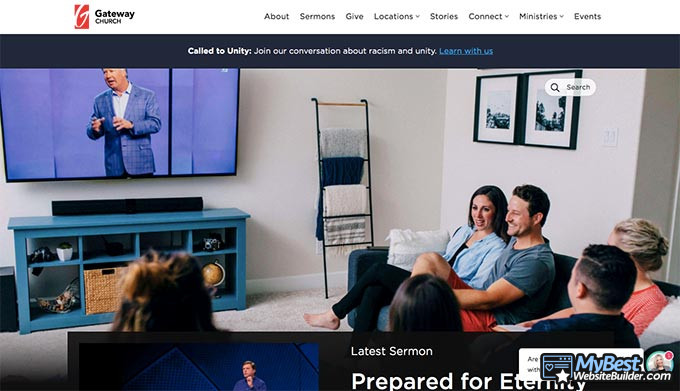 Gateway Church is a very informative example of a church website design. It does appear to thread a thin line of giving almost too much information to the visitor on its front page, but is still "just right" - it does, however, house some other resources that you could visit, too.
25. Risen Church (risenchurch.com)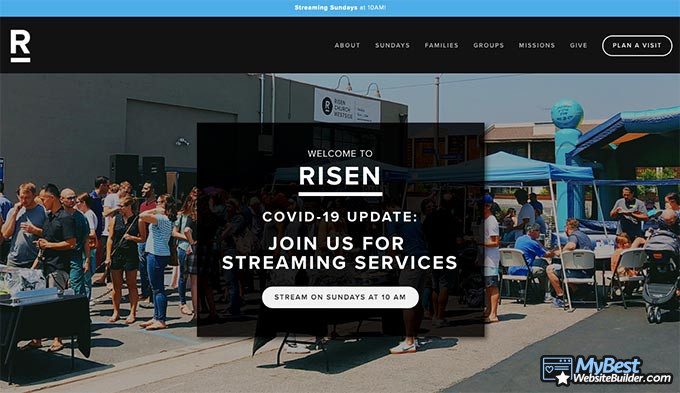 risenchurch.com is one of the more interesting sites on this list. It has an amazing introduction page, but as you scroll down, the site appears to concentrate mostly on the textual information, rather than images and videos. A pretty interesting alternative!
Made with: Squarespace
Conclusions
That's the list of the 25 best church websites! I hope that it was inspirational enough to you, and that it helped you come up with your own ideas for a unique church site.
Table: some of the best website builder for church website creation
Do remember that in order to create a site like that, you're going to need a high-end website builder, too. Check out our list of the top ones (which include Squarespace, Zyro, and many more), if you're interested!
Leave your honest feedback
Leave your genuine opinion & help thousands of people to choose the best website builder. All feedback, either positive or negative, are accepted as long as they're honest. We do not publish biased feedback or spam. So if you want to share your experience, opinion or give advice - the scene is yours!
TOP3 Most Popular Coupon Codes