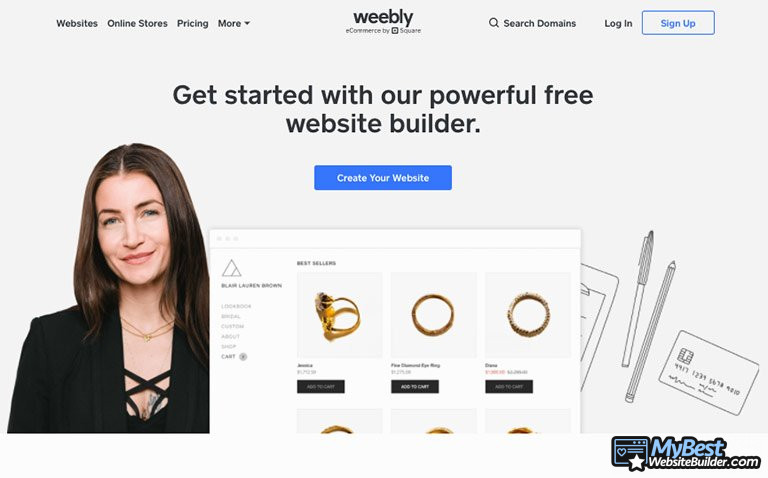 Weebly website builder was founded back in 2006. It's one of the most reliable, fast and user-friendly builders in the market that has already been used to create more than 40 million websites worldwide. If you want to create a sleek-looking website, you can take advantage of this Weebly tutorial.
Now, you're probably wondering, how can this Weebly tutorial help you?
Well, I'll provide you with all the reasons why choosing Weebly is a good idea. Moreover, you'll be able to follow an easy step-by-step guide that will help you to create a professional-looking website with zero stress. Finally, I'll provide you with Weebly prices and additional details, such as how to delete Weebly account.
Instead of jumping straight into this Weebly tutorial, I would like to take a look at some factors regarding this website builder.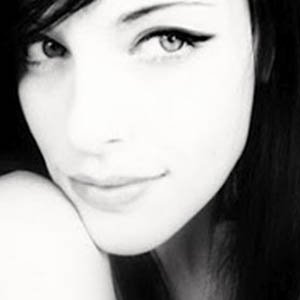 Vail Joy
Creative Technologist at Envato
Do you have any tips for those who are thinking to create a website with a website builder?
For those planning to build a website with a website builder, make sure you set aside time to go through the builder training, so your results are as elegant as possible.
Weebly Tutorial: Is it Worth Choosing This Website Builder?
Everyone in the industry knows what Weebly is. Most of the people who start using this website builder claim that it's one of the best website builders they ever tried. However, what is the main reason for that? Well, there are a few:
Free to use. Weebly is one of those website builders that provide you with a free plan. Even though it's very limited and doesn't offer eCommerce features, it gives you a perfect opportunity to try it out.
Easy to use. One of the major reasons why people stick with Weebly is usability. Weebly has a very clear interface and is super simple to navigate, making it one of the most recommended builders for beginners.
Flexibility. Whether you're planning to create a portfolio, a small or large business site, or even an online store, Weebly will provide you with all the possibilities. You'll see that in this Weebly tutorial.
Great support. Helpful Weebly customer support will help to solve any issues that you might be having.
Attractive templates. Weebly provides hundreds of modern templates that will make it super easy for you to create a sleek-looking website.
Now you know that there are multiple reasons to choose Weebly website builder. That said, it's time to jump into the Weebly tutorial.
How to Use Weebly: Step-by-Step Guide
Creating a website has never been easier, simply follow each of these steps and you'll have a personal website by the end of the day.
Step 1. Sign Up
The very first thing that you need to do is go to Weebly.com and press "Sign Up". Once you do that, you will be sent to the registration page where you will need to fill in personal information, including your full name, email address, password and location. Finally, click "Sign up for free".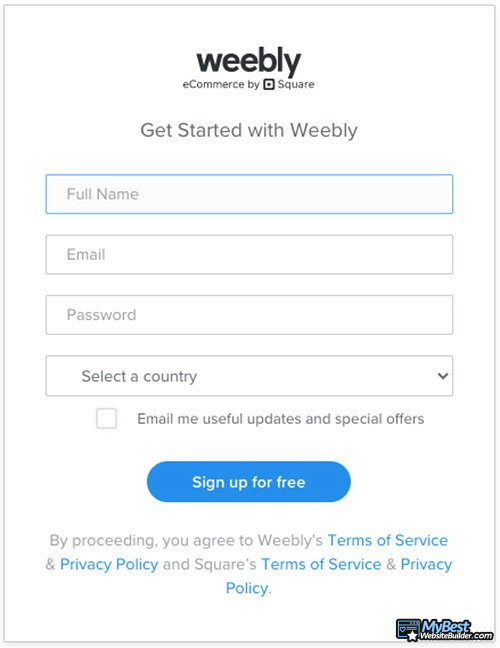 That's it, your Weebly account is created. Now, as I mentioned previously in this Weebly tutorial, since Weebly has a free plan, there's completely no rush to choose a paid subscription right away. Take as long as you need.
Latest Squarespace Coupon Found:
GET 10% OFF ANY PLAN
Squarespace Black Friday Sale
Squarespace Black Friday has begun: use this Squarespace coupon code to activate a huge 20% discount on ALL plans & create the most beautiful website!
Expiration date : 09/12/2021
5,827 People Used
Only 24 Left
Step 2. Select a Theme
After the registration is completed, you will need to choose a theme. Weebly has more than 50 modern-looking templates to pick from, so you'll be able to easily find a suitable option based on your needs.
The good news is that, unlike many other website builders, Weebly offers each of the themes completely free. Take a look at the different options that you get:
Business - templates for restaurants, barbershops, yoga studios, financial services, innovations, etc.
Portfolio - from minimalistic to colorful themes.
Personal - a variety of themes that will suit different personalities.
Event - announce important events using a variety of different themes.
Blog - create a blog about food, traveling, music, a healthy lifestyle, or anything else you like.
Other.
Every industry-specific Weebly theme is designed to suit the needs of a certain business. For example, if you choose an online store, it comes together with the "Shop" page, call-to-action button, featured products, space for special deals, and so on. That being said, if you choose such a theme that matches your industry, you will only need to change text, add images, and you're good to go.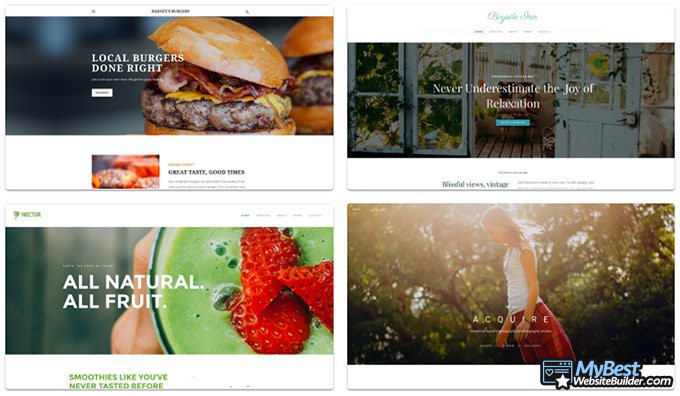 If you feel too much pressure deciding which theme is the most suitable for you, you should know that Weebly allows you to change it, even after you edit a text. So, you can play around and see which one suits you or your business best.
Step 3. Create, Select or Transfer a Domain Name
After you checked out the most attractive designs and chose the one that suits your needs best, it's time to create or transfer (if you already have it) a domain name.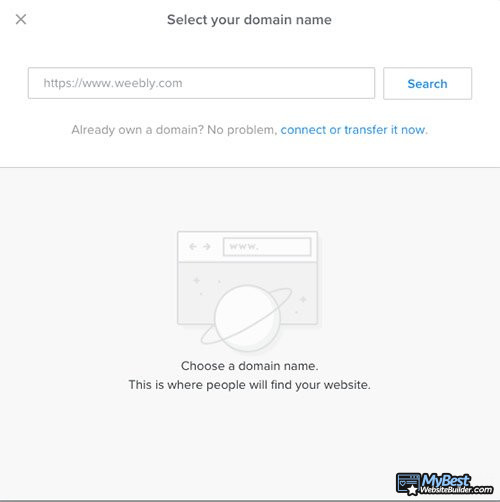 If you're unaware, a domain name is used to identify your website. It reflects in the URL. For example, our domain name is mybestwebsitebuilder.com.
That being said, it must be unique, brandable and identify your website pretty well. Weebly provides a few tips on how to create a good domain name:
Make it unique.
Make it short.
Make it intuitive.
Make it pronounceable.
If a domain name that you wanted is unavailable, Weebly recommends adding a "suffix, prefix or alternate TLD extension".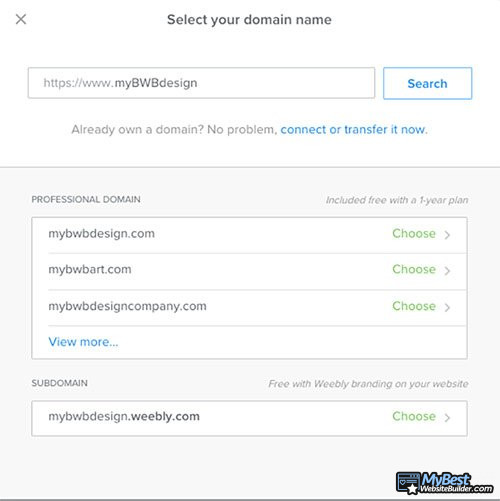 Now, if you already have a domain name, you can choose to connect or transfer it right away. However, if not, you can choose from the list of the available domain names that Weebly is offering.
You can also select a free Weebly subdomain for now and continue editing. Then, once you figure it out, you'll be able to choose a plan together with your new domain name.
Thus, now that you have selected a domain name name, it's time to move to the most interesting part of this Weebly tutorial - editing.
Step 4. Start Editing
When editing our website, don't be afraid to express your creative side and experiment with different elements to create the most sleek-looking and functional site.

On the left side, you'll be able to find "Individual Elements" that can change as well as drag and drop into your website. Here's how it looks: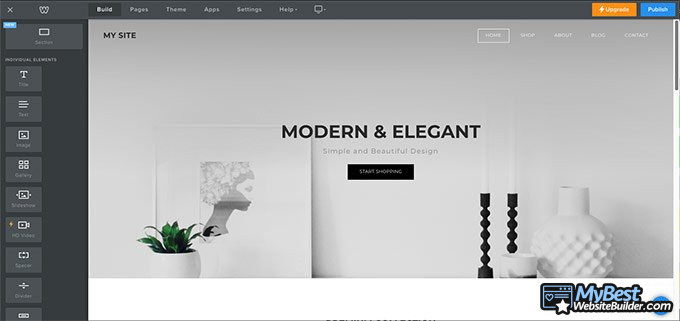 Let's get into more details and find out how to use Weebly.
Editing Background
To customize a website, you can start by editing the background. All you need to do is click on the background and make changes: add or edit an image, choose a scrolling effect and more advanced features that will allow you to save the changes to more pages as well as align the content as you like.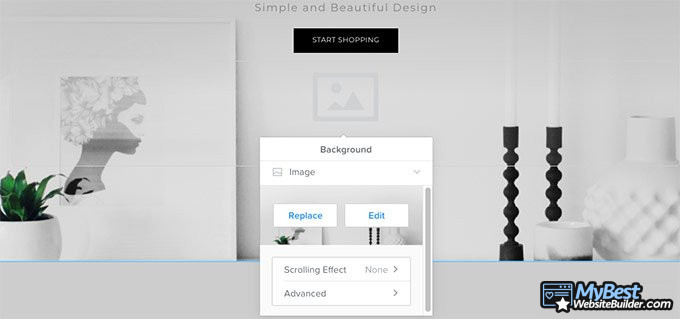 Editing Text
If you want to edit a text, all you need to do is click on individual text boxes and simply type in whatever you want. Change titles, subtitles, product descriptions, etc. to create unique content.

Adding/Deleting Individual Elements
Since Weebly is a drag-and-drop editor, you can start choosing from individual elements that you can see find on your left and simply drag them where you want. Almost every element is available for free users, however, the ones that have a bolt symbol on the top left side of the box, are available for paid members only.
If you want to add a gallery, for example, simply choose the "Gallery" element, drag ir where you want and start making changes: add images, choose the number of columns, edit spacing, caption and more advanced aspects, including border and image ratio. Haven't I told you that this Weebly tutorial for beginners is super simple once you follow each of the steps?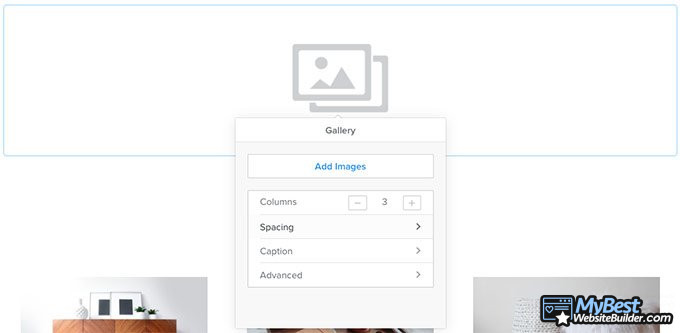 If you change your mind about specific elements in your website, you can easily click on the "Delete" button at the top right corner of the element and remove it.

Editing and Adding Pages
If you want to edit or add pages to your website, you can find the "Pages" section in the menu strip. You can select individual pages that are already included in your site and change the name, header, its visibility on the site and include SEO elements.

The SEO part is crucially important to every website, you want to include as much information as you can, including page title, page description, meta keywords, and so on. All of these aspects, and so many more, are a part of Google ranking factors.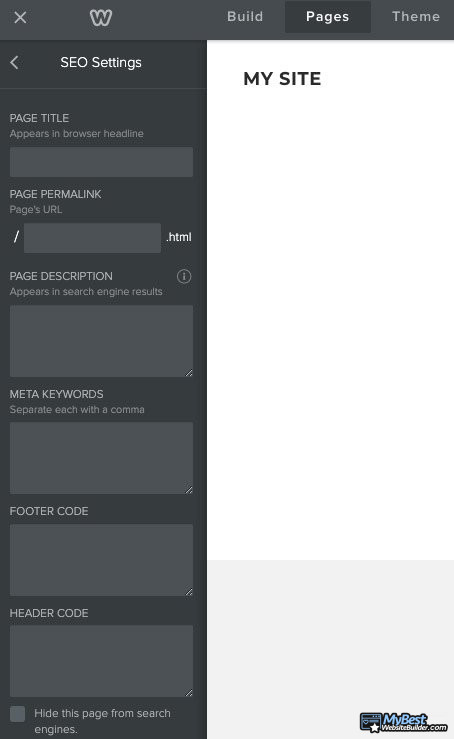 When it comes to adding a new page, all you need to do is press "+" at the top right corner of the "Pages" section. Once you do that, you'll be able to pick from different types of pages that you might want to add: standard, blog, category, product, external, and even more. You can see each of the options below.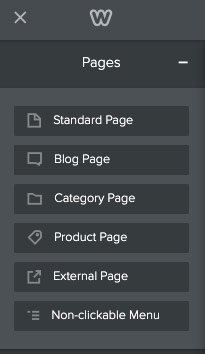 Customizing the Theme
The final aspect to be mentioned when it comes to editing the page is theme customization. You can do that by clicking on the "Theme" section. To customize the theme based on your needs, you can change fonts, theme options, and so on.
Now that we have covered the basics of this Weebly tutorial for beginners, let's move to more extensive features and customization.

Add Products to Store
If you decide that you want to create an online store, all you need to do is click on "Pages" and select "+". Then choose "Product Page" and click "Add Products to Store".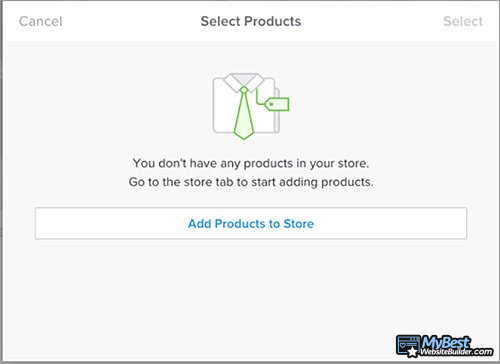 You will need to add images, choose an item type, title, price, description, and so on. You can see how the page looks below.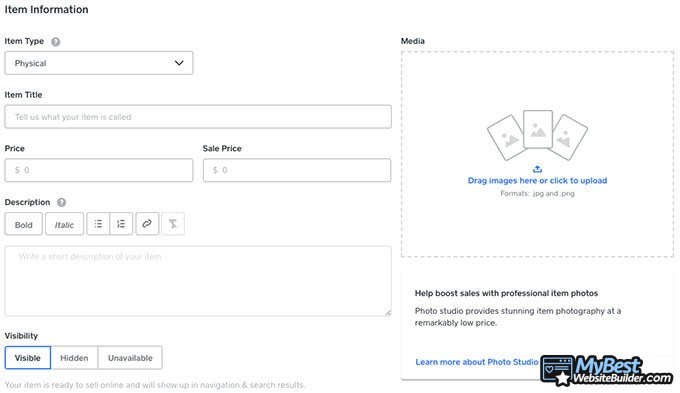 Once you fill in all the information, click "Save". That's it, you added a product into your store.
Step 5. Add Apps
Once you customized your theme, it's time to add apps to your website. Just as you probably assumed, you need to click on "Apps" in the navigation bar and it will send you to the Weebly App Center. The company provides you with more than 300 apps to choose from. That's really impressive.
You can find apps that were hand-picked for you and choose from the provided list, or find apps that are divided into different categories, such as eCommerce, communication, marketing, social, site, tools&features. It's important to mention in this Weebly tutorial that not all apps are accessible for free members, some of them are only available for paid users.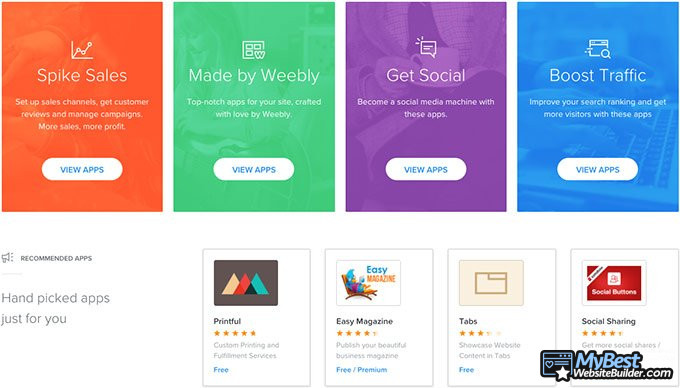 So, pick from the list of apps that can improve your website and enjoy the functionality!
Step 6. Select a Plan
When it comes to choosing the plan, it all depends on your personal preferences. Take a look at the available options:
Note that prices are an object of change, so buy the time you'll be reading this Weebly tutorial, it might be slightly different.
As you can see, Weebly offers really customer-friendly prices. If you want to create a portfolio or blog, Pro plan is the perfect option for you. However, if you want to build an online store, you should consider the Business or Business Plus plan.
Now, I noticed that many people are asking how to delete Weebly account, that's quite simple to do. First of all, log in to your Weebly account. Then click on "My Site" and choose "Account Settings". Go to "My Data" and click on "Erase Data & Forget Me". This is it.
Step 7. Publish Your Website for the World to See
If you're pleased with how your website turned out, congratulations - you have successfully created a website! To make it visible for everyone else, you have to publish it. It requires only one click that you can find in the top right corner.
After clicking "Publish" your site is visible for a wide web!
Conclusions
Therefore, follow each of the steps that I provided in this Weebly tutorial for beginners and you'll be able to create your own website without much trouble. Here are the steps that you should follow:
Sign up
Select a theme
Create, select or transfer a domain name
Start editing text, background, pages, adding elements, products, etc.
Add apps
Select a plan
Publish your website
I really hope that this Weebly tutorial was helpful and you managed to take advantage of all the provided information.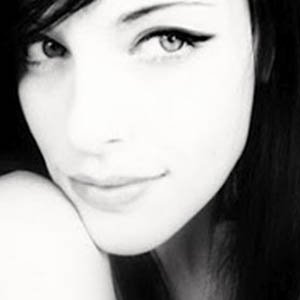 Vail Joy
Creative Technologist at Envato
Contributed by: Vail Joy , Creative Technologist at Envato
Vail Joy is a creative technologist and WordPress expert with over 20 years of experience in design, project management, front-end development and UX writing. Vail currently works with the amazing ...
Read Full Bio...
Leave your honest feedback
Leave your genuine opinion & help thousands of people to choose the best website builder. All feedback, either positive or negative, are accepted as long as they're honest. We do not publish biased feedback or spam. So if you want to share your experience, opinion or give advice - the scene is yours!
TOP3 Most Popular Coupon Codes