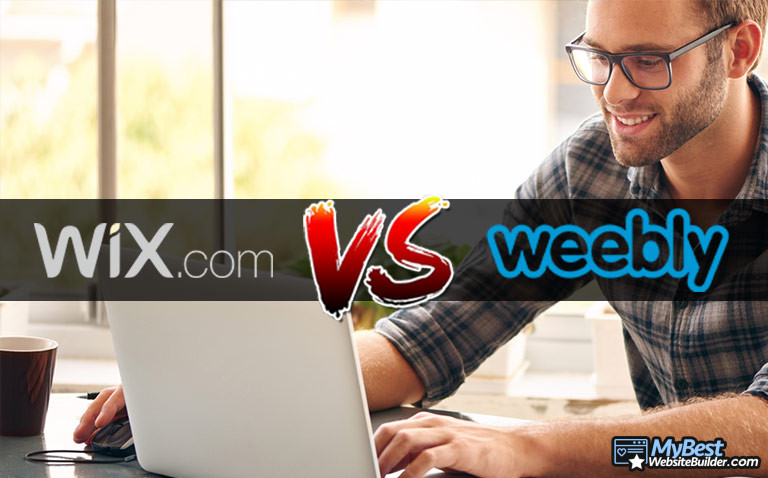 If you're thinking about creating a website on your own, both Wix and Weebly might be amazing options. However, how can you know which one is better for your needs and provides the necessary features? That's exactly what we're about to find out when comparing Wix VS Weebly.
In this Wix VS Weebly comparison, we'll take a closer look at both of the companies. What is more, I will provide you with the criteria that are the most important when deciding which of these two website builders is better.
Once that's out of our way, we'll go through each of those features separately, comparing Wix and Weebly, to figure out their strongest and weakest sides. Needless to say, once you're done with this comparison, you will already have a strong decision about which one of the two website builders to choose.
Without further ado, let's start by finding out more about both Wix and Weebly.
Wix VS Weebly: Intro to Both Website Builders
Weebly or Wix? That's quite a common question that people who are planning on creating their own website are interested in finding out. However, before answering this question, I would like to provide you with general information about these companies.
Let's begin with Wix. Founded back in 2006, Wix provides services to more than 200 million users all over the world. It's one of the leading website builders that is very versatile and is suitable for different types of businesses, including photographers, restaurant owners, musicians, entrepreneurs, and others.
One of the main Wix goals is to empower people that they can easily create a website on their own without the need to hire professionals and spend hundreds and even thousands of dollars. What is more, the platform keeps improving and adding new features on a regular basis.
Table: Wix and Weebly company information.
Also, Wix offers not only website builder services, you can also use Wix Logo Maker to create a customized logo, Wix Video Maker to easily create videos that you can share with your customers, and offers other helpful tools.
Now, Weebly. Just like Wix, this website builder was founded back in 2006. It powers more than 50 million websites all over the world. That's about 4 times less compared to Wix, however, shows that it's also a popular platform.
Weebly provides customers with all the needed features and tools to create a fully-functioning website. That includes mobile-optimized templates, SEO and marketing tools as well as advanced analytics. However, even though you can create various websites using this website builder, Weebly is mostly recommended for small businesses. In this Weebly VS Wix comparison, you will find out why that's the case.
That's about it when it comes to the general information about both Wix and Weebly, so let's move further.
Wix VS Weebly: Comparison Criteria
As you already know, both Wix and Weebly are among the top-rated website builders. However, it doesn't mean that they offer the same features. On the contrary, these platforms are quite different when it comes to usability and other important aspects. By distinguishing the most important criteria, we can easily see the most significant differences between these two platforms.
With that said, I would like to move on to the comparison criteria and focus on the most important measures that we will focus on in this Wix VS Weebly comparison.
Performance. The very first thing that we will focus on in this Wix VS Weebly comparison is reliability. To do that, we will take measurements into account - uptime and site speed. Both of these metrics are crucially important for everyone who wants their websites to perform without any interference.
Ease of use. As you probably already know, the main goal of top-rated website builders is to provide people with an easy-to-use platform that has all the essential tools and allows even non-technical users to create a professional-looking website. That said, in this Weebly VS Wix comparison, I will strongly focus on usability and find out which of the two is easier to use.
Features. It's true that if you want to create a simple personal website/blog, you don't really think much about the features and go for the most beginner-friendly platforms. However, if you're interested in finding a provider that offers enhanced functionality, then you will need to consider many different aspects such as the ability to customize your website with a code, compatibility, marketing and SEO tools, customer support, and many others. When talking about features, I will distinguish SEO features separately, just because they're crucially important, and there's quite a lot to discuss.
eCommerce functionality. While it should be discussed together with features, it's crucially important to distinguish this aspect separately in this Wix VS Weebly comparison. eCommerce features and tools are vital for everyone who's thinking about creating their online store. Even if you're not planning on doing this immediately, it's possible that you will want to create an eCommerce website in the future, so it's better to go for a website builder that offers such functionality.
Design. It's evident that every website creator wants to design an attractive-looking website. When it comes to website builders, the most important aspect that matters in order to do that is the provided templates. That said, when comparing Wix versus Weebly, we will also evaluate the number as well as the visual side of the available templates.
Pricing. Pricing will be the last aspect that we'll cover in this Wix VS Weebly comparison. Even though the functionality is much more important, I believe that pricing could help you to make a final decision, especially if you're on a budget and need a simple website.
Now that you know what measurements matter and why, it's time to take a look at each of them one by one, and find out which is better, Wix or Weebly.
Wix VS Weebly: A Thorough Comparison
If you want to make the right decision and answer the question, which is better, Wix or Weebly, it's important that you focus on each and every one of the aspects that we're about to discuss.
Which One is More Reliable?
Let's begin with some of the most important aspects that you need to consider when deciding which website builder to choose - uptime and site speed. Both of these measurements can show you how reliable the platform is.
If you're not aware of these terms yet, let me quickly explain. Uptime is a term that refers to the time that your website is available and can be accessed by the general public. One of the main goals of website builders, as well as web hosting platforms, is to achieve an uptime of 99,99%. While you can find such companies, it's not as common as you think.
Now, let's compare Weebly VS Wix uptime.
Wix is known as one of the most reliable website builders in the industry. With an estimated uptime of 99,98%, it's definitely above the industry standard that's considered to be 99,9%. Using our uptime calculator you can see what this means exactly - your website will be down for no longer than 17 seconds per day, 2 minutes per week, and 1 hour 45 minutes and 11 seconds per year. Needless to say, when it comes to Wix uptime there's completely nothing to be worried about.
Table: Wix and Weebly speed comparison.
Now, let's check out Weebly and find out if this website builder can be trusted. After some testing, I found out that, just like Wix, Weebly has an estimated uptime of 99,98%. Since I've already explained what this means, there's no reason to repeat myself once again. All you need to know is that when comparing Wix versus Weebly uptime, it's clear that both of them are extremely reliable.
So, you already know about uptime, but what about the speed test results?
I tested the speed of my personal websites that were created using Wix and Weebly. I started with the Wix website and was very surprised, it took only 560ms to upload. That's actually faster than I was hoping for and definitely one of the better results I've ever seen.
Weebly's speed test didn't come out as great. My website took 1.67 seconds to upload completely, however, that's still quite a good outcome compared to some other website builders in the market.
All in all, both Weebly and Wix are truly reliable website creation platforms. However, when it comes to speed, the results showed that you can expect better results from Wix.
Latest Squarespace Coupon Found:
GET 10% OFF ANY PLAN
Squarespace Black Friday Sale
Squarespace Black Friday has begun: use this Squarespace coupon code to activate a huge 20% discount on ALL plans & create the most beautiful website!
Expiration date : 30/11/2021
5,827 People Used
Only 24 Left
Weebly or Wix: Which One is More Suitable for Beginners?
Now, what about the Wix VS Weebly usability comparison?
To tell you the truth, this aspect is a very subjective one as everyone prefers different navigation and interface. That's why it's recommended to start using the platform yourself and see whether or not it's exactly what you were expecting.
What you should know is that both Wix and Weebly offer free plans, so you can easily check these website builders out. There are completely no risks or commitments.
Now, to get a general view, let's take a quick glance at the process of creating a website using both of these platforms.
Once you sign up for Wix, you will instantly start the website creation process. You will need to answer what kind of website you're going to create, the features that you'll need, and if you have any experience when creating a website.
Once those questions are answered, you will have to choose from two options - to allow Wix to create a website for you by answering a few questions (Wix ADI), or choose the Wix Editor to create a website on your own. The first option is recommended for people who haven't done this before or have zero technical knowledge, however, the second one is recommended for the rest of you.
If you start with Wix ADI, you will need to answer a few simple questions, choose images that you want to include in your website, provide your website name, pick a theme as well as homepage design that you think is best suitable for your needs, and add different pages to your site. That's it, your website is created. Now you can customize it if you think that any changes are necessary.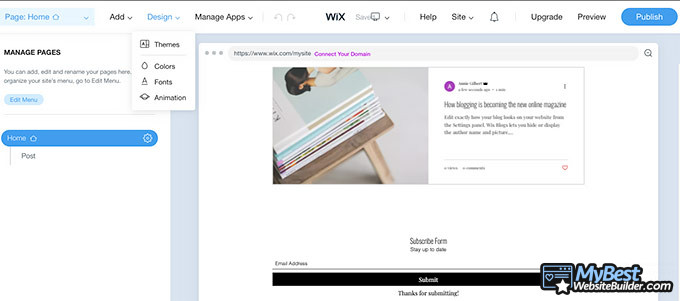 If you decide to choose the Wix Editor, you will simply need to choose a template and start customizingit based on your needs. Wix is a drag-and-drop website builder that is completely suitable for beginners, and there's completely no need for coding knowledge. However, since Wix provides so many features, it can get a bit overwhelming at first. That said, it can take some time to get used to it, but, overall, I would still rate it as one of the easier-to-use platforms.
Now, let's take a look at Weebly. Just like with Wix, you need to sign up first. Once it's done, you need to choose whether you want to create a business website or a personal site. Then you will be transferred to available themes, and once you choose one you will be able to start customizing immediately.
I have to say that Weebly has a very clean interface and it's very easy to figure out how to use it. Also, it's not as rich in features, so it's easy to find the basic things you need for website creation and customization. Of course, it's still not as easy to use as Wix ADI.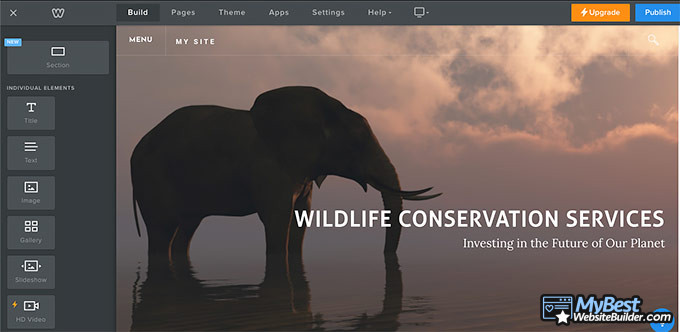 Overall, I would say that when comparing Wix VS Weebly usability, Wix should be considered a winner.
What About Features?
It's time to take a look at the features of both website builders and find out if Weebly or Wix offers better tools.
As always, let's start with Wix.
You've probably heard that Wix is often referred to as one of the more functional website builders, however, what are those features? While there are so many of them, let me distinguish some of the most significant ones:
Free hosting
Free SSL certificates
Analytics to know what your customers are doing
Ability to manage your contacts and collect subscribers
Custom domain name
Personalized email
Connect your social accounts
Get advanced stats
These are some of the most useful tools provided by Wix, however, it offers other amazing features, including SEO and eCommerce, that we will discuss in this Wix VS Weebly comparison separately.
Table: Wix and Weebly feature comparison.
Weebly is also a great option in terms of functionality, however, you should keep in mind that the basic plan is not enough to get all the perks. Now, if you choose the Professional or Performance plans, the features you get include but are not limited to:
Free hosting
Free domain name for 1 year
Unlimited storage
Expanded site stats to find out more about your customers
Password protection
Membership registration
Reliable customer support
Weebly also provides great SEO and eCommerce tools, however, we will discuss all of them separately in the further sections of this Wix versus Weebly comparison.
All things considered, Wix and Weebly are quite similar in terms of features, so whichever of these website builders you choose, you will get the needed tools to create a site.
Which Website Builder is Better for Creating an Online Store?
You probably know that there are different types of website builders. Some are created specifically for people who are interested in creating an online store, while others are suitable for almost everyone, yet often fail to provide advanced eCommerce functionality.
Now if you're looking for a website builder for creating an extensive online store, you should consider such options as Shopify, BigCommerce, or other top-rated platforms for building online stores. However, even though they're recommended, it doesn't mean that Wix or Weebly cannot provide you with great features. Let's take a look at them.
Wix is known as quite a good option for eCommerce features. Even though you don't get exceptional functionality, there are all the features that you need for a regular online store. These features include but are not limited to:
Store manager that allows you to track orders and manage inventory
Multiple payment options
Customized tax and shipping for customers all over the world
Coupons and discounts to increase your sales
Product pages with beautiful layouts
Improved customer service
Ability to edit invoice template
As you can see, Wix can definitely be used for creating an online store. It provides all the necessary tools for a successful business.
When it comes to Weebly's eCommerce features, it's fair to say that this website builder won't disappoint you. Whichever plan you choose, even if it's the most basic one, the features you get include:
Shopping cart
The ability to accept various payment methods
The ability to upload unlimited items
Item modifiers for customization
Item badges for when your products are on sale
In-store pick up
Automatic tax calculation
Coupons and gift cards
If you go for more advanced plans, you also get discounts on shipping rates, the ability to automatically send reminder emails, request item reviews, and even more.
That said, even though neuter Wix nor Weebly were created specifically for eCommerce websites, both of them provide pretty great features that every small-to-medium store should find enough.
Which Offers More Attractive Templates?
There's a significant difference when comparing Wix VS Weebly templates. First of all, the number of options. While Wix provides you with about 500 options to choose from, Weebly offers only about 50 templates. That's five times less. It's evident that the more options you get, the higher chances there are to find a design that's suitable for your needs.
Table: information about design elements of Wix and Weebly.
Now, even though Weebly provides you with fewer options to choose from, you will still be able to find templates that are suitable for various industries. What is more, both website builders offer not only very attractive designs but also mobile-responsive templates, meaning that mobile users won't miss out on anything.
When it comes to the specific pros and cons regarding templates, you already know that Weebly offers fewer options to choose from. However, what's also important to mention is that Wix provides better templates' customization.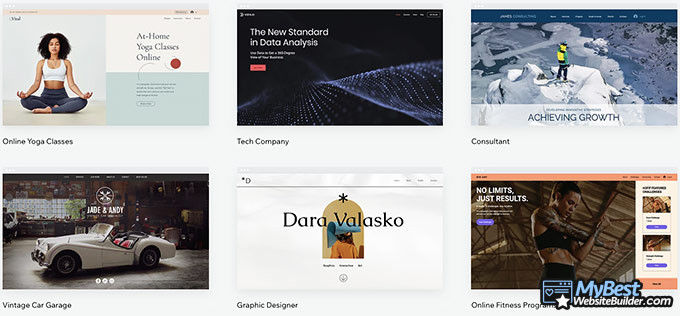 On the other hand, Wix also has some drawbacks. Once you choose a template and it goes live, you can no longer change it. When using Weebly, though, you can easily switch templates even when you go live.
That being said, there are pros and cons when it comes to both Wix and Weebly. These platforms will definitely provide you with attractive templates, so you should take other aspects that we already discussed into account and choose an option that's more suitable for your needs.
Wix or Weebly: Which One Offers Better SEO Tools?
There's a common opinion that website builders are not recommended for SEO. While it is partly true as there are many platforms that fail to deliver good results, you simply need to take a look at a website builder's SEO tools.
Now, let's find out which is better, Wix or Weebly when it comes to SEO tools.
Let's begin with Wix. This website builder provides you with all the main SEO tools that are needed to boost your website, including:
Robots.txt editor
Structured data
Canonical tags
301 redirects
Custom meta tags
Automatic image optimization
Mobile-friendly templates
Google console integration
SSL certificates
Analytics
As mentioned, Wix offers even more SEO tools. As you can see, you get everything that's needed for your website to rank on the first pages of Google.
Now, let's move on to Weebly. The company claims that it provides you with all the necessary SEO tools to rank on Google. These features include:
Meta descriptions
Sitemap
SEO-friendly HTML formatting
Responsive and mobile-optimized templates
301 redirects
Page permalinks
Header and footer codes
Weebly also won't disappoint you when it comes to SEO tools, however, it seems that Wix has a bit more to offer.
Wix and Weebly Pricing Comparison
Pricing could definitely help you decide which of the two platforms to choose, so let's take a look at Weebly VS Wix pricing and see which website builder is more affordable.
When it comes to Wix, it provides you with a variety of plans to choose from, including Website plans for creating a professional-looking website, Business & eCommerce plans for online stores, and Enterprise plans that can be adjusted for your business.
Let's begin with the regular Website Plans offered by Wix:
You can also check out Business & eCommerce plans if you're planning on creating an online store:
When it comes to Enterprise Plans, the pricing varies depending on the features you need. However, the starting point is $500. Of course, it includes professional services, enterprise-grade security, scalable billing solutions, and many other perks that are beneficial to various businesses.
So you're already aware of the type of plans that Wix offers, however, what about Weebly?
Weebly is a lot simpler when it comes to its pricing model, here are the plans that you can choose from:
As you can see for yourself, Weebly is definitely a more affordable option. It even has a free plan that is suitable for basic usage! However, keep in mind that while Weebly might be a suitable option for small online stores, Wix is more versatile. So it's logical that it's also a bit more expensive.
Table: Wix and Weebly pricing.
Well, Weebly VS Wix pricing was the last aspect that I wanted to discuss in this comparison, so it's time to wrap it all up and move straight to the conclusions.
Conclusions
As this Wix VS Weebly comparison showed, these website builders have multiple similarities. They're both reliable, offer great features, including SEO and eCommerce, are quite easy to use, and offer attractive templates.
On the other hand, websites created using Wix tend to be faster. What is more, it offers better customization and more templates to choose from. Also, Wix is considered to be slightly better when it comes to SEO tools.
However, while Weebly provides fewer templates to choose from as well as less customization compared to Wix, it's important not to forget that this website builder is more affordable. Moreover, it won't overwhelm you with the feature variety when using it for the very first time, and Weebly allows you to change templates even when your website is online. That's not the case with Wix, though.
WIX
WEEBLY

Wix ADI - Artificial Intelligence
Easy Drag and Drop
Variety of Free Widgets and Apps
More than 500 Templates
Modern & Sleek

99,98% Uptime
Amazing Usability
More than 350 Apps
Modern and Sleek Designs

Not the Fastest
Some Users Lacked Customisation

Visit site
Read review
Visit site
Read review
Table: main information about Wix and Weebly.
All things considered, Weebly is more recommended for creating a small business or simple websites such as blogs, while Wix is more versatile and should be great for almost everyone. That said, your decision should completely depend on the website you're going to create.
Leave your honest feedback
Leave your genuine opinion & help thousands of people to choose the best website builder. All feedback, either positive or negative, are accepted as long as they're honest. We do not publish biased feedback or spam. So if you want to share your experience, opinion or give advice - the scene is yours!
TOP3 Most Popular Coupon Codes