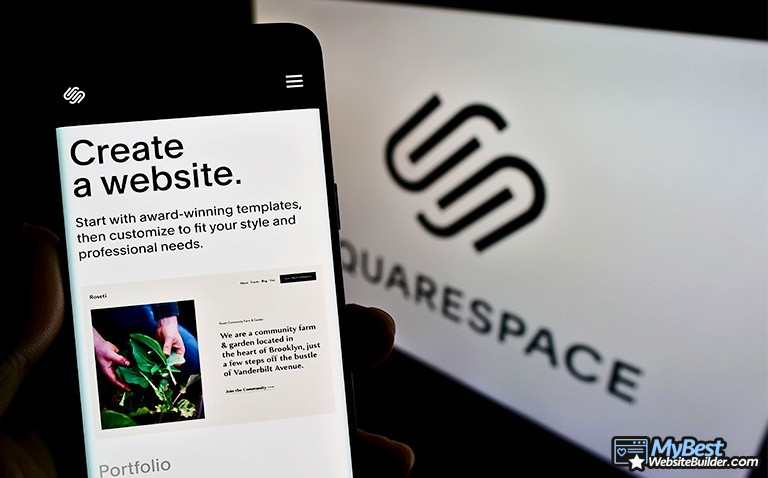 If you are interested in website builders, you definitely came across Squarespace once or twice. After all, it's one of the best ranking website builders that offers users a chance to create modern and artistic websites in a relatively short period of time. However, it's a great idea to look into Squarespace alternatives because you should always know your options.
If you are a person who always wants to weigh the pros and cons of various alternatives and then choose the best option, you should definitely explore similar sites like Squarespace.
Spoiler alert! If you read further, you will find a brief introduction to Squarespace and what it has to offer, the reasons why people would look for alternatives to Squarespace, and the top 5 Squarespace competitors.
Without further ado, let's dive into the world of website builders.
Squarespace - The Key to Modern and Aesthetically-Pleasing Websites
As mentioned before, you probably came across the Squarespace platform once or twice, because the company has made a real effort to promote itself. This is fair enough because they really have a lot to offer. So, before jumping into Squarespace alternatives, it would be wise to look into why it is ranking so high next to its competitors.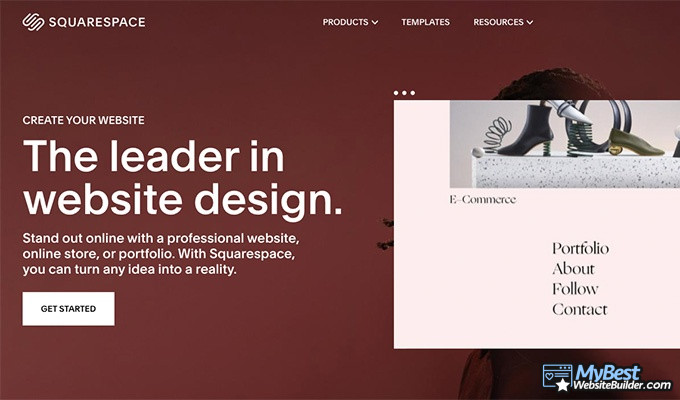 Squarespace offers plenty of awesome integrative features for both - individuals and businesses. It gives you the freedom to bring even the most bizarre ideas to life. How? By being easy to use and having a huge variety of templates and awesome features. Though, its modern and artistic template variety is probably the main selling point of the platform.
You may ask: what makes a website builder easy to use? Mostly the ability to use it without in-depth PHP and HTML knowledge. What makes Squarespace easy to use? The drag-and-drop feature. What is so good about it? You can simply drag and drop a certain box from the menu to the website's preview and then adjust it however you like.
This is definitely convenient.
Talking about the features, Squarespace offers its users all-platform-friendly website designs, beautiful templates, audio and visual interface options, eCommerce and business management tools, SSL certifications, and the list goes on and on.
Looking to the more technical side of Squarespace, it offers users website hosting. It is essential for any website to be hosted if you want search engines to find it. Also, according to our research, its uptime (the amount of time the website is up and running) turned out to be 99,97%, which is actually close to perfection.
Even though in the past, Squarespace was known for having poor search engine optimization (SEO) options, that's not the case anymore. Squarespace has SEO integration in the system (no need to download plugins) and offers quite a lot of features (such as keyword research, site map, built-in mobile optimization, built-in meta tags, and so on).
For those of you who don't know what SEO is about, it's the key to pushing your website to the top of search results whether your business uses targeted ads or not.
However, everything has drawbacks and Squarespace is no different. This is exactly the reason why you may be looking for Squarespace alternatives.
Why do People Search for Squarespace Alternatives?
Despite the fact that Squarespace is actually one of the best options for website creation at the moment, it does, indeed, have some inconveniences. Briefly said, there are three of those: below-average site speed, eCommerce limitations, and, for some, the price.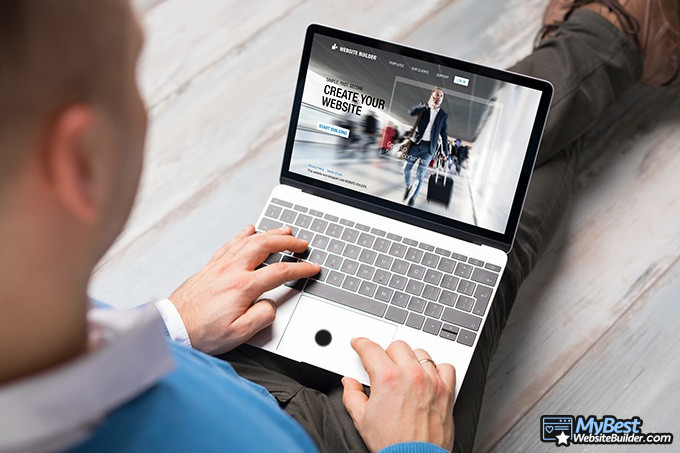 In the fast-paced world we live in at the moment, speed is definitely important because time is money. The speed of a website is measured by the time it takes for a page on your website to fully load once it has been entered. According to some people's opinions, the load time for a website created with Squarespace could be considered below-average.
However, note that speed doesn't necessarily depend on the website. There are many other factors that influence site speed like image quality, the number of complex features, crazy fonts, external services, and so on.
Another reason why users might be looking for alternatives to Squarespace is eCommerce limitations. Don't get me wrong, it does offer some pretty great features for eCommerce. However, it doesn't provide the option of multi-currency transactions and it has limited point-of-sale (POS) functionality, dropshipping, and payment gateway options.
Squarespace is a great option if you are a smaller business and you're not aiming to sell worldwide. If that's not the case, you should definitely search for Squarespace alternatives (you'll find them below).
Lastly, some people are not willing to pay a certain amount of money for accessing more advanced features, especially if they are using a website builder for the first time. While Squarespace offers a variety of awesome features and possibilities, its pricing would be considerably more expensive compared to some other websites like Squarespace.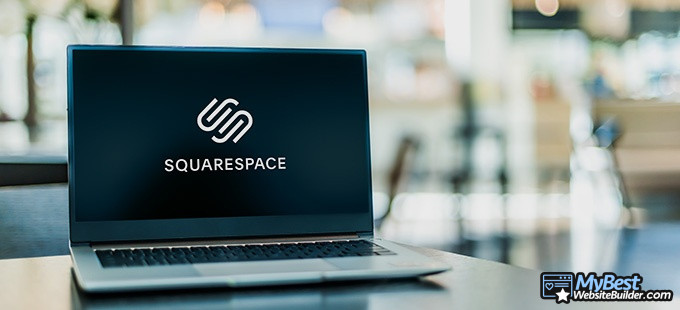 So, after weighing the pros and cons of this platform, I think now is a great time to move further and dive into the list of the best Squarespace alternatives.
The Top 5 Alternatives to Squarespace
The options mentioned below definitely can be considered as the best Squarespace alternatives. All of the brands listed below will undoubtedly provide you with some fantastic features and, hopefully, you will find the best alternative to Squarespace for you.
Zyro - the AI-driven Website Builder
Reasons why Zyro is a great Squarespace alternative:
AI tool integration
eCommerce features
Fast site speed
Great pricing
Live customer support
Easy to use
Zyro can be considered as one of the biggest Squarespace competitors. What makes Zyro stand out from other website builders is AI tool integration (e.g. AI Writer, AI Heatmap, AI logo maker, etc.) and a simple user interface (UI).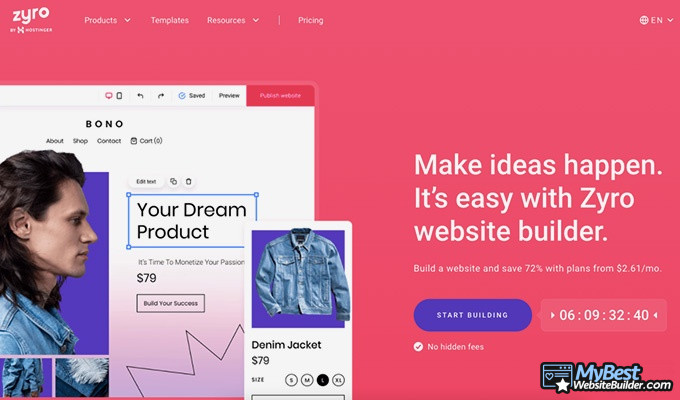 If you are one of those people who are more skeptical towards AI, you might be wondering if these tools are useful. I can tell you that they will definitely surprise you.
As bizarre as it may seem, the AI Writer will generate text content for your website that actually looks professional. With a single button click, you will be provided with various topics, sections, and possible content for your chosen topic.
Though, the tool that is really praised in customer reviews is the Heatmap. It will highlight the areas of your website that are likely to attract the most attention from your visitors. This will help you understand which parts of your website you should polish the most.
However, in my opinion, the coolest AI tool is the Logo Maker. It is especially easy to use and gives you the ability to choose from a huge variety of templates. It will definitely help you create some professional-looking logos for your website.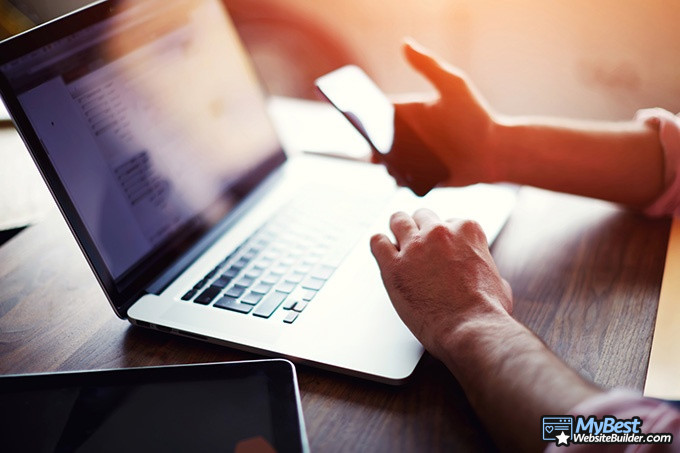 Another important feature that Zyro has (and it's better than the one Squarespace has) is the ability to operate an eCommerce website. This is especially useful for people who want to sell something on their website. Zyro has covered all of the essential features for building an online store. In addition, Zyro offers effective and easy-to-use features for online business management.
What is also essential in website builders, especially if you are a beginner, is a simple user interface. Zyro is definitely easy to use. It doesn't pack its interface with as many features as possible, which usually can leave you overwhelmed. Of course, there are still some minor features missing but they will most likely be included in the future.
It's also worth noting that Zyro has many more cool features. It offers domain name integration, live customer support, and integration with other important platforms for website improvement.
Table: Zyro features vs. Squarespace features
Domain name integration is especially useful for those who already have a domain from the past. If you want to rebrand but your domain name is a crucial part of your business, Zyro will allow you to transfer your domain name from some other website builder.
Talking about domains, it should also be noted that Zyro includes free domains in most of its paid plans.
Zyro is really trying to conquer the website builder industry by offering unique features. Live customer support is yet another feature that only Zyro has to offer (at least at the moment). If you encounter any problems, you can get them solved in 2 minutes (that's the average response time). It will definitely save you from frustration.
Integration with other platforms is another important aspect of a successful website. Zyro offers integration with platforms such as Google Analytics, Hotjar, Facebook Pixel, Messenger Live Chat, and Google Tag Manager.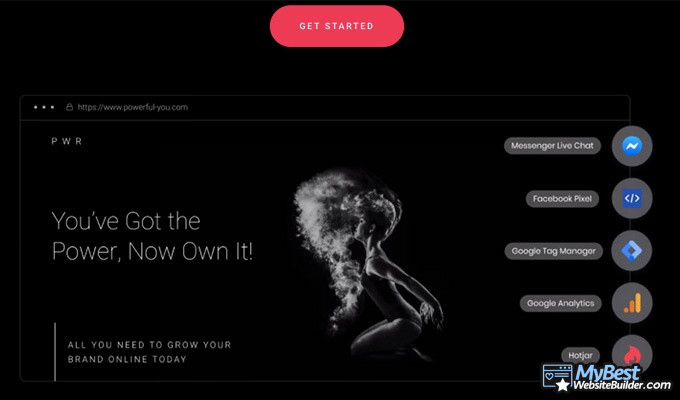 Now, the main points why Zyro is better than Squarespace are speed and price. I will discuss the price a bit later but I can tell you that Zyro offers some great discounts. In the speed aspect (page-loading wise) it is surely winning the race. Websites made with Zyro will actually be very fast.
Note! Don't forget what I said before. Site speed is influenced by many factors, not only the website builder itself.
However, if Squarespace and Zyro were competing in the aspect of the number of templates, Zyro would lose. Even though it is improving a lot and adding more and more templates, as of this day, we can barely compare its number of templates with Squarespace.
What is the Price of the Zyro Website Builder?
As I mentioned before, Zyro offers some great prices. If this is the aspect that made you turn to search for Squarespace alternatives, Zyro is a great option for you.
Here's what you can choose from:
Note! Always check the official website because the prices may change over time.
As you can see, the prices Zyro offers are surely better than Squarespace if you want to spend less on a website builder. However, you are still provided with many cool features and even with the ones that Squarespace doesn't have. Zyro can undoubtedly be considered as one of the better Squarespace alternatives.
Zyro Deal Active Right Now:
71% OFF + 3 MONTHS FREE
Zyro Exclusive Offer
Hurry up to save big on Zyro - the most trending website builder in the market! Build your high-quality website fast & get 71% off + a BONUS of 3 FREE months.
Expiration date : 10/10/2022
4,837 People Used
Only 19 Left
Webflow - Website Builder and CMS Hybrid
Reasons why Webflow is a worthy Squarespace competitor:
Website builder/CMS
Modern and unique templates
Excellent SEO tools
Free web design courses
Free plan option
The main reason that makes Webflow unique is the way that it functions. It's not only a website builder but also a Content Management System (CMS). Though, this might make it not suitable for everyone. However, it has plenty of awesome features for those who decide that Webflow is exactly what they are looking for.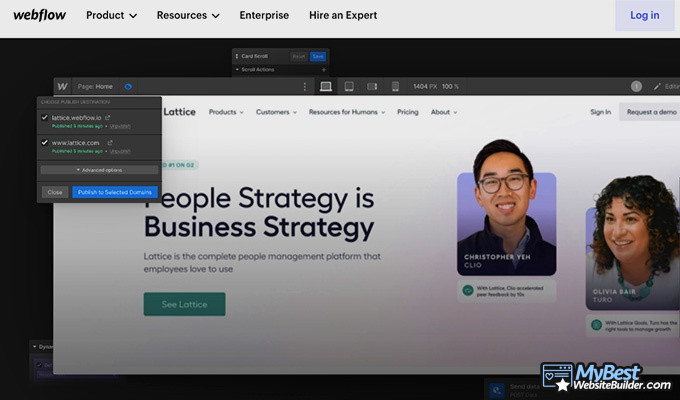 What is CMS? To put it simply, it's something like a website builder but more complex. It allows you to customize your website in a more advanced way and provides you with wider management options. That being said, CMS is more suitable for advanced users and large-scale projects.
If you are searching for sites like Squarespace in terms of template variety, Webflow is a perfect match for you. It offers a huge variety of unique, modern, and artistic templates. Modern and unique is exactly what most websites are aiming for these days.
Also, Webflow has great and extensive SEO tools. I mentioned before that it is especially important if you want your site to reach as many people as possible. SEO tools in Webflow are surely satisfactory. They allow you to optimize the metadata on your site, identify specific keywords, use alt titles, and create automated sitemaps.
*phew* That's a lot. Webflow really puts effort into SEO tools.
Table: Webflow features vs. Squarespace features
However, let's get something straight, Webflow is not for everyone. If you are a beginner with website builders but your goal is aesthetics and modern templates, you should probably stick with Squarespace. It is much easier to use compared to Webflow.
After all, Webflow is a hybrid between a website builder and CMS. That pretty much settles why it requires more advanced knowledge in website creation. However, if you really want to try Webflow but know nothing about website creation, there is still hope for you. Webflow offers free access to Webflow University where you can find a variety of web design courses.
What is the Price of the Webflow Website Builder?
If you were looking for Squarespace alternatives because of the price, spoiler alert, Webflow is not the best option for you. It is considerably expensive. However, again, there is hope. Believe it or not, you can use Webflow completely for free. There is no catch, no credit card information, or trial. You'll see what I mean below.
Firstly, note that Webflow offers three types of plan options – Site, Workplace, and eCommerce. The Site option allows you to build or import your own website. The Workplace option allows you to manage multiple websites and collaborate with your colleagues. And it's obvious what eCommerce plans are about.
The options of Site plans:
The options of Workplace plans:
The options of eCommerce plans:
Besides, Webflow offers plans for enterprises (contact Webflow for the pricing).
Note! Always check the official website because the prices may change over time.
Plans. Plans. Plans. Yes, there are a lot of options.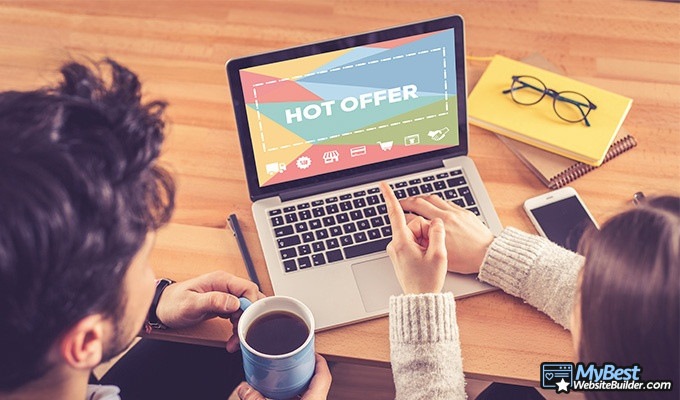 You may be thinking now "there's no way that it is actually free". Well, it is. However, this option allows you to have only two websites and it obviously has a lot of limitations. Nothing perfect comes free in life. Although, if you only want to practice creating a website, it is a good option.
Thus, Webflow is one of the better Squarespace alternatives, especially if you are more advanced in website creation and you are looking for CMS integration.
[featured-coupon review_id="17"]
Wix - Easy to Use As 2+2
Reasons why Wix is one of the better Squarespace alternatives:
Easy to use
Wix ADI
A huge variety of templates
Good eCommerce features
Wix is one of the website builders that has been here for a longer period of time. It was launched in 2006 and obviously improved a lot since then. The main selling point of Wix is that it's really easy to use.
But I mean really really.
It could be considered one of the simplest website builders. Why? For starters, it doesn't have too many different features. The less you have to choose from, the easier it is to learn.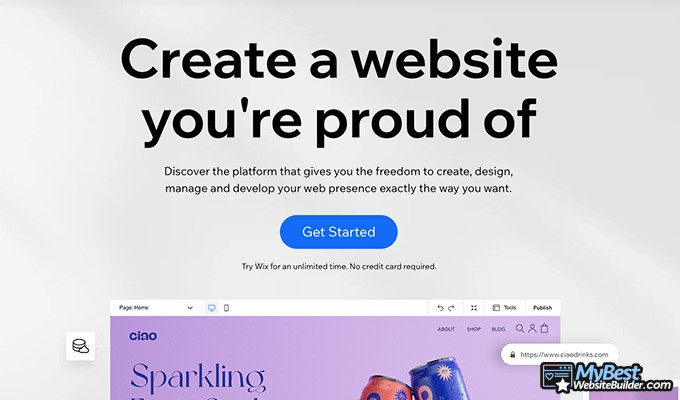 In addition, you can switch between Wix ADI and regular Wix editor. What is Wix ADI? It stands for artificial design intelligence. How does it work? Basically, you feed the technology with information about your vision of the website and in a few minutes, ADI creates a site made just for you.
Obviously, Wix ADI limits the editing freedom for a more advanced user but don't worry, you can always switch to the regular Wix editor.
If you want to create an online shop, Wix is also a great option for that. Its eCommerce service is pretty good and it offers a lot of eCommerce-related features. In Wix, you can manage your site on social media and shopping-related sites (e.g. Facebook, Instagram, eBay, etc.), sell subscriptions, integrate various payment methods, and so on.
Table: Wix features vs. Squarespace features
Another great feature of Wix is that it offers over 500 designer-made templates. This means that you can choose from a huge variety of beautiful, modern, and unique templates.
However, if you are looking for sites like Squarespace that have flawless SEO tools, Wix might not be the greatest solution available. Wix is excellent for core SEO but not if you want more advanced features. Some of its templates are not always SEO-friendly and, even though it does offer a few SEO optimization features, they are not the best out there.
What is the Price of the Wix Website Builder?
Wix pricing is similar to Squarespace, however, it does offer a bigger variety of plans. It should be noted that Wix offers two types of plan options - Website and Business and eCommerce.
Website plans include:
Business and eCommerce plans include:
Note! Always check the official website because the prices may change over time.
However, you can choose the most basic plan called "Connect Domain" for only $7,50 per month. Of course, it is quite limited.
Nonetheless, Wix is a great alternative to Squarespace, especially if you are looking for a super-duper easy user interface.
[featured-coupon review_id="1"]
Weebly - Website Builder in Your Pocket
Reasons why Weebly is a great Squarespace alternative:
Simple to use
A variety of widgets and apps
A mobile app version
Good SEO tools
eCommerce features
Free plan option
Looking for a website builder that lets you choose what features you actually need? Then Weebly is a great choice. It offers a very simple UI with a smaller amount of features. However, what compensates for that, and makes Weebly stand out, is widgets and apps.
What is so great about these widgets and apps is that you can download only the ones you need. This way, even though at first you don't have many features, after downloading them, you can construct an interface that is useful exactly for you.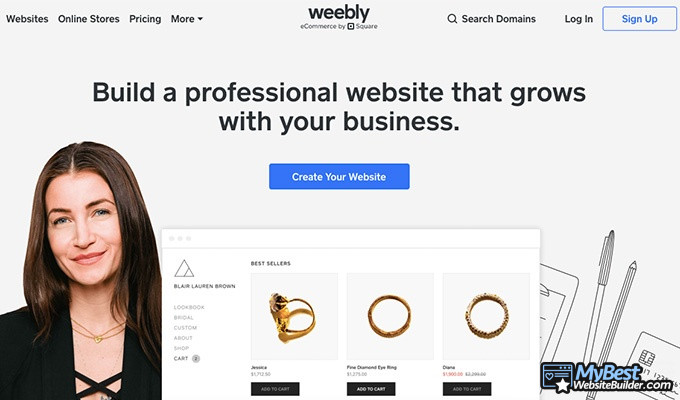 Another convenient feature that Weebly has is a mobile app (available on iPhone, iPad, and Android Tablet). This means that you can easily edit your website on the go. Yes, that's right. If you don't have a computer next to you and need to change something quickly, you can simply do it on the app.
What is amazing about their app is that it's fully functional. Not only can you verify sales, accept payments, check inventories, fulfill orders, and so forth, but you can also customize your website by using the drag-and-drop feature. In addition, if by any chance you end up on some deserted island with no internet, you can work offline and sync the changes later.
Another attractive feature that Weebly offers is the ability to export your site. Weebly supports your growth and, if by any chance you feel that it is not enough for you anymore, you can switch to another more advanced website builder and bring your site with you. You can also transfer separate components like contacts, products, store orders, etc.
This shows that Weebly really cares about its users.
Table: Weebly features vs. Squarespace features
It's also important to note that Weebly mostly focuses on eCommerce. However, you can still create websites, not only online stores. Though, if you do need an online store, just note that Weebly is better for smaller eCommerce sites.
If you were looking for websites like Squarespace with great SEO, Weebly is a reasonably good alternative. Its SEO works pretty well and you don't need to download additional SEO widgets. However, no matter how good the SEO tools are, you do need to know how to use them effectively. But that is pretty obvious.
What is the Price of the Weebly Website Builder?
Weebly has two types of plans - for Websites and for Online Stores. Both of them are broken down into sub-plans. You can explore them below.
Plans for Websites include:
Plans for Online Stores include:
Note! Always check the official website because the prices may change over time.
As you can see, there are various options with pretty good prices. There's even a free option (of course, it is the most basic one). One way or another, Weebly is one of the Squarespace alternatives that's definitely worth your attention.
[featured-coupon review_id="2"]
Shopify - The King of eCommerce
Reasons why Shopify is a strong Squarespace competitor:
Excellent eCommerce platform
Easy to use
Beautiful templates
Fast site speed
Great customer support
If you are looking for a bomb eCommerce business creator, Shopify is a great pick for you. Why? It is a widely extensive eCommerce website builder that offers a variety of features and templates but manages to keep it simple to use.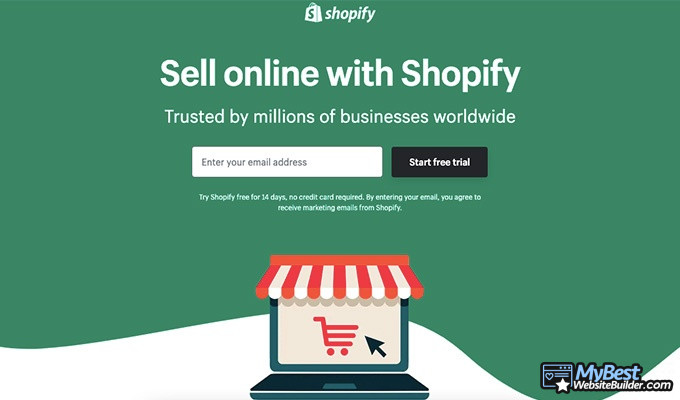 It's obvious that one of the main aspects that people consider when looking for a website builder is easy UI. After all, the key to success is working smarter, not harder. Usability is probably the major benefit that Shopify has to offer.
There is no need for any advanced knowledge because Shopify provides you with a fully-functional store, which you can modify and launch quickly. Design is also not a problem because Shopify offers a variety of beautiful templates.
However, Shopify offers around 70 templates, which, compared to Squarespace, could not be considered that much.
Another reason why Shopify is so easy to use is the variety of awesome eCommerce tools and features that comes with it. There are more than 1,200 apps that you can choose from to help scale your e-shop. Some of the most essential features that it offers include Abandoned Cart Recovery, Multi-Channel Integration, and Variety of Payment Options. Of course, out of 1,200 possibilities, these are only three.
What else is great about Shopify?
Table: Shopify features vs. Squarespace features
Do you know the feeling when you're stuck on something and spend hours searching for help? This won't be a problem with Shopify because they offer a variety of support options. Their customer support works 24/7 but what's even more helpful is their FAQ section. Also, if you need a visual answer, there are plenty of video tutorials and free webinars.
If you were looking for websites like Squarespace due to the speed aspect, Shopify has got you covered. Shopify has great speed in consideration of site load up. Of course, you always have to consider that site speed depends on many other things like location, server, the number of features it has, and so on.
Anyhow, if pricing was the deal-breaker that made you turn to Squarespace competitors, Shopify isn't necessarily the best option for you. Shopify could definitely be considered as a more expensive option of Squarespace alternatives.
What is the Price of the Shopify Website Builder?
As I just mentioned, it is quite expensive. It also doesn't have a lot of plans to offer. However, the better plan you choose, the more options and shipping discounts you get. Well, *duh*.
These are the options you have:
Note! Always check the official website because the prices may change over time.
What is great though, is that you get 14 days free, so you can try out Shopify, build a page, and check if it works before deciding which plan is right for you.
All in all, Shopify is the winner of Squarespace alternatives if you are looking for the most extensive eCommerce website builder.
[featured-coupon review_id="5"]
Conclusions
That's the complete list of the top 5 Squarespace alternatives. I've tried to keep it simple and provide you with the main benefits and drawbacks of the most worthy Squarespace competitors. I hope that you've made up your mind by now. If you haven't yet, I'll briefly summarize it for you.
So, the three main points that make people search for Squarespace alternatives are the price, the speed, and the limitations of eCommerce features.
The best alternative in consideration of the price, in my opinion, would be Zyro. Its pricing options make you look twice to check if you're not dreaming. However, if you want a completely free option (very limited though) you can choose between Webflow, Wix, and Weebly.
If site speed is the main point that made you search for Squarespace alternatives, you should check out Zyro or Shopify. They are known to have pretty fast site speed statistics.
Lastly, if you need a bomb eCommerce platform, your first choice would probably be Shopify. Or you can also check our list of best eCommerce website builders.
Anyhow, If you are interested in other website builders that are not necessarily considered as alternatives to Squarespace, you should also check our list of the finest website builders on the market.
Thanks for reading this article! Best of luck in your exploration of the website builder world! Signing off.
Leave your honest feedback
Leave your genuine opinion & help thousands of people to choose the best website builder. All feedback, either positive or negative, are accepted as long as they're honest. We do not publish biased feedback or spam. So if you want to share your experience, opinion or give advice - the scene is yours!