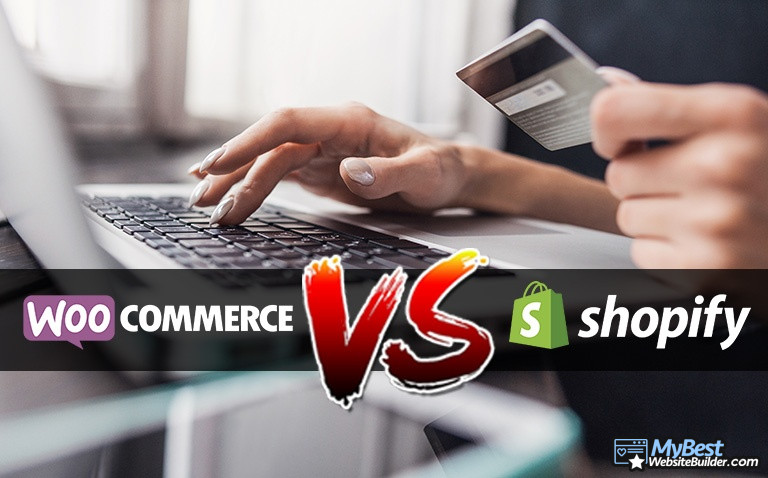 eCommerce is, undoubtedly, one of the most common reasons why people nowadays search for ways how to make a website. It makes sense, too - with the online shopping industry booming, more and more individuals are trying to establish an online-based business. Naturally, this is where comparisons such as WooCommerce VS Shopify come in, too.
Both WooCommerce and Shopify are among the most popular eCommerce-based website creation tools. However, while that might be the case, they are very different from one another, too!
Due to their innate differences, many people draw WooCommerce VS Shopify comparisons, and try to find the best option for their own wants and needs. Well, in this article, we'll do just that - stick around, and figure out which builder is best for all of your eCommerce plans!
By the way, don't forget to check out the short and data-based version of this comparison, too! After reading this article, it will surely help you draw the right conclusions!
WooCommerce VS Shopify: Comparison Criteria
Before we start discussing and comparing WooCommerce VS Shopify, the very first thing that we need to look into are the essential aspects that need to be considered when picking out the best website builder for yourself.
These aspects are universal - what this means is that, while everyone has their own preferences in regards to builders, these specific points are going to have to be present within all reliable site creation platforms.
Table: Some general information about Shopify
The aspects in question are uptime & site speed, feature variety, ease of use, eCommerce functionality, templates, and pricing. Allow me to elaborate on why each of these points are crucial to consider.
Uptime & Site Loading Speed. Uptime, as the term itself might imply, is used to calculate the amount of time that your website is online, throughout a set period of time (a month, a year, etc.). Site speed, however, is rather self-explanatory - it measures how fast a website loads whenever a user visits it. Now, both of these aspects are, admittedly, among the most important ones that you need to check, whether it be this WooCommerce VS Shopify comparison, or else. Without proper uptime and site loading speed, your website is as good as non-existent!
Feature Variety. While feature variety might sound a bit trivial at first, it's likely worth emphasizing that flashy, yet less-than-effective features don't count - reading through the WooCommerce VS Shopify comparison, you'd probably want to find yourself a builder that would allow you to create a website that's somewhat universal, and would be simple to mold into different forms, not only an online business. Admittedly, in the case of eCommerce builders, though, feature variety simply refers to the question of how many different online selling-related features does a builder have.
Ease of Use. If you've been looking into website builders for some time now (not necessarily Shopify VS WooCommerce, but in general), you might have noticed that they all have one thing in common - their main selling point is always simplicity, in one way or another. That's the original benefit of website builders, in the first place - they were made to be simplistic and approachable by everyone! Nowadays, while these tools have become more intricate, the fact of the matter still remains true - a reliable website builder should always be easy to pick up and use.
eCommerce Functionality. Funnily enough, this is a feature that you should always evaluate when picking out the best website builder for yourself between two high-end contenders. In regards to this WooCommerce VS Shopify comparison, though, well… It's even more true, albeit blatantly obvious! That being said, however, even eCommerce-dedicated website builders tend to possess different features in regards to the process of selling online, or building a personal brand. A crucial and interesting point to look into!
Templates. Website templates are a very underrated aspect, as far as finding the best website builder goes. To this day, many people don't really understand just how important templates are to the potential success of their websites! And this is true not only with eCommerce builders such as WooCommerce or Shopify, but with any and all builders, in general! They impact everything from the layout of your website, all the way up to its performance SEO-wise - that's significant! While we'll get into this from a bit of a closer perspective in a minute, it's still worth keeping in mind!
Pricing. The pricing options of website builders are, admittedly, often unpredictable. You read through some WooCommerce VS Shopify comparisons, check out a few reviews, get a grasp on what it is that the builders have to offer, and then, when you check the pricing, you're left perplexed, since it's nothing like you've expected. Well, in regards to this particular comparison, I have to say in advance - the pricing might not come out to be what you're expecting! It's obviously one of the most important things to look into when deciding on a builder, though, so we'll be discussing it, too.
While there are multiple other features that are surely important whenever you're picking out the best website builder for yourself, the ones mentioned above are, once again, crucial. If, say, a builder has all of them checked off and covered, it's highly likely that the tool is worth paying a lot of attention to!
Let's move on to our WooCommerce VS Shopify comparison, though.
WooCommerce VS Shopify: The Comparison
Following the above-given list of aspects that need to be covered, let's start off our Shopify VS WooCommerce review by taking a look at the uptime and site speed stats of both platforms.
Uptime & Site Speed
As stated earlier on in the WooCommerce VS Shopify comparison, uptime and site speed are going to be the two aspects that you're always going to want to look at first, whenever you're trying to find the best website builder for yourself.
Evidently, this is the case with each and every single website-making tool out there. That said, it's especially-so-true when it comes to builders that are exclusive to eCommerce.
The reasoning behind that is rather simple, too - if you plan to run an online business, you're probably going to want to make some money from it. In order to do that, though, your website needs to be online and reachable by your potential customers.

If the uptime provided by the builder is poor, or the site loading speed is so slow that no one's able to reach your site, you're going to lose money - something that isn't as evident with, say, a personal blog or a portfolio-based website. Makes sense!
Now, where do the builders in our WooCommerce VS Shopify comparison stand in this regard?
Shopify displays some amazing numbers, both when it comes to uptime, and site loading speed. Uptime-wise, users claim that the builder maintains a healthy 99,98% - that's a nearly-perfect uptime stat!
Thanks to our uptime calculator, we can see that this equates to around 17 seconds of downtime per day, and up to 1 hour and 45 minutes of downtime per year. That's almost unnoticeable!
Websites created with Shopify are actually reported to be rather fast, too. An average website (with average optimization, feature encumbrance, etc.) should load in around 1,5 - 2 seconds. While there are builders that offer better site loading speeds, granted that we're talking about an eCommerce-exclusive builder here, this is pretty good!
Now, when it comes to WooCommerce, things get a little bit more interesting.
Table: The speed stats of Shopify
You see, WooCommerce doesn't actually have uptime or loading speed statistics. Why is that the case? Well, as far as this WooCommerce VS Shopify comparison is concerned, WooCommerce isn't even a website builder - it's an eCommerce-dedicated plugin for WordPress.
For the user, this simply means that both of the aforementioned statistics are going to depend heavily on your web hosting provider of choice. In other words, the hosting service that you pick for your WordPress website is going to be the main, deciding factor of both the uptime that you can expect to see, and also the loading speeds that your website might reach, too.
To anyone who's interested in all-things website building, this is some good news. However, if you'd like to keep things as simple as possible, Shopify proves to be a much better alternative in this regard.
Latest Squarespace Coupon Found:
GET 10% OFF ANY PLAN
Squarespace Black Friday Sale
Squarespace Black Friday has begun: use this Squarespace coupon code to activate a huge 20% discount on ALL plans & create the most beautiful website!
Expiration date : 01/12/2021
5,827 People Used
Only 24 Left
Feature Variety
Feature variety is, obviously, an important aspect to cover, for all of the reasons mentioned earlier on in the WooCommerce VS Shopify comparison. That said, this particular comparison is rather unique in both the fact that both tools in question are eCommerce-based, and that WooCommerce isn't even a website builder, to begin with.
With that in mind, let's assume that you'd like to create a website that ISN'T oriented around eCommerce. Would that be possible with either of the two tools in question?
Well, it would be somewhat possible with Shopify. However, it's not quite possible with WooCommerce.
You see, on top of all of the business-related features, Shopify does possess a few more-general things that might be useful for anyone who wants to create a site that's not necessarily based around online shopping. The builder has things such as unlimited bandwidth and high-end customer support (that's available in a variety of different languages), both of which are surely useful for anyone looking to start creating websites online.
Then, you also have things such as an SSL certificate - the most important and primary force of defense that your website has, as far as the connection security of your site's visitors is concerned.
Table: The variety of features available with Shopify
Now, evidently, you don't need to read this WooCommerce VS Shopify comparison to understand that using Shopify for anything other than creating an online shop or some sort of a hub for your business is completely irrational. I mean, it's even in the name of the company! If you need a reliable website builder for some other purpose, there are better options around.
To say that this is even more so true with WooCommerce is a vast understatement.
WooCommerce is a tool that's been created exclusively for the purpose of allowing you to build online shops with WordPress. That's literally the one, single purpose of the plugin - whenever you take a look at the features that it has, all of them are eCommerce-based.
In other words, WooCommerce doesn't really have anything else to offer to the user, apart from online business-related tools. That said, it's also in a completely different situation than Shopify, too - WooCommerce is a plugin, and not a fully-fledged website builder. Thus, it makes sense!
So, as far as feature variety is concerned, both tools in this WooCommerce VS Shopify comparison are poor performers. However, this is mitigated by their actual eCommerce features.
eCommerce Functionality
As weak as both website creation tools might have been in regards to their feature variety, this is an aspect where the situation is radically different - being completely and utterly eCommerce-based, you would have a pretty hard time finding website creation platforms that would offer better features that either Shopify or WooCommerce.
Let's take things from the top, though, and start with Shopify.
Shopify is often hailed as the most popular eCommerce website building solution on the market. This is because, among other things, the builder allows you to create some eCommerce feature-heavy websites!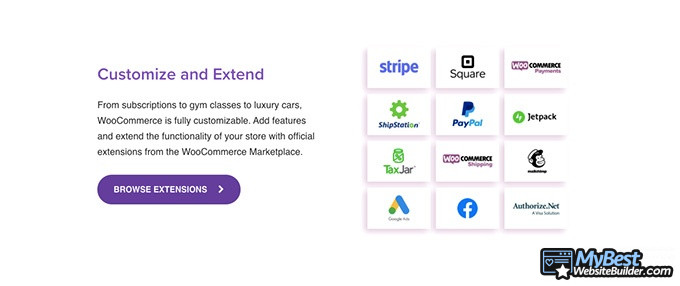 You have your standard things, such as abandoned cart recoveries, the ability to sell various different products and services (of which you can list an unlimited number of, mind you!), direct and third-party payment processors, shipping calculations, and so on. In other words, all of the core things that you'd expect from an eCommerce website builder are available with Shopify.
That being said, the website builder also allows you to manage your staff, provide financial reports, customer support, detect and analyze fraud, etc. The general user sentiment is pretty clear - with Shopify, you will surely be able to create a fully-developed online store.
As far as WooCommerce goes, the situation is somewhat similar, too. While the plugin might lack any and all features that are not associated with e-shopping, when it comes to the topic at hand, it's considered to be the single best WordPress tool for building an online shop.
WooCommerce supports over 140 different region-specific payment solutions, a large number of languages, has integrated marketing tools, and allows you to view and analyze Google Analytics, too.
Naturally, all of the core features that you might expect are also present - things like bookings, tax calculations, multiple product or service listings, easy product management on a dedicated WordPress page, mobile app support, and so on.
SHOPIFY

Great UX
Modern and stylish templates
All necessary tools for online shop
Variety of payment methods

Visit site
Read review
Table : The pros and cons of Shopify
Without a doubt, both brands in this Shopify VS WooCommerce comparison article are top-tier in regards to their eCommerce functionality. Speaking in terms that are strictly comparison-based, Shopify is yet again going to be the best alternative for anyone who wants to go the traditional website builder route - quite frankly, this would probably include the majority of individuals reading this article.
On the other hand, if you're a fan of WordPress, and would like to create your website with this specific content management system, WooCommerce remains the best choice, in this specific set of circumstances!
Ease of Use
When trying to decide WooCommerce or Shopify, ease of use is undoubtedly going to be among the top aspects that you'll want to check out and look into first.
As I've mentioned at the very beginning of this WooCommerce VS Shopify comparison, ease of use used to be the main aspect that website builders would promote in order to attract more customers. This was true during the period of time when WordPress was still the single most popular tool for building a website for yourself, and was somewhat "gatekept" by web development-proficient individuals.
You can probably see where I'm going with this.
Starting off from Shopify, the builder is undoubtedly one of the simplest-to-use eCommerce platform creation tools on the current market! Truth be told, that's actually one of the strongest areas of the builder, too - it has achieved the ability to provide its users with some of the best eCommerce tools, while retaining the simplicity part of things.
Loyal users of Shopify will tell you that the builder allows you to create websites super-fast, and has design and layout tools that will make this process extremely simple, yet rewarding. You'll be able to have a professional-looking website in a matter of minutes!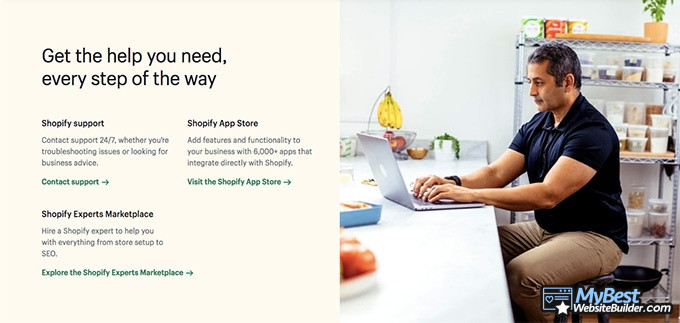 WooCommerce is, sadly, a bit of a different story in this regard. Granted that it's a WordPress plugin, though, you probably saw this one coming from a mile away.
The plugin itself isn't necessarily super-difficult to use - on the contrary, as far as WP-related functionality is concerned, WooCommerce is actually pretty straightforward. However, when placed in comparison to Shopify, it might seem like nuclear science - everything from the page creation processes, all the way to product listings are much more difficult to execute, and a lot more convoluted than with the aforementioned website builder.
All things considered, Shopify is the clear winner in this regard. The platform is going to be extremely simple to use, no matter if you've already created hundreds of websites before, or if it's your first time picking up a site creation tool, in general.
Do keep the fact that WooCommerce is one of the simpler WordPress plugins in mind, though! Sure, from a broader perspective, it's far from the simplicity aspect of Shopify, but if you've already used WP before, WooCommerce isn't going to be all that difficult to get into, either.
Templates
Website templates are important both from the perspectives of beauty and design, and also SEO- and mobile-friendliness. That's a load of responsibility!
Breaking it down, the design part is somewhat self-evident. Templates decide on the layout of your site, and the general color schemes and imagery that will appear on it - naturally, everything is usually customizable, but you can look at templates as the things that decide the general feel of a website.
If the templates offered by a builder are modern and well-made, visitors of your site will be able to enjoy their visit, and will feel the website being of high quality. The opposite can also be true, though - if you choose a builder with poor template design, and your website ends up looking outdated, this is going to be a huge deterrent for many people, and might result in you losing numbers.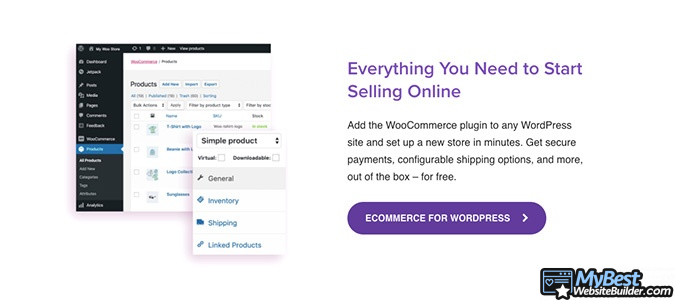 Mobile- and SEO-friendliness are also super-important. If your template is all of that, you can be sure that Google and other search engines will take this into account, and your chances of ranking higher in people's search results will thus also increase. Yet again, the opposite is completely true, too.
So, when it comes to templates, is Shopify or WooCommerce the better alternative?
Well, Shopify - but, once again, for a different reason than you might come to think.
Obviously, Shopify offers its users some amazing and well-designed templates. They possess all of the things that we've mentioned above - great design, eCommerce-optimized layouts, are SEO- and mobile-friendly, and nice to look at, in general.
Table: The design elements of Shopify
In regards to WooCommerce, the plugin doesn't really have dedicated templates - it's a tool used strictly for eCommerce-oriented purposes, and the template part is going to be a whole separate matter that you'll need to take care of in your WordPress admin area.
This is good in that you will be able to pick a decent template from the start, and will then be able to add your shop features later on, once you install WooCommerce. However, granted that simplicity is still the name of the game, Shopify is the clear winner here, since the builder takes care of both the templates, and also everything else within one, single tool.
Pricing
To finish off our WooCommerce VS Shopify comparison, let's talk about the pricing options of the two website building tools in question. While the whole comparison was rather unorthodox, I can assure you - the pricing section is no different.
If you choose Shopify as your preferred website builder, the pricing options for the company's plans are going to look like so:
Admittedly, while being an industry leader, Shopify is also one of the more-expensive website builders in this category. This can feel even more so true when you find out that WooCommerce is completely free to use.
Yup, that's right - the plugin is absolutely FREE for you to download, install, and start using. As you might expect, there are optional costs involved, but the idea remains the same, still.
Table: The pricing options of Shopify
This does put things into perspective! At the same time, it's not at all surprising - many of the WordPress plugins utilize this model of service, since most of them are made by the community or some dedicated developers.
At the same time, when it comes to this WooCommerce VS Shopify comparison specifically, I urge you to remember that WooCommerce is simply an eCommerce-dedicated plugin, while Shopify is an entire, fully-developed website builder. The difference between the two tools is vast, even though they serve very similar purposes!
Conclusions
Now, with the Shopify VS WooCommerce comparison behind us, naturally, but a single question remains - which website building solution should you pick? WooCommerce or Shopify? Shopify or WooCommerce?
Well, the choice here should actually be rather simple - the answer is very situation- and person-dependent.
As mentioned earlier on in the comparison, while both website building tools offer similar features - both of them being eCommerce-dedicated tools -, they are also extremely different from one another. One is a website builder, while the other - a WordPress plugin.
Granted that both tools are amazing at what they do, this should actually be your point of reference, too - if you're looking for a simple way to make a top-tier online store or business, Shopify is surely the way to go. If, however, you'd like to learn how to use WordPress, and want to start a shop with the CMS in question, then WooCommerce is the right solution for you.
Table: Some information about the company behind Shopify
Note, though, that if you choose to go the WordPress route, you'll need to find your own hosting, too. Check out our list of the best web hosting providers to learn more!
Also, make sure to visit our short and data-based WooCommerce VS Shopify comparison, too. If you're still not sure which option would suit you best, the visual presentation of both of these tools might help you make your mind up much easier!
With all of that being said and done, though, I'd like to thank you for reading this article, and wish you good luck with all of your site creation adventures to come!
Leave your honest feedback
Leave your genuine opinion & help thousands of people to choose the best website builder. All feedback, either positive or negative, are accepted as long as they're honest. We do not publish biased feedback or spam. So if you want to share your experience, opinion or give advice - the scene is yours!
TOP3 Most Popular Coupon Codes