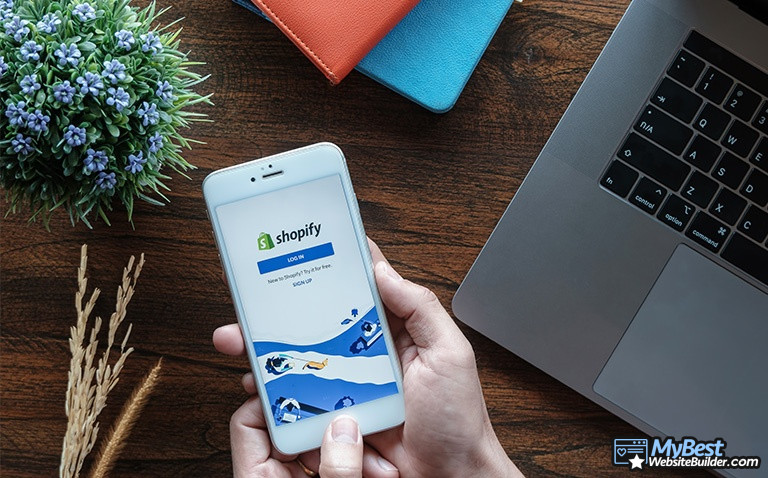 If you're thinking about starting an online business, or taking your existing business model online, you've probably looked into Shopify once or twice before. It makes sense - it's only the biggest and most well-known eCommerce website builder on the market! However, what if - for some reason - you're looking for Shopify alternatives?
Well, if that's the case, then you've come to the right place - that is exactly what we'll be talking about in this article!
To start things off, we'll have a quick summary of what Shopify is and what it brings to the table, and then we'll also cover the main reasons why anyone would want to look for alternative options for the eCommerce platform in question.
Do keep in mind, though, that we won't be looking at some unknown, never-before-heard-about free Shopify alternatives. The reason for that is very simple, too - in regards to website builders, "free" usually means "not worth looking into".
Shopify - An Industry-Leading Website Builder
At the beginning of this article on some of the more-popular Shopify alternatives, I've mentioned that, no matter what stage of business development you are currently in, chances are that you have heard about Shopify before.
Quite frankly, this should help you understand the magnitude of Shopify's influence on the website builder industry.
Indeed - Shopify is a very well-established website builder that has managed to earn itself a very specific and niche reputation. It's the "king of eCommerce websites" - the main tool that people use to build business- and shopping-related sites on the internet.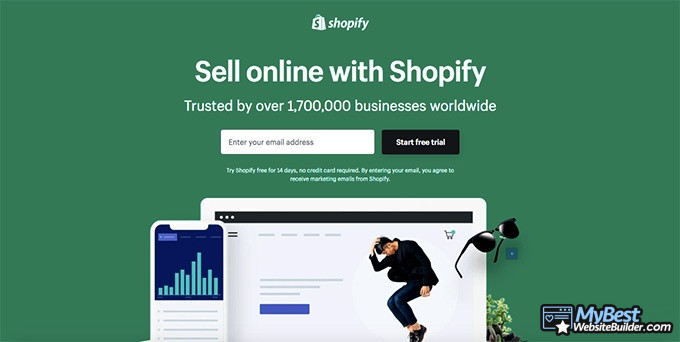 Shopify had exploded in popularity back when dropshipping was *the* hot topic. Various online-based business gurus and website creation experts would recommend Shopify for all of your dropshipping wants and needs.
To be completely honest, though, before you go ahead and explore the Shopify alternatives, you should understand that this was very much-so warranted - Shopify is super-simple to use, offers an extremely fast and efficient website setup process, has different eCommerce-essential tools to offer to its users, and a lot of additional perks to consider!
Having said that, though, this still doesn't stop people from looking for alternatives to Shopify…
Why do People Look for Shopify Alternatives?
With Shopify being as popular as it is, there is still a seemingly large number of people who are looking for reliable Shopify alternatives. Why is that the case?
Well, believe it or not, but there are a few different reasons for this.
For starters, many individuals simply do not want to pay a significant sum of money in order to access all of the advanced eCommerce-related tools. While Shopify is truly popular and established, it's also one of the more-expensive website builders in this area of expertise, too!
Admittedly, this is, yet again, where free Shopify alternatives come in. Note that they are not what I mean when I say - "less-expensive alternatives". While some of the industry-leading website builders do have free trials and some very affordable plans, sure, the completely FREE builders should (keyword) *usually* be avoided.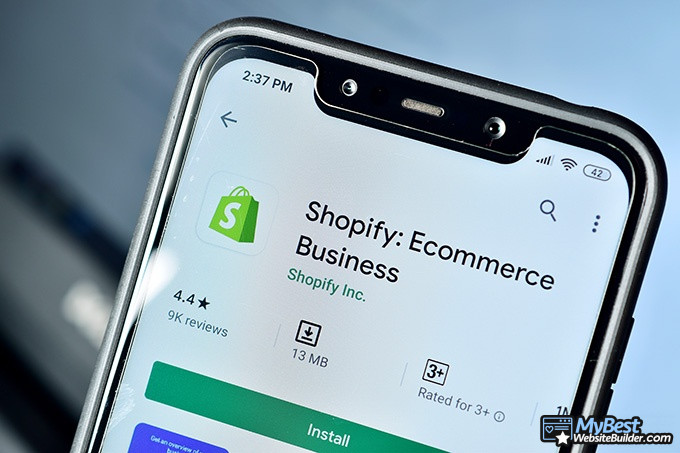 Free site creation tools offer little-to-no actually-useful features, and this is especially-so-true in regards to eCommerce. On top of that, these tools do not tend to provide things like a domain name, proper uptime (with integrated hosting), SSL certificates, and so on - not ideal.
Another popular reason why you might be looking for websites like Shopify, but better alternatives, is SEO. Search engine optimization is an absolutely crucial part of a high-end business that wants to prosper long-term. This is actually true even if you take the PPC route, and promote your business with targeted ads!
Ads are great for short-term gains. However, if you're someone who wants to establish an actual brand, this is where SEO becomes crucial. With that said, though, Shopify might not be the best website builder for SEO-related ventures.
The builder lacks SEO features, and limits the amount of customization that you might have in this regard. This, in turn, impacts your website's performance, and makes it less likely to appear in search results.
Lastly, one more core reason why you might want to check out some Shopify alternatives is the fact that, if you choose a third-party payment processing provider whilst using Shopify, you are going to have to pay a commission every time someone makes a purchase on your site.
As you might expect, this isn't good news for anyone who's looking to make notable gains with their business. While the transaction fees might seem trivial at first (2%), they will add up, over time, and can drive your numbers down significantly.
All of that being discussed and covered, let's move on and talk about some of the best Shopify alternatives, and the core features that you can expect to receive whilst using them.
The Top 5 Alternatives to Shopify
The options talked about below aren't provided in any particular order, but if there's one thing for sure, it's that all of the brands mentioned here are surely going to provide you with some great features, and can be considered as the best alternatives to Shopify, in general.
BigCommerce - An Amazing Choice for large-Scale Businesses
BigCommerce, as the name likely suggests, is a website builder with CMS-like features, and that is designed to cater to anyone who's looking for a site creation solution for large-scale business development.
Now, let's break down what all of that means, shall we?
For starters, BigCommerce will provide you with the scalability and resources to grow your business almost indefinitely. Sites created with the website builder in question come with some amazing uptime and loading speed stats, so you don't need to worry about managing and upkeeping this part of the equation.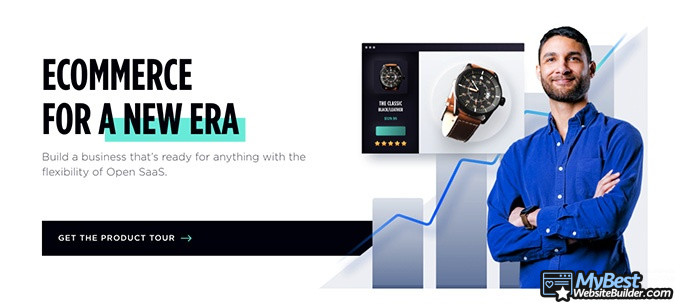 Following that, though, BigCommerce offers users a huge number of advanced features, without you having to pay large sums of money for the top-level plans. Every single plan of the builder comes with both the essential things that you might need, and also various additional tools that anyone looking to sell online is going to appreciate.
Remember when, talking about the SEO features of Shopify, I've pointed out that the builder is lackluster in this regard? Well, if you were to pick BigCommerce as one of your preferred Shopify alternatives, this wouldn't be an issue, either - the site creation tool in question comes equipped with some high-tier search engine optimization tools, and has SEO-friendly template designs, as well.
On the flip side of things, if you're looking for websites like Shopify, it's worth mentioning that the difference in difficulty level is quite notable between the two platforms. Shopify is, admittedly, super-simple to use - not necessarily the case with BigCommerce, though.
Table: The features of BigCommerce
While the website builder does have drag-and-drop functionality, and requires no prior coding knowledge in order to pick up and use, it's loaded with different features, and has CMS capabilities, too. This, in turn, means that the learning curve is a bit steeper, and you'll have to spend some time figuring out the intricacies of the tool.
Admittedly, though, if you're looking for Shopify alternatives that would be suitable for large business ventures, this shouldn't be an issue.
What is the Price of the BigCommerce Website Builder?
So - BigCommerce is notably a very decent and rather popular website builder that has a lot of advanced features, and should suit anyone who's looking to create a large-scale business, and maintain it long-term. However, is BigCommerce pricing also better than Shopify?
Well, let's take a look:
Surely, BigCommerce isn't a very affordable website builder if you compare it with some general-purpose high-end tools. That said, when placed together with Shopify, the prices are somewhat similar - and you receive a lot of the advanced and additional features with the lower-priced plans of BigCommerce, too! Definitely one of the better Shopify alternatives!
Latest Zyro Coupon Found:
GET 81% OFF
Exclusive Zyro Black Friday Deal
Hurry up & take advantage of this limited-time Zyro Black Friday Deal - SAVE up to 81% + 3 monts FREE. Use this exclusive coupon code for additional 20% discount & save big on the top-rated website builder.
Expiration date : 07/12/2022
5,837 People Used
Only 41 Left
Wix - Ease of Use, Designer-Made Templates
While Wix might not necessarily be the first website builder that you think of when you're trying to find some Shopify alternatives, interestingly enough, the builder offers a very well-made eCommerce-dedicated service.
For starters, Wix is probably most well-known for its ease of use factor. It's one of the simplest website builders in the entire industry, and requires no prior knowledge of coding or other website creation processes in order to use it to the fullest extent. This means that, if you're just starting out, and are looking for websites like Shopify, but better, Wix could prove to be a great alternative!

Following that, the builder in question comes equipped with over 500 different, designer-made templates. This is amazing news from the user side of things - it means that you will be able to create a unique-looking eCommerce site, without worrying that there will be hundreds of similar sites around, on the web.
Now, a point worth mentioning here is that the above-talked-about templates aren't necessarily very SEO-friendly. Wix does offer some SEO customization features, sure, but they are still going to be rather poor when you compare them to, say, CMS feature-possessing platforms like BigCommerce.
In regards to Wix being one of the best Shopify alternatives, probably the biggest point worth stressing is the fact that Wix offers a huge number of different eCommerce-related features, for a fraction of the cost that you would pay on Shopify.
Table: Features of Wix
With Wix, you'll be able to manage your business on multiple different social media and shopping-related platforms (Facebook, Instagram, eBay, etc.), will be able to sell subscriptions, integrate different payment methods, and so on. The builder even has branding-specific tools - ones that will allow you to build a brand logo, generate a name, and more.
Unlimited bandwidth, ad vouchers, custom reports, unlimited product placements… There's a lot to love! As you can imagine, these are some of the main reasons why people claim Wix to be one of the best Shopify alternatives.
What is the Price of the Wix Website Builder?
As alluded to earlier, compared to Shopify, Wix does offer its potential users some amazing pricing options. Take a look for yourself:
Yup, your eyes aren't playing tricks on you - those are the actual prices for Wix's business-related plans! Now, if that doesn't make Wix one of the best Shopify alternatives (coupled together with all of the aforementioned features, of course), I'm not sure what will!
Squarespace - Simplistic and Beautiful
While Squarespace might seem like an unlikely pick for being one of the better alternatives to Shopify, I urge you to reconsider - the builder has a lot of features up its sleeve.
Squarespace is considered to be better than Shopify for anyone who has an artistic side to them, and is looking to create an art-related eCommerce site. Say, you're planning to sell your digital art, or even music - if you value the way your website looks, in general, you won't go wrong with Squarespace.

How is that so? Well, Squarespace offers users some of the most beautiful website templates on the entire market. They are super-modern, designed by professionals, and also surprisingly intuitive to use, too - you can create a custom-looking, high-end feature-possessing shopping website in no time!
Sites created with Squarespace are also known for having some great uptime statistics, too. Obviously, this is one of the most important features to consider when looking for an eCommerce-related builder! Without proper uptime, your website might experience a lot of downtime-related fluctuations - this, in turn, means that visitors won't be able to access your website. Not good. Also not a problem with Squarespace, though!
Table: Features of Squarespace
With the builder in question, you will be able to sell both physical & digital products and subscription services, provide discounts, manage orders, give out gift cards, allow customers to create accounts, and so much more. While Squarespace might not be as business feature-heavy as, say, BigCommerce or even Shopify, it provides an amazing gateway for anyone who's looking to create smaller-scale websites.
I probably don't need to mention this separately, but Squarespace is among the simplest-to-use website builders on this list, too. So, if you're new to the topic of website building, this is some great news!
What is the Price of the Squarespace Website Builder?
Choosing Squarespace as one of your main Shopify alternatives, these are the pricing options that you can expect to see:
A super-affordable alternative to Shopify!

Did you know?
Zyro - Full eCommerce Functionality
It seems just like a few days ago Zyro was an up-and-coming website builder with a lot of potential, yet a long road ahead of them. Well, it would appear that the road wasn't as long as it might have seemed to be - very quickly, Zyro became one of the top-rated website builders on the market, competing with the industry giants and even proving to be one of the best Shopify alternatives, too!
Now, naturally, you may inquire - what makes Zyro so special? Is it perhaps one of the free Shopify alternatives? Or maybe it's an eCommerce-specific builder?

Well, no and no. However, Zyro brings a lot of cool and useful tools to the table - tools that might prove to be a lot more unique than you'd think!
Zyro has features such as an AI writer, and even a heatmap that shows you the parts of your website where visitors are going to be paying the most attention to. Needless to say, such features could be a gamechanger for all-things-eCommerce.
With the help of the aforementioned tools, you could improve your website drastically, and take it to the next level, both content- and design-wise. The AI writer will prove to be a great tool for SEO-related functionality, while the heatmap is going to be a huge help when it comes to designing your website, as a whole, and placing certain elements in the more attention-heavy parts of the website.
Flashy features are cool and all, but they don't necessarily make Zyro one of the best Shopify alternatives. The builder does, however, have a lot of eCommerce-specific features to offer to its users, too.
Depending on your plan, you can expect things such as unlimited product placements, 100% commission-free sales (how's that for a builder that's better than Shopify?), social media stores, gift cards, order management, tax calculations & management, discount integrations, and more. It's obvious that Zyro surely does possess all of the core functionality of a reliable eCommerce builder, and then some.
Table: Features of Zyro
Lastly, on top of all of that, it's also notable that Zyro is super-simple to use, too! The aforementioned high-end features are integrated into the functionality of the builder quite seamlessly, so you don't need to worry about going out of your way to find them.
Zyro is also a drag-and-drop website builder, too, which means that you won't need any coding knowledge in order to pick it up and start creating the best website for yourself and your business.
What is the Price of the Zyro Website Builder?
As far as business-specific plans go, Zyro has two options:
The prices above are displayed with a discount - in order to make sure that the pricing options are still the same, make sure to check the company's pricing page!
That said, I think it's safe to say that Zyro is one of the most affordable alternatives to Shopify!
Weebly - Top-of-the-Line Usability
Does an uptime of 99,98% sound good to you? What about over 350 different apps that you can utilize to grow your business, and expand the reach of your brand?
If you've answered "yes" to both of those questions, then Weebly might just be the next best Shopify alternative for you!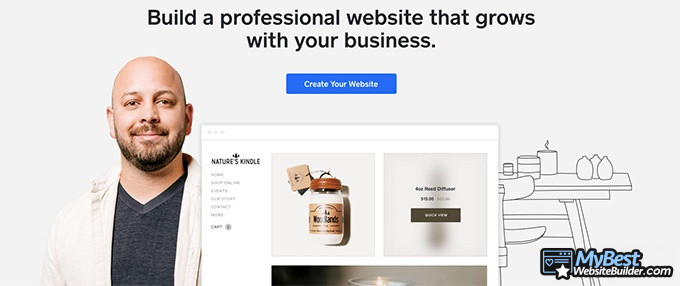 Weebly offers users a wide assortment of features and benefits, not unlike Shopify. The templates that the builder provides are modern and sleek, and will thus provide you with the chance to create a beautiful website for your business and eCommerce-related needs.
Furthermore, by choosing the builder in question as your preferred business site creation tool, you will have the chance to receive an unlimited amount of storage, a free SSL certificate, site-wide searches, and the chance to connect a custom domain to your website.
Evidently, Weebly does offer its users various eCommerce-related features, too - coupon codes, reviews, third-party payment processors, shipping discounts, and more. While the features available with the builder aren't necessarily going to be ideal for bigger-scale businesses, they should suit any of the low- to medium-sized eCommerce platforms.
Table: Features of Weebly
The downsides? Well, the only notable shortcoming that some user Weebly reviews emphasize is the fact that the builder lacks in the realm of site speed. While it's nothing major, when it comes to Shopify alternatives, admittedly, Shopify is still going to be a better pick here, if website speed is your deciding factor.
What is the Price of the Weebly Website Builder?
Think Weebly is one of the right Shopify alternatives for you? Well, if that's the case, check out the available pricing options of the builder's business plans:
Admittedly, the Pro plan comes with some very limited features, as far as eCommerce is concerned. That said, the company itself states that the Business Plus plan is going to be great for small businesses and stores, alike. Very decently-priced, that's for sure!
Parting Statements
Up to this point in the article, we've discussed some of the best Shopify alternatives that are currently available for you to use. However, I'd still like to emphasize a point made earlier on regarding free Shopify alternatives.
As a general point, Shopify is a great website builder - that's obvious. It has a wide array of features, is simple to use, and will suit most people's wants and needs. Granted that it's an eCommerce-oriented builder, though, it makes sense that the plans are going to be costly, too.

Following that, what doesn't really make sense is the fact that there are some "free" website builder alternatives out there. As you can imagine, due to all of the advanced features of business-related builders, a "free" option is simply not possible - there will always be some sort of a catch.
The one exception here would be WooCommerce - however, as you can probably tell, it's a bit more nuanced than that.
You see, I didn't include WooCommerce in the above-given list simply because of the fact that, as far as Shopify alternatives are concerned, WooCommerce isn't a builder - it's a plugin for WordPress.
Yes, WooCommerce is free to use, and yes, it has some amazing features for everyone who's WordPress-savvy. That aside, though, you DO have to be WordPress-savvy in order to use WooCommerce to its fullest extent, and on top of that, you would have to take care of your own hosting needs, too. That's a lot of hassle!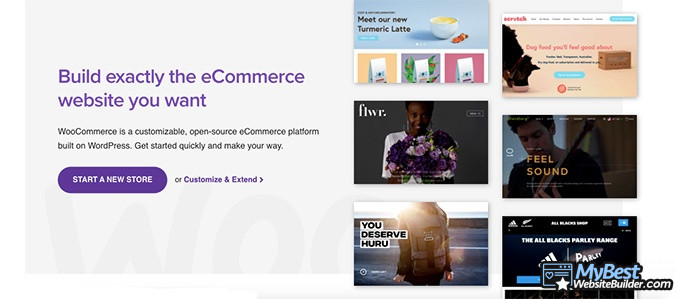 If you're somewhat coding-proficient, sure - WooCommerce and WordPress could be better than Shopify. Truth be told, given the unbelievable customizability of WP, there really is no limit to what you can do with a combination like that - the internet is your playground!
However, if you're short on time, and aren't too keen on learning how to use WordPress, this will prove to be a poor alternative to Shopify.
Conclusions
So - that's the list of the best Shopify alternatives! I've tried to keep the list rather varied, and not focus exclusively on one, single point (i.e. only the cheaper options than Shopify). Thus, anyone who's thinking about creating an online business should find a suitable builder for themselves, no matter what that business might be!
If you feel that Shopify isn't really the right platform for you, do make sure to check out the builders that we've discussed in this article. Following that, if, by looking for Shopify alternatives, you've decided to branch out and not exclusively focus on the business side of things, you could also check out the best website builders, in general!
Table: Some general information about Squarespace, Zyro, and Webflow
Finally, if you feel up for a challenge, and have a lot of time on your hands, you could surely look into WooCommerce and WordPress, too. However, in order to do so, you'll need to sort out your hosting, first - this can be done by reading our list of the best website hosting providers of the year, and picking one that suits your needs the best!
With all of that said, thank you for reading! I wish you the best of luck with all of your eCommerce-related adventures to come, whether it be with Shopify, BigCommerce, WordPress, or any other platform out there! Cheers, and until next time!
Leave your honest feedback
Leave your genuine opinion & help thousands of people to choose the best website builder. All feedback, either positive or negative, are accepted as long as they're honest. We do not publish biased feedback or spam. So if you want to share your experience, opinion or give advice - the scene is yours!