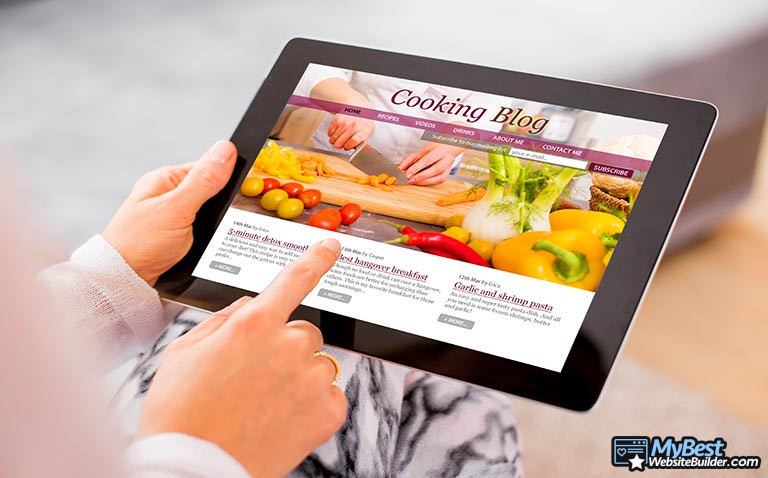 Food websites are slowly becoming more and more popular, all around the web. No matter where it is that you look, there's bound to be a food-related site lingering around - why is that the case, though?
Well, probably for the same reasons for which you're currently reading this article - they're really fun to make, and are a great way to both showcase your hobbies, and also even establish a career, too.
Since each and every person who's set on creating food websites needs some inspiration, today, in this very article, I'll show and tell you a bit about the best food websites designs, and how you can incorporate them into your own site.
First things first, though - let's talk about the actual creation process of a food-related website, and what website builders like Zyro, Squarespace and Shopify have to do with it.
Food Websites, and How to Make Them
While some of the best food websites can look super-fancy and sleek, behind each of them, there's usually a pretty clear formula of how they are made.
In the vast majority of cases, this involves zero technical knowledge, and you also don't need $100,000 in order to start creating. In fact, you're going to need much, MUCH less than that.
The primary tool with which most food websites are created is called a website builder. These tools, as the name implies, are specifically designed to help people with no prior knowledge and experience in the field of IT to create stunning and beautiful websites.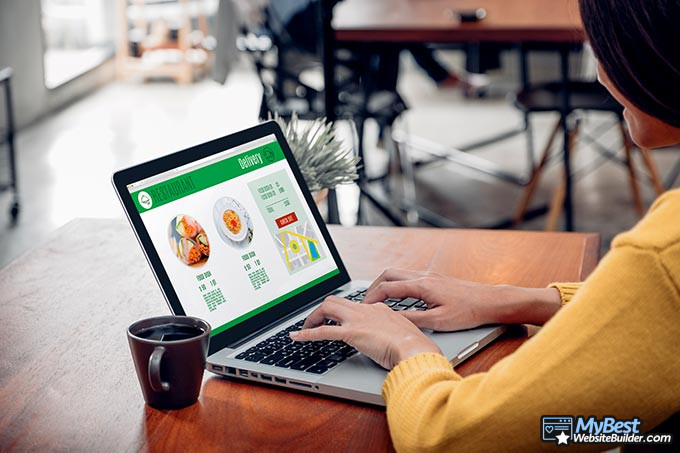 You know what's the best part? This can be done in a matter of hours, if not minutes.
There's no "catch", either. All that you need to do is follow a few guides based on your builder of choice, and you're golden.
In addition to a decent website builder (think: Squarespace or Zyro), you should make sure that you have all of the required photos. I mean, the great thing about food websites is that they showcase not only some recipes or food-related discussions, but also photos to accompany them. In fact, photos are probably the cornerstone of any food site out there!
Naturally, you're also going to want to make sure that your website builder does both provide you with the possibility to pick a fully-functional, modern and beautiful template, and that there are additional features that you could add to your site, too.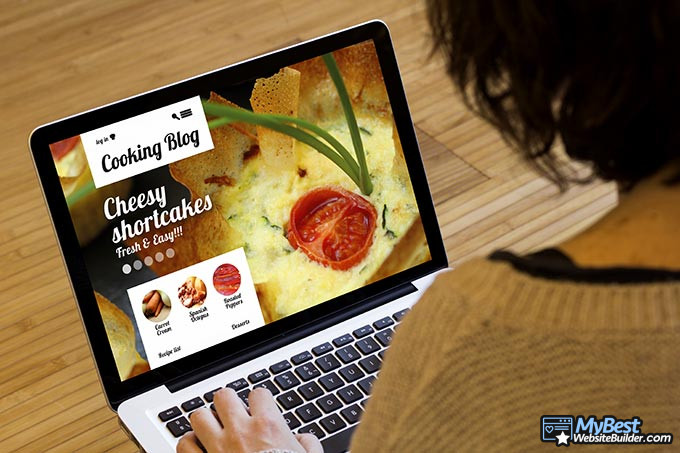 What are those additional features, you may ask? Well, it can be anything, really - depending on how unique you want your website to be, and on the direction that you wish to take it, these features can include everything from eCommerce all the way up to some online seminar hosting tools, contact forms, galleries, and so on.
Now, with all of that being said and out of the way, let us move on and discuss some 25 examples of beautiful and functional food websites.
1. Sakara (sakara.com)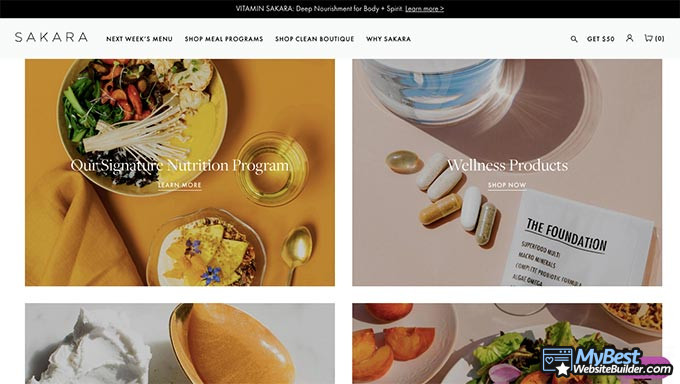 Sakara boasts a very stylish website design. When it comes to food websites, it's one of the more modern platforms - here, you'll find everything from intricate transitions all the way up to some nice, visually-driven sections.
Made with: Shopify
Latest Zyro Coupon Found:
71% OFF + 3 MONTHS FREE
Zyro Exclusive Offer
Hurry up to save big on Zyro - the most trending website builder in the market! Build your high-quality website fast & get 71% off + a BONUS of 3 FREE months.
Expiration date : 10/10/2022
4,837 People Used
Only 19 Left
2. Binging With Babish (bingingwithbabish.com)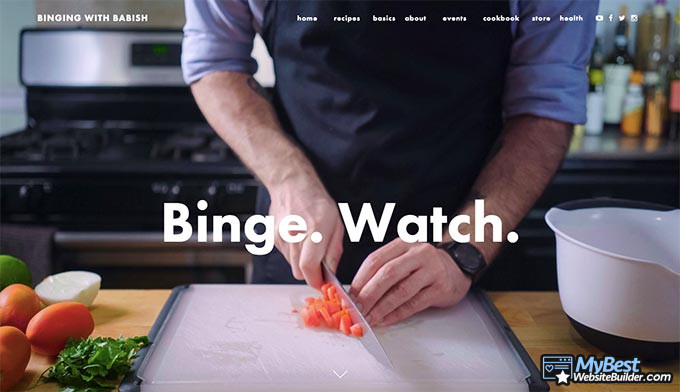 bingingwithbabish.com is a good example of a food-related website that has a wide variety of different widgets integrated into it. Event planners, contact forms, recipes, eCommerce functionality - you name it! It's an established site, and is also very visually-appealing, too.
Made with: Squarespace

Did you know?
3. Epicurious (epicurious.com)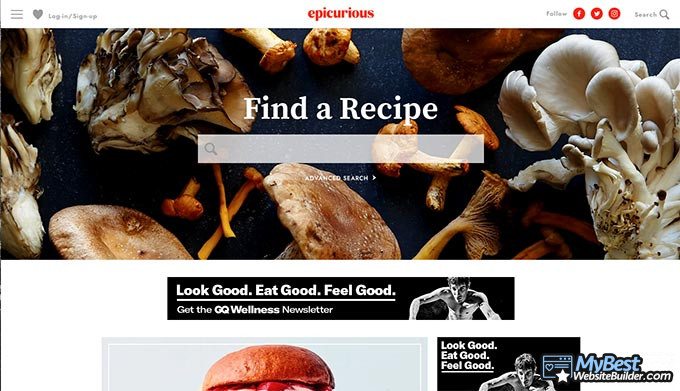 At first glance, Epicurious might seem a bit, well… Chaotic in its design. Having said that, though, upon taking some time and studying the site, you'll notice that this is mostly due to the simplicity aspect of its design. Surely one of the more interesting food websites!
4. Appetite for China (appetiteforchina.com)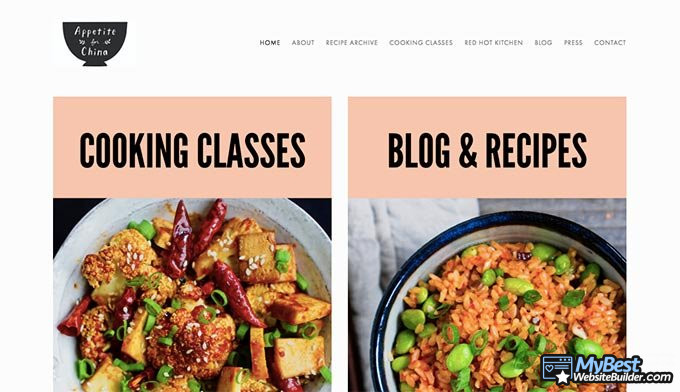 Appetite for China is straightforward in its design, and the interesting thing about this site is that it has quite a bit more textual information than that of the visual kind. Still, due to the font and text placement choices, it's not overwhelming. Still, it would seem that the site has no SSL, so your connection to it is not secure - make sure your website isn't going to have an issue like that!
Made with: Squarespace
5. Sethlui (sethlui.com)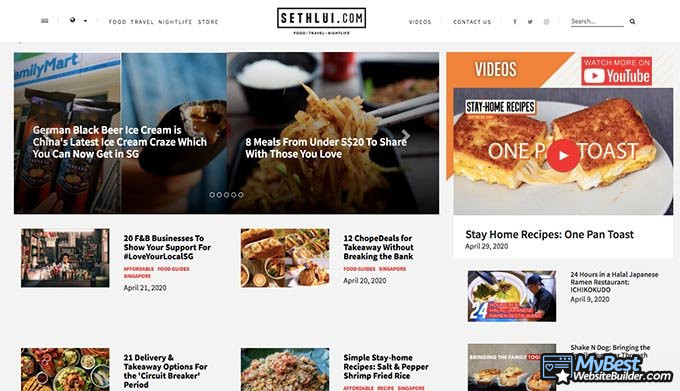 Sethlui is a pretty loaded example of the best food websites on the web. The site features a lot (and I do mean - A LOT) of different information. At first glance, it's a bit cramped, but that's not a "mistake" on the creators' side of things - rather, it's a style-based choice.
Made with: WordPress
6. Food Republic (foodrepublic.com)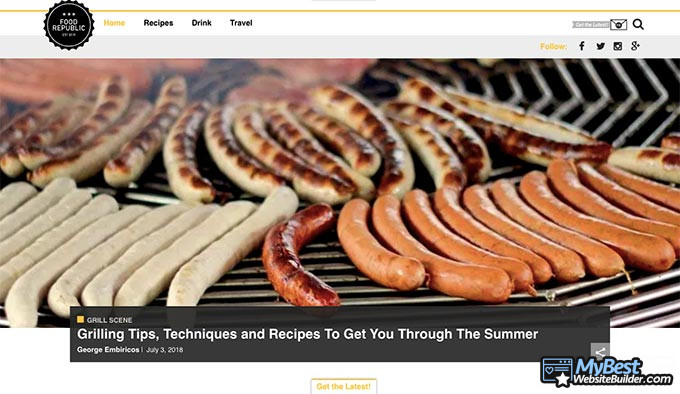 Food Republic is unique on this list of the best food websites mostly because it features a rare content viewing mechanic - an "endless" scrollable homepage. While it's not everyone's cup of tea, the fact that the content is showcased in video form does make it up.
7. Jamie Oliver (jamieoliver.com)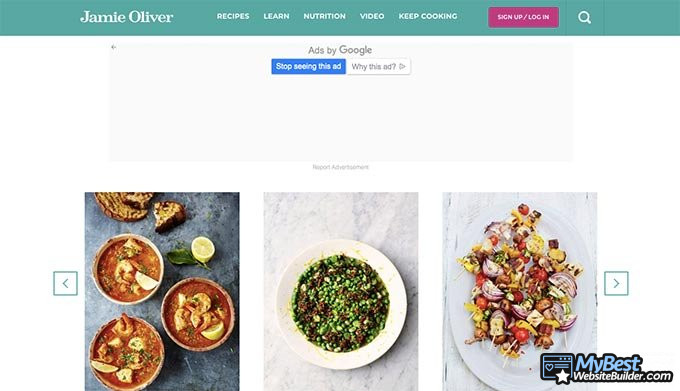 Quite frankly, it would be impossible to talk about food websites without mentioning Jamie Oliver. Mr. Oliver's website features a clean, somewhat sterile design, with different pages being accessible via drop-down menus. The only issue that I'd take with it is the ad placement, and the size of the actual ad banner itself - it's very "in your face".
8. UpNature (upnature.com)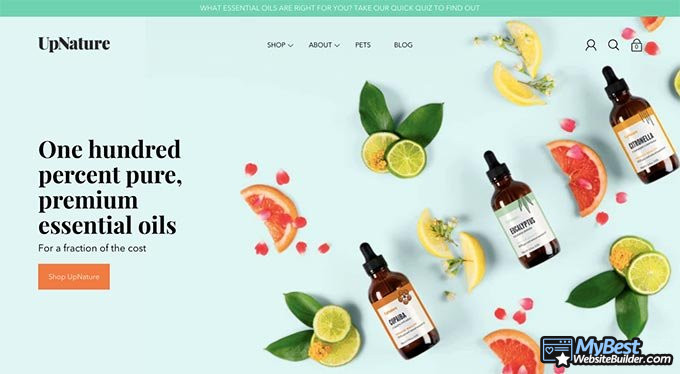 Now, if you want a modern and food-based site design, then UpNature is the place to visit. It has everything - proper, high-quality images, smooth transitions, and so on. When it comes to the best food websites designs, this platform is surely at the top!
Made with: Shopify
9. Heavenlynn Healthy (heavenlynnhealthy.com)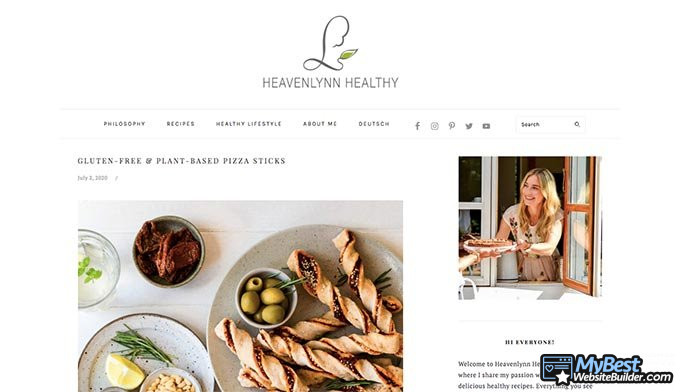 A good example of a cozy and inviting website, heavenlynnhealthy.com utilizes a single color scheme, and has a pretty good balance of textual and visual information. The site is also available in German, too!
Made with: WordPress
10. Culinaria (culinariafoodandwine.com)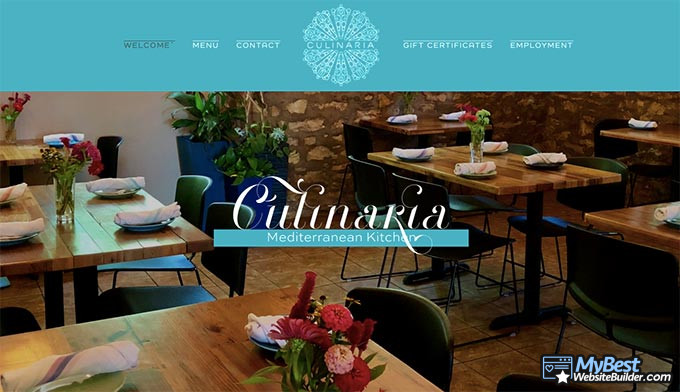 Culinaria is an amazing example of a professional-looking 1-pager. The entirety of the website is concentrated on a single page - it's quite enough, though! It serves all of the purposes that the creators want it too, and - as noted above - also looks very professional, too.
Made with: Squarespace
11. Otto Pizzeria (ny.ottopizzeria.com)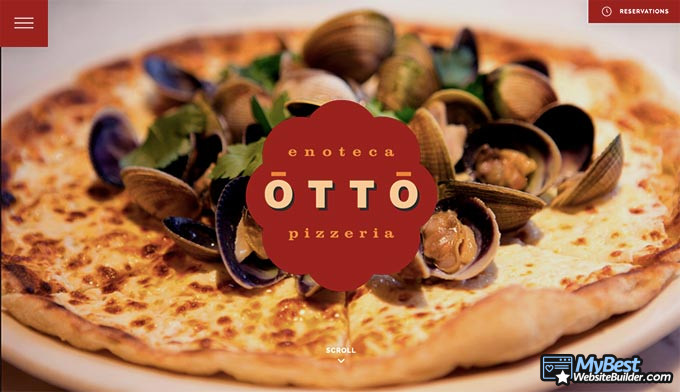 Otto Pizzeria, while not possessing very spectacular inner pages, has seemingly put all of their efforts into creating a stunning front page. Seriously - if you're looking for food websites in order to get inspired, you'd surely do well to visit the site in question and take a look for yourself!
12. Milk Bar (milkbarstore.com)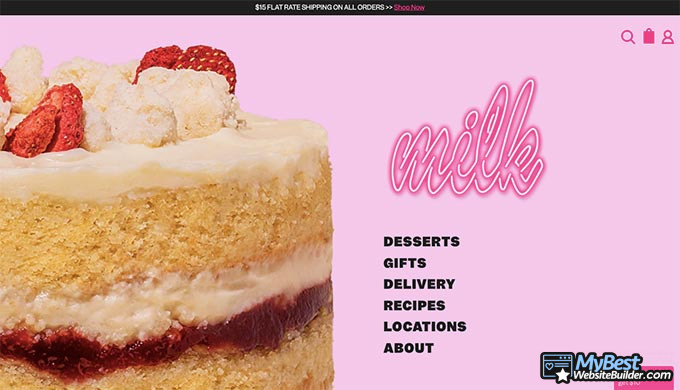 Milk Bar features a very fun-to-view website. The homepage itself is a good example of how to keep things pretty simple on the technical side of things, yet still present everything in a very beautiful fashion. Definitely one of the better food websites out there!
Made with: Shopify
13. Mica (micarestaurant.com)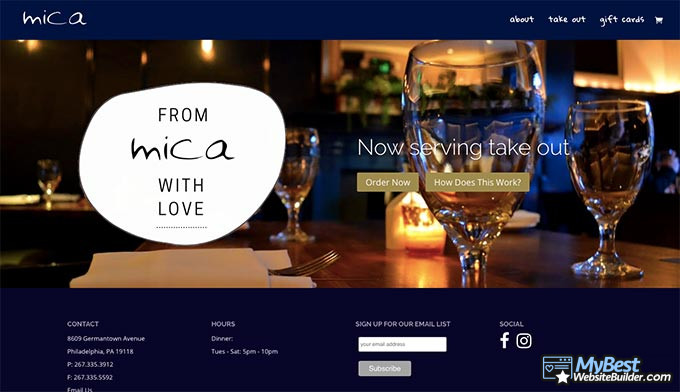 Admittedly, micarestaurant.com might not be the most visually-driven option out of all of the food websites mentioned on this list - probably quite far from it. Still, the site is charming in its simplicity, and is one that can be created in but a few minutes, for sure.
14. Keith Cakes (keithcakes.com.au)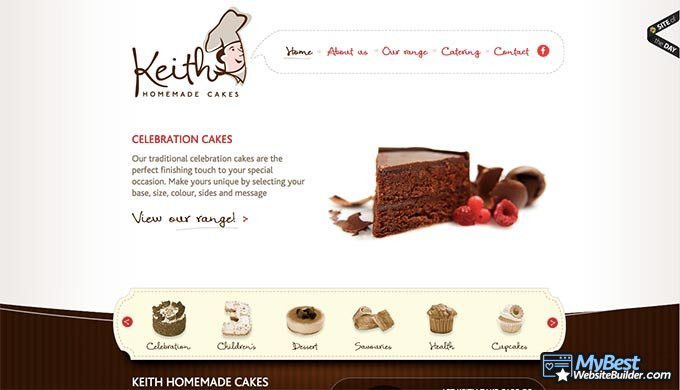 Keith Cakes is yet another website that's rather charming in how simple it is. That said, it does also have a distinct and recognizable style - both font-wise, and when it comes to the imagery, as well.
15. A Fork and a Pencil (aforkandapencil.com)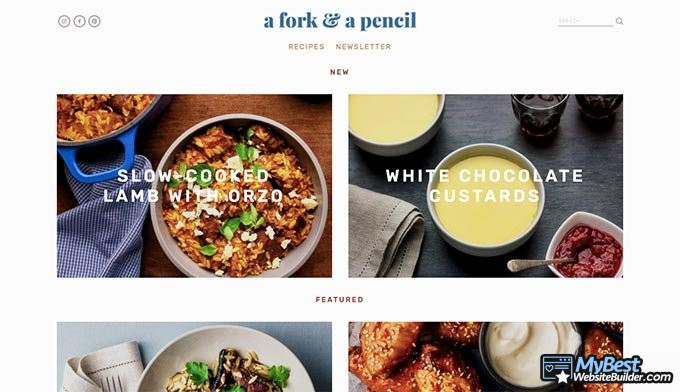 A Fork and a Pencil is modern, sleek and nice to use. It's segmented into different sections, and has smoothly-transitioning panels, too. A good example when it comes to the best food websites designs!
Made with: Squarespace
16. Jo Cooks (jocooks.com)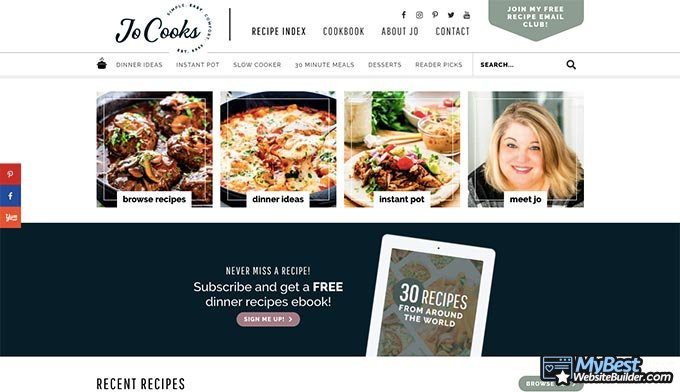 In regards to jocooks.com, this is one of those food websites that are great examples of how to manage bigger loads of content in a way that would still look presentable, and even visually-appealing, to an extent, too. The section number seems just enough, and each page houses a select amount of information, too.
Made with: WordPress
17. A Perfect Plate (aperfectplate.co)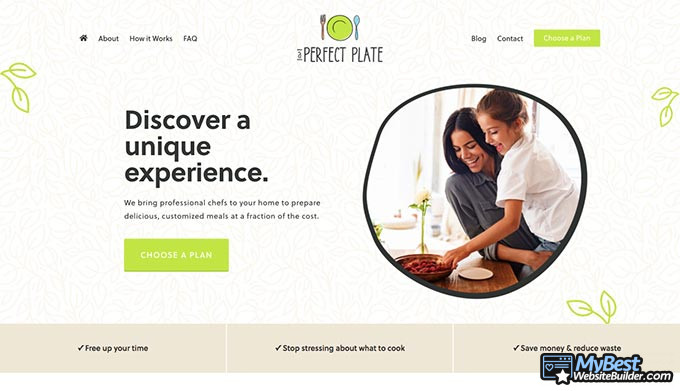 A Perfect Plate is one of those food websites that utilize the now-popular template form where most of the information is presented on the homepage, with modern and smooth transitions placed in between each of the different sections.
Made with: Squarespace
18. Niedlov's Bakery (niedlovs.com)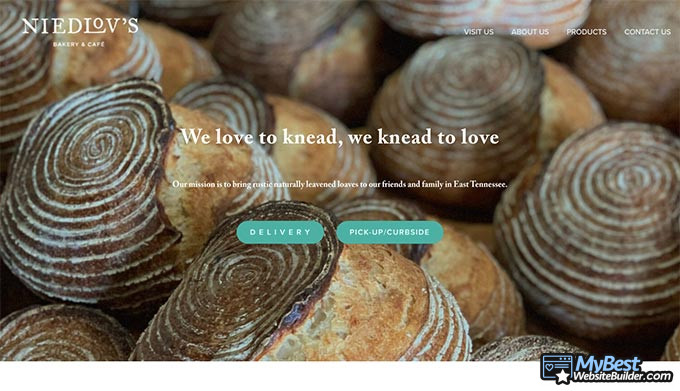 Niedlov's Bakery bases almost the entirety of its site in the form of photos. When it comes to the best food websites, though, the one thing that stands out with Niedlov's is the unique font that the platform utilizes - definitely distinct!
Made with: Squarespace
19. Chipotle (chipotle.com)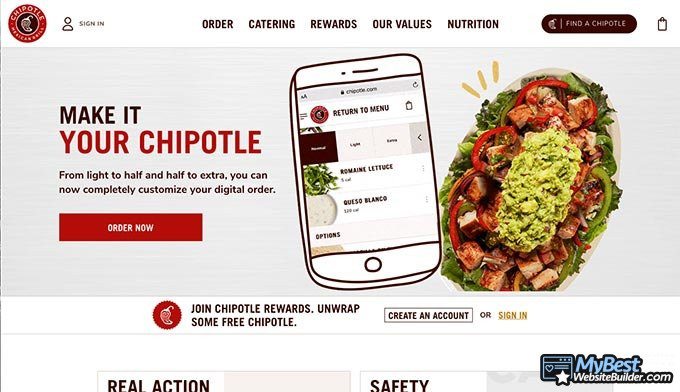 Naturally, Chipotle is a very well-known brand. Their website represents the professional side of the world of food websites - frankly, it's an amazing spot to search for inspiration, since the company is at the top of the game.
20. Phoenix Vegan (phoenixvegan.com)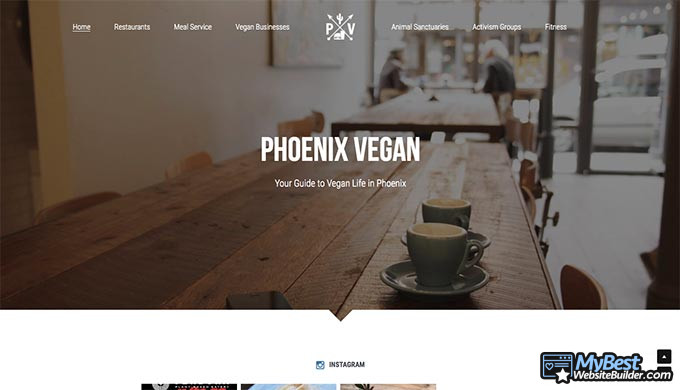 A site with a good cause, Phoenix Vegan should be referred to if you're thinking about creating a website that's mostly based out in textual information. While it does not have the best images, the written word here is placed in decently-positioned areas.
Made with: Strikingly
21. Craft Gin Club (craftginclub.co.uk)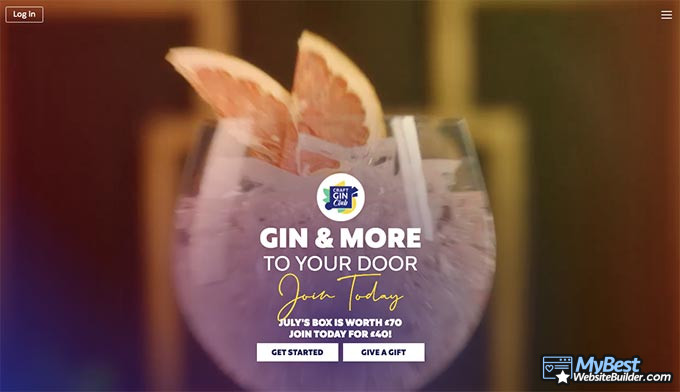 It's not often that you'll find yourself visiting food websites that would have a video playing in the background of their front page, but craftginclub.co.uk is one of those sites. While it's a slippery slope, the site in question has managed to pull it off quite well!
Made with: Squarespace
22. Brussels Bistro (brusselsbistro.com)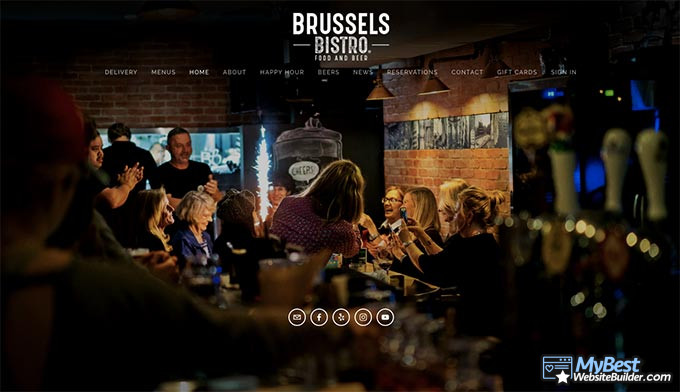 Brussels Bistro has a very distinctive, unique vibe to their website. It's quite simplistic in nature, yet that's kind of the beauty of it, too - due to the somewhat-unique design choices, the site would probably look quite odd if it was to have some intricate features and details.
Made with: Squarespace
23. Cookie + Kate (cookieandkate.com)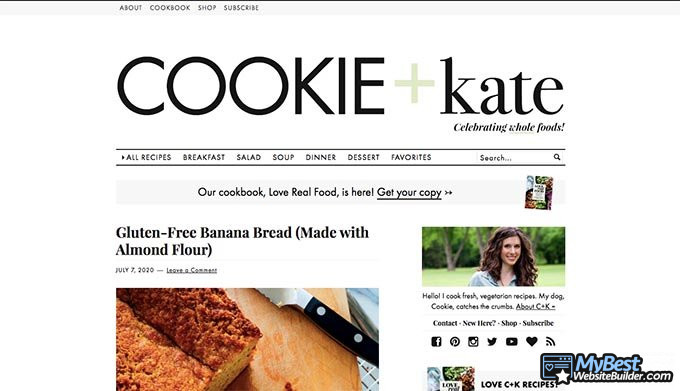 cookieandkate.com is a prime example of food websites that can be created by individuals in a short period of time. The site houses a significant amount of content, has multiple different sections, and is quite fun to navigate through, too.
Made with: WordPress
24. Rachael Hartley Nutrition (rachaelhartleynutrition.com)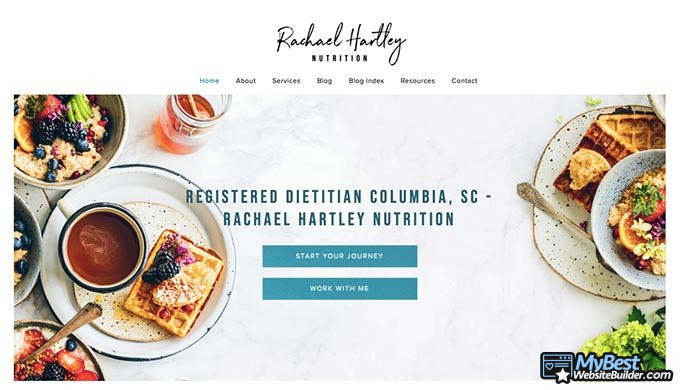 Rachael Hartley's website looks professional - that's kind of the main shtick here, too. While the amount of textual information might seem overwhelming, it does blend into the overall structure of the website.
Made with: Squarespace
25. G2 Geogeske (g2geogeske.com)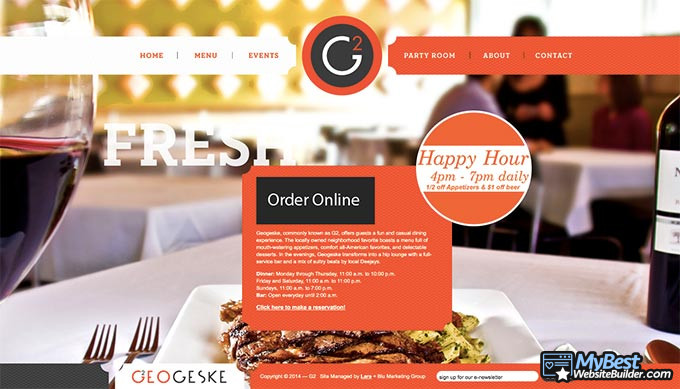 To finish things off, we have another simple, yet well-made platform - g2geogeske.com. When it comes to the best food websites, in this particular platform, everything feels rather unified and "on the same page". In other words, the style of the site remains the same all throughout - pretty good!
Conclusions
I do honestly hope that the 25 examples of the best food websites mentioned in this article have inspired you to create an amazing and modern food-based platform of your own. Do check out some of the top industry website builders to help you out, too! Perhaps Zyro or Shopify will be the tools that help you create the best food site of your own?
Leave your honest feedback
Leave your genuine opinion & help thousands of people to choose the best website builder. All feedback, either positive or negative, are accepted as long as they're honest. We do not publish biased feedback or spam. So if you want to share your experience, opinion or give advice - the scene is yours!