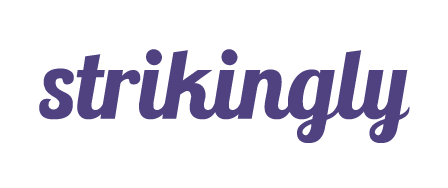 While many website builders in today's market buzz about creating fully-fledged, top-tier websites with layers and layers of pages on them, there's actually a market for single-page website builders, too. In this Strikingly review, we'll be taking a look at one of the more well-known builders in this category.
Admittedly, creating a single-page website has many benefits as far as website makers are concerned. However, it also puts a bigger responsibility on the company behind the builder to "do things right" - if your focus is a single-page layout, there's little to no room for error.
Judging from all of the customer Strikingly reviews, has the builder managed to maintain a good reputation? Well, let's take a look.
If you're not interested in single-page website builders, you should check out more flexible options, such as Squarespace and Zyro.
TL;DR: Customer Strikingly reviews are rather split when it comes to the general opinion about this website builder. Some users enjoy the fact that Strikingly is very easy to use and has built-in eCommerce features, while others complain about the expensive pricing options and lack of SEO.
Pros
Great for single-page websites
eCommerce - supported
24/7 support
Cons
Expensive
No refunds
Lacks in SEO functionality
Strikingly Review: PROS
You've probably got the idea by now, but Strikingly is mainly focused on allowing users to build smooth and well-designed single-page websites.
That being said, though… What is a single-page website?
Well, just as the name implies, a single-page website is one where all of the content is focused and displayed on a single, often scrollable page (the homepage). While it may seem counterintuitive at first, there are actually a lot of benefits to creating this type of a website.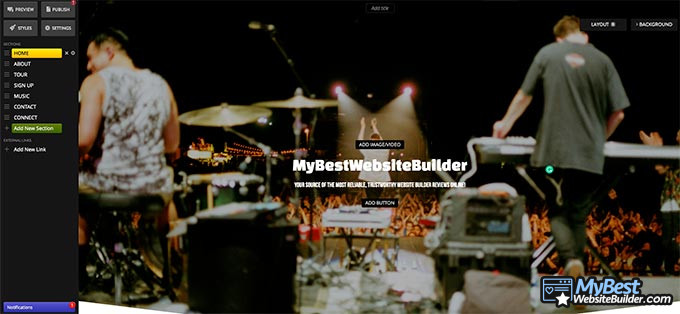 First of all, naturally - speed. A single-page site will take you quite a bit less time to create than a multi-page one. This means that you'll be able to create multiple different one-page sites rather fast - this is ideal if you need to market single products, showcase single photo galleries or write single-type articles, all separated from one another.
Furthermore, if you're an absolute newcomer to the website builder industry, have zero experience with programming or web development and just need a simple site fast - great! A single-page-focused website builder is going to allow you to get a pretty good entry feeling, and perhaps will inspire you to continue creating websites as a hobby.
Easy to Use
The most obvious benefit (other than speed, of course) that many Strikingly reviews note as far as single-page focused website builders have is simplicity.
When you're designing a website, you want the process to be as simple as possible. And when all of your focus can be directed at a single page, that makes it even simpler.
This stands true for website builders, in general - not just the one talked-about in user Strikingly reviews. These tools are designed to be accessible for as wide of a group of people as possible. That means they have to be made in an easy-to-understand way, have all of the features laid out in a simple manner, and avoid difficult programming technicalities.
While it is possible to create multiple-page sites with Strikingly (with an upgraded plan, that is), the fact that the company focuses on single-page sites allows it to really drive the "ease of use" point home. The interface of the builder is very simple and quickly understandable, albeit looking a little bit old-fashioned.
The best part, however, is that you can make a scrollable page very easily.

Scrollable pages are a standard when it comes to single-page websites. The work very simply - when you press a menu item, instead of transferring you to a new page, the website throws you down to a designated area on the same page.
Scrollable pages are convenient, simple to make and can be created in some very cool-looking manners.
It would be impossible to talk about how simple this website builder is, though, without mentioning the main aspect of what many user Strikingly reviews claim to be the catalyst for this simplicity - a drag-and-drop editor.
Latest Squarespace Coupon Found:
SAVE 20%
Squarespace Limited-Time Deal
Grab this Squarespace offer code & enjoy a lovely 20% off on any selected Squarespace subscription plan. Create your dream website NOW!
Expiration date : 30/09/2023
4,512 People Used
Only 88 Left
Drag-and-Drop Editor
Drag-and-drop website editors are the industry standard when it comes to the top-tier builder providers. There are certain exceptions to this rule (read: CMSs), but even these exceptions usually have means of how you can utilize the before-mentioned editor (i.e. a plugin on WordPress).
Just as the name implies, drag-and-drop editors allow you to drag specific elements from the builder menu onto your site and simply drop them. This is the easiest way of how you can edit your website, since it does not require any coding work, and the changes can be previewed on the live version of your site.

Customer Strikingly reviews are very positive when it comes to the builder's drag-and-drop editor. Users claim that the editor is intuitive, doesn't lag and doesn't require much effort or time to figure out.
Given the controversial reputation of the builder, I didn't quite trust these customer Strikingly reviews. However, after trying the builder out myself, I concur - the editor really is that simple.
Working eCommerce Feature
eCommerce functionality is going to be a pro with almost any website builder imaginable. However, there's a chance that Strikingly is the one exception.
You see, it all goes back to the whole "one page" thing. Strikingly reviews often emphasize that the builder does, indeed, support eCommerce, and allows you to sell products on your site. You ought to really ask yourself whether or not you should, though.

Managing an online shop on a single page is going to be difficult, to say the very least. There are simply too many elements that you need to be aware of, and if you try to jampack everything into one page, you risk it becoming a disorganized mess.
That being said, though, the fact of the matter stands - many customer Strikingly reviews talk about eCommerce being one of the better addons on the builder. After all, no matter your initial intent with the site (a blog, a gallery page, or else), there's always the chance that you'll want to sell something later down the road.
While single-page websites aren't exactly scalable by any definition of the word, it's still nice to know that the feature's available.
Strikingly Review: CONS
Earlier on in the Strikingly review, I've hinted that the builder is somewhat of a controversial one. That's mainly because of the reason we've already talked about quite extensively - it being focused on providing the customers with an ability to build single-page websites.
It's definitely a blessing and a curse, and a really slippery slope to walk on, for that matter. That's why all of the industry giants (such as Zyro and Squarespace) focus on normal website design, instead of pushing the narrative of single-page websites being "superior".
Now, as far as Strikingly's concerned, the very first user complaint that you're likely to encounter has to do with SEO.

Did you know?
Single-Page Website - A SEO Tragedy
No matter the way you're going to look at it, if you're building a single-page website with Strikingly or any other website builder out there, you can frankly forget about it being optimized for search engines.
SEO stands for exactly that - Search Engine Optimization. When your website has good SEO, it will appear in Google's (or any other search engine's) search results, and will thus be discoverable and visited more frequently.
However, if a website isn't optimized for SEO, well… It's highly likely that you're not going to get many (if any) new visitors, thus effectively rendering your site a failure.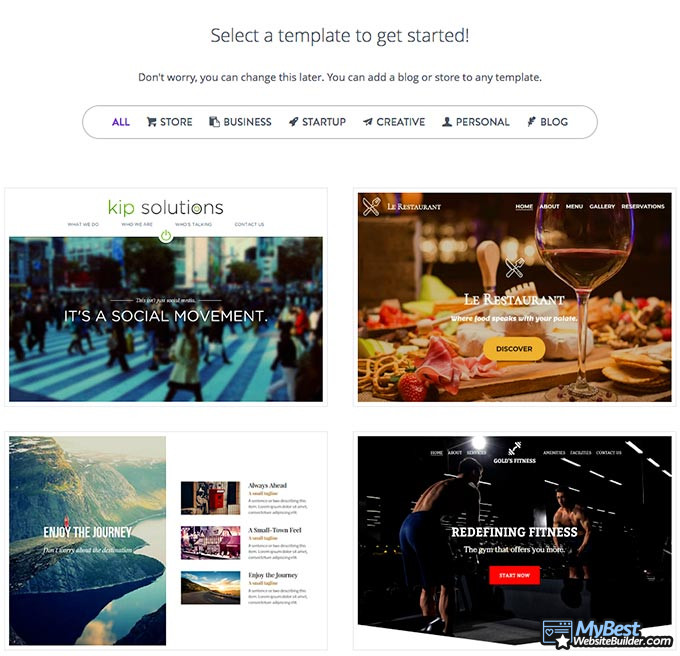 As you might have guessed it, SEO isn't "important" - it's crucial.
To be completely transparent, I have to note that Strikingly does offer users SEO tools to help them work on their website. Image alt texts, titles and descriptions, favicons and page categories… In all honesty, there's a pretty good choice pool of possible customizations, too!
That being said, this is something like trying to fix the steering wheel of your car by installing a new air freshener - it misses the point entirely. In other words, no matter how well you optimize your page, and how many advice-based Strikingly reviews that you read, your single-page website is still going to underperform when placed near a multi-paged one.
The Free Version Is Lackluster
First of all, let me commend Strikingly for having a free version, in the first place. Given that some website builders don't have a free version, at all, this is already a big plus.
That said, this is where the "big plus" ends.
User Strikingly reviews often complain about the limitation of the free version of the builder. Customers talk about how the majority of some crucial features are locked under a paywall, and how there's constant pressure from the company to upgrade your plan.
Now, let me be clear with something here - there would be absolutely no problem with Strikingly's choice of free version… If the pricing plans offered by the company wouldn't be stupendously expensive.
Price
Depending on the type of a payment plan that you'll go for (monthly, yearly, etc.), you'll have 3-4 Strikingly pricing options. If you go with their suggested timeframe - yearly website builder payments - you'll have these options:
My first thought that I had after seeing the price for their VIP package went a little something like this:
"Jesus <insert a curse word here> Christ".
I mean, seriously - $49 per month is an absolutely insane price! And remember - where's talking about a single-page oriented website builder here!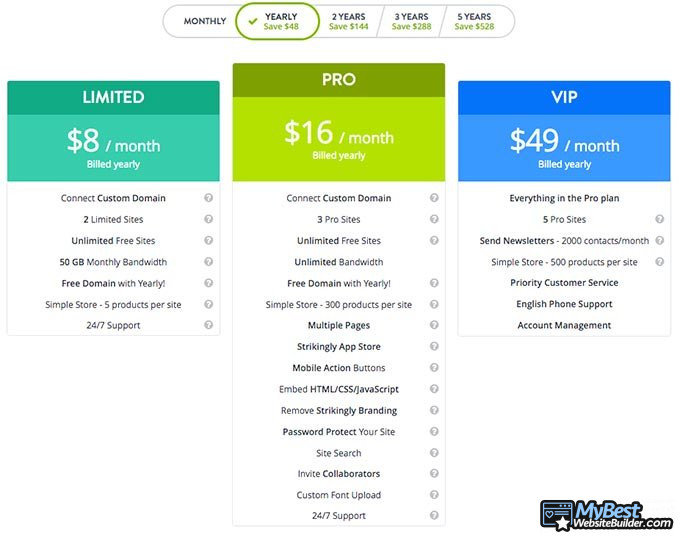 The free version of the builder restricts you with 5GB of monthly bandwidth and 1 product per site.
With the LIMITED and PRO plans, your perks increase - more bandwidth, more products to be hosted on the store, 24/7 support (that's nice), coding options (yup - you can only add your own code if you go with their $16 per month plan - what the actual…), and so on.
Now, what's so indescribably special with the VIP plan of the Strikingly pricing options? Well, you get 5 pro sites, you can send newsletters, and get account management options with some priority support features.
Are you kidding me?
Basically, you're going to pay almost $50 bucks for priority support and account management. Oh, and lest I forget - you'll be able to sell up to 500 products on the (I QUOTE!) "simple store".
"SIMPLE STORE".
Man, if I'm paying half a hundred bucks for a single-page oriented website builder, there better be nothing "SIMPLE" about that store.
To remain transparent, I'll also note that all of the paid plans come with a 14-day free trial. In my humble opinion, that does not do the atrocious prices any justice, whatsoever, but it's still something worth keeping in mind.

In all honesty, I am shocked and baffled by Strikingly pricing options. They are simply strikingly bad - and yes, the pun was intended this time.
Here is The Best Squarespace Offer I Found:
SAVE 20%
Squarespace Limited-Time Deal
Grab this Squarespace offer code & enjoy a lovely 20% off on any selected Squarespace subscription plan. Create your dream website NOW!
Expiration date : 30/09/2023
4,512 People Used
Only 88 Left
Conclusions
So, ya… Let's recap.
Strikingly is a website builder that focuses on providing its customers the ability to create high-quality, single-page websites. The builder is simple to use, doesn't require any prior technical knowledge and has some pretty decent features.
However, other than the great customer support that many customer Strikingly reviews keep on mentioning, that's where the benefits of this builder end.
If you're creating a single-page website, you won't be able to optimize it with SEO enough so that you'd rank higher than sites with multiple well-optimized pages in them. Furthermore, even if you were to love Strikingly's eCommerce features, chances are that you'd have a really difficult time trying to develop a decent e-shop on a single page.
And don't get me started on the Strikingly pricing options. I've said enough already, but let me just reiterate my point - it is downright insane to charge $49 bucks for a builder that's focused on single-page website building. While there are free trials and even a free version within the builder, none of that justifies the pricing tags.
Don't use Strikingly - it's not worth it, by any means of the word. Instead, go with one of the best builders on the market, such as Zyro or Squarespace At least most of them won't require you to sell a limb in order to get good support and access your account management settings.
Leave your honest Strikingly review
Leave your genuine opinion & help thousands of people to choose the best website builder. All reviews, either positive or negative, are accepted as long as they're honest. We do not publish biased reviews or spam. So if you want to share your experience, opinion or give advice - the scene is yours!