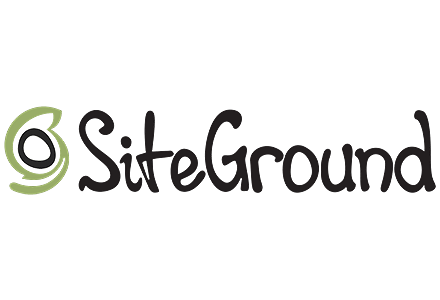 If you're looking for a high-end website hosting platform, multiple user SiteGround reviews are going to point you to the service provider in question. A single look at the aforementioned reviews will reveal the fact that SiteGround is surely among the more-beloved hosting providers on the market!
Evidently, however, there are many different hosting services for you to pick from - all of which come with their own benefits, shortcomings, and peculiar quirks.
What makes SiteGround stand out among all of these services? And is it truly such a universal hosting solution, or is catered more towards a set specific group of wannabe site creators?
Well, all of the important answers will be revealed in the article up ahead!
TL;DR: The vast majority of user SiteGround reviews that you will find online are rather positive towards the hosting provider in question. SiteGround is a great option for both beginners and advanced site creators, since it offers an easy-to-use interface, WordPress hosting, amazing uptime & decent site speeds, and has some knowledgeable support, too. Then again, the pricing of the company's shared hosting plans is a bit high, and your storage is going to be limited.
Pros
Amazing uptime
Decent site speeds
Multiple hosting types
Easy to use
Wide variety of free features
Cons
Pricey shared hosting plans
No free domain name
Limited site visitor counts
SiteGround Reviews: PROS
Reading through the user SiteGround reviews left online, it's rather evident that the web hosting service comes with quite a few different benefits attached to it. In order to keep things straightforward and concise, we'll start off by discussing these benefits, and then make our way down from there.
Amazing Uptime Statistics (99,98%)
These days, web hosting providers tend to charm potential users with lists of various features and benefits that they would receive if they choose the said hosting platforms as their go-to site hosting option - some user SiteGround reviews will tell you that the situation isn't at all that different with the company in question, either.
While flashy features are fine in of themselves, they should never distract you from where the core questions should lie. In other words, there are some things that should be present with any and all hosting providers - uptime is one of these features.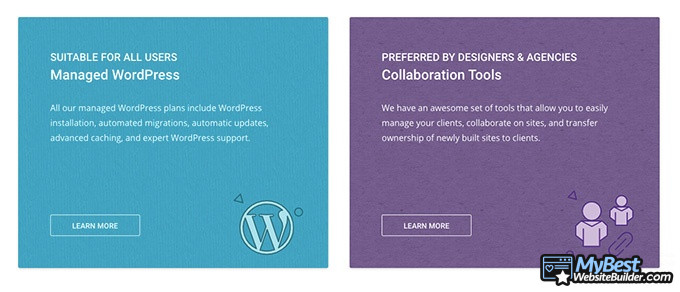 What is "uptime", you may ask? Well, I would answer - the single most important aspect of a web hosting service! That might sound like an overstatement at first, but hear me out - I have a feeling you'll agree with me in a bit.
Uptime refers to the period of time during which your website is up and running smoothly - it's reachable both by you and all potential visitors of your website. On the other hand, "downtime" is the measurement that will tell you how often (long) your site is going to be down, during a specific time interval (in most cases, that would be a year).
The importance of uptime cannot be underestimated - this is expressed rather clearly by multiple user SiteGround reviews, too. If your site is down, that's literally *it* - there are no interactions happening with it, no visitors are able to reach it, and if it's an eCommerce-oriented website, no sales are going to happen.
It's as if the website wouldn't exist, in the first place.
THAT is exactly the reason why, no matter if you're looking for SiteGround cloud hosting or shared hosting reviews, you should always look into this particular point first. The fact of the matter, however, is that SiteGround does offer some amazing uptime statistics.
Judging by multiple user SiteGround reviews left online, the average uptime that you can expect with SiteGround is around 99,98%. That is truly amazing.
Using our uptime calculator, you can see what this number actually means in reality:

Evidently, on average, with an uptime of 99,98%, your website shouldn't be down for longer than 17 seconds per day. This comes out to be around 1 hour and 45 minutes per year, more or less.
Naturally, you should expect these numbers to vary drastically - your website isn't going to be down for 17 seconds per day, every day. However, if you were to take the average of, say, a year, this is what it would come down to, more or less.
Yet again - here, I can only repeat what other user SiteGround reviews, in that the hosting provider in question has some of the best uptime statistics in the entire market!
Latest Squarespace Coupon Found:
SAVE 20%
Squarespace Limited-Time Deal
Grab this Squarespace offer code & enjoy a lovely 20% off on any selected Squarespace subscription plan. Create your dream website NOW!
Expiration date : 12/12/2023
4,512 People Used
Only 88 Left
Easy to Use and Navigate Through
Surprisingly, this isn't a feature that would be very prominent among user SiteGround reviews - not many people tend to mention this! It's odd simply because of how apparent this is, even if it's your first time using a website hosting service.
Truth be told, ease of use might not necessarily be the first thing that you'd think of when choosing and looking for the best website hosting provider for yourself. In this regard, people are mainly used to turning towards website builders, and evaluating them from the simplicity standpoint - how can hosting be "hard to use", in the first place?
Well, it actually can - since you might be spending much more time in your Cpanel and account dashboard than you initially planned, ease of use is something that will be best felt right here, in these particular places.

Reading through user SiteGround hosting reviews and then trying out the platform myself, though, I must admit - it's actually very simple to use!
All of the features are displayed clearly, so you won't need to go out of your way to find some particular function that you might need. The dashboard is simplistic, but does allow you to perform all of the core actions that site hosting might involve.
The best part, however, is that the dashboard isn't confusing - even if this is your first time hosting a website on your own (meaning, without resorting to website builders for help), you shouldn't find yourself in a tricky situation where you wouldn't know how to proceed.
Decent Site Speeds
Site speed is yet another core feature of any high-end web hosting platform out there - it stands together with uptime, and although it may not be as crucial as the latter, it's still an extremely important aspect to consider.
While there are other, external factors at play, your hosting service is going to be the primary thing that determines the speed of your website. Here, "speed" refers to the time that it takes for the site to load up for the user, in a complete manner (in other words, we're talking about complete site loading time, and not the time till first byte).
Research states that around 47% of users expect the website that they are visiting to load up in 2 seconds or less[1]. If your site takes longer to load, you might start seeing a decrease in traffic - potential visitors will give up on waiting, leave, and never come back. Not ideal.
User SiteGround reviews will tell you that, when it comes to the hosting company in question, the site speed statistics are actually rather decent! Below, you will find a speed test that I've ran through the Google PageSpeed Insights platform, of one of the websites hosted on SiteGround: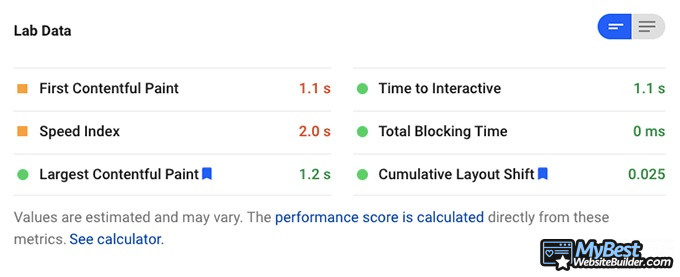 Evidently, 1,1s (1100ms) isn't an ideal site speed, but it's still very good. There are hosting providers out there that will grant you better site loading speeds (just take a look at A2 Hosting), but if you're not too bothered with half-a-second faster site loading, it's really not a big deal.
Furthermore, don't forget that you yourself can optimize your website, and make it load much faster, too! This, in turn, will help your website rank better on search engines (i.e. Google), and will also provide a much better experience for your visitors!

Did you know?
Multiple Types of Hosting
Something that is likely going to come up rather often while you're reading through user SiteGround feedback are SiteGround cloud hosting reviews. If you're confused, you should note that the company in question does actually offer all of its users different types of hosting!
In the majority of cases, whenever someone's looking for a reliable hosting provider, they are actually searching for something known as shared hosting. This is the most common type of website hosting - you share a server with other sites, and are provided with a set amount of resources, depending on your plan.

Not many user SiteGround reviews will actually tell you this, but shared hosting can be viewed like the "golden middle" - while it fails to provide some exclusive features for your website, in most cases, the resources that you'll receive are more than enough for the website that you'd want to create.
As mentioned above, though, there are other hosting options available, too.
For example, SiteGround offers users WordPress hosting - this type of hosting is oriented around WordPress-built websites, and is optimized for WP, too. More attention and resources are dedicated to WP plugins and the site creation process with the tool in question, and the plans come with extra added features that guarantee more freedom.
Then, there's WooCommerce hosting. WooCommerce is the most popular site builder plugin that provides the user with the ability to create and manage a dedicated eCommerce section on their website.
The hosting type in question is optimized with exactly that purpose in mind - user SiteGround reviews point out that you will be able to expect faster site loading speeds, a more optimized eCommerce site creation experience, and multiple additional perks.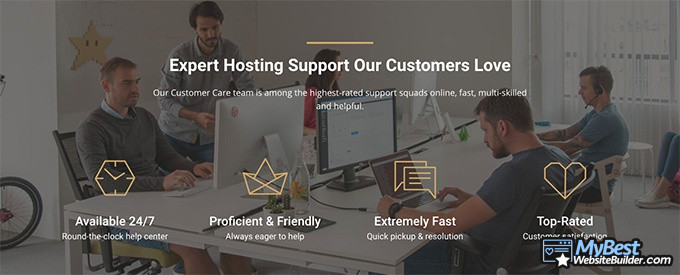 Finally, you have your SiteGround cloud hosting option. This particular type of hosting is aimed at large-scale projects - websites that require a huge amount of resources to maintain and manage. If you're trying to create a high-performance website that requires a dedicated cloud hosting server, this is the option for you!
All things considered, it's actually great that SiteGround does offer its users multiple site hosting options - while, yet again, shared hosting is always going to be the most popular choice, if you were to need something else, you can expect the company in question to have adequate options for you!
Multiple Features
Well, the most notable part here is that the "multiple features" come with the basic, entry-level plan - THAT'S the great thing about it!
Now, then - what are those features, exactly?
For starters, unmetered traffic. This is something that you can expect with all of the plans offered by SiteGround, and it's actually a pretty generous feature! What it means is basically that you will be able to scale your website as it grows, and won't need to worry about uptime, site speed changes, or some other scalability issues that may arise.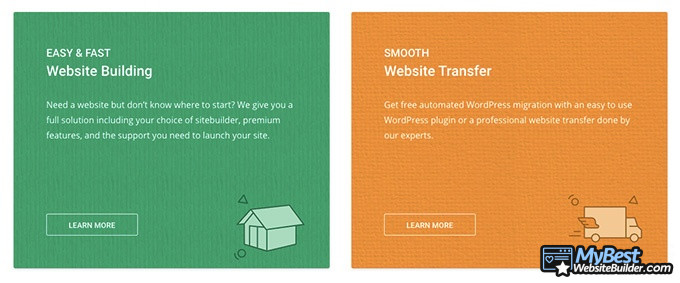 Some hosting providers do offer unmetered traffic with their plans, sure, but to this day, it's not exactly the industry standard. That is why there are quite a few user SiteGround reviews that are genuinely happy regarding this point!
Next up, you have the free SSL, CDN, and daily backups. This trio of features is frankly the best part of the SiteGround entry-level plan!
SSL certificates are the core connection security guarantees of any reliable website. Following that, CDNs (Content Delivery Network) ensure that users from all over the world are going to be able to visit your website, and experience fast loading speeds, no matter where your server might be located.
Finally, the backup part is rather self-explanatory. Frankly, you can expect your website to be backed up every single day, so you won't have to worry about losing any progress or important files, in case of a technical fault or some freaky accident.
All three of these features (tools?) are, admittedly, extremely important for any high-end website - there are no compromises regarding either one of them. The fact, however, that SiteGround does actually offer all of them for free, with the beginner-oriented plan, is phenomenal!
Indeed - multiple user SiteGround hosting reviews talk about this, but it's a huge deal, and it can't be stressed enough! It's super-rare for a hosting service provider to offer daily backups with their entry plan, not to mention a free SSL certificate and CDN on top.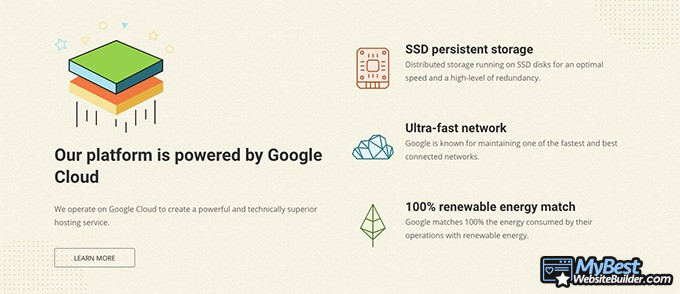 That's not all, though! On top of a few other things, you can also expect a free email, and a 30-day money-back guarantee, too!
The free email account is much appreciated - you will be able to start creating a professional website straight from the get-go, and will also be able to have an email to showcase this, too! Lastly, when it comes to the money-back guarantee, it just goes to prove that SiteGround has full confidence in their services, and ensures that you should love what they have to offer.
SiteGround Reviews: CONS
If you've read this entire article up to this point, you are probably well-aware of the fact that the hosting provider in question comes with a wide assortment of different benefits and useful features, from the user side of things.
While that is awesome in of itself, admittedly, not all SiteGround reviews that you'll come across online are exponentially positive. Before you take out your wallet and rush to the pricing page of the SiteGround cloud hosting plans, you should also note all of the major shortcomings of the hosting service in question!
Admittedly, there aren't many things to discuss here, but there are still a few aspects that you should keep in mind, nonetheless.
No Free Domain Name
Among the biggest quirks that many potential users have with SiteGround, this is likely to be one of the most-prominent.
Whenever you go out in search of reliable hosting options, you are probably (most likely) doing so in order to start building a website. While hosting is, obviously, a core part of the site creation process, there are other things that need to be considered, too - domain name is one of them.
While it may sound like a bit of a bold claim, I would still argue that the majority of top-tier hosting providers actually do offer free domain name registration for at least a year, whenever you purchase a hosting plan with them. This way, you can "jump right into the action" - you have your hosting and domain registration sorted, and can move on to the actual site creation process.
This is, sadly, not the case with the hosting provider in question - there is no such thing as a SiteGround free domain. Instead, you are going to have to purchase this feature separately.
Is this a huge deal? Well, it would be. However, there is a saving grace here.
You see, many of the aforementioned hosting providers that do provide users with free domain name registration don't actually come with the features that SiteGround does. While there is no SiteGround free domain, things like the free SSL certificate, unmetered traffic and number of databases, and daily backups truly do turn things around, big time!

It does honestly depend a lot on your own, personal preferences - meaning, the things that you need the most out of your website. Naturally, a domain name is mandatory - without (a custom) one, you won't really be able to move out of the starting point of your site, in general.
That said, though, if you don't want to pay extra for the domain name, note that most of the top-tier hosting platforms on the market do provide their users with free domain name registrations, for a year or so. However, the point still remains to be true - with the features that come with SiteGround, from a financial standpoint, you might actually be able to save some money by choosing this hosting service provider!
Limits on Site Visits
Among the more-negative user SiteGround reviews, one thing that keeps on popping up constantly are the limits that the hosting provider imposes on the monthly visitor count to your website with each of the plans.
Truly - you can visit the SiteGround pricing page, and you will see this information yourself. With the entry-level plan, your website will be limited to around 10,000 visitors per month. Scaling up to the highest-priced shared hosting plan option, this number increases tenfold - around 100,000 visitors per month.
While these numbers might seem somewhat high at first, it all depends on the context you place them in. Frankly, if you plan to create a small website, and have no further plans on improving it or even starting an eCommerce store (or a similar business), then that's all fine and good.
However, even 100,000 visitors per month is a comparatively small number of an established brand that sells products or provides visitors with some important and sought-after information! The visitor cap can truly be a hindrance for anyone choosing SiteGround, especially if you go with one of the cheaper plans.

Web space is another issue. With the beginner plan, all you will receive is 10 GB of web space - it goes up to 40 GB with the highest-priced plan.
Yet again, the situation is very similar here - while the numbers may seem high at first, they can truly come to pale in comparison with the traffic that your website might receive, and the amount of data (text, visual, and other) that you may need to store inside of it.
It's actually somewhat ironic, too. As mentioned earlier, there are multiple user SiteGround reviews that emphasize all of the extra features that you receive by choosing this brand as your hosting provider. However, at the same time, it does limit your website management experience by quite a bit, with all of the web traffic and space shortcomings.
Price
To sum things up, let's take a closer look at the SiteGround pricing options.
Note, however, that while the hosting provider does have multiple hosting options available (as discussed earlier on, and mentioned by countless numbers of user SiteGround reviews), we'll only be looking and evaluating the shared hosting plans, granted that they are the most popular option, either way you look at it.
So - with SiteGround, you will have three plan options available to you:
With the StartUp plan, you will receive most of the benefits and features mentioned in this article - a free SSL certificate, free CDN, free email, unmetered traffic, daily backups, unlimited databases, and so on.
The GrowBig plan offers all of that, but has increased web space and monthly visitor limit, allows you to create an unlimited number of websites, and offers benefits such as "ultrafast PHP" and on-demand backup copies.
Lastly, the GoGeek plan has all of that, plus the highest tier of resources, and also priority support. Naturally, you can expect additional web space and increased monthly visitor limits, too.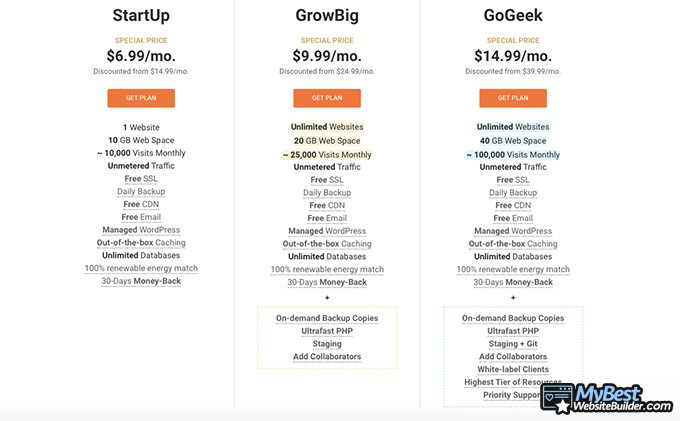 Admittedly, SiteGround pricing options are far from being the most-affordable ones. The plans offered by the company are actually quite expensive, especially when you compare them to, say, Hostinger (a hosting brand that offers probably the most-affordable pricing options on the market).
Then again, you should pay close attention to the features offered by SiteGround. All things considered, it would appear that the company's services are aimed at a specific group of individuals who want to create a specific type of website. Quite frankly, it seems to be a somewhat "hit or miss" type of situation - some user SiteGround reviews claim that the company's plans suit the great, while others are a bit reluctant.
Here is The Best Squarespace Offer I Found:
SAVE 20%
Squarespace Limited-Time Deal
Grab this Squarespace offer code & enjoy a lovely 20% off on any selected Squarespace subscription plan. Create your dream website NOW!
Expiration date : 12/12/2023
4,512 People Used
Only 88 Left
Conclusions
Now, then - is SiteGround worth paying attention to, and is it a reliable and trustworthy hosting provider?
Yes, it surely is!
As pointed out in the earlier chapter of the article, SiteGround is somewhat unique in the collection of benefits and features (and shortcomings!) that it comes with. The company offers users a set of specific benefits that you won't find on a lot of other hosting sites - free SSL certificates, free CDN, daily backups, and so on. All with the beginner-oriented plan, too!

At the same time, the SiteGround pricing options are, admittedly, a bit expensive, and there is no SiteGround free domain name available (you have to purchase it separately).
Furthermore, the company does limit the number of visitors that your website might receive on a monthly basis, depending on the plan of your choice - while the limits are somewhat generous, they are still there, and can hinder the potential growth of your site.
Table: The feature comparison of the Squarespace, Zyro, and Weebly website builders
All in all, if you've decided that SiteGround is a great hosting option for you, make sure to check the company and its services out for yourself! If you're still not certain, though, note that there are other options available, too - different hosting providers that come with different benefits and pricing options.
Lastly, do take a look at some of the industry's best website builders, as well - perhaps you will be able to skip through all of the site hosting hassle, and move on straight to the website creation process?
Thanks for reading, and good luck!
1. Rob Petersen, '14 Key Facts On Website Speed And 4 Top Tips When It 'S Slow'
Leave your honest SiteGround review
Leave your genuine opinion & help thousands of people to choose the best hosting provider. All reviews, either positive or negative, are accepted as long as they're honest. We do not publish biased reviews or spam. So if you want to share your experience, opinion or give advice - the scene is yours!