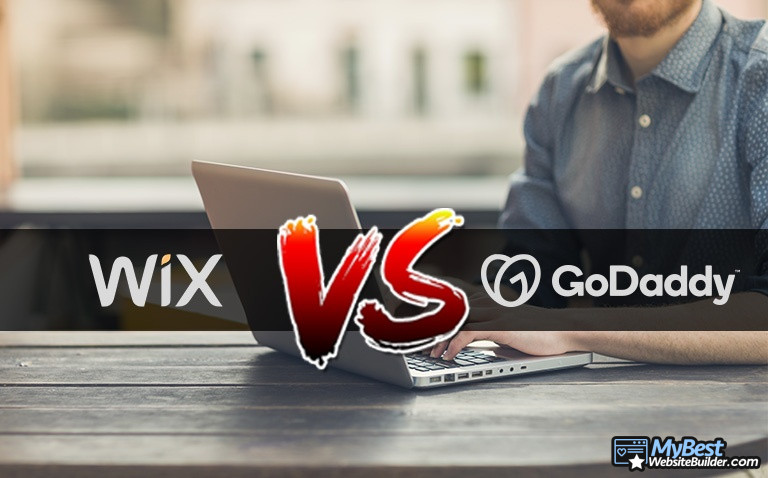 Wix or GoDaddy? To answer this question you should definitely look for some Wix VS GoDaddy comparisons. Before choosing a website builder you must know what each of them offers and how do they differ. Let me tell you though, you're in luck because you've just stumbled across one of Wix VS GoDaddy comparisons! A thorough one I might add.
Why Wix and GoDaddy? Well, for starters, they're both proud members of our best website builder list. Wix, in general, is one of the most popular website builders for a very long time because it is a veteran in this field. Talking about GoDaddy, primarily it's a hosting provider, however, it also has its own website builder that is actually named GoCentral (but it's usually referred to as GoDaddy).
Now, before starting this GoDaddy VS Wix comparison, we should settle some rules. A set of criteria to be exact. The most important points you must consider before choosing a website builder.
Though if you want to see a shorter version of this GoDaddy VS Wix comparison, check it out here.
Wix VS GoDaddy: The Main Points for Comparison
The comparison points established below are the main ones that you should always consider when choosing a website builder whether it's a GoDaddy website builder VS Wix website builder comparison or any other. Though there are also some other less important points that might not be mentioned here.
Table: Some general information about Wix and GoDaddy
The set of criteria consists of ease of use, feature variety, eCommerce functionality, uptime & site speed, templates, and pricing. Let's take a closer look at these points.
Ease of use

. This might be one of the key deciding points for most website builder users. Why? Because mostly people without programming or web development knowledge choose website builders so they can create websites themselves, instead of hiring a specialist. Simple usability is kind of the main idea of website builders in general. Of course, if you're already advanced in website creation, this point might not be the most important for you.

Feature variety

. When it comes to choosing a website builder, whether it's a GoDaddy website builder VS Wix website builder comparison or any other, it goes without saying that feature variety is crucial. It relates to two things: the overall amount of features and the ability to build multi-layered websites. Multi-layered means that, for example, you want to have an online shop that also has gallery and blogging sections. So, to have that, you must choose a website builder that offers it all.

eCommerce functionality

. This one actually comes into the feature variety category. However, because it is one of the more extensive features, we should always take it into account independently. Because the majority of websites eventually start selling something. Of course, all of the top-tier website builders offer eCommerce functionality. The question you should raise is – how good is it?

Uptime & site speed

. These two bad boys are definitely a few of the most important points to consider. No matter if you're comparing Wix VS GoDaddy or any other builders. Why? Because uptime determines how long your website is online and site speed determines how fast your website loads up. So, you need good stats with these because there's no use of your site if it's barely online and takes ages to load.

Templates

. Your website's design has a greater impact than you may realize. It's not just about the aesthetic appeal (even though it is crucial), but also about how appealing your website is to Google and other search engines. Sometimes templates are just not SEO-friendly meaning that your website might rank very low in people's search results. So it's definitely important to choose proper templates.

Pricing

. There's not a whole lot to say about this one. When it comes to anything that has a price, it's self-evident that pricing will be a part of the comparison. When choosing a website builder, the price can definitely be a deal-breaker for some people. Others, though, might not care about that. In any case, it's important to understand what you get for the money you pay and what options you have.
Now that we have the main points for our Wix VS GoDaddy comparison established, let's move further.
Wix VS GoDaddy: The Comparison
I'll begin this Wix VS GoDaddy comparison with the ease of use aspect, and then I'll cover the other aspects in the order they are listed above. So, without wasting any more time, let's begin the battle between these two website builders!
Ease of Use
As I stated in the beginning, most of the users of website builders start without having any programming or web development knowledge. Thus, simple usability is really important for them. Website builders give users a framework for a website with the possibility of choosing the design, features, and other things (without having to write code). So, inevitably, this already makes all website builders pretty easy to use.
However, there is another aspect that makes a website builder easy (or not so easy) to use apart from the fact that there's no need to code. It's the user interface (UI). Based on the navigation of the interface, editing tools, and other additional features you can decide how easy it is.
Of course, ease of use might not be the most important factor for you if you're not a newbie in the website builder world. Though it's not like you're going to consider simple usage as a disadvantage just because you can deal with something more complicated. Unless the interface limits what you can do, then yeah, maybe you would choose a more difficult and complex website builder instead of a simple one.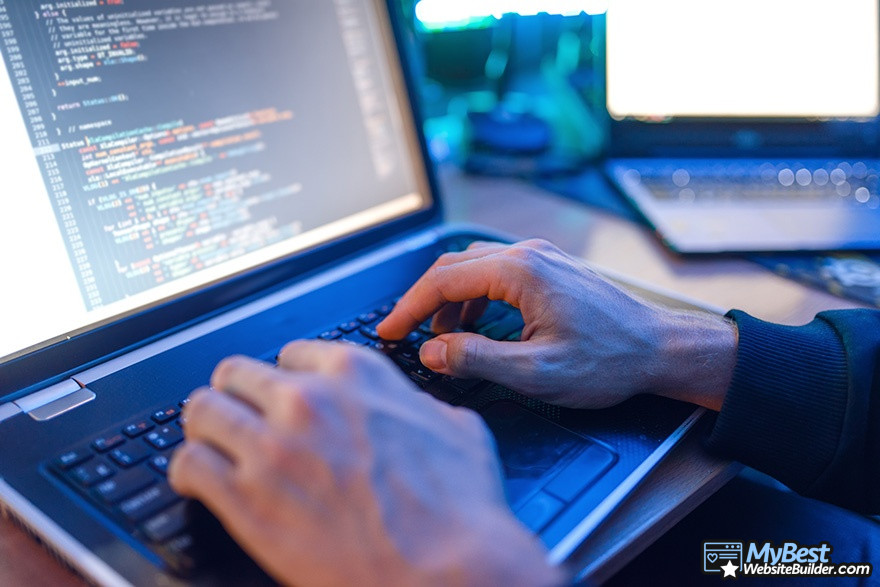 Now, let's get back to the Wix VS GoDaddy comparison. So, which one is easier to use – Wix or GoDaddy? Or maybe it's a tie?
Talking about Wix, it offers an excellent UI that is not overloaded with features. Aside from that, it has the well-known drag-and-drop feature, which makes website customization a breeze. If you're unfamiliar with this feature, it allows you to grab a box of some element, drag it to the desired location on your page, and drop it. Just as the name implies.
Though what's particularly cool about Wix is that it has built-in artificial intelligence. I'm referring to Wix ADI (artificial design intelligence), which is an excellent choice for individuals who desire simple navigation and quick outcomes.
What exactly does it do? It automatically builds a website for you based on your preferences. You just need to select the features you want, the design you like, press a couple more buttons, and *bam*, you have a website. It's so fast! After that, if you want to make more advanced changes, you can simply switch to Wix Editor and change whatever you like. So it's not like you get an artificially designed product and you have to go with it even if something is not right.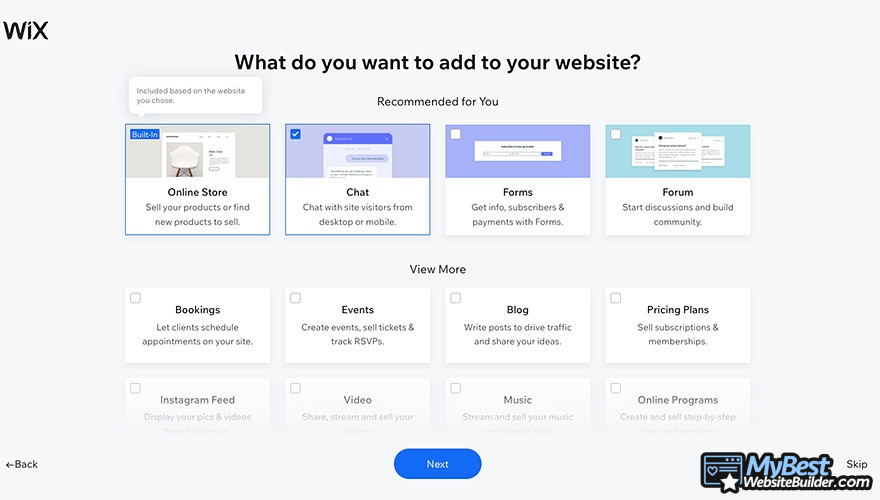 What about GoDaddy? It's also especially easy to use. Partially because it doesn't offer too many advanced features and space for customization. Instead of the drag-and-drop feature, it provides its users with the swipe-to-style feature (at least that's how they call it). You can guess from the name what it's about.
Basically, you swipe through designs until you find the one that suits you. Then, you make some changes if you need to by switching the places of various elements (or simply deleting them). Now, this feature definitely makes GoDaddy very easy to use. When you don't have much freedom for customization, there's barely any space for things to get difficult.
In terms of easy usage, the swipe-to-style feature is great. However, if you're a more advanced user, or you simply want to have full freedom in the customization process, I'd say that GoDaddy might be a bit too limited for you.
So, who wins this round of the GoDaddy website builder vs Wix website builder comparison? If we looked only at the simplicity part, then GoDaddy. However, personally, I would still choose Wix. Maybe GoDaddy is even easier to use than Wix but it really lacks customization freedom (for me, this would probably be a deal-breaker).
Latest Zyro Coupon Found:
71% OFF + 3 MONTHS FREE
Zyro Exclusive Offer
Hurry up to save big on Zyro - the most trending website builder in the market! Build your high-quality website fast & get 71% off + a BONUS of 3 FREE months.
Expiration date : 10/10/2022
4,837 People Used
Only 19 Left
Feature Variety
It goes without saying that feature variety is really important. Though it depends a lot on the type of a website builder. There are two main types – general-purpose website builders and topic-specific website builders. You can definitely understand the essence of these types from their names. Topic-specific means that the builder is focused on some kind of topic while general-purpose simply means the opposite.
Now a question might be which one is better for you? Well, that depends. Topic-specific builders are great when you know exactly what kind of website you need. For example, if you want to build an extensive eCommerce website, you might choose Shopify, which is focused exactly on that topic. It would provide you with excellent eCommerce features but might lack a bit with other features.
However, let's say that you want an online shop with great blogging and gallery sections. In this case, I'd suggest you choose a general-purpose website builder. It might not give you the most extensive features for a specific topic but it will provide you with great features overall.
Coming back to the GoDaddy VS Wix comparison, how is it with these two? Well, both Wix and GoDaddy are general-purpose website builders. So, what is the difference between the features they offer?
Table: The variety of features available with Wix and GoDaddy
Talking about Wix, it does have a lot of pretty great features. It provides you with various features to create an online store, a restaurant page, a blog, or a fitness page. Basically, it allows you to create any type of website you could need.
Besides, it has some other pretty cool features. For example, it has a Logo Maker, which will surely make your life easier. If you need a logo but don't really have skills for logo creation, use this tool to easily create a logo without much effort.
In addition, it has a mobile app called Wix Owner. It will allow you to manage your website on the go. You can chat with visitors, track your business analytics, write and share posts, take bookings, and so forth. This app would be especially useful for an online store.
Besides, if you think that you're missing something, you can always go to the Wix app market where you'll find a huge variety of widgets and apps that will provide you with some additional features.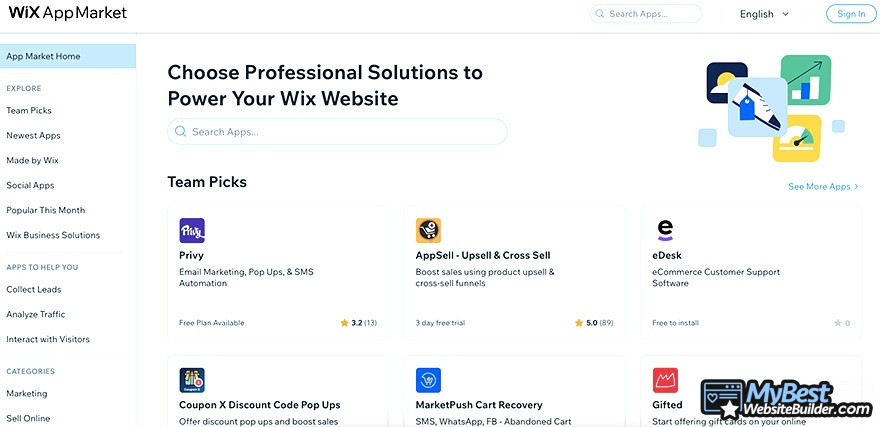 Now, what about GoDaddy? Well, for starters, it doesn't have an app market. It's not the worst thing but it means that you can't download additional features, which is a bummer. Overall, GoDaddy does offer the main features like eCommerce, blogging, social media integration, and so on. However, if you're looking for more advanced features, you might not have them with GoDaddy.
Since GoDaddy doesn't offer much customization, its features are also not the most advanced. For example, its blogging tools are rated as average. However, I'm definitely not saying that all GoDaddy features are bad and that it has nothing to offer. No, it does have pretty good eCommerce features for example. Also, it offers a gallery of free professional pictures that you're welcome to use if you need some images. I'd say that's pretty cool.
So, Wix or GoDaddy in terms of feature variety? I think you already know my answer. Yes, Wix. It definitely offers more.

Did you know?
eCommerce Functionality
Now, obviously, eCommerce is a feature too. Though I already told you that this one deserves a chapter because it's one of the most important features for website builders. Why? Because, as I mentioned before, the majority of websites end up selling something sooner or later.
I can even give you a scenario how this happens. Imagine you create a blog and start writing your thoughts in it. You notice that people like it and your audience is growing. Then let's say you decide to put your words on clothes and accessories, so now you have to figure out where to sell them. Do you see where I'm going?
So, coming back to the point, GoDaddy website builder VS Wix website builder in terms of eCommerce, which one is better?
WIX
GODADDY

Wix ADI - Artificial Intelligence
Easy Drag and Drop
Variety of Free Widgets and Apps
More than 500 Templates
Modern & Sleek

Very simple and straightforward
Integrated eCommerce features
Allows you to get a website up and running very quick

No drop-down menu
Lacks some essential features

Visit site
Read review
Visit site
Read review
Table: The pros and cons of Wix and GoDaddy
Wix definitely has all the essential eCommerce features. Integration with other platforms, dropshipping, various payment and shipping options, automated sales tax, and so on. Also, as I mentioned before, it offers the Wix Owner app that will allow you to have live chats with customers, manage your products, offer coupons and special offers, track your business analytics, and so much more. That's very convenient.
Besides, Wix offers some cool features that might help to shape your brand. One of them is the AI Logo Maker, which I mentioned before. Another one is the Business Name Generator that could be a life saver if you're really stuck and can't decide how you want to call your business.
Talking about GoDaddy, I'd say that it also offers pretty neat eCommerce features. GoDaddy allows you to sell anything you want (well, anything that's legal of course), it offers various payment and shipping options, email and social media marketing tools, and pretty good SEO tools.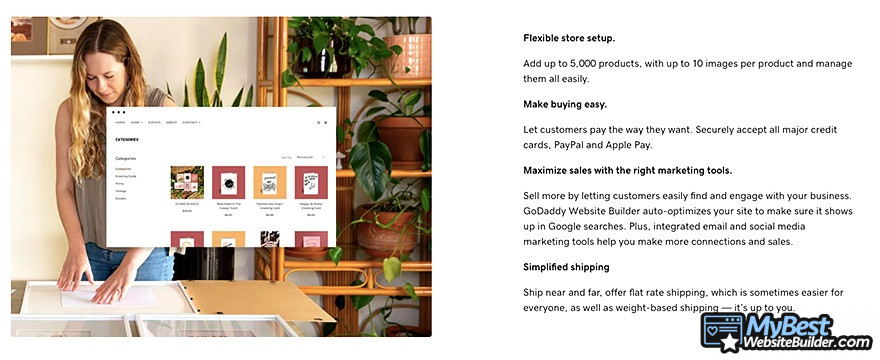 In addition, it has a very convenient integration with Facebook. It allows you to sell and promote your products on Facebook easily. Besides, whenever you make changes to your website, GoDaddy notifies you to make changes in your social media channels too. That's really thoughtful.
Also, it's very cool that GoDaddy puts a lot of effort into making your online store look great on phones. It provides you with streamlined mobile checkout, a mobile-friendly cart, and a responsive design (to make your website look great on all screens).
So, yeah, I'd say that in terms of eCommerce functionality, if we're comparing Wix VS GoDaddy, it's probably a tie. You can choose either of these because they both offer pretty good eCommerce tools.
Uptime & Site Speed
Now, uptime and site speed are definitely important points to consider whether it's a Wix VS GoDaddy comparison or any other. As I mentioned in the beginning, uptime measures how long your website is online. Uptime is the opposite of downtime that measures how long your website is down (yeah, I know, these terms are pretty self-explanatory).
Though site speed can be measured in two ways. The first one is measuring how fast a website fully loads after it was entered by a visitor. The second one is measuring the Time Till First Byte (TTFB) of your website which shows how much time it takes until your website receives the first byte of information from the server.
Both site speed and uptime are important because you obviously want a website that is online as long as possible and loads up fast. So, let's get back to our GoDaddy VS Wix comparison and see how fast your website will be with these two.
Table: The speed stats of Wix and GoDaddy
Now, talking about the site speed of Wix, based on various user reviews, we can say that sites created with Wix definitely load up pretty fast. You should also consider the fact that Wix has servers in the US and Europe, which means that no matter where you are, you'll probably get pretty good site speed. Besides, you can notice in the table provided above that Wix has fast TTFB statistics. However, note that it was measured only in the region of the US.
Also, keep in mind that site speed depends on various other factors too like the design, feature variety, hosting, and much more.
Considering the uptime of Wix, it's really great! Usually, it's expected that websites created with Wix would have 99,98% uptime. That's close to perfection. Besides, Wix monitors its uptime and makes the statistics accessible to everyone. So, you can always check how it's going with Wix.
If we looked at the past three months (Jan 2022 to Mar 2022), we can see that Wix only had one outage in January.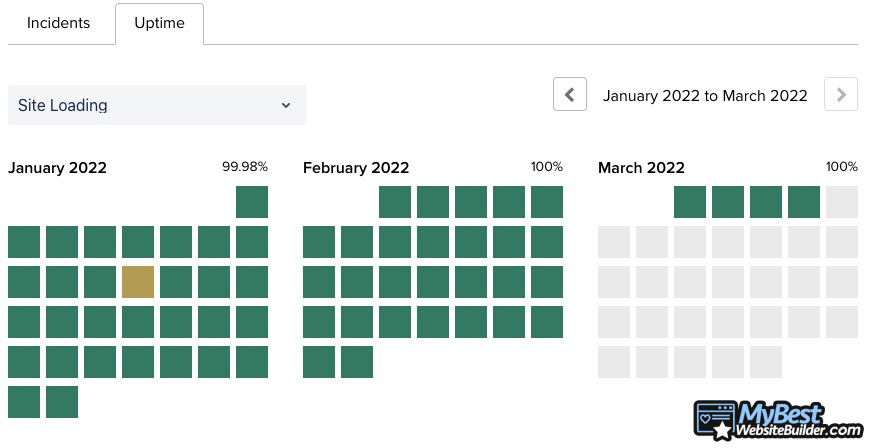 What about GoDaddy? Well, for starters, we can notice that its TTFB in the region of the US is rated to be very fast. Even better than Wix. That's good news for GoDaddy users! What about site load up? According to user reviews, GoDaddy really has some impressive site speed statistics.
How about the uptime of GoDaddy? Reading through some user reviews I found out that in the past year (2021), the average uptime of websites created with GoDaddy was estimated to be 99,92%. It's not bad but in comparison with Wix, I'd say it is a bit average. Besides, it did go up and down a lot through the years, so it wasn't stable.
Now, who is the winner in the Wix VS GoDaddy battle in terms of speed stats? Wix or GoDaddy? I'd say we have sort of a tie. Wix is better in terms of uptime statistics while GoDaddy is better in terms of site speed statistics.
Templates
If you think that the design of your website is not really important, you're wrong. It's important not only because it attracts visitors but also it makes your website look and feel legit for search engines.
Why is it important for visitors? Well, it's obvious. If your website is modern, responsive, has smooth navigation and transitions, visitors will definitely see it as trustworthy and legit. If your website is outdated and old-school, it might seem that something is sketchy with it. At least this is how I see it.
When it comes to Google and other search engines, as I mentioned before, templates might determine if your website seems and feels legit. Besides, templates have a significant impact on SEO because some of them are simply not SEO-friendly. These improper templates will drag your website down in the search result list, regardless of how amazing your SEO skills are.
For those of you who are unfamiliar with SEO, it basically makes your website appear in people's search results. SEO tools and your personal SEO skills determine how high your website ranks.
Now, coming back to the Wix VS GoDaddy comparison, which one is better in terms of templates?
Table: The design elements of Wix and GoDaddy
Considering Wix, it offers more than 500 modern and sleek templates. They are divided into categories based on various fields to make it more convenient to choose. Besides, note that all Wix templates are free. Now that's great news! Here are some of the available options:
Business
Design
Music
Online store
Photography
Video
Though what's really cool is that when you use Wix ADI, it creates a template based on your personal needs and preferences (font, colors, type of website, etc.). This means that you get a template made just for you. That sounds nice!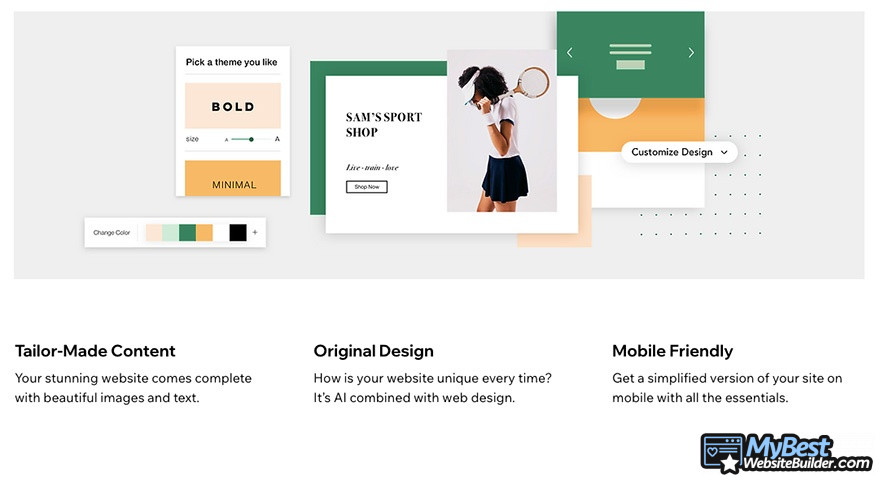 Talking about GoDaddy, it also offers pretty nice and modern templates. There is a smaller amount to choose from compared to Wix but it's still a lot in comparison to other website builders. Just like with Wix, you can choose from various template categories. These are some of the categories you can pick from:
Fashion & Beauty
Health & Fitness
Art & Design
Restaurants & Food
Automotive & Cars
Personal & Blog
Besides, the templates that GoDaddy offers are also free, which is always a plus.
So, who is the winner in our Wix VS GoDaddy battle in terms of templates? I'd say that it's a tie. Both Wix and GoDaddy offer a huge variety of modern and dazzling templates for free.
Pricing
Now, the last point to consider in our Wix VS GoDaddy comparison is pricing. Before deciding which one is better, let's look at what plans and prices they offer.
Table: The pricing options of Wix and GoDaddy
Note! Prices change over time, so always check them on the official websites.
Wix offers two types of plan options – for Websites and for Business and eCommerce.
Website plans include:
Business and eCommerce plans include:
Wix Deal Active Right Now:
GET 10% OFF
Wix Limited-Time Discount
Get a great deal for your site with this Wix promo code. Receive 10% off any Yearly Premium Plan (apart from Combo and Connect Domain). Promotion valid for first-time upgrades.
Expiration date : 10/10/2022
5,013 People Used
Only 79 Left
GoDaddy plans include:
[featured-coupon review_id="6"]
Though note that after you renew GoDaddy plans, the prices go up a bit. Besides, if you choose the Basic plan, you don't even get SEO tools. I'd say that with GoDaddy, it's better to go with the more expensive plans (after all, they are not even that expensive).
Wix, obviously, is much more expensive. Though it does offer a lot of plans. Business and eCommerce plans are definitely expensive but Website plans are not so bad. For instance, the Connect Domain plan only costs $4,50/month. However, it is the most basic one and it has ads, which are very annoying.
So, who wins the Wix VS GoDaddy battle in terms of pricing? If you're looking for a more on-the-budget option, then GoDaddy is the right choice for you. Though if you want a bigger variety of plan choices, then it's Wix.
Wix VS GoDaddy: Conclusions
Now, it's time for the final verdict. Who wins the Wix VS GoDaddy battle? Wix or GoDaddy? GoDaddy or Wix?
Table: General information about the companies behind Wix and GoDaddy
I'd say if you want a website builder that has more features, more space for customization, and more complex plan choices, then you should go with Wix. It's should definitely be a great choice for you.
However, if you're a true beginner who doesn't really care much about the huge variety of features and you want to build a simple on-the-budget website very fast, then GoDaddy is a good option for that.
Though if after reading this Wix VS GoDaddy comparison you decided that neither is a good fit, you should check our list of the best website builders in the industry.
That's all I have to say this time. Good luck in finding the best website builder for you! Until next time.
Leave your honest feedback
Leave your genuine opinion & help thousands of people to choose the best website builder. All feedback, either positive or negative, are accepted as long as they're honest. We do not publish biased feedback or spam. So if you want to share your experience, opinion or give advice - the scene is yours!