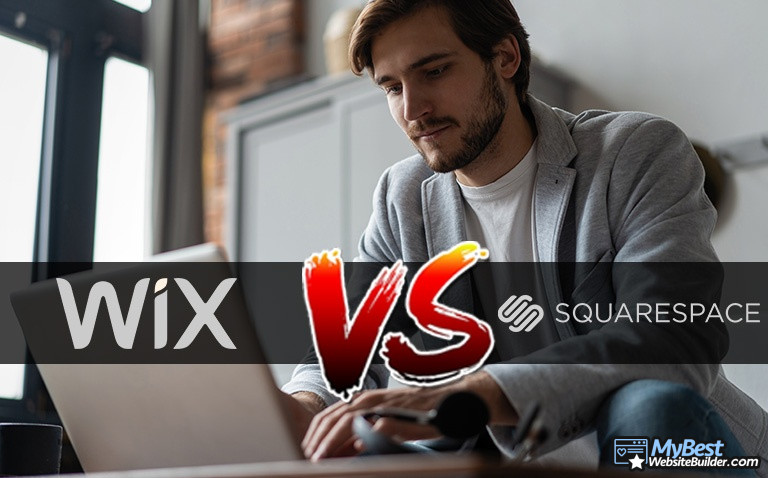 Are you having trouble picking between two website builders? Are a couple of industry-leading site creation tools giving you a headache, and you can't decide - which one would suit you best? If so, welcome to this Wix VS Squarespace comparison!
In the article ahead, I'll tell you all about Squarespace and Wix - namely, how these two builders compare with one another, what are the similarities between their pros and cons, and how are they different, too.
Is Wix or Squarespace better for you? Admittedly, that's a tough call to make! Before you CAN make that call, though, you should also pay close attention to the main features that need to be looked into whilst trying to figure out if a builder suits you. Worry not, though, since we'll talk about that straight from the get-go, and move on to the Wix VS Squarespace comparison afterwards.
Lastly, once you finish reading through this comparison, do remember to check out the short and to-the-point version of what we'll talk about (find it here), and also the in-depth reviews of both Squarespace and Wix, if you need more information!
Wix VS Squarespace: Comparison Criteria
Up above, in the introductory part of this Wix VS Squarespace comparison, I've pointed out that there are some specific criteria that need to be followed when it comes to picking out the best builder for yourself. This is true not only in regards to this comparison, but with all other site creation tools, too.
Now, obviously, the list of features (aspects) that need to be looked into is vast - on top of that, it also depends on what it is that you need out of a builder, or, in other words, the reason why you're searching for a tool like that, in the first place.
Table: Some general information about Squarespace and Wix
That said, though, there are some features that are universally important - ones that every single builder should possess in order to be worth considering as a viable site creation option. These features are uptime & site speed, ease of use, builder feature variety, eCommerce functionality, templates, and - of course - pricing.
Having established that, before we move on to the actual Squarespace VS Wix comparison, let's give the aforementioned aspects a closer look.
Uptime & Site Speed. If you're reading this Wix VS Squarespace comparison, you are probably well-aware of just what uptime and site speed are. If not, though, the former refers to the time your website is online and reachable, while the latter could relate to either TTFB, or site loading speed, in general. Evidently, it's rather obvious why both of these features are as important as they are - without proper uptime, your website will simply be down (as if it wouldn't even exist), while bad site speeds will cause visitors to leave before even entering a page on the website.
Ease of Use. Ease of use is one of the cornerstones of the website builder industry. It's actually the main "feature" that builders use to advertise their services - well, at least they did, up until making a website with a builder became *the* way to do it. Still, though, the point remains the same - even in regards to this Wix VS Squarespace comparison, ease of use should be a factor that's evaluated! A simple-to-use builder will allow you to create the website of your dreams in a fast and efficient manner, voiding you of any potential frustrations!
Feature Variety. While this may seem like a rather subjective aspect at first, it's actually much more straightforward than it seems. Think of it this way - when deciding is Wix or Squarespace better, you'd probably want to look into both the niche-specific features that the builders offer (i.e. blogging and branding tools, portfolio layouts, gallery integrations, etc.), and also things such as code compatibility, customer support, and more. Feature variety is also important if you're planning to scale your website over time - say, turn a blog into a business, or similar!
eCommerce Functionality. Admittedly, this is something that might as well have been placed in the "feature variety" category… Or so you'd think. However, when you're trying to figure out the details of the Squarespace VS Wix comparison, admittedly, eCommerce is something that you'll probably want to look at separately. This is the case simply due to the fact of how important business- and general eCommerce-related features are when picking out a builder! As mentioned earlier, even if you don't plan to open up a store right away, you might want to do so in the future.
Templates. Templates are, obviously, one of the pillars of all website builders out there - no matter if you're trying to decide Wix or Squarespace, or another site creation tool, altogether, website templates are definitely going to be very high in your priority list. This is simply because a website template is like the initial foundation upon which you are going to build your site. If the foundation is outdated, unintuitive, repetitive, or simply broken, chances are that your site, no matter how well-made, won't hold up, either. Always consider the templates and themes when browsing through website builders!
Pricing. Evidently, Squarespace VS Wix pricing is a very important point for every single individual who is thinking about using either of the builders for their wants and needs. Depending on the plans offered by each of the companies, you might be more lenient towards some of the quirks that they could have, or perhaps the pricing would act as the deciding factor when choosing between the two industry-leading giants. Either way you look at it, while pricing can be a bit touchy, it's still one of the essential points to look into!
Right, then - now that we're both on the same page, and you're well-aware of the main point of interest that you should be pointing your attention to when reading through this Wix VS Squarespace comparison, let's move on and discuss each of the above-mentioned aspects one-by-one, as they relate to the builders in question.
Wix VS Squarespace: The Comparison
While the queuing doesn't really matter, just to keep things simple-to-read and consistent all the way through, we'll take it from the top, starting from uptime and site speed.
Uptime & Site Speed
As pointed out earlier in the Wix VS Squarespace comparison, uptime and site speed are the two features that you should be looking at first, whenever you're choosing a website builder to create your first (or tenth!) site with.
Let's take a closer look at how the two builders in question compare with one another in this regard. First up, we've got uptime.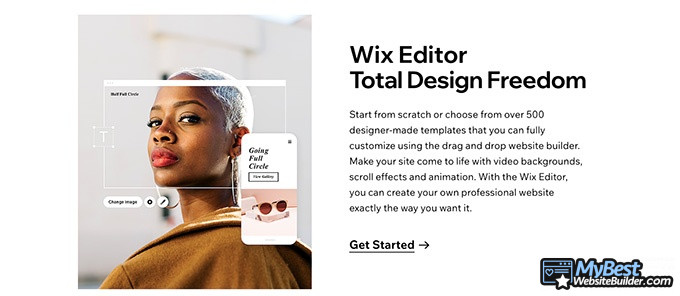 Wix boasts some of the best uptime numbers in the entire website builder industry. If you decide to create a website with the builder in question, you can expect the number to sway at around the 99,98% mark. That's very good!
With uptime like that, you don't really need to worry about your site experiencing some "unexpected maintenance issues" (read: downtime), and thus, potential visitors will be able to access the site at almost any given point in time.
That said, Squarespace is actually rather similar in this regard.
Throughout our tests, we've found that Squarespace offers users an uptime of around 99,97%. In the grand scheme of things, this isn't really a huge difference from Wix.
By using our uptime calculator, we can establish that, with Wix, your website shouldn't be down for longer than 1 hour 45 minutes per year. That equates to around 17 seconds per day, give or take - superb! In regards to Squarespace, that number rises to around 2 hours and 40 minutes per year (25 seconds per day, on average).
Table: The speed statistics of Squarespace and Wix
As far as this Wix VS Squarespace comparison goes, Wix does seem to possess some better uptime numbers, even if by a slight margin. However, if you're not looking to create a super-site, and it's not absolutely crucial for it to be online at all times, you shouldn't really feel any difference between the two builders.
Site speed-wise, our website that we've created with Wix loaded up in around 560ms. With Squarespace, this number ranged at around 6400ms (note that these speeds are for the full page loading, and not just the TTFB). It's evident that Wix is a much better alternative in this regard - with websites that are optimized in a similar fashion, Wix has better site loading speeds.
Latest Squarespace Coupon Found:
GET 10% OFF ANY PLAN
Squarespace Black Friday Sale
Squarespace Black Friday has begun: use this Squarespace coupon code to activate a huge 20% discount on ALL plans & create the most beautiful website!
Expiration date : 01/12/2021
5,827 People Used
Only 24 Left
Ease of Use
Now, I know what you might be thinking - how do you compare the ease of use factor in regards to Wix VS Squarespace?
Well, obviously, there is no real number that you could attach to either of the builders as far as simplicity is concerned - it's a somewhat-subjective aspect to consider! However, all subjectivity ends when you enter the dashboard of a builder, and take your first steps in creating your website.
At the same time, though, something that needs to be considered when trying to decide is Wix or Squarespace better is the fact that both builders are literal industry leaders.
Where am I going with this? Well, let's just say that neither Wix, nor Squarespace would have reached the point that they are currently in without being accessible and simple to use.
Indeed - reading through both platform user reviews left online, you would struggle to find less-than-positive feedback in regards to the usability factor of Wix and Squarespace. Both site creation tools are very simple to pick up and use, and you need zero prior experience with anything related to website building or coding, for that matter.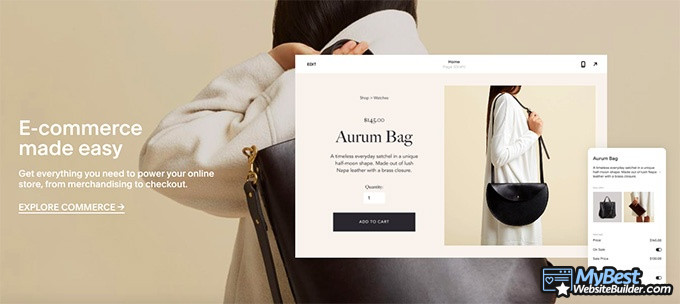 The interfaces of Wix and Squarespace are similar in that they are both drag-and-drop-based. The feature layouts are very accessible, too - there shouldn't be a point in time when you catch yourself not being able to find some important feature, with either of the builders!
Wix does also have a tool called Wix ADI - an AI-based solution for anyone who isn't too keen on building a site themselves, and wants to make the process as fast as possible. You need but to answer a few questions, and the tool will generate a carcass of a website for you. Neat!
Considering both our tests and also the user feedback seen online, I think it's rather safe to say that, as far as the ease of use part of our Squarespace VS Wix comparison is concerned, both tools are very similar, in that they are both top-tier!
Wix vs Squarespace - Which One is BETTER in 2021?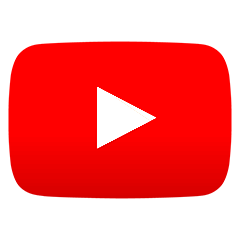 Feature Variety
Don't worry - I won't be going too in-depth with every single feature that Wix or Squarespace offers. It would be a pretty long and encumbered list! Instead, we'll talk about the core features that both builders should possess, and then check to see if there are any additional, interesting points, too.
When it comes to Wix, the builder has most of the essential features that might come to mind when you first start searching for website creation alternatives. Things such as mobile-friendliness and advanced page creation & design tools are pretty much a no-brainer.
However, Wix is also a pretty SEO-friendly website builder. That's awesome! Website builders used to have a pretty poor reputation a while back, in regards to the SEO features and customizability that they provided - now, though, it doesn't seem to be an issue (at least as far as the industry leaders are concerned).
Following that, naturally, you have things such as analytics tools for monitoring your website's performance, chat apps, integrated support features, SSL certificates, mailboxes, and so on. Unique feature-wise, Wix offers the aforementioned Wix ADI - a tool that makes your site creation experience much easier and faster, if you choose to use it!
Table: The variety of features among Squarespace and Wix
On the other end of our Wix VS Squarespace comparison, Squarespace isn't falling behind with its feature variety, either! The builder supports all types of content (digital media, stylized written content, embedded videos, etc.), is very SEO-friendly, possesses features such as site analytics, emails, marketing and logo creation tools, and much, much more.
Squarespace also allows you to integrate custom code into your website, so as to make it as unique and your preference-tailored as possible. I probably don't even need to mention things such as free domain registrations and SSL certificates, either - all of that is available with the builder in question!
While we have just scratched the surface of the various different features available with both of the builders in this Squarespace VS Wix comparison, I think it's safe to say that both builders offer their users a rather extensive variety of features to unlock and utilize in their site building ventures. That's awesome!
eCommerce Functionality
As pointed out earlier on in the Wix VS Squarespace comparison, while we could have discussed eCommerce as part of the "feature variety" aspect, it's actually something that is worth touching upon separately, altogether.
Whenever you talk about non-eCommerce-based builders, things do tend to get a bit tricky. You'd probably always want to find a builder that would only offer the best business-related features, but, at the same time, have a variety of additional perks for you to utilize, too!
What's the case with Wix versus Squarespace, you may wonder? Well, let's start off with Wix.

Wix allows you to both create an online store, and also launch branding for your company, while you're at it. You can sell both physical objects, and also digital services and subscriptions - this is fully supported by the builder in question.
Additionally, Wix provides all of its business clients with unlimited bandwidth, ad vouchers, unlimited product placements, automated sales taxes, customer cart recovery, sales on different platforms, multiple currency support, and so on.
All of the features mentioned above (and many more!) are available with the Wix business-specific plans. What this means is that, if you choose one of the basic plans when you're just starting out, and the eCommerce features that it offers will start to feel lackluster, you will then be able to upgrade your plan.
Squarespace does also allow you to build and run a fully-fledged eCommerce business. Same as with Wix, you will be able to sell both products and services (and subscriptions!), provide your customers with discounts, manage your inventory with helpful tools, and so on.
Your customers will be able to create their own accounts, purchase gift cards, manage their carts - all in a simple and intuitive way! Squarespace keeps things super-simple, even in regards to its advanced eCommerce functionality - that's surely much appreciated!
SQUARESPACE
WIX

Beautiful theme templates
Good uptime
Plenty of features

Wix ADI - Artificial Intelligence
Easy Drag and Drop
Variety of Free Widgets and Apps
More than 500 Templates
Modern & Sleek

Visit site
Read review
Visit site
Read review
Table: The pros and cons of Squarespace and Wix
Following that, Squarespace will allow you to accept a wide variety of different currencies, will support shipping with a wide variety of shipping-oriented services, provide full tax support, sales analytics, and more.
Evidently, this is yet another point in this Squarespace VS Wix comparison where both builders are truly top-tier. The features that they offer are very similar to one another, so in the end, it all kind of boils down to your own, personal preferences.
Templates
Website templates might seem like a somewhat-trivial topic to people who have never researched website builders before, but the reality couldn't be further from the truth!
I've mentioned this at the beginning of this Wix VS Squarespace comparison, but templates are among the first things that you need to look into when deciding if a builder is suitable for you. Think of it this way - if a website builder only supplies some outdated, blast-from-the-past templates, your site is going to look aged from day one, and will surely not inspire confidence within any potential visitors.
Another point why templates are as important as they are is mobile-friendliness. As time goes on, more and more people turn towards using the web primarily on their mobile devices - smartphones. Google and other search engines know this - even today, if your website isn't optimized for mobile use, your site search engine rankings are going to go down.

As you might have gathered already, templates are a huge part of that "mobile friendliness" part. They are often the deciding factor, since the template represents the general structure of your website, and the layout of the page that the user might be visiting.
With that short informational speech out of the way, let's move on to the actual template part of the comparison - is Wix or Squarespace better in this regard?
Well, both website builders do offer their users some amazing-looking templates. If you were to look at things strictly from a number-based perspective, Wix would be the clear winner - the builder has over 500 different templates, while Squarespace only offers around 110.
However, numbers don't really mean anything here - it's the quality that counts. And in that regard, Squarespace is seemingly-unbeatable.
Table: Information about the general design elements of Squarespace and Wix
Squarespace has a long-lasting and well-established reputation for offering its users some of the most modern and beautiful templates in the entire industry. They are aesthetically-pleasing, up-to-date in regards to the current market trends, and also different platform-friendly, too.
Don't get me wrong, Wix does offer users a wide selection of some great site templates, too - ones that are both modern-looking, and also mobile-friendly. That said, if themes and templates were the deciding factor of this Wix VS Squarespace comparison, the latter builder would likely come out on top.
Pricing
Last but oh-so-certainly not least, let's take a look at the Squarespace VS Wix pricing comparison.
Without any formal introductions, the plans (and their pricing) that you can expect with Wix are:
These are the general plans - meaning, they do not include the business-related options that are also available with Wix. To keep things orderly, we'll be focusing our Squarespace VS Wix pricing comparison on the main website building plans from both providers.
Squarespace's pricing looks like so:
Interestingly enough, there isn't really much to compare - both website builders in question are priced in a very similar manner!
Naturally, they are both going to come with money-back guarantees, too. Meaning, if you're not satisfied with your purchase, and feel like you've made the wrong choice, you can get a refund, during the initial period of time.
Table: The pricing options of Squarespace and Wix
From a very general perspective, both Wix VS Squarespace are "guilty" of not having the most affordable website creation pricing plans on the market. Don't get me wrong, they are far from being "expensive" - however, there are surely much more-affordable options out there, too.
That said, one must keep in mind that we're talking about the top-tier website builders here! Both Squarespace and Wix are industry leaders, and do undeniably provide their users with some of the best features and website creation services possible.
Conclusions
So, then - what's the verdict of our Wix VS Squarespace comparison? Is Wix or Squarespace better?
Well, the one thing that you might have gathered in regards to both website builders is the fact that they are, in fact, very similar in many regards. Both Wix and Squarespace provide their users with amazing usability features, come equipped with a wide assortment of additional features and apps, have great eCommerce functionality, and are priced very much the same.
The biggest differences would probably be the fact that Wix offers better site speed statistics, while Squarespace has some of the best templates in the entire industry. The potential-user choice between the two builders is likely going to be swayed by this difference.
Table: Company information of Squarespace and Wix
A note on site loading speed, though - do keep in mind the fact that it does depend heavily on you, too! If you optimize your website, and follow all of the "best practices" as much as they concern site speeds, you're bound to be able to achieve some great results with Squarespace, as well!
With that said - that's it! We've reached the very end of our Wix VS Squarespace comparison. If you'd like to know a bit more about either of the builders in question, make sure to read out in-depth reviews on Squarespace and Wix.
Furthermore, before you make up your mind, you should also check out our short comparison between the two - perhaps when you see everything placed in tables and columns, the right decision will be clearer for you!
Thanks for reading, and until next time!
Leave your honest feedback
Leave your genuine opinion & help thousands of people to choose the best website builder. All feedback, either positive or negative, are accepted as long as they're honest. We do not publish biased feedback or spam. So if you want to share your experience, opinion or give advice - the scene is yours!
TOP3 Most Popular Coupon Codes