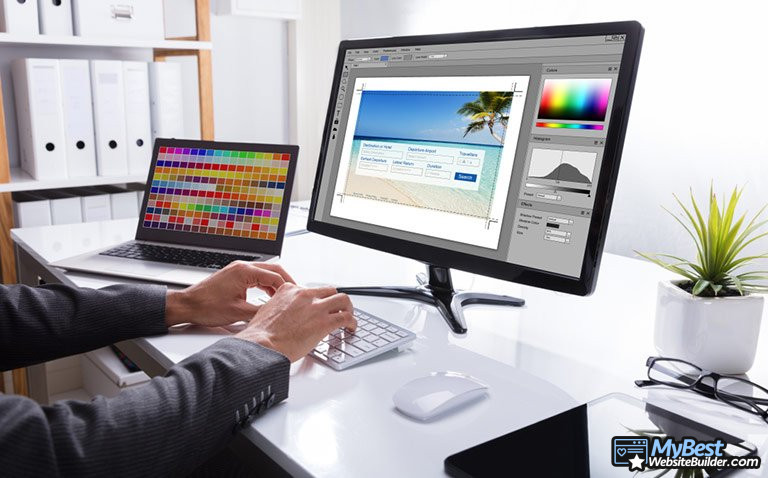 Web design is one of the most crucial aspects when it comes to any business. According to InfinityHR, first impressions are 94% design-related. Since this profession is becoming more and more on-demand, an increasing number of people are wondering how to become a web designer.
Even though so many people want to know how to learn web design and gain more knowledge about this profession, some of you might have questions, such as "what does a web designer do?".
In this guide, I will help you to understand more about web designers and what they do exactly. What is more, I will recommend some basic courses that are needed in order to have a general understanding of web design, visual aspects and UX.
Furthermore, you'll find out what skills are a must if you want to become a professional web designer, as well as some tips on how to create yourself an attractive-looking website that can showcase your work (hint - yes, it's by utilizing a website builder, such as Zyro).
Without further ado, let's find out what web designers do and what skills are needed to become a professional in this field.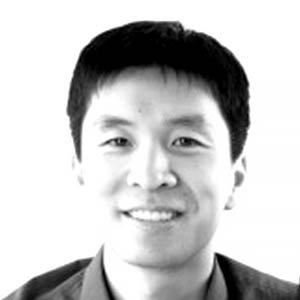 Lucian Wu
Director at Creative Nurds
What skills are needed in order to become a good web designer?
Being patient. No one is born with the skills to be a good web designer. You become better by reading, watching, learning, and practicing. All of that takes time. Continued improvement over days, months, and years is going to turn you from an amateur into a professional. You can overcome a lot if you put in the effort.
What Does a Web Designer Do?
A web designer is not just a creative person, there are many technical aspects that come into play. A web designer must understand how to create a not only visually appealing but also functional and easy-to-use website.
The main job of a designer is to create web pages. First of all, there's a visual side. It includes selecting proper colors, font, layout, images and other aspects related to the aesthetical part of a web page that must be suitable for a certain business that you're creating it for.
However, there's something even more important than a visual side. That's usability. Web designers have to think everything through and provide customers with an easy-to-use and functional website.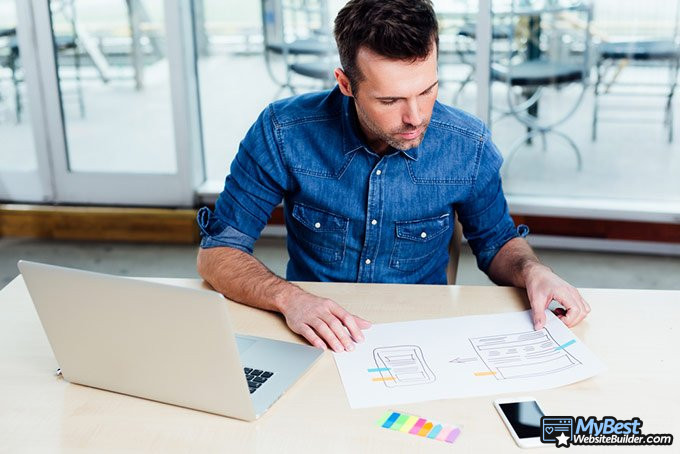 That being said, a web designer has a lot of responsibilities that include:
Designing website navigational elements.
Choosing proper colors, fonts, graphical elements, etc.
Turning the client's needs into reality.
Designing a website based on SEO requirements (to ensure that it ranks on Google).
Taking care of website functionality.
Thus, some of you might be slightly disappointed by the fact that web designing isn't just about the visual aspects, however, since you came here to find out the answer to the question "what does a web designer do?", everything should be completely clear.
How to Become a Web Designer: An Extensive Guide
Even though you know what web designers do, it doesn't answer the question "how to become a web designer?". Now, since there's a long process ahead of you, I'll start with the very basics and go through this process with you.
Take Courses on Introduction to Web Design
First things first, you need a basic understanding of web design. Today, there are multiple online learning platforms that will provide you with the necessary knowledge. I would like to recommend a few options:
Udemy course will provide you with the basics of web design, including the basics of CSS and HTML. What is more, you will learn about the current web design trends, how to build your own portfolio and get insights on web development, debugging, and even more. This course is suitable for both beginners and those who have some knowledge.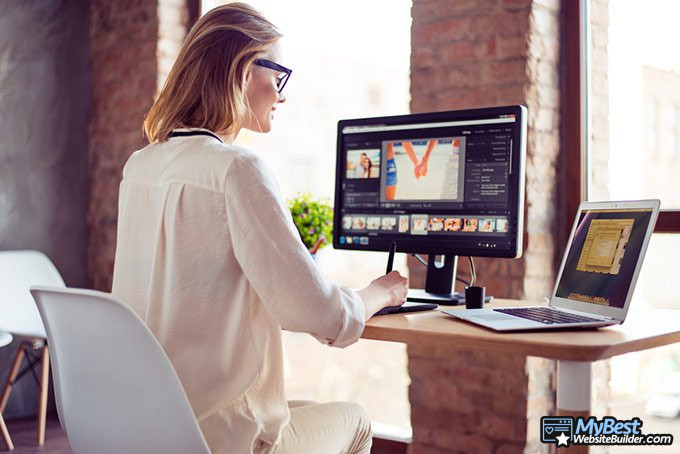 BitDegree course works great for beginners, it will introduce you to web design basics and the most important rules. You will learn more about graphic design, typography, how to create unique graphic design as well as how to integrate sound and motion into your design.
Finally, Alison courses will teach you how to create attractive-looking and intuitive websites using CSS, HTML and JavaScript. It can be really helpful not only for beginners but also for more advanced users. The completion of the course takes 15 hours. After that, you will get a diploma-level qualification that will improve your skillset.
So, if you want to learn web design, it's a must to begin from basics and improve your knowledge gradually.
Latest Squarespace Coupon Found:
SAVE 20%
Squarespace Limited-Time Deal
Grab this Squarespace offer code & enjoy a lovely 20% off on any selected Squarespace subscription plan. Create your dream website NOW!
Expiration date : 05/06/2023
4,512 People Used
Only 88 Left
Learn How to Apply Simple UX Design Principles
After you know the basics and have a minimal understanding of how to become a web designer, it's time to focus on UX design principles.
What's important to understand is that web designers are not the same as UX designers, so they're not completely responsible for human-centered UX design. Differently from UX designs, web designs are less iterative, meaning that there aren't as many continuous changes.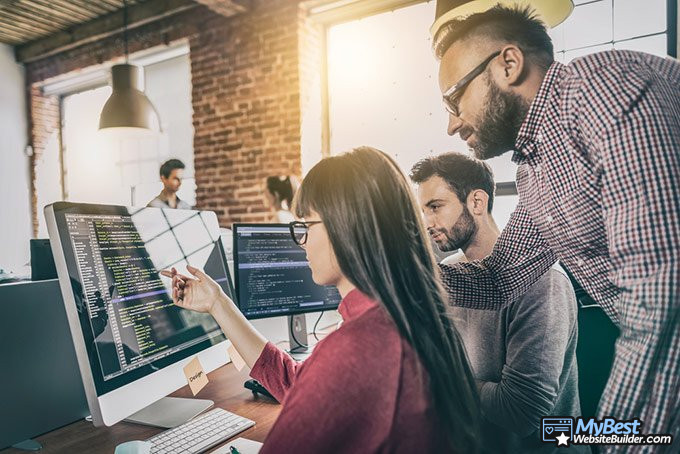 However, even though web designers are not completely responsible for UX, if you want to be a professional, having an understanding in this field is a must.
You should always create a website for people not for a computer, ensuring that each customer has a pleasurable experience using your website and not leave the minute they visit it. So, your website should be easy to navigate, interactive and mobile-friendly. Each of these aspects is a part of the Core Web Vitals provided by Google. Thus, if you want to rank higher, it must be taken into account.
To learn more about UX design principles, you can check out not only different courses but also join communities where people share valuable information about UX and web design. Here are some of the communities that you can join:
Therefore, there are so many resources available, so take advantage of them and improve your knowledge.
Master Web Design Software
After you have a basic knowledge about web design as well as UX, it's time to move further and introduce you to software that web designers use. Keep in mind that you don't have to master each of the tools that you'll find below, however, understanding at least basics of each program could be very beneficial to your career.
Without further ado, let's move to the web design software that many designers use.
Adobe Photoshop
If you want to know how to become a web designer, Adobe Photoshop is one of the most important aspects that will help you to achieve that. This program is used for image editing. It's necessary to properly resize and compress images for website viewing.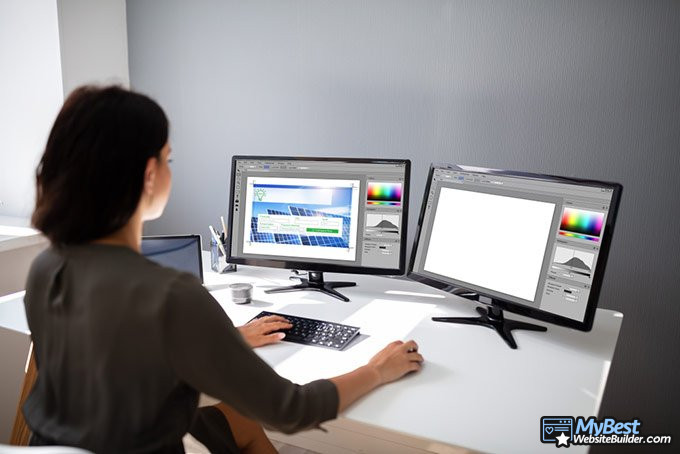 What is more, you'll need to know basics such as cropping images, changing formats, and so on. You might need to edit images for clients as well. That might require even more expertise.
Adobe Illustrator
I'd say that Photoshop and Illustrator are the most essential tools for those who are wondering how to become a web designer. Adobe Illustrator is great for fonts and vector graphics. What is more, the majority of web designers are using this program to create logos. That being said, mastering Adobe Illustrator is one of the requirements for a successful web designer career.
Adobe Animate
Adobe Animate is definitely not a necessity for web designers, however, you should at least be aware of it. Animate is used to design vector graphics and animation for websites, television programs, video games, and so on. It was previously known as Flash.
Adobe Dreamweaver
Adobe Dreamweaver is used by many web designers when creating a website. It supports CSS, HTML, JavaScript and more programming languages. Dreamweaver allows you to create, code and manage dynamic websites easily. It provides you with code hints that can be really useful while in the process.
Adobe Premiere Pro
Premiere Pro is a video editing software. It can be used for TV, web and videos. This software provides you with a variety of tools that allow you to create flawless films and videos. Once again, it's not a necessity, just something that you should be aware of if you're wondering how to become a web designer.
Once again, you might find yourself not knowing where to begin. If so, you can always check out Udemy, BitDegree and Skillshare courses on Photoshop basics. That's for a start.

Did you know?
Learn HTML and CSS
If you're wondering how to become a web designer, HTML and CSS are the answer. These programming languages are necessary for every web designer who wants to become a professional in the field.
HTML, short for Hypertext Markup Language, is used to describe the structure of a web page. Using HTML you create pages that each contain a variety of hyperlinks to other pages. HTML is needed to ensure good text and image formatting that are suitable for your Internet browser. Thus, HTML works as the 'bones' of a web page.
CSS stands for Cascading Style Sheets. The emphasis is on "Style" here. While HTML is responsible for a website structure, CSS goes more into details and allows you to specify colors, fonts, page layouts and all the other aesthetic elements.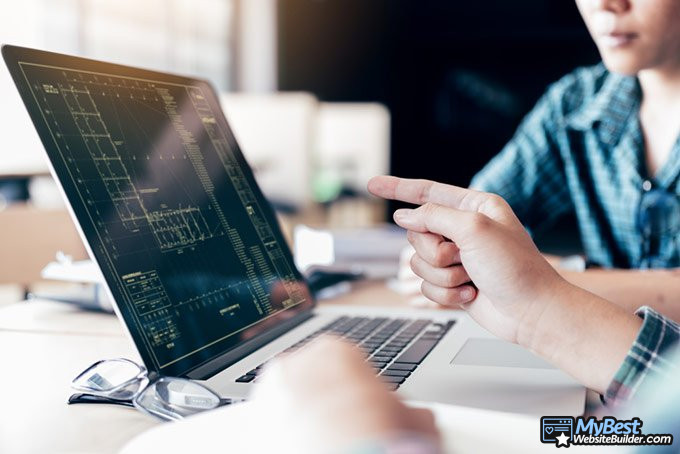 Thus, since you wanted to find out how to be a web designer, I'd say that knowledge in CSS and HTML is a must. Both of these programming languages are responsible for the visual elements of your website.
Now, if you're not sure where to start learning, I'd always recommend checking out w3schools.com, where you can get all the necessary knowledge when it comes to different programming languages. Also, check out online courses, such as Udemy, Skillshare and BitDegree, they have a variety of courses that are suitable for beginners as well as advanced learners.
Create a Professional Website/Portfolio
A professional website is one of the best ways to show off your skills. If you can create a visually-appealing and functional website for your needs, you can do the same for clients. Thus, your personal website is where you can showcase your abilities.
If creating your website from scratch sounds too difficult at first, you can take advantage of different website builders and CMS that can be used to create sleek-looking websites without much knowledge. By typing in codes to make your website more unique, you'll be able to get more practical experience.
Here are 3 recommended platforms:
Squarespace. Squarespace is suitable for people who value aesthetics. It comes with a variety of designer-created templates that you'll be able to adapt based on your needs. Squarespace allows adding code to your site and making it one-of-a-kind.
Zyro. Zyro offers users many different features of how they can create a unique and visually-appealing website. The builder is fun to use, very simple, and also one of the most affordable options on this list!
WordPress. WordPress is a CMS (Content Management System) that's used by a number of professionals. It allows you to create your own themes using HTML, CSS and PHP. So, that's where you can easily test your skills. WordPress is an answer to how to become a web developer.
Wix. Wix is one of the most popular website builders in the market. If you want to get more freedom, you should go with Wix Editor. It comes with a variety of templates and allows you to integrate code to customize various Wix components.
Thus, figuring out how to be a web designer might be really difficult at first, however, you shouldn't forget that it's a long process that has to start somewhere.
Start Building Your Brand
Once you have the knowledge on how to become a web designer and have mastered all the necessary skills, it's time to start building your brand and look for new clients.
Since you'll be having very minimal experience at first, it's recommended that you start with free projects. This way, you will be able to find clients as well as start creating your portfolio that you'll be able to showcase to other potential clients.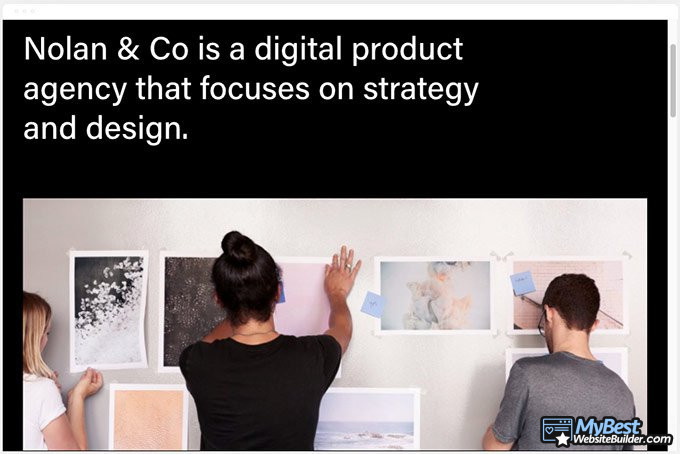 I'd suggest starting from various forums, such as Reddit, that can give ideas on how to start. Also, join freelancing groups where you'll be able to find new clients and promote your work.
Bit by bit, you'll start building your brand and expand your clientele.
Conclusions
Therefore, there's no simple answer to the question "how to become a web designer?", there's an entire process that's waiting ahead of you. Here are the steps that you should follow:
Learn web design principles.
Master web design software
Learn HTML and CSS
Create a professional website/portfolio to showcase your work.
Start building your brand.
Since it's not that simple to figure out how to be a web designer, you can start with website builders. The most recommended options include:
So, not hesitate and start moving towards becoming a professional web designer!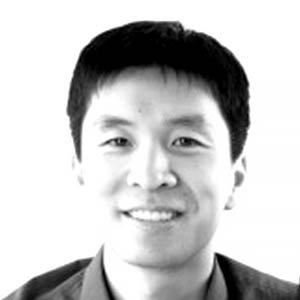 Lucian Wu
Director at Creative Nurds
Contributed by: Lucian Wu , Director at Creative Nurds
Lucian Wu is an expert web designer based in Melbourne, Australia, and a Managing Director at Creative Nurds - a web development company that specializes in delivering engaging websites for the Aus...
Read Full Bio...
Leave your honest feedback
Leave your genuine opinion & help thousands of people to choose the best website builder. All feedback, either positive or negative, are accepted as long as they're honest. We do not publish biased feedback or spam. So if you want to share your experience, opinion or give advice - the scene is yours!