If you've already created a website and are ready to go live, it's time for you to choose a reliable web hosting provider. When looking for one, you will probably come across InterServer reviews.
Even though InterServer is not as well-known as some of the industry giants and is more of an underdog, this web hosting provider has gained quite a good reputation throughout the years. That being said, it's time to put it to the test and find out whether or not it's worthy of all the appraisals.
InterServer was founded back in 1999 by two tech-savvy high-school students - Mike Lavrik and John Quaglieri. They shared a dream that one day they'll be able to offer data services at affordable prices whilst maintaining high-quality and spectacular performance. This unified goal led to the strong partnership and the creation of InterServer.
Even though it's already been 22 years since InterServer was created, one thing remained the same. That's the goal to offer top-quality services for customer-friendly pricing.
In this InterServer review, we'll see if the company manages to accomplish its main goal and offer what was promised all these years ago. What is more, I will provide you with InterServer plans and pricing, test its performance, evaluate additional features, and so much more.
That said, if you want to find out if this service is right for you, this InterServer review will definitely help.
---
Verdict at a Glance
In general, InterServer offers truly attractive plans and affordable prices. What is more, it ensures high performance and is truly reliable. The uptime and speed test showed that this web hosting provider can be trusted. It also comes with reliable security tools, helpful customer support, and unlimited resources. Reviews about InterServer.net also showed that the majority of customers are happy with their service. On the other hand, it has a pretty outdated interface and all InterServer data centers are located in the US.
Pros
Multiple hosting plans
Attractive features
99.98% uptime
Easy to use
Cons
Outdated interface
All datacenters located within the US
InterServer Review: PROS
There are multiple things to take into account when evaluating InterServer and making certain conclusions. That's why this InterServer will cover the most crucial points, including provided services, features, security capabilities, uptime and speed, and so much more.
Let's start on a positive note.
8 Hosting Types to Choose From
The first thing that I want to take a look at is the different types of hosting that InterServer offers. Like with any other web hosting provider, shared web hosting plans are the most affordable ones, followed by VPS, dedicated, and collocation plans.
InterServer is different from many other hosting providers because it offers the previously mentioned hosting types and allows you to choose from different levels within these plans. That's why you can easily find the most suitable plan for your needs and pay only for the features you actually need.
Now that we got this out of the way, let's focus on the available plans. Currently, InterServer offers 8 different hosting types, including:
Shared Hosting
Virtual Private Server (VPS)
Cloud Hosting
Dedicated Hosting
Custom Hosting
Quick Servers Hosting
Reseller Hosting
Colocation Hosting
Even though there are multiple options to consider, people usually choose among shared, VPS, and cloud hosting plans. Let me go through each of them quickly.
First of all, shared hosting. It's the most basic hosting type recommended for small businesses or personal websites that don't generate much traffic. It's also the most affordable option that you can find. The reason why it's called 'shared hosting' is because you'll be sharing all the resources with other websites on the same server. That's why your performance is strongly influenced by those other websites.
Even though it is slightly more expensive, VPS hosting is definitely more recommended than shared hosting. The reason for that is because you will get a part of resources on one server dedicated specifically to you. This means that no other website on the same server can affect your website's performance. If you look for customer InterServer.net VPS reviews, you'll see that most customers have only positive things to say.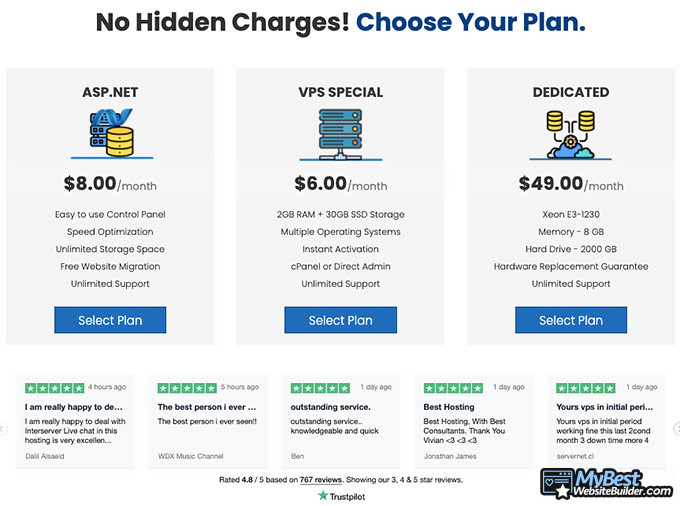 Cloud hosting is very different from shared and VPS hosting. Instead of using resources from a single server, it stores data across multiple servers and ensures better performance. It tends to be very affordable and is a great option for small businesses.
Interserver plans start from only $2,50 per month. The more advanced plan you choose, the more expensive it gets. Simply consider your needs and choose a web hosting plan suitable for your website.
Now that we covered the available hosting types in this InterServer review, it's time to move further and look at other things that matter.
Latest Squarespace Coupon Found:
GET 10% OFF ANY PLAN
Squarespace Black Friday Sale
Squarespace Black Friday has begun: use this Squarespace coupon code to activate a huge 20% discount on ALL plans & create the most beautiful website!
Expiration date : 30/11/2021
5,827 People Used
Only 24 Left
Feature-Rich Hosting Provider
Want to choose the most reliable and capable hosting provider? Pay attention to storage space, data transfer, control panel features and usability, uptime, email features, security tools, speed, building tools, and some additional features offered by a web hosting service.
When it comes to InterServer, it comes with all the essential features you might need. Even the most basic plan provides:
Unlimited SSD storage
450+ cloud apps
SitePad website builder
Unlimited number of email accounts
Free SSL certificates
Intershield protection
Free website migration
Global content coaching
It's also important to mention in this InterServer review that you can choose from 466 apps and enjoy 1-click installs. You can choose from multiple categories, including blogs, CMS, eCommerce, forums, social networking, educational, and others.
What is more, InterServer uses cPanel that eliminates all the confusion. Together with Direct Admin, it provides all the necessary tools for admins, resellers, and business owners. Also, it provides effortless domain management. You can set up subdomains, addon domains, parked domains, or redirect domains in a flash.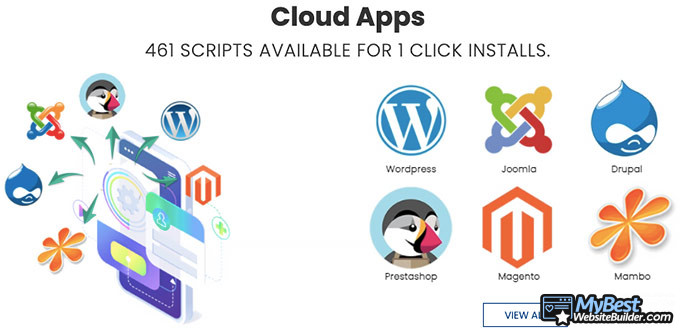 You don't need any technical expertise to figure out how cPanel works, it's super clear and straightforward. It's important to mention, though, that both cPanel and DirectAdmin work best on dedicated and virtual private servers.
Another aspect that cannot be ignored is that InterServer is a great option for fast-growing websites. Since it uses 50% of the available resources, it manages to ensure there are no performance issues.
Some of the reviews about InterServer.net claimed that they're truly pleased with e-mail features. That's probably because InterServer guarantees email delivery. Instead of sending your mail directly from a web hosting server, your email is being processed through a gateway server.
The final thing that I want to focus on in this part of the InterServer review is eCommerce hosting solutions. eCommerce hosting features allow you to make your website live in a few seconds. You can install multiple scripts such as WooCommerce, AbanteCart, OpenCart, and even more. They will add additional functionality to your online store and ensure that everything goes smoothly.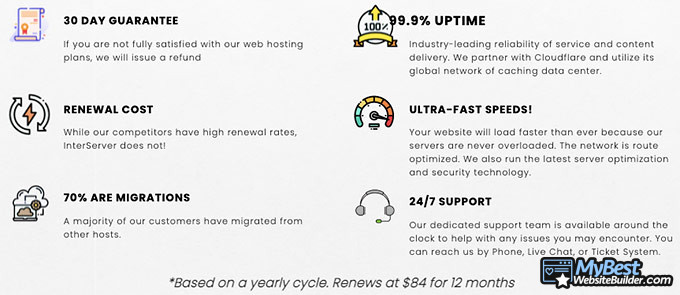 There are so many other attractive features offered by InterServer, however, they strongly vary depending on the hosting plan you choose. That being said, if you don't want to overpay for the features you don't need, you should take a look at separate plans and the available features you get.
Now we got all the main features out of the way, it's time to focus this InterServer review on security.
➥More exceptional InterServer features HERE
Capable Security Tools
It's estimated that by 2025 cybercrime could cost the world $10.5 trillion annually. The numbers show that it's five times more profitable than transnational crimes, such as drug and human trafficking, oil theft, and so on. This data indicates that staying safe online is crucial. One of the ways to do that is by choosing a secure hosting provider.
As far as security goes, InterServer makes sure that there are no doubts regarding its capabilities. It offers native security solutions:
Free InterShield Security
Inter-Proxy Caching + Cloudflare
Free Inter-Insurance
You're probably hearing about InterShield security for the very first time. That's because InterServer developed this security solution in-house.
InterShield uses data from thousands of servers and websites. It helps to detect attacks and replicate protection rules to prevent attacks from happening before they even started.
All in all, InterShield blocks web attacks, automatically scans viruses, offers Machine Learning Firewall, and an in-house malware database.
When it comes to Inter-Proxy, it's capable of catching website content with heavy requests loads automatically. What is more, InterServer stores files that are under 2MB in RAM. Also, it uses QUIC for reduced connection times.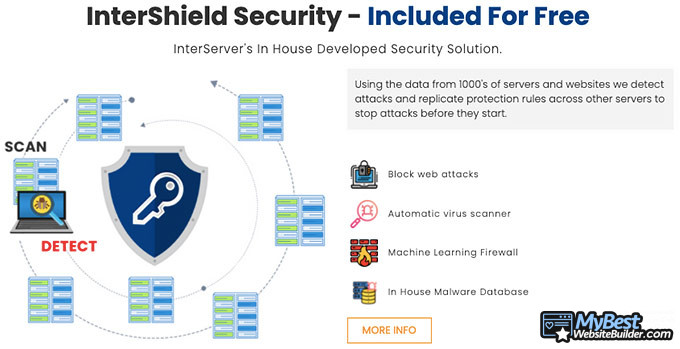 Now let's move to Inter-Insurance. InterServer provides this security measure completely free regardless of the plan you choose. It's capable of deleting compromised and hacked accounts. What is more, users get this service during the migration process, meaning that your account will be instantly cleaned up.
The service examines and determines why a specific issue appears. Then it restores the website to its original state and ensures to fix the cause of the problem so that it doesn't repeat itself in the future.
Apart from the native security solutions, InterServer provides weekly backups and free SSL certificates. Weekly backups add a layer of security and are stored on a remote server. When it comes to SSL certificates, it's simply great to appreciate the fact that InterServer provides them completely free of charge.
All things considered, InterServer leaves no doubts when it comes to security features. However, it's also crucially important to check how reliable it actually is.
On this note, let's move to the uptime and figure things out.
99.98% Uptime
It might seem quite difficult to determine how reliable the web hosting provider is, however, since there's a metric known as the 'uptime', things are a lot easier.
Uptime refers to the time that your website is accessible to everyone. Downtime, on the opposite, shows the time that your website is down and not available. It's evident that you can lose a significant number of potential customers if your website has a low uptime or high downtime.
It's estimated that a good web hosting service should provide an uptime of at least 99.9%. To find out if InterServer is reliable, I've created a website and used InterServer hosting services. The InterServer uptime test result revealed an uptime of 99.98%.
If you were to look at other InterServer reviews, you might find that the results are a bit different. That's because it depends on many variables. However, as long as the uptime is higher than 99.9% - you're good.
To understand what 99.98% uptime actually means, you can always use our uptime calculator. Well, that's exactly what I did. It revealed that whilst using InterServer hosting services, your website could be down for no longer than:
17 seconds per day;
2 minutes per week;
8 minutes and 45 seconds per month;
1 hour 45 minutes and 11 seconds per year.
InterServer revealed spectacular results, so you can rest assured that you won't need to worry about reliability if you choose this web hosting provider.
Good Website Speed
Website speed is crucially important for everyone, especially small businesses. Studies show that people tend to wait no longer than 2 seconds for a website to upload. Also, every additional second will cost you a significant number of clients. That said, if you want your website to be successful, it's crucial to ensure that it uploads in no longer than 2 seconds.
Little did you know that website speed strongly depends on the web hosting provider you choose. That's the main reason why I'm talking about speed in this InterServer review.
Now, to perform the InterServer speed test I used GTmetrix. When tested from the United States, the results looked like this: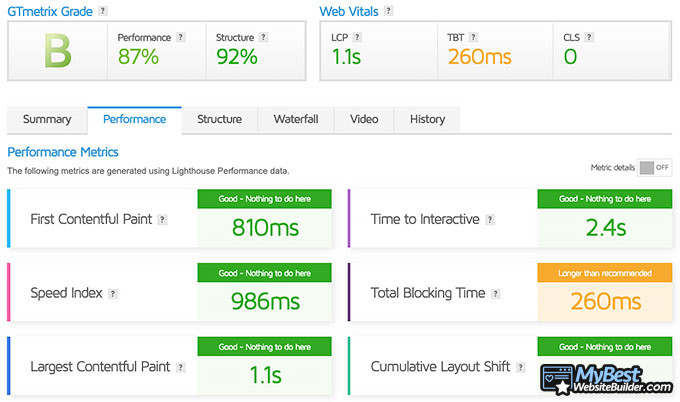 There's not much to add here, the results are simply amazing! The only thing that could be better is the total blocking time that's necessary for a good user experience.
If you want to perform some testing on your own, you should pay close attention to the average loading time, the best loading time, and the worst loading time. Generally speaking, loading times should be below 2 seconds for the best results.
When I tested my website, the average loading time was 1.8s, the best loading time was 1.1s and the slowest loading time was 2.8s. Even though it's possible to get better results, that's still a good outcome for sure.
Now, when testing speed from other locations, including the UK and India, the results weren't as good. However, it's completely natural because InterServer data centers are located within the US.
I've also checked InterServer.net VPS reviews to determine if someone experienced issues with their website's performance and speed. Fortunately, it seems that the majority of people are very satisfied with their website speed and haven't experienced any performance issues. That's exactly what the uptime and speed test showed us.
Note: if you're experiencing speed issues, it could be time to switch to a better plan. As your traffic is growing, shared hosting may no longer be an option.
Now that we're done with the InterServer speed test, it's time to move further and focus on other important features.
High-Quality Customer Support
When using a new service or product, you might come across certain issues, even if it's as easy to use as InterServer. When that happens, we all want to have someone to ask for help. That's the main reason you need helpful and reliable customer support.
When it comes to customer support, InterServer provides you with 4 different options:
Live chat
Phone
Email
Facebook chat
If you experience a small issue and want it solved as soon as possible, I'd recommend using a live chat. That's the fastest way to get your problem resolved. I even tested the InterServer live chat for myself to see how fast they respond. It took a few minutes to receive all the answers.
However, the problem is that the live chat is not actually a live chat. This means that you need to provide your question, name, email address, and wait for the response. If the team is available at that time, they will provide you with resolutions instantly. If they're offline, though, it will definitely take longer to get answers.

Even though it's not as popular, some people choose to contact InterServer customer support via phone. You can find all the available phone numbers on the InterServer official website. That being said, if you prefer to call instead of typing, this could be just the right option for you.
Another thing that you can do is write an email. Even though it usually takes longer for the InterServer team to respond compared to live chat, your issues will still get resolved.
Finally, Facebook chat is always available. It works just like a live chat. Simply type in your question and wait for the response.
If you were to look for reviews about InterServer.net customer service, you might find some negative ones about not getting answers immediately. However, most of the customers get their problems solved one way or another.
Quite Easy to Use
As already mentioned previously in this InterServer review, the provider offers a variety of extensive features. You may have noticed that usability is often an issue when it comes to powerful platforms. But what's the actual case when it comes to InterServer?
In general, InterServer is quite easy to use. You can start by choosing a plan. Even though there are quite a few options available, all you need to do is decide what type of hosting you need.
Once you choose a plan, it's time to create an account. Simply provide your domain name, personal details, and credit card information. That's it, your account is activated.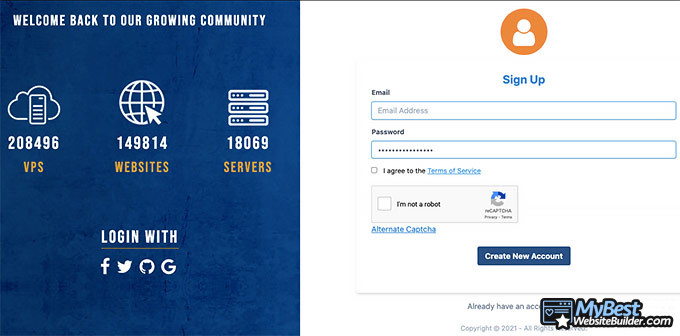 There's one important thing to be mentioned, though. Your hosting won't be activated immediately because you need to verify your credit card first. That was one of the issues mentioned by some customer InterServer reviews. However, now that you know that this problem exists, you can avoid it in the future.
Everything should go smoothly once your credit card is confirmed. When connecting your domain simply go to the InterServer's account area and find nameservers, update them in your Namecheap dashboard and that's it.
Free Hosting for Non-Profit Organizations & Deals for Students
When performing research for this InterServer review, I found that it provides free hosting services for non-profit organizations as well as great offers for students.
To start using InterServer hosting services, go to https://my.interserver.net and create a free account. Then send a copy of your IRS 501C3 tax identification letter to sales@interserver.net. The email must also include your domain name. Once you send an email with all the necessary information, the team will create you a free account in no time.
InterServer offers a standard package for the first year completely free when it comes to deals for students. Students can sign up with their school's email address or contact the team personally. They will receive unlimited storage, websites, transfer, and email. That said, there are completely no restrictions.
Unlimited Resources
You may have noticed that shared web hosting plans tend to be very limited, especially when it comes to the number of websites built with the same plan. What is more, the most basic plans usually have limited resources, disk space, domains, and so on.
However, when it comes to InterServer everything is unlimited. It completely eliminates the fear of running out of space or bandwidth. What is more, you can open an unlimited number of databases, add additional domains, and run completely separate websites. You get all of it using a simple shared hosting plan.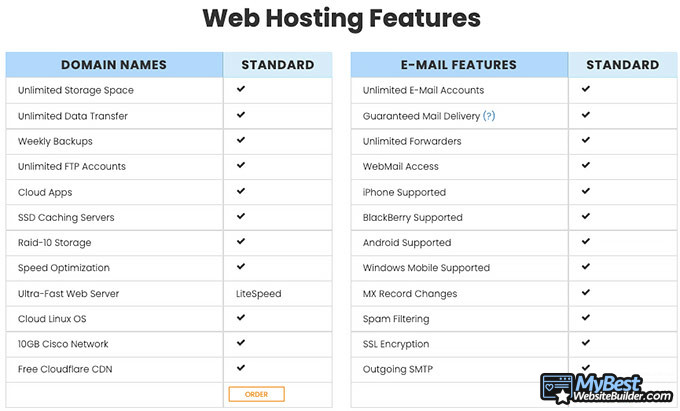 What you should keep in mind, though, is that even if everything is unlimited, a shared hosting plan won't be enough for multiple huge traffic pages. That said, it can be great for multiple small websites that shouldn't get huge traffic.
That's about it when it comes to the positive aspects of InterServer reviews. Even though this provider is capable and reliable, a few things are missing. So let's get to that.
InterServer Review: CONS
There aren't that many cons included in this InterServer review, however, they're just as important as the positive things.
Easy to Use, BUT Outdated Interface
Usability is one of the aspects that you should take into account, especially when you're not experienced in web hosting.
Now, even though you already know that InterServer is not complicated to figure out, some customer InterServer.net VPS reviews complained about the outdated interface. It has a ton of unnecessary information that makes it a whole lot more confusing.
The problem ends once you log in to cPanel, though. It features a clear interface where you can easily find all the needed tools.
All Datacenters Located in the United States
InterServer has 4 datacenters in the US, outside of NYC. Three of them are in New Jersey and one in California. They guarantee 99.9% uptime and 100% power uptime.
What is more, each of them provides 24/7 in-house data center support, 24 hours a day security protection, and climate control.
Even though everything seems fine, the problem is that all datacenters are located within the US. This means that people outside the US might experience a bit poorer performance.
InterServer Pricing
Pricing is one of the most important things that you should consider, especially if you're on a short budget. What's important to understand is that it usually depends on the type of hosting you choose. As I've already introduced you to different hosting types offered by InterServer, you should have a pretty good understanding why the price differs so much.
InterServer offers multiple pricing options. It starts from only $2,50 per month.
Here's more pricing information:
As you can see, InterServer provides an amazing price-quality ratio. Even VPS plans are super affordable. Considering the fact that InterServer is unlimited, you get more than you could expect for such a pricing point.

When it comes to InterServer pricing and all things related, you should also know that there are multiple payment periods: 1 month, 3 months, 6 months, 1 year, 2 years, and 3 years. Longer plans provide discounts that reach up to 20%. That being said, you can get web hosting services for even lower pricing points.
Talking about payment methods, you can use PayPal, Mastercard, Visa, American Express, and Discover.
What is more, even though InterServer pricing is on the lower side, you might want to try it out before making a long-term commitment. Using the InterServer money-back guarantee, you can use the company's web hosting services completely risk-free for up to 30 days before deciding if it's truly suitable for your needs.
That's about it when it comes to pricing and this InterServer review. That said, let's jump to conclusions.
Here is The Best Squarespace Offer I Found:
GET 10% OFF ANY PLAN
Squarespace Black Friday Sale
Squarespace Black Friday has begun: use this Squarespace coupon code to activate a huge 20% discount on ALL plans & create the most beautiful website!
Expiration date : 30/11/2021
5,827 People Used
Only 24 Left
Conclusions
Even though InterServer is more of an underdog, this web hosting provider manages to deliver great performance whilst maintaining customer-friendly prices.
As discussed in this InterServer review, it offers different types of hosting services to choose from. This ensures that everyone finds suitable plans. What is more, InterServer offers strong security and extensive features.
Also, InterServer provides unlimited resources, even if you choose the most basic plan. It's reliable and delivers fast speeds.
On the other hand, some customers complain about its outdated interface and the fact that performance can fluctuate for customers outside the US.
In general, it's definitely a worthy web hosting provider, however, if you want to check out the top-rated ones, visit Bluehost, GoDaddy, and Hostinger.
Leave your honest InterServer review
Leave your genuine opinion & help thousands of people to choose the best hosting provider. All reviews, either positive or negative, are accepted as long as they're honest. We do not publish biased reviews or spam. So if you want to share your experience, opinion or give advice - the scene is yours!