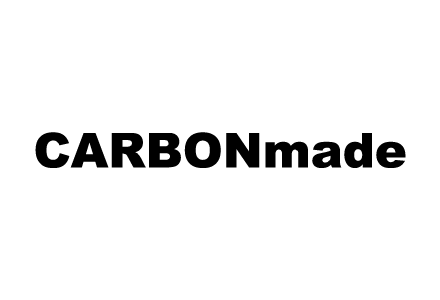 While these days you can find website builders galore, coming across some specific functionality can still be a challenge. Specifically, this mostly concerns people who have very strict requirements for a builder, and its functionality. Well, if you're looking to create some sort of an art-related portfolio, this Carbonmade review might pique your interest.
Carbonmade isn't a very well-known name in the builder scene. This is both because it's still a fresh tool, and also due to the fact that it's rather niche-specific. The builder is aimed at people who want to create portfolios for some specific reasons or purposes.
That being said, though… Is Carbonmade a decent choice, as far as portfolio creation tools are concerned? Or is it overhyped, and not worth paying attention to?
Well, read on, and find out!
TL;DR: While there aren't all that many user Carbonmade reviews that you'll come across online, the existing ones do point out that the portfolio builder is both aesthetically pleasing, and very simple to use. It offers a selection of different pre-designed templates, and even has a free trial for you to check everything out, too. That said, the prices for some of the plans can seem a bit high, and there aren't all that many templates to pick from, either.
Pros
Multiple portfolio-related features
Beginner-friendly
Modern and sleek templates
Helpful customer support
One of the best free trials in the industry
Cons
Payments are non-refundable
The plans are priced somewhat high
Limited functionality
Carbonmade Review: PROS
To start things off on a positive note, we'll discuss some of the main benefits that you can expect to receive whilst using Carbonmade. We'll talk about the bigger points mentioned in other user Carbonmade reviews, as well as conduct our own research, and check to see whether or not our experiences with the builder in question are just as positive.
First off, let's acknowledge the elephant in the room, and discuss the target audience of Carbonmade - artists, photographers, musicians, and other professionals in need of an online-based personal portfolio.
A Builder Dedicated to Portfolio Creation
As pointed out at the beginning of this Carbonmade review, finding a high-end builder these days isn't that big of a struggle - at least it shouldn't be. Sure, you have your industry giants such as Squarespace or Webflow, but at the same time, there's a huge variety of sources that provide you with all of the information about top-rated builders, too - MyBestWebsiteBuider is one such source!
That being said, however, niche-specific builders are always going to be more difficult to come across. At least as far as those that are actually worth paying attention to are concerned.
As stressed a few times already, Carbonmade is a portfolio builder. In other words, it's a website creation tool that has all of its functionality aimed at allowing people to create visual and functional portfolios.
This makes it a niche-specific builder. And a pretty good one, at that.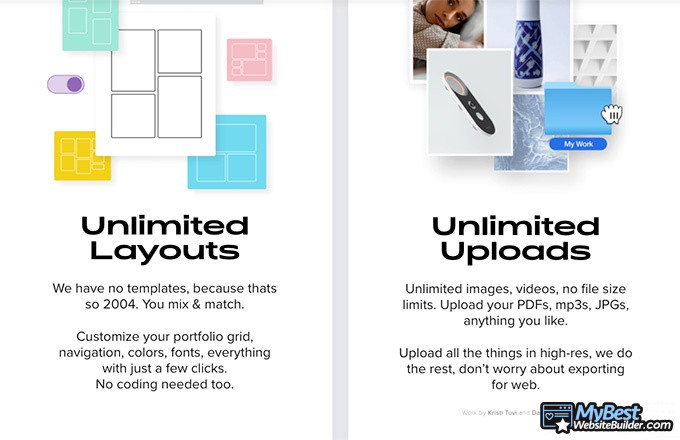 No matter if you're a musician, designer, painter, 3D or concept artist, or anything in between, chances are that possessing an online portfolio of your work is at the top of your priority list - if it's not, it certainly should be!
Sure, you could go out and create a portfolio with one of the builders mentioned above. Many people do actually resort to doing just that. However, if you're certain that you won't need any additional features from your website builder, and all that you truly require is a front page and some interesting way to present your work, then this is where Carbonmade comes in.
User Carbonmade reviews are mostly unanimous in this regard - the builder has all of the core features and functionality that you might need, in regards to portfolio creations. You know exactly what you're paying for, and don't need to worry about a thousand additional features and addons, especially if they would otherwise only be a nuisance to you.
Latest Squarespace Coupon Found:
SAVE 20%
Squarespace Limited-Time Deal
Grab this Squarespace offer code & enjoy a lovely 20% off on any selected Squarespace subscription plan. Create your dream website NOW!
Expiration date : 05/06/2023
4,512 People Used
Only 88 Left
Simple to Use, and Beginner-Friendly
One of the best-known features of website builders, in general, is the fact that these pieces of software allow anyone and everyone to create a website, in a matter of minutes.
In other words, website builders have taken something that was exclusive to developers, simplified it to an awesome extent, and brought it in front of everyone who's ever wanted to create a website. In this regard, Carbonmade is no exception.
Having said that, though, it's undeniable that some builders are simpler to use than others. It just so happens that, as far as portfolio creation and management tools are concerned, user Carbonmade reviews will point to this builder as one that's very approachable.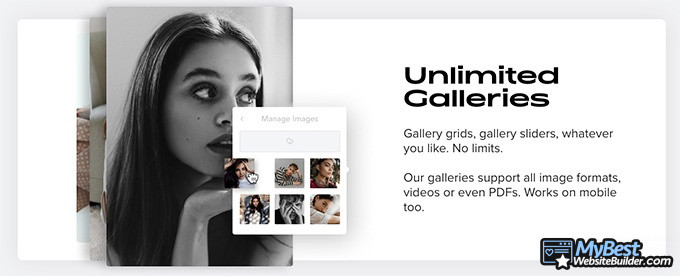 Indeed - simplicity and ease of use are surely some of the core principles involved in the design process of Carbonmade. For starters, the builder uses something that's known as "block design". Frankly, it provides you with a segmented page, allowing you to customize each block to your liking.
Naturally, as you can probably imagine, this makes things much easier, especially if you're just starting out.
Following that, Carbonmade has no coding involved in the site creation process. You do not need any prior experience with WordPress, CSS, HTML, Java, or any other website builder. Sure, if you've never even heard about builders before, you might need a minute or two to figure some things out, but that's about it - the portfolio builder is completely beginner-friendly.
A Wide Variety of Features
… And all of them are portfolio-specific. Yup, you don't need to worry - Carbonmade does not burden users with fancy, yet unusable features that they will actually never even touch.
From the portfolio-building side of things, though, the situation is different. The platform does actually have a decent variety of different features and options for you to go through and customize.
First, there are some unique exterior features that are worth mentioning. Namely, the Talent Pool. This is a selection of different people who have used Carbonmade to create their portfolios, and are now featured by the brand, on its webpage.
This, in turn, allows potential customers and clients to come in, find someone that they like the work of, and hire them. Simply put, Carbonmade acts as a medium between clients and freelance artists, and makes the connection process a lot simpler.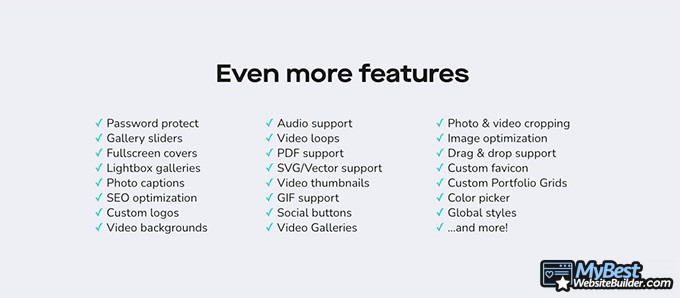 Then there's Private Portfolio. With this feature, you will be able to de-list your website from the web - in other words, no one will be able to access it, from the public space. Instead, you'll be able to generate a code, and only individuals who possess that code will have the chance to access the site.
Moving on to the actual portfolio builder itself, you have things such as the aforementioned blocks, galleries, PDF forms, video players (HD, 4k), social media integration buttons, site analytics, SEO, and more.
The way that Carbonmade works is that it centers all of its core features around the front pages of your website. Whether it be the visual and aesthetic side of the page, or the actual functionality and some away-from-sight stuff (i.e. SEO), the statement does prove itself to be true!
User Carbonmade reviews also talk about features such as custom logo creation, captions, audio support, page covers, drag-and-drop functionality, and more. In short, no matter what type of portfolio it is that you're looking to create, you shouldn't face any issues with a lack of features, whatsoever!

Did you know?
Modern Templates
Templates are among the most essential parts of any website builder out there. They will help decide both the initial appearance of your website, and also how much work you'll actually need to put in before the site looks like you'd want it to look.
Naturally, there are two struggles in regards to providing users with awesome website templates - visual design, and usability. While both of these aspects are quite different from one another, they are both equally as important, too.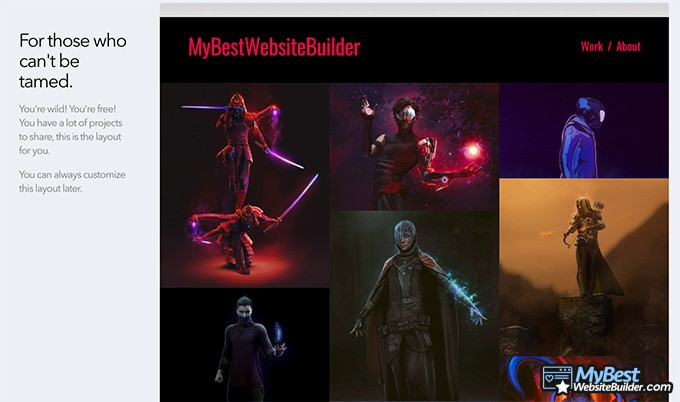 In regards to the visual part of a template, things are quite self-explanatory. With time, website design trends tend to change. Evidently, you'd probably want to "keep up with the times", and make your site look modern and sleek. Well, that's mostly on the builder that you choose.
You needn't look any further than website builders such as Squarespace. The site creation tool in question is often mentioned as one of the best examples in regards to any of the visual parts of a website. Themes and templates are no exception.
In regards to functionality, though, it's worth stressing one more time - it's just as important. Having a pretty-looking website, you'll probably want it to function and work properly, too, right? Well, both elements are going to be the core contributing factors when it comes to the overall, general 'feel' of the site.
With that out of the way, as you might have guessed already, the portfolio builder in question doesn't really struggle all that much, in regards to the themes that it offers - this is something that is made evident by reading user Carbonmade reviews, too.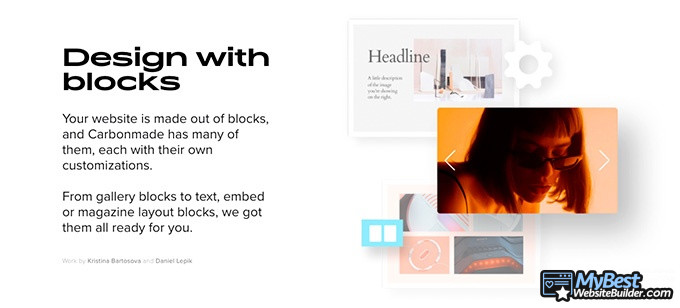 Carbonmade's templates and themes are both aesthetically appealing, and also functional, too. Granted that the site builder interface is segmented into different blocks (the method that you use to build the actual website, that is), it provides a unique and eye-catching visual layout.
On top of that, as we've already discussed earlier in the Carbonmade review, the platform is full of different portfolio creation-related features. All of them combined allow you to remain assured that you won't face any significant struggles when it comes to making your front page (and other pages!) responsive, functional, and clear.
All in all, if your portfolio is very visual imagery-driven (as opposed to, say, a portfolio of a copywriter), Carbonmade shouldn't disappoint.
An Extensive Free Trial
While Carbonmade pricing is something that we'll be discussing a bit later on in the review, this is actually a point worth mentioning sooner.
Most website builders on the market have some sort of a trial for you to enjoy - this has become a type of industry standard. These trials are in place to help you decide whether or not that specific tool is right for you, without having to put down payments in advance.
The trial periods and their conditions depend on a variety of factors. Some builders have 14-day trials, others only allow you to try out the tool for a week. Following that, user Carbonmade reviews also note that there are many website builders that limit the functionality of the site creation tool heavily, up until you purchase a plan.
With Carbonmade, though, things are actually much better than you might initially think. The portfolio builder offers an almost-unlimited free trial - you can play around with the editor for as long as you'd want. The only time when you'll have to start paying a subscription fee for a plan of your choice is when (and if) you do decide to go live with your site.
This is significant! You aren't bound by calendar days or selections of features - instead, you are able to create an actual portfolio from start to finish, and not feel rushed in the process.
Then, when you finally figure out all of the details surrounding the builder, and check through the Carbonmade pricing options, you'll be able to make the decision, purchase one of the plans, and simply publish your website. It's as simple and straightforward as that!
Helpful Customer Support + Tutorials
Customer support is probably one of the most underrated features whenever someone's choosing a website creation tool for themselves. Well, at least until they reach a point where help is actually needed.
Proper customer support can ensure that your experience with the builder is going to be smooth and issue-free. No matter what problem you might face, it will always be reassuring to know that there are people on the other side of the screen, ready to help you out any minute.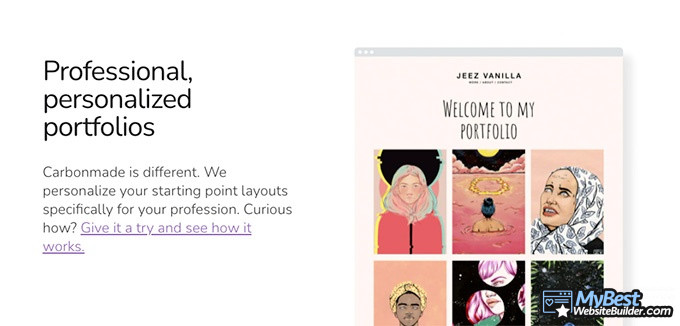 Judging by user Carbonmade reviews, that's exactly the case with the portfolio creation tool in question. Well… Mostly.
Carbonmade does have customer support. The support works in a ticket-based manner - you submit an inquiry, leave your email address, and then wait for a response.
The sad part here is that Carbonmade doesn't really have live customer support. So, you won't be able to receive answers immediately after you've submitted the question.
That said, users report that the response times are usually a few hours. Meaning, you won't really need to wait until the next day (or even for a few days!) to receive your answer.
On top of all of that, Carbonmade users are strongly encouraged to use the database of the platform, in order to find answers to questions that might be bugging them. The builder has an extensive list of questions and answers, and also various tutorials to help you set your site up.

Even when you want to message customer support, the very first thing that you'll be prompted with is the "Answer" tab, where you'll find some of the more-common questions answered and addressed.
All in all, the conclusion here remains the same - you shouldn't really come across any problems that you couldn't fix with the help of either Carbonmade's database, or their customer support service.
Decent Page Loading Speed
While things like the builder interface and the variety of features do matter, one should always consider some aspects that aren't going to be seen by the naked eye - specifically, in this case, I'm talking about the speed at which your website loads.
I probably don't need to tell you why site loading speed is important. It's quite obvious, really - if a visitor comes to your website, and has to wait 20 seconds for it to load up the first lines of text or images, chances are that they're not coming back.
What's the case with the builder in question, you may ask? Well, while there aren't really many user Carbonmade reviews that would mention this point, I'm happy to say - Carbonmade's got you covered.

With the help of Google's PageSpeed Insights, we can see that a lightweight website created with Carbonmade will load up in around 3 seconds. That's actually quite decent, granted that 3 seconds is the actual industry standard.
Portfolio websites are actually in an interesting position here, too. While they are usually very light when it comes to various features and widgets, they do tend to feature a lot of imagery, audio files, and embedded videos. This can clunk up your site super-fast, and make it take ages to load up.
This is why proper website hygiene is extremely important when dealing with portfolio projects. Image optimization, video checks, and other, similar methods can really help your website "breathe", and present much better loading time results.
All in all, though, as it relates to Carbonmade, things are looking pretty good!
Carbonmade Review: CONS
Now, by this point, you should have a pretty good idea of what Carbonmade is, and what you can expect from the portfolio builder in question. It's evident that most of the user Carbonmade reviews lingering online are rather positive towards the tool, and the company behind it.
That being the case, though, this does not mean that Carbonmade is void of any criticism. There are certain areas of the builder tool that users aren't *too* fond of, and that still need to be addressed. Probably the biggest complaint that you'll find among various Carbonmade reviews is the fact that the selection of templates is very limited.
Small Template Variety
Earlier on in the review, we've looked at and discussed the fact that Carbonmade has some beautiful and functional templates. That's true.
However, the issue arises when you want to start your free trial, pass the initial checks, and end up with one of the template pages. The fact that there's a lack of theme variety becomes evident quite quickly.
While this might not prove itself to be a huge issue immediately, it can become annoying rather swiftly. Think about it this way: if you're a frequent visitor of various other portfolio websites, you will start seeing a pattern in no time. With a limited selection of templates, you are limited to just how original you can make your website look.
Is that bad? Well, not necessarily. It all depends on what your goals are.

If you're creating a private portfolio (whilst utilizing the feature of the same name within Carbonmade) that is only going to be viewed by a few people, then it might not prove to be a major problem. However, if your site is going to be completely public, and present among some potential job-seeking sites, then it might blend in with others, and lack originality.
Whatever the case might be, one thing's for sure - it's always better to have a wider selection of different website templates available at your disposal. Even though you will enrich the landing pages with your own original work, templates can help stress that work, and make it even more eye-catching.
Dedicated to Portfolio Websites
While this is largely considered to be a benefit of Carbonmade (being a niche-specific builder), it can also act as a major con, too. Yet again, it does heavily depend on what it is that you're looking for.
It's no secret that Carbonmade has quite limited functionality, as far as the website builder scene is concerned. It lacks things such as eCommerce functionality, advanced SEO features, intricate page creation tools, and so on. Sure, the platform wasn't designed for all of those things - however, if you love everything about it, but cannot bring yourself to sign up because of the reasons mentioned above, it's not much of a condolence.
Any and all potential users must understand that Carbonmade has both a set target audience, and also very specific functionality, too - it's targeted at various artists, writers and musicians, and not businesses or marketers. Being a portfolio builder, there's little that Carbonmade could actually offer to clients like that.
The "BEGINNER" Plan is Very Limited
If you decide that Carbonmade is actually the right portfolio builder for you, one of the last steps that you'll need to take before jumping in and publishing your page is choosing a plan that will suit your wants and needs.
We won't be talking about the pricing options for the plans just yet - that will come in a second. Before that, though, it's worth acknowledging some criticism that users have for the entry-level plan of the builder.
This plan is called "BEGINNER". It's considered to be the most limited choice for anyone who wants to start using Carbonmade. That said, naturally, it's the most affordable plan, too.
It being the most affordable option doesn't necessarily make it an actually affordable plan, however. The major part of Carbonmade reviews that do criticise the portfolio builder in this regard note that, compared to some other website creation tools out there, Carbonmade's entry-level plan is, well… Simply not worth the money.

The plan in question does have things such as unlimited videos and images, audio support, allows you to create 8 different projects, and presents are few other features, as well. That said, this is where the benefits end.
The custom support is going to be limited. The blocks that you can use will also feature only the most basic functionality. On top of all of that, you will both have to purchase a custom domain name, and also deal with the fact that Carbonmade's branding will be present on the page, and in the URL.
The fact that the functionality is so limited does, naturally, beg the question - is Carbonmade worth it? To be more specific, when there are fully-fledged builders on the market that are available for a smaller monthly payment, why should anyone choose a niche-specific builder, instead?
Well - that's exactly where personal preferences come in. While one person might enjoy a varied set of features with their builder, someone else will likely be less enthusiastic about it, and will always go with a topic-specific option.
Price
Finally, before we finish off this Carbonmade review, and issue our conclusions, let's take a look at the available pricing options, and what they entail.
Carbonmade pricing will look a little something like this:
With the BEGINNER plan being discussed a bit earlier on in the Carbonmade review, let's move on to the other two. With the PRO plan, you can expect to receive all of the features available with the former option, and also premium block access, statistics, custom page creation, 50 projects, priority customer support, and more.
The last plan - UNLIMITED - provides you with access to all of the features that Carbonmade has to offer. This includes an unlimited number of projects and pages, and also all of the features mentioned in the two former plans.
Admittedly, all three of the plans aren't very affordable. In fact, multiple user Carbonmade reviews would actually go on to name them as being quite expensive! This is especially true when you keep in mind the features that they offer. With price tags like these, you could definitely find a reliable, high-end builder, and use it for a wide variety of purposes, not only portfolio creation.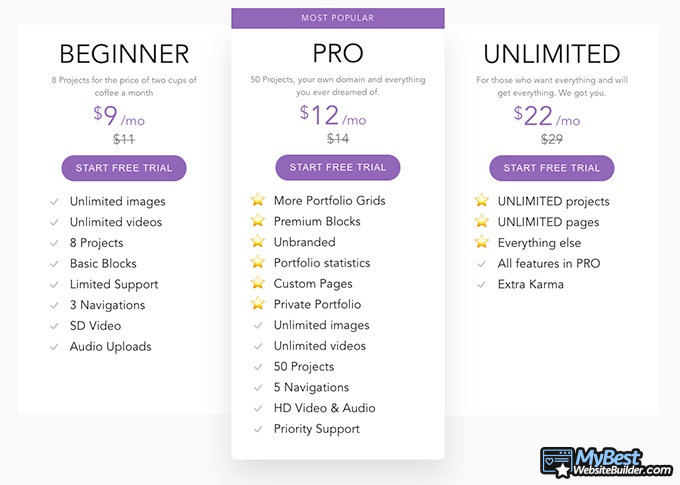 The counterargument here, however, is that you may not want to waste time learning all of the advanced features of other builders - features that you wouldn't end up using, either way. In a scenario like this, Carbonmade becomes the smarter choice!
All of that said, there is a catch - all payments made to Carbonmade are non-refundable. Meaning, if you decide to purchase one of the plans, you have to keep in mind that you will most likely have to stick with it, for the long-term - especially if you pay for a yearly subscription.
This is somewhat mitigated by their generous trial policy. Since you can try out even some of the PRO plan features within the trial period, the assumption here is that you will have already decided what it is that you want and don't want, and thus, purchasing a plan will simply become a formality.
Here is The Best Squarespace Offer I Found:
SAVE 20%
Squarespace Limited-Time Deal
Grab this Squarespace offer code & enjoy a lovely 20% off on any selected Squarespace subscription plan. Create your dream website NOW!
Expiration date : 05/06/2023
4,512 People Used
Only 88 Left
Conclusions
So - that's it! We've reached the very end of our Carbonmade review!
All that's left to do now is answer the single remaining question - is Carbonmade worth using, or even trying out? Or are there better options out there?
Well, while it all depends on your own personal preferences, it's undeniable that Carbonmade is definitely one of the better portfolio builders on the current market.
The platform in question is modern and well-designed. It offers users the chance to concentrate on building up their portfolios from scratch, without needing to worry about any advanced functions or coding.
The themes that the builder offers are all sleek and functional, and Carbonmade itself is very beginner-friendly. On top of some cool, portfolio-exclusive features, you can also expect to find a generous and unique free trial.
As far as the negatives are concerned, things are pretty straightforward, too. Some user Carbonmade reviews point out that the prices of the plans don't really make sense, especially given the limited functionality of the portfolio-website builder. Also, Carbonmade isn't the best option for anyone who's looking for a theme- and template-heavy builder.
Table: Some core information about Squarespace and Zyro
All of that aside, would I personally recommend trying the tool out? Yes, I would! Do keep in mind, though, that all purchases are non-refundable - there's no money-back guarantee in place.
If you're not really convinced, though, and feel as if a different website creation tool would suit you better, do check out our list of the best builders on the market. Platforms such as Squarespace and Zyro could surely prove to be superior alternatives!
With that I'd like to thank you for reading this Carbonmade review! I hope that you now have a thorough understanding of the builder in question, and that the article itself was both informative, and also entertaining, too. Best of luck with all of your site creation ventures yet to come!
Leave your honest Carbonmade review
Leave your genuine opinion & help thousands of people to choose the best website builder. All reviews, either positive or negative, are accepted as long as they're honest. We do not publish biased reviews or spam. So if you want to share your experience, opinion or give advice - the scene is yours!