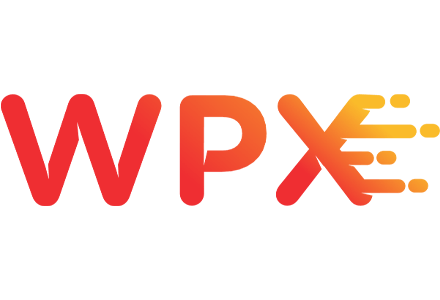 If you own an eCommerce site, you probably know that a fantastic user experience and attractive design are worth nothing without speed. People are impatient, so if your website takes too long to upload, you might lose a significant number of customers.
Since you're here looking for WPX Hosting reviews, you may have heard that hosting providers have a significant influence on your website speed. That's why it's so crucial to choose a reliable service that will help your website to get top rankings on Google.
If you were to look at customer WPX Hosting reviews, you would find out that it's one of the top-rated managed WordPress hosting solutions in the market. That has to do not only with speed but also with reliable security and customer support.
In this WPX review, you will find all the necessary information about WPX hosting services, the provider's strongest sides, available WPX Hosting plans, and additional information that will help you decide whether it's suitable for your needs.
Let's begin.
Verdict at a Glance
WPX Hosting is one of the most recommended managed WordPress hosting providers in the market. It's capable of delivering lighting speed, robust security measures, and attractive features such as manual backups and unlimited site transfers. On the other hand, it could have a more user-friendly interface, and my experience with their customer service wasn't the best, even though WPX promises a 30-second average support response.
Pros
Feature-rich provider
Unlimited site migration
99.95% uptime guarantee
Great speed results
Cons
Not the best experience with customer service
Custom dashboard instead of cPanel
WPX Hosting Reviews: Quick Glance at the Company
WPX Hosting started the journey back in 2013. It was founded by Terry Kyle, who claims to have been involved in the business since 1998 and worked for multiple hosting companies.
Throughout his working experience, Kyle noticed some significant issues surrounding the web hosting industry. Those problems are related to slow server performance, lack of extensive features, knowledgeable customer support, and even more.
For this reason, when WPX Hosting was created, the team mostly focused on superior loading speed, knowledgeable customer support with a 30-second average support response time, and simplicity.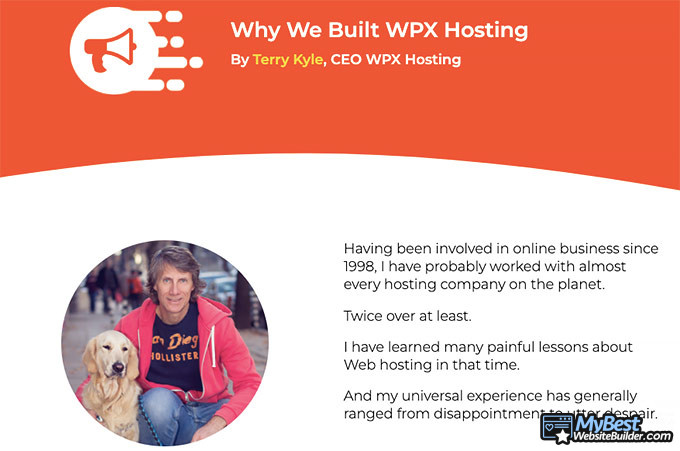 Even though the company promises to deliver these features whilst solving some other issues related to not so well-rated hosting services, it's important to focus on customer WPX Hosting reviews and fact-based information to ensure that they achieve what's being promised. After all, words mean nothing without actual proof.
That said, let's jump to WPX review and focus on the things that matter.
WPX Hosting Reviews: PROS
As there are multiple things to cover in this WPX review, let's start on a positive note and discuss its strongest sides.
This part of the review covers features, security measures, uptime and speed test, customer reviews, and additional information. Make sure not to miss out on the most important things.
Feature-Rich Hosting Provider
As mentioned at the beginning of this review, WPX provides managed WordPress hosting services, meaning that it's explicitly created for WP sites.
WPX Hosting offers 3 different plans, including Business, Professional, and Elite. Each of them is different in terms of the number of websites that can be hosted, storage space, and bandwidth.
On the other hand, WPX provides attractive features to all users completely free regardless of the chosen plan. These features include:
30-second average live chat response time
Ultimate speed custom CDN
Unlimited site transfers
Unlimited free SSLs
Email hosting
Staging areas
Manual backups
Anti-DDoS protection
Free malware scanning and removal
30-day money-back guarantee
Automatic backups
99.95% uptime guarantee
WordPress installation with a single click
3 hosting locations: USA, UK, Australia
As far as the above-mentioned features are concerned, it seems that WPX Hosting has no limits. However, if you look at the separate plans, you'd realize that there are some restrictions when it comes to websites, storage, and bandwidth.
Here's more information about these plans:
Business - 5 websites, 10GB storage, 100GB bandwidth.
Professional - 15 websites, 20GB storage, 200GB bandwidth.
Elite - 35 websites, 40GB storage, unlimited bandwidth.
As you can see, it's not all unlimited, however, that's how things work. The fact that you can host 5 websites with the most basic plan sounds like quite a good deal.
Now, even though there are only 3 plans, you might still be wondering which of the plans to choose. If you have only a few websites that don't get that much traffic, you should definitely consider the Business plan. However, if you feel like it's not enough or if you have more than 15 websites that get thousands of visitors per day, the Elite plan should be just the right fit.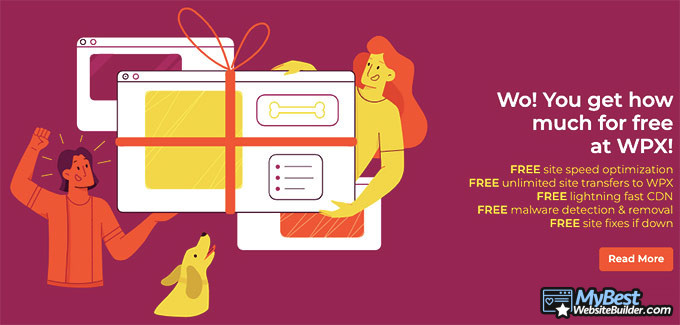 In general, I'd always recommend going for the basic plan in the beginning as you can upgrade it when it's no longer enough.
As for all the features mentioned at the beginning of this section, you'll learn more about them as you read further.
Latest Squarespace Coupon Found:
GET 10% OFF ANY PLAN
Squarespace Black Friday Sale
Squarespace Black Friday has begun: use this Squarespace coupon code to activate a huge 20% discount on ALL plans & create the most beautiful website!
Expiration date : 30/11/2021
5,827 People Used
Only 24 Left
Exceptional Speed
When looking for WPX Hosting reviews, you'll notice that one of the reasons why people choose this provider is speed.
First of all, speed is crucially important for user experience. In most cases, people wait no longer than 2 seconds for a website to upload. With every second, you will lose more and more potential clients. That's one of the reasons why you should take your website's speed seriously.
Another important thing is that fast websites tend to rank higher. In fact, Google distinguishes speed as one of the most important ranking factors. Now, since a website's speed strongly depends on the web hosting provider, it's crucial to make the right choice.
When looking at customer WPX Hosting reviews, you'll see that speed is mentioned as one of the perks. You already know that it's a capable provider, however, how fast it actually is?
To test WPX Hosting speed, I used my personal website hosted on WPX Hosting. Even though I've tried many other web hosting providers before, It's fair to say that WPX showed some of the best results I've seen.
I tested my website's speed when I used another web hosting service and did the same thing when my website was transferred to WPX Hosting. Before, my site fully uploaded in about 2.3 seconds, however, once I started using WPX Hosting, it reduced to 1.1 seconds. That's definitely an amazing improvement.
By the way, I haven't made any changes to my website, simply switched to WPX Hosting. That being said, a hosting provider can definitely influence your site's speed significantly.
Below you can find another example, provided on the WPX Hosting official website, of how fast your website can actually be.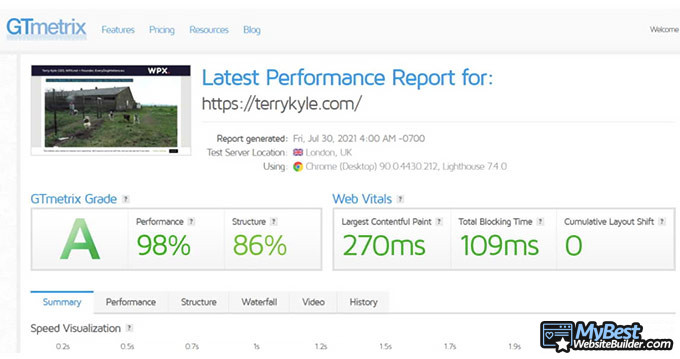 Also, it needs to be mentioned that WPX Hosting has data centers in the US, UK, and Australia. So you can easily choose the location that's closer to your audience. That will help your website to upload even faster.
There's one major element that helps WPX Hosting to provide such fast web hosting services. That's WPX Cloud CDN. Initially launched in 2018, WPX Cloud is their own Content Delivery Network (CDN). It has 26 'end points' and the number continues growing.
Would you like to find out more about what a CDN is?
In simple terms, a CDN is like having a server near your focus audience. This means that your popular content is copied to servers all over the world. It ensures that your website uploads faster for your audience, even for those in a different part of the world.
The final aspect to be mentioned is that WPX Cloud is different from other CDNs. One of the reasons for that is because it was hand-built by WPX to ensure capable WordPress Hosting.
What is more, they perform regular testing to ensure top-tier WordPress performance.
Thus, there are quite a few reasons why WPX Hosting speed outdoes other hosting companies.
Robust Security
While speed is one of the reasons why people look for WPX Hosting reviews, there are even more important factors that you should consider. Security is one of them.
Many sites can be hacked due to malware attacks and other security breaches, but did you know that WPX offers a completely free malware removal service? Well, you do now. That said, there's one thing clear for sure - if you choose WPX hosting, you no longer need to worry about malware as it's being removed on a daily basis.
You shouldn't get me wrong, though. Even though many hosting services offer malware removal, it's usually not free.
Malware removal is just one out of many security measures offered by WPX Hosting. Here's the list of other security precautions taken by the company:
Anti-spam protection
DDos protection
Application firewalls
WHOIS Privacy protection
What is more, WPX Malware Team performs various site audits, including:
System-wide malware removal on a daily basis is 100% free.
All sites hosted on WPX are provided with daily malware scans.
Web Application Firewall is being updated regularly to protect applications from multiple attacks such as cross-site scripting (XSS), SQL injection, and others.
Protection from script injection attacks, malicious redirects, and so on.
As you can see for yourself, security is not something you should worry about when it comes to WPX. In fact, many WPX Hosting reviews claim that it's one of the reasons why they choose this service.
Fixed for You Guarantee
Even though we discussed security measures in the previous part of this review, 'fixed for you guarantee' is worthy of a separate introduction.
If you take hosting services, in general, many people complain about issues related to security and the lack of help from hosting companies.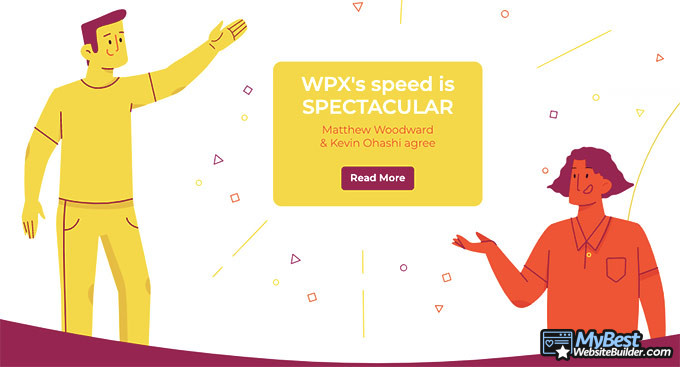 When it comes to WPX Hosting, they promise to eliminate this problem by providing a 'fixed for you guarantee' that ensures their team of dedicated experts will solve all the security-related issues for you. That even includes hacking-related matters.
So if you encounter certain problems with your website, whether it's offline or some performance issues appear, you can instantly contact WPX Hosting customer support. They should respond in about 30 seconds and fix your problem as soon as possible completely free of charge.
Completely Unlimited Site Migrations
Free site migration is another benefit mentioned by customer WPX Hosting reviews. If you're using another hosting provider and have already tried moving your website, you may have noticed that it requires both time and technical knowledge.
However, WPX makes things so much easier. Simply contact their customer support, provide the required details, choose a plan suitable for your needs, and they will take care of the rest.
That being said, if you feel like it's time to change your hosting service and look for something better, WPX Hosting allows you to do that completely free of charge. There's also no limit to the number of site migrations.
99.95% Uptime Guarantee
Just like speed and security measures, uptime is one of the most important criteria that can affect your business.
If you're unaware, uptime is a term that's used for calculating the time that your website is accessible. Low uptime could mean a huge loss of potential clients.
In general, it's estimated that your website's uptime should be no lower than 99.9%. It means that your hosting could go down for 1minute 26 seconds daily.
However, you can do a lot better than that.
WPX Hosting is one of those services that guarantees 99.95% uptime. However, just to be sure I had to do some testing on my own. It turns out that the results are even better and revealed 99.96% uptime.

Even though the top-rated hosting providers can ensure even better results, it's still better than the average.
Now, you can use our uptime calculator to find out how long your website could go down when the uptime is 99.96%. Here are the results:
34 seconds daily;
4 minutes 1 second weekly;
17 minutes 31 seconds monthly;
3 hours 30 minutes 23 seconds yearly;
It's fair to say that being unavailable for 34 seconds per day shouldn't lose you any customers.
Positive Customer Reviews
Even though it varies from person to person, you can probably agree that many of us check customer reviews when choosing a product or service to get the best idea. After all, it's important to hear feedback from people who have been using it for years.
The scenario is completely the same when it comes to WPX Hosting. If you want to hear more about real experiences, it's always recommended to check out customer WPX Hosting reviews.
WPX Hosting is one of the best-rated hosting providers as far as user reviews go. In fact, it has 4.9 stars on TrustPilot, there are 1,344 reviews and counting.
If you were to look at the aspects people appreciate the most about WPX Hosting, you'd find that customer support is mentioned the most frequently. It seems that 90% of the reviews are saying how good WPX Hosting customer support is, how the team helped them to solve issues, even not hosting related ones.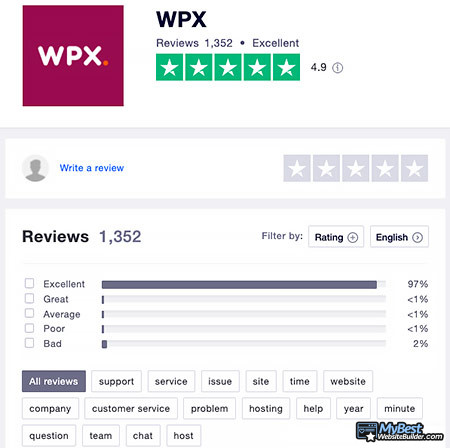 Even though multiple people mentioned that WPX customer support is one of the most helpful ones, I personally had a completely different experience that I will share with you in another part of this WPX review.
Moving further, other WPX Hosting reviews were focused on speed and performance. Many people compared their website speed with their previously used hosting service and noticed a significant improvement related to both speed and performance. These are the two things that I've already tested and can confirm myself.
Finally, you can find some positive reviews related to prices. However, that's quite a subjective matter as some people find WPX hosting plans too expensive.
These are the three things that people usually include in their WPX Hosting reviews.
Since everything sounds better than it should be, I would like to share some doubts. Now I don't mean to get negative and all but I catch myself thinking that WPX Hosting reviews are a bit too good to be true. I've seen similar situations in my life and those came out to be fake.
Of course, this is not a claim against the company, just something we should all think about.
Helping Animals
One of the things that I couldn't help but mention is that WPX Hosting is working for a better cause and helping animals in need. They're "hosting humans & dogs since 2003".
Every Dog Matters EU, a project initiated by WPX Hosting, is known as the largest dog sanctuary in Bulgaria where dogs can run freely. The area covers about 25,000 square meters.
The sanctuary was founded by Terry Kyle, who you know as the founder of WPX Hosting. Every Dog Matters EU provides a huge space for dogs to run around and play with each other. People actually get surprised when they see how huge the area is.
The dogs are provided with regular walks, high-quality food, needed medical care, constant socialization, and so much more. That being said, they get the necessary care and so much more.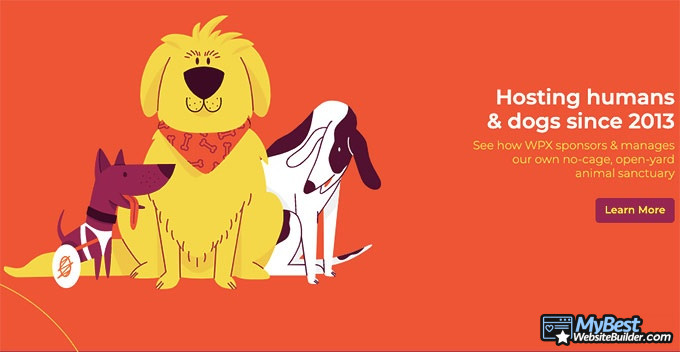 Even though this has nothing to do with the WPX Hosting performance, I choose to support companies that manage to do something good for the community.
That was the last positive thing that I wanted to include in this WPX Hosting review. There's quite a lot to think about, but for now, let's see what this hosting provider lacks.
WPX Hosting Reviews: CONS
As far as my research goes, there aren't that many negative things to say about WPX Hosting, only a few things that I'll discuss below.
Interface Could be More User Friendly
If you're not an expert in web hosting and haven't used many services like this before, it's important to choose one with a clear interface.
WPX Hosting has its own custom dashboard. It's not necessarily complicated to figure out, however, the interface is also not as clear as the regular cPanel that many people are used to. Many WPX Hosting reviews agree with that.
Since the WPX custom dashboard could use some improvements, I would say that it's one of their weaker sides. However, if you're not a fan of cPanel, it could actually be just the right fit for you.
Top-Notch Customer Service - Or is It?
As we already discussed, one of the things that people usually distinguish when talking about WPX Hosting is their helpful customer support.
The company uses live chat as its primary support channel. We all know it's so much better than tickets, emails, or phone support. What is more, you will be talking with WordPress experts that should help you to get your problem fixed.
Another important thing is that the company promises a 30-second average support response time. Sounds great, but is it really the case?
When I was testing WPX Hosting live chat, I was expecting a super-fast response and valuable information that could help me to figure things out. However, the thing that I expected the least happened - I was completely ignored.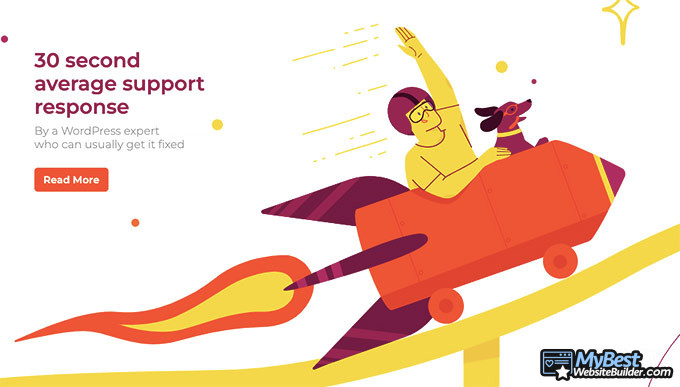 I understand that it's an unpopular opinion, yet I was truly disappointed with their customer support.
On the other hand, if you're looking for general information about using the platform or staying secure online, you can visit WPX Hosting knowledge base where everything is explained clearly. The categories include:
Welcome to WPX
FAQ
WordPress Performance
Migrations
How to
Security
Hosting Panel
Domains
Email
Billing
The knowledge base covers quite a good amount of information, so you should find what you're looking for.
WPX Hosting Plans
Choosing a WPX plan is a no-brainer, which is not something I could say about many other companies. That's because it provides only 3 plans to choose from:
As you can see, prices for managed WordPress hosting start from $24,99 per month. Some of you might be a bit confused thinking that WPX is on the more expensive side. However, that's really not the case.
You see, it's managed WordPress hosting we're talking about, which is not the same as shared hosting that can start from about $2,00 per month. That's why it's actually considered to be on the lower side.
Moreover, when it comes to prices, you can save quite a bit by paying yearly instead of monthly. Also, you should check to see if there are any deals available - WPX Hosting tends to offer some attractive coupons from time to time.
Deciding which of the plans to choose is not always easy, so let me make things easier for you. The Business plan is recommended for those who are just starting out and want fast and reliable WordPress hosting. It's also great for those who own a small website but want lightning speed.
The Professional plan is suitable for those who want a more advanced website hosting solution, especially if you're planning on hosting multiple websites. The Elite plan is recommended for high-traffic websites. It's on the more expensive side, so it's not worth paying unless you truly need it.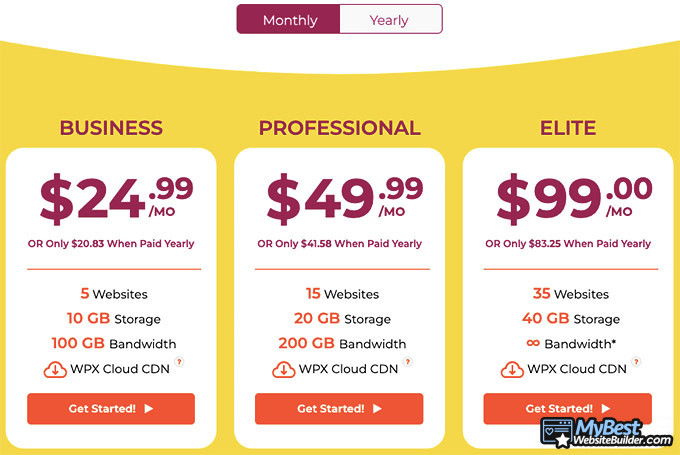 Besides, as already mentioned in this WPX review, each of the WPX Hosting plans provides completely free site speed optimization, malware removal, super-fast CDN, and unlimited site transfers. What is more, if your website is down, the WPX team immediately fixes the problem. Since you get all these features free, you don't need to pay for services additionally and that saves you quite a generous amount.
Now, if you feel like you need to test WPX Hosting before deciding that it's suitable for your needs, you should know that there's a 30-day money-back guarantee. It ensures that you get your money back if you're not satisfied with the service.
As we're done with prices, this WPX review is also going to the very end. So let's jump straight to conclusions.
Here is The Best Squarespace Offer I Found:
GET 10% OFF ANY PLAN
Squarespace Black Friday Sale
Squarespace Black Friday has begun: use this Squarespace coupon code to activate a huge 20% discount on ALL plans & create the most beautiful website!
Expiration date : 30/11/2021
5,827 People Used
Only 24 Left
Conclusions
The last question is, would I recommend WPX Hosting services?
Yes! WPX is definitely a capable managed WordPress hosting provider, as you've already seen in this WPX review.
WPX delivers amazing features such as ultimate speed custom CDN, unlimited site transfers, unlimited free SSLs, and so much more. What is more, it's one of the faster managed Hosting services that also provides a "fixed for you guarantee" which means that WPX will fix all the issues for you.
Moreover, WPX guarantees a 99.95% uptime, however, the test revealed even better results - 99.96%. Also, it's one of the highest-rated hosting providers on TrustPilot - most of the customer WPX Hosting reviews are positive. It even sounds too good to be true.
On the other hand, WPX has its own custom dashboard that's more difficult to figure out than the old good cPanel. What is more, even though people say that the WPX Hosting customer service is truly helpful, I had a different kind of experience and was completely ignored.
All things considered, WPX is definitely an attractive option for those looking for managed WordPress hosting providers. That said, it might be exactly what you need.
Leave your honest WPX Hosting review
Leave your genuine opinion & help thousands of people to choose the best hosting provider. All reviews, either positive or negative, are accepted as long as they're honest. We do not publish biased reviews or spam. So if you want to share your experience, opinion or give advice - the scene is yours!