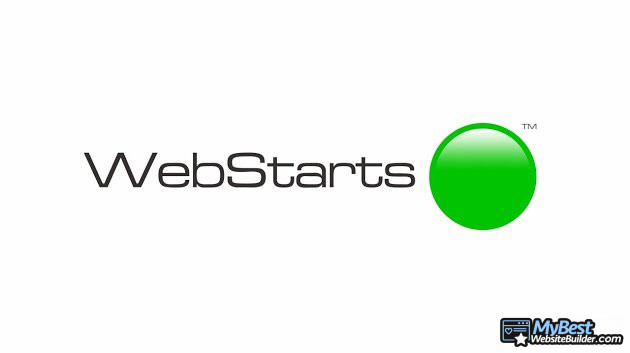 With the website builder industry booming like never before, there are more and more tools entering the market as time goes on. Because this can make it rather difficult to find a website builder that would suit your wants and needs, today we'll be looking at some customer Webstarts reviews, and figuring out what does this builder have to offer.
Note, though, that WebStarts isn't going to be your standard website builder. It's quite a bit more difficult when compared to builders such as Zyro or Squarespace, so if you're on the hunt for a simpler version of a website maker, you'd better go and check out one of those.
But I'm getting ahead of myself - before I start blabbering about "is WebStarts really free?" and the details of Webstarts pricing, let's take it from the top.
TL;DR: User WebStarts reviews talk about the builder being a more difficult one to use, when compared to other website constructors on the market. That said, even though it lacks SEO features and has a relatively clunky UI, it's still a well-designed website builder with some extensive customization options.
Pros
Responsive, mobile-friendly templates
Free version available
Allows writing your own HTML / CSS
Cons
More difficult than the standard website builder
Somewhat outdated, clunky interface
WebStarts Review: PROS
There are a few different areas from which we could start our list of benefits attributed to this website builder. However, we're going to take a look at what the majority of customer WebStarts reviews claim to be the builder's biggest strength - a drag-and-drop editor.
Functional Drag-and-Drop Editor
Believe it or not, this is actually a rather controversial point of interest as far as user WebStarts reviews go. You see, while doing research for the article, I've encountered quite a few reviews that talk about WebStarts lacking proper drag-and-drop builder functionality.
That's… Weird. This is especially so the case seeing as the builder actually has one of the better-functioning drag-and-drop editors around.
A drag-and-drop website builder editor allows you to drag elements from the menu sidebar of a builder onto your own website that you're creating. It's the most simple form of adding content to your site - there's no coding work involved, no file transferring, none of that. Needless to say, you can probably see how that's a popular feature.

While some user WebStarts reviews gloss over this, it's something that's definitely worth pointing out - WebStarts has one of the better drag-and-drop website editors.
You see, the main problem with this type of a builder stems from the topic of functionality - while there are many different builders that offer drag-and-drop editors by default, a lot of them are only "drag-and-drop" on paper. Some work better than others, but only a few companies allow you to truly "drag and drop an element anywhere on the page".
Well, WebStarts is one of those companies. Immediately after entering the builder page, you'll see a few different elements that you can drop onto your page. Music, images, video files, etc. - the customization is very simple and straightforward.
The biggest "pro" here, however, is that WebStarts allows you to truly drag and drop the elements anywhere on the page. The builder will issue some warnings if you cross certain boundaries (i.e. header), but other than that, you're free to do as you wish.
Latest Squarespace Coupon Found:
SAVE 20%
Squarespace Limited-Time Deal
Grab this Squarespace offer code & enjoy a lovely 20% off on any selected Squarespace subscription plan. Create your dream website NOW!
Expiration date : 12/12/2023
4,512 People Used
Only 88 Left
Mobile-Friendly Templates
Website templates are pre-made designs of how your website might look, and what type of a layout it might have.
Templates, in general, are awesome - they allow you to get your site up and running much faster, without the need of worrying about each and every single detail. Top-tier website builders (user WebStarts reviews add this builder to that category, apparently) provide customers with the highest quality templates there are - your site will look and feel modern and fresh.
If your aim is to find a website builder that offers the most attractive templates, you should check out Zyro and Squarespace - you won't be disappointed.
However, modern visual aesthetic and some cool button placement doesn't quite cut it. Today, mobile-friendly designs are at the top of the game.
You see, people spend more and more of their online time on their smartphones and tablets, as opposed to desktops and laptops. This, in turn, means that websites have to be optimized to be viewed and interacted with on a smaller screen.
This is actually such a big deal that, if you want to rank higher in search results on Google, one of the main points that you'll have to "tick" is having a "responsive and mobile-friendly website".
Worry not, though, for as most user WebStarts reviews will tell you, that's actually kind of the norm nowadays. All best website builders provide users with modern and mobile-optimized templates - WebStarts is no different.
With the company's builder, you'll be able to rest assured that things like eCommerce functionality, blog text alignments and various different buttons will remain in-tact, no matter which device you use to view and interact with the website.
Extra Coding Work - Allowed
User WebStarts reviews often note that the builder is going to be suitable to both people who have nothing to do with website creation, in general, and coding experts, alike.
Why? Well, even though WebsStarts pushes the narrative of being a "very accessible, drag-and-drop website builder", that's not where the story ends, though. If you have the knowledge and the wish to take it a step further, you can actually type your own code and alter your site that way.
While this may be somewhat irrelevant to most people who do not possess extensive knowledge in coding (customer WebStarts reviews further this notion), it's actually a pretty big deal.
You see, as good as a website builder can be, there are certain limitations that it may have. The lack of coding is probably the biggest limitation of them all - it draws a very strict line of just how much personalization you can bring into your website.

There are just so many template and font combinations that a builder can have - sure, each individual person is going to make their site unique with different texts and images, but the layouts are going to follow a general baseline, nonetheless.
That being said, however, many user WebStarts reviews will tell you that if a builder allows coding work, you'll theoretically be able to customize your site without limits, this way making it unique and standing out of the crowd.
Well, WebStarts does have this feature - you can add your own, custom code to your site. Combining this with the functionality of the well-designed drag-and-drop editor allows you to craft your own, custom widgets - no problem!

Did you know?
Great Customer Support
One thing that is mentioned *very* often by many customer WebStarts reviews is that the company has some amazing customer support.
That's a rare benefit when it comes to website builders.
Don't get me wrong - I don't mean that the companies behind website builders don't care about their customers. Rather, it's strange to see customer support being so genuinely hyped up!
I can see why that's the case, though. WebStarts has a phone number that you can call 24/7 - that's not only rare, but also very useful. Furthermore, in addition to email support, there's a huge database of information on their HELP page - reading through the articles, you're likely to get answers to most of the general questions you might have.
WebStarts Review: CONS
Now, even with a high-tier drag-and-drop editor in place, and with the ability to add your own code to your website, WebStarts does have some fundamental issues that need to be addressed. Some user WebStarts reviews ask "is WebStarts really free?" or inquire about WebStarts pricing options, in general, but I can tell you right now - pricing isn't the problem.
Instead, let's go back and take a look at the builder's interface.
Clunky and Outdated UI
I've praised the WebStarts editor many times throughout this WebStarts review. I stand by those words, but the editor being cool doesn't necessarily equate to the whole UI being the same.
UI stands for "user interface". It's the page in which you do most of your site-building work. Most website builders aim to make their user interfaces as simple as possible, whether it be from a navigation, usability or simply clearance standpoint.
Before writing this WebStarts review, I noticed that there are quite a few people that weren't all that happy about how the builder's UI looked and functioned. I went into it with an open mind, but I gotta say - I can see what they meant.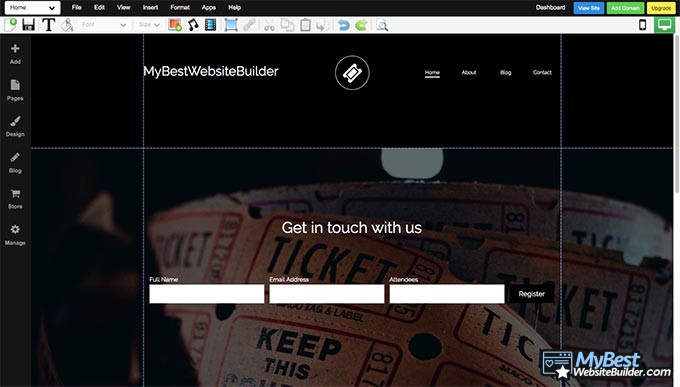 At first, everything seems manageable. You've got your two main rows of menus (at the top and side of the page), and there are visual cues that try to make the building experience easier for you. That said, it doesn't really work as intended - after you drag and drop your elements on the page, it's pretty difficult to figure out how to customize it.
The clunkiness of the builder leads it to be more difficult to use than most of the better-known builders out there. That said, there's another element at play here - the UI looks pretty outdated.
Icons, image selection pages, the predesigned images themselves, animation effects… While I've definitely seen worse examples of an outdated UI throughout my career, user WebStarts reviews are rather unanimous about this point - the builder is somewhat outdated, and there are better-looking and functioning website makers around.
Price
Ah, WebStarts pricing - where do I begin?
Many people online wonder is WebStarts really free. Well, it is - the company has a completely free, "no strings attached" plan for anyone and everyone to try out. While it does lack some essential and important features, that's something that you'd probably come to expect out of a free website builder.
In total, though, you'll have three pricing options:
WebStarts has some pretty decent prices! The business plan is - naturally - aimed at people and companies that want to build an online shop or some sort of other business. The plan comes with free $500 dedicated for advertising purposes, unlimited styles and effects, eCommerce features, unlimited contact forms, and so on.

Pro Plus is aimed at the general customer who's still not sure what site he or she wants to build, but wants to start with the basics as soon as possible. For the given price, it's a pretty good deal - you'll receive SEO tools, 10GB of Cloud storage, will be able to submit your site to Google, have all of the main social integrations, etc.
All in all, WebStarts has nailed the pricing plans well. All three of the plans (the free one included) come with features that represent the prices quite adequately. User WebStarts reviews seem to mostly agree - customers are pretty happy with the amount of money they have to pay VS the quality of the features that they get.
Here is The Best Squarespace Offer I Found:
SAVE 20%
Squarespace Limited-Time Deal
Grab this Squarespace offer code & enjoy a lovely 20% off on any selected Squarespace subscription plan. Create your dream website NOW!
Expiration date : 12/12/2023
4,512 People Used
Only 88 Left
Conclusions
If I had to put it into one sentence, I'd say that WebStarts is already a rather decent website builder that still has much work to be done to it in order to become (quote on quote) "good".
The builder is a solid one - it has a very functional drag-and-drop editor, a decent image editing tool, and offers the average user some pretty modern, functional and mobile-friendly templates.
On top of all of that, it's very unlikely that you'd encounter a problem for which you wouldn't be able to find an answer to - there's a huge database of information on WebStarts' official website. That said, if you do come across a problem like that, there's always customer support (either via email, or 24/7 phone call). Live chat is also an option.

With that said, however, WebStarts should really look into the actual builder and perhaps try to revamp it. The interface is pretty clunky and old-fashioned, which, in turn, makes the builder quite a bit more difficult to figure out than it should be.
If you're not sure whether or not WebStarts is the right choice for you, do check out our list of the best website builders in the current market - perhaps you'll find one that will tickle your fancy. If you want to find the very best option, do check out Squarespace and Zyro.
With that, I thank you for reading, and wish you good luck with finding the best website builder for yourself!
Leave your honest WebStarts review
Leave your genuine opinion & help thousands of people to choose the best website builder. All reviews, either positive or negative, are accepted as long as they're honest. We do not publish biased reviews or spam. So if you want to share your experience, opinion or give advice - the scene is yours!