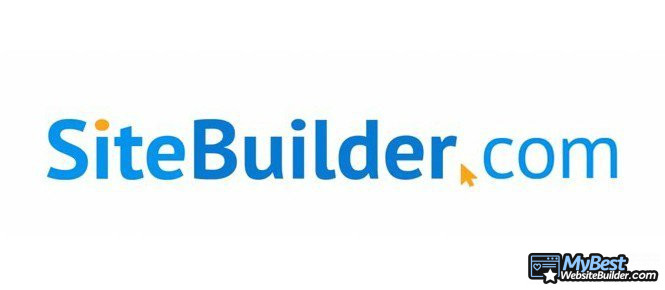 In this article, we'll be taking a look at Sitebuilder reviews.
Yes, Sitebuilder. Judging by the name, you would think that this is the ultimate tool for website creation and customization, right?
Well, unfortunately, that's not really the case.
Website builders make the process of creating a site fast, easy and cheap. A decent builder has to have at least two of those three features checked. However, things aren't always only black and white - some builders do have great features added to them, but if there are some of the essentials missing, the builder isn't going to be worth using.
Is Sitebuilder that type of a tool? Or is there more to it? Well, let's find out.
Now, since Sitebuilder is not as good as some other recommended website builders, I'd suggest you to not waste your time and move to the list of the best builders out there, and focus on options such as Squarespace, Zyro and Webflow.
TL;DR: User Sitebuilder reviews are going to tell you that the builder isn't worth paying much attention to. While it does have some basic features in place, and even allows eCommerce, there are some rather important points missing.
Pros
Easy to use
Money-back guarantee
Cons
Outdated templates
Old-fashioned features
Lack of some essential features
No free plan option
Sitebuilder Reviews: PROS
Whatever the case with this tool might be, it's important that we first look at the positive Sitebuilder reviews. While the builder might not have an initially-positive reputation surrounding it, that does not mean there aren't any good features that it would have.
That being said… What are the good features of a site builder in the first place?
Well, I've referenced them in the introductory part of the article, and other Sitebuilder com reviews will tell you the same - the three main features that every builder should have are speed, ease of use and price.

Speed refers to the fact that a website builder should allow you to create a site in no time. Most high-tier website makers are optimized so that the initial creation process takes no more than a few minutes.
Ease of use is pretty self-explanatory. The beautiful thing about website builders is that you do not need to have a degree in computer programming and website development to create a site of your own. With a proper builder, anyone should be able to work their way out at creating a site for themselves.
Finally, price. Imagine if you had to hire a programmer to create a website for you - that can cost thousands of dollars, on the low end of things. However, with a website builder, you are able to cut that price down exponentially.
Those are the three main features that should be found in every top-tier website builder out there. Sitebuilder reviews mention that the company has at least one of them down and figured out.
Easy to Use
While it probably does not require much elaboration, the fact of the matter stands true - Sitebuilder is relatively easy to use.
This is true for both the account creation process, and the construction of the website, itself. User Sitebuilder reviews mention that everything works pretty fast, and the processes don't tend to get tiresome.
Once you hop on to Sitebuilder's official website, you'll just have to go through the choice of a pricing and feature plan, entering our credit card details and confirming your payment. That's it - after that, you go straight to the site creation process.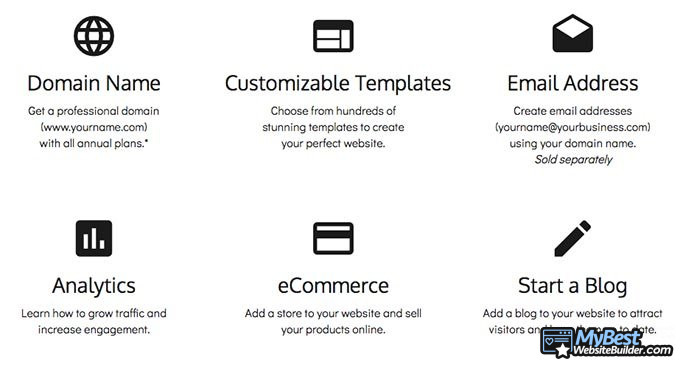 According to many customer Sitebuilder reviews, the user interface of the builder is really simple to use and navigate all of the features are easily accessible, and the layout is rather intuitive.
On top of that, the website builder has an integrated tutorial to help you navigate all of the main features in an even easier manner. You'll find all of the essential sections on the left of the screen. Here, you'll be able to customize your individual pages, choose layouts and design options, manage the site itself, and so on.
Latest Squarespace Coupon Found:
SAVE 20%
Squarespace Limited-Time Deal
Grab this Squarespace offer code & enjoy a lovely 20% off on any selected Squarespace subscription plan. Create your dream website NOW!
Expiration date : 05/06/2023
4,512 People Used
Only 88 Left
eCommerce - Possible
While we'll get to the Sitebuilder pricing section in due time, it's worth mentioning that the builder's most expensive plan comes with the option to host your online store on the website.
eCommerce is an important part of website creation. Believe it or not, but a huge percentage of people who create their website without the initial idea of selling anything end up establishing at least some minor eCommerce features in the end.
That might seem bizarre at first, but I encourage you to think about it yourself. Imagine that you've created a blog with the solemn intention to write about a topic that interests you. As you grow your website, you get more dedicated readers. Soon you start sending out newsletters, post notifications and so on.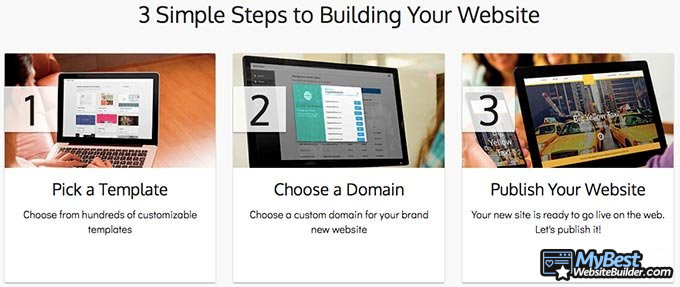 At some point, you might decide that you want to write a book. Now, what's the best way of promoting and selling that book? Yup, you've guessed it - on your already-existing blog.
This means that the website builder with which you've created that website should be scalable - meaning, it should have the means of growing your website, both in technical parameters and features, alike.
As noted by many user Sitebuilder reviews, the company does offer eCommerce tools. You'll be able to sell a small number of items, write compelling descriptions, manage your shipping and other, essential points.
Admittedly, concerning the Sitebuilder pricing options (we'll get to that), there's still going to be a huge lack of features when it comes to online shop management, even if you're only opting to sell one or two products. That said, eCommerce functionality is still there, so it definitely deserves a spot at the "pros" section.
Sitebuilder Reviews: CONS
If you think that was quick, I concur - there aren't all that many benefits that would be notable as far as user Sitebuilder reviews are concerned.
Outdated Templates
More often than not, the quality of a website builder is first judged by taking a look at the templates that it offers.
If this was the only criterion for judging Sitebuilder, however, it would be a really sad story.
You'll find many user Sitebuilder com reviews complain about this, but it's definitely justified - the builder offers very old-fashioned, outdated templates. This translates into the actual UI being clunky, too, but we'll get to that in a minute.
The above-given statements are especially true when you compare Sitebuilder's templates with those of, say, Squarespace or Zyro. Sure, I might not be doing Sitebuilder any favors here - Squarespace is pretty well-known for offering users the most modern and beautiful templates on the market. However, for the sake of comparison, the example stands.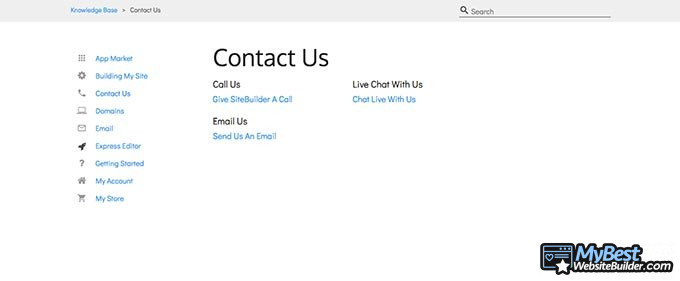 Think about it yourself - if you wanted your website to look modern and beautiful, with plenty of interactive features that would captivate the visitor to stay, would you go with a design that looks like it came back from the mid-2000s? I doubt it.
That's exactly why templates are as important as they are. They are your base on which you can then build the rest of your website - if the base is shaky, no matter how much glitter you put on top, the whole thing is still gonna come crashing down.
Unfortunately, I have to agree with the majority of Sitebuilder reviews here - Sitebuilder's templates are definitely shaky.

Did you know?
Clunky UI
Now, I know that I said that Sitebuilder's user interface is really easy to use and navigate around in - I stand by those words.
That does not mean, however, that the interface isn't clunky.
You see, while you'll have no trouble navigating the UI and finding the things that you need, even some of the more basic features are going to feel outdated, clunky, and at times even funny.
The image editing tool is a great example here. While you do have the ability to edit the basic settings, the "addons" are, at times, laughable. They do look like they've come back in time, and rarely fit the aesthetic of the photo itself.
The rest of the interface is somewhat similar - it lacks some rather important features, and the ones that it does have look and feel outdated. Given that this is the case, it becomes rather difficult to claim that the UI being "easy to use" compensates for the issue at hand.
Lack of SSL
Many Sitebuilder reviews talk about the lack of some essential features with the builder in question, but I do believe that this deserves a separate point all of its own.
SSL is a type of a security certificate. It's that little green lock icon you see at the top of the page, near the URL of a website. If the site does not have an SSL, the tagline "Not Secure" will be present instead of the small green lock.
So, why are SSLs important? Well, they secure your connection to the actual website that you're visiting. This is especially important when it comes to sites where you have to type in some sort of personal data, like passwords, credit card information, or else.

As many Sitebuilder reviews note, though, that's only half of the story. Even without the "functionality" part of the deal, SSLs help the user trust the site.
And honestly, which website are you more likely to trust - one that has the green lock icon at the top of the page, stating that your connection is secure, or one that has a "NOT SECURE" text plastered at that spot?
In addition to lacking some other, essential features, Sitebuilder becomes an inferior choice for everyone who wants their website to not only look secure and reliable, but also have all of the main tools to make it secure, in the first place.
Price
Now, with the pros and cons of Sitebulder reviews out of the way, all that's left to do is discuss the Sitebuilder pricing options, of which there are three:
Note that, as of writing this article, there's a discount going on - all of the above-presented prices are halved. That being said, it does seem rather fishy, since, according to some user Sitebuilder com reviews, this "discount" has been an ongoing thing for quite some time now.
Even with the discount, though, there are quite a few problems with the Sitebuilder pricing. Sure, $5 bucks per month might not be a huge price to pay for a decent website builder (it's actually an amazing price), but the keyword there is "decent".
For your five dollars, you'll receive the ability to use a drag-and-drop editor, no ads, ad credits and even free hosting. Now, that does definitely sound appealing - however, I urge you to notice one, single detail.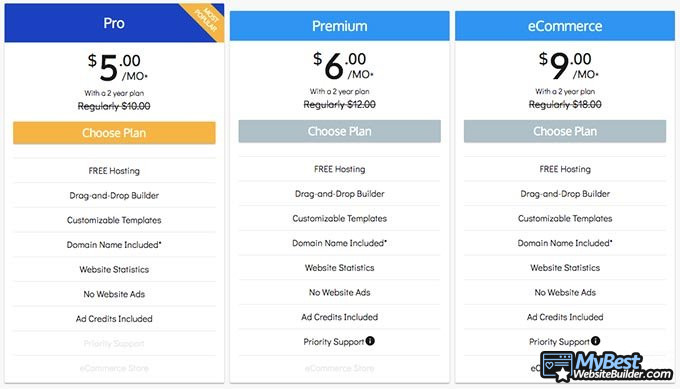 There's no free option. Not even a trial.
User Sitebuilder reviews do note that there's a 14-day refund policy in place, which is nice. However, the fact that you have to pay in order to try the builder out is… Well, it's amazing in the worst possible sense of the word. Some of the biggest names in the website builder industry offer free trials - and we're talking about the top dogs here!
If you can try the best website builder on the market for free before deciding to purchase them, why would you IMMEDIATELY purchase one of the worse-performing builders on the market that also has NO FREE TRIAL in place?
Honestly, it simply baffles me.
Here is The Best Squarespace Offer I Found:
SAVE 20%
Squarespace Limited-Time Deal
Grab this Squarespace offer code & enjoy a lovely 20% off on any selected Squarespace subscription plan. Create your dream website NOW!
Expiration date : 05/06/2023
4,512 People Used
Only 88 Left
Conclusions
I have to agree with the tone of the majority of user Sitebuilder reviews - the builder is not worth using.
Sitebuilder lacks functionality, has some very outdated design templates and is rather clunky, in general. While the tool is, admittedly, very easy to navigate around in, that does not make up for the lack of some essential features.
On top of that, there are issues with the pricing, too. Yes, the builder has some OK prices (and even those are with a shady discount), but there's no free trial in place - that is, yet again, astonishing.
Overall, I would not advise you using Sitebuilder as the tool for the creation of your website. There are much better options out there in the market - ones that offer free trials, modern templates and all of the essential features that you might need. A few of such website builders are Squarespace and Zyro.
With that said, I thank you for reading this Sitebuilder review, and wish you all the best of luck in finding the best website builder for yourself!
Leave your honest Sitebuilder review
Leave your genuine opinion & help thousands of people to choose the best website builder. All reviews, either positive or negative, are accepted as long as they're honest. We do not publish biased reviews or spam. So if you want to share your experience, opinion or give advice - the scene is yours!