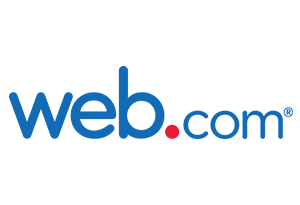 Looking for a website builder? Think Web.com might just be an option? In this Web.com review, I'll help you decide is Web.com worth it or not by telling you all about the website builder's pros and cons.
Finding a proper site builder can be a confusing process - I know that. It's sometimes tough to figure out what it is that you need, not to mention trying to navigate all of the different options of builders in the market. In order to stay on top of the game, you should always refer to trustworthy reviews - this is one of them.
Now, if you don't want to waste your time reading the entire review, I can instantly tell you that there some better options than Web.com. A few of them include Zyro and Squarespace, so make sure to check them out.
TL;DR: The Web.com website builder is somewhat of a controversial piece of software - Web.com reviews reflect the fact that people either love or hate the builder. As for the platform itself, it allows you to work really fast, but the pricing options aren't all that wonderful, and there's some shady business going on.
Here is The Best Squarespace Offer I Found:
SAVE 20%
Squarespace Limited-Time Deal
Grab this Squarespace offer code & enjoy a lovely 20% off on any selected Squarespace subscription plan. Create your dream website NOW!
Expiration date : 12/12/2023
4,512 People Used
Only 88 Left
Web.com Review: A Brief Note on Website Builders
While I understand that it's highly likely that you already know the ins and outs of what is a website builder, for the sake of this web.com review, I'm still going to give you a very short overview of this piece of software.
Website builders are tools that are used to craft websites - that's pretty obvious. However, there are different builders around. Some of them focus on allowing you to create a website really fast, others emphasize the beauty features of the site itself.
The one thing that all website builders have in common, however, is ease of use. It's kind of their main shtick - whatever you think about the builder themselves, it's impossible to deny that they allow you to create a website much faster than, say, CMSs (Content Management Systems).
One last thing that you should keep in mind as far as this web.com review is concerned is website hosting. While you would need to find your own hosting with a CMS such as WordPress, most builders out there have integrated web hosting - once you create a site, you can then choose your hosting plan in a matter of seconds.
Web.com website builder also has hosting services that are offered to the average customer - just something to keep in mind as we progress through this review! Don't worry, though - we'll talk about it a bit more in the chapters to come.
Pros
All of the basic features in check
Decent site speed paramaters
Cons
Shady business practices
Unapologetic pricing options
Outdated theme templates
No free trial
Web.com PROS
Let's begin the Web.com review by talking about the positive aspects of the builder.
All of the Essential Tools in Place
The very first thing that you're likely to check out after you've got your website builder is if all of the essential features are in check. It's reassuring to know that you can transition from a blogger to an eCommerce site at any single time that you want - that's kind of the entire point of using a website builder in the first place.

Web.com comes packed with all of the main features that you'd expect from a decent website builder. Is web.com worth it only because of this reason alone? No, definitely not. But believe me - I've come across multiple site builders that don't allow you to even create drop-down menus - let's just say that that's not ideal.
This also comes back to the speed factor we've discussed earlier on. Many user Web.com reviews point out that you can create a site really fast thanks to the fact that Web.com provides you with the necessary tools to do so - all presented in an orderly, easy-to-manage fashion.
Latest Squarespace Coupon Found:
SAVE 20%
Squarespace Limited-Time Deal
Grab this Squarespace offer code & enjoy a lovely 20% off on any selected Squarespace subscription plan. Create your dream website NOW!
Expiration date : 12/12/2023
4,512 People Used
Only 88 Left
Integrated Web Hosting
I've already mentioned this at the beginning of this Web.com review, but it definitely deserves more attention.
Web.com gives you free hosting as soon as your site goes live.
Why is that important? For a couple of reasons, actually.
First of all, comfort. Building a website from the ground up is already a lot of work as it is. Imagine having to then worry about finding a proper hosting provider for that website! That's a whole lot of new problems to deal with - finding a decent provider, managing site hosting costs (domain names included), checking different uptimes, etc.
Web.com eliminates all of that hassle. Once you're done with your new website, you can simply host it on the company's platform - very convenient!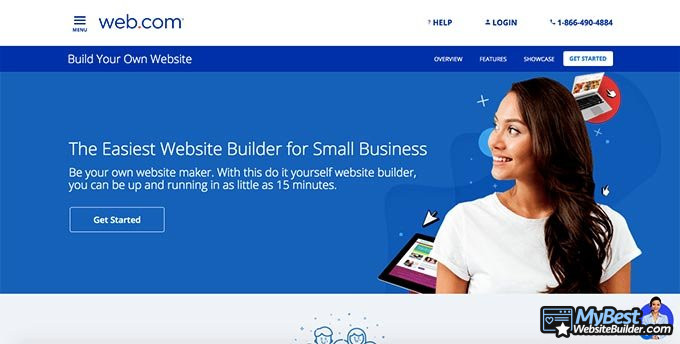 Site speed and TTFB are also important factors as far as hosting is concerned. These indicators represent how often your website is live and running, and how much time it takes until the first byte of that site loads, respectively.
When you host your website with the same platform that you used to create that site, there's a pretty high chance that you'll receive good parameters. I won't bore you with the technicalities, but let's just say that companies know their platforms quite well, and know how to optimize their servers according to sites created on their platforms.
Now, speaking of site speed and TTFB…
Decent TTFB / Site Speed
I've referenced this above, but let's just clear what these terms stand for one more time before continuing:
TTFB - Time Till First Byte; the amount of time it takes from issuing a request for your site and it loading the very first byte.
Site speed - the amount of time it takes for your website to fully load all of the content on the page.
Confusing? It was for me! I had a pretty difficult time differentiating both of these terms, but both of 'em are very important when we're talking about Web.com reviews.
Now, seeing as the Web.com website builder has its own hosting, one would expect that the numbers are going to be great, right? Well, while they're not really spectacular, they aren't a tragedy, either: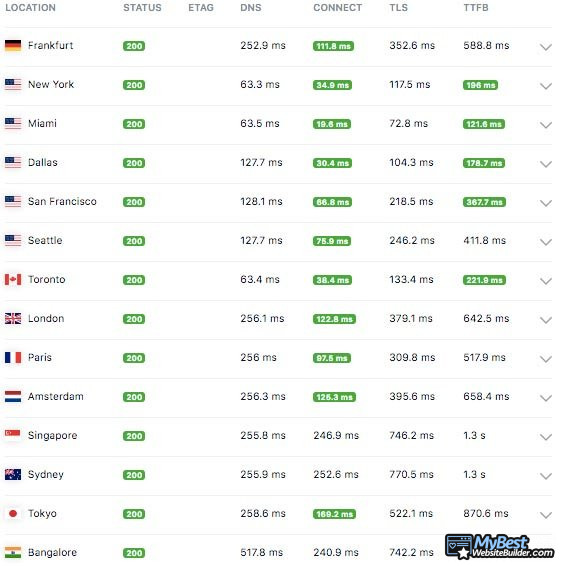 In my research, I also found that the site speed is a bit above 6000ms.
The site speed could definitely be better, but in general, these are decent metrics, given all of the Web.com reviews and the platform's reputation.
Web.com CONS
Now, let's talk about the Web.com complaints that users have with the website builder.

Did you know?
Confusing Advanced Features
You are bound to encounter a lot of Web.com reviews that argue the fact that the website builder isn't well-designed, especially when it comes to the advanced features.
The deal is pretty simple - Web.com seems to have some pretty good interface options if you want to build a small-scale website. However, as soon as you get into the bigger stuff (business management tools, website integrations, etc.), the UI becomes messy and confusing.
To add to that, some Web.com complaints seem to address the issue of the platform not possessing enough advanced features, in general.
Outdated Templates
The majority of website builders out there focus on providing their users with the most modern website templates possible.
It's simple logic, really - if you manage to keep up with the times, you'll have better site statistics. To make things easier for you, a website builder would normally have ready-made theme templates that you could just click on and already have a pre-made facade of a website.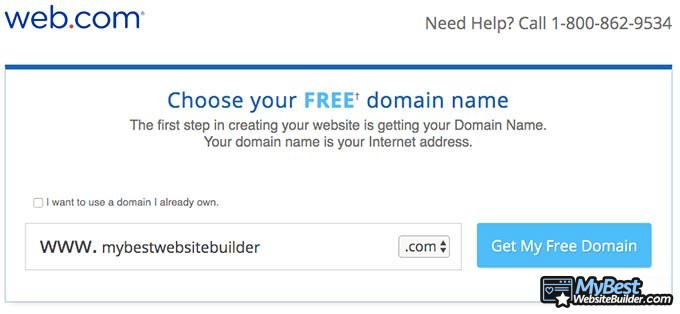 However, judging from the user Web.com reviews, that's not really the case with this company. Furthermore - many users claim that the situation is actually the opposite.
There are endless amounts of Web.com complaints that speak about how they couldn't see any of the templates before registering and purchasing a plan for the website maker. However, right after doing so and seeing those back-to-2001 site themes, users became extremely disappointed.
Shady and Confusing Business Model
The companies behind website builders wouldn't only try and make their products easy to use - the same applies to their own websites and landing pages. If it was any other way, they would likely lose out on quite a few customers.
Well, I hate to tell you this, but this is exactly the case with the Web.com website builder.
The confusion starts as soon as you enter their plan and pricing page. The features you'd receive with each plan are very vague and don't provide much information at all.
And then comes the pricing.

Now look - we'll talk about the prices themselves in just a minute. However, there's something that needs to be addressed.
If you want to purchase their most basic plan, you'll see that the price for the first month is $1,95 USD.
Amazing, right?
Very far from it, actually.
Nowhere on the site will you see the actual price of the plan - if you do want to learn about it, you have to scroll down to the "Pricing Details". Having a hard time finding them? Ya, same here.
Also - apparently, not only are the staff at Web.com unresponsive, some Web.com reviews point out that, if you want to cancel your subscription, you have to call them.
Yes, call them. No, there doesn't seem to be another way.
What.
Needless to say, all of these things add up. The result? A reputation of being a shady company with some questionable business models.
Price
Let me just preface this by saying - you're not going to like this.
Whenever people question is Web.com worth it, the topic of Web.com pricing usually comes up. And, well… It's usually a disappointment.
Remember when I mentioned that the company only displays their "introductory month" price in an easy-to-see spot? Well, there's a reason for that - they don't want you to see how much they charge monthly:
Yup, you've read that right - almost $23 bucks for the most basic plan. That is actually insanely expensive - keep in mind that the best website builders in the entire industry don't charge this amount of money, yet offer far better features.
These Web.com price options kind of fall into the same category of shady business practices that we discussed before. Remember - the company hides the actual prices in a difficult-to-spot place on the landing page, and the only way to cancel a subscription is by calling them.
Out of all the website builder that I've reviewed, this is the first time I've encountered something this strange.
Here is The Best Squarespace Offer I Found:
SAVE 20%
Squarespace Limited-Time Deal
Grab this Squarespace offer code & enjoy a lovely 20% off on any selected Squarespace subscription plan. Create your dream website NOW!
Expiration date : 12/12/2023
4,512 People Used
Only 88 Left
Conclusions
We've analyzed the ins and outs of multiple Web.com reviews, talked about the Web.com pricing, complaints, features and so on.
After all of that, is Web.com worth it?
No.
I'll admit - Web.com has some interesting features to be used. However, there are simply way too many cons to ignore. The templates are old and severely outdated. There are no advanced features, and it's impossible to tell what exactly is it that you'll receive when you purchase a plan of your choosing.
That's not the straw that broke the camel's back, though. That would have to be their business practices.
I went into this Web.com review with an open mind - I knew that the builder had some problems, but I thought that it would be exactly that - problems with the builder! I didn't think I'd see this type of shady business going on.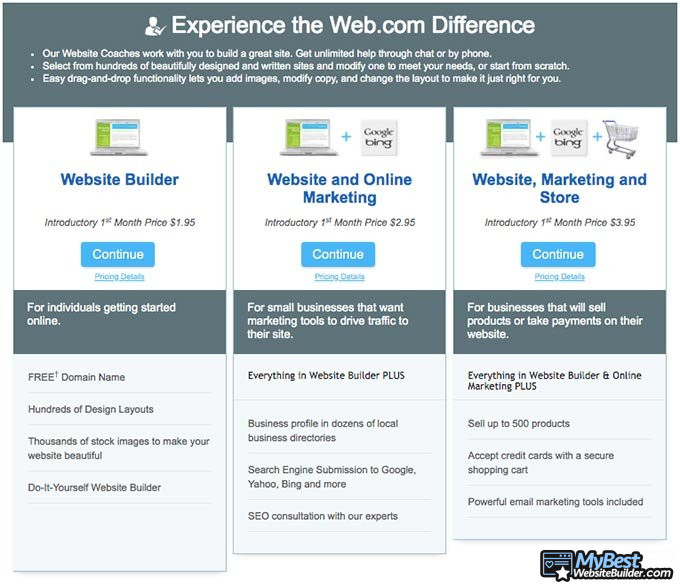 And besides - there is really no argument to excuse the Web.com price options with price tags like that. I could understand if it were a small, up-and-coming website maker with a few dollar price tag and some normal, clear policies.
However, when you charge your customers almost $23 bucks for the most basic plan that contains theme templates from the nineties, it's tough to find ANYTHING positive to say about this company.
Don't use Web.com - you can pay less for the best features in the entire industry with the most well-known providers. Ironic? No, I would have to say that we're way past irony - this is just sad. One of the least expensive website builders that you can find in the market today and offers really great features is Zyro.
All in all, whatever your takeaway from this might be, I hope this Web.com review was helpful to you, and that you now know a whole lot more about this website builder. Best of luck with creating your dream website!
Leave your honest Web.com review
Leave your genuine opinion & help thousands of people to choose the best website builder. All reviews, either positive or negative, are accepted as long as they're honest. We do not publish biased reviews or spam. So if you want to share your experience, opinion or give advice - the scene is yours!