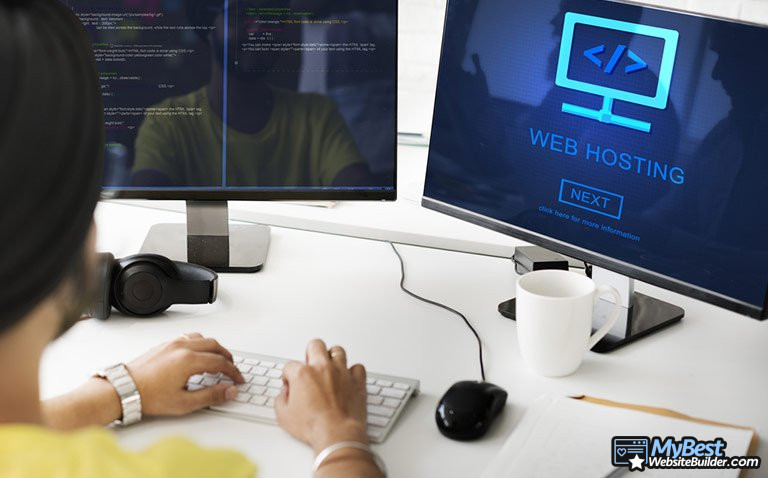 When creating a website, there are a lot of aspects that you need to take into consideration. Learning how to host a website is one of them. That's why, if you're doing this for the first time, you should make sure to follow each step and you'll be just fine.
There are more than 150 million domains hosted worldwide. According to the Cooked Research Report on the Global Web Hosting Services Market, the web hosting market should expand at 15.9% CAGR between 2018 and 2023. Therefore, if others can figure it out, so can you.
Understanding how to host a website is easier than it might seem in the first place. However, before moving straight to the guide, you should understand the concept of web hosting.
Web hosting is an internet hosting service that allows people and companies to make their websites accessible via the World Wide Web. Web hosts are the companies that provide you with a space on the server that they own. They also ensure Internet connectivity, usually in a data center.
In very simple words, web hosting is a place where your website lives. The content such as HTML, CSS and images that your website contains, must be kept on a server to be accessible. Therefore, understanding what website hosting is shouldn't be difficult. However, the whole process of hosting your own website might take a bit longer.
In this guide on how to host a website, I will explain to you each of the steps that should be taken in order to successfully host a website. What is more, at the very end, I will provide you with alternative options that you might want to consider.
Hint: that alternative option MIGHT have something to do with website builders. If you're interested, make sure to check out Zyro as one of the best examples!
How to Host a Website: Step-by-Step Guide
Even though understanding the whole process of hosting your own website might be a bit confusing, it's actually super simple once you get it. Thus, let's begin this step-by-step guide and learn how to host a website.
Step 1: Take Into Account the Most Important Web Hosting Features
I bet that you never go to the new restaurant before checking out what it has on the menu. That's completely the same when it comes to choosing a hosting provider, it's a must to take into consideration each of the features that matter before choosing the most suitable option for your needs.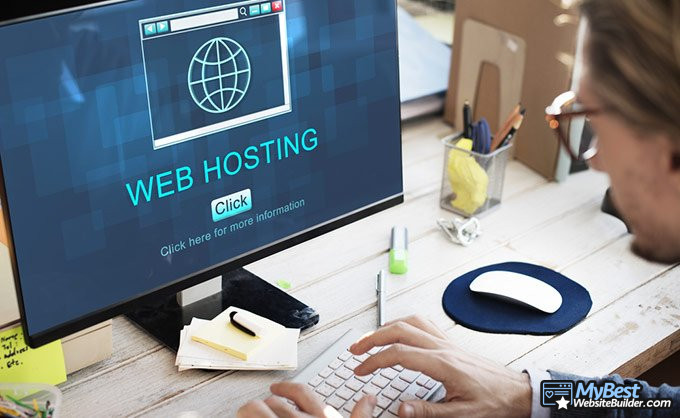 While many of you might be thinking about the price as one of the most important measurements that could influence your decision, that's actually not it. There are so many more crucial aspects that can strongly affect your overall experience and satisfaction regarding a specific web hosting provider. So, let's take a look at each of them.
Uptime
The major reason why you're looking for a web hosting provider is because you want your website to be accessible. That's why you must pay attention to the uptime, which reveals the percentage of the time that your website is accessible.
While I know that some recommend choosing a hosting service that ensures at least 99.5% uptime, I'd say that a really good provider should be able to offer at least 99.96% uptime.
Scalability
It's important to not only think about the present but see things ahead. That's why you should choose a very flexible hosting provider that will manage to provide you with upgrades. This way, once you generate more traffic, you'll be able to switch to another plan without any trouble.
Bandwidth
Bandwidth is the amount of data that can be transferred to users over a certain amount of time. Of course, you should always go for a higher bandwidth as it manages to deliver more traffic and data. Low bandwidth can lead to a seriously slow connection.
In most cases, you'll need to choose a more expensive plan to get extra bandwidth, however, if you've just created your website, there's no need to worry about it just yet, almost every provider offers plans that are adapted to suit different needs. If you're just starting out, you can start from the most basic plan and then slowly upgrade it.
Customer Support
In case something unexpected happens and your website goes down, you will need a professional team that will help you to solve every issue efficiently. That's why, when choosing a hosting provider, you should make sure that it offers customer support that's available 24/7. After all, if your website is not accessible, you can lose potential clients.
Security Measures
There's nothing more important than security measures. Even if you get the best features, they don't mean anything if your data is unprotected. That's why, when picking a web hosting provider, you should make sure that they can provide you with certain security measures, such as:
SSL certificate. SSL certificate is needed to keep user data protected, ensure that hackers cannot create a duplicate version of your site as well as to gain more trust.
Website backups. Website backups are a copy of your website data that you can get back in case you get hacked and lose all the information.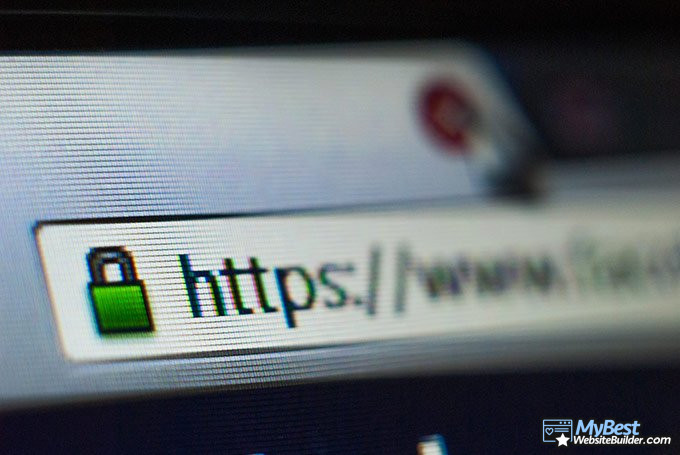 Always take security measures seriously to protect not only yourself but also user data!
Additional Features
I introduced you to the most important features when it comes to finding a reliable hosting provider. However, there are also some perks that you might expect to get together with a subscription. That includes:
Automatic backups
Credit for Google Ads
cPanel license for free
Free SSL certificate
Free domain (not forever but for a limited amount of time)
Unlimited number of email accounts
Free site transfer
Site builder
Even though you might come across some additional features when figuring out how to host your own website, all the aspects that I named above, including additional features, are the most critical ones.
Latest Squarespace Coupon Found:
SAVE 20%
Squarespace Limited-Time Deal
Grab this Squarespace offer code & enjoy a lovely 20% off on any selected Squarespace subscription plan. Create your dream website NOW!
Expiration date : 12/12/2023
4,512 People Used
Only 88 Left
Step 2: Research the Most Recommended Hosting Providers
Since we already figured out what aspects matter when choosing a hosting provider, it's time to get to the action and find yourself a suitable hosting provider.
When looking for the "best web hosting provider", you will come across more than 465 million results. Well, that's a bummer, it's not like you want to go through each of them. Now, that's where I can help.
I made a thorough research and comparison to help you to find the most reliable and capable web hosting providers. I bet that you'll find at least one of them suitable for your needs.
Let's get started.
BlueHost - The Most Popular
BlueHost is a leading hosting provider that was founded back in 2003 and is already powering more than 2 million websites worldwide. It offers an amazing value for money (the cheapest plan is $2.75/month) and is one of the most reliable web hosting providers in the market. It has an uptime guarantee of 99.98%.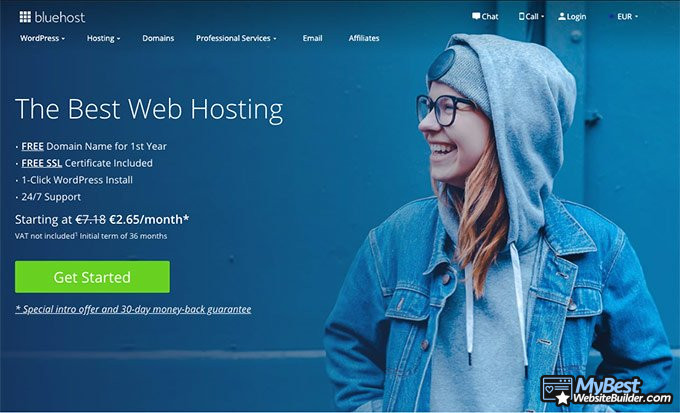 Even when choosing their least expensive plan, you get a free domain name for the 1st year, free SSL certificate and helpful customer support that's available 24/7. If you haven't tried BlueHost before, you can take advantage of the company's 30-day money-back guarantee and see how well it works.
Talking about scalability, BlueHost provides you with all the possibilities. You get three different plans to pick from, including Shared, VPS and Dedicated Hosting. So, start from the basic plan and once your traffic grows, you can easily switch to the one that fits your needs better.
When it comes to the features that I mentioned previously in this article on how to host a website, it seems that BlueHost has them all. The features include unlimited disk storage, unlimited domain hosting, web file manager, and so much more.
Thus, if you're interested in how to host a website, you should definitely give it a try using this web hosting provider.
HostGator - The Most Reliable
If you're wondering how to host your own website, HostGator can be really helpful. It's super simple to use, even if you're doing this for the first time. The majority of people turn to HostGator due to its reliability, you can expect 99.99% uptime. Considering the fact that uptime is one of the most important aspects when it comes to hosting services, this is definitely a huge plus to HostGator.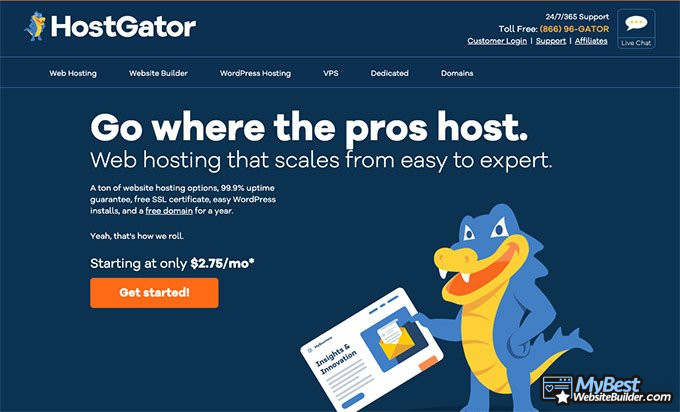 If you're just starting your business and plan to go big, then HostGator is a suitable option for you. It provides you with Shared, VPS and Dedicated hosting that each comes with multiple plans to pick from. So, you can easily switch between plans and choose the most suitable one for your needs.
HostGator provides you with a helpful 24/7 customer support, free website content transfer, free domain, name transfer, 99.99% uptime guarantee, manual backups, and many more really attractive features. HostGator Shared web hosting plans start from only $2.75/month.
Hostinger - The Most Inexpensive
Hostinger is one of the most inexpensive shared web hosting providers that you can find in the market today. That's why it's so great if you're on a tight budget. Hostinger shared web hosting prices start at only $0.99/month.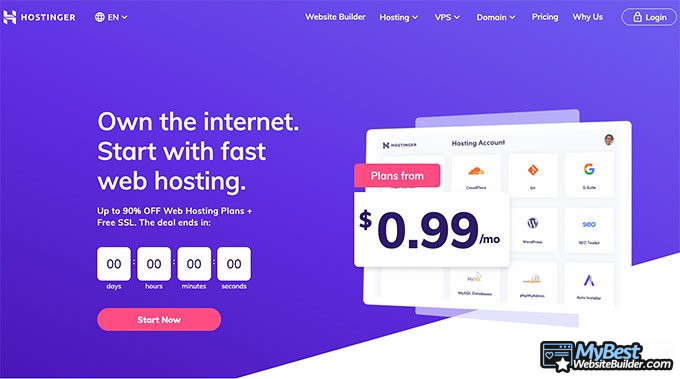 What's important to mention in this article on how to host a website from home is that cheap doesn't mean bad. Hostinger actually surprises everyone with their speed and reliability. It offers good uptime as well very fast load time.
What is more, just like the previous providers mentioned in this article, Hostinger provides you with flexibility. You can choose from Shared, VPS and Cloud hosting. So, you'll be able to find a plan that's suitable for your needs.
Hostinger comes with great features, only the basic plan can be quite limited. You can get an unlimited number of servers, unlimited email accounts, unlimited bandwidth, free SSL certificate, and so much more.
Therefore, now that you're aware of the most important features that matter when choosing a web hosting service as well as the recommended providers, it's time to move further with this article on how to host a website and learn more about different hosting types.
Step 3: Choose the Right Web Hosting Type
When looking for an answer to the question "can I host my own website?", you'll come across different types of hosting. However, how can you know which one is suitable for you?
That's quite simple when you know your needs, including the capacity of storage that you need, speed, reliability and multiple other aspects that we discussed previously. Hence, let me introduce you to different types of web hosting.
Shared
Shared hosting is recommended for those who are just starting out and have small websites or blogs. Sice shared hosting plans tend to be really inexpensive, they're great even for those who have a very limited budget.
Now, it's pretty obvious why it's called shared hosting - multiple sites are stored in one server. That's the main reason why providers can provide you with such attractive prices.
Virtual Private Server (VPS)
VPS hosting is in the middle between shared and dedicated hosting. Differently from shared hosting, you get a personal space on the server (the physical server is still shared with other users).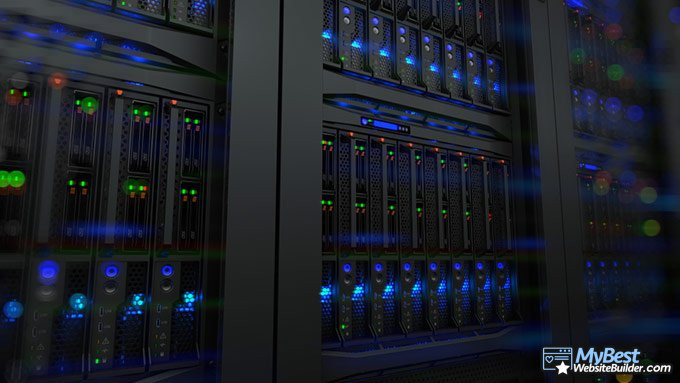 VPS is suitable for those who want to take more control into their own hands but don't have that many technical skills that are needed for dedicated hosting. Therefore, if you feel that shared hosting is no longer enough for you, then this is the type of hosting that you might want to consider.
Dedicated
Dedicated hosting is suitable for big players. Since you rent an entire server, you get complete control over it. If you're just starting out with your website, there's completely no need for you to choose dedicated hosting. Once your traffic grows and you want to get more control, then it might be time to consider this option.
Dedicated hosting plans tend to be really expensive compared to shared hosting. However, once you go big, it's completely worth it.
Cloud
Cloud hosting means that there are many computers that work together by combining different resources to run applications. Cloud hosting is better than shared as it manages to deal with bigger traffic so much better. That's why, once your audience starts growing, you might want to consider switching from shared to cloud hosting.
Since cloud hosting is powered by multiple servers, there's no need to worry in case one of them goes down, as there are others that work at the same time.
These are the most common web hosting types that you'll come across when figuring out how to host a website from home. While there are even more options, they're not as popular as these four.
So, once you're done with step 3 and decide which hosting type is suitable for your needs, the time has come to register your domain name.

Did you know?
Step 4: Register Your Domain Name
When it comes to hosting your own website, there are two things that you need: a web hosting service provider and domain name. I bet that you already have enough knowledge about hosting to decide which of the providers to pick. However, what about a domain name?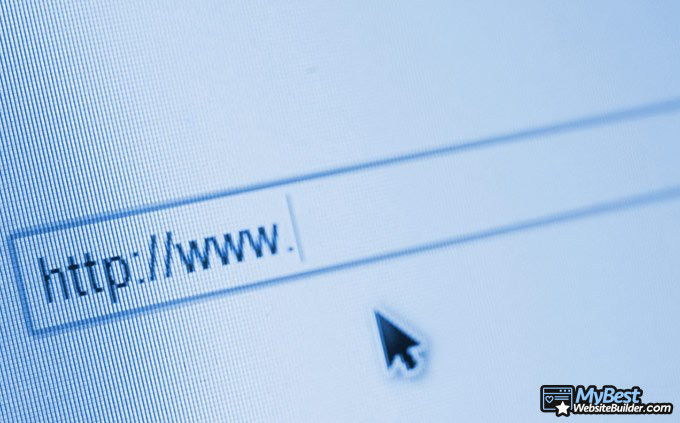 If you're not yet aware, a domain name is your website address that people are going to be typing in when searching for your website. As an example, you can take our domain name - mybestwebsitebuilder.com.
The majority of the web hosting providers will include a domain name registration when you'll be signing up. While some providers, such as Bluehost, will provide you with a free domain name for 1 year, some will ask you to pay additionally.
If you want to purchase a domain name from domain name registrars, you can do that via Domain.com. It was started back in 2000 and now is the most popular domain name registrar in the market.
When it comes to a domain name, you should try to make it simple as well as memorable, and make sure that it represents your business really well. That's the whole secret.
Alternatives to Web Hosting Providers
In case you find hosting your own website too difficult, you might want to consider an alternative option - website builders. Today, you can find a variety of recommended self-hosted website builders that can help you to create a sleek- and modern-looking website with very little technical knowledge.
In case you want to try out this method instead of asking "can I host my own website?", I would like to provide you with a few of the most recommended providers in the market.
Weebly
Weebly website builder was founded back in 2006. It's one of the most popular website builders that work really well for non-technical people. Since Weebly is a fully-hosted platform, you won't have to be worried about that, everything will be taken care of.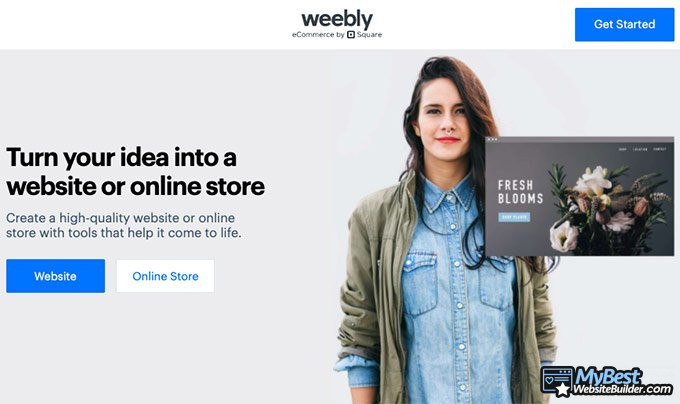 It doesn't matter if you want to create a blog, a more extensive website, or even an online store, you get all of the possibilities using Weebly. It comes with a vast variety of templates that will allow you to create a website that suits your style best.
Weebly also comes with a variety of features, such as galleries, contact forms, blog sidebars, sliders, and so much more. Weebly prices start from $8 per month.
Squarespace
Squarespace is an incredible website builder for those who value aesthetics. It was launched back in 2004 and now is one of the most recommended website builders in the market.
When using Squarespace there shouldn't be questions such as "how to host my own website?", this website builder is self-hosted, so it allows you to focus on more important parts of your work.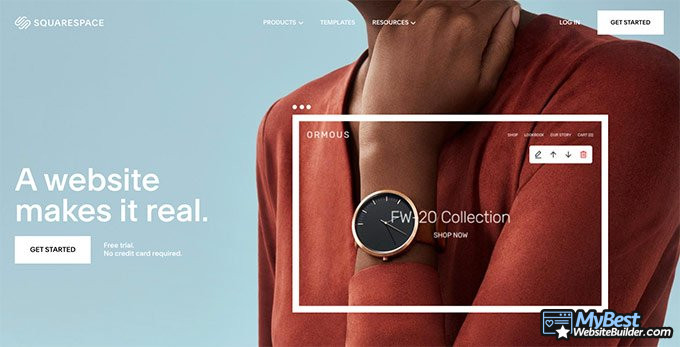 Squarespace comes with all the vital features, it provides you with sleek-looking templates and eCommerce plans, in case you want to create an e-shop. Squarespace prices start from $12 per month.
Wix
Wix is one of the most advertised website builders in the market. It's a cloud-based website builder software that comes with some really attractive features that will allow you to create a website in minutes.
Wix is a fully hosted platform, which means that you won't need to pay for hosting additionally. It provides you with customizable templates that you'll be able to adjust based on your personal style.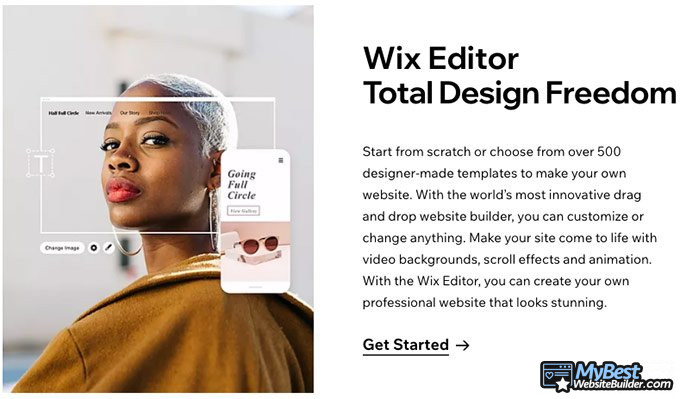 For $14,95 per month, you get web hosting and a free domain name. Thus, if you're looking for the easiest way how to host a website from home, choose self-hosted website builders.
This article on how to host a website is coming to an end, so let's move to conclusions and take a look at the steps once again.
Zyro
Zyro is a top-tier website builder that offers users some very unique features. That's not the only ace that Zyro has up their sleeve, though - the builder is super-well-made, all around!
Whether it be content creation, templates, or SEO - you can expect to find appropriate tools with Zyro, which will both be easy to use, yet will still provide you with all of the necessary features you might need to optimize your site.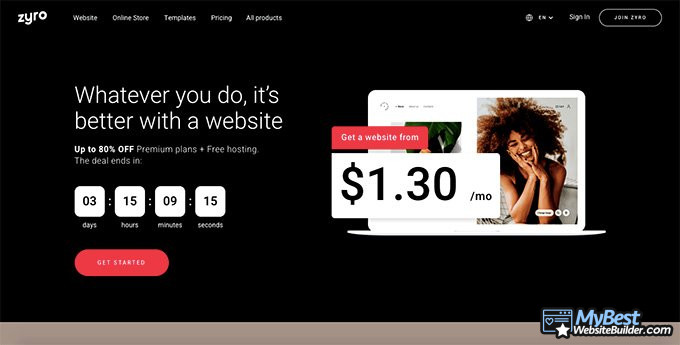 Zyro is also very affordable - the plans start from $1,30 per month! An amazing option, indeed!
Conclusions
Therefore, you don't need to ask "how to host your own website?" anymore. Simply follow 4 steps and you'll manage to host a website without much trouble.
Take into account the most important web hosting features.
Research web hosting providers.
Choose the right web hosting type.
Register your domain name.
So, do not hesitate, choose the best web hosting provider for your needs, and get a website up and running in no time! Each of the recommended providers can help you to achieve that without trouble:
Also, if you want to avoid all of the hassle, you could just utilize a website builder such as Zyro to help you out!
Leave your honest feedback
Leave your genuine opinion & help thousands of people to choose the best website builder. All feedback, either positive or negative, are accepted as long as they're honest. We do not publish biased feedback or spam. So if you want to share your experience, opinion or give advice - the scene is yours!