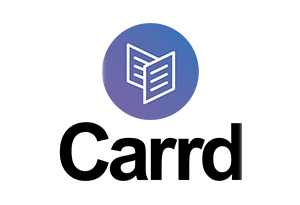 You can find a variety of website builders that each is better than another. While having so many options seems to be a rather good thing, it makes it even more challenging to find an option that would be the best for your needs.
Since the main goal of every website builder is to create an easy-to-use tool that would allow customers to build their personal site without the need for technical knowledge, Carrd is one of the options you should consider.
Carrd website building tool was launched in 2016 and is based in Nashville. Needless to say, this builder is still relatively new, however, the company is improving and keeps adding new, attractive features.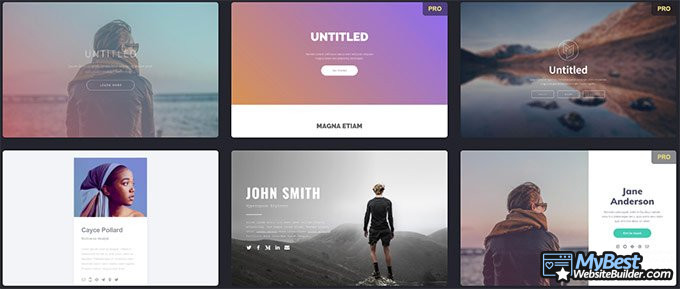 In this Carrd review, I will introduce you to this website builder from different perspectives, including professional and customers' experience. What is more, I'll provide you with the major pros and cons to help you make the right decision.
Since Carrd website builder is quite limited, you might want to jump to other reviews of more recommended builders - Squarespace and Zyro.
Carrd Review: What Awaits
Carrd is a straightforward one-page website builder that you can use to create your personal or business website without much effort. On the other hand, it's super clear due to the limited functionality that might interrupt you from creating a site for your personal needs.
Pros
Clean UI
Fast and reliable
Very inexpensive
Cons
No eCommerce features
Single-page websites only
Carrd Review: PROS
Let's begin this Carrd review from the positive aspects.
Easy to Use
When it comes to usability, the most important factor is the user interface. While some website builders fail to provide you with an easy-to-use tool, Carrd is not one of them.
Once you're ready to begin your journey, you'll need to choose a starting point. First, you'll need to pick a template. There are 75 templates at the moment of writing this Carrd review, they're divided into five categories:
Profile - show the world yourself, what you're into, and what is it that you do.
Landing - templates that will allow you to show off your new product, project or anything in between.
Form - templates that are perfect for collecting feedback from customers. If you choose the Pro Plus plan or higher, you can even sell stuff.
Portfolio - amazing for photographers, graphic designers or simply creative people who want to show off their art, picture or other visual creations.
Sectioned - you can choose from one-page designs that are connected using section breaks. If one page for you isn't enough, you should consider this option.
As you can see, differently from other website builders, the templates are not divided into categories based on business, instead, you get to choose from different structures.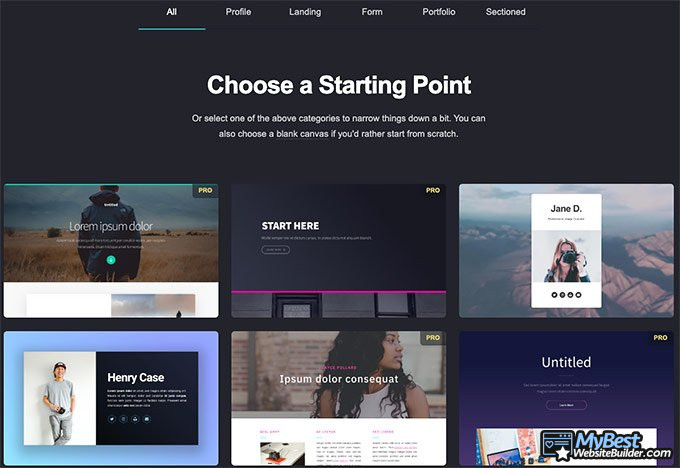 Once you decide what kind of a template you need and choose the one that you like the most, you can press "select". The pop-up will introduce you to all the features that you get. First 7 days won't cost you anything, you can start creating your website and try out all the functionality. Simply press "Select + Start Free Trial". No credit card is required.
Once you do that, Carrd website builder will provide you with some useful instructions that will show you how to perform the following actions:
Add new elements
Undo/redo the previous/next action
Switch to mobile view
Publish your site
etc.
Here's how all of it looks like: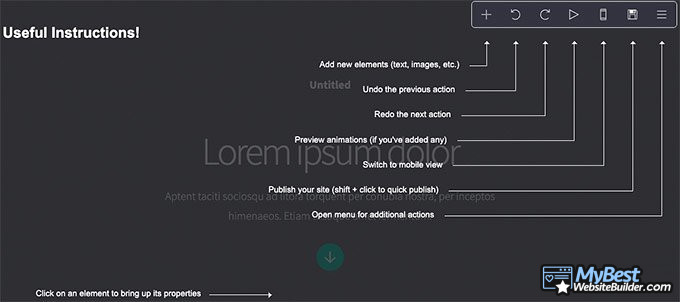 Once you're introduced, you can continue editing. The creation process using Carrd website builder is easier than you think. You can pick from multiple elements that you want to add, including:
Text
Image
Video
Audio
Gallery
Timer
Widget
Embed
List
Buttons
etc.
Note that some elements are unavailable for the Lite and Standard plans.
All the elements that you will add will show up at the bottom of the page, you can edit and drag them where you want. Each of them provides you with different design options and functionality that you can change based on your needs - it's super simple!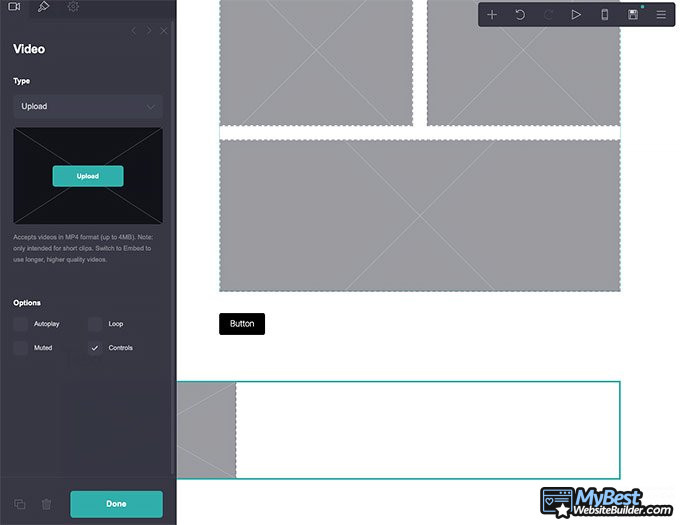 Based on Carrd reviews, customers are able to create very clean and simple looking websites for their personal needs. Therefore, if you appreciate minimalism and clarity, this website builder might be the right option.
Latest Squarespace Coupon Found:
SAVE 20%
Squarespace Limited-Time Deal
Grab this Squarespace offer code & enjoy a lovely 20% off on any selected Squarespace subscription plan. Create your dream website NOW!
Expiration date : 12/12/2023
4,512 People Used
Only 88 Left
Good Features
When it comes to the functionality of Carrd website builder, you get all the most vital features that differ depending on the plan you choose.
First, take a look at the features that you get together with the Pro Lite plan:
3 sites
Premium URLs (.crd.co and punycode URLs)
No branding
High-quality images
Large images and videos
Unlimited elements
Pro templates
Site Icons
Share images
As you can see, the Lite plan is enough to create a fully-functioning website. Based on Carrd reviews, it's pretty clear that the majority of light users are choosing this plan.
Now, take a look at the additional features that you get with the Pro Standard plan:
10 sites
Custom domain URLs
Simple forms
Widgets
The Pro Plus plan gives you even more:
25 sites
Advanced forms
Redirects
Password protection
Update frequency
Advanced settings
Download sites
The Pro Plus plan is the most recommended as it gives you all the best features, yet still maintains a good price. It's almost the same as the Pro Max plan that provides you with all the same features but more sites - 100.
Since you already know what features you get, it's time to discuss other, not less important aspects in this Carrd review.
Attractive-looking Templates
Some website builders have really marvelous functionality, however, when it comes to templates, they're soooo old fashioned… Needless to say, such templates are stopping you from creating a sleek- and modern-looking website.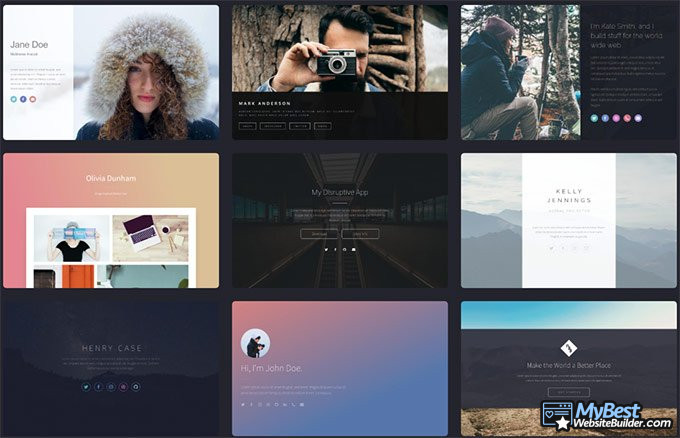 Since it's the Carrd review, you should know that the company has prepared some really attractive templates for you. Even though you get only 75 options to choose from, which is way less than, for example, Squarespace or Webflow can provide you with, I bet that you'll be able to find an option that will turn your expectations into a reality.
You can see some of the templates in the image above. Just admit it, they look good…

Did you know?
7-day Free-trial
What I and many other Carrd customers appreciate is that the company offers a 7-day free trial for their website builder. Since you don't even need to add your credit card, it's completely risk-free.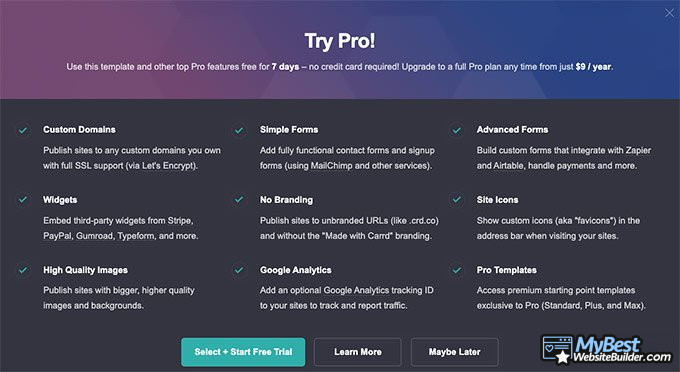 That being said, you have the whole week to test their tool, start creating your website, see how the end result looks like and only then decide if it's right for you. There's no pressure and no commitments, you have time to decide!
99.98% Uptime and Fast Speed
When it comes to your website, you should not only pay attention to the visual elements but also the speed and uptime. Uptime is a measurement that shows the percentage of time that your website is visible.
If the uptime is low, it means that your website is down pretty often and you might lose potential traffic. Moving to Carrd website builder, I couldn't find any negative reviews that would be concerned about the uptime, that's why I assumed that it's not an issue.
However, to provide you with accurate results, I've created a basic website, published it, waited for a few months and then checked the uptime. Needless to say, the results were great, uptime - 99.98%.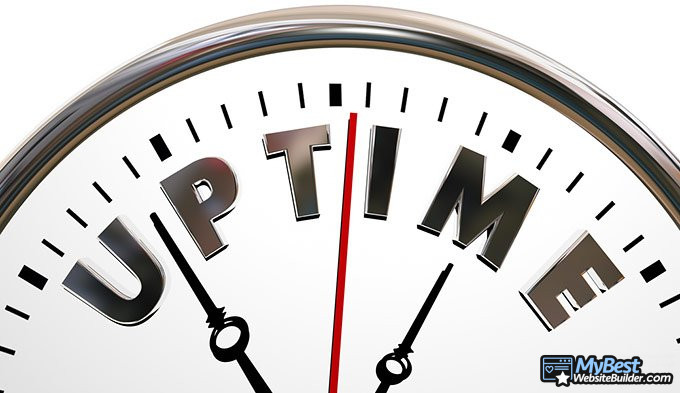 It means that your website will be down for 17.3 seconds daily, about 2 minutes weekly, and 1 hour 45 minutes yearly. Therefore, Carrd website builder allows you to create reliable sites that will be available at almost all times.
Another aspect that you have to pay attention to is speed. Not all website builders can create fast sites that might be a serious issue. According to Jakob Nielsen, 47% of people expect that the website will load in less than 2 seconds and about 40% of people won't wait longer than 3 seconds and will leave the website.
Since Carrd website builder doesn't provide you with extensive features, you can expect your website to load quickly. However, if you notice that speed is an issue, maybe you uploaded many high-quality pictures and videos? If so, it's normal that it takes to load faster.
Since we already discussed all the pros in this Carrd review, it's time to move further.
Carrd Review: CONS
Now let's take a look at other features and find out what this website builder is missing.
Forget about eCommerce
If you look into the most recommended website builders, you'll notice that the majority of them provide you with eCommerce features. Such website builders can be used to create not only personal or professional sites but also e-shops.
If that's what you're looking for, then Carrd website builder is not for you. This provider doesn't have a built-in eCommerce system, so you won't be able to create an online store. However, not everything is so restricted.
If you're a paying subscriber, you can easily add a button that would link all of your site visitors to the online stores that are hosted somewhere else. While it's not the best option, you still get to send traffic your way. All you need to do is press on the "Widget" and add the button that will link to your store.
One-page Site Might Not be Enough
Carrd is a one-site website builder, meaning that all of the elements will be provided on one page, there will be no menu that will transfer you to another page. It makes your site super clear and easy to navigate, however, not all of you will be happy with this, I know it.
What you can do is use sections and divide your site into separate page-like sections that will imitate the effect of having multiple pages. Needless to say, even though some of you might not like, there's always a way out.
If you're looking for a more flexible website builder, you might want to consider checking out Zyro and Squarespace.
Carrd Pricing and Additional Details
By now, all the aspects of Carrd website builder, except for the price, are clear. If you were reading some other Carrd reviews before this one, I bet that you've seen that all of them distinguish price as the major advantage of this company.
What is the price of Carrd website builder?
Carrd website builder is the most inexpensive option I've ever seen. Well, except for completely free website builders. Take a look at the full list for Carrd prices:
Pay attention that these are not monthly but yearly prices. Needless to say, even if you choose the most recommended plan - Pro Plus, it will cost you only a few dollars per month. Hence, even though Carrd website builder is quite limited when it comes to customization, it's definitely a good option for such a low price.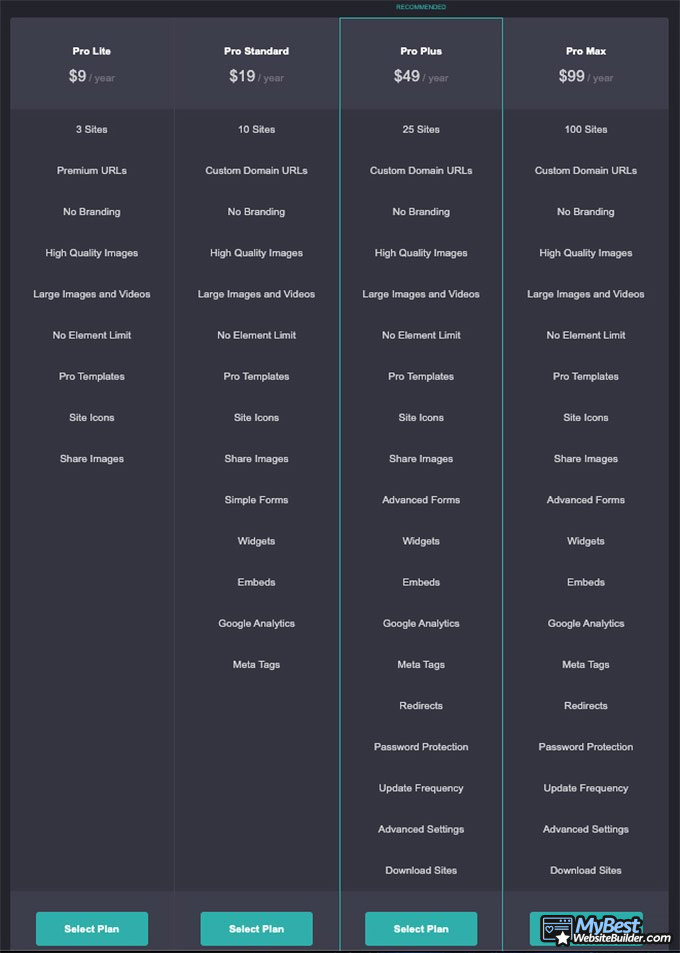 If you're not sure whether this website builder is enough, you should begin with a 7-day free trial, during which you can start creating your site, try out the functionality, and see how it works overall.
Once the trial period is over, you can choose any of the available plans. If you need only basic functionality - choose the Lite plan, if you want more features - the Pro Plus plan is recommended.
Since this Carrd review is getting to an end, let's move to conclusions.
Here is The Best Squarespace Offer I Found:
SAVE 20%
Squarespace Limited-Time Deal
Grab this Squarespace offer code & enjoy a lovely 20% off on any selected Squarespace subscription plan. Create your dream website NOW!
Expiration date : 12/12/2023
4,512 People Used
Only 88 Left
Conclusions
Therefore, Carrd is a very straightforward website builder that offers a super clean interface. This provider is perfect for beginners who want to create their personal or professional websites without huge investments.
Carrd provides you with 75 attractive-looking templates that are divided into different categories based on your needs. The websites created using Carrd website building tool tend to be fast and reliable, thus, you shouldn't be worried about losing traffic due to these issues.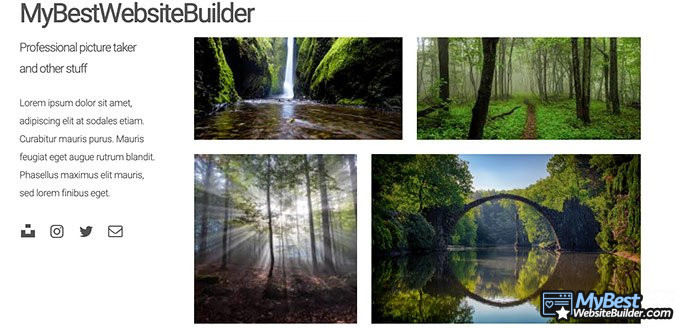 The only major drawback is that there's no eCommerce system, it means that if you want to create an online shop, you should consider other, more capable builders. The highly recommended options include Squarespace and Zyro.
I hope this Carrd review was helpful and you managed to decide whether or not this website builder is what you're looking for!
Leave your honest Carrd review
Leave your genuine opinion & help thousands of people to choose the best website builder. All reviews, either positive or negative, are accepted as long as they're honest. We do not publish biased reviews or spam. So if you want to share your experience, opinion or give advice - the scene is yours!