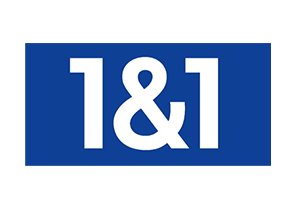 If there's one website builder in the entire world that you might have never heard about before, it's bound to be 1&1. Or Ionos. Or 1&1 MyWebsite. And so on and so forth. Don't worry - this 1&1 website builder review is here to clear things up.
Today, we'll be taking a look at this less-than-popular website builder (if you're looking for a better-known or more recommended options, I'd suggest checking out Zyro and Squarespace). We'll talk about its pros and cons, discuss the areas in which it is unique from other builders, and look at the pricing.
At the very end of the 1&1 website builder review, I'll give you my opinion on whether or not the builder is worth the time and money. First things first, though - before we get into the meat and potatoes of things, we need to briefly discuss what are website builders, in general.
TL;DR: The majority of user 1and1 website builder reviews are rather positive. People like that the builder has many different features to offer to the average customer, and that you can create backups straight from the UI itself. However, 1&1 seems to lack in the template department.
Here is The Best Squarespace Offer I Found:
SAVE 20%
Squarespace Limited-Time Deal
Grab this Squarespace offer code & enjoy a lovely 20% off on any selected Squarespace subscription plan. Create your dream website NOW!
Expiration date : 12/12/2023
4,512 People Used
Only 88 Left
1&1 Website Builder Review: What is a Website Builder?
So, let's take it from the top - what is a website builder?
Since you're reading this 1&1 website builder review, I assume that you already know all of the basics about website builders. That being said, some fundamentals still needs to be laid in order to establish common ground and ensure that we're both on the same page.
Think of website builders as tools. These tools are used to craft, shape and polish a website. This whole creation process doesn't only involve creating a homepage and then adding extra pages and menus to it - far from that! With a website builder, you can change the theme of your website, its purpose (blogging, eCommerce, gallery), and so on.
People often choose website builders as their go-to tools because of a few different reasons. Most of the time, it's a lack of money and time - people who design websites professionally are very expensive to hire, and it can take a really long time until your website starts taking shape.
Another huge reason has to do with programming. Rather, the lack of it - if you use a website builder, 99% of the time you won't need to have any prior knowledge with coding and programming languages. It'll help if you do, but it's almost never a necessity.
So, with that out of the way, let's start digging into the actual 1&1 website builder review. We'll begin by discussing the benefits of this builder.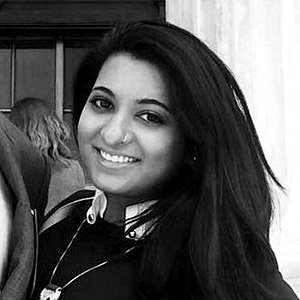 G‍ira Wieczorek
Co-Founder of Aleberry
What is the most important feature that a good website builder should have?
A good website builder should allow users to design & develop a fully responsive (not just mobile & desktop) website.
Pros
A lot of different features to add to your site
eCommerce supported
Backups
Cons
Themes are reportedly unresponsive
No free trial
1&1: PROS
I think the first thing to mention here is that you shouldn't get confused by the name (names?) of the website builder. You'll find that, in some user 1&1 website builder reviews, it's referenced as exactly that "1&1 website builder". Others type it out to be "1and1", and some people say "Ionos", in general. Just so you know - all of these refer to the same product.
An Abundance of Features
What is the first thing that you think about when you hear the term "feature" in the context of website builders?
Whether it's menu options, widgets, or embedded videos - I'm here to tell you that it's all of them.
User 1&1 website builder reviews seem to stress one single thing - if there's anything that the builder has done right, it's the features.
First of all, the quantity. 1and1 website builder reviews state that there are so many features you'll be able to choose from with this editor, that, chances are, you'll never use all of them. The builder is well-designed to suit any and all website types - blogging, social media, online CV-type websites, and so on.

The cool thing here is that 1&1 allows you to optimize your website with somewhat extensive SEO tools, too. For anyone who doesn't know, SEO stands for "Search Engine Optimization" - it's a system used to inform search engines about the content on your website.
Needless to say, a successful website needs SEO in the same way that a car needs fuel to run - you won't really have a lot of visitors on the site if you don't have your SEO in check.
It's not all that common to see 1&1 website builder reviews mention this, but some of the more online marketing-savvy users do note that 1&1 does a pretty good job as far as SEO options are concerned.
Latest Squarespace Coupon Found:
SAVE 20%
Squarespace Limited-Time Deal
Grab this Squarespace offer code & enjoy a lovely 20% off on any selected Squarespace subscription plan. Create your dream website NOW!
Expiration date : 12/12/2023
4,512 People Used
Only 88 Left
Easy to Use
Remember when I talked about the "ease-of-use" factor at the beginning of this 1and1 website builder review? It's one of the essential factors when choosing a builder for yourself - if it ain't easy to use, it kind of beats the purpose (in most cases).
I'm happy to be able to tell you that, according to the majority of 1&1 website builder reviews found online, the Ionos product is very easy to use.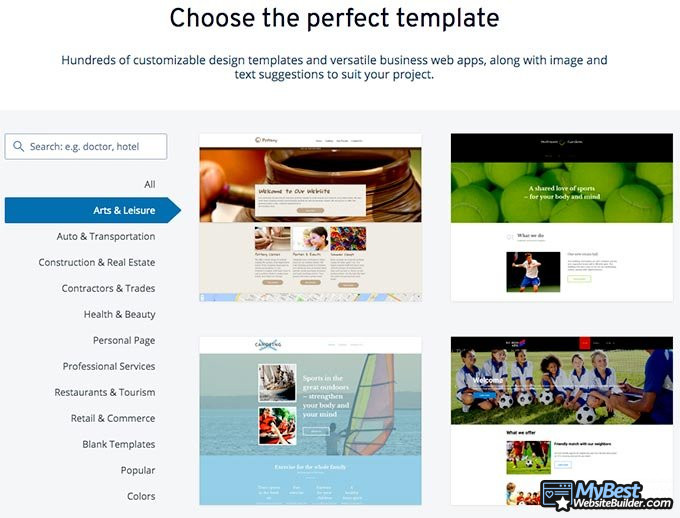 Truth be told, the builder looks very smooth and polished. All of the buttons are very clear, and the interface itself isn't confusing to look at or use, for that matter.
That's actually quite surprising, considering the number of different features that 1&1 provides.
Users also talk about the fact that the UI of the builder is quite powerful - it looks modern, is based on the drag-and-drop model and is fluid - there's no lag in between changing your options, no delay when dragging and dropping widgets on the site, and no crashes, whatsoever.
Decent eCommerce Support
eCommerce is a rather specific topic for website builders. So much so, that now there are builders that are designed specifically for eCommerce.
While Ionos doesn't offer an exclusively eCommerce-based builder, customers 1&1 website builder reviews seem to generally be happy with how the website maker deals with the topic.
1&1 offers website owners different payment gateways (PayPal and credit card included), e-shop social media integrations, abandoned cart recovery, multiple product support (according to the site, up to 5000), discount options, and so on.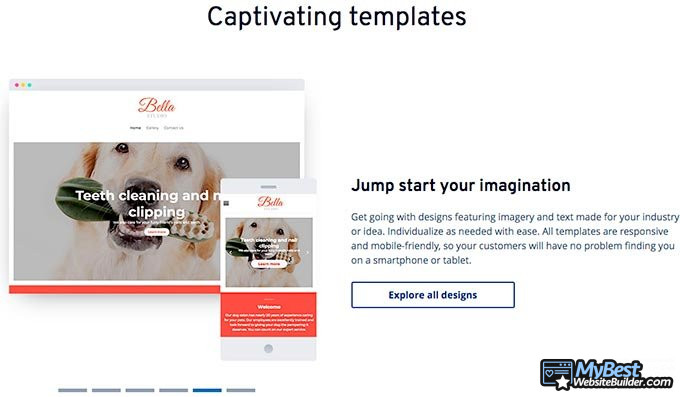 While I can agree that all of this may fall into the category of "features", I do believe that eCommerce deserves a separate section of its own. There are far too many website builders out there that are outright BAD at it - they lack the essential features, don't allow you to optimize your website adequately, or don't support e-shop integrations in general.
Having said that, it's quite refreshing to know that 1&1 is an optimal choice for eCommerce. While I'll admit that it's somewhat surprising, coming from an unknown builder like this, it certainly is cool, if nothing else.

Did you know?
Backups
Those unfamiliar with the term might wonder - why is this listed as a pro in so many 1&1 website builder reviews? How is this useful?
Well, let me tell you - backups are very important.
It's somewhat of a rarity to find a website builder which would allow you to backup all of your processes with just a click of a button. As far as 1&1 is concerned, though, it adds a whole lot of trust and comfort for the user playing around with the builder.
If you don't know, backups are there to help you restore a previous version of the website if and when something goes wrong. It isn't a mere "safety feature", though - it adds a lot of freedom for you - the user - to go ahead and explore the options of the builder with a peace of mind.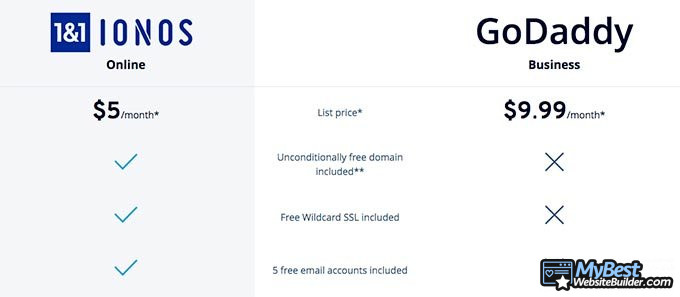 To add to that, 1&1 website builder reviews report that the feature is super-easy to access and use - all it takes is just one click of the button, and you're back to the point where you left off. 1&1 supports both manual and automatic backups.
Now, to be completely transparent, I do have to mention that there are a few customer 1&1 website builder reviews that are very dissatisfied with the backup system. This mainly stems from the people who did something related to actual programming (CSS, to be exact) on their website, and then later couldn't find a way to go back to the previous version of the site.
That said, however, these types of user reviews are somewhat rare - the majority of people seem to be satisfied with 1&1's backup system.
1&1: CONS
Now that we've got all of the pleasant stuff out of the way, let's turn this 1and1 website builder review around and see what are some of the better-known problems with the builder in question.
Some Themes are Unresponsive
Reading through the various reviews associated with the 1&1 website builder, you'll quickly discover that there are many conflicting reports concerning the quality of the builder's theme templates. Some users claim that it's great, while others say that the templates are unresponsive and somewhat outdated.
Who's right? Both of them, actually.
You see, if you were to judge 1&1 as a single website builder without taking any of the competition in mind, then sure - the templates seem in order. However, when placed next to competitors such as Squarespace or Zyro, 1&1's templates fall rather short.

It's all a matter of perspective, really. It's not that the builder has bad templates, and that they ruin the entire builder, in general. However, it depends on what you're looking for - if the look of your website is your No. 1 priority, then 1&1 might not exactly satisfy your wants and needs.
No Free Trial
I'll cover the pricing options for the 1&1 site maker right after this, but it's important to mention that the company offers no free trial with their product.
That's actually pretty rare. And a bummer.
They mask this by stating that you'll receive an "introductory month" for the price of $1, but let's be honest - most people forget their subscriptions pretty fast, and end up charged for the months to come. 1&1 does, however, provide their customers with an initial money-back guarantee - while that doesn't really cover the "no free trial" problem, it's still something that should be mentioned.
Price
Now, to finish off this 1&1 website builder review, let's talk about the pricing of the builder.
As you go to purchase the builder, you'll be presented with 5 different options - 2 concerning websites, and 3 based around online stores. The options are, as follows:
Websites
Stores
All of the plans are ensured with a "no risk, cancel anytime" subtitle. Also, a quick reminder - while there's no free trial, you'll get the first month for $1.
All in all, the prices aren't unheard of. Truth be told, they're actually on the better side of things! $5 per month for a basic site is nothing, and so is $45 if you're planning to build a business with the 1&1 site builder.
Here is The Best Squarespace Offer I Found:
SAVE 20%
Squarespace Limited-Time Deal
Grab this Squarespace offer code & enjoy a lovely 20% off on any selected Squarespace subscription plan. Create your dream website NOW!
Expiration date : 12/12/2023
4,512 People Used
Only 88 Left
Conclusions
So, then - we've reached the end of our 1&1 website builder review. Whether it be themes or UI functionality, we've talked about it all - by now, you should have a pretty good idea about the tool, in general.
Would I personally recommend it?
If you're not a big fan of the industry giants, then yes. However, if you don't mind being a little "mainstream", then no.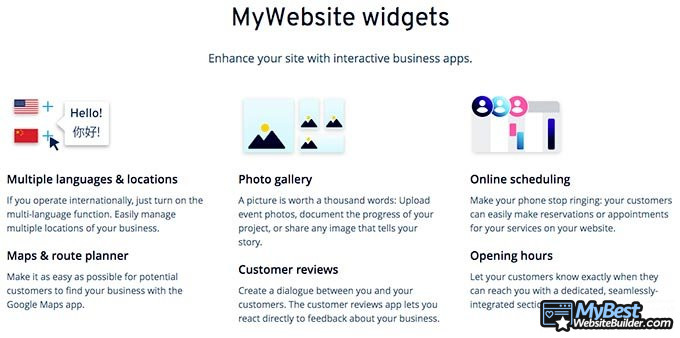 You see, 1&1 is good - it's not the best, but it's good. Sure, there are some notable quirks with the builder (today we've only talked about the major ones), but from a general standpoint, 1&1 is quite alright.
That being said, however, there are far better options around. The topics of price, theme functionality and general UI appeal are going to play a huge part here - while some users are going to prefer 1&1, others might just turn to the top-dogs, such as Squarespace or Zyro.
Whatever the case might be, I hope that this review was useful to you. Have a good one!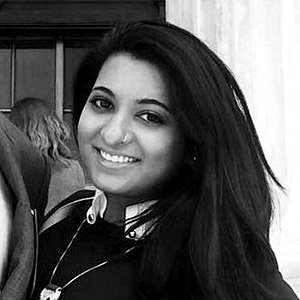 G‍ira Wieczorek
Co-Founder of Aleberry
Contributed by: G‍ira Wieczorek , Co-Founder of Aleberry
Gira is a Co-Founder at Aleberry, where she works alongside funds & founders throughout the fundraising process. She helps with investor relations, funding strategy, and design/marketing, as we...
Read Full Bio...
Leave your honest 1&1 review
Leave your genuine opinion & help thousands of people to choose the best website builder. All reviews, either positive or negative, are accepted as long as they're honest. We do not publish biased reviews or spam. So if you want to share your experience, opinion or give advice - the scene is yours!