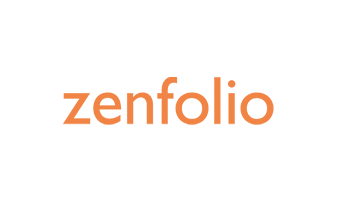 At this day and age, being a photographer and not having a website to either display or sell your work, or even present yourself in front of potential clients is, well… Bad. If you're currently in a situation like that, this Zenfolio review might have the answer to that very same issue.
Zenfolio is a niche-oriented website builder. What this means is that everything that's related to this tool (from the templates to the functionality, and all the way to the features) is going to revolve around a single niche.
In Zenfolio's case, that niche would be photography. If that's not what you're looking for, then check out more adaptable website builders, such as Squarespace and Zyro.
Join me today, in this Zenfolio review, and let's take a look at and talk about everything that a potential user of the builder might be interested in - the pros, cons, and also the Zenfolio pricing options, too.
TL;DR: Zenfolio is a decent website builder for photographers. The builder allows you to both display and even sell your work, while also providing the functionality to create hiring pages, galleries, and everything in between. While there are very few templates for the customer to pick from, the ones that exist are mobile-friendly.
Pros
Drag-and-drop editor
Mobile-friendly templates
Photography-oriented website builder
Affordable
Cons
Very few templates
No free version
Somewhat difficult to use for some
Zenfolio Review: PROS
Starting out, we'll talk about the main benefits of the builder, and see what some of the more positive customer Zenfolio reviews have to say about it. First things first, though - we should probably talk about the actual target audience of Zenfolio.
A Website Builder for Photographers
As soon as you enter Zenfolio's official website, you'll be greeted by a slogan that presents the brand and the site creation tool behind it rather well - "All-in-one website to showcase, share & sell your photography".
That's right - Zenfolio is a website builder that's made for and also aimed at photographers. In other words, it's a niche-oriented website builder.
Naturally, as you'll probably quickly notice from various customer Zenfolio reviews, this does have some pros and cons.

Focusing on the actual positive aspects of this point, it's pretty obvious that niche website builders are awesome for the actual target groups that they, well… Target. You see, it frankly means that you have a builder that's literally designed to cater to your every want and need.
But what are the actual important features when you're talking about a photography-based site?
Well, that's pretty obvious - anything and everything related to the visual presentation of your site.
To put it simply, Zenfolio is going to provide users with some amazing visual-building tools and features. This actually translates to another point that's commonly made in customer Zenfolio reviews - the fact that the website builder has some pretty good features to offer to the user.
Latest Squarespace Coupon Found:
SAVE 20%
Squarespace Limited-Time Deal
Grab this Squarespace offer code & enjoy a lovely 20% off on any selected Squarespace subscription plan. Create your dream website NOW!
Expiration date : 30/09/2023
4,512 People Used
Only 88 Left
Various Different Features
No matter if you're reading this Zenfolio review and are thinking about making an online gallery, or going through some other high-end builder reviews with the hope to find the best option for an eCommerce site, this point remains the same - the more features a builder has, the better.
That's actually quite obvious when you think about it, though. While some people might feel overwhelmed by a huge list of features, in the absolute majority of cases, this is something that's surely preferable.
If you're looking to create a small, portfolio-like website for your photos, then sure - you might say that you don't really need a whole bunch of fancy features and some high-end functionality. Well, hey - I agree with you completely. That said, imagine if you one day decide to actually start growing your site to a fully-fledged eCommerce platform.

If the builder that you're using isn't going to have eCommerce features, or some contact forms, or even easy-to-use navigation panels, you aren't really going to be able to create a platform like that, right? THAT'S the reason why you'd want to look for a website builder that's equipped with all of the advanced features. Such website builders include Zyro and Squarespace.
Customer Zenfolio reviews will tell you that this builder is, indeed, a tool like that.
Depending on the plan that you choose to go with, you'll receive a huge variety of different features to utilize on your website - everything from content uploads and search engine optimization, all the way to eCommerce features, product orders and social media integrations.
Truth be told, as far as feature variety is concerned, you can rest assured - Zenfolio is going to provide you with all that you might need.
Integrated eCommerce Functionality
I've mentioned this a bit earlier in the Zenfolio review, but it's surely something that deserves a completely separate emphasis, too.
eCommerce is a huge deal nowadays. By extent, website builders that have great eCommerce features are surely on the top of the popularity charts, too.
Frankly, it makes perfect sense. No matter what sort of a website it is that you set out to create, you never know where it will end up in a week, month, or even year - this is a statement that's echoed by some customer Zenfolio reviews, too.
This is especially true with photography-related websites. I mean, think about it - a portfolio's cool and all, but what if you get the chance to start selling your prints? Or perhaps even taking some commission work? Without the ability to optimize your website with eCommerce features, you'll basically have to transfer it to another builder.

That's a whole other issue that you don't want to face - believe me.
The only other rational option here is to pick a website builder that has eCommerce functionality from the very get-go. Again, you don't even need to read through customer Zenfolio reviews to learn that this builder has such functionality - all it takes is a single look at the plans and pricing options.
In all honesty, Zenfolio does actually have a pretty significant collection of different eCommerce-related features to offer to the average customer. Even without purchasing the priciest plan, you'll be able to receive sales reports and payouts, display featured galleries and products, accept all of the major payment options, and so on.
Quite simply put, if you're interested in running a photography-based eCommerce platform, then Zenfolio is surely one of those builders that will provide you with all of the essential features that you might need in order to do so!

Did you know?
Mobile-Friendly Templates
This is something that I stress with any and all website builders that I try out and talk about, but it can't really be helped - it's simply that important of a topic.
Good quality templates are crucial for your site to be successful. This is absolutely true with any and all websites out there - it's even more so true, though, with a photo-oriented website. I mean, when was the last time you've visited a site that looks like it has been made in 1998 and thought to yourself - "yup, this looks legit!"?
All of the templates offered by Zenfolio are modern and well-designed - they look great, and are actually quite simple to customize and make your own.

On top of that, they are also mobile-friendly - needless to say, this is an extremely important point.
Mobile-friendly templates are essential nowadays simply because many people are using the internet and browsing through various sites on their phones. By now, it's one of the leading devices of consuming web-based content! It makes sense that you'd want to optimize your platform to be as smooth and simple to use on a mobile device as possible.
Zenfolio does offer its users templates that are great in regards to both their overall functionality, and also when it comes to mobile-friendliness, too.
Zenfolio Review: CONS
Now that we've discussed all of the pros and benefits most commonly mentioned in the Zenfolio reviews, let's move on and talk about the more negative sides of the website builder in question.
In all honesty, there aren't all that many issues that would be worth discussing in regards to the builder! Still, there are a couple of quirks that seem to pop up every once in a while among customer feedback left online. Once we get this out of the way, we'll also talk about the Zenfolio pricing, too.
Very Few Templates
While it is true that the templates that are available with Zenfolio are modern and well-designed, there are quite a few customer Zenfolio reviews that mention how little the choice pool for these templates actually is.
I have to admit - I was surprised, too.
In total, I could count 13 templates for the users to pick from. That's… An extremely low number.
First of all, this means that you'll have a very limited number of options to pick from. While that isn't necessarily a bad thing in of itself, it simply means that you'll have to be sure that 1 of those 13 templates does actually fit your preferences.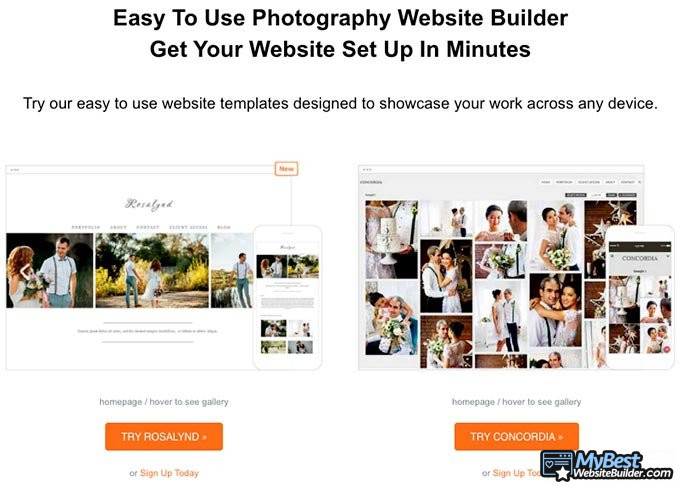 If it doesn't… Tough luck.
Also, it kind of takes away all of the originality of the site creation process. While you can surely customize your template as much as you'd like, the core features and its facade are still going to remain the same.
All in all, being a visual content-based website builder, it's actually very surprising and rather disappointing that there are so few template options to pick from.
Somewhat Difficult to Use
Admittedly, this is one of the more subjective issues mentioned in customer Zenfolio reviews, but it's still something worth keeping in mind.
Before trying the builder out myself, I've read that some customers are having issues with the actual usability aspect of the platform. I was quite keen on seeing what it is that they meant, and sure enough - I now know.

The thing about the Zenfolio website builder is that it's crowded with a huge variety of features, and their placement doesn't really feel all that intuitive, either. If this is your first time using a website builder, in general, then there's a pretty good chance that you might get lost in all of the processes, quite fast.
That's actually true despite the fact the Zenfolio, in essence, is a drag-and-drop website builder. In theory, this should make it pretty simple and straightforward to use, but this isn't really the case for some of the brand's customers.
Price
Finally, let's end this Zenfolio review by discussing the Zenfolio pricing options, and see if they make sense when places near the actual features of the builder.
Zenfolio's plans are priced like so:
All things considered, I must say - price tags like these sure do make Zenfolio one of the more affordable website builders in its category! The thing about niche-oriented builders is that they tend to be more expensive than the "general purpose" ones.
Even so, you might think that that Zenfolio is pretty expensive when compared to those same "general" builders. Let me tell you, though - for a photography-based website creation tool, it's actually pretty good.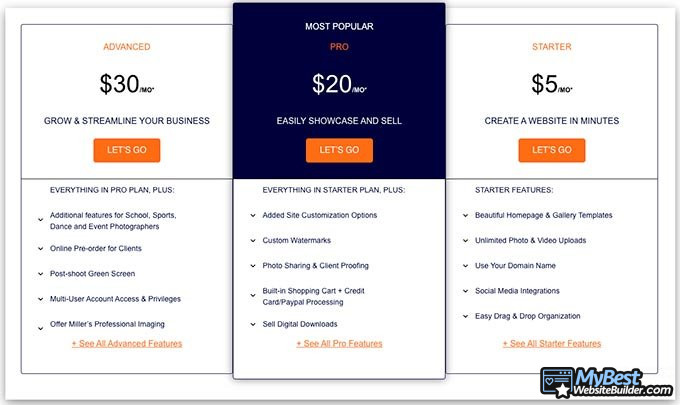 You can also try the website builder out for free - if you're not sure about the Zenfolio pricing plans, and want to experience all of the site creation process first hand, you can do this for 14 days, no credit card registration required.
Having said that, though, it's actually a huge shame that Zenfolio does not possess any free plan options - just something to keep in mind.
Here is The Best Squarespace Offer I Found:
SAVE 20%
Squarespace Limited-Time Deal
Grab this Squarespace offer code & enjoy a lovely 20% off on any selected Squarespace subscription plan. Create your dream website NOW!
Expiration date : 30/09/2023
4,512 People Used
Only 88 Left
Conclusions
Now, is Zenfolio worth checking out, or should you stay away from this website builder?
In short - it's worth giving a shot, but only if you're part of the target audience that this website creation tool is aimed at.
You see, the builder does possess quite a few useful qualities - it has a ton of features for you to check out, allows you to create everything from galleries and portfolios, all the way to eCommerce platforms, and possesses some high-end, mobile-friendly templates, too.
That said, it's not really an "easy" website builder, at least when compared to some of its competitors. Also, there's just an incredibly low number of templates available for you to try out - if none of them suit your preferences, you're out of luck.
If you'd like to find some better alternatives for the builder in question, and customer Zenfolio reviews have persuaded you NOT to try this product out, do check out some lists of the best builders of the year! If you don't want to go through an entire list - check out Squarespace and Zyro, one of them might be exactly what you're looking for.
Leave your honest Zenfolio review
Leave your genuine opinion & help thousands of people to choose the best website builder. All reviews, either positive or negative, are accepted as long as they're honest. We do not publish biased reviews or spam. So if you want to share your experience, opinion or give advice - the scene is yours!