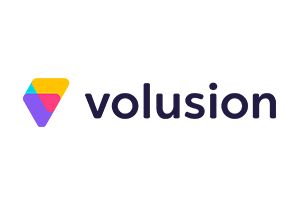 It seems that today eCommerce website builders have completely expanded the opportunities for people to launch and grow shops online. With such an increase of people who utilize website builders, the need for the quality and easy to use eCommerce website grows as well.
As you probably know, website builders are created with the main intention to allow people with zero coding knowledge to create modern-looking and professional sites. The main aim of each of the website builders is to find a way to present users with a clear, easy-to-use interface together with extensive tools and customization.
Obviously, not every website builder can offer that. But maybe Volusion eCommerce is one of them? That's what we're about to find out.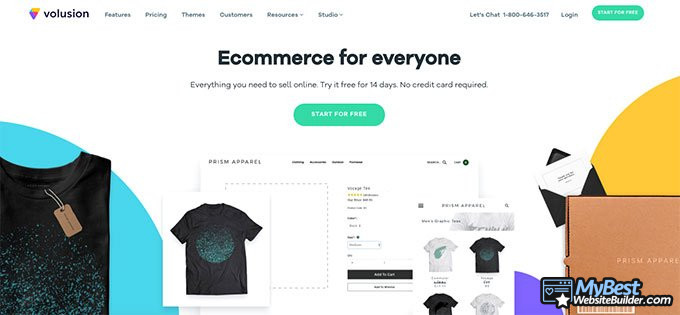 In this Volusion review, we'll go through its ease of use, theme options, design quality, prices, speed, and many other aspects, which are important to the potential client, like yourself. I will also shortly introduce you to other, more recommended website builders, such as Squarespace and Zyro.
Volusion review: what awaits
Volusion is one of the oldest eCommerce platforms, which quite recently upgraded themes. Sites created using Volusion seem to be working fast and provide you with every necessary tool for eCommerce website. However, Volusion lacks customization and templates to choose from.
Pros
Superb Features
Modern and Sleek
Fast Speeds
Cons
Not as Customizable
Needs More Themes
Bad Third Party Reviews
Volusion Review: Introduction
Volusion is an eCommerce software, which is one of the earliest website builders launched in 1999, in Austin, Texas, by Kevin Sproles.
Volusion is known all over the world; it offers every necessary tool to create, manage, and expand your online shop together with a variety of extensive features, which make Volusion one of a kind.
In this Volusion review, we'll see if old means gold or another way around.
Volusion Review: Pros
Volusion review should start with its pros so that you could see the beneficial side of using this platform.
Amazing Features
Let's begin this Volusion review with its most significant features. It's one of the major reasons why Volusion is popular among eCommerce users.
With the majority of eCommerce website builders, you get only the main features and add-ons. Later on, you need to download and install them based on your personal needs. I guess it sounds pretty good as you can create a customized dashboard with only the necessary tools.
However, there's also a downside to it. Some must-have add-ons are paid, which means, you not only pay for a subscription but spend an extra amount of money to get the necessary tools. It may not sound like the very best-case scenario.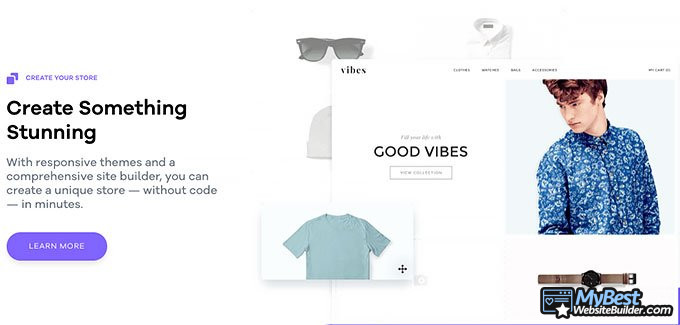 So, as you already understand, Volusion comes with everything you need, starting with the variety of pricing options to designs and text descriptions for SEO optimization. That sounds amazing, but let's get through real examples, just to get it right. Here are some of the best Volusion eCommerce features you must know about:
Abandoned cart. You can see which customers adder product to their cart but have left without purchasing. In this case, you can send emails, which remind your customers that they forget something.
Product videos. This feature is very beneficial to those who need extra visuals. You probably know Asos, they also use videos to present their clothes and accessories. The majority of users say that it's much more trustful. So, this trick could make your shop successful as well.
A wide range of payment methods. With Volusion, your customers will have an option to choose from the most popular payment methods, including PayPal, Amazon, Apple Pay, and so on. Want to hear the best thing? THERE ARE NO TRANSACTION FEES - only standard credit card charges.
POS System. POS System stands for the point of sale or the point of purchase, which is used to complete a sales transaction. Needless to say, like many other eCommerce platforms, Volusion offers such feature to make payments easy and convenient. But the POS System is much more beneficial than you imagine. You can easily connect it to credit card swipers, barcode scanners, and other payment-related tools.
These are only a few, and I believe very beneficial features to be mentioned in this Volusion review. However, if you will start using this platform, you will find so many more aspects to like about Volusion.
Latest Squarespace Coupon Found:
SAVE 20%
Squarespace Limited-Time Deal
Grab this Squarespace offer code & enjoy a lovely 20% off on any selected Squarespace subscription plan. Create your dream website NOW!
Expiration date : 30/09/2023
4,512 People Used
Only 88 Left
Upgraded Themes

Volusion has been recently upgraded from V1 to V2. And I have to say that I like the new version a lot better. Actually, I'm not the only one believing so - Volusion reviews have a completely similar opinion at this point.
So, now the Volusion themes are attractive and modern. I guess that the only problem that's left here is the number. Compared to other platforms, such as Squarespace, Volusion eCommerce doesn't have that many designs to offer.
We'll be concentrating on themes more detailed further into this review.
Sites Load Quickly
The way I see it, site speed is one of the most important, which influences user experience. If your website takes forever to load, you might lose customers. After all, people are impatient and always in a rush.
Now, it seems that with Volusion, you shouldn' have that type of problem. To not only trust Volusion reviews but also focus on facts, I decided to run a speed test on a fundamental Volusion website, which includes minimal information and images. And here are the results that I've got.
As you can see, load time is 1.55s, which means that if your page size is similar to the provided one, it will take about one and a half seconds to load.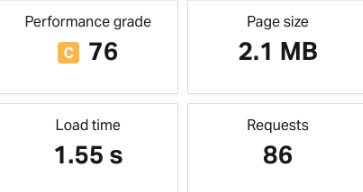 I also tested TTFB, which stands for time to the first byte and show how much time it takes to get a response from the server. It's a part of the full site speed. As you can see, Volusion website shows impressive results. These are actually the best I've ever seen!
New York - 44.6ms
Miami - 52.3ms
Dallas - 31.1ms
San Francisco - 52.8ms
Seattle - 50.8ms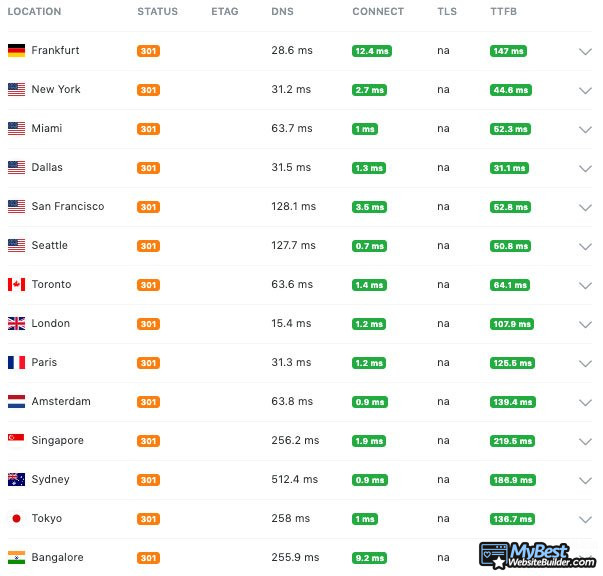 If you have problems with your site speed, there are a few things you can do, such as:
Optimize images. If you're using only high-resolution images, which take a lot of space, you shouldn't expect your page to load quickly. So, think about which images are necessary, maybe some of them are there for no particular reason.
Fewer animations. Animations take much space, which leads to longer load time.
Do not use rare fonts, rather choose the most popular ones, such as Arial and San Serif.
Do not add too many frames (pages) into one.
Use a minimalistic header and logo; there's no need to overcrowd.
Volusion Review: Cons
Volusion reviews pros are already clear, but now it's time to discuss its major flaws and Volusion complaints.

Did you know?
Awful Third-Party Reviews
People say that the easiest way to pick the right service is by focusing on the reviews. The problem is, you cannot trust all of them - competitors often write negative reviews. However, since the majority of reviews are negative and include serious Volusion complaints, you become concerned.
Volusion complaints are mostly focused on the user experience; many of them claim that Volusion is challenging to navigate. Some of the customers also said that Volusion's customer support is awful and not helpful when serious problems appear.
When it comes to helpful customer support, I'd suggest checking out Zyro - they have a very reliable team working behind.
The last complaint, which occurred quite frequently in the Volusion reviews is the problem with payments. Some of the customers said that they had to pay more than expected, or couldn't get in touch with their customer support during the financial crisis.
It seems like a serious problem, which Volusion should take care of, the sooner, the better.
Limited Template Options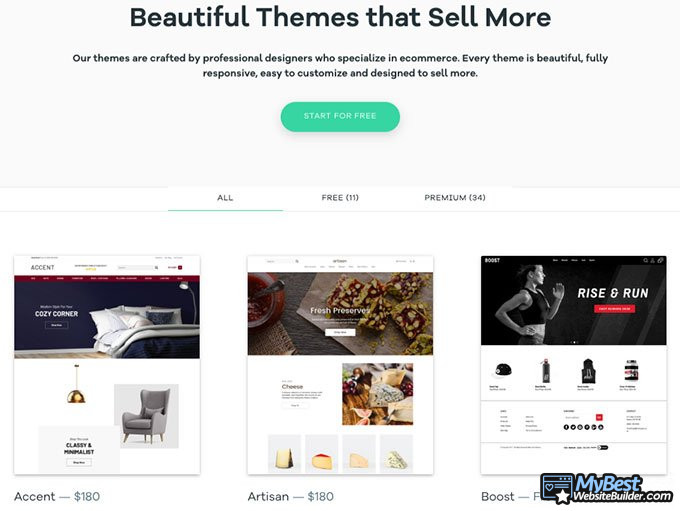 Previously, in this Volusion review, I told you that it upgraded its themes and layouts, but let's now take a look closer. Volusion has only 11 free and 34 paid themes, so, 45 in total. Such a number of options may not be enough for the majority of users. Volusion should do something about it in order to keep up with the competitors.
I almost forgot to mention the paid themes pricing; each of them cost $180. It might seem quite expensive, however, compared to other website builders, it's quite similar. BigCommerce pricing varies from $145 to $235, and Shopify price goes from $140 to $180.
Even if Volusion has a very limited amount of paid themes, I have to say that their designs are worth the price. Themes are modern and sleek - the way you want your site to be.
Another problem, which was the reason for some Volusion complaints is that different from other website builders, you cannot customize Volusion templates easily. First of all, you cannot drag and drop items, only include text, images, and products. Furthermore, their templates are hard-coded, which means that people with fundamental HTML and CSS knowledge will find it either very difficult or impossible to edit the code.
Therefore, it seems that at this point, Volusion contradicts to everything that website builders stand for - great UX and at the same time variety of selections. So, before choosing a Volusion website builder, I recommend you to think about the need for customization. If you want your website to be unique, it's hardly done with Volusion.
Volusion Pricing
Now that every detail on Volusion is clear, you probably want to find out what is Volusion pricing and whether or not it's a worthy consideration.
Even if prices vary from time to time, I have to say that they're quite similar to Shopy's cost. Here's the full pricing for Volusion:

The more expensive plan you choose, the more priorities you get. Personal plan is great for beginners, you get one account and can upload up to 100 products, however, you don't get some of the features, including ratings and reviews, newsletters, import/export, and so on.
With the Professional plan, you already get five staff accounts and 5,000 products. What is more, you get additional features, such as newsletters, import/export, abandoned cart report, phone orders + CRM, and even more.
If you choose the Business plan, you get every possible feature, including advanced report builder, deals of the day, and many others.
Now, the Custom plan is a bit different - choose features that you need, and pay for them accordingly.
One thing that might come as a surprise is that you need to pay the extra price for an SSL (Secure Sockets Layer), which will protect you from fraud. I have to say that it's really the price to consider - $89.99.
Therefore, Volusion pricing is neither very expensive nor cheap; I'd say it's the average pricing to pay for an eCommerce website. My only concern is the additional pricing for SSL.
Here is The Best Squarespace Offer I Found:
SAVE 20%
Squarespace Limited-Time Deal
Grab this Squarespace offer code & enjoy a lovely 20% off on any selected Squarespace subscription plan. Create your dream website NOW!
Expiration date : 30/09/2023
4,512 People Used
Only 88 Left
Conclusions
Therefore, I have to say that the strongest Volusion side is the features that it comes with. You sign up, and you already have each of the necessary tools, no need to buy and install any additional add-ons.
Using Volusion's analytics, you can observe and grow your business efficiently. What's more, with product videos, you can present your items so much better than taking pictures. Also, with an abandoned shopping cart, you will remind your clients about their forgotten goods and allow your customers to choose from a variety of payment methods.
What is more, Volusion has upgraded its design from V1 to V2, which are much more modern and stylish than the previous one.
So, the final question is, do I recommend Volusion?
I have to say yes and no, even if Volution is quite a good eCommerce platform, it has many flaws, which might be crucial to some customers who need more design options and the ability to customize their website from the ground.
Therefore, you should be the one to decide whether or not this platform will be enough to start or grow your business.
In case you want to check out some better options, do visit both Zyro and Squarespace, you'll be nicely pleased.
Leave your honest Volusion review
Leave your genuine opinion & help thousands of people to choose the best website builder. All reviews, either positive or negative, are accepted as long as they're honest. We do not publish biased reviews or spam. So if you want to share your experience, opinion or give advice - the scene is yours!