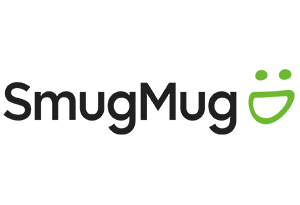 Are you a photographer and are looking to share your photos with the world? Perhaps you've heard about or read some customer SmugMug reviews, and are now looking to find out more about the website builder in question?
Whatever the case might be, whether you've heard about SmugMug before or not, you can be sure about one thing - if you need the best builder for photography, SmugMug should surely be somewhere at the top of your list. However, if you're interested in the best website builder for artists, in general, you should check out both Zyro and Squarespace.
In this article, we'll talk about some user SmugMug reviews, and check out the builder ourselves (in other words, talk about the SmugMug pros and cons). While it's a tool that targets some niche, specific group of people, it does provide a lot of different features and benefits. Let's get into the details, shall we?
TL;DR: SmugMug is a great website builder for photographers. The builder comes with 4 different pricing plans, all of which possess some unique features and customization options for the user. The templates are nice and mobile-friendly, and there's also a 14-day free trial available, too.
Pros
Easy to use
Beautiful templates
Photography-oriented
eCommerce available
Cons
Some features are a bit clunky
Expensive
Short free trial period
SmugMug Reviews: PROS
First of all, we'll take a look at some of the most notable benefits mentioned by customer SmugMug reviews. There's quite a bit to talk about, so let's jump straight into it.
Beautiful Templates - Site Designed for Photographers
So, first things first - let's address the obvious.
No matter if you read through customer SmugMug reviews or visit the builder's official website, the very first thing that you're bound to notice is that this particular website creation tool is designed and created for one, specific group of people - photographers.
Some specific niche-oriented website builders are becoming increasingly more popular as time goes on. They are great in that, no matter what it is that you're looking to do, you're going to be able to find all of the necessary features and website builder tools with that one, single builder.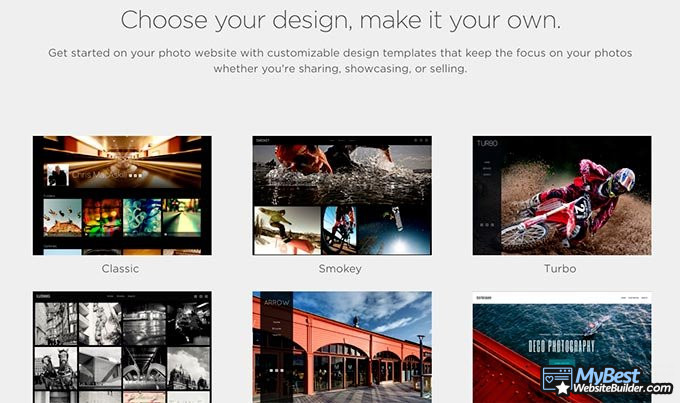 I probably don't need to tell you this, but photography-oriented website builders are surely among the more popular of such niches.
Whether you're looking to get your work out there and perhaps even sell it, or to simply start building an online portfolio, a website is almost crucial for a wannabe professional photographer. Today, there's a huge number photographers around, too - to put it simply, there's surely demand for a tool like that, and customer SmugMug reviews do promote that idea, too.
So, yes - SmugMug is a photography-oriented website builder that does also come with all of the features that you'd expect from a tool like that.
One of the more notable of such features are templates.
Templates are among the most important features of a website builder, no matter what sort of a builder that might be. They create the overall aesthetic of your website, and also allow it to look modern and sleek.
As unfortunate as it may be, not all website builder brands seem to understand this, though. Some builders still offer users some less-than-stellar templates that aren't only waaaaay outdated, but also completely not functional.

As far as this SmugMug review is concerned, though, I can tell you - rest assured, since the builder in question does, in fact, have some of the better templates on the market.
All of the builder's templates are intuitive and user-friendly, and they're also designed to work well both on desktop and on mobile, too. Do note, however, that they're designed for a photography-based website, and thus might not be ideal for any other purpose!
Latest Squarespace Coupon Found:
SAVE 20%
Squarespace Limited-Time Deal
Grab this Squarespace offer code & enjoy a lovely 20% off on any selected Squarespace subscription plan. Create your dream website NOW!
Expiration date : 12/12/2023
4,512 People Used
Only 88 Left
A Variety of Different Features
So, you have some amazing templates in front of you - you pick one, decide that it's the best-looking option for what you want to do with your website, and jump into the customization screen.
Now what?
Well, the next thing that most people do at this stage is that they start building the actual foundation of the website. In order to do that successfully, however, you'll need to have access to a variety of different features.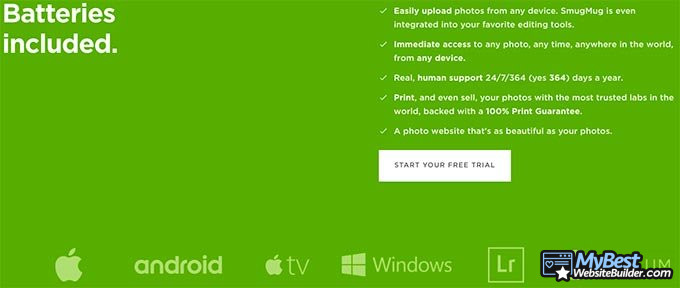 Reading through customer SmugMug reviews, that appears to be exactly what the builder in question offers.
You see, whenever you're speaking about the SmugMug pros and cons, it's important to also mention that the builder comes equipped with four different pricing plans. I won't get into them just yet, but my point here is that they all come with different features.
Some of the more generic of these features would include the addition of galleries to your website, unlimited photo upload capabilities, photo printing, and so on. It's safe to say that SmugMug does offer all of the fundamental features that you'd expect from a builder of this kind - being based on photos, that is.
Climbing up in plan options, you'll be able to drastically improve your site, both from a personal portfolio standpoint, and from that of an eCommerce platform. Domain name customization, coupon creation, sitewide pricing and sales, branding - you name it!

In general, most customer SmugMug reviews that I've come across online appear to be quite satisfied with the features of the builder. Having said that, though, the one thing that many customer SmugMug reviews DON'T seem to mention, though, is that most of the advanced features do actually have to do with the eCommerce side of things.
What does that mean? Frankly, if you're looking to create a portfolio, some of the more-entry level plans should suffice perfectly well.
eCommerce - Allowed!
As noted a few times already in this SmugMug review, the website builder in question offers users the ability to create a rather decent online portfolio of their work - you can actually create an entire gallery of your photos!
That being the case, the area in which the builder's capabilities truly begin to shine is eCommerce.
To put it short, SmugMug allows users to sell their photos both in physical and digital formats. Picking out the appropriate plan for yourself, you'd receive all of the essential functionalities in regards to running a successful eCommerce platform.

It should be noted that while SmugMug does truly provide the user with all of the core features of an eCommerce platform, it shouldn't be placed at a side-by-side comparison with, say, Shopify. That's simply because Shopify is a directly eCommerce-oriented platform, while SmugMug only integrates eCommerce features.
Still, judging by multiple customer SmugMug reviews, it would appear that for anyone looking to sell their photography work, SmugMug is surely one of the best website builder options.
SmugMug Reviews: CONS
So - as far as the SmugMug pros and cons are concerned, we've discussed the first half already. Well, at least as far as the main benefits that you'd receive if you were to use this builder go - naturally, there are more cool features when it comes to SmugMug, but they all fall into those above-mentioned "umbrella" groups.
With all of that being said, though, let's move on and discuss some of the more notable issues that are mentioned by users of this builder. After that, we'll also talk briefly about the SmugMug pricing, too.

Did you know?
Lack of Templates
As noted previously in the SmugMug review, the website builder does have some pretty cool templates - they're designed to be modern and intuitive, which is always appreciated.
Having said that, though, there are some customer claims that the actual quantity of the templates is, well… Lackluster.

Indeed - when I went to test out SmugMug, this is also something that I noticed. You would think that a visual content-based builder would have a huge selection of different templates - unfortunately, that does not appear to be the case.
Is it a huge issue? Well, it depends. You see, there's a pretty good chance that you might find a template that fits you wonderfully among those that are already on the platform. The issue here, however, is that the lack of templates means that you'll be somewhat limited in your site customization features, as well.
If you want more customization and a wider list of attractive templates to pick from, do check out Squarespace and Zyro.
Some Features are a Bit Clunky
While this isn't something that's all too commonly mentioned in various user SmugMug reviews, it's actually a thing that I've experienced myself while trying to create a site with SmugMug.
Upon being thrown into the actual site customization page, I've quickly noticed that some of the features aren't as simple or intuitive to use as others. It's somewhat tricky to put my finger on it, but there were multiple times when I found myself being a bit lost among all of the interface screens and popups.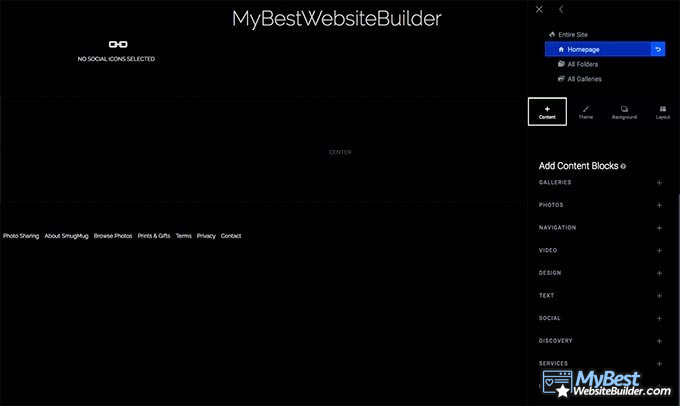 While things like text editing and customizations weren't really all that difficult (it would have been quite alarming if they were, mind you), some of the more advanced features of the builder did seem a bit tricky.
The reason why I bring this up is simple - even if it's not something that's constantly mentioned in various user SmugMug reviews online, if it's your first time using a builder, it can seem even more confusing. I've used countless builders and CMSs throughout the years - I kind of know where things are intuitively. A first time user, however, might not.
Price
Now, all of that being out of the way, let's talk about the SmugMug pricing. I have to say, though - while pricing is a completely different section here, there is one aspect of the builder that has to do with pricing and that could be placed together with the earlier-discussed cons.
First up, let's take a look at the actual pricing plans of SmugMug:
Admittedly, it's one of the more expensive website builders around. Compared to some of the industry leaders, it can actually be considered as a very expensive alternative!
That's not really the main issue here, though. As you may or may not know, most website builders on the current market are going to have some sort of a free version in place - while these versions are usually very limited, and you don't even get a custom domain name, they do serve the purpose of showcasing the builder's capabilities.
On top of that, however, the main benefit that these version provide is that they have no time limit - you can play around with the site for as long as you want, without being pressured to use and evaluate it RIGHT THIS INSTANT.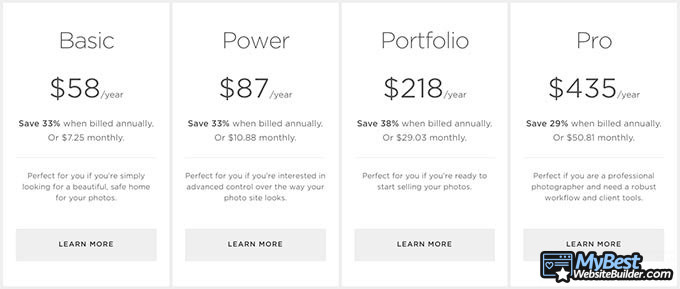 Again - some SmugMug reviews do point this out, but that's unfortunately not the case with SmugMug. This website builder does have a free trial, but it's limited to 14 days.
The good thing about this, though, is the fact that you do not need to input your credit card detail in order to try the builder out. This means that if you don't like it, or it simply does not live up to your expectations, you can simply just forget about it - you won't be automatically billed when the 14-day trial period comes to an end.
Here is The Best Squarespace Offer I Found:
SAVE 20%
Squarespace Limited-Time Deal
Grab this Squarespace offer code & enjoy a lovely 20% off on any selected Squarespace subscription plan. Create your dream website NOW!
Expiration date : 12/12/2023
4,512 People Used
Only 88 Left
Conclusions
Knowing all of that, but a single question remains - is SmugMug worth trying out?
If you fall into the niche category of the builder's target audience, then yes - for sure.
SmugMug is a pretty straightforward website builder, at least as far as its core features are concerned - it has a very clear target audience, and sticks with it quite firmly.
The builder is quite intuitive (for the most part, at least) and fun to use, and is pretty simple to navigate through. The templates are also very modern and good-looking, even though there isn't really a lot of them to pick from.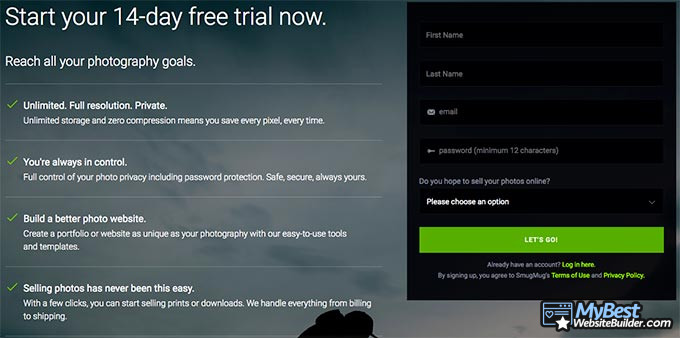 Now, when it comes to the SmugMug pricing, admittedly, things get a little bit less positive. The builder is actually relatively expensive, but that's to be expected, mostly because of the fact that it's aimed at a very specific group of people, and provides that group with all of the necessary features that it might need.
All in all, if you're an aspiring photographer, and want to spread your influence and work further than your hometown, SmugMug is definitely a decent choice. If, however, you're still not persuaded, and would like to check out some other alternatives, you can do so by taking a look at some of the best website builder on the current market. Make sure not to skip Zyro and Squarespace!
Thanks for reading this SmugMug review, and good luck!
Leave your honest SmugMug review
Leave your genuine opinion & help thousands of people to choose the best website builder. All reviews, either positive or negative, are accepted as long as they're honest. We do not publish biased reviews or spam. So if you want to share your experience, opinion or give advice - the scene is yours!