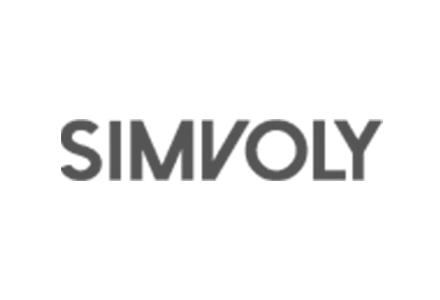 In this day and age, finding a high-end website builder is actually not as difficult of a task as you could imagine. There are plenty of amazing options to pick from - if you want to stand out, you have to offer a pretty unique product! That said, customer Simvoly reviews will tell you that this builder might be one such product.
The Simvoly website builder is unique in that it offers somewhat of a double functionality - it can act as a standalone website builder, or as a sales funnel creation tool for your brand. The tool itself is white-label, too - that's a big deal!
Now, what does all of that mean, you may wonder? Worry not - everything will be explained in the article ahead!
Pros
Unique sales funnel creation tool
Plenty of features
Quite affordable
Simple to use
Cons
No 24/7 live customer support
Lacks email marketing tools
Simvoly Reviews: PROS
To start things off, we'll talk about some of the more positive user Simvoly reviews.
The general sentiment regarding the company and its builder online is actually very, very positive. That's refreshing! It would seem that the company has wowed many users with its intuitive design and unique features.
That's a rare phenomenon to see in the website builder world! Many builders nowadays compete in terms of feature quantity, actual builder ease of use, and similar aspects. You don't really see builders come up with some cool and unique features - there are exceptions (i.e. Zyro), but the status quo remains the same.
I'm glad to say that, among the exceptions, you'll be able to find the Simvoly website builder, too. While there are quite a few positive aspects to discuss, let's start with the most prominent one - the sales funnel functionality.
A Unique Sales Funnel Builder
If you have no prior experience with digital marketing (or simply marketing, in general), the term "sales funnel" could sound somewhat alien to you.
Don't worry - I'll "decode" the user Simvoly reviews that mention the builder being a sales funnel creation tool, and tell you about why it's actually a big deal.
So - a "sales funnel" is a type of a marketing tool that allows companies (or individual sellers - doesn't matter) to narrow down the stream of potential clients that visit their sites into actual, convertible clients.

Alright, admittedly, it sounds much more complicated than it actually is. Frankly, a sales funnel is a combination of pages, popups, CTAs, and other tools that make a person purchase your product. Simple!
So, then - while many Simvoly reviews will tell you that the product offered by the company is a website builder, you should note that the uniqueness of the tool stems from the fact that it's actually also a funnel builder, too.
How does that work, you may ask? Well, simple - there are specific, standalone features that will be oriented around and designed to help you build a fully-functional sales funnel for your product, website, or brand, in general.
For example, the builder as A/B testing functionality. It's a feature that allows you to implement two types of different strategies into your funnels, and then check which of them works best for your specific product.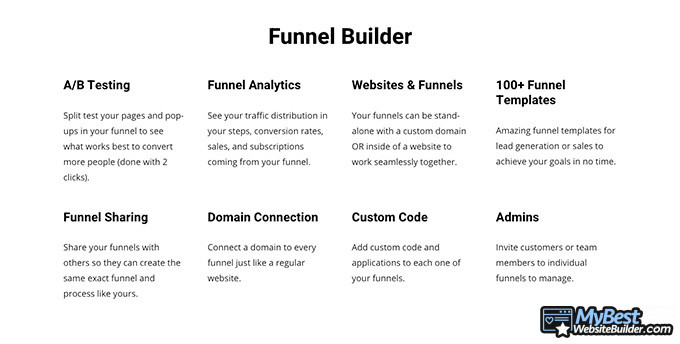 Also, Simvoly offers its users over 100 different funnel templates, too. That's a lot of templates! As Simvoly themselves claim, you'll be able to generate more leads and also more sales with their high-end templates.
All in all, it's definitely one of the most interesting and unique features, as far as the high-tier website builders are concerned!
Latest Squarespace Coupon Found:
SAVE 20%
Squarespace Limited-Time Deal
Grab this Squarespace offer code & enjoy a lovely 20% off on any selected Squarespace subscription plan. Create your dream website NOW!
Expiration date : 12/12/2023
4,512 People Used
Only 88 Left
Easy to Use, Intuitive Interface
One of the most important features when it comes to website builders, in general, is ease of use.
It's probably self-evident by now, too - you'll likely spend a lot of time using a website builder and trying to customize your site to look as appealing as possible. Naturally, you'd probably want that site to be super-simple and intuitive to use!
Well, with some website builders, this can be quite a struggle - this is especially true with those tools that do not have drag-and-drop functionality.
Now, admittedly, if you were to choose one of the top site builders on the market, this is not an issue that you'd face. It's also not something that you'd have to worry about when it comes to the Simvoly website builder, either!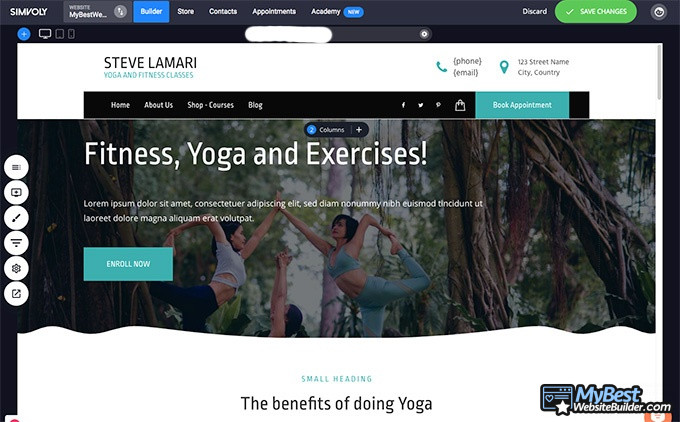 Looking through the Simvoly reviews left online by the users of the builder, it's apparent that most people do, in fact, find this tool to be very simple to use. It has an intuitive design - most of the functions are hidden under small popups that you can navigate to and explore, and the window-editing functionality is very straightforward, too.
Both the processes of adding new blocks and editing existing ones are simple and streamlined to feel, well… Intuitive!
Frankly, no matter if you're planning on using Simvoly as a website builder or a sales funnel creation tool, you shouldn't face any issues as far as ease of use is concerned - that's true even if you've never used a website builder in your life before!
To top it all off, if you do fear that you might get lost in the interface, there's a helpful video you can watch before delving into the site creation and editing processes - great!
Top-Notch Features and Functions
Whether you read through user Simvoly reviews, or take a glance at the company's official website, you'll soon find out that the Simvoly website builder has a lot to offer, feature-wise.
Like… A LOT.
For starters, let's discuss "the essentials" that any high-quality website should possess and have sorted out - SEO, page speed, and site security.
SEO stands for "search engine optimization". It's a way to improve the chances of your website (or page) ranking higher in some search engines - most of the time, Google.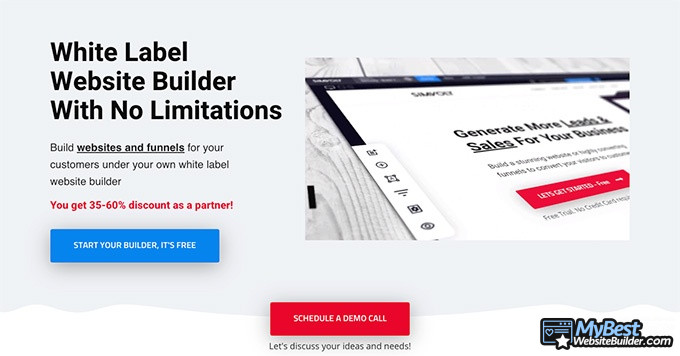 Page speed is somewhat self-explanatory - the faster your page loads, the better the experience will the visitors have! That said, it does contribute to the above-mentioned search engine site ranking system, too.
Finally, good site security is a must - if your website isn't secure, no one will ever want to visit it, no matter how good of a content piece it is that you just published, or what sort of a product you're selling.
As far as the builder in question is concerned, reading through some user Simvoly reviews and visiting the site, you'll learn that:
In regards to SEO, Simvoly allows you to write meta titles and descriptions, assign H tags, and so on. The builder has all of the essential SEO features that you might need - superb!
The speed of your pages is optimized due to the clean HTML and CSS that the builder utilizes. Your pages are going to be lightweight, and load much faster!
Security-wise, Simvoly offers a free SSL certificate to each domain connected to the builder / created with it. An SSL certificate is showcased with the little lock icon at the top of the page, near your website's URL. It makes sure that your website is safe and secure from any third-party hacks and information leaks!
So, Simvoly has got you covered on all of the main aspects that are important to a well-made website - that's great! Having said that, though, there are many more features available with the builder!
Page builder-wise, you'll have a load of different options when it comes to things like page templates, fonts, widget elements, and so on. There's also some high-end eCommerce functionality available for you to utilize, too - payment processing, tax calculations, discounts, recurring payments, etc.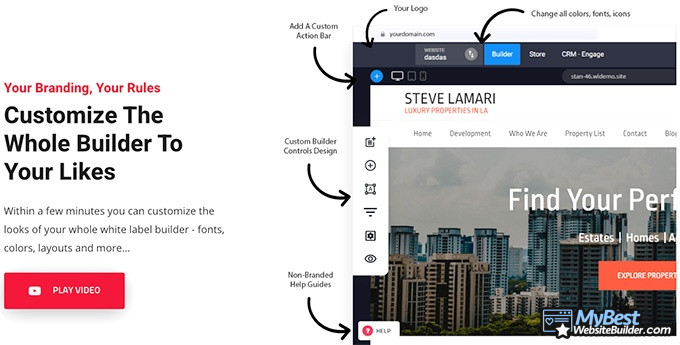 Naturally, when it comes to eCommerce, one shouldn't forget the sales funnel creation features, either - that's a whole different topic, with its own unique features and widgets!
So - no matter how you look at it, the Simvoly website builder does provide a wide assortment of features for the user to check out and apply on their own website or funnel. Definitely one of the more notables aspects of any user Simvoly reviews!
Simvoly Reviews: CONS
By now, we've established quite clearly that, concerning user Simvoly reviews found online, you could say that Simvoly truly is one of the better and more interesting website builders on the current market!
However, as with most things in life, there are some features of the builder that are not as attractive to its users. Let's check out some Simvoly cons before we move on to the pricing section of the article.

Did you know?
No Around-the-Clock Customer Support
One of the main issues that appear to annoy some users of the builder in question is the fact that Simvoly does not have live, 24/7 customer support.
While it may seem like a small problem at first, I urge you to consider a metaphorical situation. Imagine if you were using the builder, say, creating a sales funnel for some sort of a specific product. On top of that, you have a limited timeframe - bare with me.
While creating the funnel, you encounter an issue that you can't seem to resolve, and there is no relevant information online - a technical glitch, some broken features, or whatever in between. Naturally, you'd want to contact customer support to sort it out, right?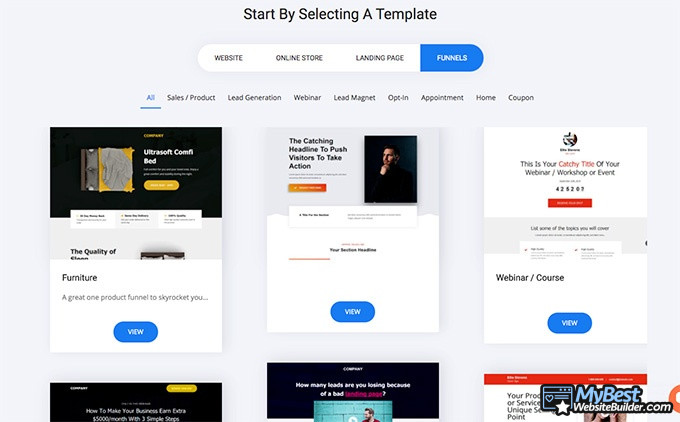 Well, yes - but with Simvoly, you might need to wait up to a few hours to get a response. That's… Not ideal.
While it's surely not a game-breaker, it's still one of the more annoying Simvoly cons. This is evident by reading some user Simvoly reviews, too - everyone would prefer the company to have around-the-clock live support!
One of the Main Marketing Tools - Missing!
If you were to ask what is the main marketing tool that companies use, most of the reputable advertisers and marketing company owners would probably give you different answers.
However, even so, the majority of them would still probably agree on the fact that email marketing tools are crucial for any business that's striving for success.
While it is surely one of the oldest tricks in the book, to this day, it's considered to be one of the most effective marketing tactics! That is why most of the top-rated website builders on the market have integrated email marketing functionality.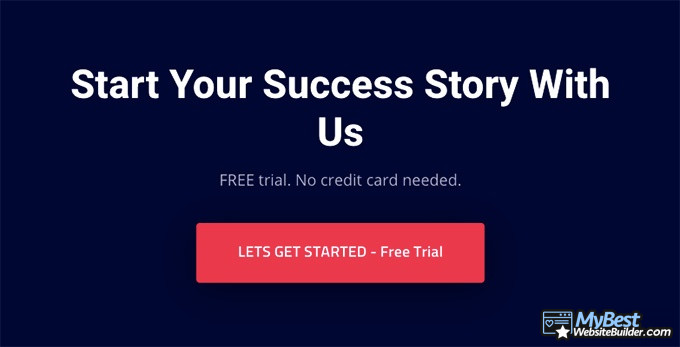 That said, one of the most prominent Simvoly cons is just that - the lack of proper email marketing tools.
Naturally, it is possible to integrate various third-party features for your website, if email marketing is a crucial part of the whole marketing campaign (strategy) that you have. That said, however, it still does not excuse Simvoly for not having such tools, by default.
Price
Finally, let's discuss the pricing options of the Simvoly website builder, and see what user Simvoly reviews have to say about them.
There are 4 plans that you could choose from when thinking about signing up with Simvoly. They look, as follows:
Each of the plans comes with a set of specific features and tools that it offers. For example, while the Personal plan only allows you to create a single sales funnel, the Pro one will provide you with unlimited funnel creation capabilities.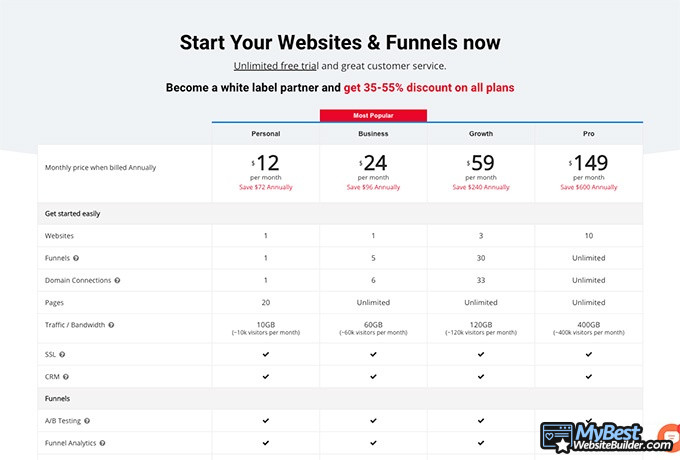 Concerning the pricing options themselves, well… User Simvoly reviews do appear to mostly agree on the fact that, while the builder isn't the most affordable option on the market, the prices do make sense, when you consider all of the features that you receive with each of the plans.
There is also a 14-day free trial available, with no credit card required - a great deal if you're still not sure whether Simvoly is the right choice for you!
Here is The Best Squarespace Offer I Found:
SAVE 20%
Squarespace Limited-Time Deal
Grab this Squarespace offer code & enjoy a lovely 20% off on any selected Squarespace subscription plan. Create your dream website NOW!
Expiration date : 12/12/2023
4,512 People Used
Only 88 Left
Conclusions
So, with all of that being said, and all of the Simvoly cons and pros mentioned and discussed, the final question remains - is this builder worth your attention?
I'd say - yes! Multiple user Simvoly reviews would agree with this sentiment, too!
While Simvoly does have some quirks and shortcomings (lack of email marketing tools being one of the more notable of them), it's actually a great website builder with some very unique features (the sales funnel creation tool).
The builder is going to be best for those people who are starting out in the field of online marketing, or are creating their first website, and want to start working with sales funnels and product (or service) marketing straight from the get-go.
If you find that Simvoly isn't exactly your cup of tea, though, you can also check out our list of the best website builders, in general - perhaps you'll come across a worthwhile alternative there?
Leave your honest Simvoly review
Leave your genuine opinion & help thousands of people to choose the best website builder. All reviews, either positive or negative, are accepted as long as they're honest. We do not publish biased reviews or spam. So if you want to share your experience, opinion or give advice - the scene is yours!