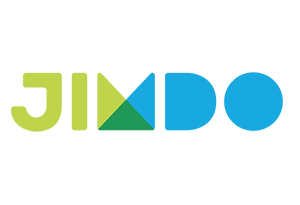 Sorting through various website builder review sites, you're bound to come across Jimdo reviews. Naturally, the first question that you're likely to have is simple - what is Jimdo?
In this review, we'll talk about the Jimdo website builder. We'll cover its pros and cons, pricing options, take a look at some of the more prominent Jimdo user reviews and, at the very end, I'll tell you my own, personal opinion about the builder.
First things first, though - before we can jump into the Jimdo reviews, we need to talk about what is a website builder, in general. Since I assume you know the basic tropes by now, we'll just skim through it rather quickly.
TL;DR: Jimdo is a great website builder - it's very easy to use, supports SEO and has plenty of useful features. Also, there's a free version of the builder available! The only real issue with the tool may stem from the topic of themes - they aren't as responsive as most people would wish them to be.
Here is The Best Squarespace Offer I Found:
SAVE 20%
Squarespace Limited-Time Deal
Grab this Squarespace offer code & enjoy a lovely 20% off on any selected Squarespace subscription plan. Create your dream website NOW!
Expiration date : 12/12/2023
4,512 People Used
Only 88 Left
Jimdo Review: What is a Website Builder?
So, let's take it from the top - what is a website builder?
Quite a few Jimdo reviews reference this, but website builders are special tools (whether online or offline) which are used to create and manage (adjust) websites. When people talk about website builders, most of the time they are referring to drag-and-drop ones - and there's a specific reason for why that is.
The reason? One word - simplicity.
Not all websites on the web are created with a website builder - far from it! However, the appeal of these tools lies in the fact that - usually - they are very simple to use. As some Jimdo reviews mention, most of the builders should be simple enough to be used by anyone and everyone.
Another great feature that is very notable with website builders is speed. If you end up choosing a decent builder, chances are that you'll be able to craft your website in just a couple of hours.
You can't really build the next Facebook in an afternoon - that's obvious. But if the builder is well-optimized and has all of the necessary features in place, with just a little bit of time, you should already have a great starter site on your hands.
So, these are just a few things to remember about website builder, in general. We'll talk about both speed and ease-of-use as we dive deeper into the Jimdo reviews. With that said, let's not waste any time and begin.
Pros
Easy to use
Good for SEO
Modern templates
Cons
Poor eCommerce options
Some templates aren't as responsive as others
Jimdo: PROS
We'll start off on a positive note and talk about the positive aspects of the Jimdo reviews first.
Very Easy to Use
Remember when we talked about how a website builder should be easy to use? Ya, well, the vast majority of the user Jimdo reviews will tell you that this builder has got it covered.
The "ease-of-use" factor doesn't only depend on the user interface and the site creation toolkit, though. All of the elements starting from your registration all the way to adding complex menus add up to create a single feeling about the usability of the builder.
And Jimdo has all of that covered pretty well.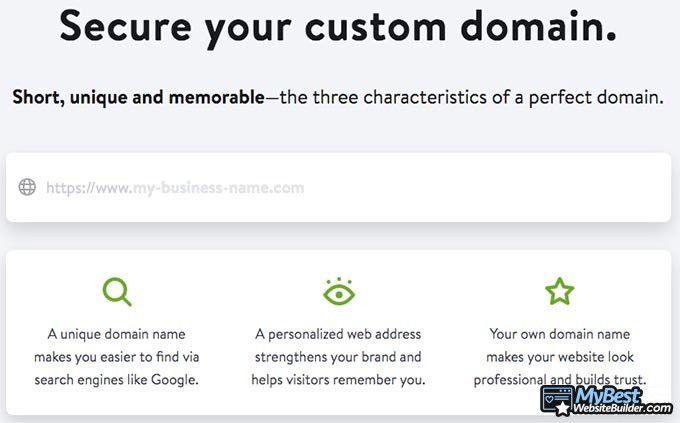 As you enter the site, the registration process is very straightforward - you enter your details, confirm your email and you're in. Users report that the editor itself is made with complete beginners in mind - there are no confusing buttons, no fancy terminology, nor anything in between.
With the Jimdo website builder, it's super easy to play around with your site, customize the themes and drag-and-drop various items onto the template of your website.
Latest Squarespace Coupon Found:
SAVE 20%
Squarespace Limited-Time Deal
Grab this Squarespace offer code & enjoy a lovely 20% off on any selected Squarespace subscription plan. Create your dream website NOW!
Expiration date : 12/12/2023
4,512 People Used
Only 88 Left
Mobile-Friendly Websites
It would seem that some people still don't know this, but if you want your website to be successful, it has to be optimized for mobile users.
Not to play it up or anything, but like… Really optimized.
You see, whatever the reason for you having a website is, you probably want people to visit and interact with it. Bloggers want their material to be read, marketers want their products to sell, and so on. All of this requires traffic - a steady flow of new (and old) users who would come to your site.
There are many different ways of how you can attract new people to your website - some Jimdo reviews mention SEO (we'll get to that), others emphasize beautiful site appearance (we'll talk about that, too). However, not many experts talk about mobile optimization.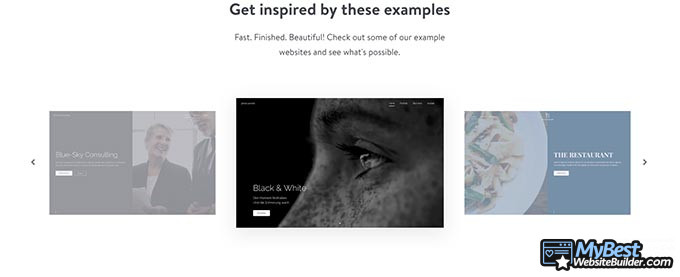 The thing is that huge amounts of people today are using their mobile devices to interact with online content. Search engines (read: Google) know that - this is why, when a person searches for "the best Italian restaurant in the North pole", Google will do its best to display mobile-friendly website at the top of the search results.
You will find that quite a few user Jimdo reviews talk about how well-optimized the builder is as far as mobile-friendly website creation is concerned.
With Jimdo, you'll receive a whole bunch of theme templates to apply to your site. We'll discuss the templates themselves a tad bit later on, but what's important here is that all of them are very responsive and have been created with mobile use in mind.
On top of all of that, Jimdo has an app that lets you customize your own site live on your mobile phone. Not only is it a neat option, but it's also super-useful when we're talking about mobile optimization!
Modern Templates
A website builder has to have modern templates - that's just a fact.
Think about it - do you remember those website designs that you'd see everywhere from 2008? I'm talking about the static-page, bland-color, lifeless-looking designs. Believe it or not, but other Jimdo reviews will tell you the same - some website builders still actually use those.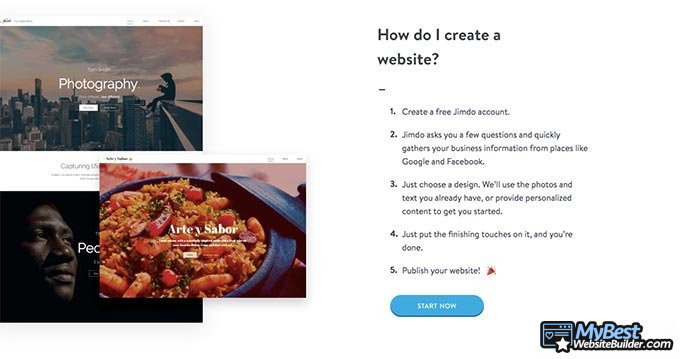 While Jimdo might not be able to compete with, say, Squarespace in the theme template department, it still has some pretty good options left to offer. The templates are modern and up-to-par with the industry standard, they are rather easily-customizable (at least as far as colors and texts are concerned), and you can try 'em all for free!

Did you know?
Good for SEO
SEO stands for Search Engine Optimization. It is the No. 1 criterion used to determine where your page is going to rank on Google according to user search results.
Needless to say, SEO is extremely important. While it would seem that most Jimdo reviews know this, you wouldn't believe how many builders are out there which have close-to-zero SEO customization options.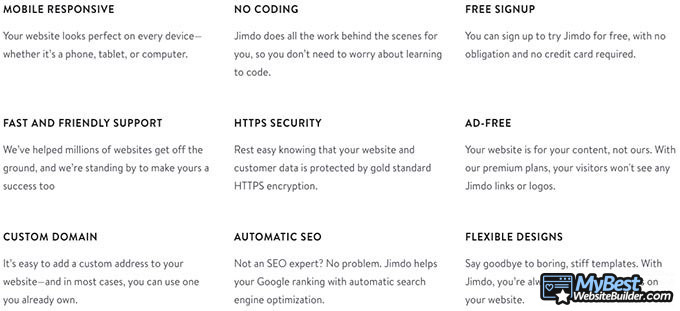 Jimdo allows you to play around with SEO in more ways than one. Changing the URL and meta tags of an article is one thing - the builder allows you to have full control over your page's SEO, and even offers advanced SEO learning-based options for anyone who wants to brush up on their skill and knowledge.
Good Site Speed and TTFB
Website's load speed indicates just how fast the page load when you access it. TTFB stands for "Time Till First Byte", and it's the time it takes to load the very first byte on your website.
In our research, we found that the site speed of a website created with Jimdo looks something like this: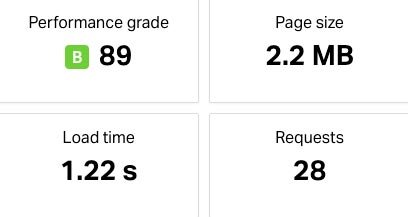 As for the TTFB: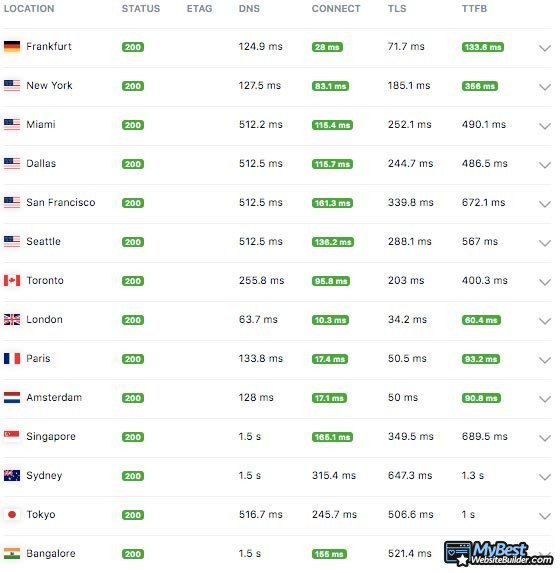 Needless to say, the numbers are pretty impressive! It's nice to know that when you create a site with the Jimdo website builder, you won't have to worry about bad website optimization from the builder's side of things.
Jimdo: CONS
Now, we've covered the main pros of the Jimdo website builder. That's all fine and dandy, but in order for this Jimdo review to be fully comprehensive, we should take a look at what some of the more negative reviews about this tool are talking about. After that, we'll move straight to the Jimdo pricing.
Limited eCommerce
You're likely to find this referenced in quite a few Jimdo reviews, but this website builder is far from being the ideal tool if you want to build an online shop.
There are simply too many issues to deal with.
Jimdo has eCommerce features, and you can unlock their full potential by purchasing the builder's most expensive plan (we'll talk about that a bit more later, in the "Jimdo Pricing" section). However, many users claim that there are no cart savers, you can only show the prices in a single currency, and that there is no card payment gateway.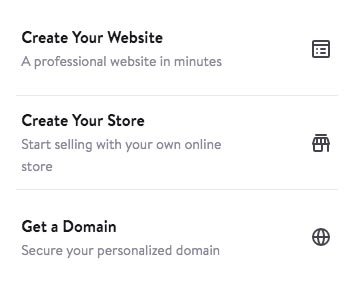 Not ideal.
For anyone looking to open up an online shop, Jimdo might not be the best option. Depending on your wants and needs, the eCommerce-related features offered by the company might suffice, but there are better, e-shop-based builders around.
Not Enough Room for Creativity
Let's quickly get something out of the way.
Does Jimdo offer modern-looking theme templates? Yes.
Is Jimdo easy to use? Yes.
However, does that automatically mean that you'll have a whole lot of creative freedom while using the builder?
No.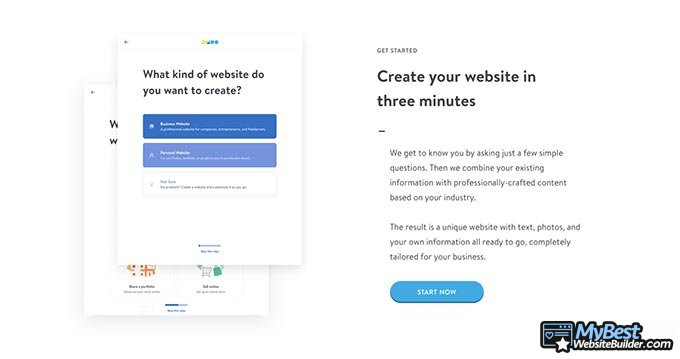 You see, even though the tool is easy to use, there are certain features that it does lack. Jimdo reviews often mention the fact that some theme customizations feel a bit out of place, and other templates don't even allow you to customize some essential parts of the website.
From the looks of things, it would seem that everything kind of boils down to the site template that you end up choosing. Some templates are OK, others are way worse. That doesn't make things all that much better, however - the company should really work on allowing their customers to choose any template they'd like, without additional consequences.
Price
Now that we've covered all of the most prominent pros and cons of the user Jimdo reviews, let's take a look at the final thing left to talk about - Jimdo pricing.
Jimdo offers users 5 different plans to choose from. They are, as follows:
All of these plans come with different sets of features and functions available to the user. The "Play" plan is going to be the most limited one out of all of them - you'll be able to create the site that you want, but you won't have the option to use an extensive amount of features, widgets and customization options.
On the flip side of things, "Unlimited" will allow you to do anything that you'd want with your website. It offers full eCommerce features, allows you to have an unlimited number of pages on your website, and unlocks all of the features that Jimdo has to offer.
So, are the pricing of the plans in-line with the product itself?
As a matter of fact, judging from the majority of Jimdo reviews, they actually are. People are generally happy with the price tags of the different Jimdo plans.
Let me put it this way - when it comes to eCommerce-dedicated website builders, they can cost up to $200 or $300 per month, depending on the company. So, $39 is definitely not much! However, just as we've talked about earlier on, Jimdo might not be the best option for anyone looking for a strictly online shopping-based website builder.
Here is The Best Squarespace Offer I Found:
SAVE 20%
Squarespace Limited-Time Deal
Grab this Squarespace offer code & enjoy a lovely 20% off on any selected Squarespace subscription plan. Create your dream website NOW!
Expiration date : 12/12/2023
4,512 People Used
Only 88 Left
Conclusions
We've reached the end of this Jimdo review. At this point, if you've read the article through and through, you should have a pretty good idea about whether or not the builder is going to suit your wants and needs.
What do I think? Well, I'll tell you what I think.
I believe that Jimdo is one of the better options around, if you're not looking for an eCommerce website builder.
Jimdo is cool - it's super-easy to use, it allows you to work fast, there's no hassle as far as the whole building process is concerned. The templates are modern and responsive.
All in all, if you're looking to build any other site except for an eCommerce one, then Jimdo is definitely a good website builder to consider!
I hope this Jimdo review was helpful to you, and if you'd like to check out some other top website builders, you can always take a look at our best builder list.
Leave your honest Jimdo review
Leave your genuine opinion & help thousands of people to choose the best website builder. All reviews, either positive or negative, are accepted as long as they're honest. We do not publish biased reviews or spam. So if you want to share your experience, opinion or give advice - the scene is yours!