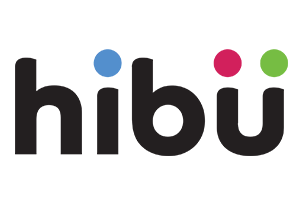 Nowadays, building a professional website is a must-have for those who want to create and grow their business not only locally but also internationally. Customers love simple and modern sites, which they find attractive and easy to use. To create such a website now is simpler than ever.
Today, you can find a variety of website builders, which brought major changes to online industries. Now you have an ability to create a professionally looking website without spending too much time or money. It's not even a requirement to have coding knowledge. Therefore, almost everyone can have a fantastic site for their personal and professional usage.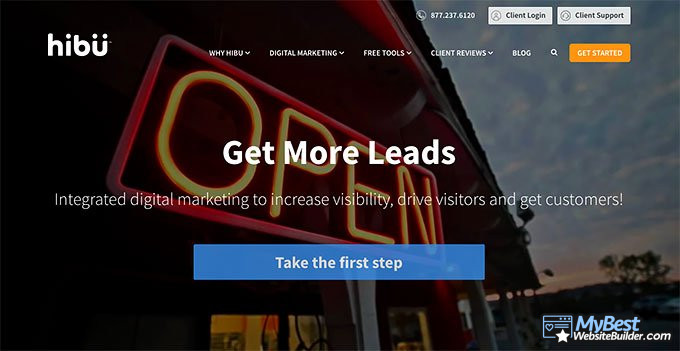 Previously, we mostly talked about do-it-yourself website builders, but the time has come to check out Hibu reviews and look closer into "do-it-for-you" website builders. Now, since Hibu is really expensive, you might want to check out the most recommended website builder list. They're so much less pricey, especially when talking about Zyro.
In this review, we will take a look into the Hibu website builder, and pay attention to its cost, usability, speed, designs, and, of course, Hibu reviews. At the very end, I will conclude everything, and you will see whether or not Hibu is worthy of your time and attention.
Hibu reviews: what awaits
Hibu is an excellent service for those who want to create their very first website and have no previous knowledge. It's recommended for small to mid-sized businesses who want a website without having to do a thing. Even though some reviews state that it lacks customization, the fact that Hibu does everything for you really makes this website builder look appealing & worth the money. After all, trying Hibu out doesn't cost a thing!
Pros
Website in 7-10 Days
Everything is Done for You
Great User Feedback
Hibu Reviews: Introduction
Hibu is different from other do-it-yourself website builders because you no longer need to do anything, as you buy a service and communicate with professionals who build a website based on your personal needs.
Hibu professionals listen to each of the clients in order to create a website that you need. When I put it like this, it sounds pretty simple, but how does Hibu really work?
Well, first of all, you need to call Hibu's sales team and talk to them over the phone. During this call, you should discuss the expectations for your website, what design you prefer, and what your main intention is.

After the phone call, Hibu performs research and see what further actions could be made. Then they send you information about the initial website price and further payments information, such as monthly cost, security, hosting, and maintenance. I like that because it's quite clear that everything will be taken care of.
Then, if you agree with the terms and pricing, you should discuss the details about your website design. It would be amazing if you think everything through beforehand.
And, that's it. You can sit back and wait for your website to be created, it should take about seven to ten days. Once you get your personal website, Hibu will introduce you with its working principles, so that you could make adjustments yourself. It should be quite simple to learn as it's very similar to do-it-yourself website builders.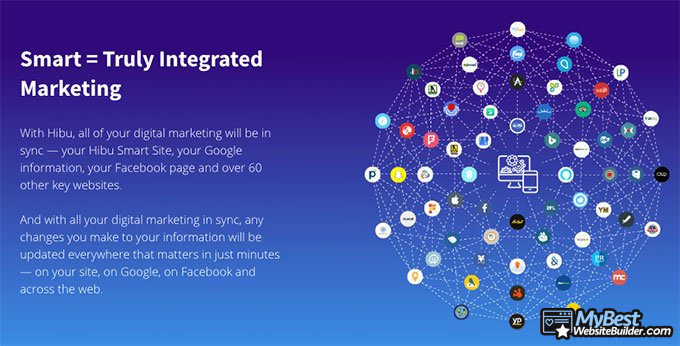 Finally, even when you will have your own page, Hibu will be taking care of you. It means that every time you have some sort of a problem, you will be able to contact Hibu and solve it right away.
Thus, now that you know how Hibu websites work, let's take a look closer into its pros and cons.
Hibu Reviews: Pros
Let's begin with the positive sides of Hibu reviews. I know that you will appreciate them.
You Won't Need to Do Anything
Hibu is different from other website builders, as you literally won't have to do anything during the website creation process. Well, maybe only tell Hibu what you want.

But, all in all, this website is created for everyone who has neither time nor knowledge to create their personal site. And while website builders' principle is to drag and drop, it still might take a while for people who have zero skills.
So, even if Hibu is quite expensive (we'll be discussing prices at the very end of this review), it might be the very best and only option for those who want to expand their business online without putting too much effort.
Latest Squarespace Coupon Found:
SAVE 20%
Squarespace Limited-Time Deal
Grab this Squarespace offer code & enjoy a lovely 20% off on any selected Squarespace subscription plan. Create your dream website NOW!
Expiration date : 30/09/2023
4,512 People Used
Only 88 Left
Great Customer Experience
Such service as Hibu website builder must have a great customer service, after all, you'll be communicating with them for quite some time.
I've heard about some Hibu complaints in the past. But in order to provide you with up-to-date information, I decided to take a look into the newest reviews and find out what people are saying about Hibu's customer experience.
After going through a bunch of Hibu reviews, I must say that I was pleasantly surprised. People do seem to be very pleased with the service and their experience overall. Most of them said that they felt like getting friendly advice from Hibu website builders.
Therefore, when talking about Hibu's customer service, there's no doubt that they do a great job communicating and maintaining support for their clients.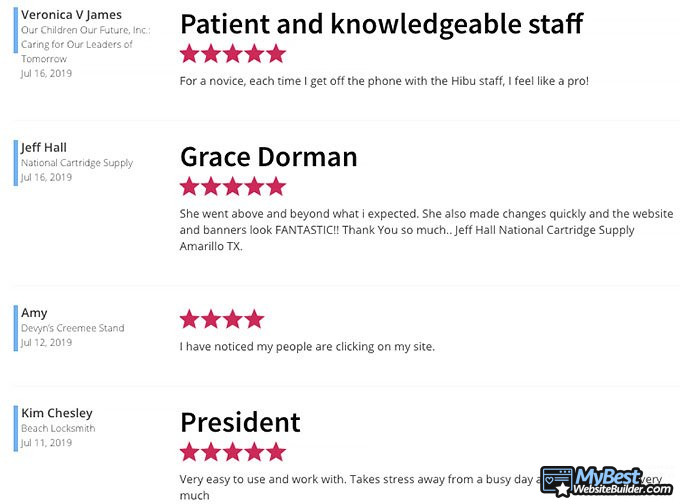 They Do What Asked
The most important aspect when creating Hibu websites is communication. It's important for Hibu professional to understand your needs, after all, you'll be using the website.
To find out if Hibu created a website based on their customers' needs, I went through hundreds of Hibu reviews. And, the results were surprising. Users said that Hibu fulfilled all their needs, especially talking about the tools that were asked - each and one of them were included in the platform.
Therefore, this aspect seems clear, if you order Hibu websites, it will come with each of the tools you asked for.

Did you know?
Faster than Expected
Not many Hibu reviews talk about speed, however, I believe that speed is one of the most important aspects that everyone should put into consideration. After all, people don't like to wait, and if your website is slow, you might lose some customers.
For that reason, I performed the loading time and TTFB test in order to see how good their websites perform. But before starting, let me explain the main terms:
TTFB - stands for time to first byte. It's a measurement, which shows how quickly the page gets a response from the server.
Loading time shows how fast a website fully uploads.
These measurements are the most vital when talking about your website speed. Of course, you should know that the site speed mostly depends on the size, that's why we're looking into very basic examples.
First, take a look into the loading time. The page loads up in 1.53s. If you're not a super technical person, it's ok. All you need to know is the fact that sites, which load in less than 2s, are really worthy of your attention. So, knowing that Hibu can load faster than 2s, makes me even proud.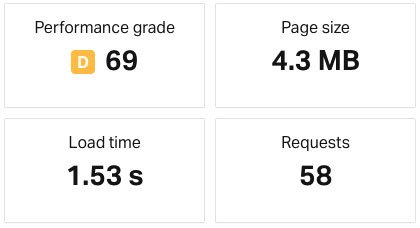 Now, let's take a look into another measure - TTFB. I'm mostly focusing on the US speed, so this test also came out better than I hoped. Numbers, which are marked green show that TTFB is better than the average. As you can see, in Seattle, San Francisco, and New York servers respond really quickly.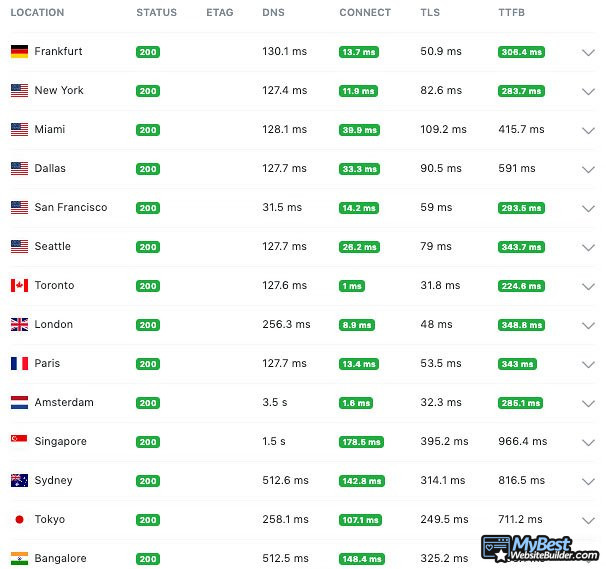 Therefore, the fact that Hibu offers great site speed is undeniable.
Hibu Reviews: Cons
You already know the reasons why you should be using Hibu. But now, the question is, what does Hibu lack? Go further and find out all you need to know.
eCommerce Site? Not Very Extensive
The first drawback that Hibu reviews mention is that you cannot create an extensive eCommerce site. Since I've done some research myself, I can state that the eCommerce features that Hibu offers are completely enough for the basic eCommerce site - it has all the tools needed for the head start.
While Hibu can create an e-shop, you cannot sell more than 10 products through them. If you need a small shop, it's a great possibility. Since Hibu does not present you with all eCommerce functionality, some things, such as shopping cart, might be your responsibility.
Therefore, if you want to start your personal eCommerce website which isn't going to be very complicated & extensive, Hibu might be the option for you.
Limited Customization
I've heard some Hibu complaints about limited customization. At this point, I could say that people who decide to choose Hibu services, do not want to do much on their own. At least that's the main idea.

I'm not defending Hibu and agree that this might be the major disappointment for some of you, but I believe that this service is created for people with a lack of knowledge and time. For that reason, it's not as customizable, but you get everything done for you.
Not All Designs Are Modern
If you decide to expand your online business, the best thing you can do is create a modern website. Since you hire Hibu to do it or you, you expect to get high-quality services from professionals who know what they're doing. By that, I mean that they must know how to create modern designs. After all, you don't want your website to look like as if it came from the '90s.
When we're talking about design, it's important to focus on the visual elements. Words wouldn't do much here. For that reason, I decided to go through Hibu websites and see what they actually look like.
Talking about the appearance, I have to say that it's quite a subjective matter, while the page can seem modern for some and outdated for others. From my perspective, some Hibu designs were not as modern as others, but there also were some very unique and beautiful websites.
You can check one of their websites below.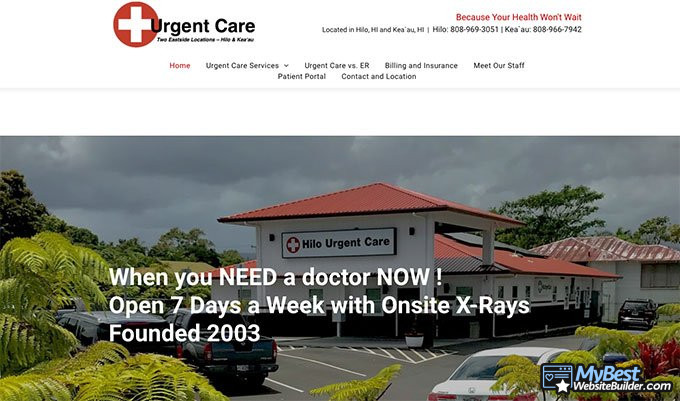 As I've seen, the majority of their websites look quite good. And even the ones that are not very modern - the design like that might have been requested by the customer, as Hibu always takes the customer's wants & needs into account.
If you think that sleek-looking templates should always come in the first place, make sure to check out Zyro and Squarespace - they provide you with professional-looking designers' templates.
What is Hibu Website Cost?
You should already have the main idea about the pros and cons of Hibu reviews, and might even know whether or not you're going to use their services. But the last aspect that we haven't discussed yet is Hibu pricing.
Hibu pricing can be quite difficult to present as it varies depending on your website. Here's how much and what for you will need to pay: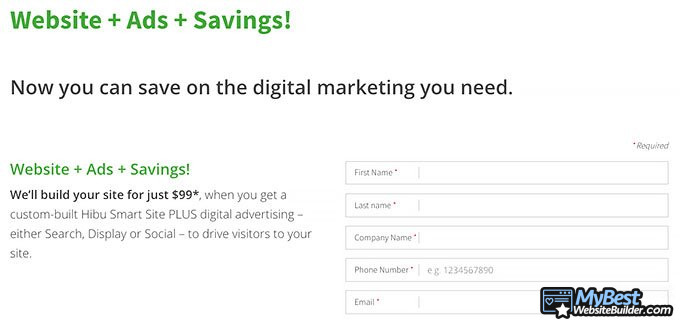 As you can see, Hibu Website cost is not one of the lowest, which might be a drawback for some, but remember - Hibu will save you a lot of time.
I would like to also mention that Hibu prices are changing quite frequently, so there might be some mismatch if you're planning to purchase this service in the future.
Here is The Best Squarespace Offer I Found:
SAVE 20%
Squarespace Limited-Time Deal
Grab this Squarespace offer code & enjoy a lovely 20% off on any selected Squarespace subscription plan. Create your dream website NOW!
Expiration date : 30/09/2023
4,512 People Used
Only 88 Left
Conclusions
Hibu websites review showed that it's great for people who don't have time and knowledge to build a website on their own. I believe that such a service is really needed.
Do I recommend Hibu?
Yes, I do.
Hibu offers amazing user experience as you don't have to do anything to create a site. Also, professionals will create a website based on your needs and expectations, so even if some reviews state that Hibu lacks customization - your opinion & vision is always taken into account.
Hibu is perfect for creating small e-shops & is easy to manage. Talking about the price, it's not the lowest, but considering that Hibu will take the struggle of building a website out of your hands - it might be worth it!
However, since Hibu is not a traditional website builder that would allow you to have the full experience of creating your own website, you should check out some of the recommended options - Squarespace and Zyro.
Leave your honest Hibu review
Leave your genuine opinion & help thousands of people to choose the best website builder. All reviews, either positive or negative, are accepted as long as they're honest. We do not publish biased reviews or spam. So if you want to share your experience, opinion or give advice - the scene is yours!