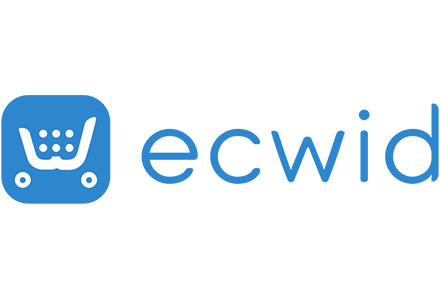 In the world of website builders such as Squarespace and Weebly, you would think that you can create any type of website you'd want, in a fast and effective manner. While that might surely be the case, it's also worth noting that it's important to find some additional tools and widgets to help you out, too! Today, we'll be looking at some user Ecwid reviews, and see what this particular tool can bring to the table.
Ecwid is, admittedly, a pretty unique website creation tool. First and foremost, that's because it's not exactly designed for creating websites, in the first place - rather, it's an eCommerce solution for an already-existing website that you might have.
You can, however, create a website with Ecwid, too. I'm getting ahead of myself, though - we'll discuss both the Ecwid pricing options, and how to use the platform in question, too. All in due time, however!
Pros
Free plan available
Wide selection of features
An eCommerce widget
Multiple sales and promotional channels
Cons
Not an actual website builder (lacks functionality)
Widget integration process can appear to be a bit intimidating
Ecwid Reviews: PROS
We'll start off the Ecwid review by discussing some of the more prominent features and benefits that you'll receive by using Ecwid, and take a look at who this tool is going to be best for, in the first place.
Having said that, though, while we've glanced over this in the introductory part of the article, it's still something that needs to be addressed in full before we carry on - what is Ecwid, exactly, and what is it used for?
In a way, you could consider Ecwid to be a website builder - the tool does have builder capabilities. However, as you'll find out shortly, they are actually very limited.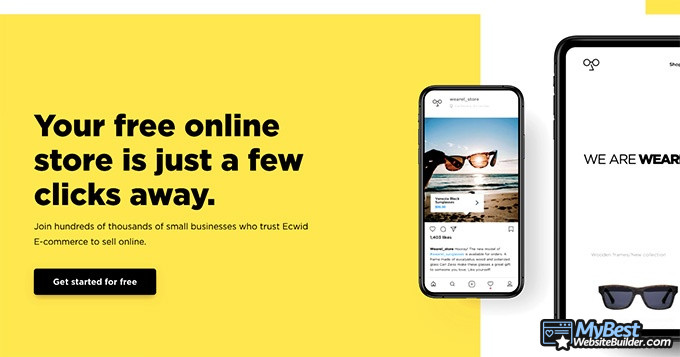 Instead, Ecwid should primarily be viewed as a widget, or more specifically - as a "Software as a Service", otherwise known as SaaS. What this means is that you don't actually purchase the software itself, but rather 'rent' the right to use it, for a specific period of time (for as long as the subscription is recurring, that is).
What sort of a widget is it, you may wonder? Well, multiple user Ecwid reviews will tell you that, with the Ecwid apps, you'll be able to create some amazing eCommerce tools, and integrate them into your already-existing website.
Let's explore this concept a bit further.
A Huge Variety of Features
One of the most impressive parts of Ecwid is the absolutely amazing pool of features that the widget brings to the table.
For starters, you have some of the more-general features, such as multiple product profiles, digital goods, tax calculations, and so on. On top of that, though, you also have things such as simultaneous sales on multiple different websites, full GDPR compliance, discount coupons & gift cards, live chat, and so on.
From the very first impressions, it's obvious that most of the user Ecwid reviews that are hyping the tool up aren't exactly wrong - Ecwid comes with very varied functionality, and offers a wide assortment of features.

The widget does also offer its users unlimited bandwidth. You might say that this is nothing all that impressive, but the catch here is that this is available even on the free plan - awesome!
Digging into some of the more-advanced features of the builder-widget-tool, there are dimensional shipping rates, additional staff account creations, domain name connection, order pickup (which is available on all of the plans during the COVID-19 pandemic), etc.
Browsing through some of the Ecwid store examples, you should be able to see the sheer variety of features that this specific tool offers to the user. No matter what the critics might say, one thing's for certain - the widget truly does have a lot to offer to its users!
Latest Squarespace Coupon Found:
SAVE 20%
Squarespace Limited-Time Deal
Grab this Squarespace offer code & enjoy a lovely 20% off on any selected Squarespace subscription plan. Create your dream website NOW!
Expiration date : 12/12/2023
4,512 People Used
Only 88 Left
Advanced SEO Tools
SEO stands for Search Engine Optimization. It's a method of optimizing your websites (and their individual pages) so that they'd be both reachable by Google and other search engines, and also promoted in the search results, too.
If you're looking to create a successful business, you probably know this already, but SEO is the fundamental cornerstone of any high-end website. If your site isn't optimized, none of the Ecwid apps aren't going to help you - it will be lost in the depths of the search result pages, and void of any visitors.
Naturally, SEO experts spend a huge amount of time to study their specialization, and then work on some specific websites in order to make sure all is in order. However, getting started, you don't really need a vast amount of SEO-related knowledge - a builder or widget with proper SEO tools might just be enough.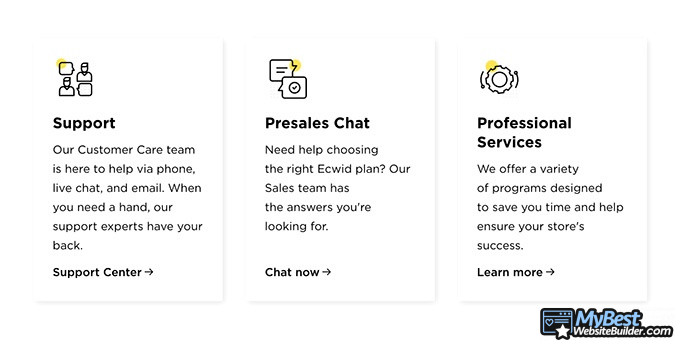 Thankfully, reading through some user Ecwid reviews, it would seem that this particular widget has got you covered.
Ecwid comes with all of the essential tools that you might need to optimize your product descriptions and pages. You'll be able to add meta descriptions and tags, write and assign alt texts to your images, submit a sitemap to Google, and so on.
While there's much more to study and apply in regards to high-quality & SEO-friendly websites, this is definitely a good start!
Very User-Friendly
Another thing that's very notable with the Ecwid apps is the fact that the widget is super-simple to use, and isn't likely to cause any difficulties or confusion even for complete site creation beginners.
User Ecwid reviews will tell you that, once you sign up to the platform, you'll be able to log in to your designated admin area. Here, you can start creating your sales pages, and everything else related to them.
The one area that many people seem to be skeptical about here is the moment when you have to transfer your work to, say, a Squarespace site that you own (granted that you haven't created an actual site ith Ecwid, and have just made the pages that you need).
In order to perform the above-mentioned action, you'll have to first transfer the HTML to Squarespace, and then the rest of the code of your newfound creation. I admit - that can surely sound intimidating!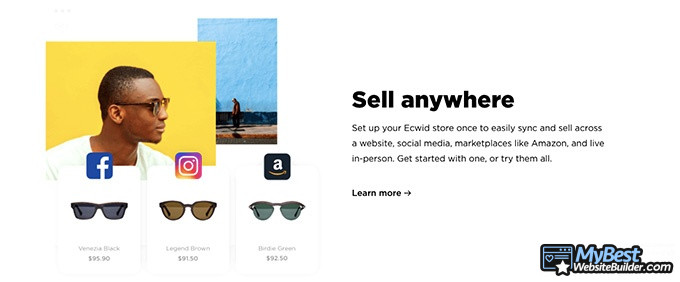 That's why you have this Ecwid review to help you out, though, and to let you know that there's no need to worry! Ecwid's support pages actually have some very helpful information on how to perform actions like this, and they're full of illustrative pictures and examples, too.
Frankly, the process itself actually isn't at all difficult to do, especially when Ecwid's support team guides you all along the way. In short, you don't even need any specific Ecwid store examples to know that the widget truly is very user-friendly, and simple to both use and, later on, integrate into your own, existing website!

Did you know?
Supports a Long List of Website Creation Tools
If you decide to use Ecwid as an eCommerce tool, but not as a site creation one, as noted above, you'll have to integrate your sales page that you've created into an already-existing site.
In the previous subchapter, we've discussed the fact that this is actually not at all that difficult to do. However, you might have found yourself questioning - what platforms does Ecwid support and integrate with, in the first place?
Well, this is something that many user Ecwid reviews seemed to wonder, too.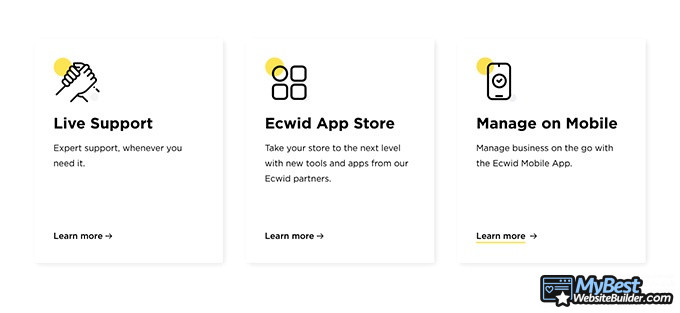 Ecwid integrates with most of the mainstream website builders and content management systems (CMSs). Whether you use WordPress, Squarespace, Weebly, Wix, or any other major website creation tools, you can be sure that you'll be able to integrate your Ecwid eCommerce-based creation within your site.
The support section of the company's site also has some Ecwid store examples concerning all of these platforms, and how to make sure the integration process is smooth and straightforward, too.
Frankly, no matter what sort of a website builder it is that you use, in most cases, you should be able to transfer your Ecwid creation to your existing website - no problem!
Multiple Sales Channels and Promotional Tools
Creating an eCommerce website is cool and all, but if you're actually just starting out, it can be difficult to find ways to promote your products or services.
Ecwid actually allows you to do so in a very straightforward fashion, too.
The tool comes with the ability to allow you to integrate Facebook, Google, Snapchat, Pinterest, and even automated email advertising. You'll have the chance to reach some wider audiences with these promotional tools, which - in turn - will boost up your business!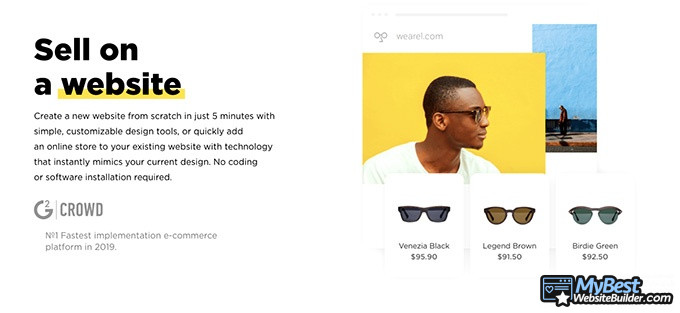 On top of that, quite a few Ecwid reviews point out the fact that you can also maintain your store on different sales channels, too. In other words, with Ecwid, you can sell on that same Facebook, Instagram, Amazon, eBay, and some other marketplaces.
This is amazing, since even if you have your own eCommerce-oriented website, it surely broadens the range of people that you can reach! Awesome!
Ecwid Reviews: CONS
Now that we've figured out what is Ecwid and have also discussed most of the notable benefits and general features of the builder, it's also worth taking a look at some of the less-ideal aspects that the tool comes with, so that you could understand the "full package" that you're getting.
Truth be told, though - there aren't all that many negative user Ecwid reviews out there! The biggest qualm that people seem to have with this widget is the fact that it still lacks full website creation tool potential.
Not a Full-Fledged Website Builder
As mentioned earlier in the article, Ecwid does have website builder functionality. If you do not have a website, and aren't too keen on creating one with a high-tier builder (for one reason or another), you can, in fact, use the widget to create your own website.
However, as of writing this Ecwid review, it's not the recommended route to take.
Ecwid, to this day, has some very limited website builder functionality. You can only create single-page websites with this tool, so any of the more-advanced site designs are out of the question.
While part of the answer to the question "what is Ecwid?" does involve website builders, it's evident that this particular widget is catered around the people who already have their sites set up, and are simply looking for an effective eCommerce solution.
Shopify is a good example here. While the website builder does offer full-on site creation capabilities, it's also considered to be quite expensive. Ecwid's solution is that, while it does not have such capabilities, it's also much more affordable, too.
Speaking of which, let's take a look at the Ecwid pricing next.
Pricing
Upon visiting the eCommerce tool's official website, you find that Ecwid pricing is presented in 4 different plans. With each of the plans, you receive different features and account limits. The plans are:
As you can see, there is a completely free plan available for you to check out. It comes with some pretty decent features, too - it's an amazing option for people who aren't sure if Ecwid is the right platform for them, and just want to "test the waters" before committing to a subscription plan.
The rest of the plans come with some additional features and unlocks - a full list can be found on the same pricing page. All things considered, Ecwid is actually a very affordable option!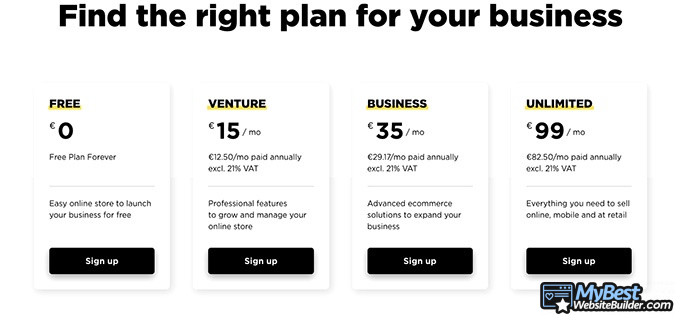 While the widget can truly boast about its affordability, it's notable that the Unlimited plan could, indeed, be a tad bit cheaper. Having said that, most users aren't really going to need corporate-level functionality, so it's really not an issue!
Here is The Best Squarespace Offer I Found:
SAVE 20%
Squarespace Limited-Time Deal
Grab this Squarespace offer code & enjoy a lovely 20% off on any selected Squarespace subscription plan. Create your dream website NOW!
Expiration date : 12/12/2023
4,512 People Used
Only 88 Left
Conclusions
So, with all of the being said and done, and most of the more-common points of user Ecwid reviews discussed and analyzed, would I recommend trying out the tool in question?
In short - yes. But, I would only do so for an existing site that you'd have.
Ecwid is an amazing eCommerce widget with a very wide list of functions and features. It's simple to use, and even offers customers a free plan to try out before committing to a purchase. The free plan isn't just a gimmick, either - it contains all of the essential features that you might require! Truth be told it's probably the only widget like this around!
Even if you were to look at the paid plan options, it's obvious that Ecwid is one of most affordable eCommerce widgets on the market - that's significant!
Having said that, though, it still lacks some thorough builder functionality, and should only be used as an additional eCommerce solution for your website, and not as a replacement of a builder, altogether.
If you're interested in an actual website builder, do check out our list of the best builders on the market - perhaps you'll be able to integrate Ecwid with one of them?
Leave your honest Ecwid review
Leave your genuine opinion & help thousands of people to choose the best website builder. All reviews, either positive or negative, are accepted as long as they're honest. We do not publish biased reviews or spam. So if you want to share your experience, opinion or give advice - the scene is yours!