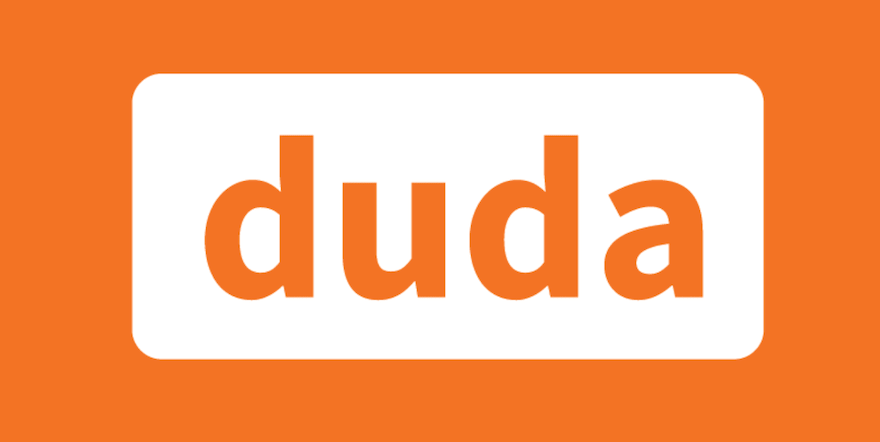 If you manage to get a hold of a website builder industry veteran, they are likely to reference Duda at one point or another. While it isn't as popular of a builder as Squarespace or Zyro, user Duda reviews are still pretty easy to come by.
And what do these users say? Well, the general opinion about Duda's builder seems to be pretty positive. Customers seem mostly happy and satisfied with the services they receive from the company, and the way that the builder is built and managed.
That said, in this Duda website builder review, we'll take a deeper look at the builder in question.
TL;DR: Duda, while not being as well-known as some of its main competitors, is still widely seen as one of the better website builders around. It comes with a free SSL certificate (once you start paying for your plan), utilizes a drag-and-drop editor and has many different features. That said, Duda is also on the more expensive side of the website builder industry.
Pros
Drag-and-drop editor
Modern and responsive templates
Free trial
Cons
Expensive
No app store, additional apps have to be added manually
Some features lack in functionality
Duda Reviews: PROS
Duda shares a lot of its benefits with other industry giants - that's exactly what makes the builder viable. And - naturally - one of the main of these benefits is the drag-and-drop builder interface.
Drag-and-Drop Functionality
Undoubtedly, this is going to be one of the main points referenced by the vast majority of user Duda reviews.
Drag-and-drop functionality means that a website builder allows you to select and element from the main menu, and simply drag and drop it anywhere on your website. There's no difficult coding or other technical work involved - it's as easy as it sounds.
The absolute majority of website builders won't let you place the element absolutely anywhere, though. There are certain lines and boxes in which this can be done. However, the term "anywhere" can still be used, since the restrictions are extremely low.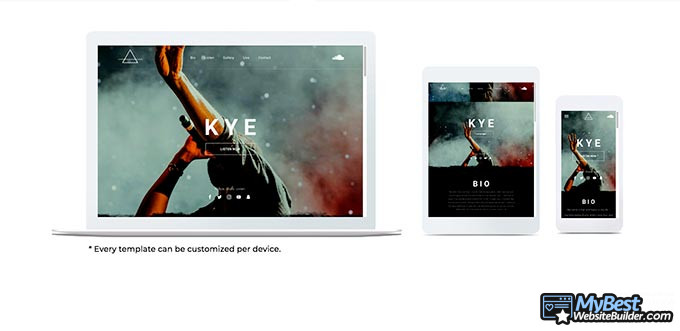 By popular online opinion, if a builder lacks this type of functionality, it's usually not worth paying much attention to. An exception to this rule would have to be CMSs - content management systems. These systems, while often not having a drag-and-drop builder by default, often focus on some different aspects of the website creation process.
As you might have gathered by now, user Duda website builder reviews are rather happy with the fact that the builder utilizes drag-and-drop functionality. On top of that, it does so pretty well - the interface is smooth, responsive and intuitive.
Latest Squarespace Coupon Found:
SAVE 20%
Squarespace Limited-Time Deal
Grab this Squarespace offer code & enjoy a lovely 20% off on any selected Squarespace subscription plan. Create your dream website NOW!
Expiration date : 12/12/2023
4,512 People Used
Only 88 Left
Great SEO + SSL
SEO - Search Engine Optimization - is an essential part of a successful website. If your website is "SEO-optimized", it is going to rank higher in search engine search results. This means that, when a person searches for "Italian food" on Google, your website will pop up as one of the top results for them, opting for a visit.
There are many different things that make up good SEO on a website - image alt titles and information, metadata (titles, descriptions, etc.), proper usage of specific, niche-based keywords, site speed and security features, etc.
Customer Duda reviews often talk about how well the company has managed to optimize their builder when it comes to SEO. You'll be able to write appropriate meta-information about your posts, manage your images, and so on.

What's really cool, though, is the fact that, once your trial period ends and you start paying a subscription fee (more on that later), you'll also receive an SSL certificate for your website.
In very simple terms, an SSL certificate is that little green lock image near your website's URL, in the browser. It doesn't only help with SEO, however - it shows users that your website is secure. Many Duda reviews point out that there are still builders out there that lack this feature - that's isn't only a shame, but it might also be detrimental to your site's wellbeing.
All in all, Duda's SEO options are wide and extensive - that's actually what many users writing their Duda reviews have come to expect, given the core audience of the builder.
A Website Builder Designed for Business(?)
Reading through the various Duda website builder reviews online, you might notice that some people keep on mentioning the fact that Duda is a business-based website builder.
Is there any merit to these claims? Well, yes and no.
Duda does market itself as a "business" website builder. On their homepage, the company states that the builder is for "agencies, digital publishers, hosting companies and SaaS platforms". Nowhere is there a word about individual users wanting to establish a blog or an online gallery.
That said, individuals who have tried using the builder for their own projects leave rather positive Duda reviews. The general consensus is that, while Duda might position itself to be more business-oriented (that's pretty evident from their registration screen, too), your common, everyday users will find a lot of benefits on the builder, nonetheless.
On top of that, most people nowadays view their website as some sort of a business, anyway. A website builder such as Duda might help you with designing, configuring and managing this type of a website, in the first place.

Did you know?
Responsive and Modern Templates
Templates are pre-designed, built-in website layout options. Every different major topic that you could think of has certain specific layouts that need to be met. For example, if you're creating a photography-based website, you'd likely want that to be reflected straight from your homepage, right? Well, with a template that has a built-in gallery section, you can.
Staying on-point with the theme of the website isn't really going to be enough, though. These days, one of the more important template factors is whether or not it's modern. Judging from the user Duda reviews, the company also knows this pretty well.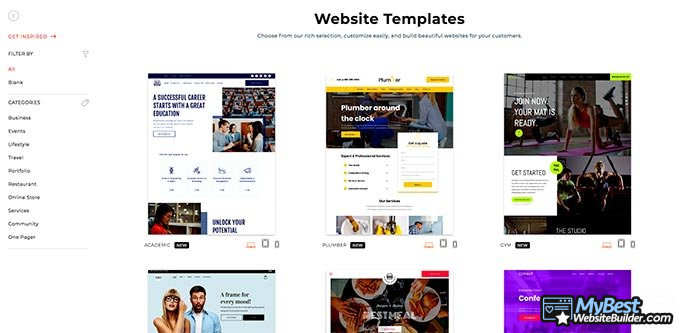 When you think about it, it does make perfect sense, though. Whether you're creating a blog or starting a new business empire, you are likely going to want people to see and interact with the content on your site. However, with an outdated, unresponsive template, that is far less likely to happen.
And I'm not only talking about the actual functionality of the template. The "design" part of the ordeal is crucial - if a user comes across your website and sees a page from the early 2000s, they're likely to think that it's some sort of a scam.
As mentioned earlier, customer Duda reviews are very satisfied with the company's templates. The fact that Duda would provide top-tier website layouts does make sense, though - this yet again falls back to their target audience. If businesses would see that the templates lack some essential functionality, Duda wouldn't have the reputation that it currently has.
Duda Reviews: CONS
Now, having talked about the most prominent, positive Duda reviews, it's important to note that not everything is sunshine and rainbows. There are a few specific aspects of the builder that many people are pretty frustrated with - the lack of an app store is a good example.
No App Store
Let me preface this by noting that Duda does actually have a whole bunch of features built-in into the builder. However, if you find that there's something missing, well… Tough luck - the builder has no app store that you could utilize.
A few good examples of an app store inside of a website builder would include Wix and WordPress (the .org version, that is).
With Wix, you'll always have an app store full of various different content at the tip of your fingertips. It's very easy to access from the builder menu, is made in a fun-to-use way and has most features (whether paid or free) that you could ever need for your website.
With WordPress, the "app store" comes in the form of plugins. These plugins are mostly created by the community around WordPress, and offer a wide range of different functions, from newsletter automation all the way to an integrated drag-and-drop website builder (since WordPress is a CMS).
Duda, however, lacks this type of an app store. And even with all of the different features that the builder already has by default, it still limits itself by not offering an added solution for the apps that users might need and not be able to find on the builder.
A Lot of Attention to Marketing for Businesses, No Attention Towards Individual Customers
Whether the company sees this as a con or not, that's up for debate. However, enough Duda reviews have mentioned this point for it to be an objective complaint.
We've already established the fact that Duda markets their builder as a solution for small businesses to grow and expand their reach in the field of customer acquisition. With the lack of attention to individual users, however, the company does a great job at alienating many potential customers.
In all honesty, if I was in a hurry to find a top-tier website builder, and would come across Duda without having much time to get to know the tool and the company behind it, I would jump that ship right away. I mean, come on - everything on their site points to catering to businesses and ignoring individual customers.
If you want a completely different experience, then choose Squarespace, Zyro or Webflow.
I admit - perhaps that's just their business model, and they don't give a donkey's tail about individual signups. That said, customer Duda reviews are still pretty positive when it comes to using the builder for personal wants and needs - that makes the situation at hand an even bigger shame.
Price
Now, Duda pricing options.
Be warned - they're not very nice to look at.
There are three distinct Duda pricing plans you can pick from:
With each individual plan, you'll also receive additional features and upgrades. For example, with the Basic plan, you'll only be able to use email support and have an up-to-10 product store. However, after upgrading to one of the higher plans, you'll be able to add a brand logo, access team & client management features, have up to 8 websites, get extra widgets, etc.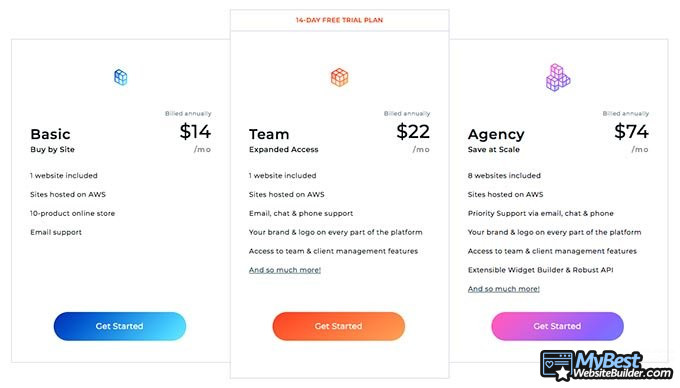 Also, it's worth mentioning that while many Duda reviews talk about there not being a legitimate way of trying the builder out, Duda does offer a 14-day free trial, with no credit card registration required. However, the company does not have a free version of the website builder for anyone to use at their own, free will.
That's probably where the majority of the complaints stem from, to be honest. While it makes sense given that the builder is aimed at businesses, Duda pricing options still seem really high, given the lack of a free option.
Here is The Best Squarespace Offer I Found:
SAVE 20%
Squarespace Limited-Time Deal
Grab this Squarespace offer code & enjoy a lovely 20% off on any selected Squarespace subscription plan. Create your dream website NOW!
Expiration date : 12/12/2023
4,512 People Used
Only 88 Left
Conclusions
Some user and customer Duda reviews have mentioned this already, but Duda is a very interesting website builder. It's rather unique in how the company positions itself on the market, and how customers react to that positioning.
Duda has many benefits. It offers users unique and modern templates, some top-tier features and addons, has some of the best SEO configurations, provides an SSL certificate and is an overall well-built drag-and-drop website builder.
That said, the company markets itself as being purely business-oriented. This tends to sway a lot of the individual, non-business website builder-interested customers. Also, Duda is pretty expensive, given that the builder lacks an app store, and has no free version (there's a 14-day free trial, though).
In general, though the vast majority of online user Duda reviews are positive towards the builder. If, however, Duda hasn't really caught your interest, and you'd like to find a builder that's more welcoming to individual users and isn't as expensive (or has a free version), do check out our list of the top website builders of the year, and pay crucial attention to such players as Zyro and Squarespace.
Do note that Duda offers a full refund upon canceling your order during the first 30 days of your purchase. In theory, this means that you would have up to a month to play around with the builder, get to know its quirks and benefits, and see if it actually suits you or not.
With that, I hope this review was useful to you, and that you now know what Duda's all about. Best of luck!
Leave your honest Duda review
Leave your genuine opinion & help thousands of people to choose the best website builder. All reviews, either positive or negative, are accepted as long as they're honest. We do not publish biased reviews or spam. So if you want to share your experience, opinion or give advice - the scene is yours!