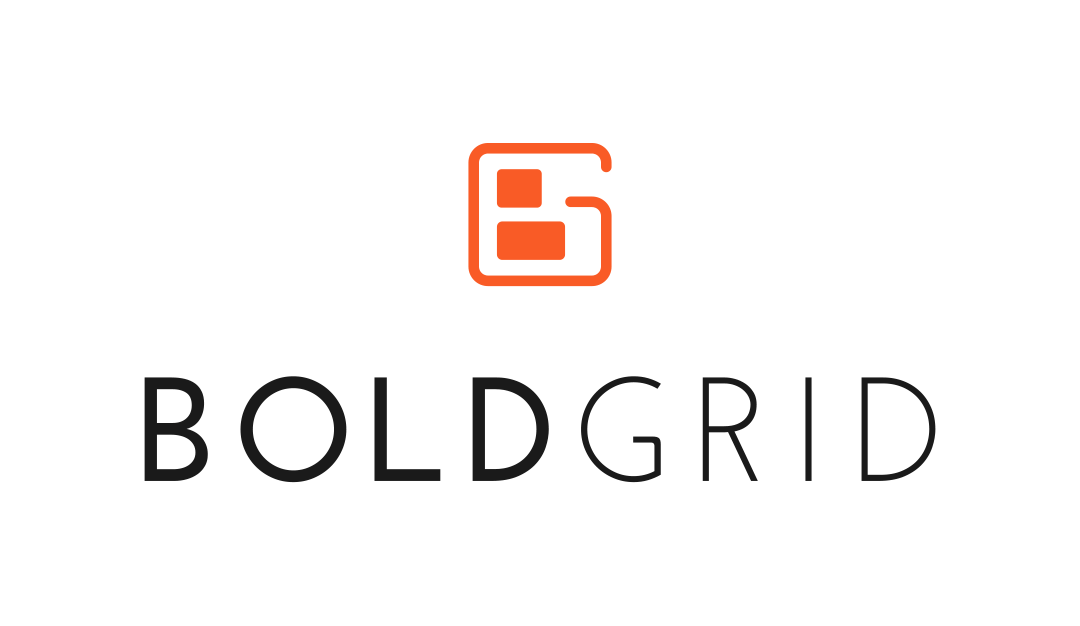 If you've ever heard of WordPress, you likely know that as far as website builders go, it's not an easy system to manage and learn to use. WordPress.org has a pretty steep learning curve, and can get pretty confusing for anyone without some coding knowledge or prior experience with CMSs. However, in this BoldGrid review, I'll tell you how that confusion can be avoided.
You see, BoldGrid is a unique website builder - mostly in that it's a WordPress.org addon. This means that the builder is based on the WordPress system - one that is very dear to my heart -, and is there to not only help new users get a better and quicker understanding of WP, but also ease some of WordPress' processes.
That said, if WordPress isn't your cup of tea, and you're looking for a standalone, independent website builder, try looking at some of the best website builder reviews, including Squarespace and Zyro - perhaps you'll find one to your liking.
TL;DR: User BoldGrid reviews are very positive towards this WordPress addon - people claim that the builder makes WP site creation much easier, the templates are beautiful and modern, and the majority of the builder is based on the drag-and-drop system.
Pros
Beautiful and modern templates
Drag-and-drop editor for WordPress
Complementary tool for WordPress
Cons
No eCommerce features
Not a standalone website builder
BoldGrid Review: WordPress and BoldGrid
As I've mentioned in the introductory part of this BoldGrid Review, the website builder isn't a standalone, solo project - rather, it's a sort of an extension to WordPress.org, an addon, if you will.
Now, there are two versions of WordPress out there - WordPress.com, which is the simpler, builder-based version, and WordPress.org - a content management system that allows you to create almost any type of a website imaginable. The catch? Well, this version is much more difficult to learn to use efficiently.
So, if you're wondering what is BoldGrid, you should just know that it is an extension to the latter version of WordPress. Many people might still wonder, though - what's so special about this "extension"?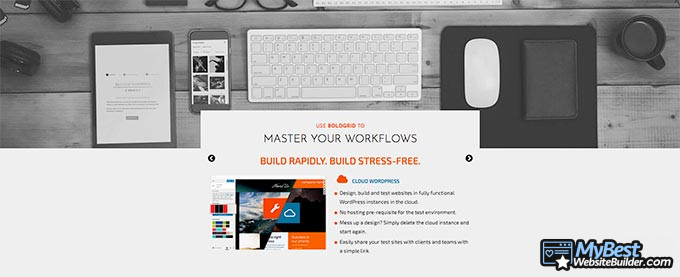 While WP has many different addons, plugins and extensions (honestly - hundreds, if not thousands!) you could utilize, not all of them are built the same. The more popular ones try to deal with WP's steep learning curve. BoldGrid is one of the more successful projects.
Launched in 2015, the BoldGrid project quickly garnered a lot of attention. And rightfully so - while it's selling point might be the "make WordPress easy" factor, there's much more to the builder than that. Users write rather extensive BoldGrid reviews, talking about the different benefits of the platform - we'll get to that.
All of that being the case, though, the fact that so many people wonder what is BoldGrid might lead to a lot of confusion. You see, while it is a website builder by the literal definition of the term, it's not a solo project, like Squarespace or Zyro. If you don't fancy investing a lot of time into learning WordPress, you're probably better off with one of those two builders.
BoldGrid Review: PROS
Before we even get to the actual functionality part of BoldGrid, the very first and most obvious benefit that you're likely to notice with the platform (and that many user BoldGrid reviews claim to be the best part of BoldGrid) is the drag-and-drop editor.
Drag-and-Drop Functionality
Drag-and-drop website builders are the industry standard. Nowadays, it would be difficult to imagine a builder that's topping the charts, yet lacks drag-and-drop functionality.
What this function does is it allows you - the creator of the website - to literally drag and drop various elements from the main builder menu onto your site. Most commonly, you will be able to see the changes as they are done live.
Note, though, that there are very few website builders that actually allow you to place an element or a widget ANYWHERE on the site. Usually, you're going to have some designated areas with which you can work. That doesn't really take away from the awesomeness of the feature, though.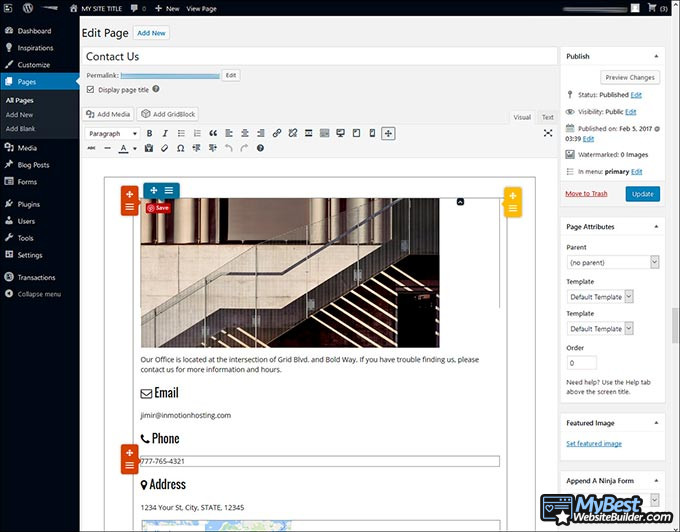 Image source: howtogetonline.com
As for the elements in question, well… They are going to depend solemnly on the builder that you choose. Some BoldGrid reviews reference Wix as the go-to option if you want to have a ton of different widgets on a standalone builder (eCommerce, email marketing, "call to action" buttons, etc.), but most top-tier builders don't really lack in this regard.
As you might have gathered by now, GoldGrid does, indeed, offer drag-and-drop functionality.
This is a pretty big deal, especially when you consider the fact that WordPress isn't a drag-and-drop-based editor, by default. While some functions are going to remain hidden in the background even with BoldGrid (i.e. page editing and management), the actual interface options will be, yet again, drag-and-drop applicable.
Latest Squarespace Coupon Found:
SAVE 20%
Squarespace Limited-Time Deal
Grab this Squarespace offer code & enjoy a lovely 20% off on any selected Squarespace subscription plan. Create your dream website NOW!
Expiration date : 12/12/2023
4,512 People Used
Only 88 Left
Great Template Design
Templates are usually the first point by which a website builder is judged - many user BoldGrid reviews seem to know that pretty well.
The reason behind it is pretty simple - if a builder has poor quality design templates in place, it's highly unlikely that your website will receive many returning visitors. It makes sense, though - if you were to end up on a website that looks like it was designed and launched in the 90s, would you place a lot of trust into it?
That's highly unlikely.
While templates aren't necessarily a tell-all sign of how well-designed the rest of the functions on the builder are, they can often still reflect the general direction in which the tool has chosen to go.
Well, browsing online, you'll encounter quite a few customer BoldGrid reviews that talk about how pretty and surprisingly modern the builder's templates are. The general consensus is that they look great, have a stylish, trendy design feel and - most importantly - are well optimized.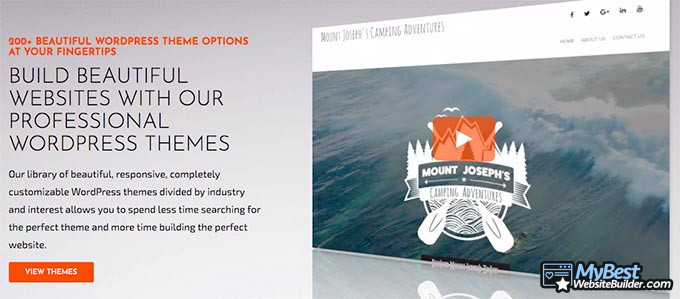 An "optimized template" is one that doesn't only look great on PC or laptop, but will also hold its ground and functionality when viewed on a mobile or tablet device.
You're likely to come across quite a few customer BoldGrid reviews that emphasize this fact extensively. There's a good reason for it - website builder companies know very well that mobile optimization isn't only important to the user - it's also a huge point for search engines, as well.
That is why the top-tier website builders out there are trying to make their templates as universally-applicable as possible. The same, before-mentioned BoldGrid reviews also talk about how BoldGrid does a great job in this regard, too.
Coding - Possible!
Website builders are primarily designed to be easily-accessible by complete website creation newbies. If you have zero technical knowledge about website building, don't know a thing about programming languages, yet would still like to have 100% control when it comes to the whole design and creation process - congratulations, you're the perfect customer!
However, in this BoldGrid review, we're talking about a WordPress addon. That's pretty significant, since WordPress - being quite a bit more difficult to use than your average, everyday builder - allows you to choose between installing an addon and "keeping it simple", or programming everything you'd need yourself. Or both - that's also possible.
Well, the cool thing with BoldGrid is that it also allows you (the user) to customize your website via code. This is actually a really big deal! It means that, if you're someone who loves WordPress and knows some programming, you won't "miss out" on any of the WP-exclusive features, and will still have full customization options of your site.
BoldGrid Review: CONS
Is BoldGrid really such a flawless website builder as it may seem from some user BoldGrid reviews?
Nope - the builder actually does have some notable issues. The most talked-about of them, naturally, is the fact that it's not a standalone builder.

Did you know?
Not a Standalone Builder
At first glance, this might not seem like such a big deal - ya, so you have to install WordPress, so what?
Well, if you fancy a challenge, and have a lot of time on your hands, then sure - WP is a great tool to master. However, not everyone has the patience and the time to learn a completely new CMS.

In fact, if you invest the same amount of time into a high-tier website builder as you would into installing WordPress and then configuring your BoldGrid extension, you'd likely have a website, customized and live.
Ya - it does take some time.
Furthermore, some people just don't fancy WordPress - perhaps they don't like the somewhat old-school design of the platform, or the clunky feel of the interface. Whatever the case might be, BoldGrid being a WP-exclusive addon limits the reach that the creators have by quite a bit.
No eCommerce Features
Ya… That sucks.
It's not a secret that eCommerce is one of the more popular features that a website builder might have. Even if you don't set out to make an online shop at the beginning, it's cool to have this as an option - you never know what turns your website might make in the long run.
Admittedly, many user BoldGrid reviews note that, since you're using WordPress anyway, you don't really need BoldGrid to have eCommerce features - you can just install a plugin such as WooCommerce and be done with it. If you don't know, WooCommerce is the most popular eCommerce-based plugin on WP - it's widely used and loved by the majority of WP-related online shops.
Still, even with WooCommerce there to save the day, it's a shame that BoldGrid doesn't have some integrated, easy-to-use-and-access online selling features. While it might not "break the deal" for some, it definitely falls in comparison to some of the better-equipped website builders out there.
Price
Pricing is an important aspect of any website builder. If you're trying to find out what is BoldGrid, you're likely also going to want to know how much the addon costs, right?
Well, here are the pricing options:
In addition to the two plans, you may also choose some plugins to complement your BoldGrid experience:
So, the very first thing - yes, BoldGrid does have a free version. No credit card or other payment info required! Judging from some BoldGrid reviews, the free version is actually pretty good, as far as free website builder versions go.
With the paid plan, however, you receive a bunch of additional perks and benefits - custom branding, premium designs, multiple installs, file restoration, automated speed tests, etc.
Also, you could always purchase and install the custom plugins, if you don't want or need the individual plan.
Here is The Best Squarespace Offer I Found:
SAVE 20%
Squarespace Limited-Time Deal
Grab this Squarespace offer code & enjoy a lovely 20% off on any selected Squarespace subscription plan. Create your dream website NOW!
Expiration date : 12/12/2023
4,512 People Used
Only 88 Left
Conclusions
With the website builder industry being as fierce as it is, different providers are clawing their way to the top by any means they can.
In BoldGrid's case, the story is a bit different. While there are a few confused user BoldGrid reviews out there, most people know and understand that the software isn't a standalone website builder, but rather an addon for WordPress.
This comes with certain pros and cons. BoldGrid has some modern and beautiful templates, is a drag-and-drop type of an editor, and allows advanced users to code stuff into their website, if they so wish to.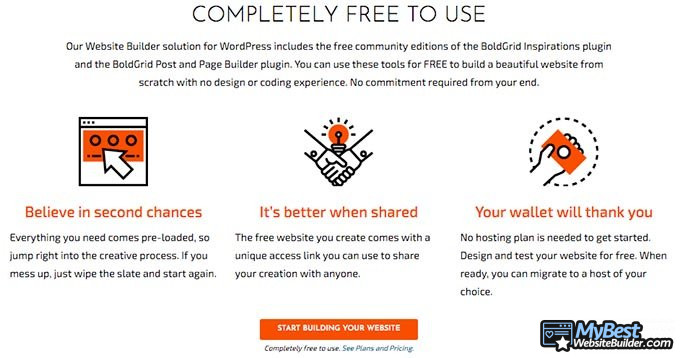 Even with all of the functionality of WordPress behind its back, however, there are still people that are simply not fond of BoldGrid. Some of the reasons why that's the case lie in the fact that there are no eCommerce options available, but the majority of users that have turned away from BoldGrid have done so because they simply don't want anything to do with WP.
That being said, if you are still searching for a standalone, unique website builder, check out our list of the best builders of the year. There, you'll find some of the top builder providers, such as Zyro, Squarespace and Webflow, and will be able to choose one that would satisfy your wants and needs.
I hope that this BoldGrid review was helpful to you, and that you've learned not only what is BoldGrid, but also what it's for. Good luck with finding your perfect website builder, and see 'ya next time!
Leave your honest BoldGrid review
Leave your genuine opinion & help thousands of people to choose the best website builder. All reviews, either positive or negative, are accepted as long as they're honest. We do not publish biased reviews or spam. So if you want to share your experience, opinion or give advice - the scene is yours!