While today's website builder market is full of various different tools designed for website creation, it's still pretty rare to come across a builder that would be aimed at a single, specific group of interest. In this Bandzoogle review, though, we'll be looking at one such builder.
You might have already guessed it by the name of the builder, but Bandzoogle is built around catering to bands and individual musicians. While it may seem like a pretty niche group at first, once you take a closer look, you'll see that there's actually a big demand for website builders stemming from bands and individuals, alike.
If you're looking for website builders that would offer sleek and modern-looking templates particularly for artists, you should definitely check out Zyro and Squarespace.
TL;DR: Bandzoogle comes equipped with all of the essential features that you could need while creating a site for your band. Furthermore, the builder supports eCommerce, provides mobile-friendly templates and has rather good uptime stats. Judging from user Bandzoogle reviews, the only notable con of the builder is lack of security features.
Pros
Easy to use
Good website uptime
From musicians, to musicians
30 day free trial
Cons
Pricing plans can get rather expensive
Not enough site security features
Bandzoogle Review: PROS
Now, before we start listing the actual pros of the builder, there's something we should probably address.
Yes, Bandzoogle is designed and catered around musicians and bands. No, that does not mean that someone else who has nothing to do with music can't use the builder for their own, personal wants and needs.
Admittedly, if you're reading this Bandzoogle review and are looking for a website builder that is great in general, but has nothing to do with any specific niche, you're probably better off using one of the best and most affordable builders of the year.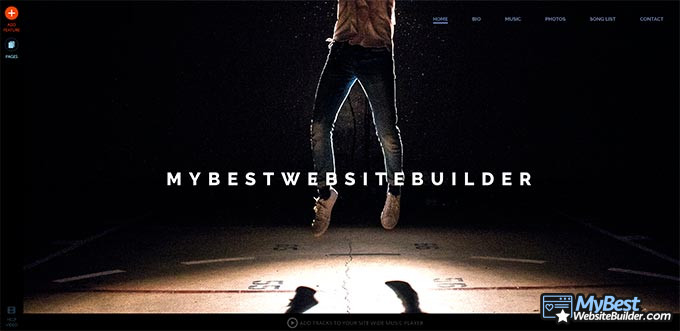 However, if (for some reason) you're adamant about trying Bandzoogle out, you shouldn't let the "musician-exclusive" innuendo dissuade you. If anything, this will be some good experience with using a website builder, trying out the different functions that it has to offer, getting to know all of the different features available, and so on.
Finally, who knows - perhaps you've been thinking about establishing a band (or a musical brand) of your own, and all that was preventing you was the fact that exposure is so difficult to acquire these days? Well, with the help of this Bandzoogle review, you can take a look at how to create a great band-based site, quick and easy.
Speaking of easy…
Easy to Use
If you've ever read any of my other website builder reviews, you likely know that I like to start off the "pro" sections of each builder by talking about the "ease of use" factor (if the builder is actually easy to use, that is).
There's a good reason for why that's the case, though.
Website builders are designed in a way that a person who has nothing to do with programming or website development would still be able to create a website of their own, no problem.
There are a few things that aren't exclusive to this Bandzoogle review, and that every builder should have to be able to provide the above-mentioned service. At the top of the list, we have ease of use.
This is especially so true when it comes to specific, niche-targeted website builders. If you're focused on your musicianship, and are trying to manage and grow your band (whether it be by touring, merch sales, or else), chances are that you don't really have all that much time to invest into researching ways to code a site.

Well, with Bandzoogle, you don't need to. It's a very easy-to-use website builder.
From the very beginning of the site creation process, Bandzoogle holds your hand. And I don't mean that in a condescending, negative way - the builder allows you to make your own decisions, but keeps you informed all throughout.
Template design choices are easy to navigate, the features are very accessible and clear, adding pages is simple (which is rather big, since many builders tend to flunk this part pretty hard).
In general, Bandzoogle has smoothened the site creation process pretty well. Assuming that you have zero experience with the ins and outs of website making, you shouldn't encounter any notable problems with the builder, whatsoever.
Latest Squarespace Coupon Found:
SAVE 20%
Squarespace Limited-Time Deal
Grab this Squarespace offer code & enjoy a lovely 20% off on any selected Squarespace subscription plan. Create your dream website NOW!
Expiration date : 12/12/2023
4,512 People Used
Only 88 Left
eCommerce - Supported
Whenever you read top-tier website builder reviews, you're likely to never encounter eCommerce being supported as a "big deal". That said, it actually is.
Too many different website builders today lack eCommerce features. There are many reasons for why that might be the case, but most of them boil down to builder brands still being relatively new, and not possessing the means to establish long-lasting eCommerce features.
However, user Bandzoogle reviews will tell you that, with this builder, the story is quite a bit different.
Bandzoogle offers customers the ability to establish a sales page on their band websites. The sales may revolve around tickets and events, band merch or anything else - all of these main categories have their own, designated functionality within Bandzoogle.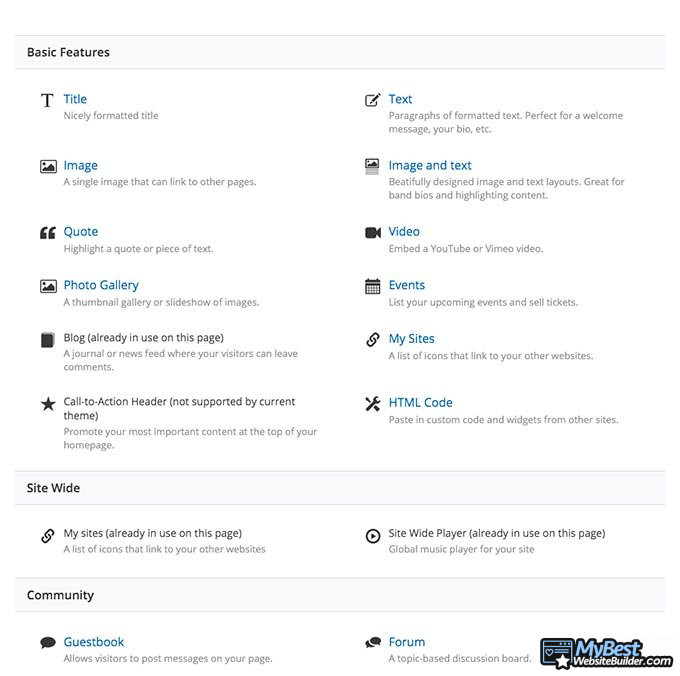 This might not seem like all that big of a deal, but I urge you to think about it twice!
You see, if you were to go and create a standalone ticket purchasing page on some other, less-than-ideal website builder, you'd likely have your hair fall out before accomplishing something noteworthy. Even if you were to use one of the more advanced builders in the market, designing a specific page like that might take some time.
However, the fact that Bandzoogle has some dedicated features allowing you to create this type of a page *that* much easier is, well… Superb.
Even when it comes to the more general things like discount codes, sales management and shipping technicalities, user Bandzoogle reviews claim that the brand has "gotten it right" in all of those departments, too.
Mobile-Friendly Templates
Did you know that almost 2 out of every 3 minutes spent online are those on a mobile device?
Yup, you got it right - more than half of the time that a person is browsing the web, they're doing so on a smartphone, tablet, or some other mobile device. I probably don't need to say how important that is when it comes to website design.
It's important, sure, but… Why? Well, different devices show the same website in very different manners. While your site might work (and look!) perfectly on your laptop or PC, there's a pretty good chance that it's going to be lackluster (to put it lightly) when displayed on a mobile device.

Website builders know this, and so they aim to provide users with "responsive, mobile-friendly templates". User Bandzoogle reviews will tell you that, while some builders fail in this regard, the bands-and-musicians-focused company has managed to nail it pretty well.
With Bandzoogle, you can rest assured that your pages are going to both look and feel great, no matter which device you use to view (browse through) them. All of the templates offered by the company are responsive, and all of the features on these templates work pretty well on different devices.

Did you know?
A Good Reported Site Uptime
Uptime refers to just how long a website is "up" - in other words, how often can it be reachable by visitors.
Now, admittedly, uptime is a bit of a sensitive topic when it comes to website builders - most customer Bandzoogle reviews acknowledge that. This criterion depends solemnly on the web hosting provider that the builder has decided to team up with.
If the hosting provider is, well… Good, you're going to see your site being up for the vast majority of the time. However, anything below 99%, and you can be sure to start looking for new web hosting, pronto.
According to most user Bandzoogle reviews, a website created with this builder should be looking at an uptime of anywhere from 99,5% to 99,8%. That's actually pretty good! While there are better web hosting services around, you should always take into account the fact that 100% uptime is practically impossible, given that sites need to be reloaded, updated, and so on.
A Brand on Musicians
While this might not be directly associated with the features or templates of the Bandzoogle website builder, it's still a huge point worth mentioning.
Once you go to the main page of the builder, you'll immediately see a row of photos, displaying the creators and managers of the company behind the website maker. Notice that one thing that they all have in common?
Yup - they're all musicians.
It's one thing to have a website builder that's provided by a huge corporation that targets a broad type of audience, without a specific focus. However, it's a completely different story when the builder is made by people who actually know the niche very well.
If anything, this allows you to remain assured that all of the features, design choices and everything else surrounding the builder has been created by people who know what you actually need and desire.
Bandzoogle Review: CONS
When it comes to the cons of this website builder, many Bandzoogle reviews expect that the topic of "Bandzoogle pricing" is going to come up.
Well, I'm glad to say that this isn't the case. However, there is one specific con that many customers have noticed with the builder - a lack of security features for your site.
Not Many Ways of How You Can Protect Your Website
Everyone who's creating a website wants it to be safe to use - that's a no-brainer. While Bandzoogle does provide users with a free SSL certificate upon purchasing one of the plans, that's actually where the security features end for this builder.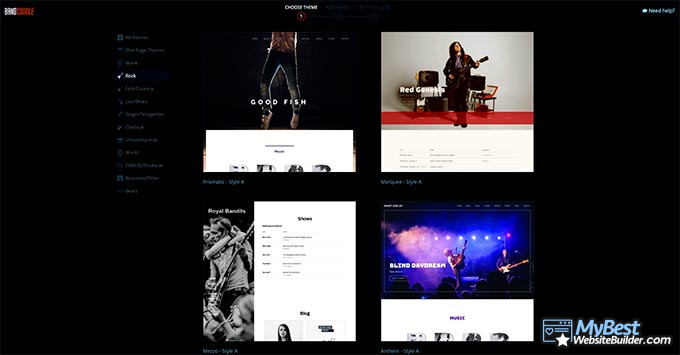 Site security should be an even more important aspect when we're talking about eCommerce. If you're planning to sell something on your site, the risk of your customer data leaking out arises. And honestly, that's a situation that you definitely wouldn't want to get yourself into.
While there aren't any notable user Bandzoogle reviews that would talk about some sort of a data breach or leak, the builder's lack of security features is still something to be aware of.
Price
Now, to finish off, let's take a look at Bandzoogle pricing plans.
The company offers users three distinct pricing options:
On top of those pricing plans, you also get a 30-day free trial.
So - you can probably already see that Bandzoogle pricing plans are, well… Quite expensive. However, in addition to the plans coming packed-full of countless different features, you should definitely keep in mind that free trial.
30 days of free website builder use is quite a bit! It just goes to show that the brand is actually quite guaranteed that their builder is going to not only leave a lasting impression, but also attract the customers to extend their membership after the initial free trial has passed.
Finally, on the topic of pricing options, it's worth mentioning that the rather expensive plans are also the result of the builder being targeted at a very specific group of people. Musicians and bands will find very specific, niche features that they would miss out on if they were to choose some other, more generally-accepted builder.
Here is The Best Squarespace Offer I Found:
SAVE 20%
Squarespace Limited-Time Deal
Grab this Squarespace offer code & enjoy a lovely 20% off on any selected Squarespace subscription plan. Create your dream website NOW!
Expiration date : 12/12/2023
4,512 People Used
Only 88 Left
Conclusions
In my honest opinion, I think that Bandzoogle is an amazing website builder if you're a musician or a band member who's trying to "get on the main stage" (no pun intended) of the internet.
User Bandzoogle reviews constantly reference how well-designed the website builder is, and how easy it is to use. All of the different features will allow you to create a website that would not only look good from the visual standpoint, but would also function as a fully-fledged base for your band.
All in all, if you're into creating music and want to get your name out there, definitely give Bandzoogle a try. If that's not really your cup of tea, however, and you would rather go with a better-known, more established website maker, you can always check out our list of the best website builders on the current market and pay crucial attention to the very best-evaluated builders, such as Zyro and Squarespace.
Thanks for reading, and good luck!
Leave your honest Bandzoogle review
Leave your genuine opinion & help thousands of people to choose the best website builder. All reviews, either positive or negative, are accepted as long as they're honest. We do not publish biased reviews or spam. So if you want to share your experience, opinion or give advice - the scene is yours!